Four Fun Things to do in Bismarck North Dakota
(This post may contain affiliate links. Read my full disclosure.)
I've recently become a little obsessed with visiting all 50 states. I'm currently sitting at 29 so I have a ways to go. I've never been to Hawaii or Alaska and I've yet to visit New England. There are a few other states dotted here and there. I did knock out North Dakota this fall, though. While I was visiting, I learned a lot of people leave North Dakota for last and that it's very common for North Dakota to be the 50th state visited. Not so with me! I had a great opportunity to explore a lot of the state with the folks from North Dakota Be Legendary and we spent about a day and a half in Bismarck, which is the state capital. If you're looking for info on North Dakota travel, here are four fun things to do in Bismarck North Dakota.
If visiting Bismarck North Dakota is on your radar, check out these fun things to do. I was only in town for a couple of days so I'm sure there's so much more to explore but this will get you started.
Four Fun Things to do in Bismarck North Dakota
North Dakota Be Legendary funded a portion of my travel. All opinions are mine. This post my contain affiliate links.
How to get to Bismarck
If you're flying, Bismarck has a small airport with several flights in and out daily…weather permitting, of course. It is North Dakota. Delta, American, United, and Frontier all offer flights in to and out of Bismarck. I took a connecting flight through Minneapolis/St. Paul and it was pretty seamless.
Free things to do in Bismarck North Dakota – North Dakota Heritage Center
The North Dakota Heritage Center and State Museum has a little bit of everything: natural history, culture, innovation, stories about the people who have inhabited North Dakota over the years. It's very well done and even if you (or your kids) aren't "museum people" you'll enjoy exploring here. There's a combination of static and rotating exhibits. If you're looking for an indoor activity that has something for everyone in Bismarck, this is it.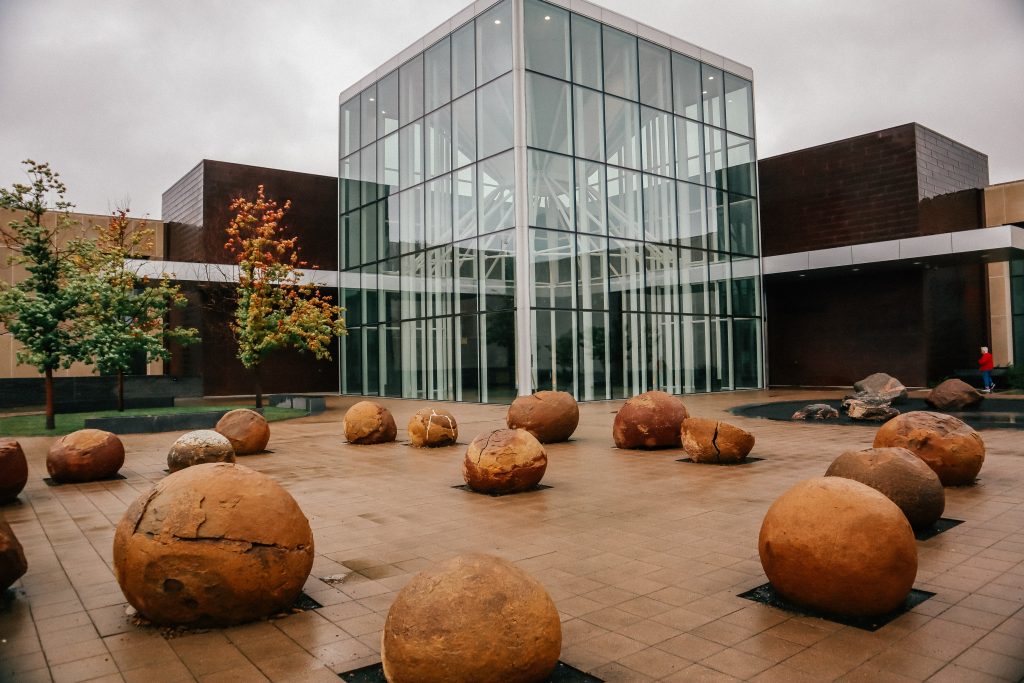 And best of all? It's FREE. Check out their website for more info.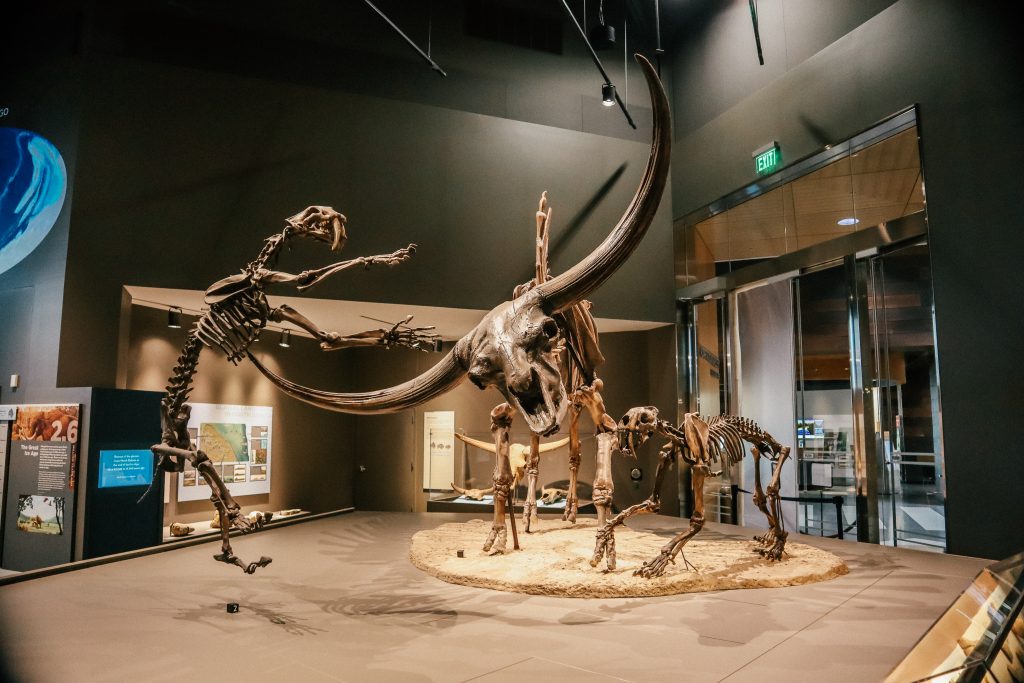 Related post: What to do in Medora North Dakota
Fort Abraham Lincoln State Park
Fort Abraham Lincoln State Park is the oldest state park in North Dakota. There's something for everyone there and the only thing negative I can say about my visit is that it wasn't long enough.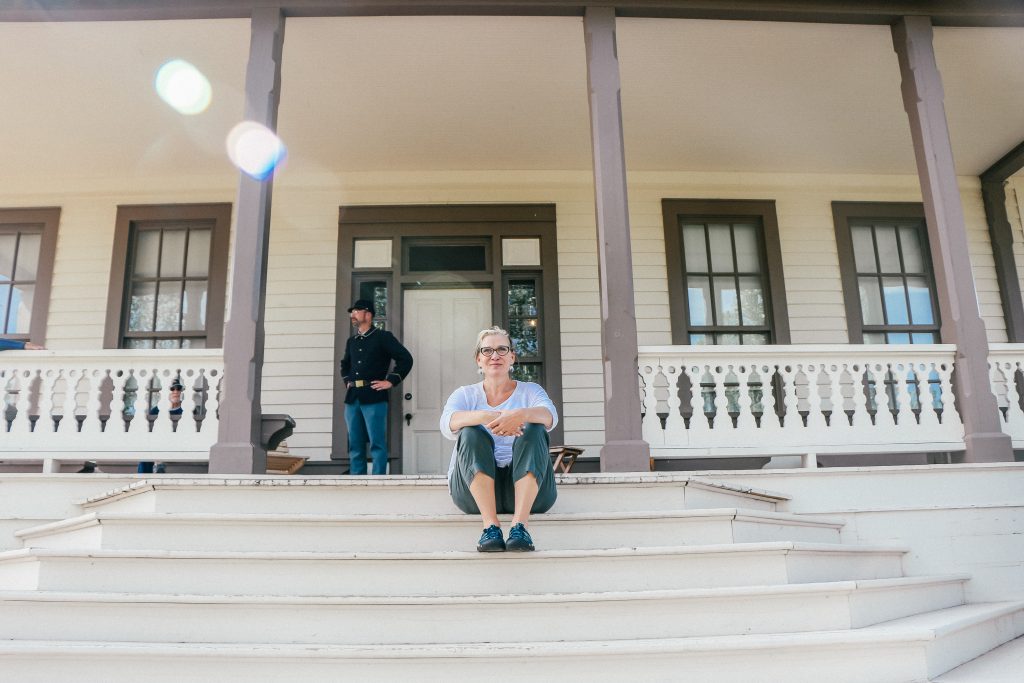 Like most state parks, Fort Abraham Lincoln offers hiking and horseback riding trails and some different options for camping. There's also a really cute little commissary/gift shop with lots of local flavor gifts…and when I say local flavor, I really mean flavor. There's a vast section of edibles – jellies, syrups, etc.
I visited on the front end of a long trip and I didn't have much room to spare in my bag so I resisted buying things. If you're a shopper with room in your bag, I'm not sure how you'll resist the goodies in this store.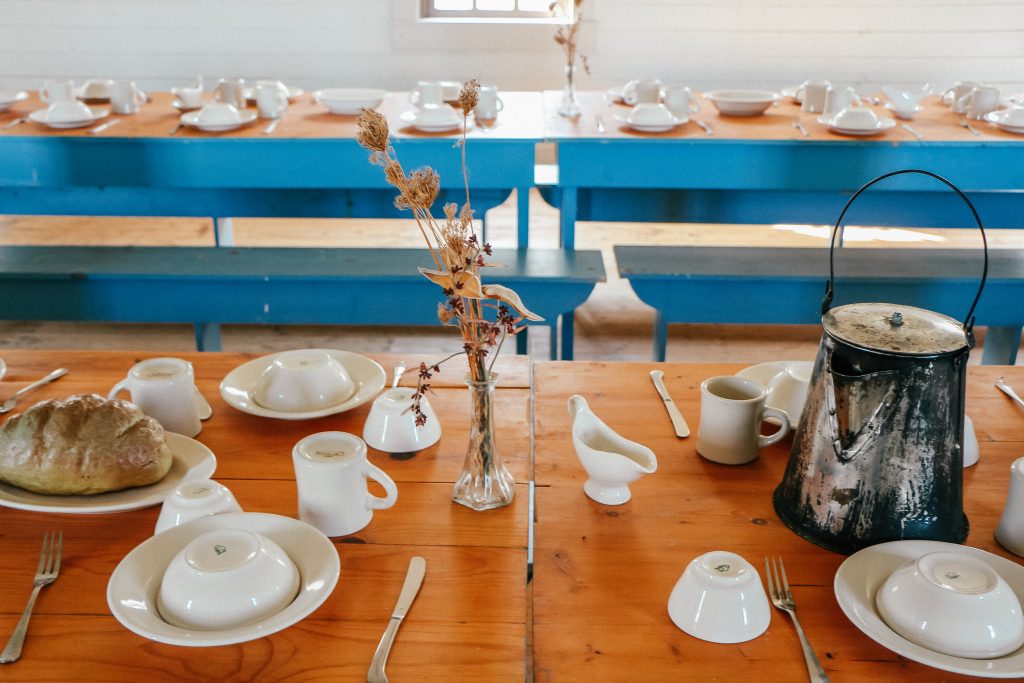 What we spent most of our time on in Fort Abraham Lincoln State Park was the history. The park houses the last residence of General George A. Custer before he died at the Battle of Little Bighorn. I'll admit I snoozed during the part of high school history that detailed the life and career of Custer. If you can at all relate to that, do yourself a favor, do a quick Google search to bring yourself up to date. The experience of visiting the Custer's home will mean a lot more if you do.
No matter what you think of Custer and his military actions, he and his wife Elizabeth were interesting people and their house is flawlessly restored. I had to keep looking down at my modern shoes to remind myself I was still in the present day.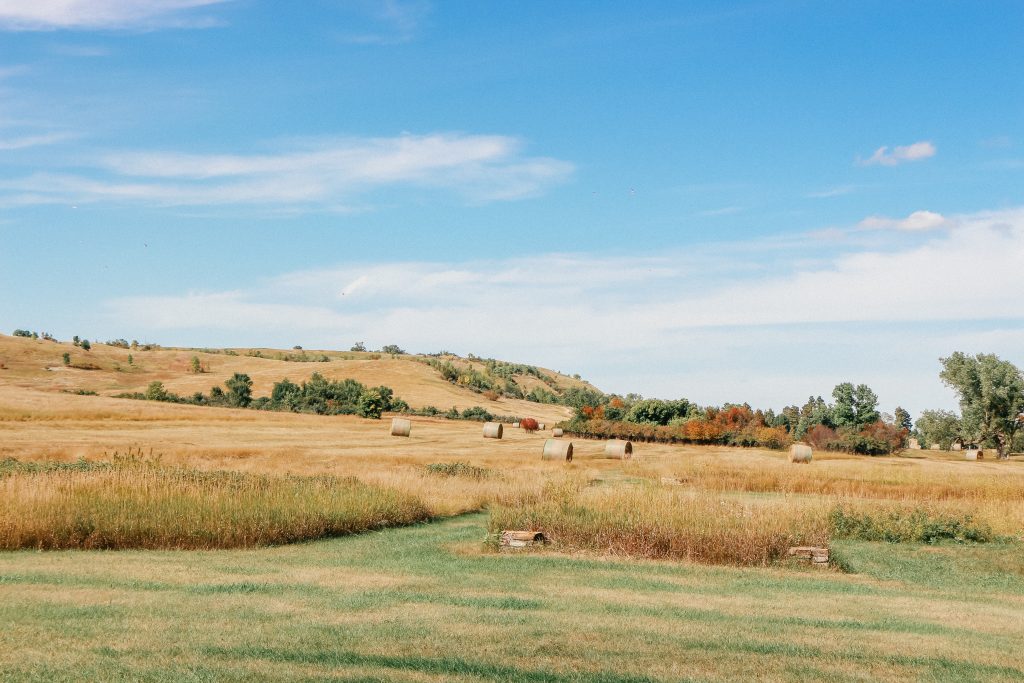 The guided tour of the Custer home carries an additional charge. You'll need to sign up for the tour at the commissary. DON'T MISS THIS. It doesn't cost a lot and it's seriously a very educational and entertaining experience. The gentleman who portrayed the Sergeant was amazing and I do believe he was really convinced it was 1875.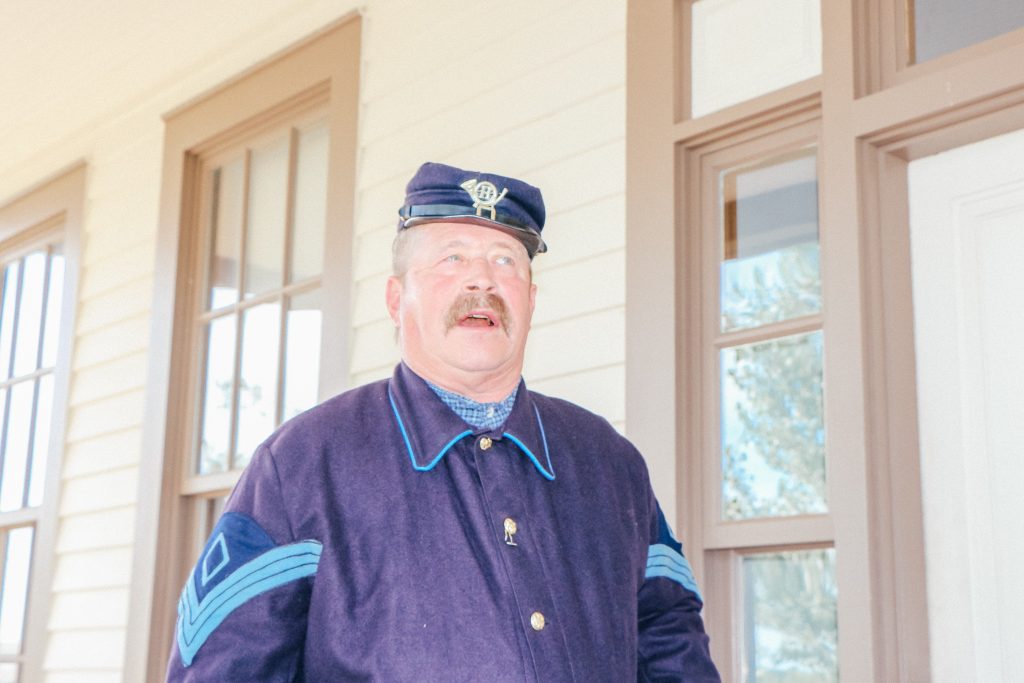 More about Fort Abraham Lincoln State Park here.
Double Ditch Indian Village Historic Site
Double Ditch Indian Village is the site of a was a large earthlodge village inhabited by the Mandan Indians for nearly 300 years (AD 1490 – 1785). According to Mandan oral history, Double Ditch was one of seven to nine villages simultaneously occupied near the mouth of the Heart River. The Mandan population in this area probably totaled 10,000 or more during this time. The earthlodge villages were centers of trade between the Mandans, their nomadic neighbors, and later, Euroamerican traders.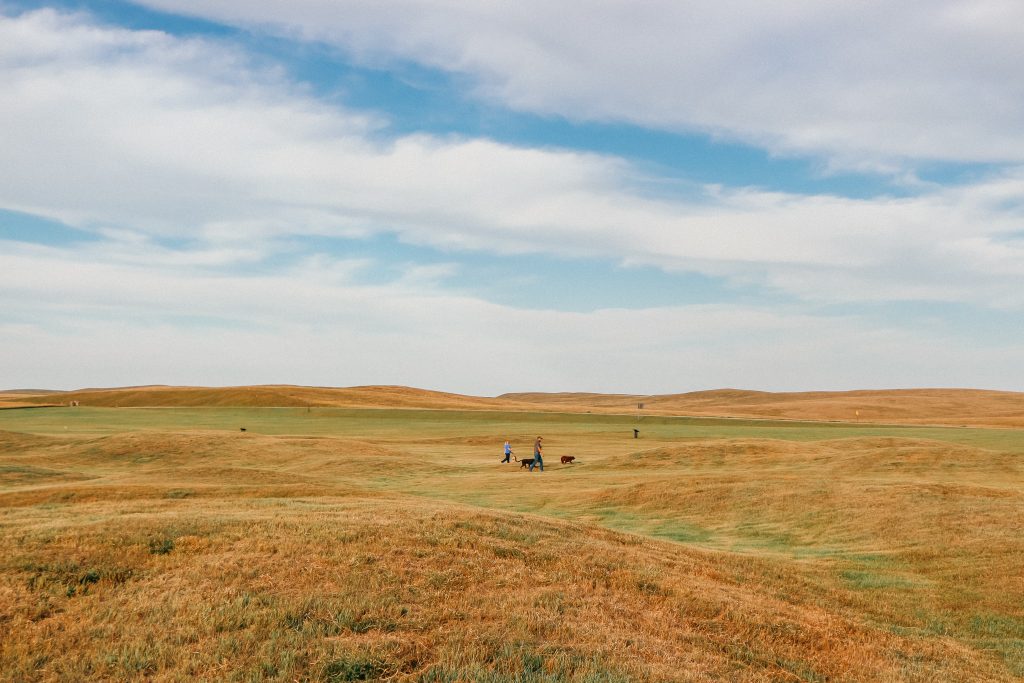 Today, Double Ditch is a place to enjoy being outdoors in the wide open spaces, which I think was the biggest treat for me. It's a great spot to walk, take pictures, or let your kids and dogs (or both!) run around. If you're a city dweller or a suburbanite (like me) you'll find the vastness and the stillness enthralling. The weather was glorious and If I'd have had a chair or a blanket, I'd have been content to sit here and soak up the views for hours. More here.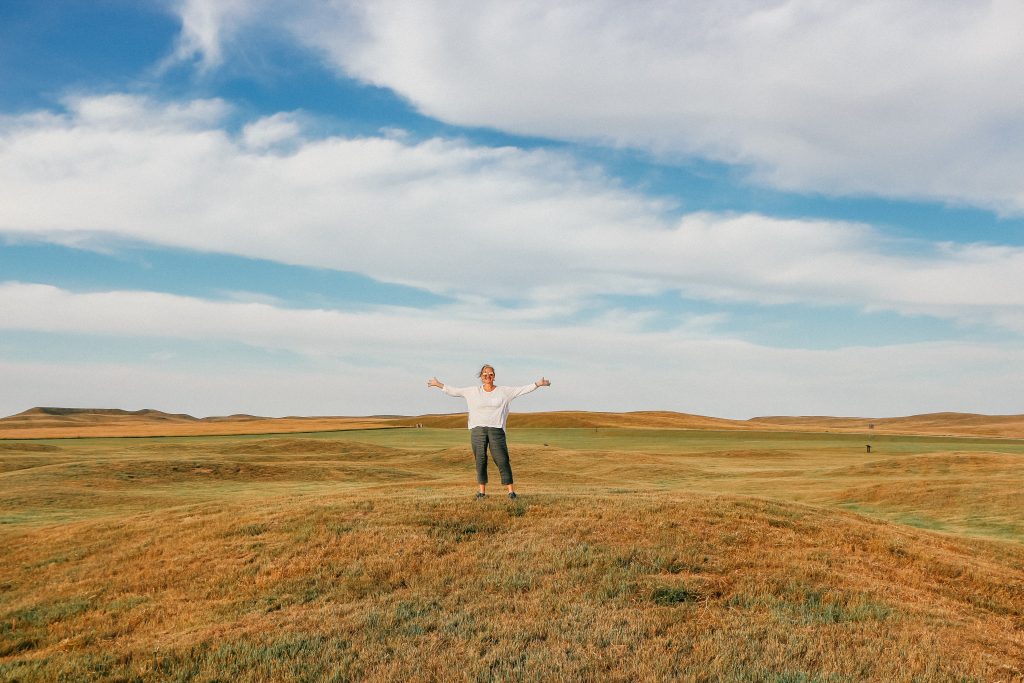 Related post: Things to do in Montana besides Glacier and Yellowstone
Lewis and Clark Riverboat Cruises
If you want beautiful views of the Missouri River from on board a Lewis and Clark style riverboat, you're in luck because you can do that in Bismarck. Public cruises last approximately 90 minutes and are scheduled to run from Memorial Day through Labor Day, as you'll find many activities in this part of the country do.
There are reduced hours in the spring and fall so I recommend calling or checking their website in advance of your visit.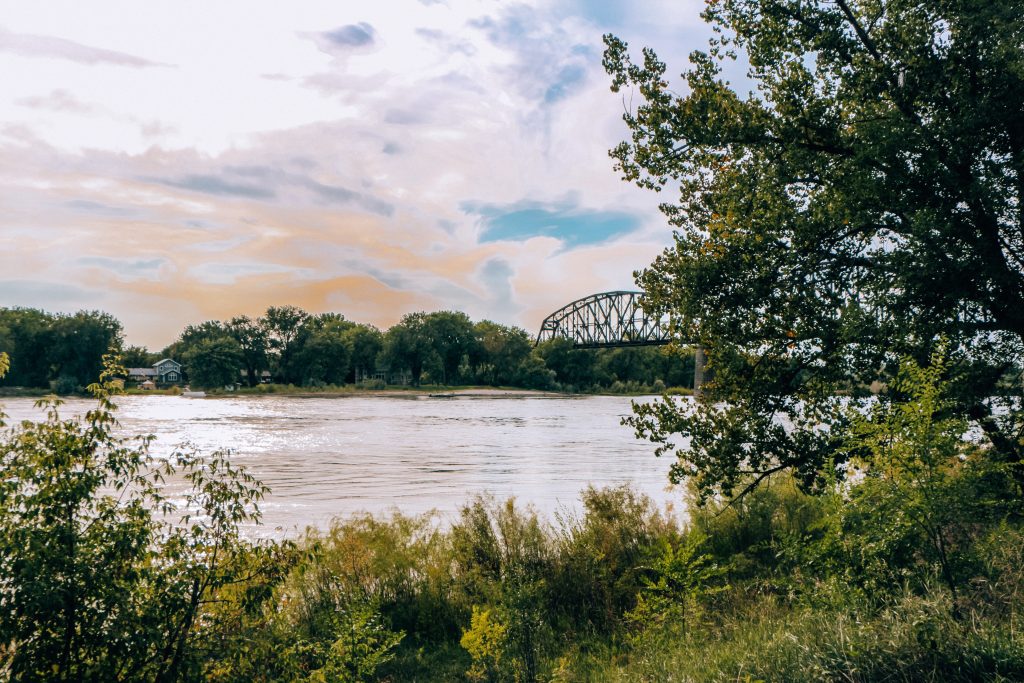 If you have a larger group or want the boat to yourself, you can check out a charter. I strongly recommend you buy your tickets in advance and show up about half an hour early. The boat begins loading 20 minutes prior to departure and the top deck fills up quickly. If you don't have a ticket you may be able to buy one on site, space pending. And, don't be late. The departure times are firm.
There's a lovely public park area with sculptures near where the riverboat cruise launches. I recommend doing this in addition to the cruise or even instead of if you don't have time to do the full cruise.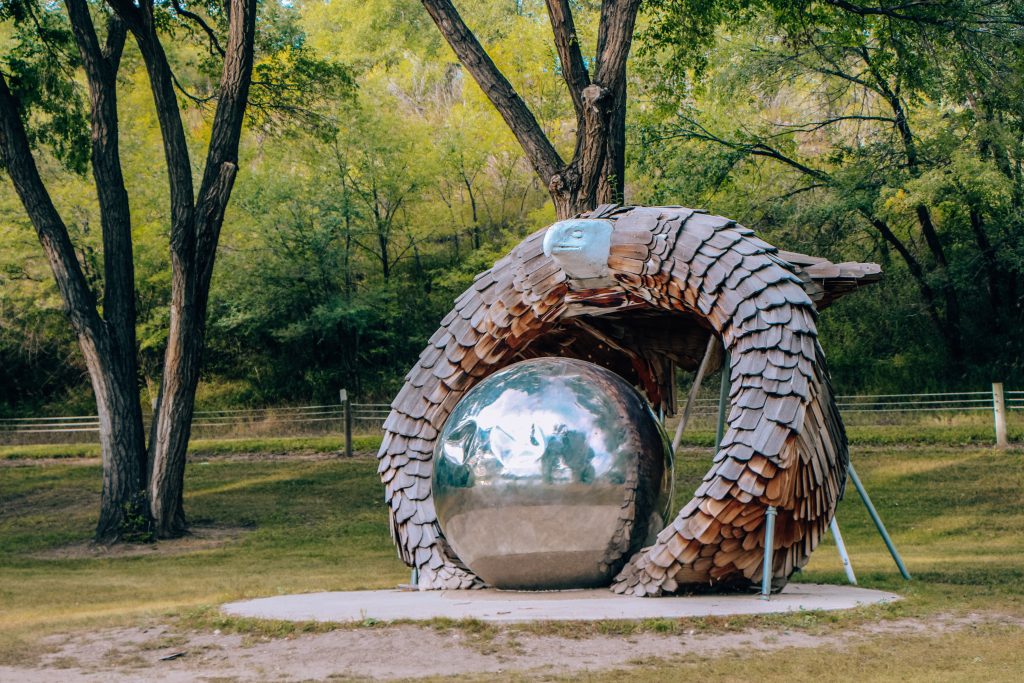 Things to do in Bismarck – Eating! Fun Eats in Bismarck
I spent a relatively short time in Bismarck, so my recommendations are limited to places I experienced firsthand. I will say eating in Bismarck struck me as very…un-North Dakota like.
I guess I was expecting very basic meat and potatoes, which was perhaps the wrong expectation. Everything I ate in Bismarck was very fresh, locally sourced and…dare I say trendy? A quick Trip Advisor search (which never fails me when I'm searching for food or activities) and there's a great variety of interesting looking places. You don't really think of "foodie" when someone says Bismarck, so this was a very pleasant surprise.
Terra Nomad
Terra Nomad in downtown Bismarck serves breakfast, lunch, a variety of baked goods as well as coffees and teas. They're open Monday through Saturday – winter hours apply so make sure you check their website.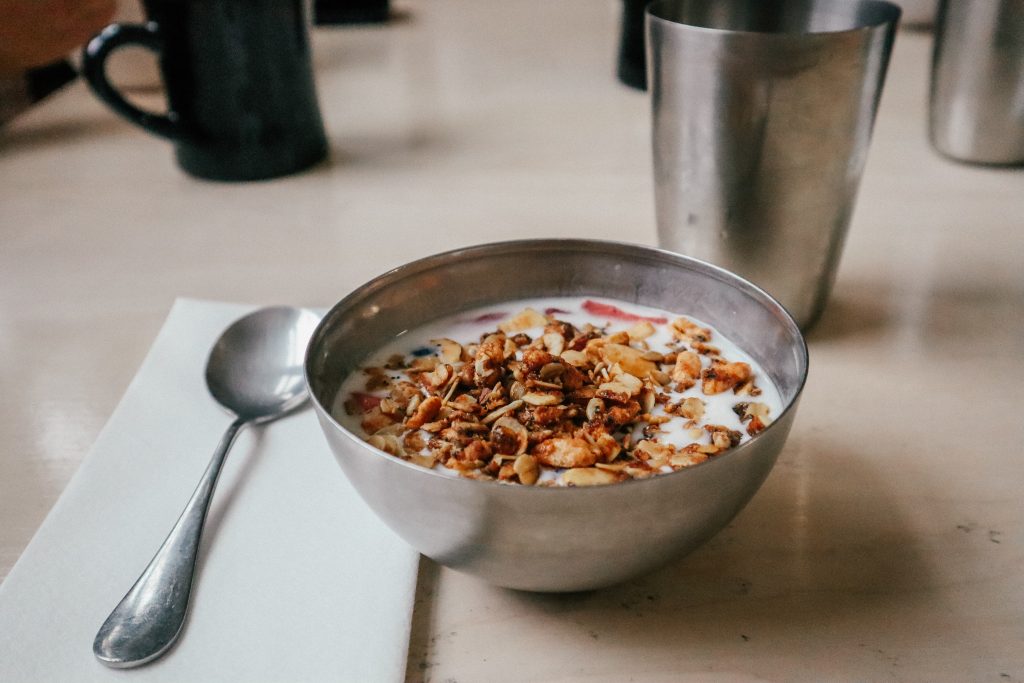 Their lunch menu is published online weekly – looks like they have some really yummy offerings. We enjoyed a late breakfast and while items from the bakery case seemed the highlight, there was a small brunch menu available at the register. Unfortunately, that menu isn't available online so we'll have to go with what I remember, which is a yogurt/granola bowl (delish), a smoothie bowl (vegan) and a chia seed pudding (I'm pretty sure that one was also vegan). There might have been avocado toast but I can't say for sure.
Humpback Sally's
Humpback Sally's, also located in downtown Bismarck, is the absolute CUTEST tapas place. They offer a twist on comfort food and they're very vegetarian and vegan friendly. I can recommend the edamame, truffle fries, hummus, crab cake, and tater tot hot dish. My friend ordered the walleye fish and chips and the yellow curry with warm naan…the latter smelled seriously amazing. Humpback Sally's also offers a fun selection of cocktails and has a full bar.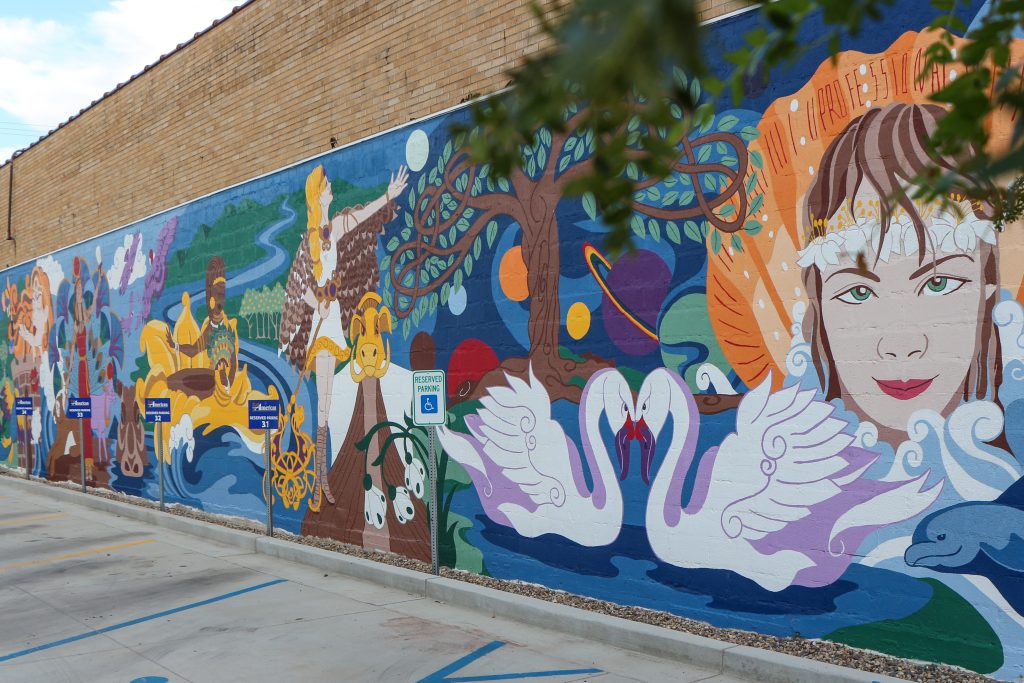 Go hungry with a group of friends and share.
There were lots of other places in the downtown Bismarck area (bars, shops, art) that I would have loved to have had time to check out. Bismarck is a really cute, eclectic area with almost a funky vibe. Who knew?
If you have more time…
…or if these activities don't float your boat, there's more. Check out the Bismarck/Mandan website for more suggestions.
Related post: Top things to do in Butte Montana
Where to stay in Bismarck
I didn't extensively research lodging options – my hotel was taken care of by North Dakota Tourism and Bismarck/Mandan Tourism. I stayed at the Radisson Hotel Bismarck. This inside corridor hotel is located in the heart of downtown, with an easy walk to restaurants and bars. I stayed in a spacious suite with a king bed and a large flat screen TV and I was very comfortable. There's an on-site fitness center and indoor pool. This hotel offers free parking, free wifi, and a free airport shuttle. Lots to like here.
Explore the Radisson Hotel Bismarck or other properties in town here.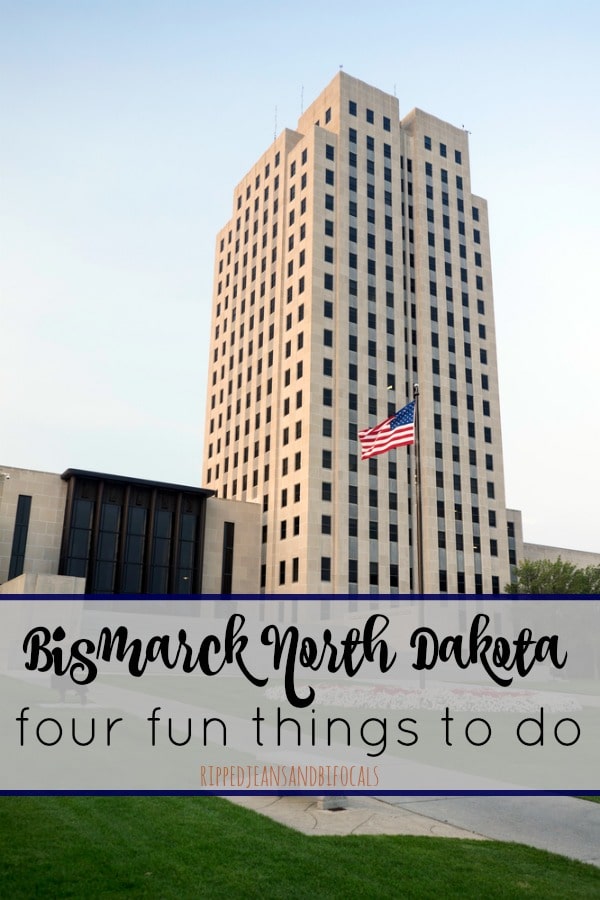 Want to see more of North Dakota?