The 2019 Volkswagen Passat: A sporty and stylish way to explore Palm Springs
(This post may contain affiliate links. Read my full disclosure.)
If you're in the market for a mid-sized sedan and you want sporty, stylish and performance without completely busting your budget, you just might fall in love with the 2019 Volkswagen Passat. My friends and I drove the Passat from Los Angeles to Palm Springs. We checked into the lovely Miramonte Indian Wells Resort and Spa, dropped off our bags and then set out to explore Palm Springs and the neighboring Coachella Valley. I'm not gonna lie…zipping around town in this sleek beauty sans kids made me feel pretty hip, or at least as close to hip as I'm likely to get these days. I'm excited to bring you a review of the 2019 Volkswagen Passat.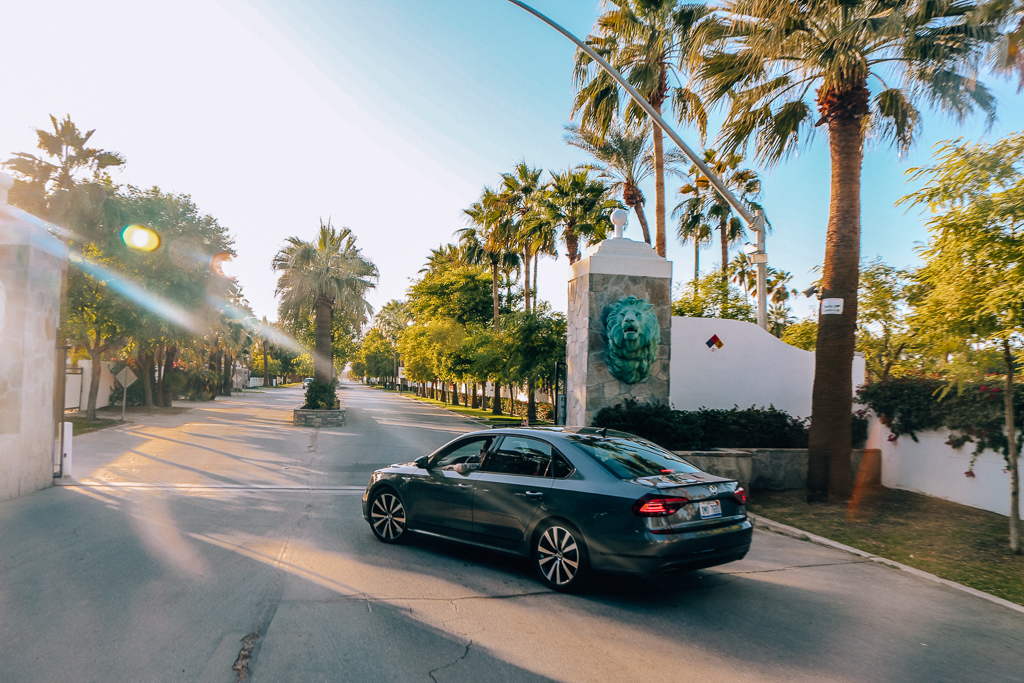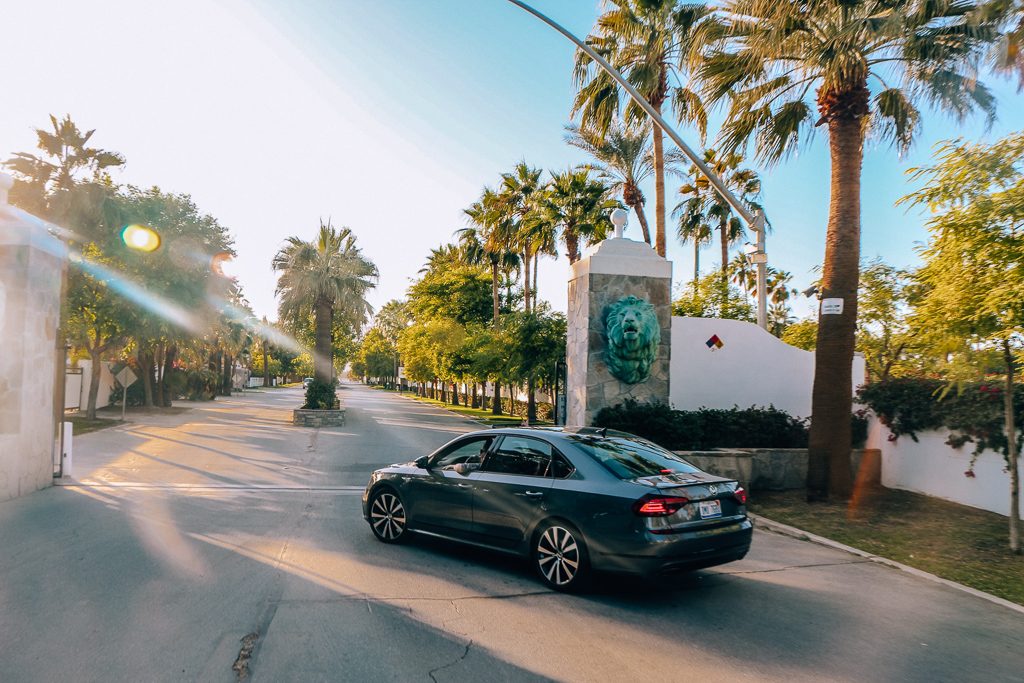 I was hosted by A Girl's Guide to Cars in Palm Springs, California. Volkswagen was one of our auto partners and I was given the use of the Passat during our trip in exchange for my honest opinion and review of the 2019 Volkswagen Passat. 
Who should consider buying a Volkswagen Passat?
As a parent who travels with two school-aged kids and their assorted stuff (i.e. backpacks, sports equipment and the occasional tag-a-long friend) I personally don't think the Passat is an ideal primary family car. As uncool as I think my minivan is, it offers the space my family needs right now. Most moms who spend their days dragging more than one kid around to various activities is going to probably lean towards a minivan or an SUV with a third row.
However.
The Passat is an excellent second car. We currently have a minivan and an SUV and we're looking at replacing the SUV…possibly with a car that my husband would use to travel back and forth to work each day. If you want to go out on a date night with your husband and don't want to roll up to valet parking in the people mover or your everyday SUV with the Goldfish cracker dust and empty juice pouches on the floorboard, the Passat is perfect.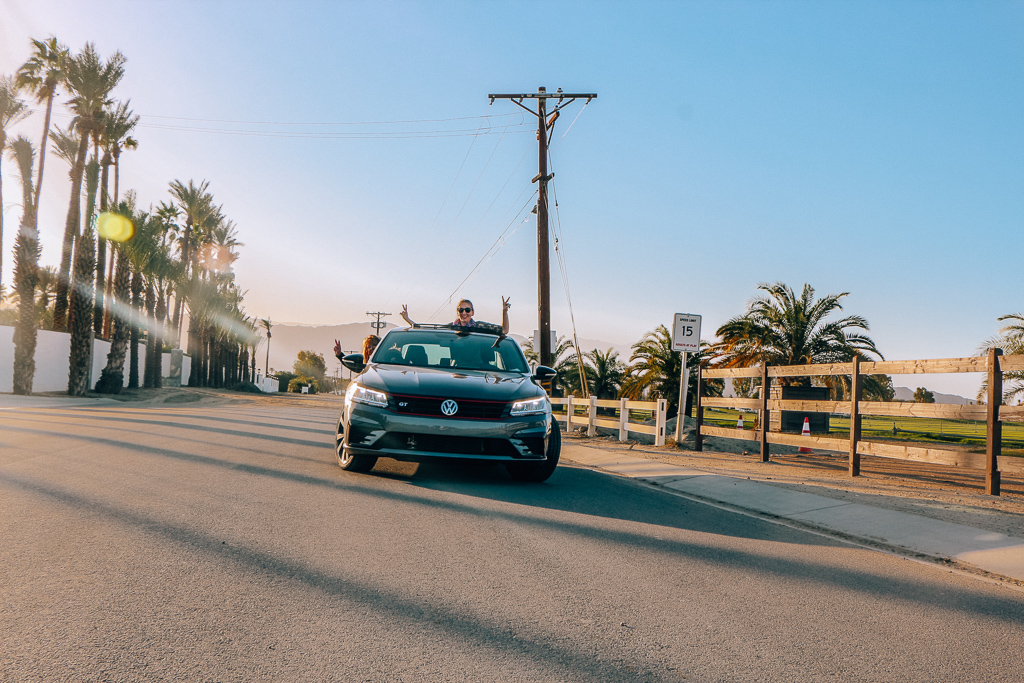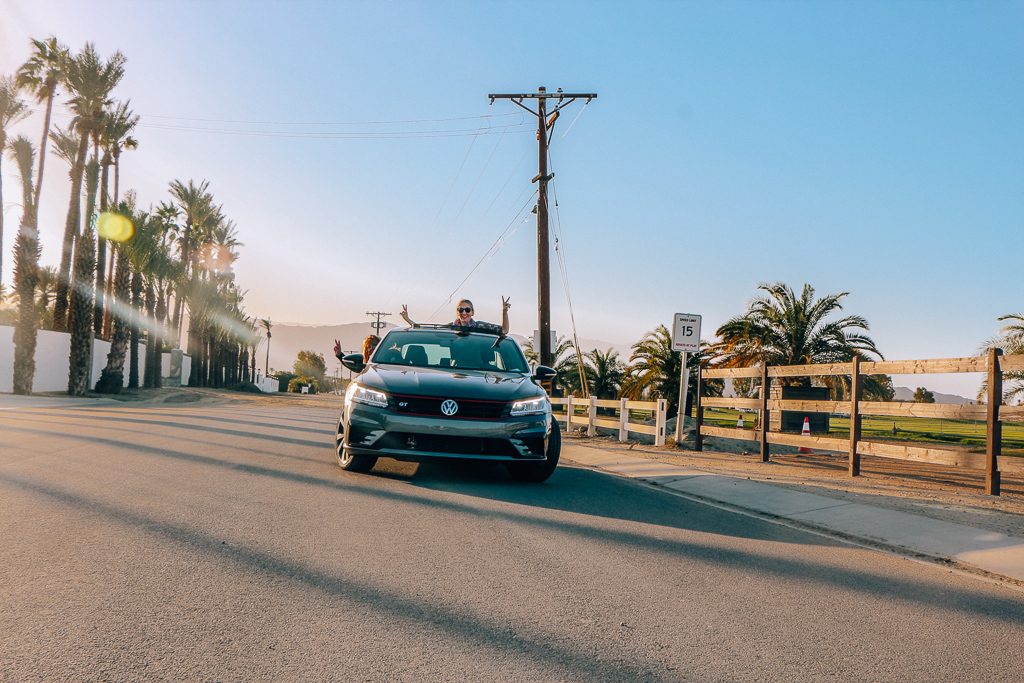 The Passat is also a great car for a young professional (or maybe even a not-so-young professional) who needs a comfortable car to take clients around in. It might not be comfortable or appropriate to ask clients or coworkers to lumber up into your rugged jeep or squeeze into the back of your sports car, but you can feel good about asking clients to ride in your Passat. The backseat is amazingly comfortable. I'm 5'10 and I was surprised at how much room I had. I usually avoid sitting in the backseat because I'm so tall, but I was very pleasantly surprised with the Passat.
If you're looking at Ford Fusion, Honda Accord, Hyundai Sonata or Toyota Camry, you owe it to yourself to check out the Volkswagen Passat before buying.
What are some of the Passat's features that are important to me?
The 6 year 72 mile bumper to bumper warranty is kind of a big deal…that's more than what I know to be standard. I'll add that this warranty is standard across the Volkswagen enterprise, so if by chance you're interested in another VW model (I literally swooned over the Tiguan) you can buy with confidence. What I also love is that the warranty is transferable, so if you're selling your car or buying used, this could be a perk from either perspective.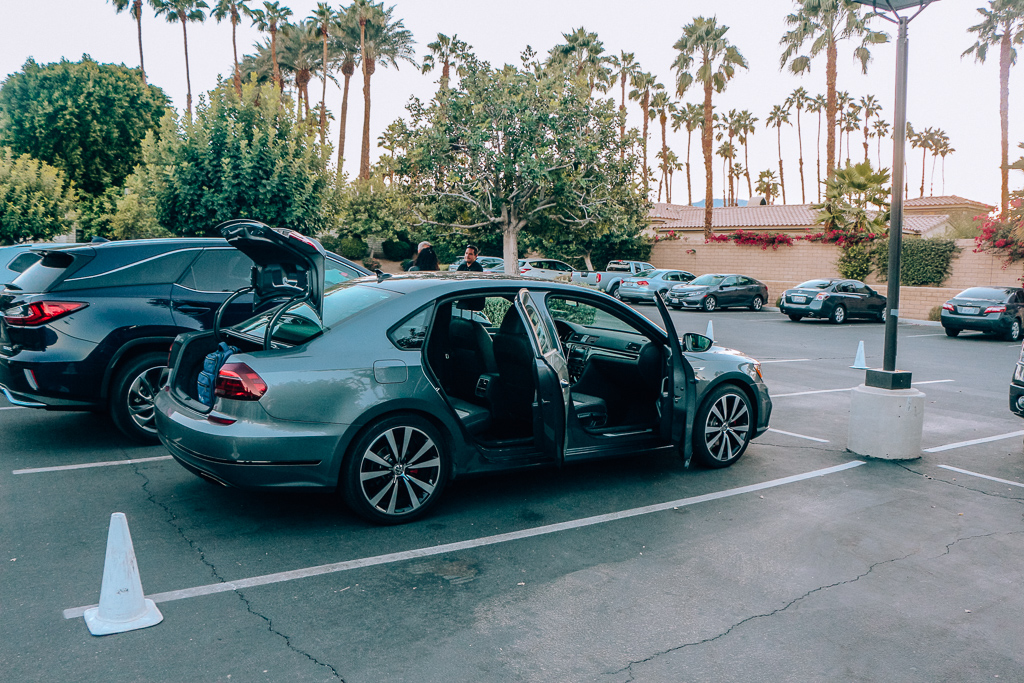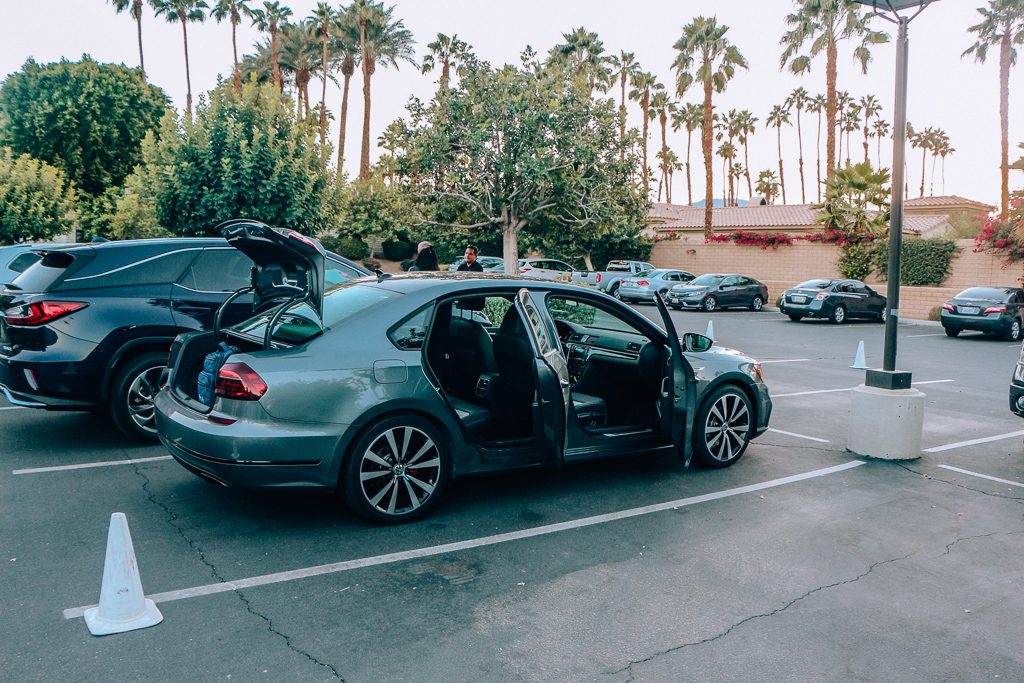 I mentioned the roomy backseat earlier and I think this is one of the features that makes the Passat a great car for families – or for anyone who transports young children. If you've ever had a kid kick the back of your seat on a trip, you know that's majorly annoying. There's plenty of legroom for your kids and the roomy backseat makes it easy for you to buckle young children in to their safety seats without folding yourself in half like a pretzel. It would be a challenge for a small child to kick the front seats in the Passat and they'd almost have to be doing it on purpose (whole other story) and not because they don't have enough room.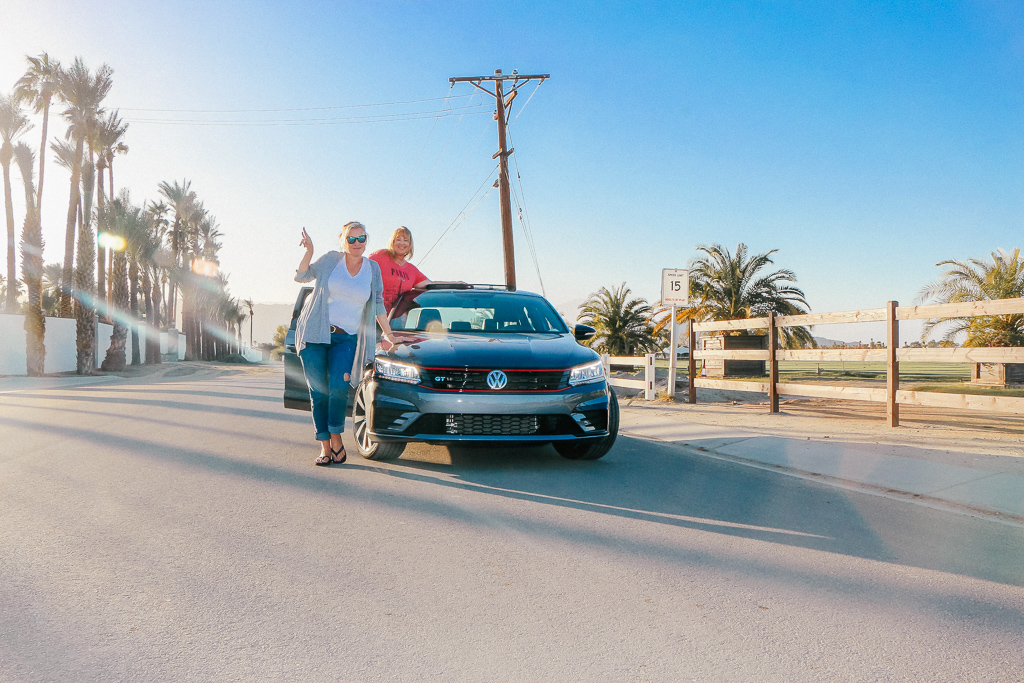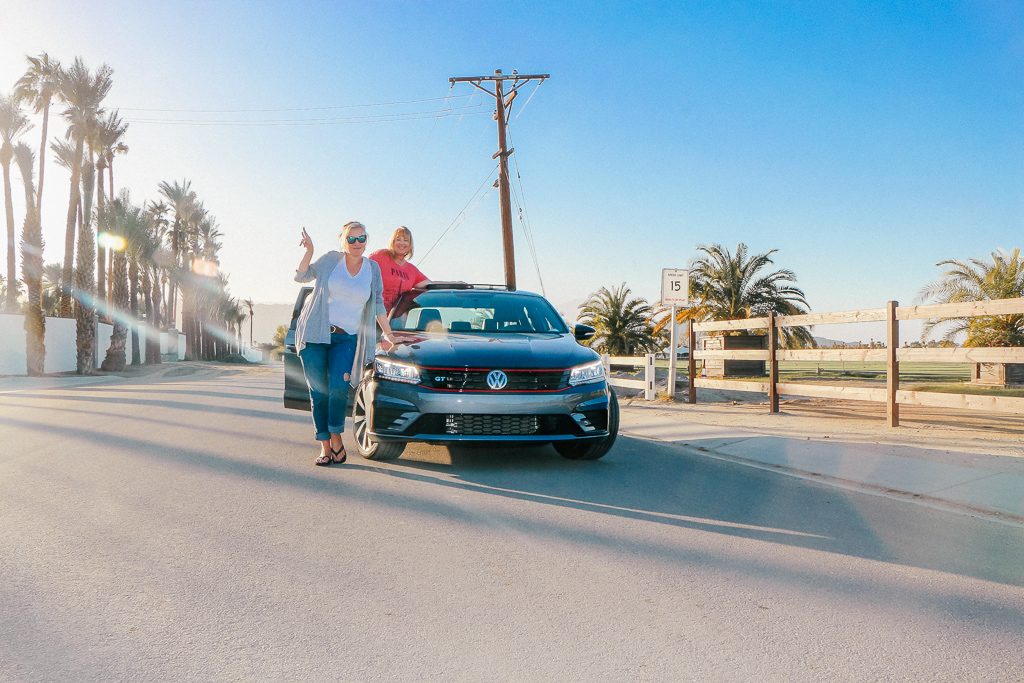 I have two eight-year-old's who both ride in booster seats and this backseat easily had enough room for two booster seats. The Passat is advertised as being roomy enough for five adults. We had three adults on our trip and plenty of room for all of our luggage and backpacks in the trunk.
I liked the roomy trunk…as a family of four frequent travelers, that means four suitcases plus room for other items such as kites, hiking gear, coolers, and things we pick up on a trip (i.e. shopping bags and yes, this one is totally my fault.)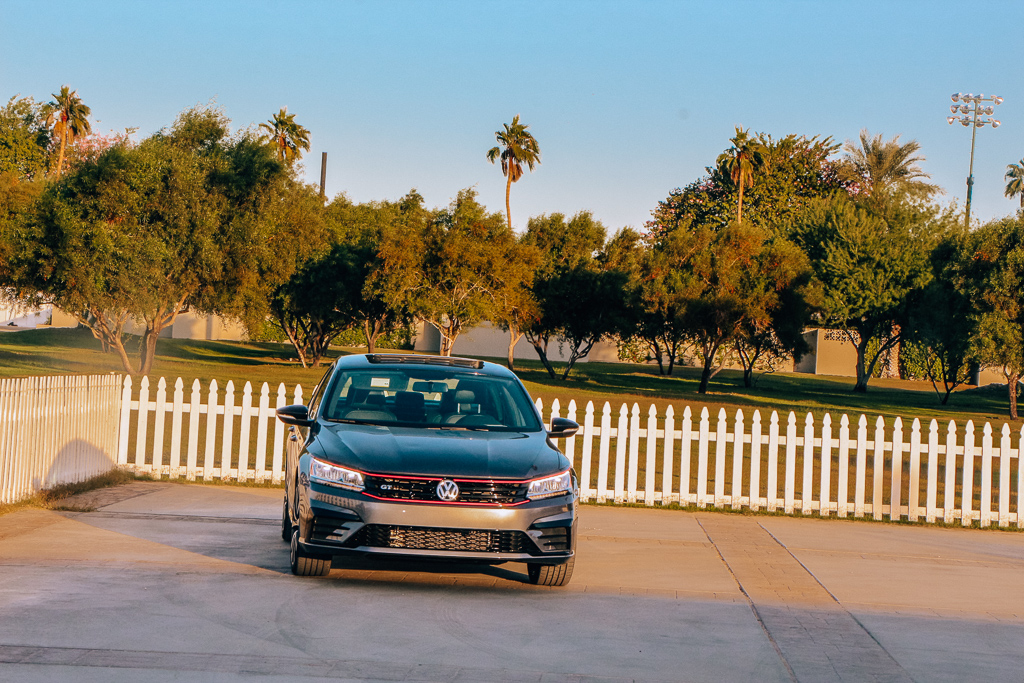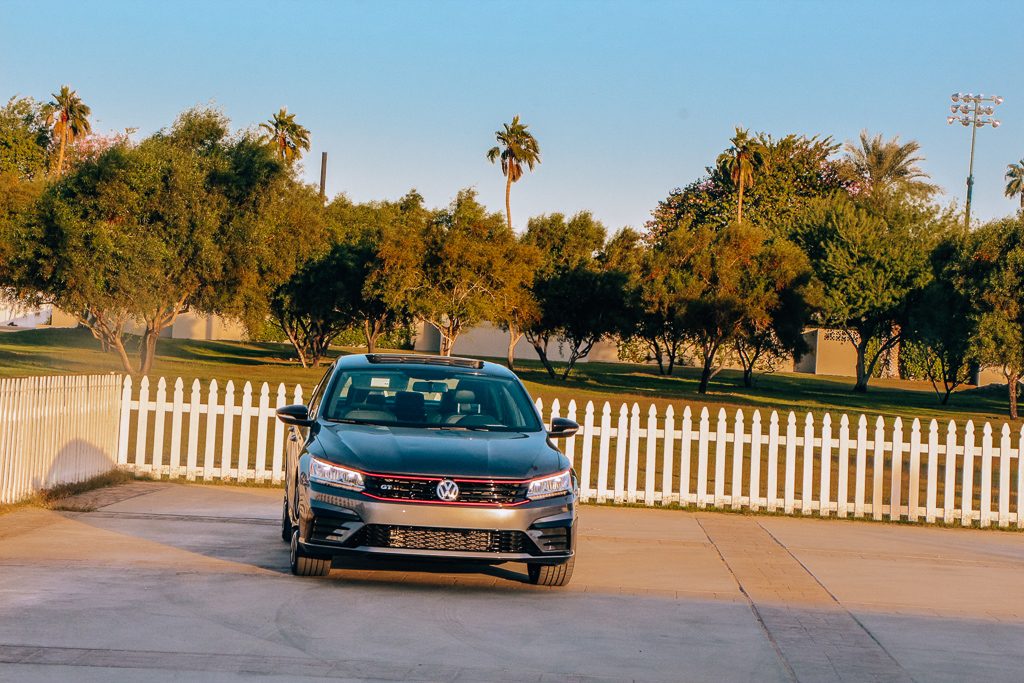 The Passat offers two USB ports and has rear-seat climate controls, which I really liked. If you're a rear-seat passenger, you're often at the whim of whoever is sitting up front as far as heating or air conditioning go.
The driver's seat is fabulously adjustable…it adjusts eight different ways to include the steering wheel and your lumbar support. I'm a tall lady and I drove the Passat shortly after a super-shorty drove it. The Passat is really easy to adjust to your comfort level. I usually intensely dislike adjusting the seat and the steering wheel because the whole process always seems clunky to me. I want to set my seat the way I like it and not have anyone mess with it, ever. I found the Passat really easy to adjust and I'd have no issues with making a few quick tweaks to get my seat back into the most comfortable and safe position for me.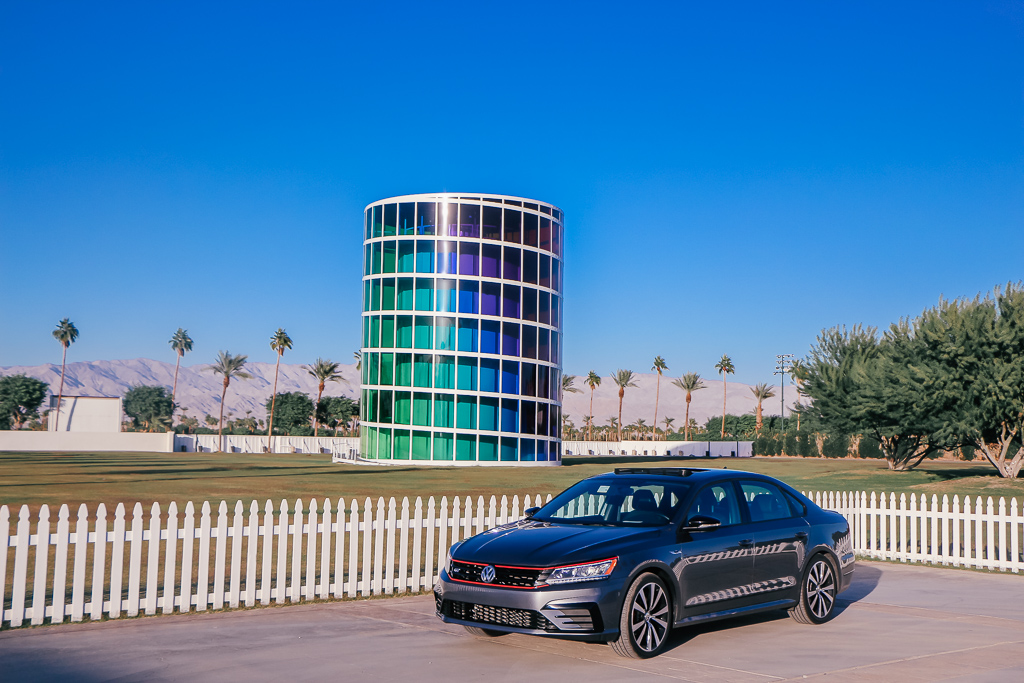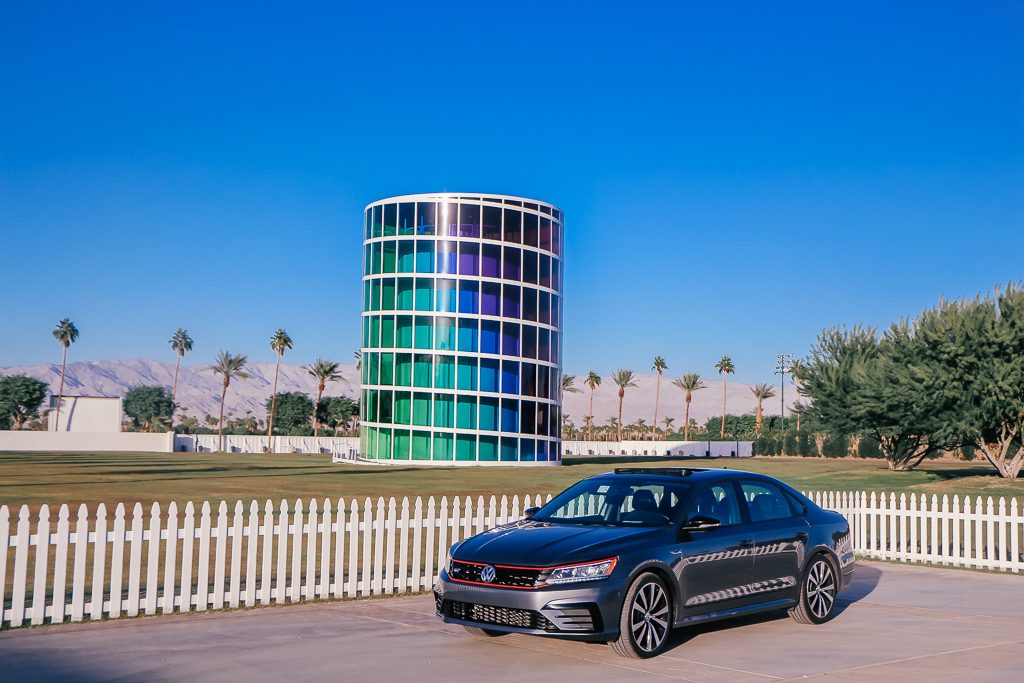 How much does the Passat cost?
Always the most important question, right? You can buy a fully-loaded Passat in the neighborhood of $25K. Even with option packages, you won't hit $30K, making this an insanely good buy. The Volkswagen Passt is a sleek, sporty, good-looking car that looks and handles like something with a much higher price tag.
The Volkswagen Passat is made in America, in Chattanooga, Tennessee, which was somewhat of a surprise to me. We all know the awesome German engineering that's behind the VW brand but I think it's kind of neat that these cars are made here in the U.S. The made in American may be important to you, so if the Passat isn't on your list because Volkswagen is a German brand, give this one another look.
My friends and I enjoyed exploring Palm Springs in this sporty and fun car. It was definitely a fun break from my daily minivan grind (although I firmly believe minivans have their place in the car universe) and it's absolutely on our short list of sedans to explore further. I hope you've enjoyed my review of the 2019 Volkswagen Passat…if you have any questions, leave them in the comments and I'll do my best to answer them or point you in the right direction. And, don't forget to check out A Girl's Guide to Cars…a car info site for women BY women who know what we want to hear as drivers and consumers.
Want to explore Palm Springs on us? Girls Guide to Cars has a sweet give-a-way for one lucky winner:
We are giving away a drive experience at the BMW Performance Center in Thermal, California plus a free night's stay at the fabulous Miramonte Indian Wells Resort and Spa. Trust me, you WANT to win this.
Contest rules: Entries must be completed by 11:59PM Pacific December 31st, 2018. No purchase necessary; contest open only to US residents 18 years old or older and subject to the laws of the state of California. Winner will be chosen by random drawing from qualified entires and verified by A Girls Guide to Cars; winner will be notified by email no later than January 7th, 2019. Prize will be delivered by USPS to a valid US address; prizes cannot be shipped to a P.O. box. Winners may be asked to provide identification to receive their prize. Prize valued at $1,200, not exchangeable for cash or other items. Prize is limited to one (1) night accommodations at Miramonte Resort, Indian Wells, CA with date of accommodation subject to approval by Miramonte management; one (1) breakfast for two at Miramonte Resort; one (1) half day driving instruction and hot lap package for one person at BMW Performance Center West, Thermal, CA. Travel and additional accommodations are the responsibility of the winner. Contest is administered by and prizes awarded by A Girls Guide to Cars, which assumes no liability for the administration of this contest. Miramonte Indian Wells Resort, BMW Performance Center, Visit Greater Palm Springs Area, and all other event partners assume no responsibility or liability for the administration of this contest. A total of 1 grand prize will be awarded.