Cheesy Chicken Broccoli Ranch Bake
(This post may contain affiliate links. Read my full disclosure.)
The only thing difficult about this Cheesy Chicken Broccoli Ranch Bake was deciding what to call it. My family is big on keeping to a certain dinner routine and for us, that means some kind of tacos on Tuesdays. We dearly love tacos of all kinds and these are kind of like tacos but not exactly. Other than just liking to change up our dinner routine, I like making things that are easy for my son Zack to handle. He has a limb difference and two handed eating is sometimes challenging for him, especially with messy, soft tacos.
Disclaimer: We are a participant in the Amazon Services LLC Associates Program, an affiliate advertising program designed to provide a means for us to earn fees by linking to Amazon.com and affiliated sites. This post may also contain affiliate links to other websites. If you make a purchase from one of my links, the seller pays me a small commissions.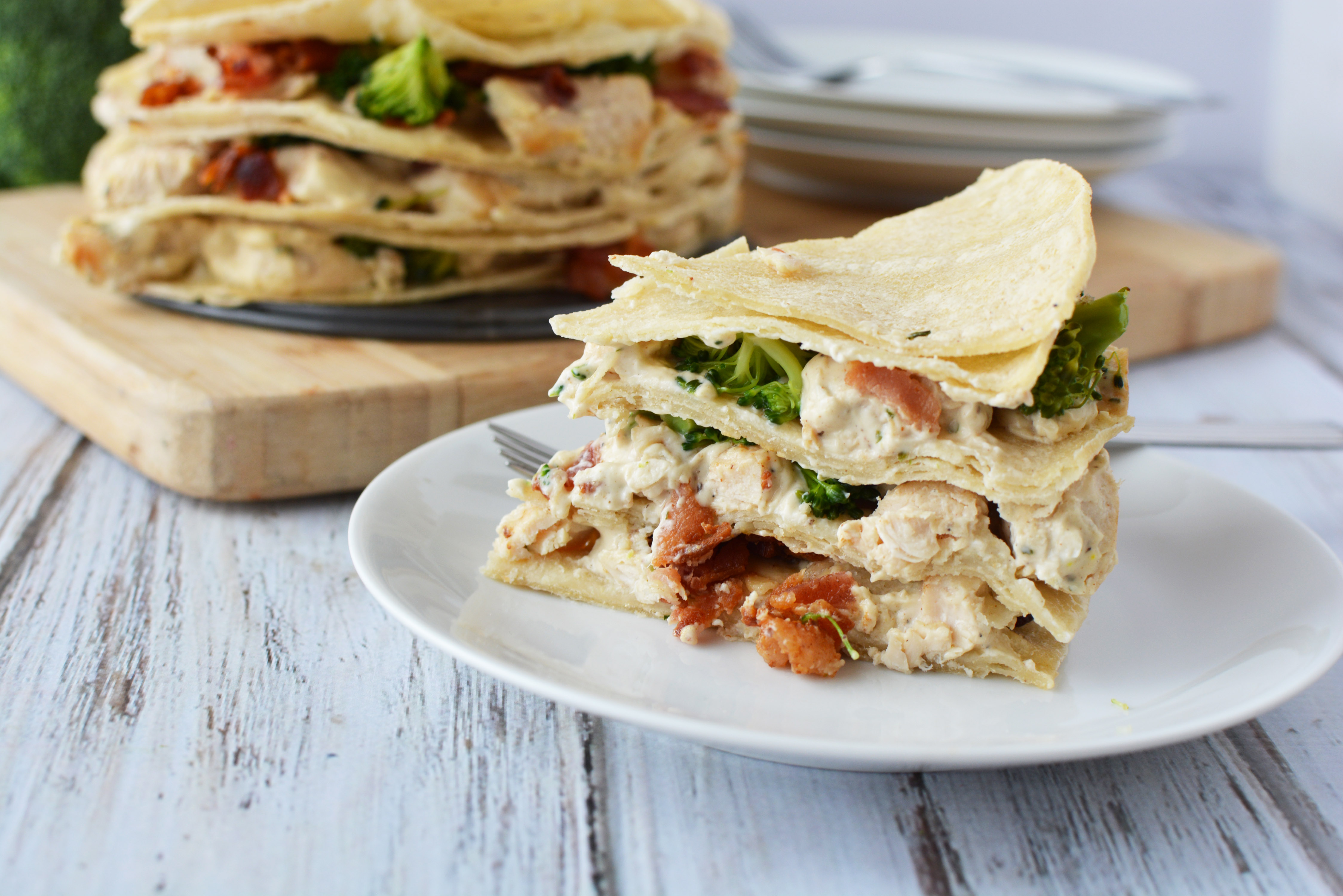 Cheesy Chicken Broccoli Ranch Bake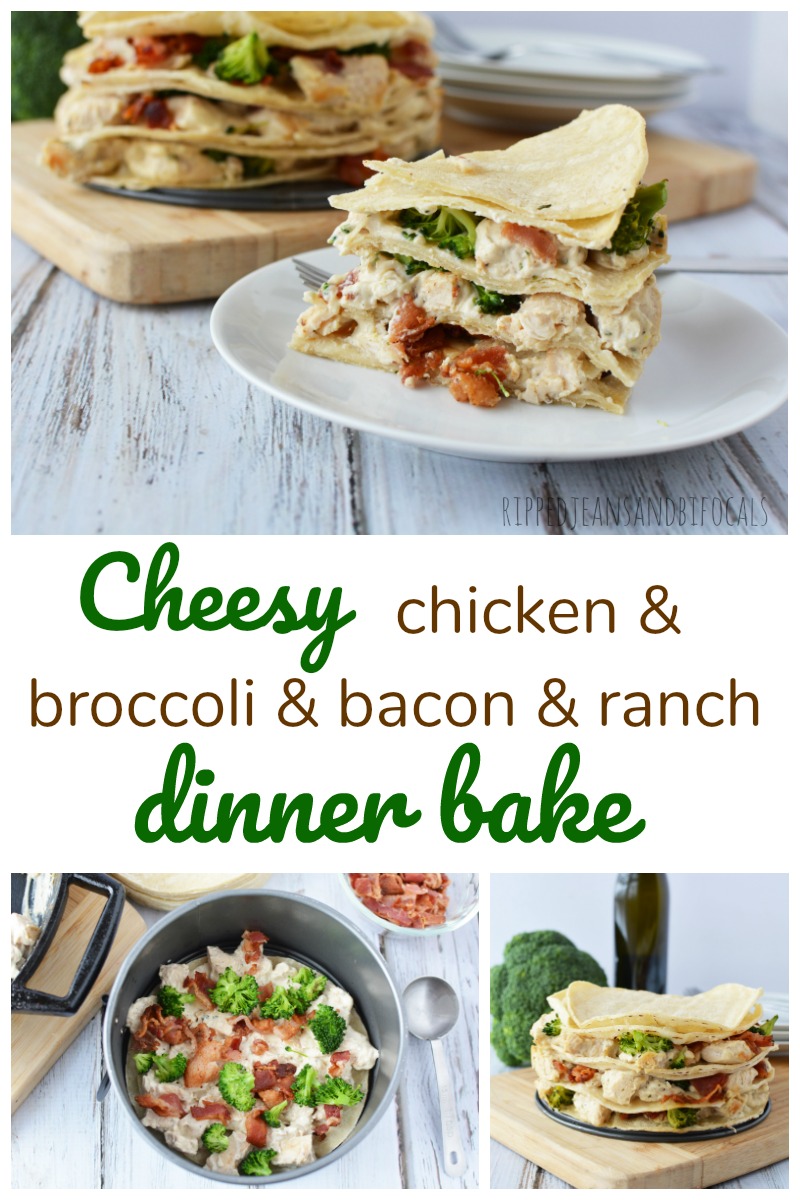 This cheesy chicken broccoli ranch bake is taco-like, in that it has tortillas and it's great with salsa on top. I mean…everything is better with a little salsa on top…except maybe pancakes. Or ice cream. Okay, maybe everything isn't better with salsa on top but you get my meaning.
I buy all of my chicken from Zaycon Fresh. I know that sounds like a super futuristic name but it's really just how I save money on meats fresh from the farm and eliminate the middle man. Plus, I stock up my freezer a few times a year and it makes meal planning easier. You can use my affiliate link HERE to check out the service and I'll get a small commission from Zaycon Fresh if you sign up.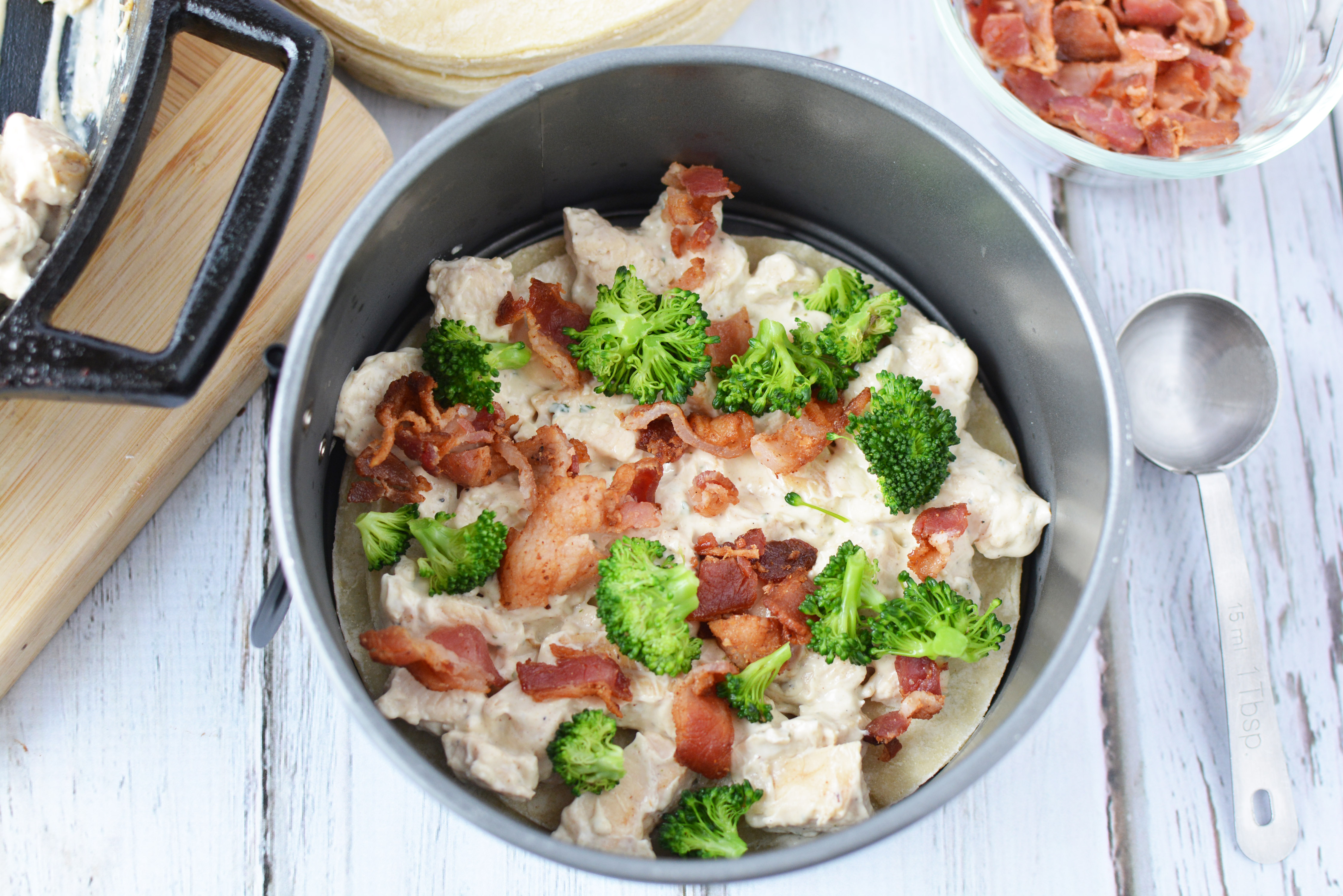 This has the flavor of tacos but the ranch and bacon is a fun difference and it's easy for my son to eat. And, there's broccoli in it, so I can pat myself on the back for making sure we get our veggies in there. And, for those of you who want to say something about the bacon and cream cheese? Shush.
This is the spring form pan I have: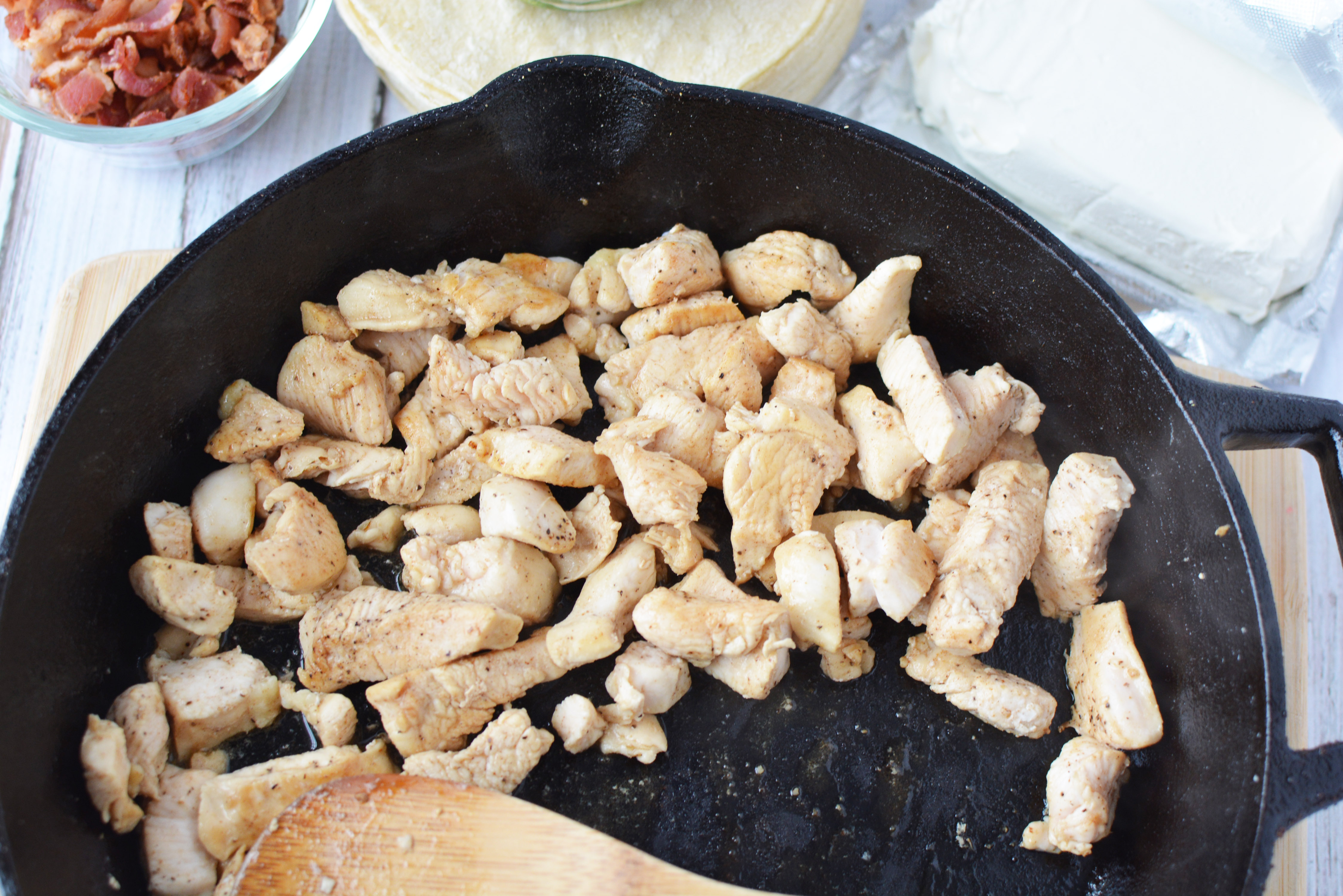 I am a corn tortilla person all the way but there's no reason this couldn't be delicious with flour tortillas as well. Sometimes, we get lucky and find the red and blue corn tortillas which makes this dish really interesting and pretty to look at.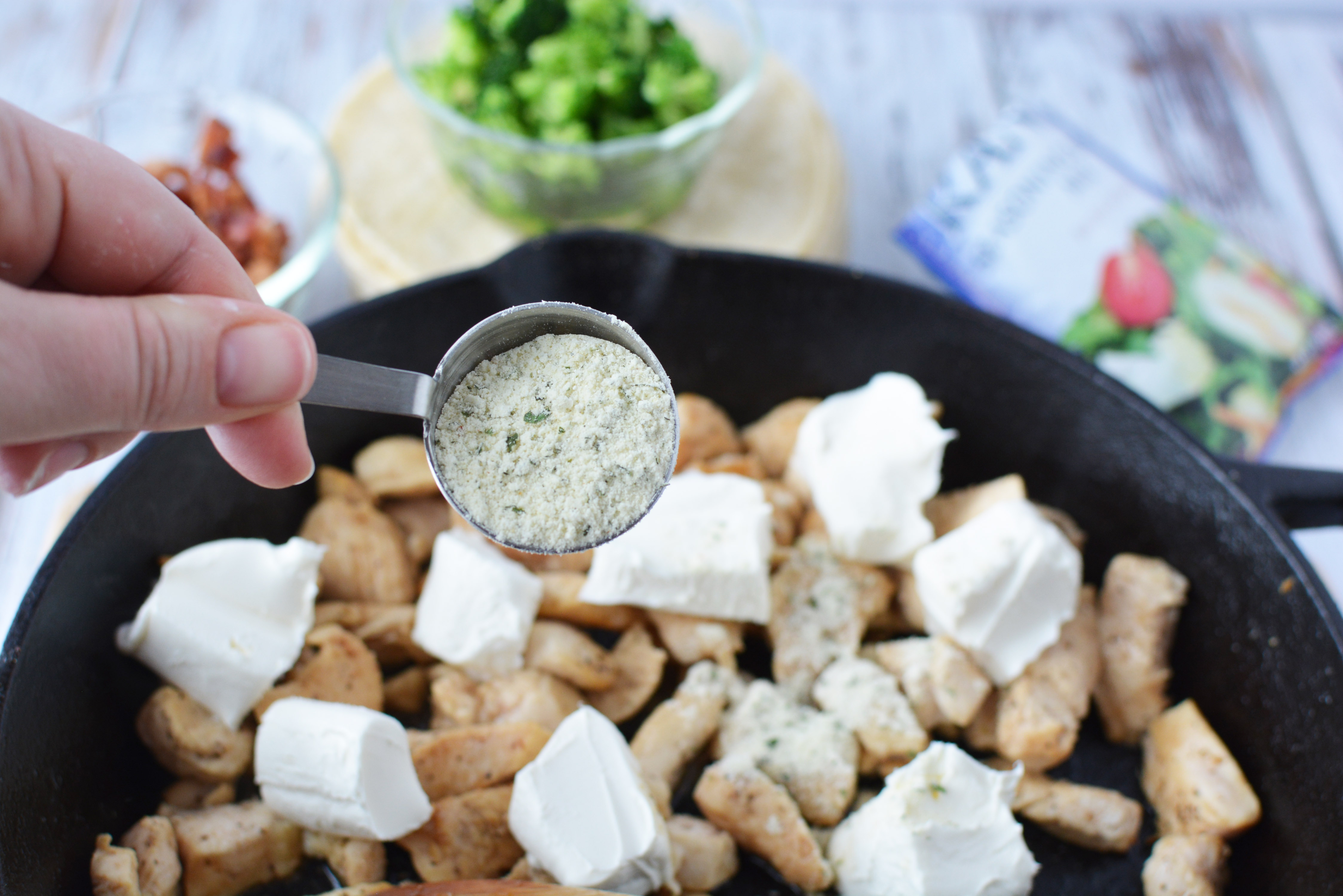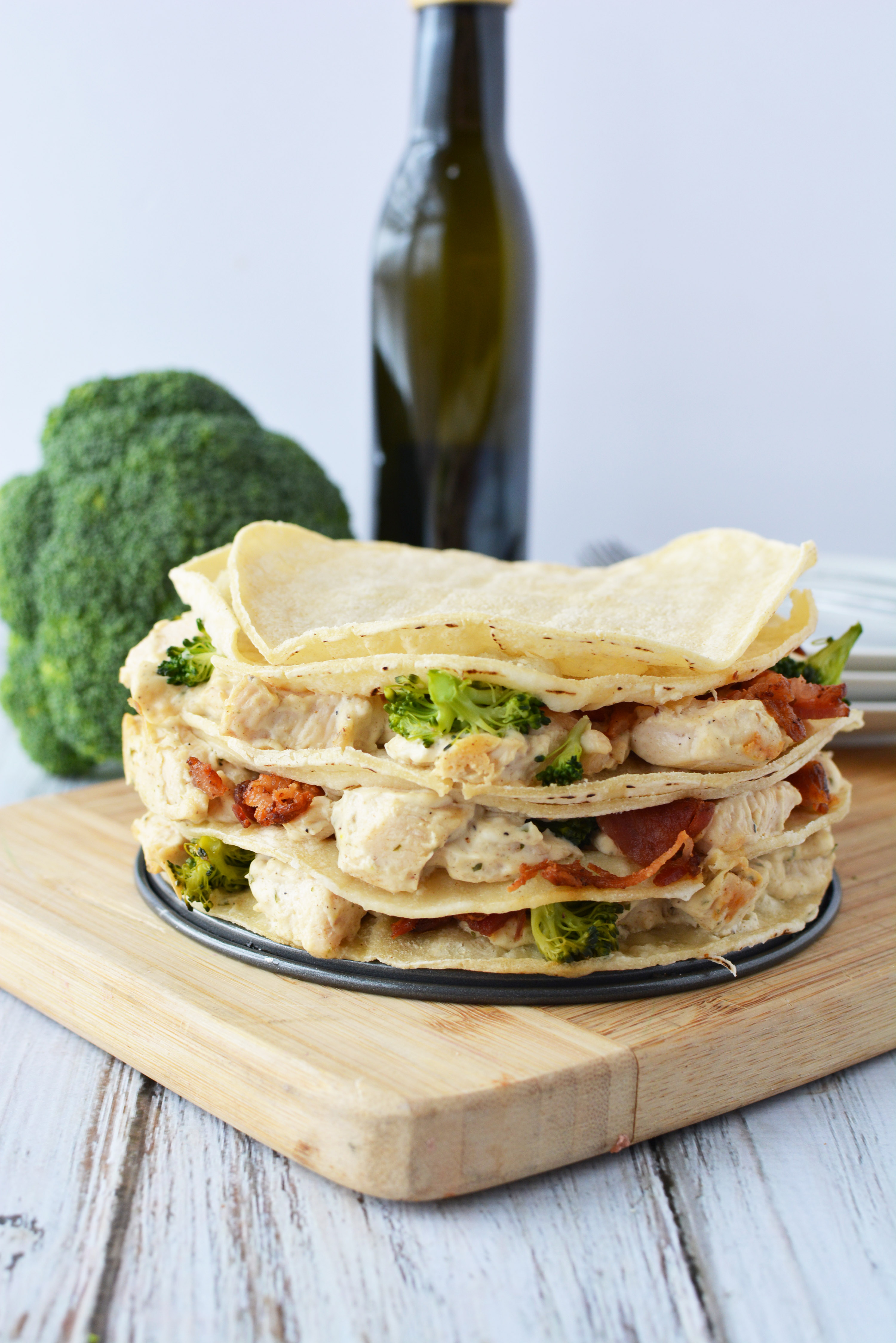 [Tweet "Cheesy Chicken Broccoli Ranch Bake"]
This is a pretty easy one, so you can add it to your weeknight dinner lineup. You can also do a lot of the prep ahead of time to really cut your minutes spent cooking dinner when you're being pulled in a zillion other directions. The hours between my kids getting home from school and dinner are INSANE for me, so if you're like me, you'll appreciate the easy.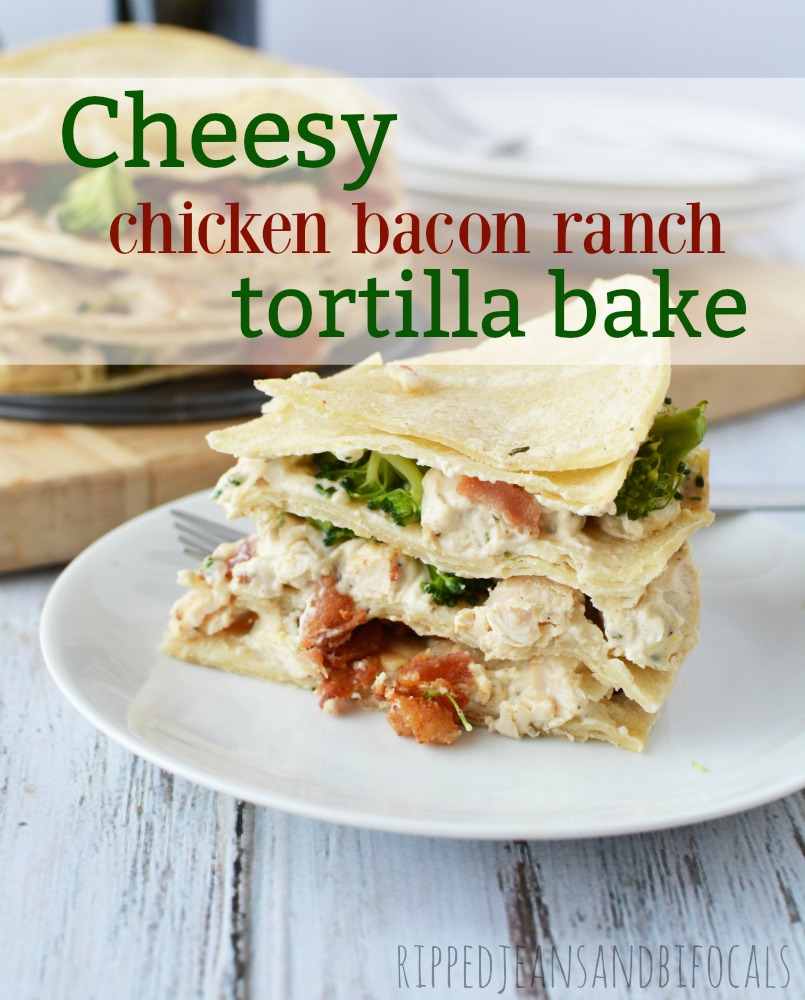 Cheesy Chicken Broccoli Ranch Bake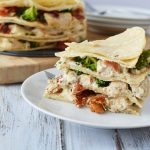 This is a fun switch up to traditional tacos and the cream cheese and bacon are PERFECTION.
2 tbsp olive oil
1 lb chicken breast, cubed
salt and pepper, to taste
4 oz cream cheese, cubed
1 tbps dry ranch seasoning
3/4 cup bacon, cooked and crumbled
3/4 cup broccoli, cooked and cut into small pieces
8 corn tortillas
Preheat oven to 350

Add oil and chicken to a large skillet and cook on medium heat until chicken is browned. Season with salt and pepper. Add cream cheese and ranch seasoning and heat on low until cream cheese is melted and sauce is thick.

Place 2 corn tortillas in the bottom of a 6″ spring form pan. Place 1/3 of the chicken mixture in the pan and spread evenly.

Add 1/3 of the bacon and 1/3 of the broccoli on top of the chicken mixture. Add another 2 corn tortillas on top and repeat the layering process ending with 2 corn tortillas on top.

Bake for 10-15 minutes or until hot in the center. Remove sides of the pan and slice and serve.
You might also like:
My very favorite baked chicken taco recipe
 Easy green chicken enchilada casserole
Ultimate list of easy weeknight meals