Celebrating Chinese New Year with Spicy Lettuce Boats & Pagoda Express
This post was sponsored by Collective Bias and it's advertiser. All opinions are my own. I wrote this post as we were preparing to ring in the Year of the Monkey but I'm re-sharing it again in celebration of the upcoming lunar new year. Because dumplings are awesome. 
Are you ready for the Year of the Rooster? We are, and we're doing a little early celebrating.
We started celebrating the lunar (Chinese) New Year in 2011, the year before we adopted our son, Zack, from China. Today, we two have sons from China (both born in the Year of the Tiger) and celebrating Chinese New Year is a nod to their birth culture and a fun away for us to infuse a little diversity into our family.
We've done all sorts of things to celebrate Chinese New Year, from having large gatherings at our house to quiet celebrations with just family. Things are different from year to year and now that our boys are in school, we've started looking for little ways to help our kids introduce the holiday to their friends, since most people in our small community aren't familiar with the traditions that go with Chinese New Year. My boys take the traditional red envelopes with "lucky money" – AKA chocolate coins – to school as favors for their friends and this year, I'll be looking for some printable "Year of the Monkey" coloring sheets.
I promised myself five years ago that I'd learn Chinese cooking. I haven't done too badly. While I don't consider myself an expert, I have perfected a few go-to recipes that go over well with everyone. I'm sharing my favorite: Spicy Lettuce Boats.
I love making these because they're so versatile. They make great-looking dinner party first course, but lately, we've been making them for weeknight dinners. They are that easy and they make any meal feel like something special.
[amd-yrecipe-recipe:9]
I've always paired scratch cooking with foods that are convenient and minimize my time in the kitchen and maximize my time with friends and family. I suppose I could make egg rolls from scratch if I had a few hours to spare and put my mind to it, but…well, I don't usually have a few hours to spare.  Besides, my new favorite thing is Pagoda brand egg rolls, which can be found in the frozen snacks section. Easy and delish.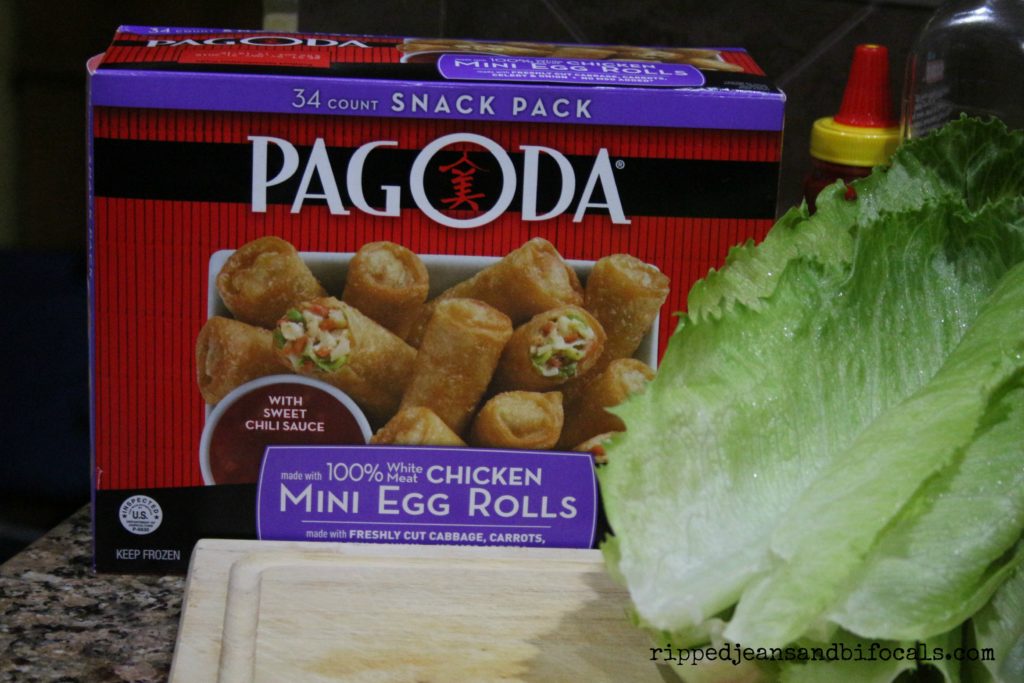 We decided to try something new this year and went with Pagoda Express Mini Chicken egg rolls. I'd never tried egg rolls made with chicken and these did not disappoint.  These can be microwaved, baked in a conventional oven or deep-fried. We opted to bake ours and they turned out wonderfully crispy. The sweet chili sauce that was included was a great compliment to these little gems, which are made from 100% white meat chicken. Pagoda brand contains no MSG or artificial colors, and that's important to me. I can feel good about serving these.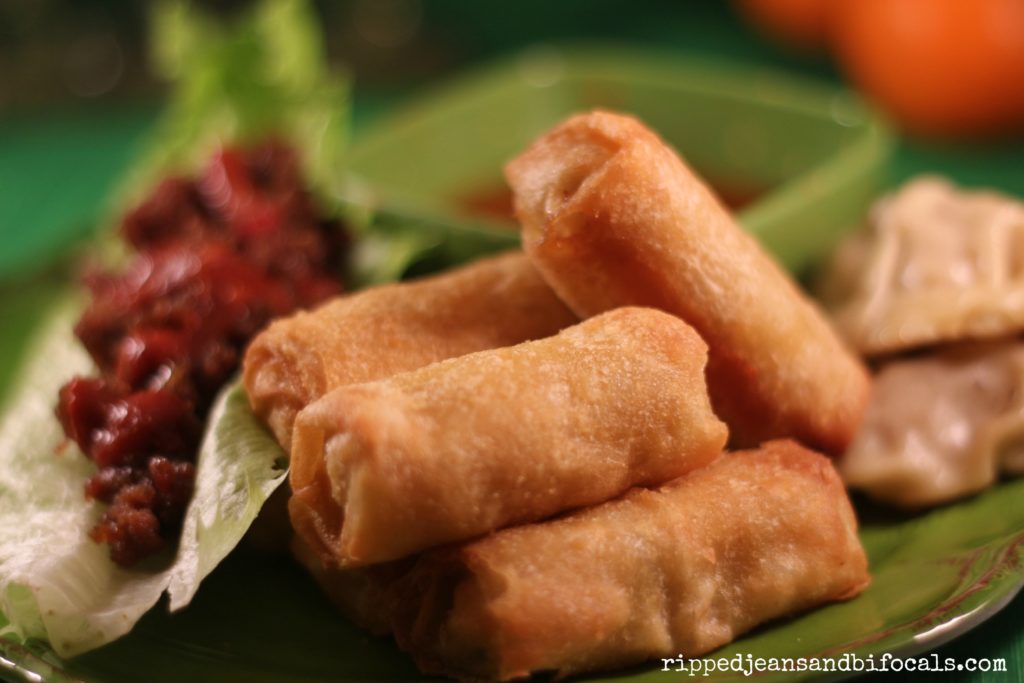 We enjoyed these delicious egg rolls as part of our weeknight dinner to kick off the Year of the Monkey a little bit early and they flew off the platter. I might have actually told one of my kids they were all gone while stuffing one in my face while hiding in the pantry. It was the last one on the platter and…well, you know. Zero guilt.
I've been to China twice and my love affair with pot stickers began in 2012. Pot stickers were on the breakfast buffet at our hotel in the city of Taiyuan, which is the capital of Shanxi Province, in Northern China. At first, I thought this was kind of a weird thing to eat for breakfast, but I was quickly hooked.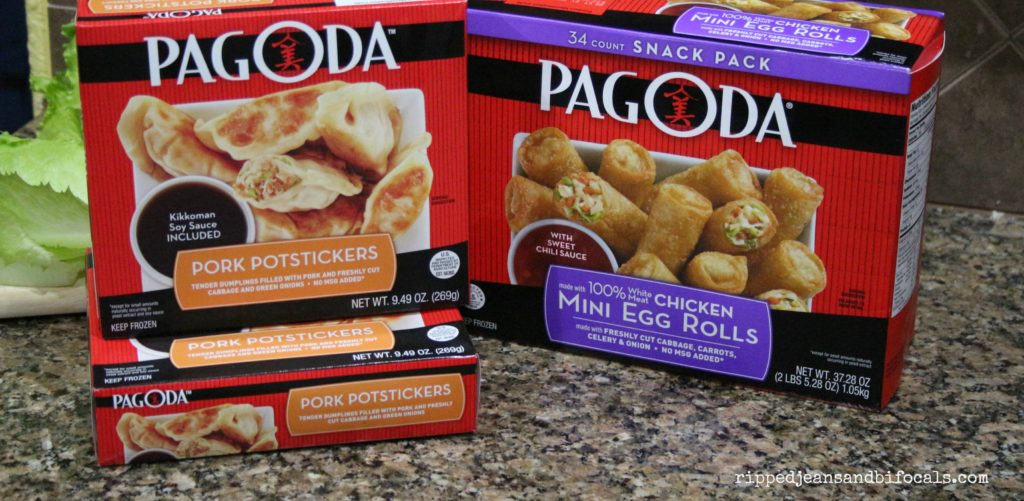 I've always given my boys pot stickers as a dinner side, as a snack, and yes, sometimes, even for breakfast, which they think is a huge treat. Although they have typical "American kid" palates now, they still love their pot stickers and most other Asian foods. We decided to try the Pagoda Express Pork Pot stickers this year and oh boy oh boy.
I am no stranger to frozen pot stickers but this was the first time I'd tried Pagoda Express. Let me just say, all of my fantasies about making my own, homemade pot stickers just flew out the window because these were every bit as good as what we ate in China. Not kidding. You can microwave these or use the traditional, stove top method. Go with the traditional method if you can. It takes almost no time and they turn out so, so good. The soy dipping sauce adds the perfect touch. I like them with chili sauce or Sriracha, too, but I really like spicy foods.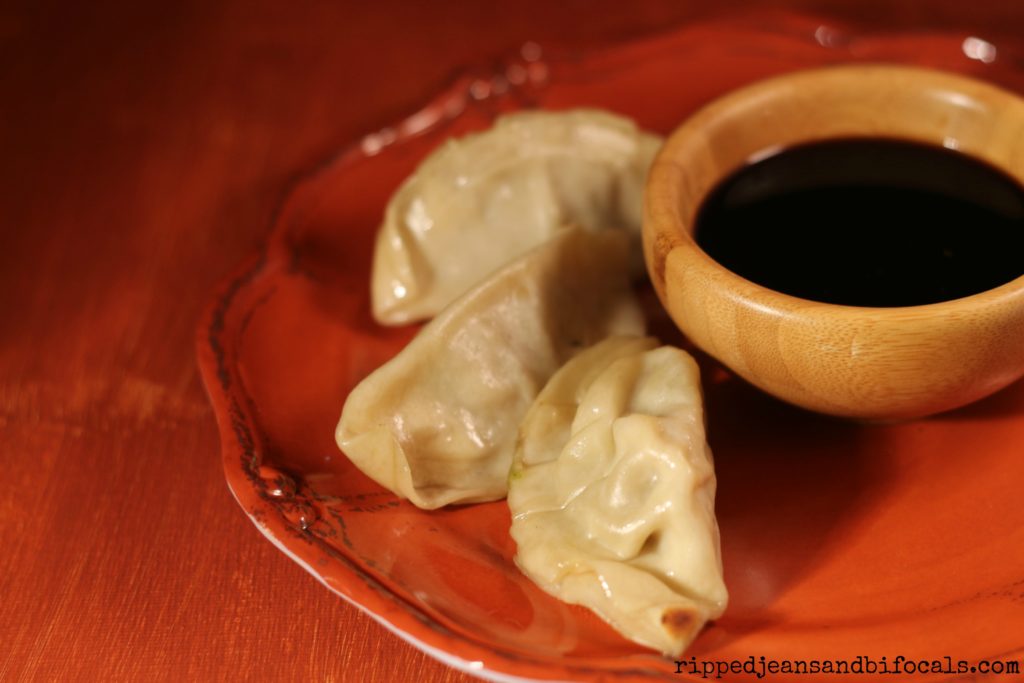 The Spicy Lettuce Boats paired with the Pagoda Express Mini Chicken Eggrolls and Pork Pot stickers made the perfect, easy family dinner and allowed us to reintroduce Chinese New Year to our kids. They're still pretty young so they haven't yet remembered what we do from year to year, so we keep explanations simple. Although we talk about adoption frequently, this is a great time of year to reflect on our family's trips to their birth country, which they're too young to remember. We took a lot of photographs and have a lot of memories and souvenirs that we pull out this time of year and we answer their questions, which are pretty basic for now. It's a nice family bonding activity and it opens the door for discussion. They always ask when we can go back to China to visit…one day, hopefully.
Our family might have gotten a late start in celebrating Chinese New Year but I'm so glad we added it to our repertoire of holidays. I look forward to many more quiet little celebrations with my kids just as much as I look forward to sharing this holiday with the people in our circles and helping our kids share it with the people in theirs.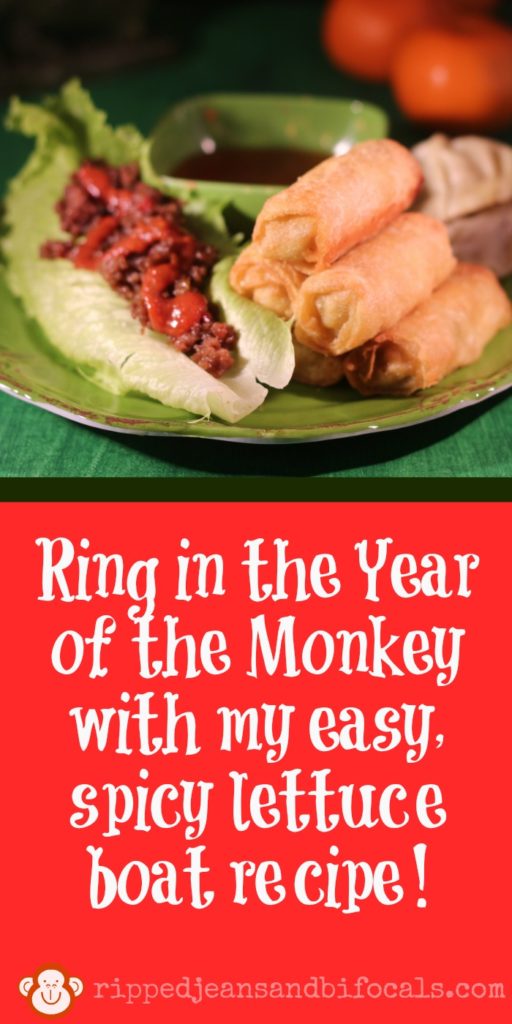 Food will always be a part of those celebrations and I'm pretty proud of my Spicy Lettuce Boats. They're the perfect blend of sweet and spicy and this is just one of those recipes that looks like you made a lot of effort when it's really super easy…which is my kind of cooking. I guess that's probably why I love the Pagoda Express selections. I can round out my table and offer a nice variety of nibbles without pressuring myself to make something that's beyond my skill level. The chicken mini egg rolls made a great addition to our dinner table and they are they perfect size for little hands, but you can bet I'll be buying these for my next party, whether that's for Chinese New Year or something else. The minis are the right size for entertaining.
And I'm totally not kidding about these pot stickers being just as good as the ones we had in China. Maybe we'll have them for breakfast tomorrow…
Thank you SO MUCH for reading!
YOU MIGHT ALSO LIKE: