Easy Green Chicken Enchilada Casserole
I cannot believe back-to-school time is almost upon us. I am sort of in denial, although I am a little more ahead of the game than normal – which means I have probably forgotten something really important and just don't know it yet. School clothes – check. School supplies – check. Did you guys know that between my two kids I had to buy 52 containers of glue?  I think the Kindergarten class has plans to construct a skyscraper out of Elmer's or something.
The first week of school is always crazy town at our house as we get settled in to a new kind of routine. Okay, who am I kidding…every week is pretty much crazy town at our house.  In celebration of back-to-school, I'm sharing one of my new go-to recipes.  I like it because it's relatively nutritious, gluten free and easy to throw together.  And for the winner, EVERYONE in my family likes it…at least they do this week. You know how fickle kids are.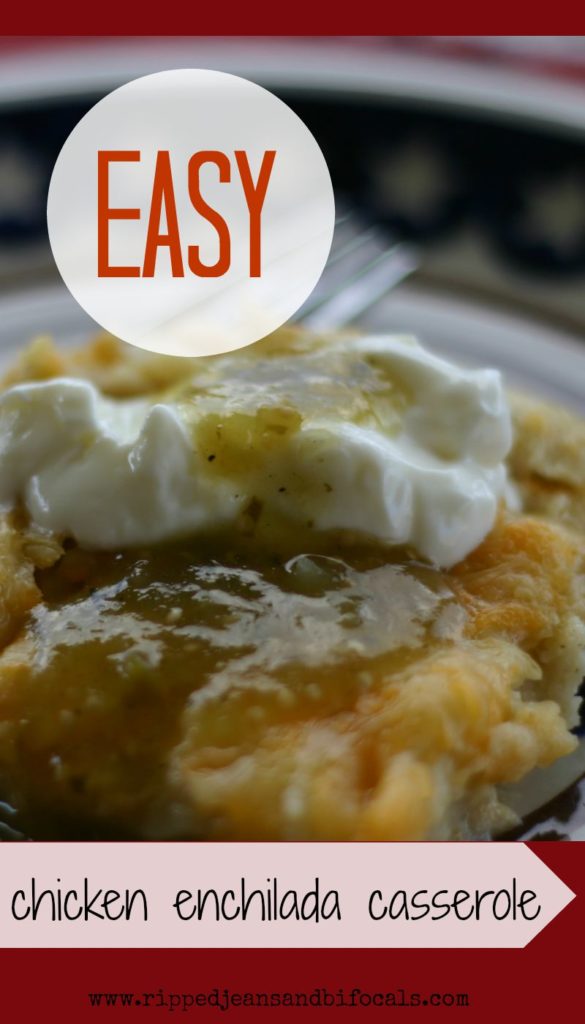 I love to make homemade enchiladas but those are saved for special occasions because they take so much time. I've nicknamed this easy green chicken enchilada casserole "cinchaladas" because they are so much easier and faster than enchiladas but they taste about the same. I usually assemble these in the morning and pop the foil covered pan in the fridge and they're ready to bake whenever I'm ready to make dinner.
Ingredients:
10 white corn tortillas
16 oz cooked, shredded chicken*
2 10 oz cans of green enchilada sauce
2 cups shredded cheese – I use the 4 cheese Mexican blend but you can use any variety
*I buy the preseasoned, precooked chicken at my deli. You can use leftover chicken or cook three boneless, skinless breasts, shred and toss with a packet of taco seasoning…either way, easy.
Prep time – about 5 minutes
Cut the tortillas into triangles
Pour one can of enchilada sauce into the bottom of a 9 x 13 pan
Cover the bottom of the pan with tortilla triangles, overlapping to cover the sauce completely
Layer half the chicken and half the cheese
Repeat the layers – second can of sauce, chicken and cheese – easy peasy!
If you've refrigerated, let stand at room temperature for 10-15 minutes.
Remove foil, bake in a preheated 350 oven for 35-40 minutes…top layer of cheese should be bubbly. Let cool in the pan for 5-10 minutes, cut into squares and serve with the toppings of your choice.
We like to garnish this with sour cream and green salsa although the possibilities are endless…you could use lettuce, tomatoes, olives, or extra peppers or chilies to spice things up.  You can also use regular red enchilada sauce for a different look and flavor or sub ground, seasoned beef for the chicken.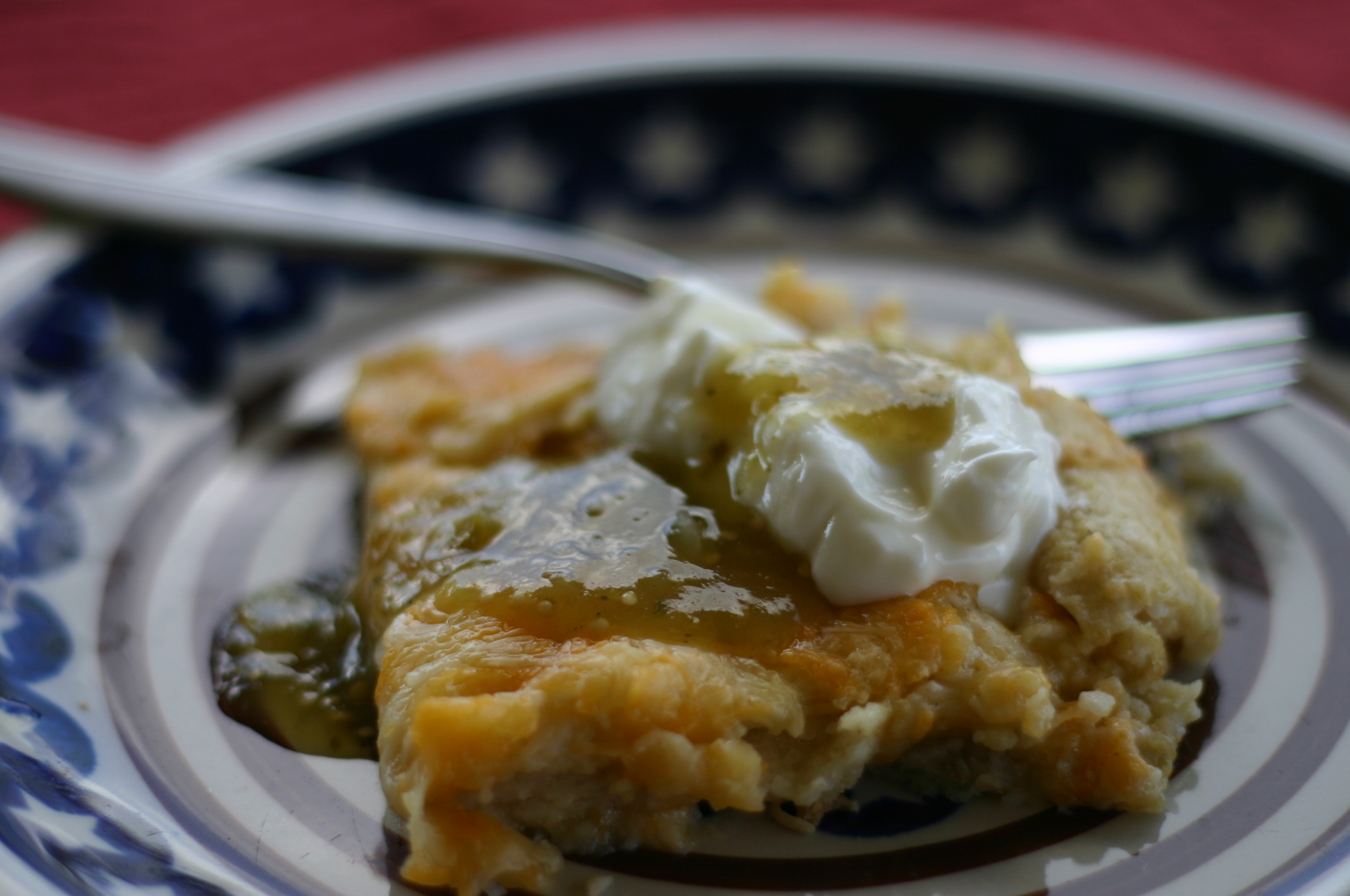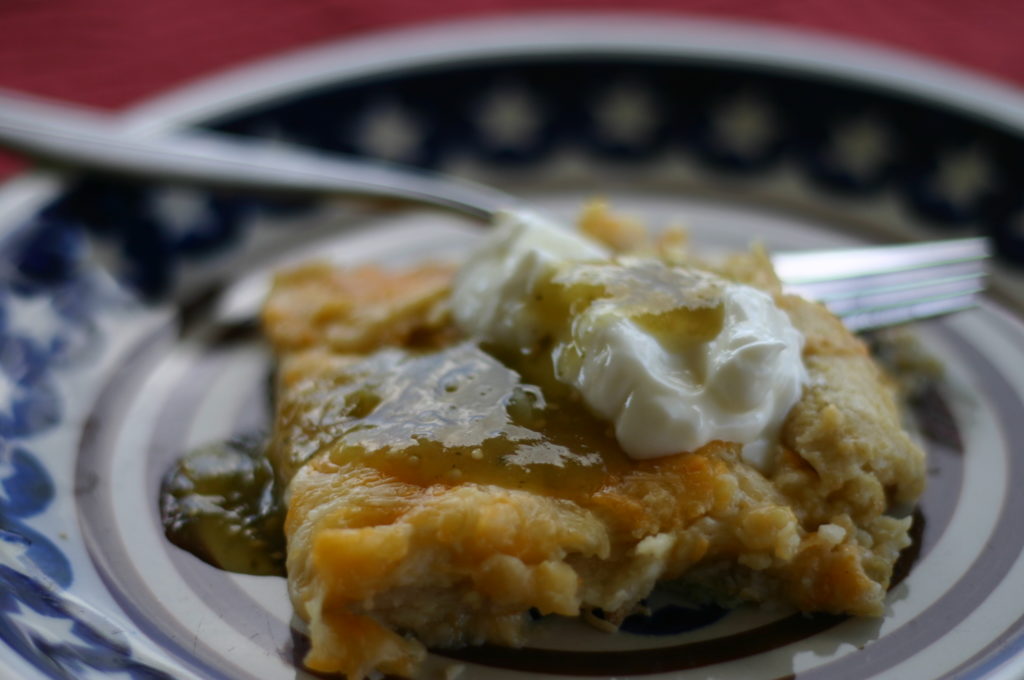 Give it a try – simple, fast and not too many ingredients. Perfect for the first couple of weeks of the new school year as everyone's struggling to acclimate to new routines and schedules.  And when I say schedule, let me just give a little shoutout to an earlier bedtime!  Whoo hoo!
Enjoy!
If you've enjoyed reading this please follow me on Facebook and check out my Easy Dinner Ideas for Families board on Pinterest!  Thank you for reading!

Follow Ripped Jeans and Bifocals's board Dinner ideas for families on Pinterest.
Please click! A visit a day boosts my blog ranking at Top Mommy Blogs!