Visiting Shiner Texas and the Old Kasper House & Derrich Domov Victorian Inns
(This post may contain affiliate links. Read my full disclosure.)
If Shiner, Texas sounds familiar to you, you just might be a beer lover. Shiner beer is brewed in the tiny, adorable town of Shiner, Texas and enjoyed all over the world. If you're a true beer aficionado perhaps a pilgrimage to Shiner is on your to-do list…but even if you're not super into beer, Shiner, Texas just might be worth a stop. visiting shiner texas
Visiting Shiner, Texas and the Old Kasper House & Derrich Domov Victorian Inns
1. The brewery tour
The Spoetzl Brewery offers free tours on weekdays.  Hours are listed on their website but I recommend you call for current times because there was a time given to me on the phone that wasn't listed on the website. Besides, the lady that answers the phone is real nice.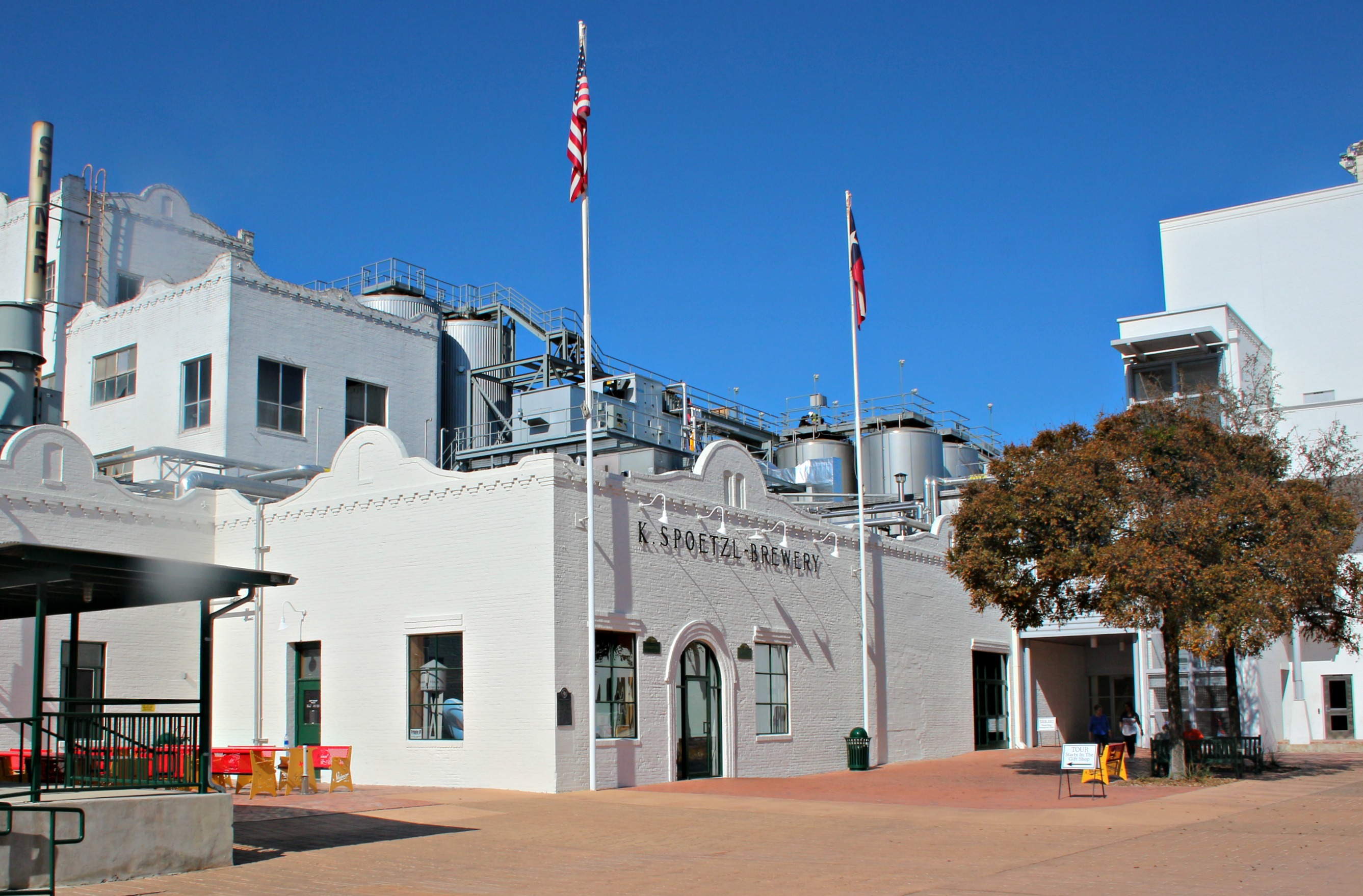 The tour takes about half an hour and is kid-friendly. There's a lot to be learned from touring a brewery: chemistry, measurements such as mass and volume, packaging, marketing, and agriculture. Probably more.
[Tweet "Visiting Shiner Texas and the Old Kasper House & Derrich Domov Victorian Inns"]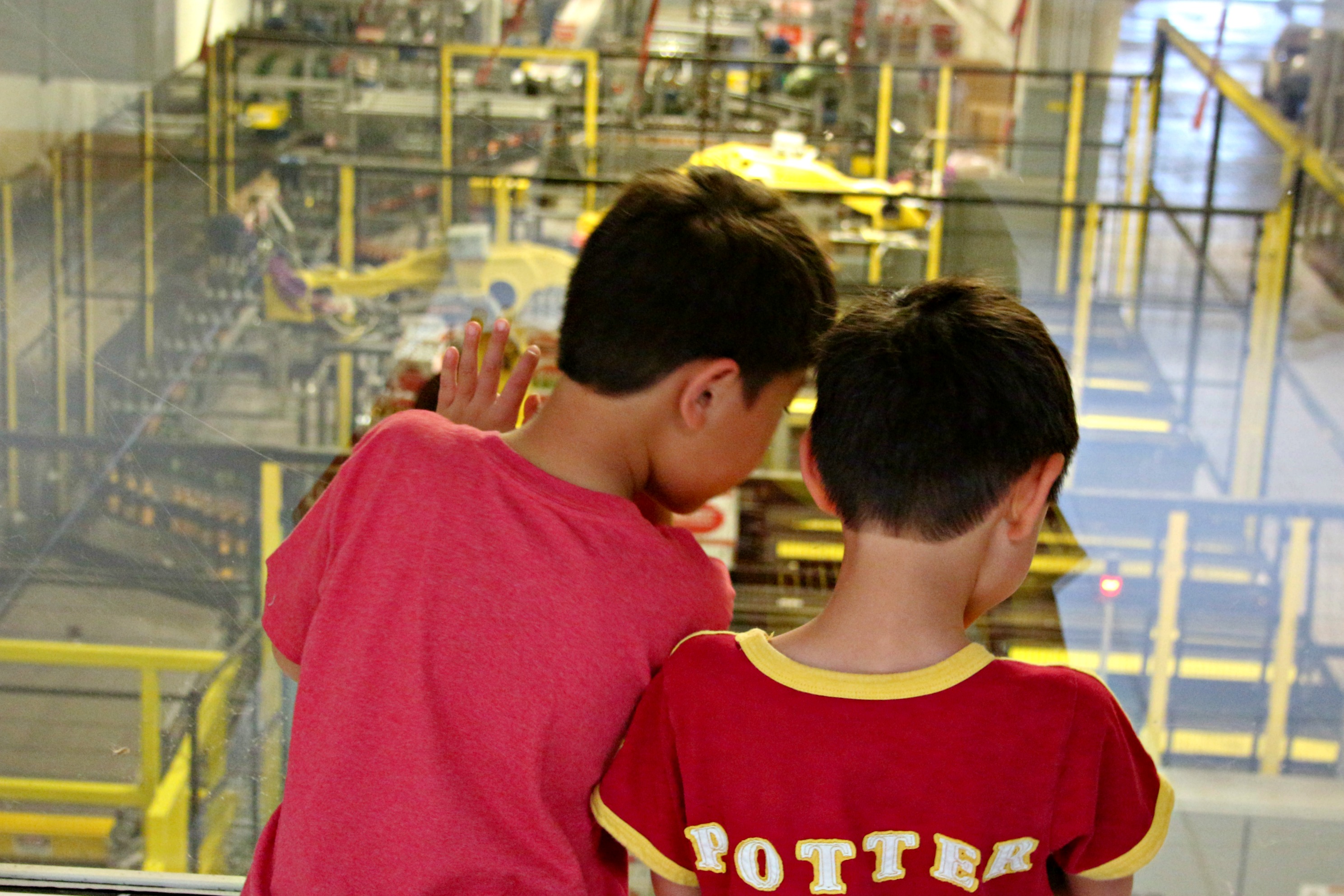 My kids were engaged and entertained pretty much throughout the entire tour and the tour guide was great with kids.
Unfortunately for weekend travelers like me, the tour is only offered on weekdays. This is a great Friday or Monday stop if you've got a three-day weekend. The tasting room and gift shop are open from 11:00 a.m. to 3:00 p.m. on Saturdays (call to verify.) The gift shop is really cute and there's lots of fun Shiner Beer memorabilia. Tastings are free.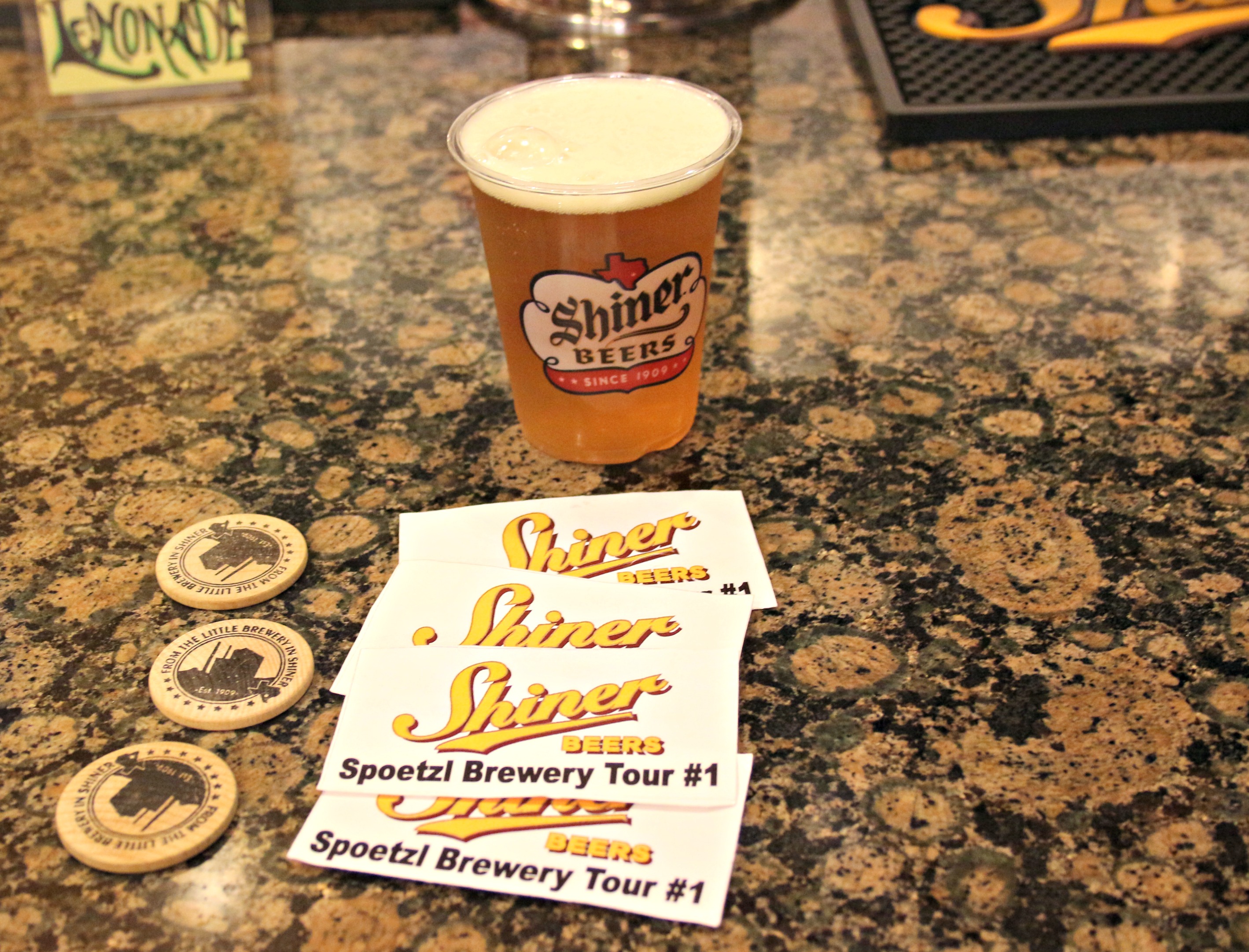 You're allowed four free tastings – think the size of a Dixie Cup – and there is lemonade for the kids and anyone else who doesn't wish to imbibe. Just check in at the counter and you'll be given a ticket for the tour and little poker chips that you'll redeem for your tastings. I don't believe there's a limit for the lemonade…my kids had about six cups apiece.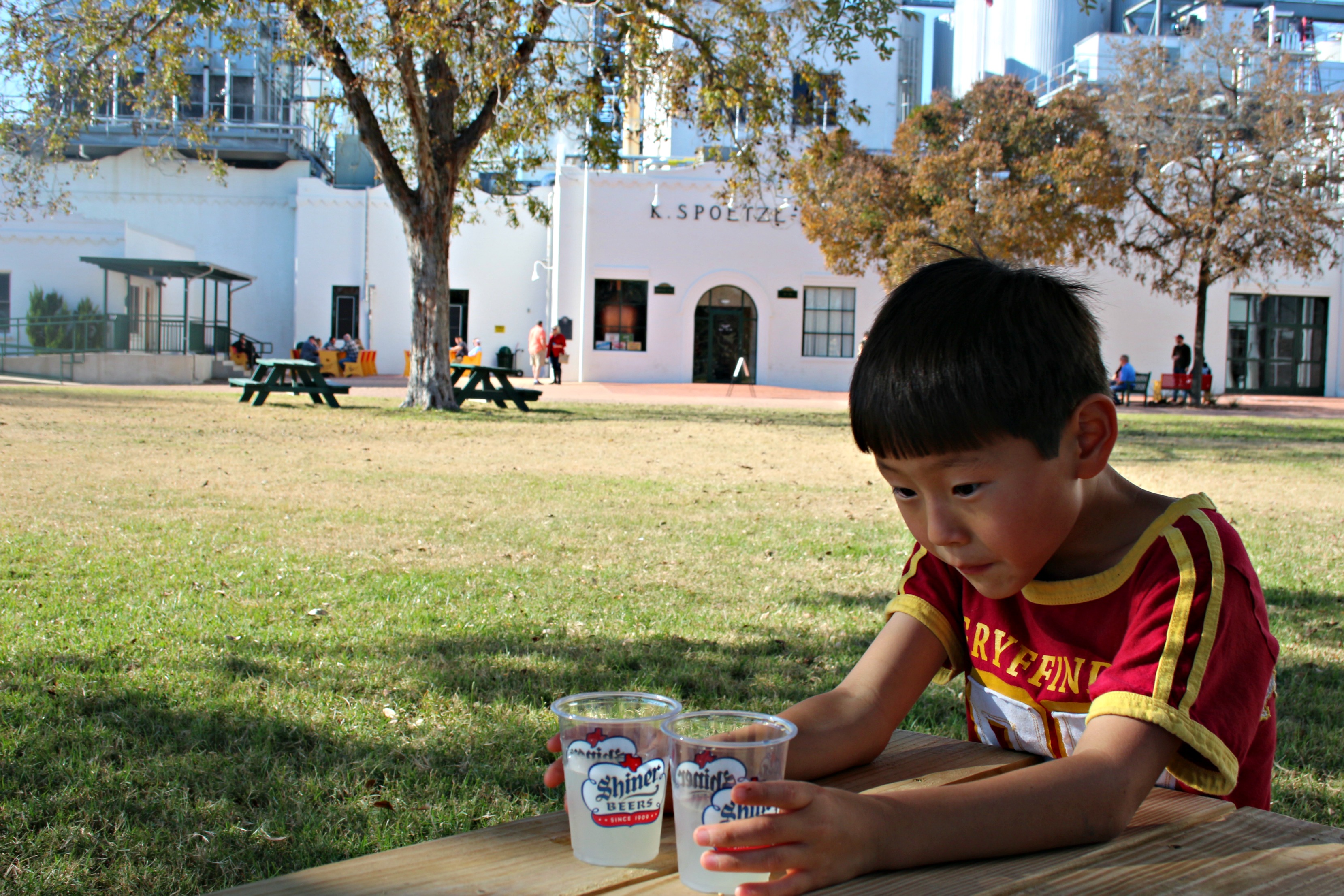 2. Things Near Shiner
Historic Gonzales is just a short drive from Shiner. In fact, you can easily stay in Shiner if you're looking to explore the town where Texas independence all got started.
There are lots of fun things to do in Gonzales year round but the first week in December is a fun time to go. There's a ton to do and our mild Texas weather means fun outside exploring without freezing your patootie off…well, usually. Texas weather is super unpredictable. Texas in December might mean flip flops and short sleeves or it might mean a bundling up from head-to-toe. Usually, somewhere in between.
Wineries!
If you're more of a wine person versus a beer person, there are a handful of boutique wineries within an easy drive of Shiner. Check out Moravia Wines, Majek Vineyard and Winery, and San Ducerro Vineyards.
Moravia and Majek are right next door to each other but San Ducerro is a little more of a drive…but the scenery and the wines are worth it if you have the time.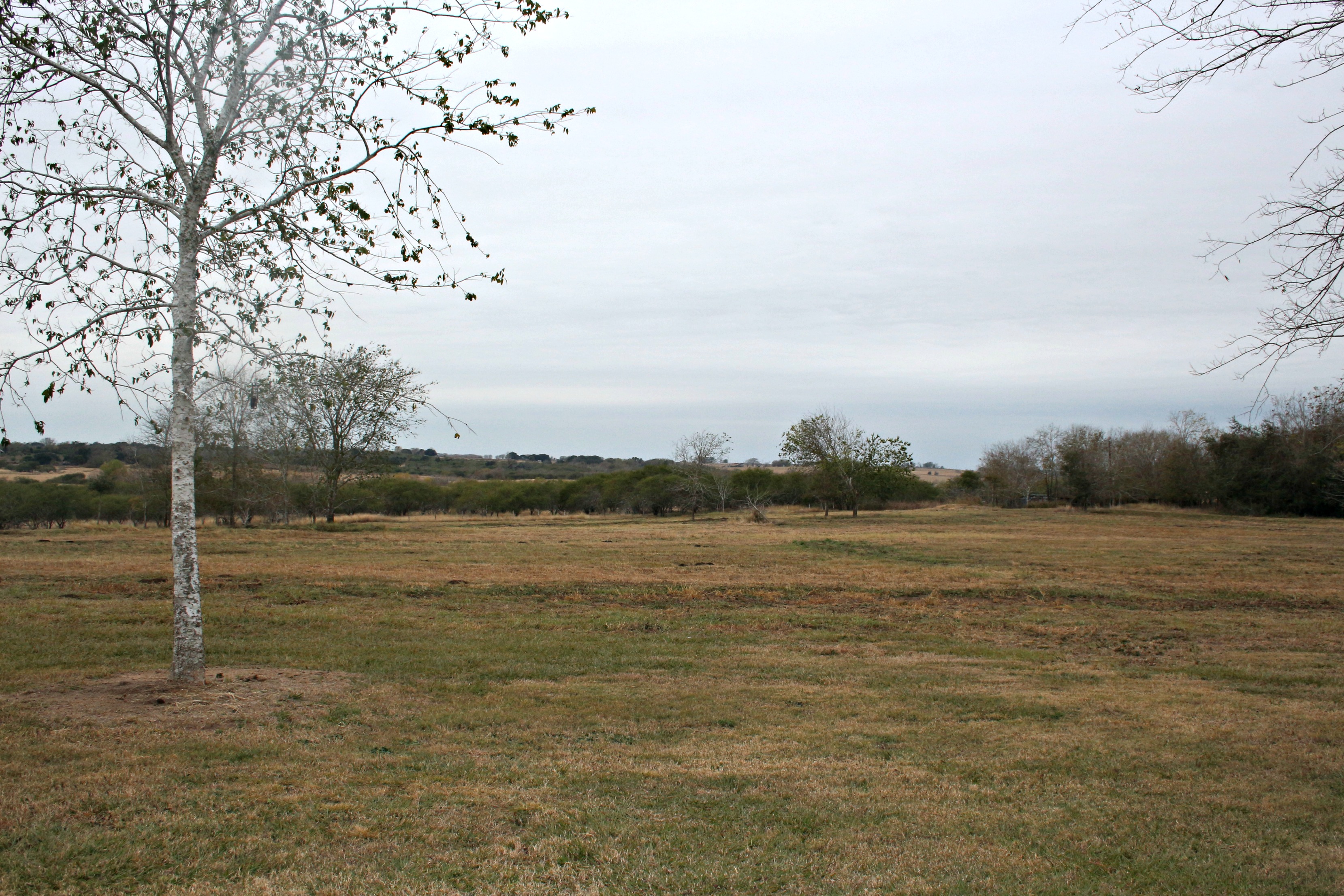 All of the wineries I've listed are family friendly but I want to give a special shout out to Moravia. They have a children's playroom upstairs that is absolutely adorable. My husband and I stopped in for a quick tasting on a very gray, yucky day and our kids were absolutely enthralled. Also? Moravia Wines serves a delicious cheese plate with their tasting. Definitely worth a stop.
The nearby city of Moulton is also worth checking out. They have a fun arts and crafts festival in July with great food, music and dancing and a corn maze in the fall. Check out the city's website for more info on what might be happening during your visit to this neck of the woods.
I'm a big fan of using the Google search term "things to do near me" when I'm traveling. Most small towns have something going on during any given weekend and we've done a lot of fun things and met a lot of nice people during our travels.
3. Where to stay and eat in Shiner
We stayed at Old Kasper House & Derrich Domov Victorian Inns. We've stayed there twice – once as a couple on an unexpected child-free get-a-way and once as a family. If you're interested in visiting Shiner, we recommend you stay here…we loved it!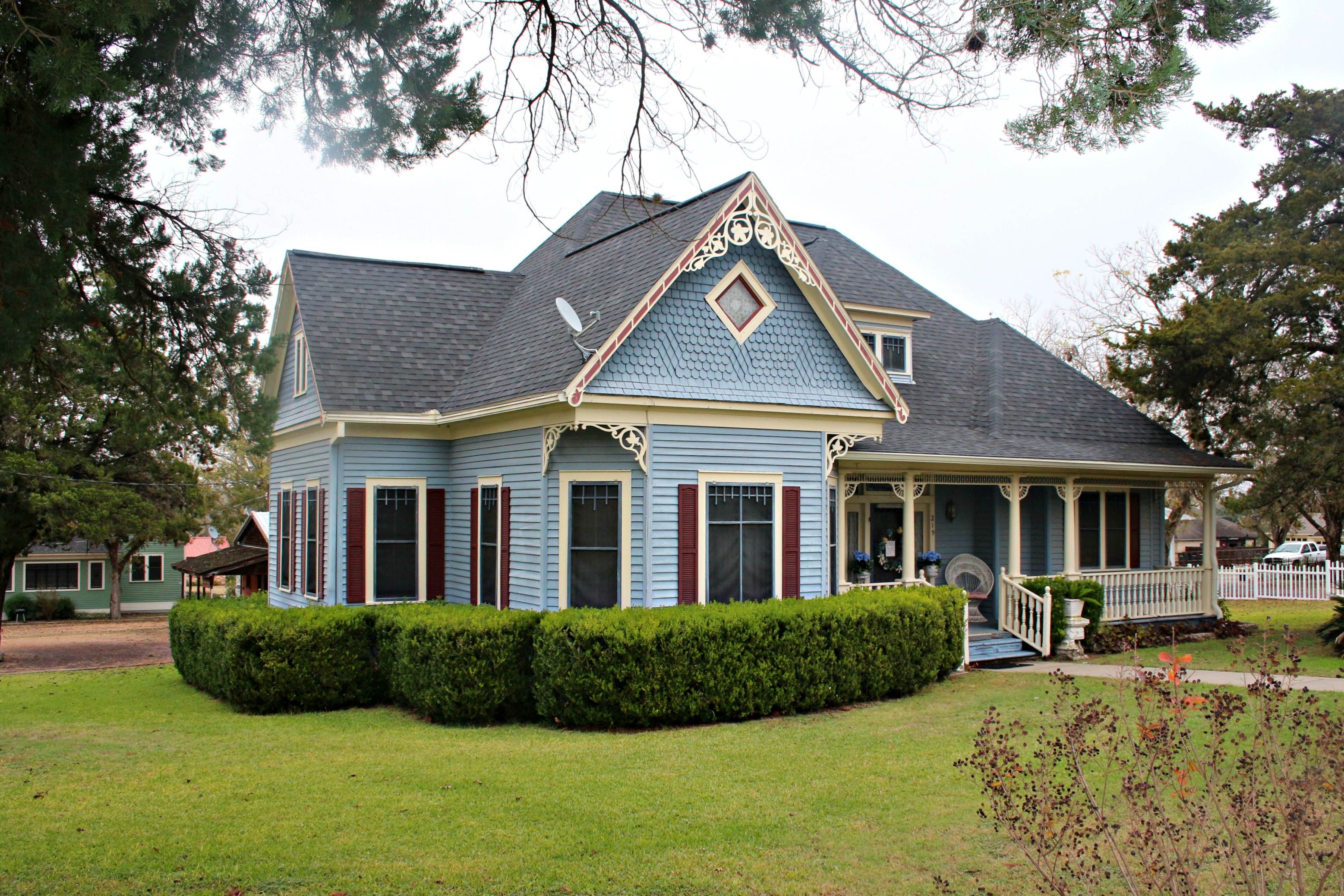 This lovely B&B has five units in the main house and several free-standing cottages. We stayed in Spoetzl Haus, which is a property that used to be located on the grounds of the Spoetzl Brewery, where Shiner Beer is brewed.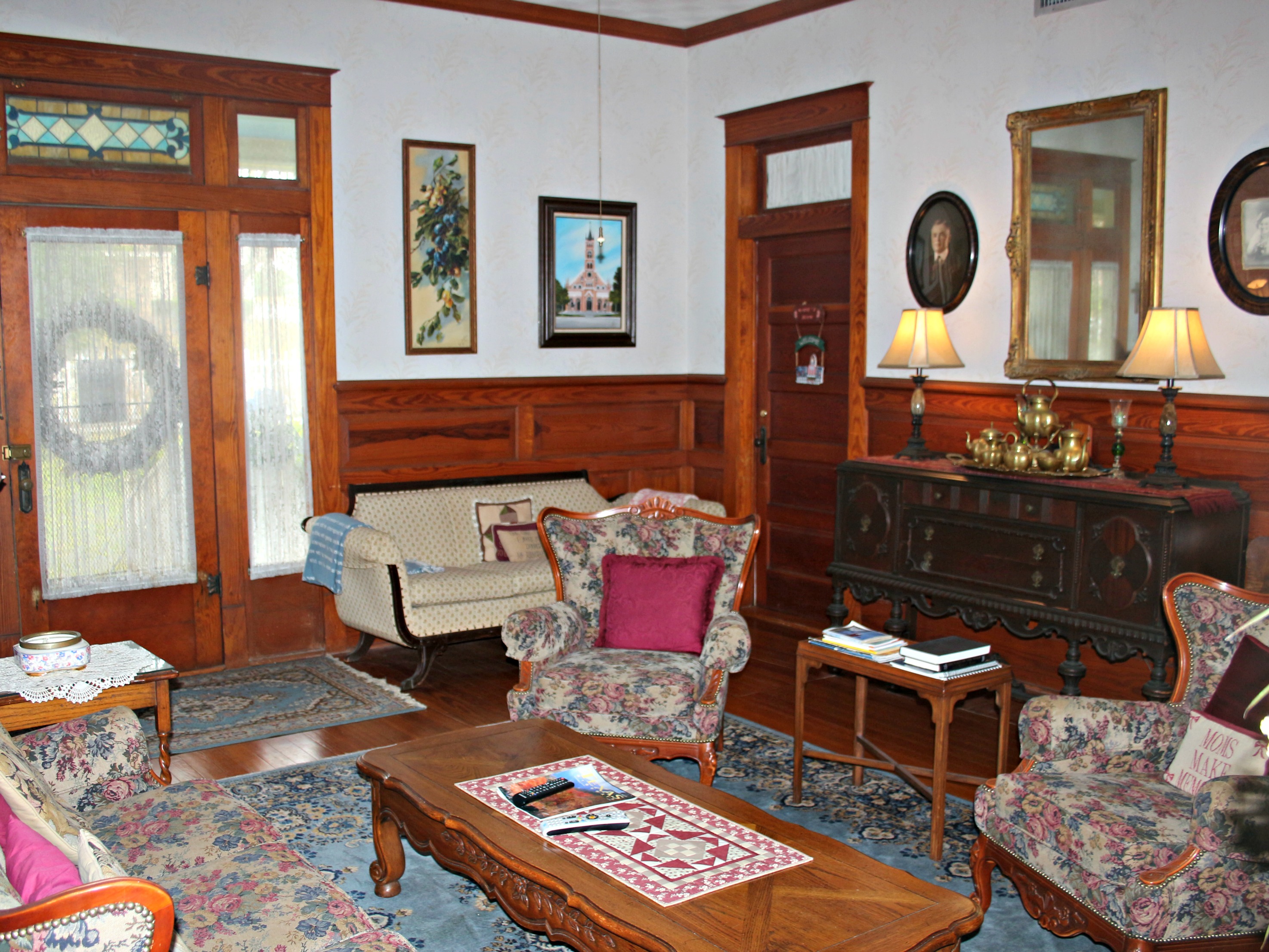 If you travel frequently with your kids, you might avoid Bed and Breakfasts because they're not set up for families. But this one is.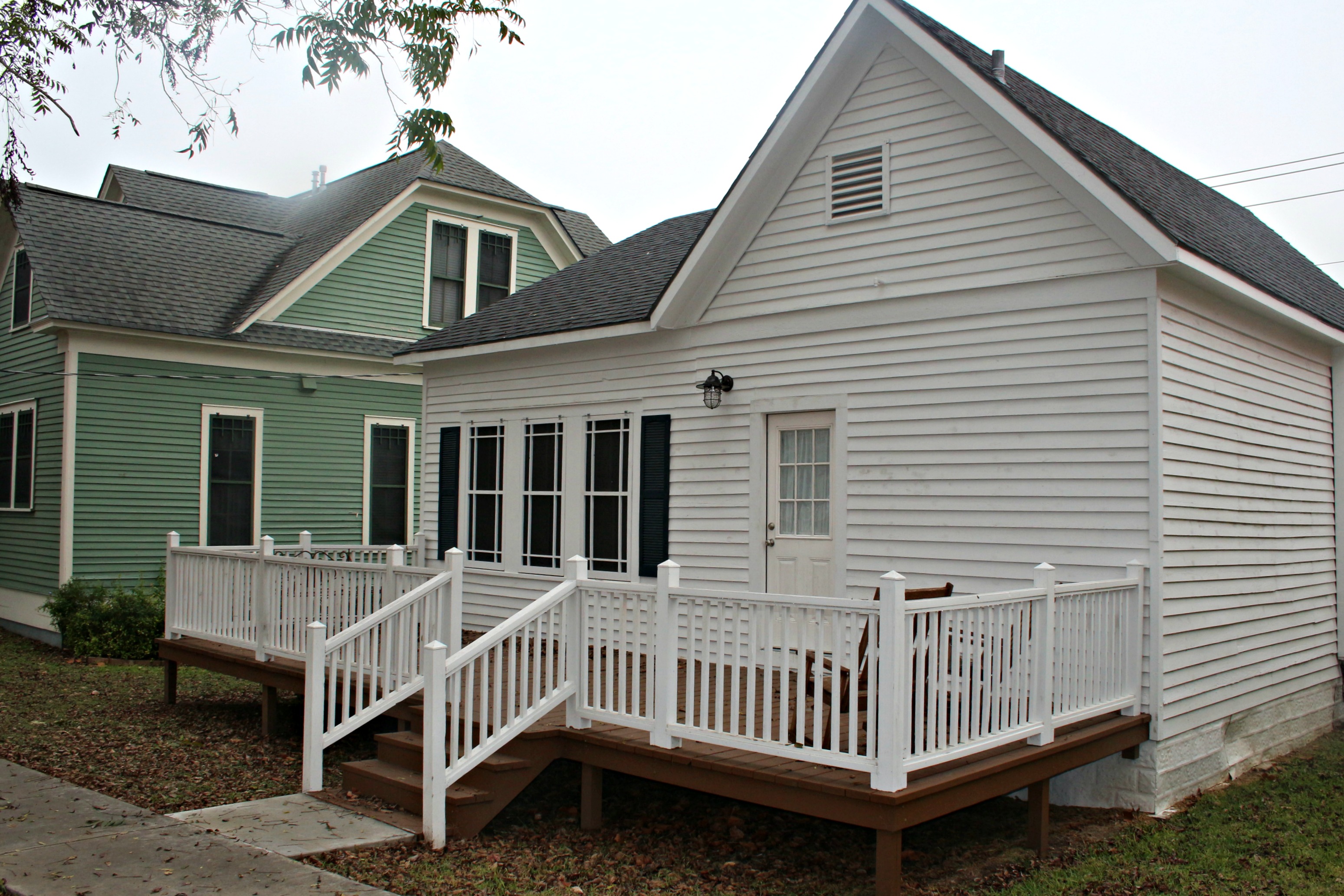 In addition to the five units in the lovely main house, there are five outbuildings associated with the  Old Kasper House & Derrich Domov Victorian Inns. There are romantic places to snuggle in with your honey and there are family-sized cottages with full kitchens that can handle your full party crew – think reunions or other friend/family get-togethers.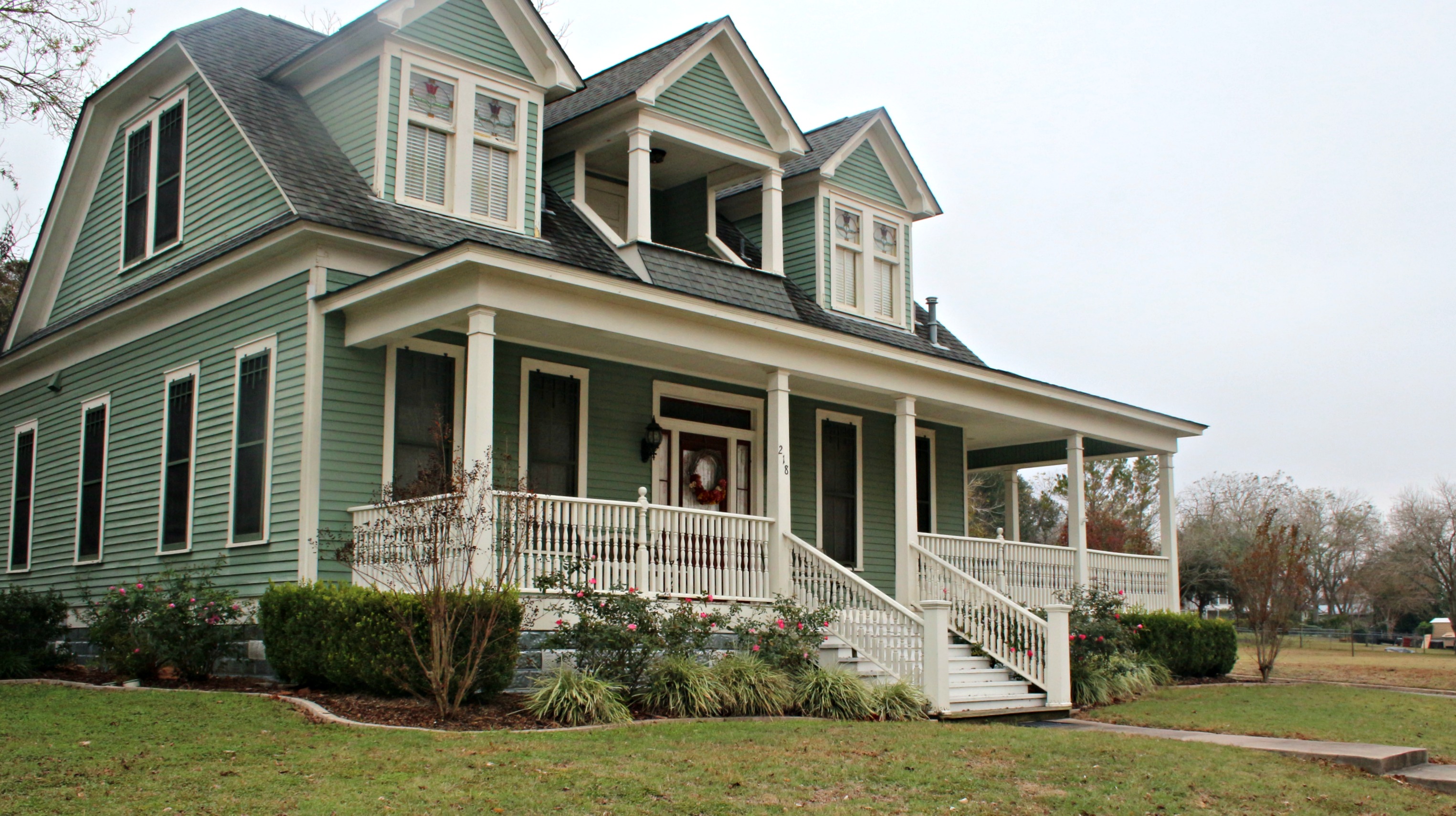 I would hesitate to stay in the main house with young children because the rooms are so close together but the Spoetzl House, Marenka's Cottage, the Czech Me Inn, or the Derrich Domov Inn are perfect for families or larger groups. There's also a really cute little Honeymoon Cottage. All of the rooms are full of charm and beautifully decorated. There are fun, unique and often quirky little bits of decor throughout and every room and building has it's own vibe. We've stayed at Spoetzl House twice and it was perfect for the four of us.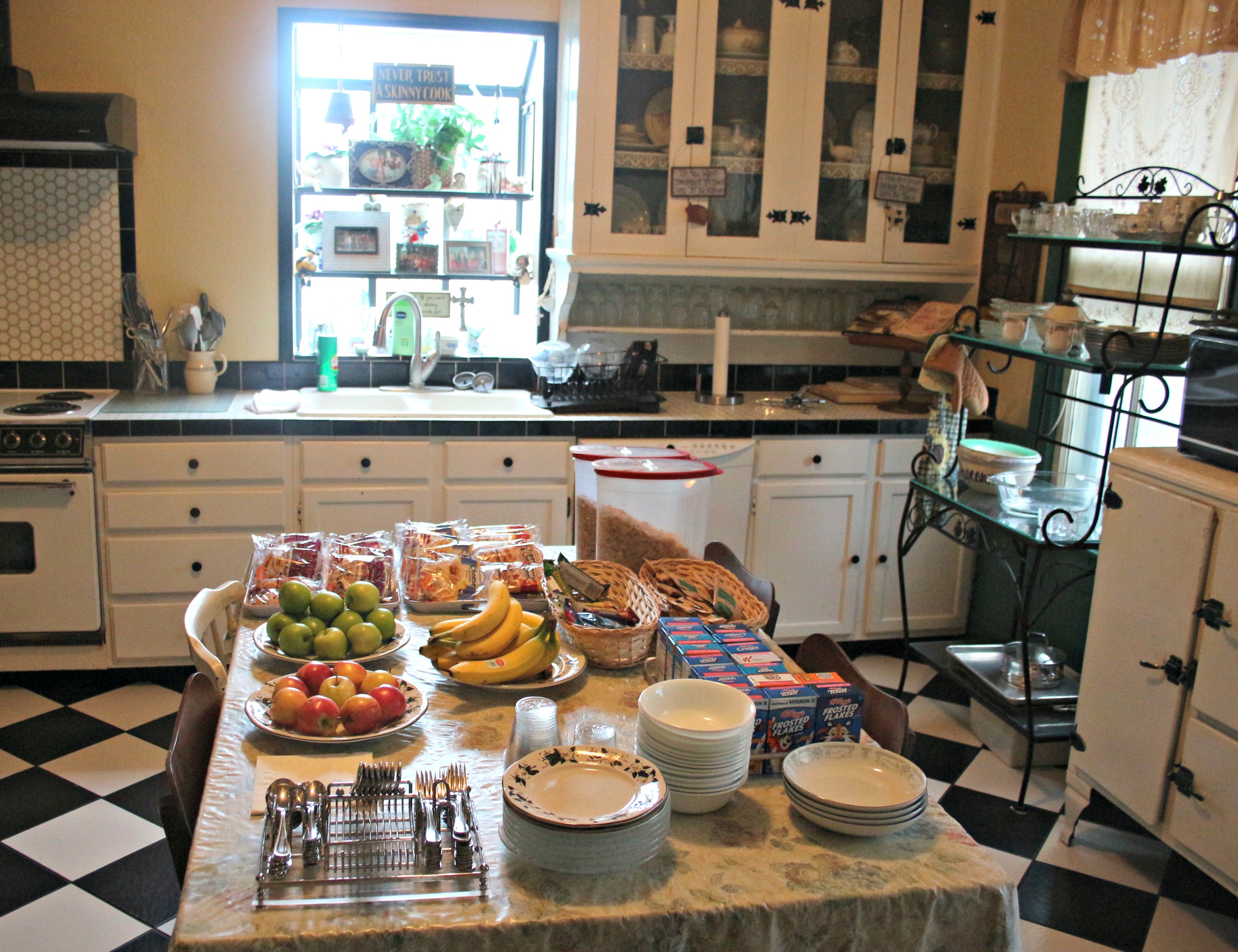 To book or get more info, check out their website. My family was provided a complimentary two-night stay in Spoetzl House but all opinions are mine alone.
Shiner is at the intersection of Houston, San Antonio and Austin, so if you're looking to plan a get-together or a get-away, this is a wonderful meeting point.
Shiner is clean and quiet and the people are awesomely friendly.
For chowing down in Shiner, we recommend Werner's Restaurant. They have a good variety of food: burgers, steaks, Mexican food, and, of course, German food. We ate at Werner's three times during the course of our Texas travels and have found the service to be friendly and attentive.
Our favorite? The beer cheese pretzels and dip. The cheese dip is made with Shiner beer and is deliciously zippy…I'm guessing horseradish. We've tried to re-create it at home with sharp cheddar, dark beer and a little bit of horseradish mustard and we're getting pretty close! Stay tuned (or subscribe!) if you're a fan of my foodie posts.
We also recommend the Bacon Jam Burger and the 5Ninety4 Deluxe Burger. The latter comes with chopped barbeque (yes, on top of the beef patty), poblano avocado dressing and fried onion rings. It's a SERIOUS burger, ya'll. Also, there is no formal kid's menu but the server was able to suggest some options…typical kid fare, like chicken tenders and french fries. My kids both cleaned their plates.
Shiner is a great place to check out if you're in Texas and looking for a fun weekend trip. This is a very easy drive from San Antonio, Houston, and Austin. If you're visiting one of our larger Texas cities, consider a side trip or day trip to one of the smaller, more off-the-beaten path Texas towns. You won't regret it!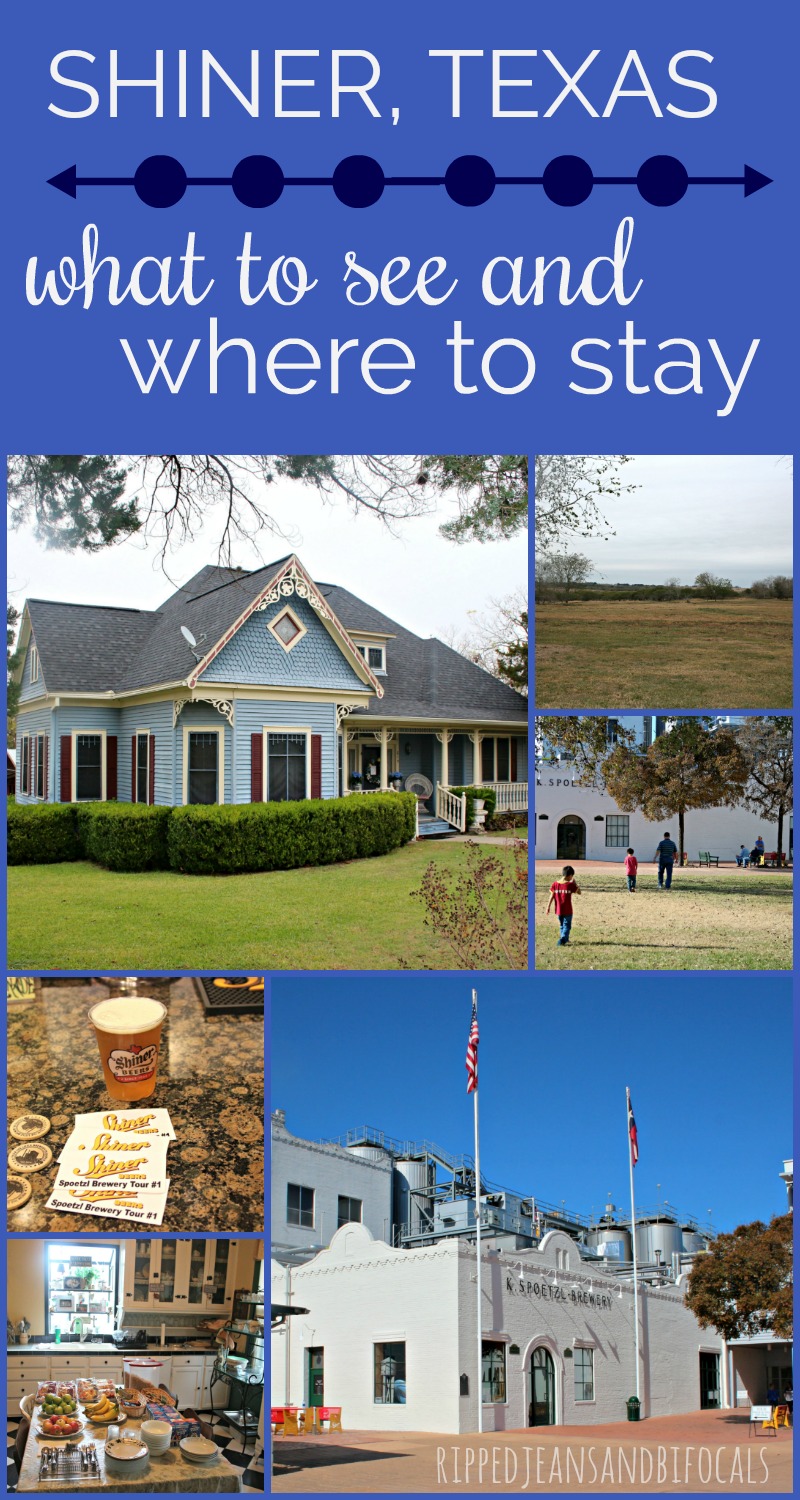 You might also like:
Family-friendly things to do in Gonzales Texas