10 Chinese New Year Recipes to Celebrate the Year of the Rat
Are you ready to ring in the Year of the Rat? Chinese New Year starts on January 25th this year and is one of my very favorite holidays. It's simple, it's not commercial and it lets you get a little taste of a culture that might not be one you're super familiar with. We didn't celebrate (and were not even very aware) of Chinese New Year (AKA Lunar New Year) until we adopted our two boys from China. It's something we like celebrating to keep their birth culture alive and we've come to really look forward to the holiday…mostly because of eating, let's be real. Want some delicious Chinese New Year recipes? Of course you do, and I've got 'em.
One fun thing you can do together to celebrate Chinese New Year is learn how to say and/or write "Happy New Year" in Chinese:

(photo courtesy of ChineseNewYear.Net)
Want to know what your Chinese zodiac sign is? Read here. And, if you're born under the sign of the rat, you're quick-witted, smart, and good with money. Tom Holland is a rat…I bet you thought he was just a spider. Nope! But, back to the good eats!
Cooking and eating is a big part of the Chinese New Year celebration. Chinese cooking is way easier than you think and some of these might cause you to rethink take-out. If you're looking for delicious Chinese New Year recipes, I've got 10 for you right here. Who's hungry?
Disclaimer: We are a participant in the Amazon Services LLC Associates Program, an affiliate advertising program designed to provide a means for us to earn fees by linking to Amazon.com and affiliated sites. This post may also contain affiliate links to other sites where I will be paid a commission by the seller if you make a purchase.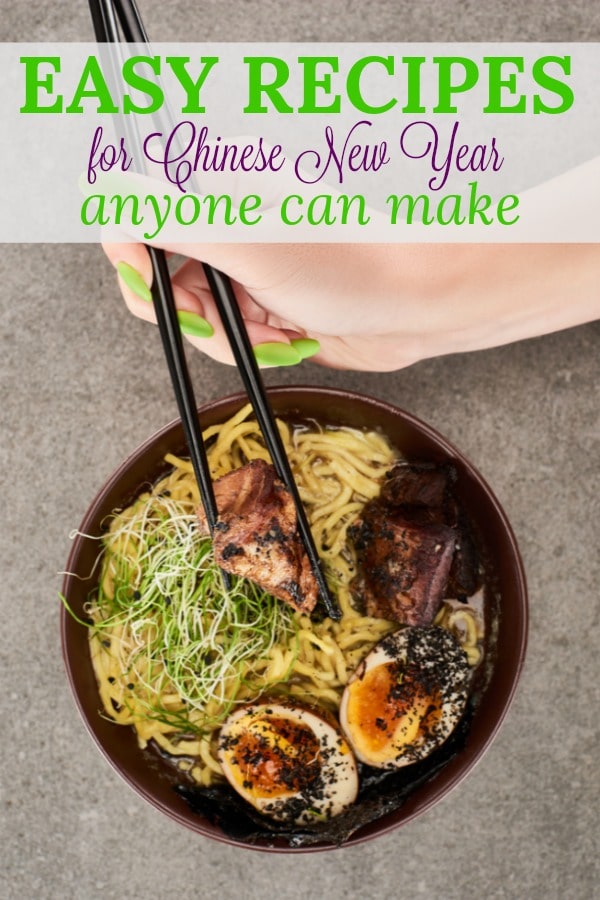 10 Chinese New Year Recipes To Celebrate the Year of the Pig
You don't need any special equipment to enjoy delicious Chinese food at home but this Asian bowl and spoon serving set with chopsticks is really cute and priced right. It will kick your Chinese New Year table up a few notches.
Chinese New Year Peanut Cookies
No-Bake Chow Mein Noodle Cookies
Healthy Chinese Chicken Egg Fried Rice
Related post: Great books for kids to learn about Chinese New Year
With these great recipes, your Chinese New Year celebration is certain to be tasty…and memorable! Who doesn't love all these amazing homemade Chinese food recipes? With all the great options, you can literally have lunch, dinner, and dessert prepared with ease.
If you want to keep things super simple for dessert, just order some fortune cookies. Easy, peasy, done.
If you haven't tried your hand at Chinese cooking because you think you need special equipment, that's not really true. I do have a top of the stove wok like this one from Calphalon Contemporary but most dishes can be made in the cookware you already have. I'm also loving the look of this electric wok from Breville.
Don't limit the amount of food that you want to make for the big day! Make 'em all and have fun tasting each one! And, you don't need a holiday to enjoy Chinese recipes, right? You can bet that each one of these will taste amazing as leftovers the next day as well! And, if you're having a party and want to send leftovers home with guests, use these cute takeout style boxes.