Instant Pot Orange Chicken
Remember when everyone first started talking about the Instant Pot pressure cooker? I'll admit this: I wasn't an early adapter. I've had my Instant Pot for about two years now and I really love it. I'm a pretty creative cook but I like easy. My kids love Chinese food and I'm not wild about most Chinese restaurants in our area. Even though the food is yummy, the amount of salt and preservatives you'll find in most restaurant Chinese food always makes me regret eating it. We've come to a compromise with this Instant Pot Orange chicken recipe. It's easy to put together – so easy my kids are able to help me – and I like knowing exactly what goes into this delish pressure cooker orange chicken.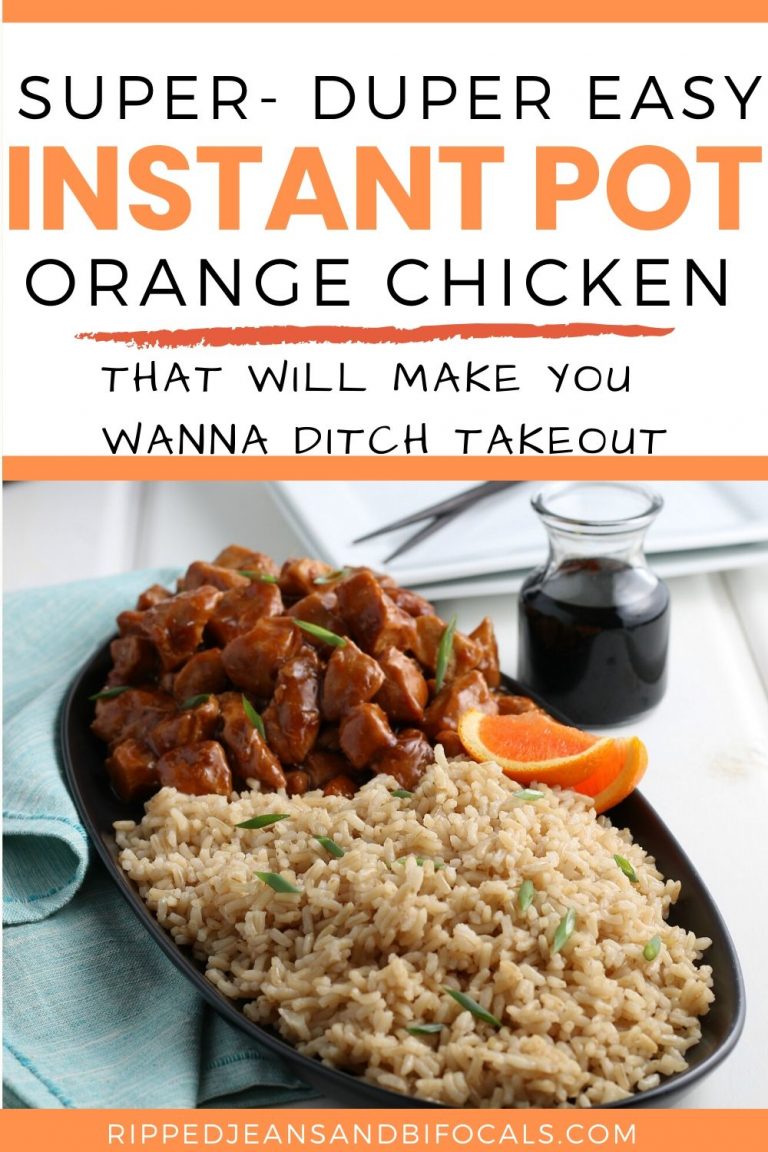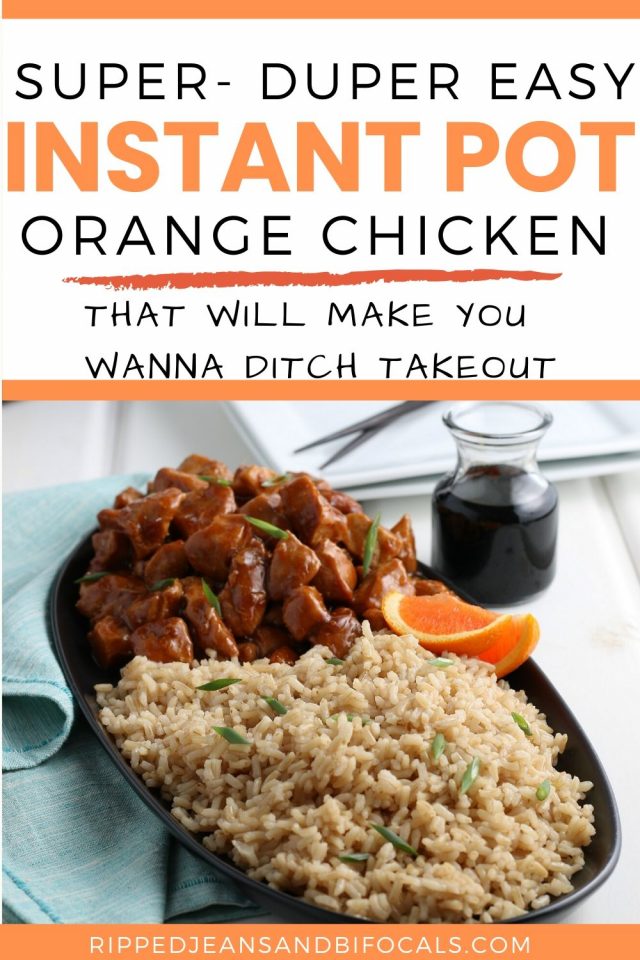 Disclaimer: We are a participant in the Amazon Services LLC Associates Program, an affiliate advertising program designed to provide a means for us to earn fees by linking to Amazon.com and affiliated sites. This post may also contain affiliate links to other sites where I will be paid a commission by the seller if you make a purchase.
Ditch the takeout and try this Instant Pot Orange Chicken at home!
I really love my pressure cooker. I've thought about getting a second one to use when I'm batch cooking or doing meal prep. This is the one I have in my kitchen.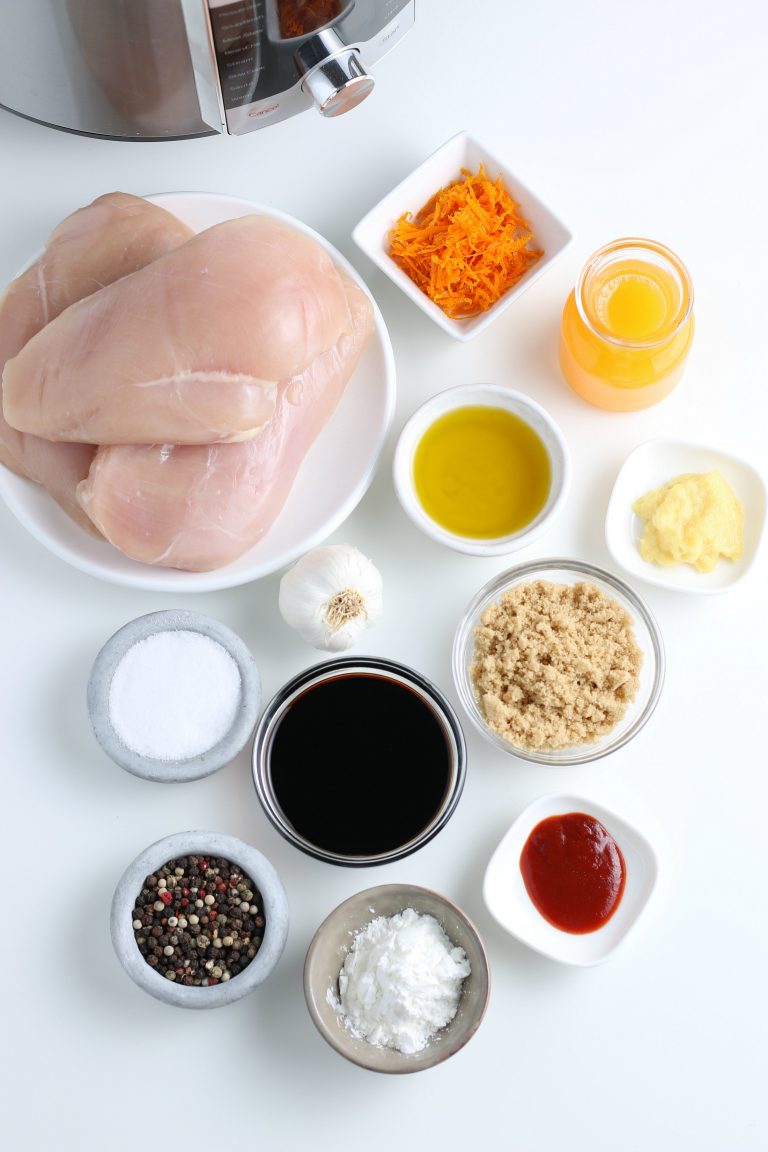 Instant Pot Orange Chicken Recipe – How to make and what you need
To skip straight to the recipe, scroll to the bottom of this page.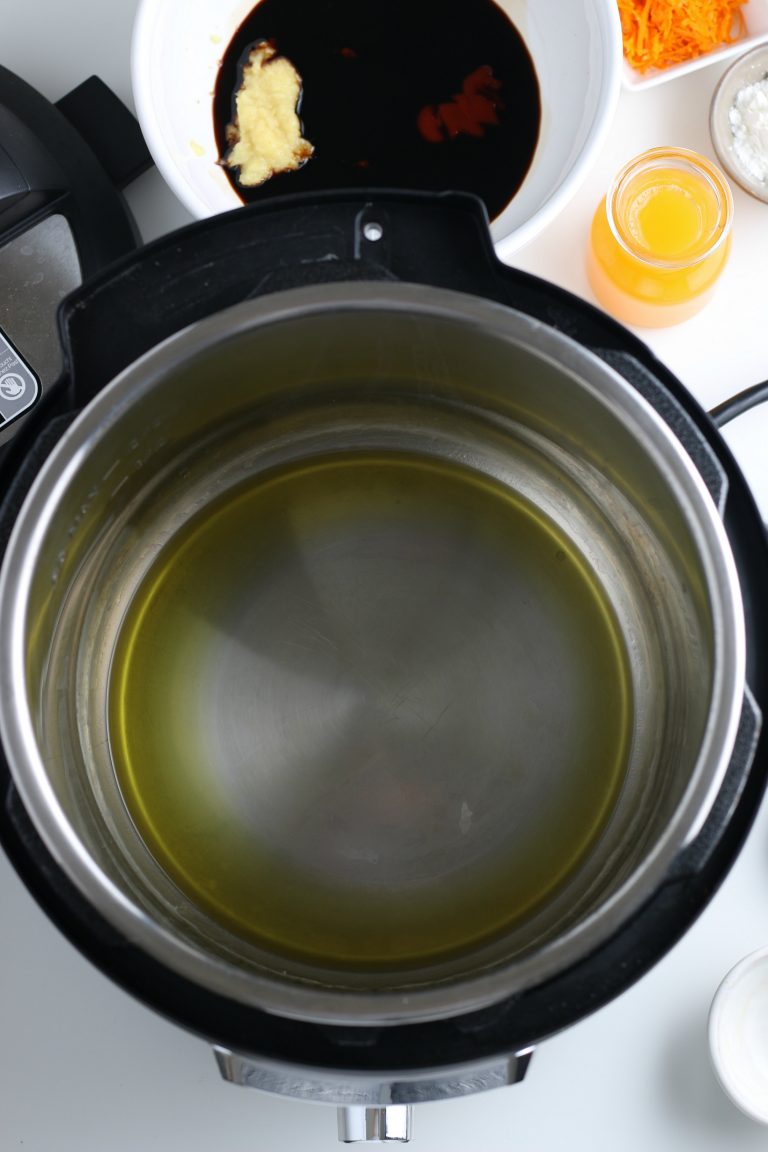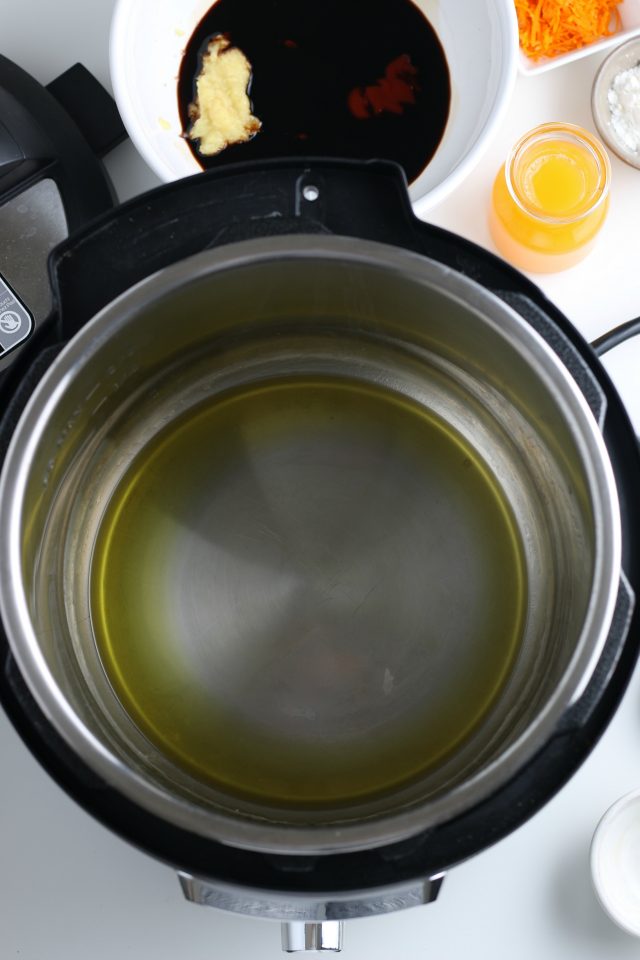 I use olive oil a LOT. I buy it in bulk and keep a cruet like this on my counter top.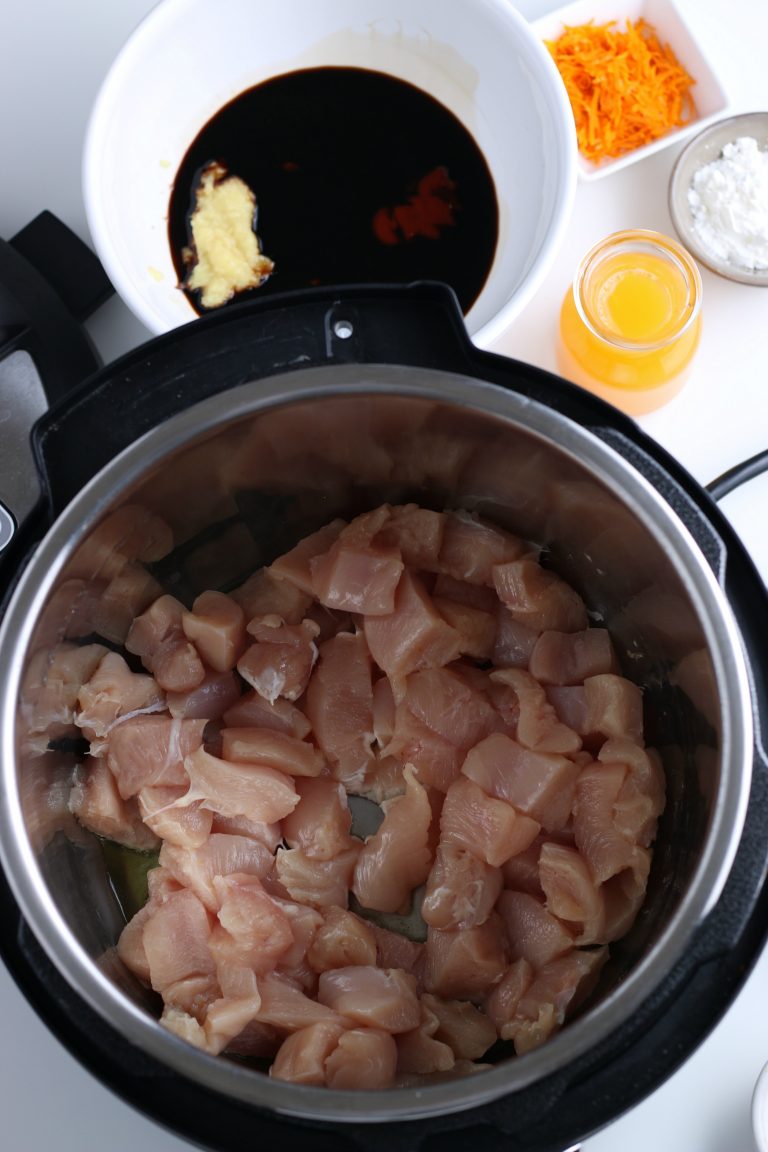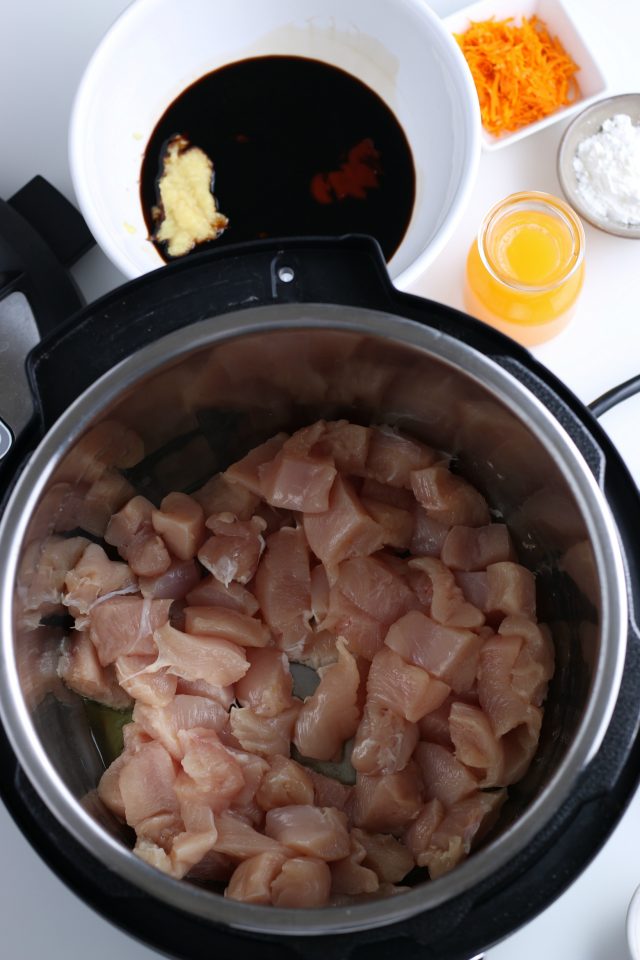 I'm linking my favorite set of ceramic knives I love to use for cutting poultry here. Yes, they are pricey but a good set of knives will last you. If you want a more budget-friendly version, try these but I firmly believe you get what you pay for.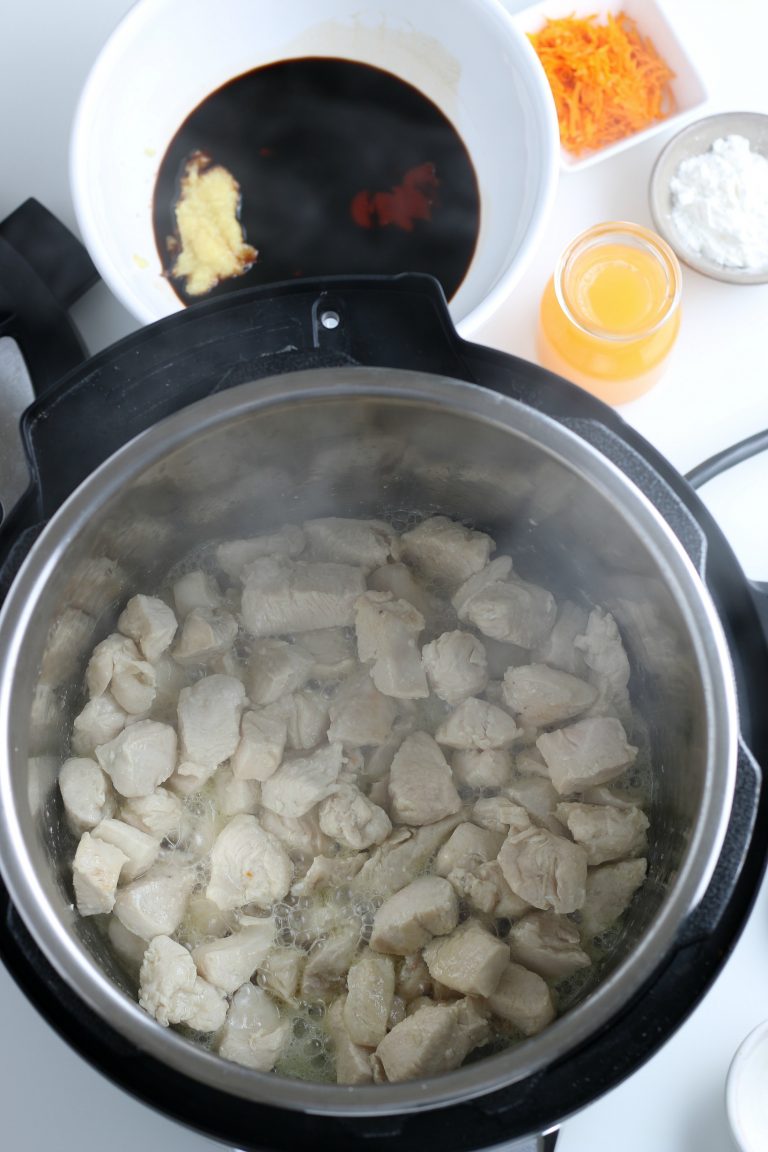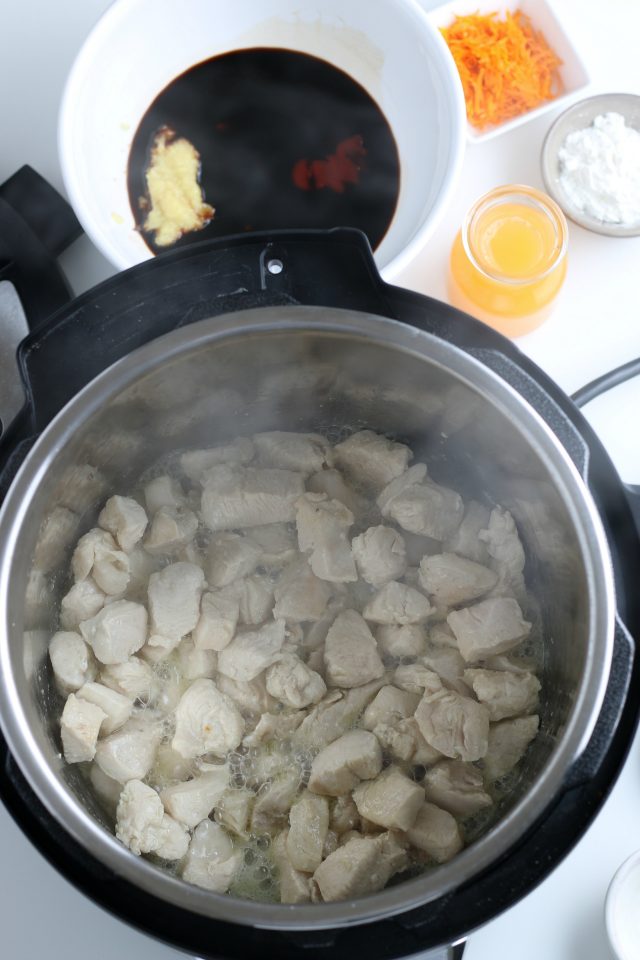 I buy my chicken from Perdue Farms. They started up with their direct to consumer shipping service late last year and I love it. They offer a ton of selections for chicken and other products. The last time I ordered, I accidentally picked the package of chicken that was already pre-cut into chunks. It threw me off initially but it's perfect and such a time saver for a recipe like this Instant Pot Orange Chicken.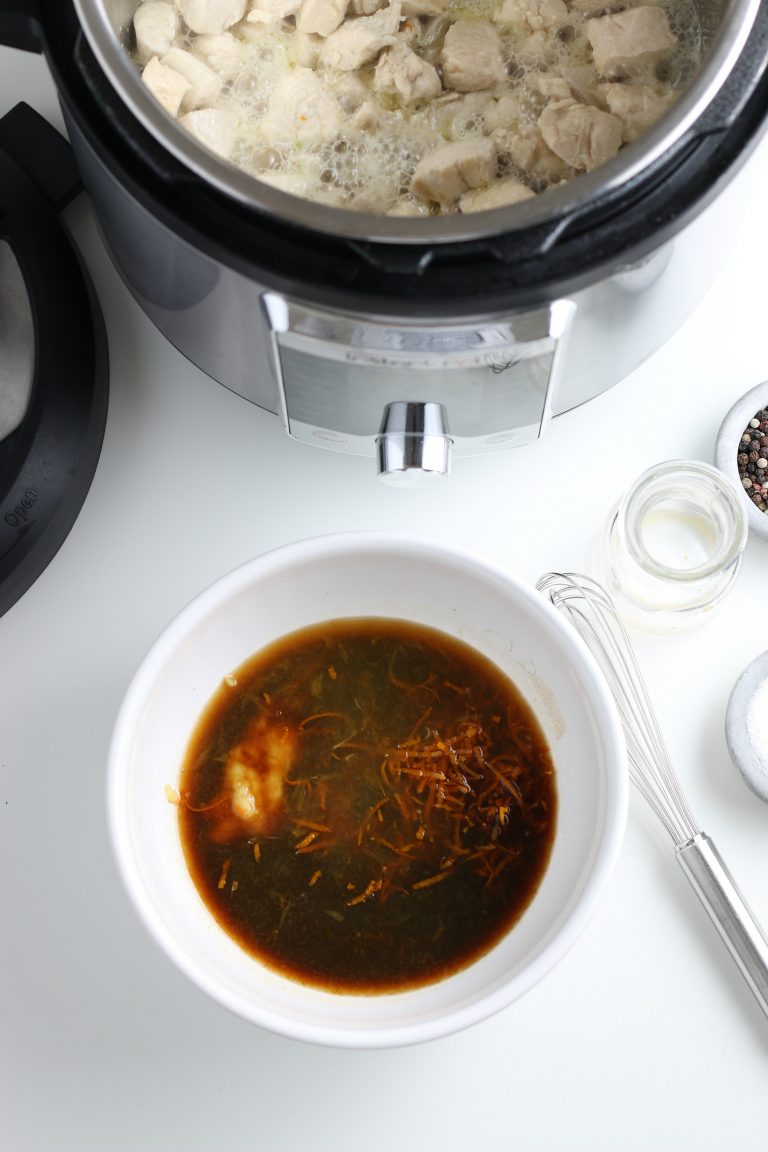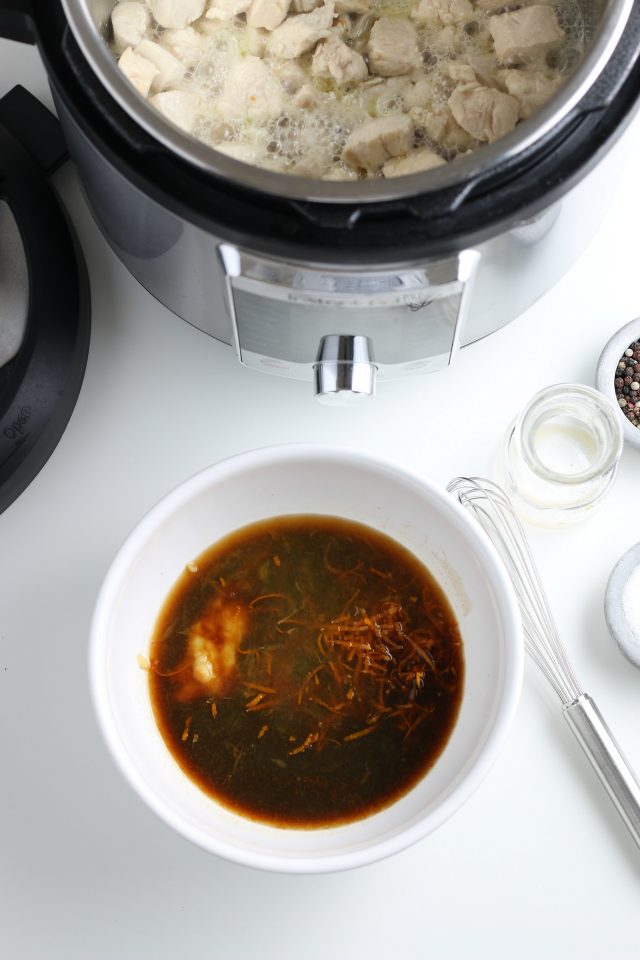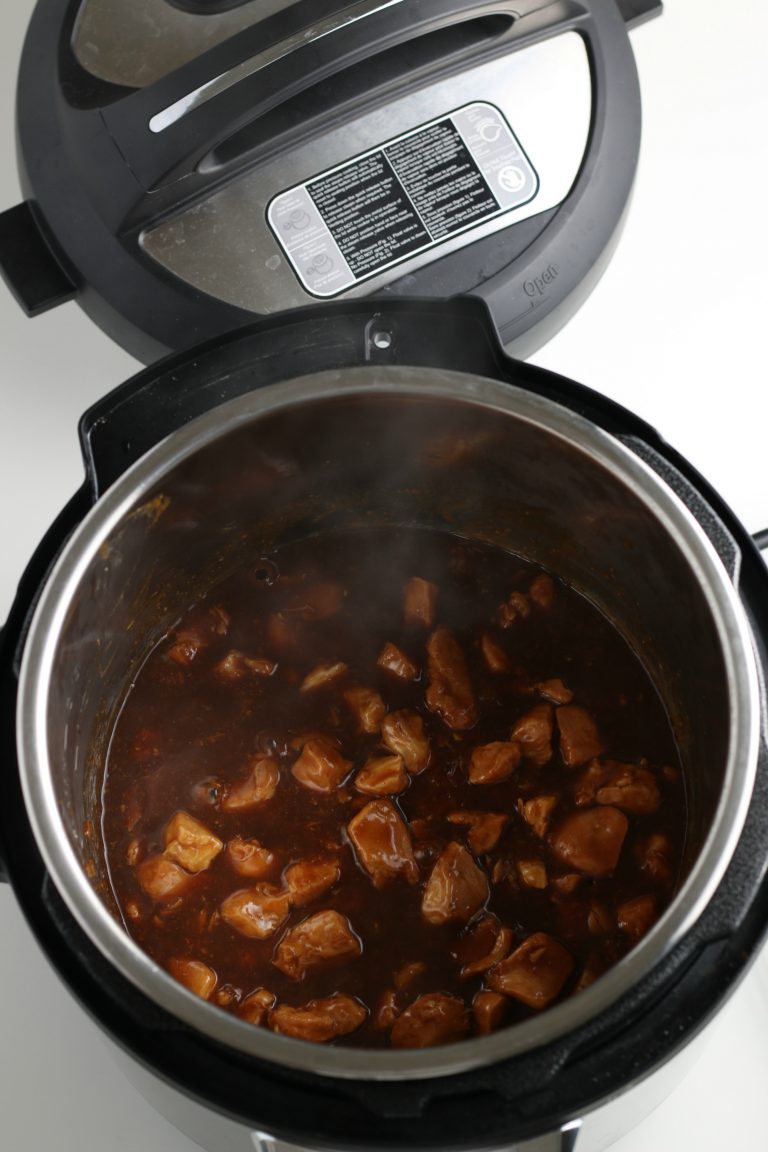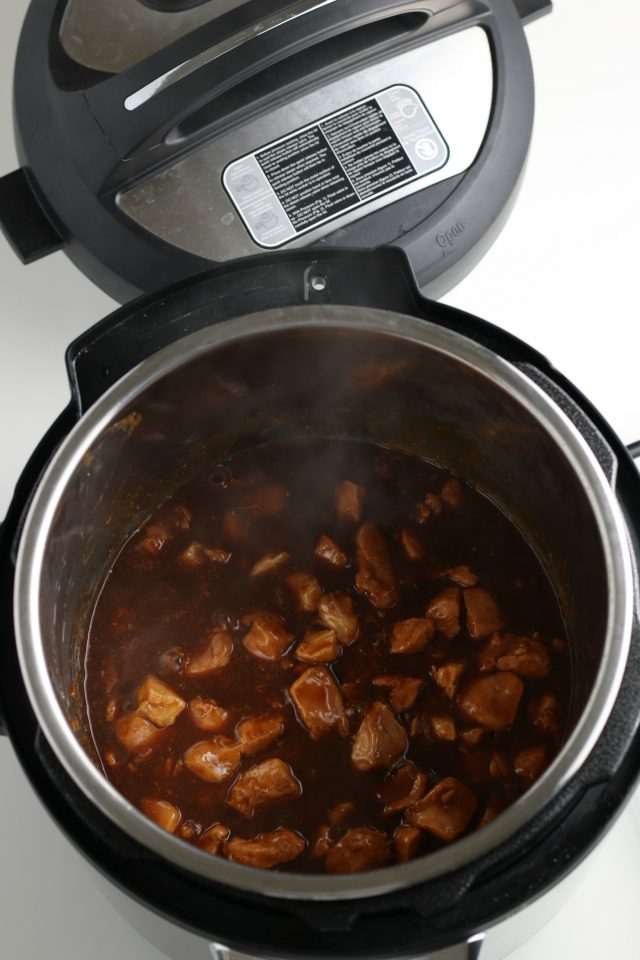 If you do need to cut up your chicken for this pressure cooker orange chicken (or any other chicken recipe) make sure you're using a cutting board dedicated to poultry. We have this set and it's super easy to clean.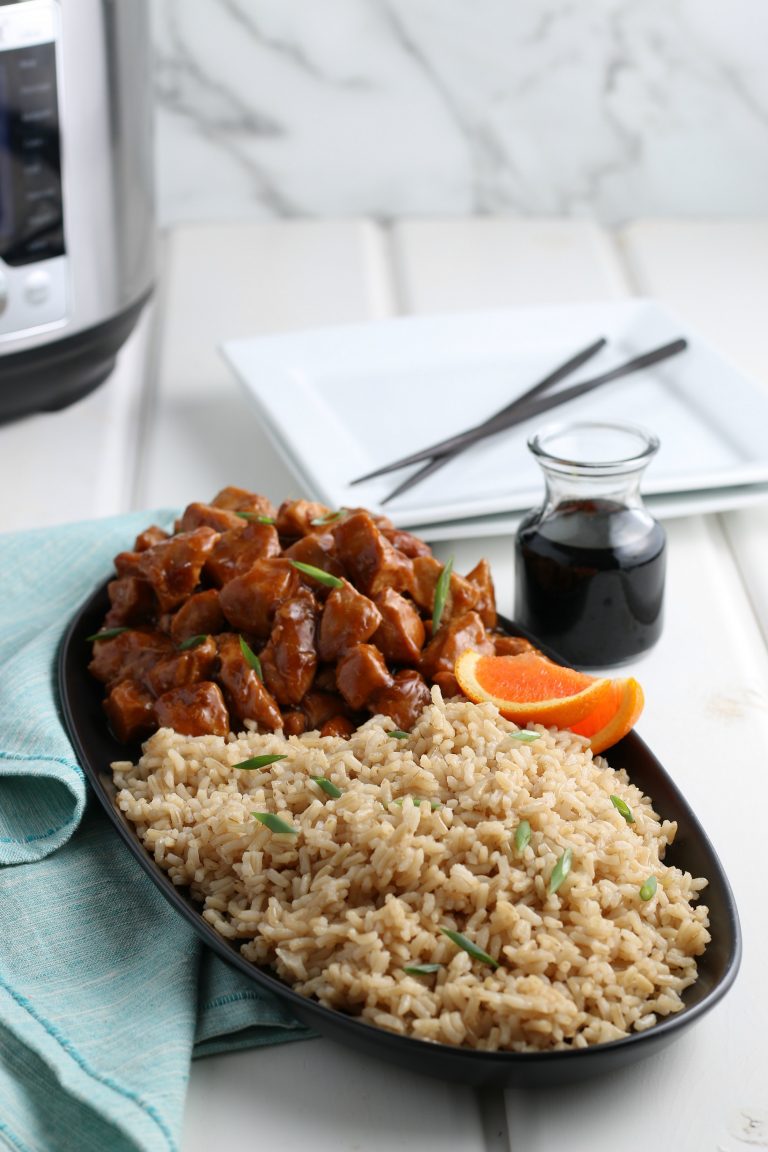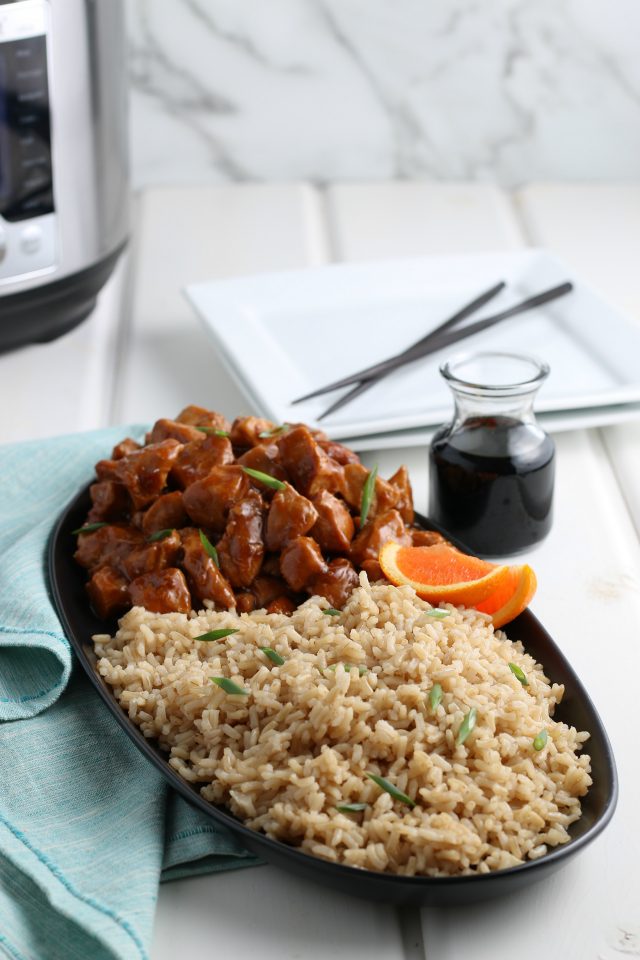 Instant Pot Orange Chicken – Accessories and dinnerware picks
If you want to dress up your table a little bit, check out these fun and inexpensive items to compliment the Instant Pot Orange Chicken recipe or any other Asian-inspired meal.
Square white plates. If you want a disposable yet still eco-friendly option, check these out.
I buy most of my glassware in thrift shops or at yard sales but I found these adorable dispensers on Amazon. You can use it for soy sauce or lots of other condiments and it comes in several fun patterns.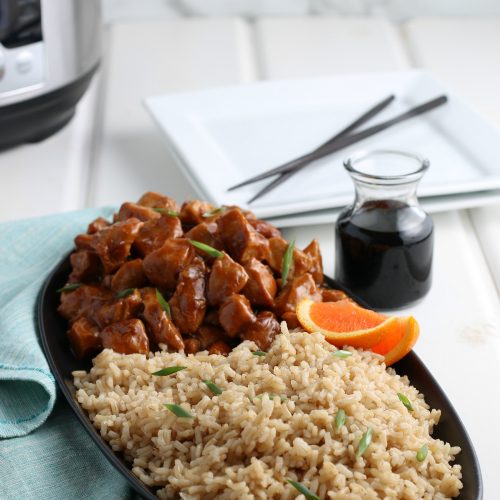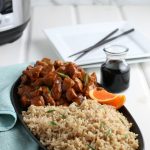 Instant Pot Orange Chicken
Craving Chinese takeout? Make this easy Instant Pot Orange Chicken at home!
Ingredients
2

lbs

chicken breasts or thighs

chopped into nugget size pieces

2

tbsp

olive oil

1/2

cup

fresh-squeezed orange juice

1

tbsp

ginger

minced

2

cloves

garlic

minced

1/4

cup

brown sugar

1/4

cup

soy sauce

1

tsp

sriracha Sauce

zest of one orange

salt and Pepper to taste

2 tablespoons cornstarch and 2 tablespoons orange juice slurry mixture
Instructions
Heat Instant pot to Saute, add olive oil and heat

Add the chicken, and cook for about 2-3 minutes or until golden brown.

In a small bowl combine the orange juice, garlic, ginger, soy sauce, sugar, orange zest, and sriracha.

Add sauce to chicken and stir together until well combined

Close lid and select Manual. Cook on high pressure for 5 minutes. Use a 10 minute natural release and turn off the heat.

Select the saute function on low

In a small bowl combine cornstarch and 2 tablespoons orange juice. Whisk together until there are no lumps.

Add slurry to the Instant Pot and gently stir to combine. Cook for a few minutes until it begins to thicken. About 2-3 minutes.

Allow it to set for about 5-7 minutes while the sauce thickens more.

Serve with rice and your choice of garnishes