Why you won't be getting a Christmas card from me
(This post may contain affiliate links. Read my full disclosure.)
I'm not a bah humbug person. Far from it. I love Christmas. I've been playing Christmas music since mid-November and nagging my husband to get up on the roof and string enough lights so that our house can be seen from space. I wanted to bring our elves on the shelf (yes, there are two) out before Thanksgiving but I was vetoed.
But, if you're checking your mailbox looking for a Christmas card from me, I'm probably going to disappoint you. I got married in 2009 and I've sent out family Christmas cards exactly twice since then. I mailed out really cute custom cards from Shutterfly in 2013 and in 2019. Sending cards seems like a nice thing to do in November but it almost never happens.
Disclaimer: We are a participant in the Amazon Services LLC Associates Program, an affiliate advertising program designed to provide a means for us to earn fees by linking to Amazon.com and affiliated sites. This post may also contain affiliate links to other sites where I will be paid a commission by the seller if you make a purchase.
Here's why you won't be getting a Christmas card from me (probably)
1. It costs too much
Christmas is a season of giving but it's also a season of spending. We're pretty conservative gift givers but there are teacher gifts, white elephant gifts, holiday clothes, holiday tips, holiday food…the list of extra spending starts to add up. One year, I decided I'd make homemade cookies in handmade containers instead of buying everyone gifts and at the end of the day, I'd doled out more cash on baking and craft supplies.
Related: The most popular (and most easiest) cookie recipe on my website
Designing and printing 100+ cards plus postage isn't a small expense. It won't bankrupt us but it's a substantial chunk of change I could put towards some other part of our holidays or just not spend. And so I do just that.
Full disclosure: I did look at the cards offered on Minted.com this year because I have heard good things about them. I just didn't get very far. Maybe next year. Or not.
2. It takes too much time
Finding the right picture, designing the card, making address labels with cutesy poo Christmas trees, taking the whole shebang to the post office. Maybe it wouldn't be a massive, stressful time suck if I were more organized and had my Christmas cards done in early November but that usually not be me.
I will always be that person who thinks of Christmas cards somewhere around December 18th, after I'm already knee-deep in my to-do lists and holiday stress. I really love Christmas and all the holly jolly things that go with it but like many people, I have the tendency to pile too much on my plate during this time a year and I usually end up (momentarily) losing my crap at some point during the holiday season, no matter how many times I tell myself I won't lose my crap.
Telling myself it's okay not to do all the things is how I get through the holidays and stay semi-sane. It's okay to remove some things from your list. Because you've always done something or because you feel like other people expect you to do something isn't the best reason to keep doing something that stresses you out or doesn't give you joy. I'm a slacker when it comes to Christmas cards and I've given myself permission to just acknowledge that and move on.
It feels pretty good.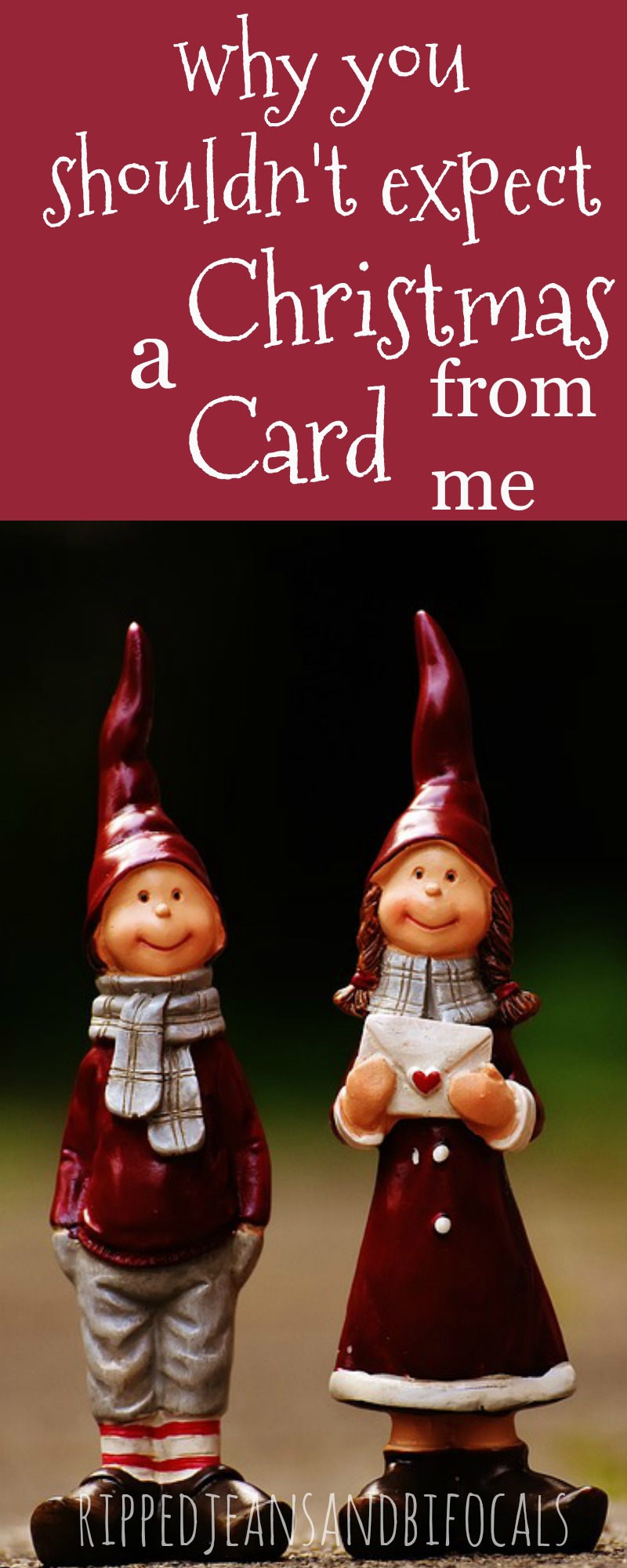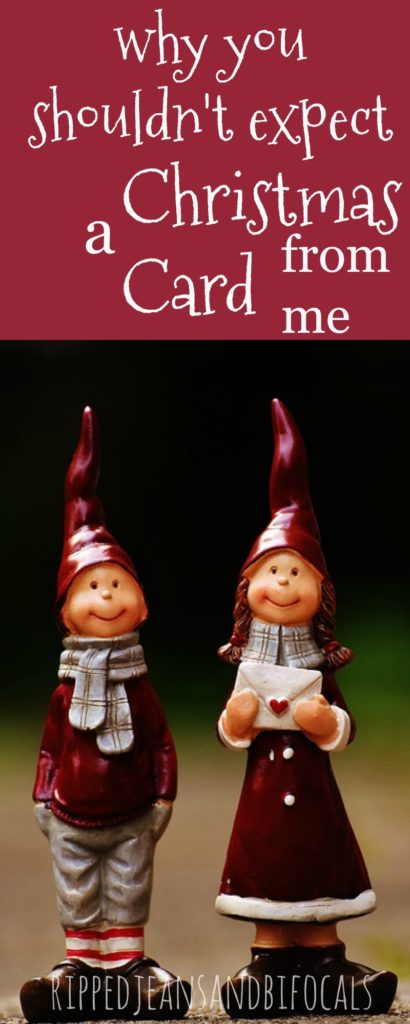 3. You already know what I've been up to all year because hello? Social media.
Social media has changed the way we keep up with our friends and family. Sharing pictures, videos, snippets of news or even longer, more in-depth updates are what most people use Facebook and Instagram for. If you want to know what our major milestones for the year have been or if you want to see a bazillion cute pictures of my kids, all our moments are on social media.
You can argue that we rely too much on digital communication and insist that we should all spend more time unplugged and you might not be wrong, but the reality is that communication has changed. And for me, that extends to snail mailing Christmas cards.
4. It becomes more of an obligation than a heartfelt gesture
I hope someone who plans to send me a card isn't reading this and crossing my unappreciative ass off their Christmas card list because if you send me a card, I genuine love hearing from you and appreciate the gesture. Unless you're that guy who keeps trying to get me to refinance my home loan, that is. I'll put your card on the mantle if I'm feeling ambitious or place it in my little silver snowman basket if I'm not.
Read more: Subscription Box Gift Guide. Buy THE BEST gift for someone without leaving your house!
If your card includes pictures, I'll ooh and ah over how your cute kids and dogs are and how creative/beautiful/amusing/inspiring your card is. I will cherish any card you take the time to send me. I might send you a text or tag you in a holiday meme to show you I'm thinking of you but I won't send you a Christmas card, probably. If that gets me knocked off your Christmas card list for next year…well, I more than understand.
If you hate sending Christmas cards or if you're stressing because you're afraid you're not going to get your cards done on time or that your family pictures are going to suck, you're not alone. If you don't send Christmas cards, you're not failing at Christmas and you're probably not lacking holiday spirit – I know I'm not.
Come on…I own an elf costume and I put up two trees in my house. Nope. No lack of Christmas spirit going on over here. Just a lack of Christmas cards.
And that's okay.
You might also like:
My Christmas Hub – Tons and tons of ideas!
Easy DIY Tree Branch Star Ornaments