What I love about the RAM 1500 EcoDiesel
(This post may contain affiliate links. Read my full disclosure.)
What I love about the RAM 1500 EcoDiesel: Everything. The end.
Just kidding…I have more to say than that. I do love a good truck – I'm from Texas so I'd probably get my Texan card pulled if I said anything otherwise but RAM has just smashed one of the reasons my family doesn't have a truck in our driveway – fuel economy. I spent a couple of days with this beauty in Atlanta a few weeks ago and I came away from the experience that my family should have a truck in our driveway and that we don't have to pay a bajillion dollars a month in fuel to have that.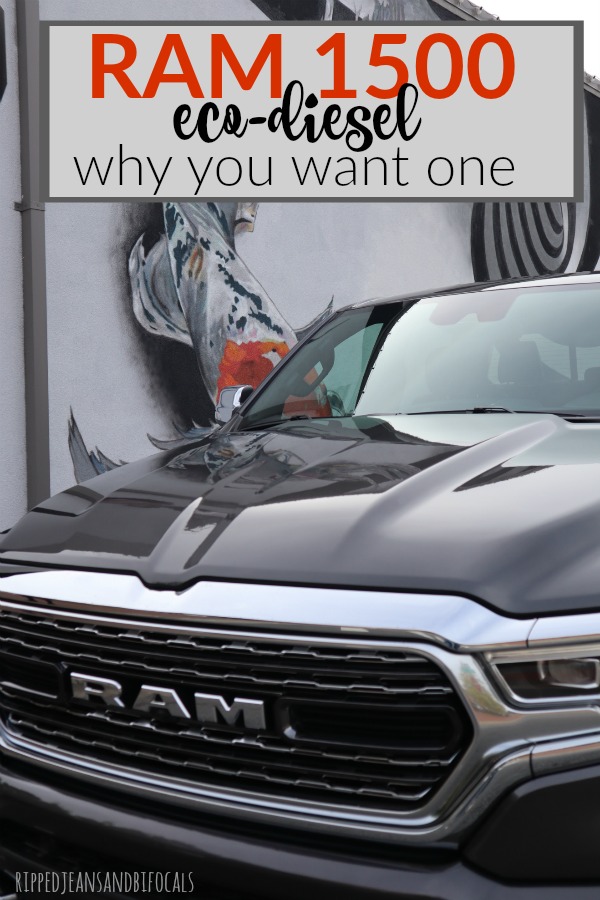 Thank you to A Girls Guide to Cars and RAM for sponsoring my trip to Atlanta and my ride in this gorgeous truck. All opinions are my own.
What I love about the RAM 1500 EcoDiesel
How I met this truck:
My friend Jennifer and I drove this truck from the Atlanta Airport to Marietta Georgia, which isn't a terribly long way. We were part of a media drive event sponsored by A Girl's Guide to Cars and RAM.
This truck drives very smoothly and handles very well on the busy highways in this area of the country – which, by the way isn't my favorite area to drive in. There's a lot to love about Atlanta and tons of things to do in the area but I find the traffic very daunting. Marietta is a little more my speed.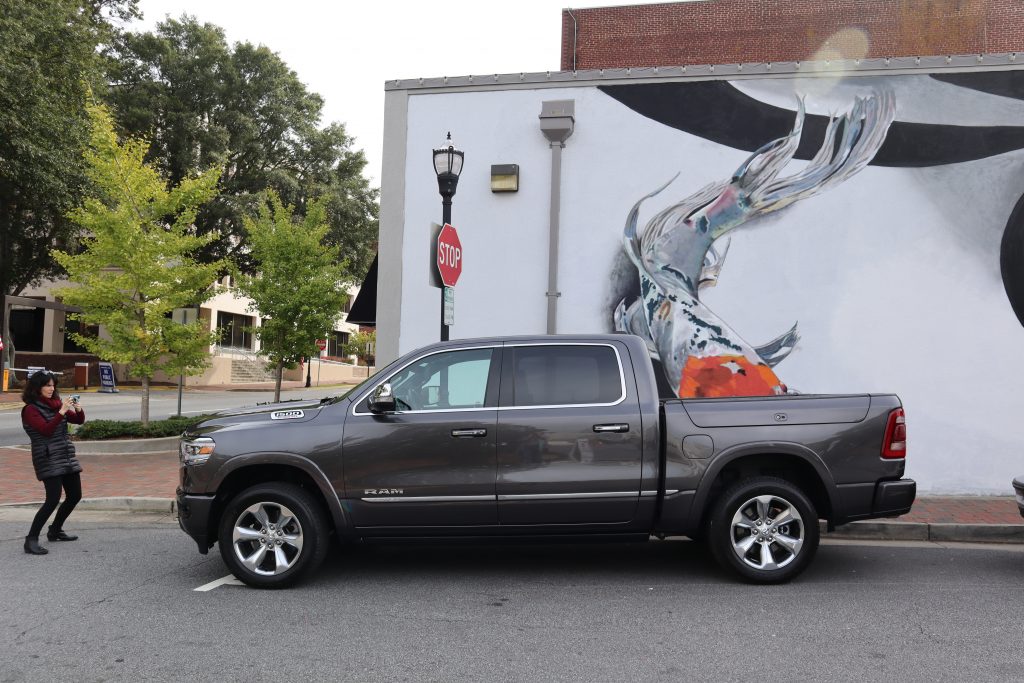 The fun thing about Marietta and the surrounding area are the many movies and television shows filmed here. Can you guess where this picture was taken?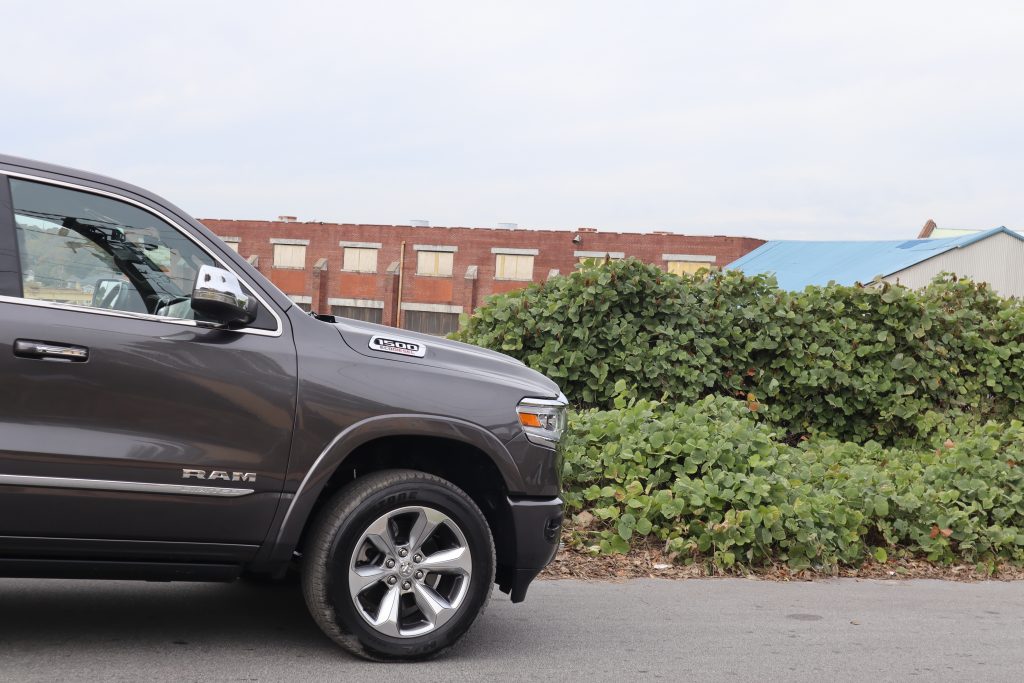 If you're a Walking Dead fan and you guessed Terminus, you'd be correct. There are a ton of Walking Dead filming sites in and around Atlanta and Marietta and we didn't have time to catch them all but we did get to see Terminus. I'm not a super fan of the show but my drive partner was and she got a real kick out of being here in person. Unfortunately, this was a close as we got.
About this truck – The basics
Pricing
There's a lot of variation here. Starting MSRP can run from $32,000 to $53,000 with option packages easily taking this truck up to the $60,000 price point. Trucks of this caliber do not come cheap and there's not really a way around that, other than to potentially buy a gently used one.
Gas Mileage
This is the biggie for me, and probably the reason we don't have a truck. However, the EcoDiesel offers some respectable gas mileage: 22 city and 32 highway.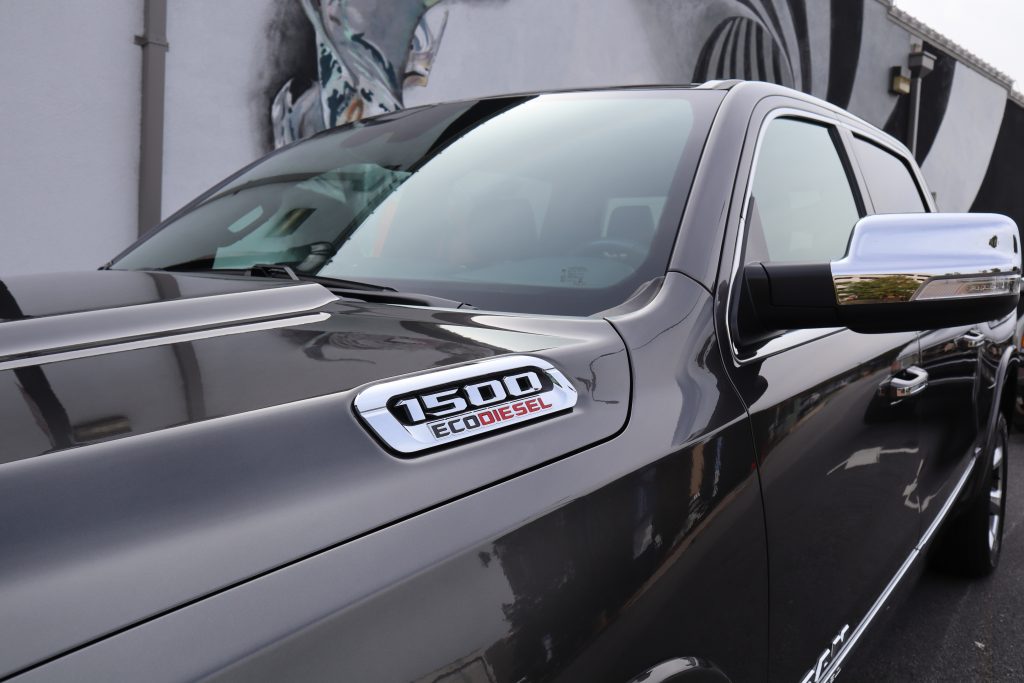 Related reading: Read my review of the RAM Laramie Crew Cab 4×4 on A Girl's Guide to Cars.
Other truck facts
This truck has 260 horsepower, a max payload of 2,040 and it can tow up to 12,560. That last thing is of particular interest to me because my family talks often of buying a travel trailer. If we make that purchase a truck or other large-size vehicle is definitely in the cards for us. I know we might think of trucks as work horses that pull farm or construction equipment – and they are that – but I tend to think in terms of what our family would use this truck to haul and the thing that pops to the top of the list is that recreational vehicle we talk about getting. One of these days, y'all!
Who should drive this truck?
Trucks have that work horse or manly man stereotype, right? But, that notion is going the way of the dodo bird. Today's RAM trucks are very versatile and appeal to a lot of people.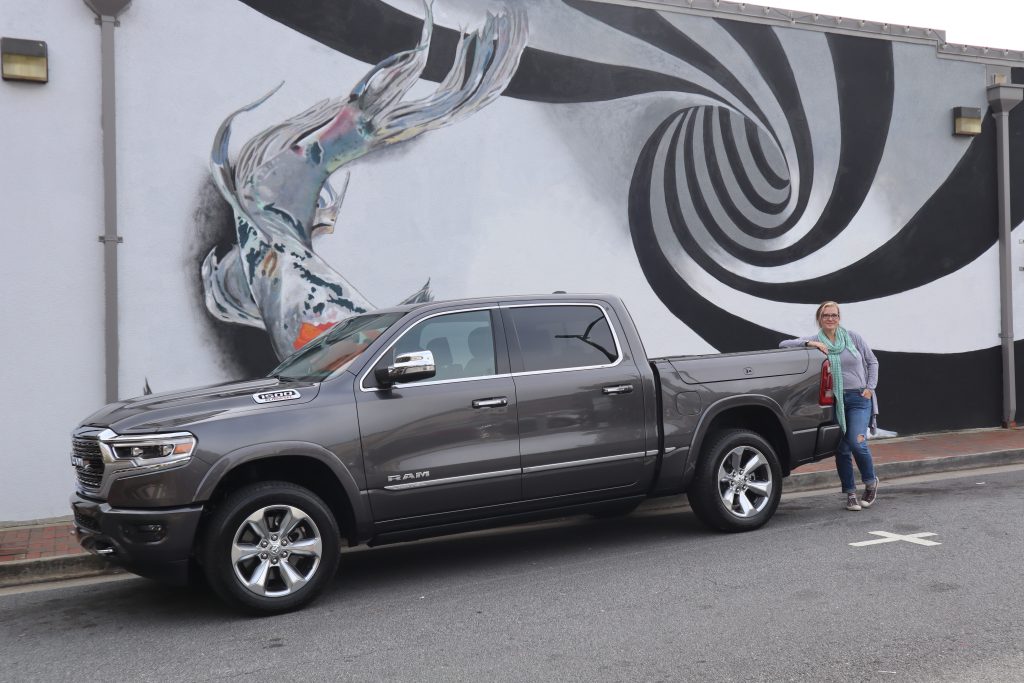 Anyone who needs to haul or pull stuff
Trucks have and will always be functional on a farm, ranch, or construction site. These trucks may look pretty but they're tough and are up to whatever rough stuff you want to through at them.
The truck as a work horse is never going to change but they are branching out. Do you have a small business and regularly need to transport boxes or supplies? This truck might be your perfect fit.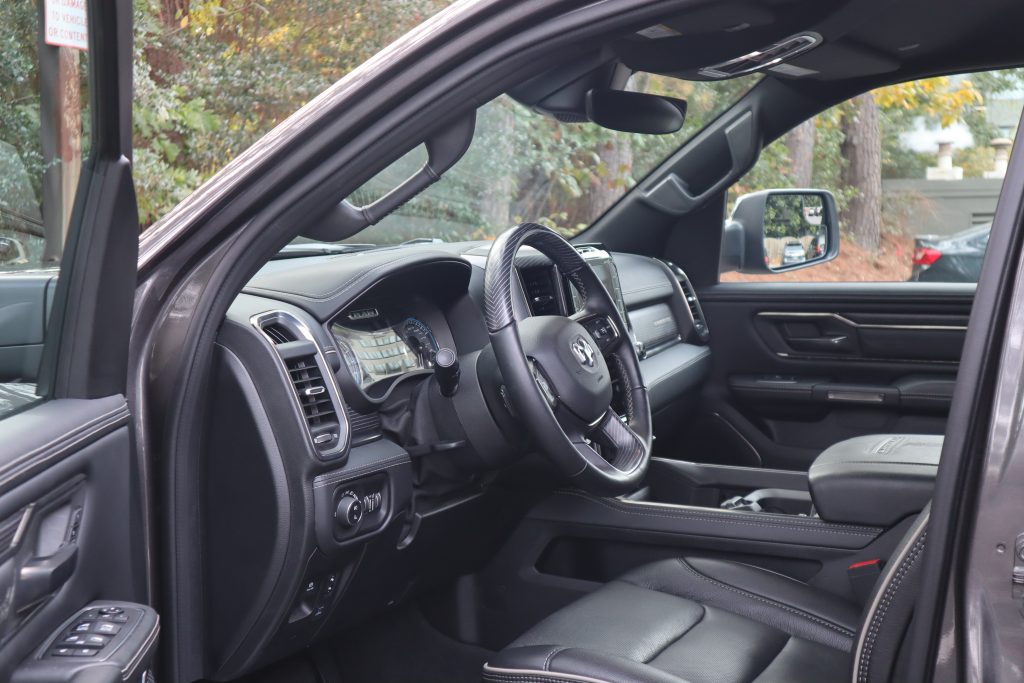 Families
I think this truck would make a kick-A family car. If you're used to driving a minivan or a large SUV, the RAM 1500 EcoDiesel can provide the same level of room and comfort.
Need to haul kids and sports equipment around? Need room for that giant Costco run you do every month? This truck can handle all of that and look at this legroom in the rear seats: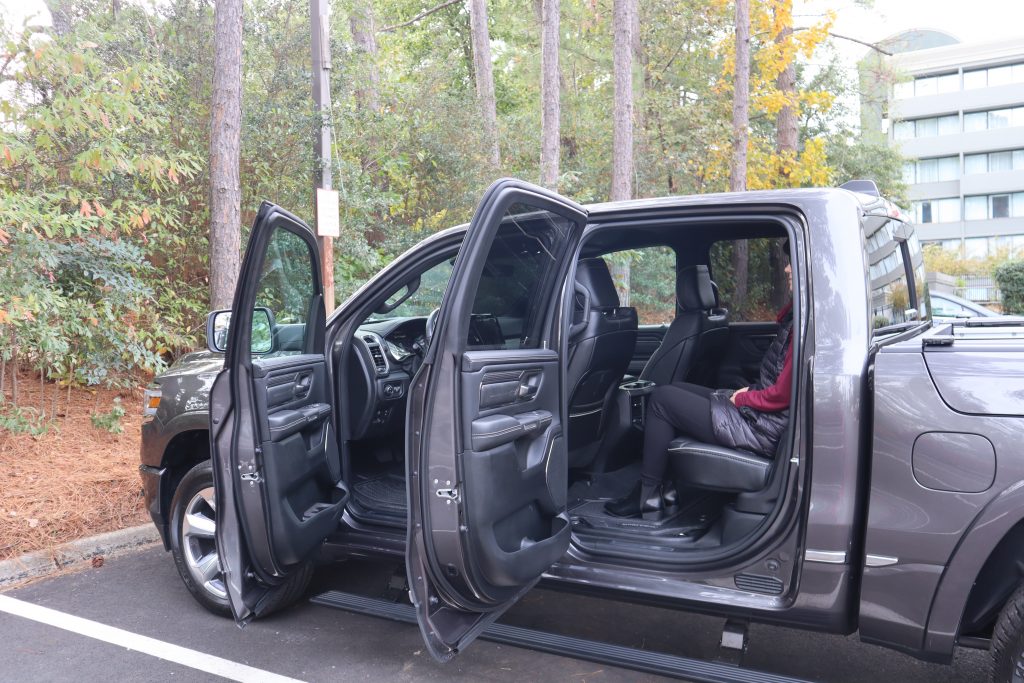 Adventurers and Sports Lovers
The ruggedness of this truck make it perfect for anyone who likes to camp, hike, fish or hunt. There are lots of storage modules throughout the cab and the bed. There's one storage area designed to keep freshly caught fish cool and there's even a ruler so there's no doubt about how big that catch really is.
The compartments alongside the cab are perfect for storing food, drinks, ice, or any sort of outdoor gear. We drove one of these from San Antonio to Palo Duro Canyon in February and we used these compartments to transport our food. It was cold outside and it served as our on-the-go ice chest.
This trucks is also perfect for tailgate parties. I didn't get to test this out personally but I just know its perfect for that. I do love a good tailgating party, don't you?
What I loved about the RAM 1500 EcoDiesel
Remember my answer at the top of this page? "I love everything. The end." While that pretty much sums things up, I do have my favorite features.
Lots and lots of charging ports
There are plenty of USB ports and outlets in the cab…and that is a big deal for me. A bigger deal than where to put my purse. Like most families, my family is always on the go and we need to stay plugged in. When I'm on a trip with my husband and two sons, we all have a primary device we need to charge. I also have camera equipment I drag around with me that probably exceeds what the average family needs but this truck can manage my plugged in load and that's a big deal for me.
Related reading: My friend Erica from Texas Drive Blog also reviewed the RAM 1500 EcoDiesel. Read her perspective here.
My husband and I recently bought a new car (not a RAM truck, Le Sigh) and the first thing I'd look at in every model was how many charging ports there were and if the car was stingy on charging ports, I'd move on. The car salesman kept looking at me like I was crazy but it goes to show you that different types of people value different types of car features.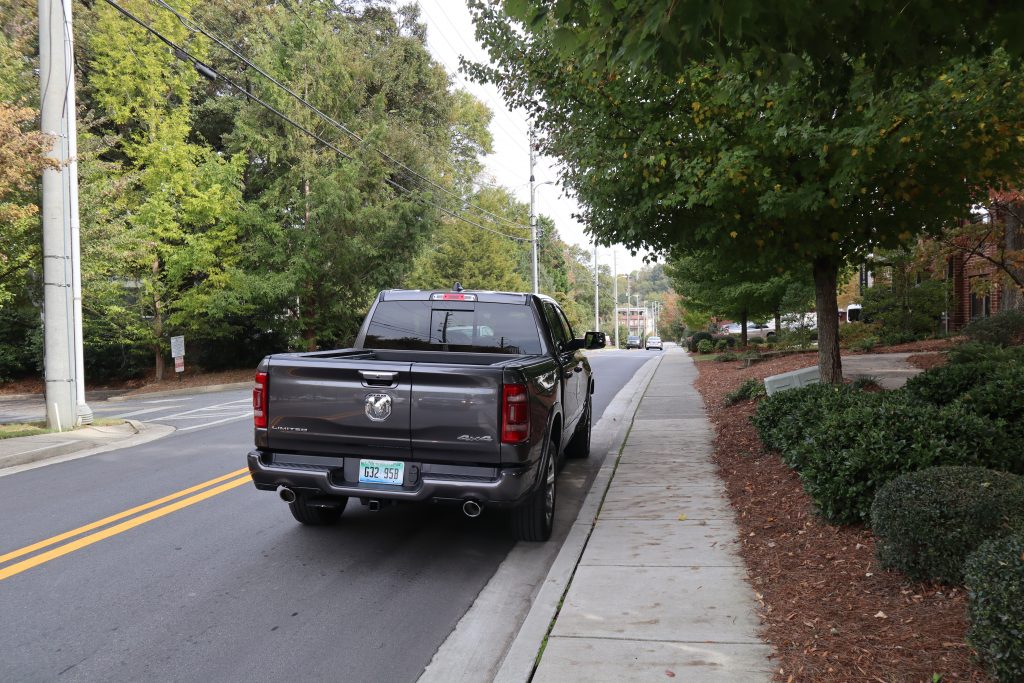 The sheer roominess and comfort
I loved the luxury leather interior and the high-end trim. While the RAM 1500 EcoDiesel retains its rugged truck feel, it is a very comfortable ride for city and highway driving. I'm a tall lady and I was comfortable in every seat. That's a win for me and I like that this is a vehicle that can grow with our family or be used to transport groups of adults.
The large rear windows
Again…this might seem like a weird feature to hone in on but the windows and the height are what make this such a great family vehicle. Anyone sitting in the rear cab has such an amazing view of what's happening around them and there's none of that boxed in feeling that you get in some back seats.
The Bottom Line:
Even if you think your ideal vehicle isn't a truck, I encourage you to at least give this one some consideration next time you're in the market to update your ride. Try and get rid of the manly-man, trucks are for work stereotype and come into the 21st century. Today's trucks will surprise you and the EcoDiesel engine has just chipped away my last great excuse for not having that truck in my driveway.
After all, I am a Texan.
Related reading: I like big trucks and I cannot lie.