(This post may contain affiliate links. Read my full disclosure.)
As a travel writer, I spend a lot of nights in a bed other than my own. Wait…that sounded wrong. To write about travel involves travel and overnight stays in hotels are a part of my work landscape. Some properties knock it out of the park. Some are just okay and a place to sleep and shower while I explore a new area. I've stayed in few hotels that are truly terrible but I do have a few things that will tank my perception of my guest experience. Here are my biggest hotel peeves along with some from the linked survey of what 1,000+ travelers list as their top hotel annoyances.
Biggest hotel pet peeves
Here's a list of things that bug me when I'm in a home away from home.
1. Slow internet
It's almost 2023 and the world is digital. When I'm traveling, I use WiFi to work and stream movies. I rarely turn on the hotel room TV unless I'm traveling with my husband. Decent, free Wifi is everywhere from airports to Walmart. There's no excuse to have slow WiFi. I also don't like it when hotels charge for WiFi. It's an easy enough thing to provide guests free of charge.
2. Not enough outlets or charging ports
I don't like having to move furniture or unplug a light to be able to access be able to plug my device in and have it next to my bed.
3. Key cards that don't work
When I check into my room, I'm usually on the tail end of a long drive or flight. I just want to get in there, unload my stuff, and get on with whatever it is I'm doing. Having to make an extra trek to the front desk, and potentially stand in line, to get my key card fixed is a pain. Ditto for key cards that randomly stop working during the middle of my stay.
4. Thin walls
I don't want to hear my neighbors. Thin walls are especially bothersome if the people in the room next to you are loud but I dislike hearing ordinary noises, like toilets flushing or muffled voices.
5. Poor room cleanliness
This is a common pet peeve and fortunately, it's something that I haven't encountered often but there's nothing that gets a hotel stay off to a poor start than finding a trashcan that didn't get emptied or a dirty bathroom.
6. No soap holder for the hand soap
While this is a pretty minor annoyance, it's something I've noticed more and more of. While I appreciate the trend toward sustainable, refillable soaps and other toiletries, there's usually a small bar to wash your hands with. I hate leaving a wet, soapy bar on the vanity. It's just messy.
7. Cheap linens and toilet paper
One-ply toilet paper and rough, scratchy (or super-small) towels. Enough said.
8. Maintenance issues
I want the air conditioning to work in the summer, the heating to work in winter, the toilet to flush, and all the lights to work. And so on. On a recent stay, I checked in and immediately put my bottles of water into the hotel's mini fridge. I drink a green drink in the morning and it doesn't taste great unless I use really cold water to mix it. When I went to grab my water in the morning, it was completely warm – the fridge was broken.
9. Upcharges
While I am OK with being charged a resort fee for a property that has lots of amenities, such as luxury pools, lazy river, games, kids activities, etc., I don't like being charged for parking, internet, or early check in.
So what do you do if you have a negative experience while staying at a hotel?
If it's a maintenance issue, I complain immediately and try to get the issue resolved or get a different room. My kids and I walked into a hotel room in Mobile in August and we were greeted with a rush of hot air. The air conditioning was on the fritz and if you've ever been to Alabama in August, you know air conditioning is a necessity. I asked for a different room on the spot.
If it's noisy neighbors or a cleanliness issue I can live with (or try my hardest not to think about) I might just suck it up…it depends on the circumstance. If it's a budget hotel and I'm crashing for one night on a road trip, I might let it go. If it's a higher-end property where I'm paying for the experience, I'm more likely to say something.
What's on my love-to-see-it list?
I love seeing Keurig or Nespresso (or even knockoffs) in hotel rooms, especially if it's a low to medium-end chain.
Built-in USB ports by the bed.
Reading lights.
Bottled water. Even a courtesy two bottles a day is a nice perk.
Elevated toiletries. Most hotels provide soap, shampoo, conditioner, and body lotion. I love seeing a vanity kit or mouthwash, too.
Free breakfast.
Hotels I've stayed in recently and loved:
Hotel Valencia Riverwalk San Antonio
JW Marriot San Antonio Hill Country Resort and Spa
Drury Plaza Broadview Wichita Kansas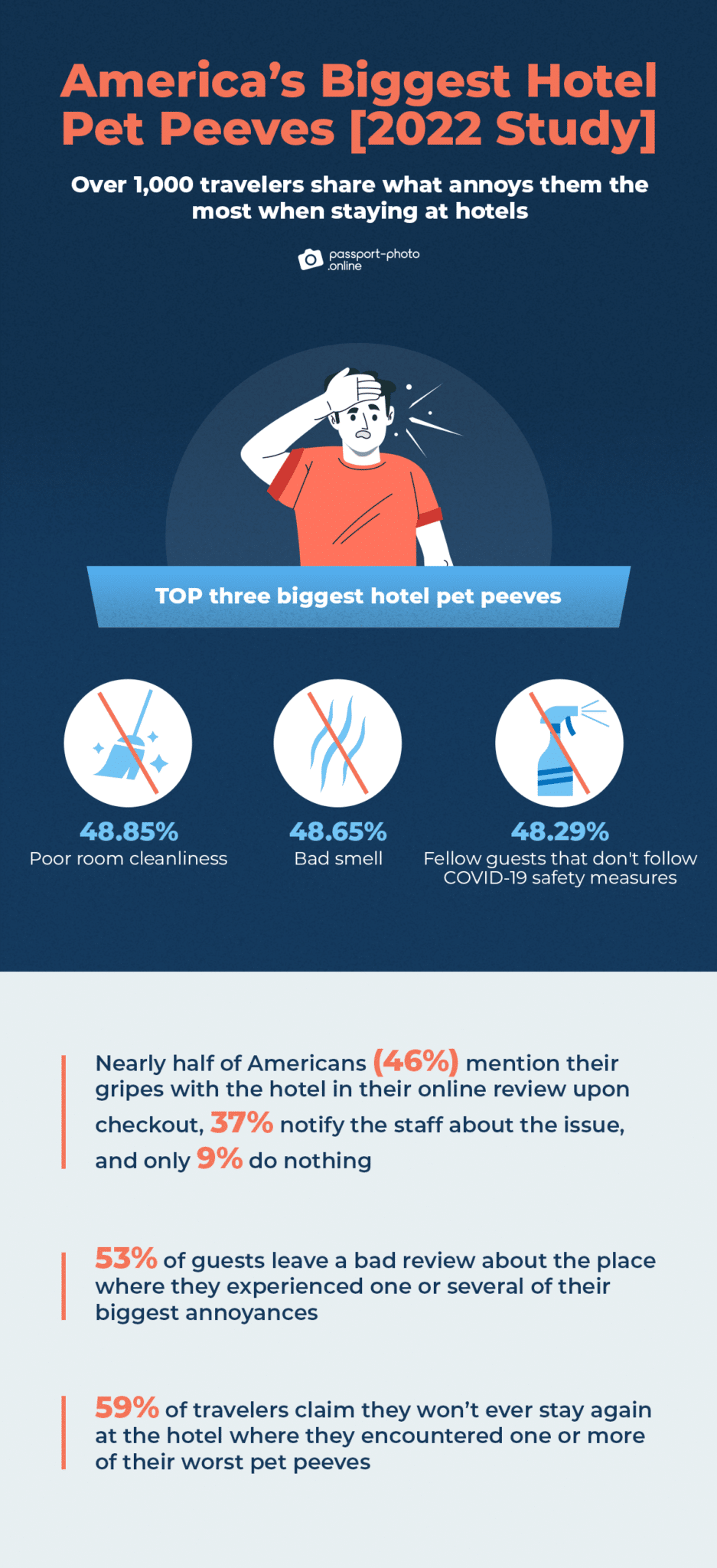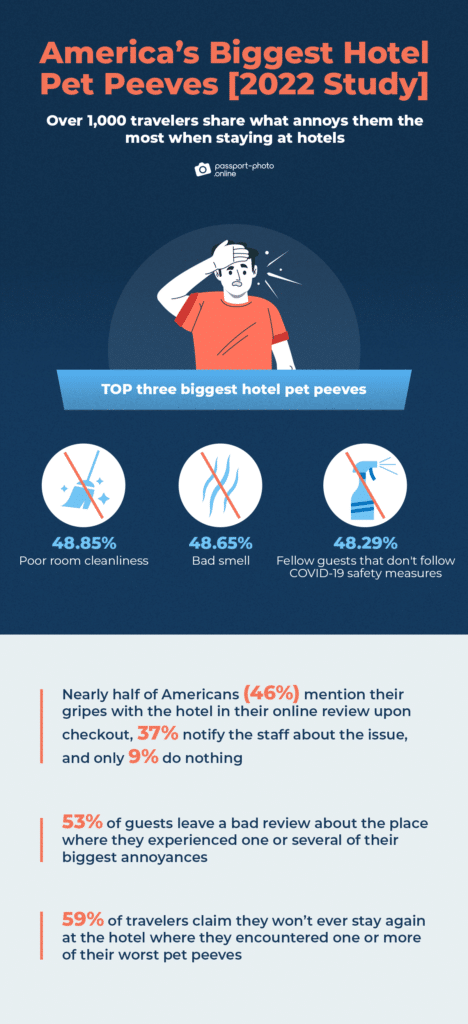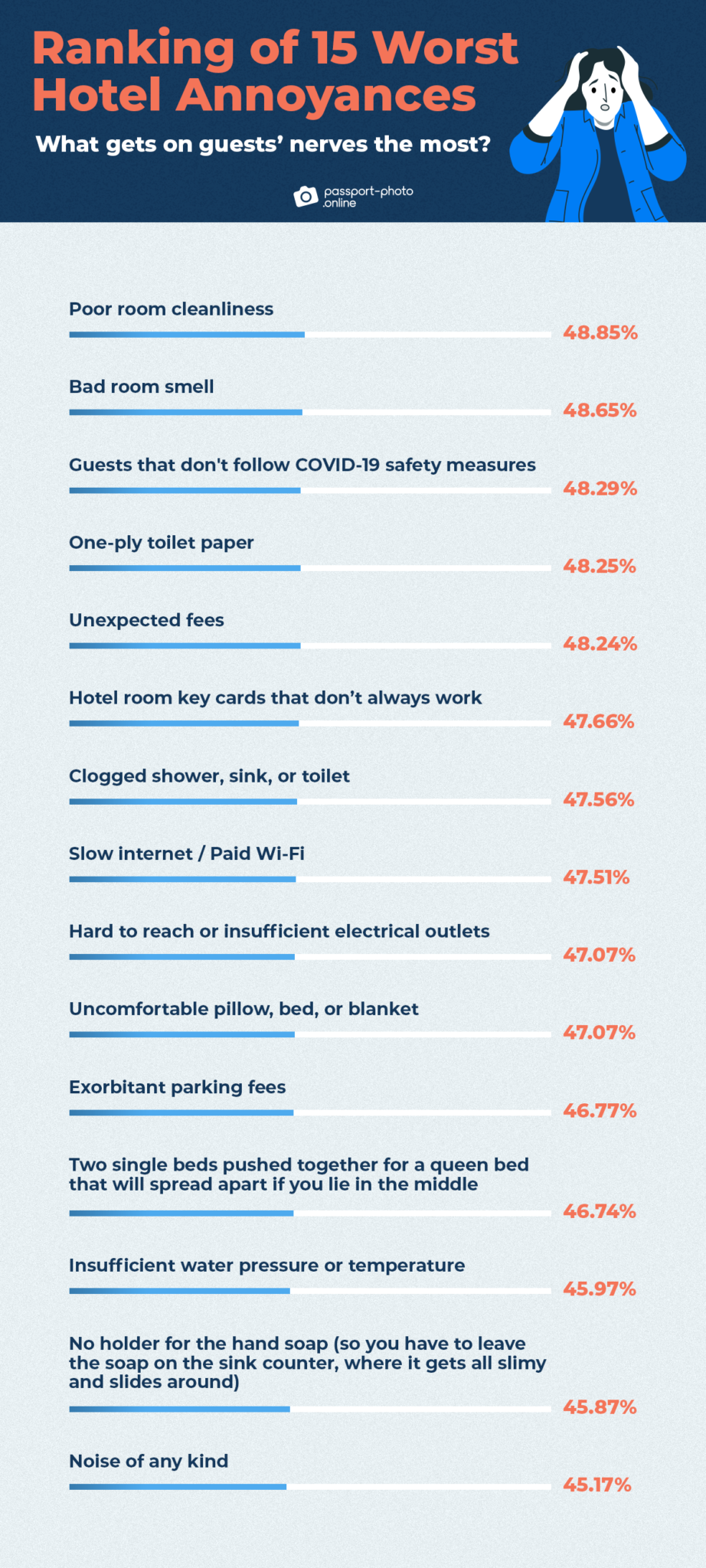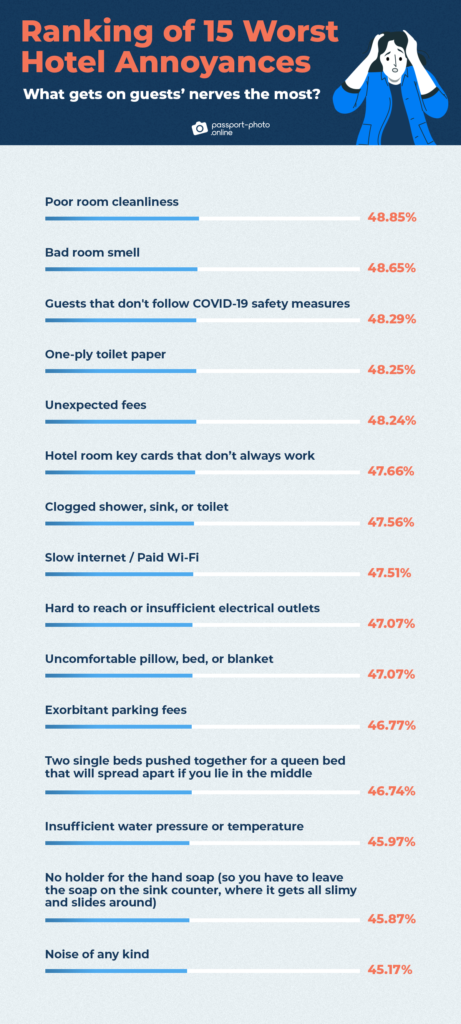 Infographic courtesy of Passport-Photo Online.