Miramonte Indian Wells Resort & Spa is YOUR Palm Springs Oasis…and here's why
(This post may contain affiliate links. Read my full disclosure.)
If you're looking for a beautiful, scenic vacation spot where you can relax and do as much nothing as you want to but where there's still options in case you want more activities, Palm Springs is your place. Palm Springs, California lies on the western edge of the Coachella Valley, within the Colorado Desert, approximately 110 miles southeast of Los Angeles and 140 miles northeast of San Diego. Taking traffic and time of day into account, Palm Springs is a two-three hour drive from LAX. There's also a smaller airport in Palm Springs that you can fly into, although you'll probably need to make a connection somewhere along the way.  If Palm Springs is in your future (and really, it should be) I recommend the Miramonte Indian Wells Resort & Spa. It's absolutely amazing and I'm going to tell you why.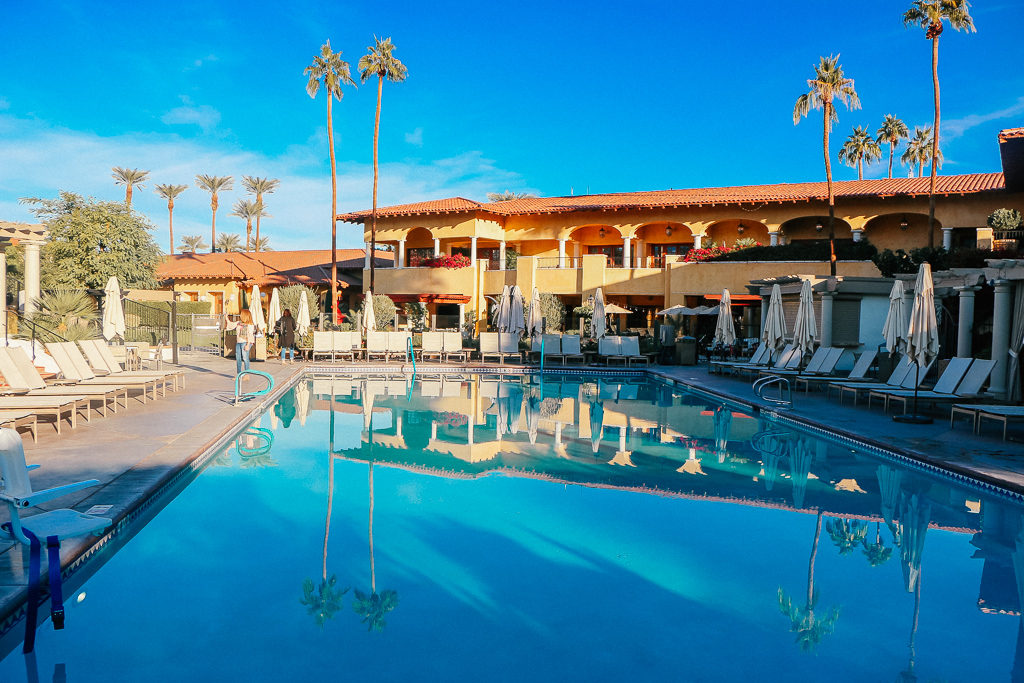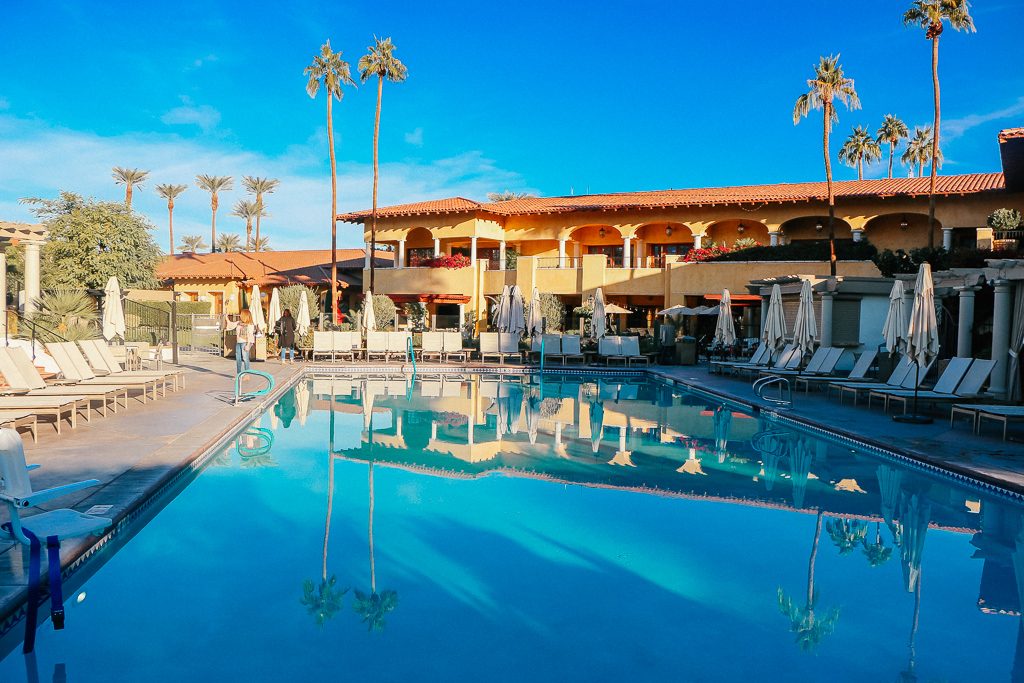 This post was written in partnership with A Girl's Guide to Cars. I received complimentary lodging and other amenities from Miramonte Indian Wells Resort & Spa but all opinions are my own. 
[Tweet "@MiramonteResort in Indian Wells is the best place to stay in Palm Springs @GirlsGuide2Cars #ad"]
Palm Springs experiences sunshine 355 days a year and the shopping, golf, trendy restaurants, not to mention the spectacular desert mountain views make it the perfect place for a winter vacation, especially if you live in a colder climate. I visited in early November and the temperatures were perfect…warm and sunny during the day and just chilly enough for a sweater or light jacket at night and during the early mornings. And, for those of you visiting with kids, the pools at Miramonte Indian Wells Resort and Spa are heated, so you can swim any time. Not that you can't enjoy a swim without kids, because of course you can, but when you go to a hotel with kids, the first thing they ask about is the pool, right?
For more info on Palm Springs check out the Visit Palm Springs Website. For more information on Miramonte Indian Wells Resort and Spa or to book a room, visit their website.
Rooms
While Miramonte Indian Wells Resort and Spa has amazing suites and villas that are perfect for families, their standard rooms and standard balcony rooms are much more spacious than your average hotel room.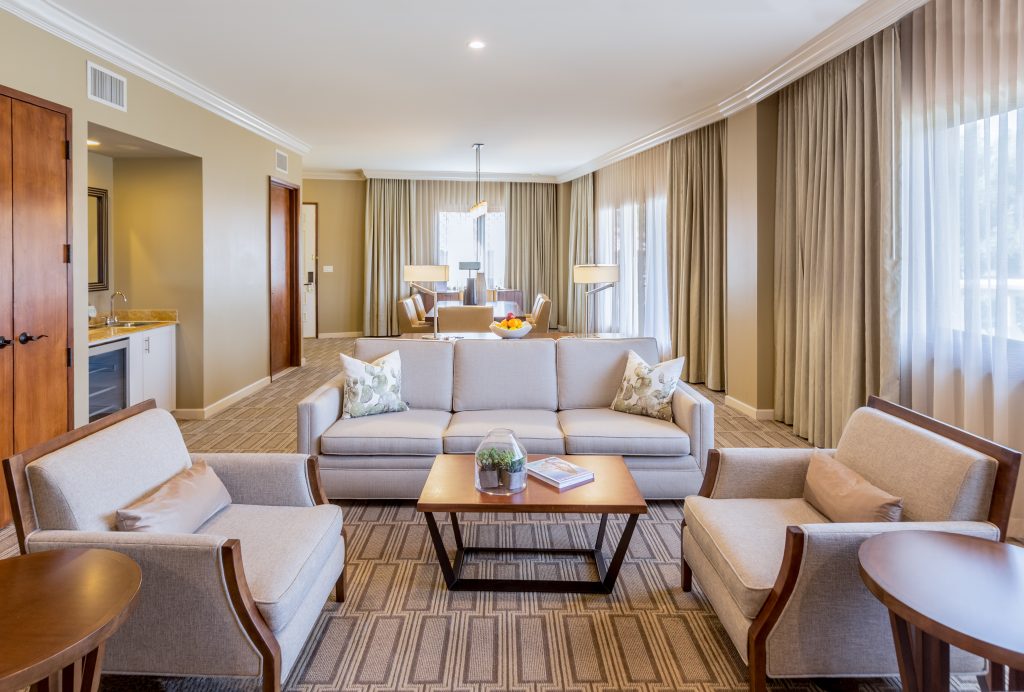 If you need more room – when we travel with our kids, we love putting them in a different room than we're sleeping in or getting a suite with a pullout couch for the kids and a bedroom door for us – Miramonte Indian Wells Resort offers the Miramonte Suite offer 1,078 square feet and has a dining table that seats eight people, as well as a Junior Suite and a Villa Suite that offer 550 and 725 square feet, respectively, as well as that coveted separate living area. The rooms are very well-priced for all the amenities you get in such lovely surroundings. Your price will vary according to season but you can hop on their website and explore dates and rooms to get an idea of what you'll spend.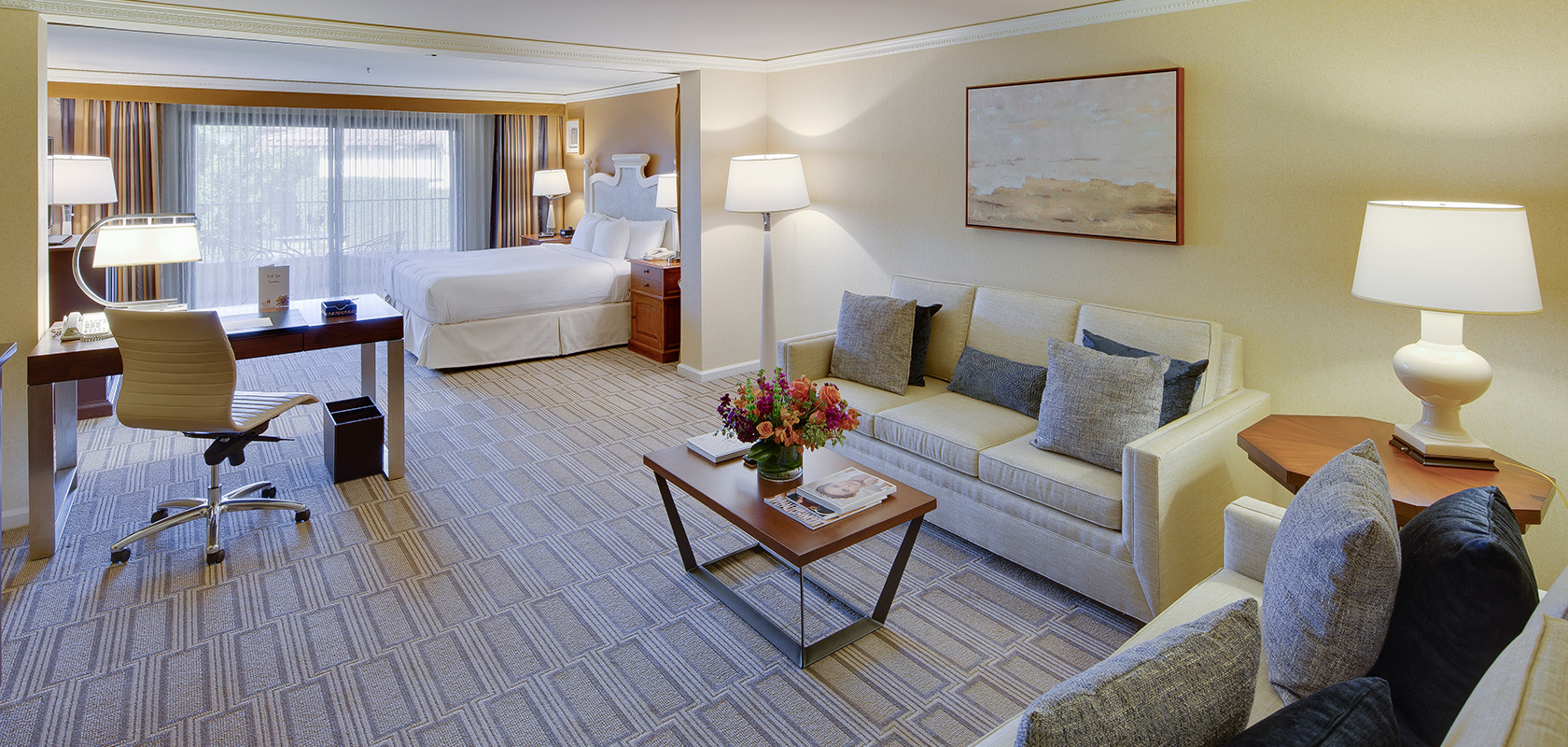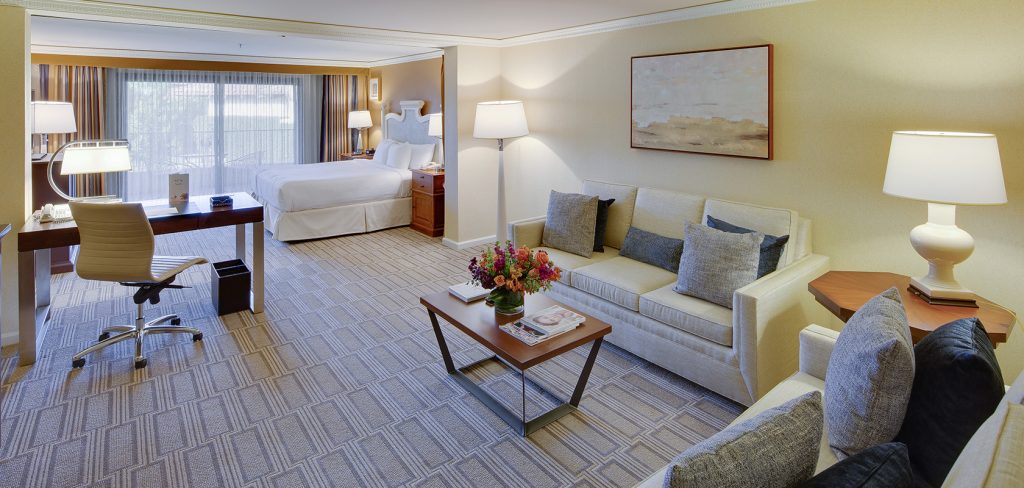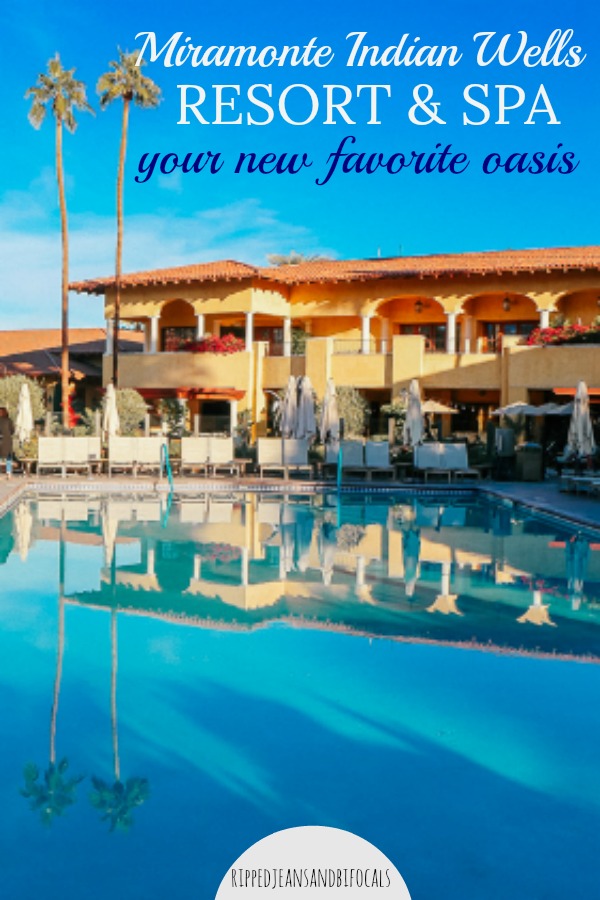 Pools
If you're vacationing in Southern California, you want to know about the pools. Miramonte Indian Wells Resort & Spa has three lovely pools. The main pool, the Miramonte Pool is just off the lobby, and is elevated by stunning mountain views. The second level of the main pool deck features additional lounging and a heated whirlpool.  Lounge in comfort with a private cabana (extra charge but super reasonable for all you get) or food and beverage service throughout the day.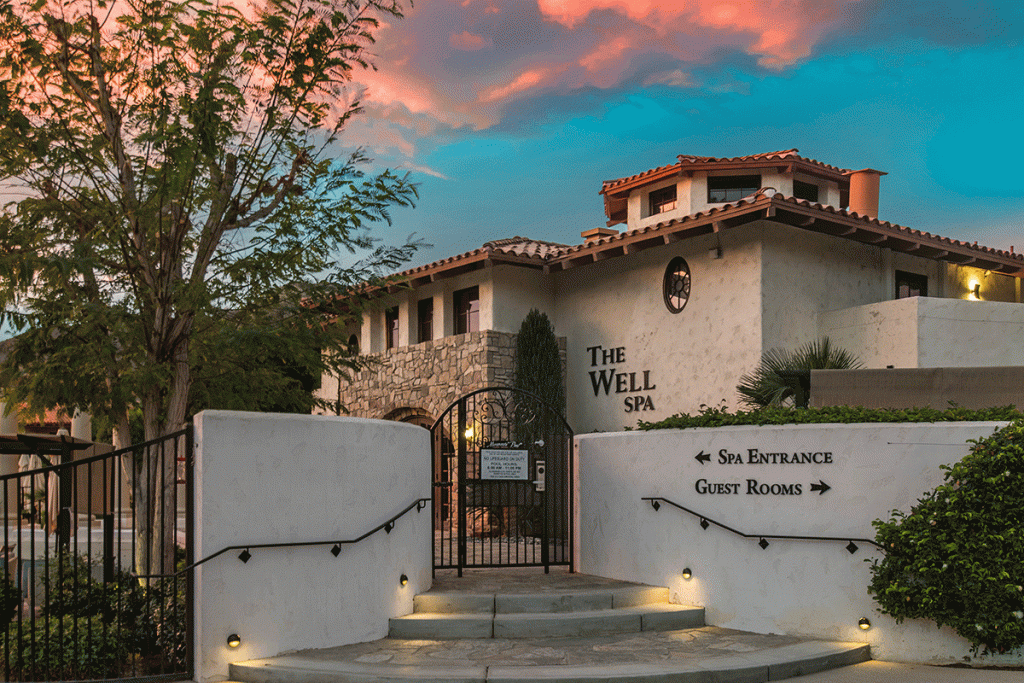 If you'd like something a little more secluded, there's the Hideaway Pool, which is tucked away within the resort to offer a more serene atmosphere. The third pool is accessible only for spa guests and is the absolute BEST. I found out about the spa pool on my last day there and if I'd known about it sooner, I'd have been in there the entire time. If you book a spa treatment, you have access to the spa pool and relaxation area. You can also purchase a day pass for $30 and enjoy all the spa amenities (more on that in a minute) during spa operating hours.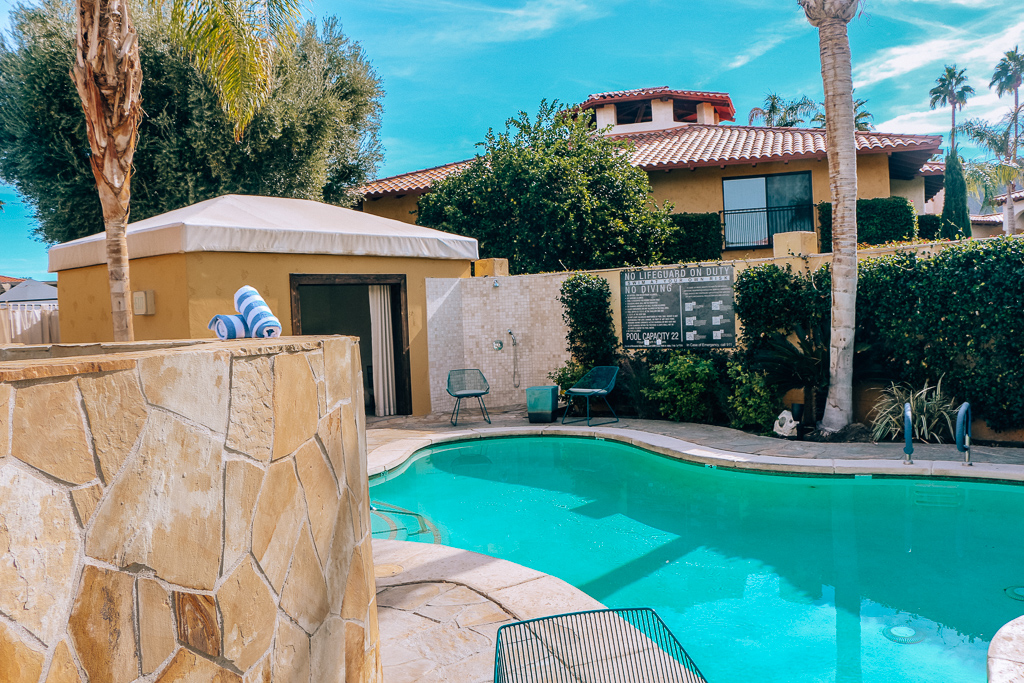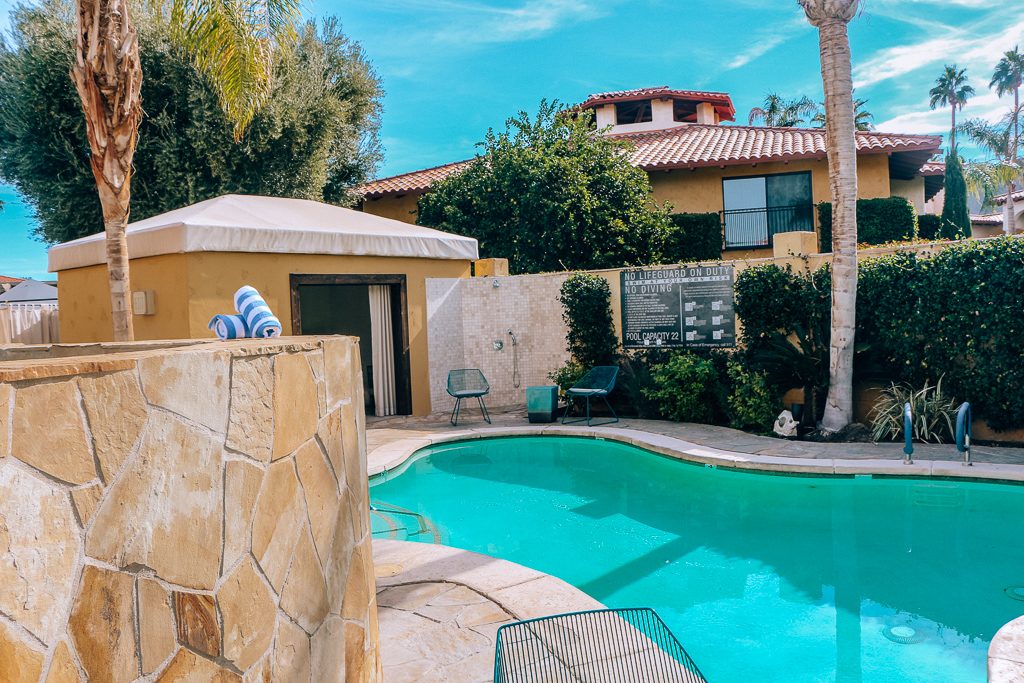 Spa
The Spa at Miramonte Indian Wells Resort & Spa is amazing. It offers nine treatment rooms and three outdoor relaxation spaces and you can literally just feel the stress melt away as soon as you step through the doors.
You can check out the spa brochure here, but the listed "signature services" are the Himalayan Salt Stone Mineral Massage and the Vitamin C Facial. Check the website for specials. Spa amenities include: Eucalyptus infused steam rooms, locker facilities, a nail salon, a spa retail shop, an exclusive spa menu, relaxation room, and more. Trust me, the pools and the serene outdoor space are amazing, and if you come here, you need to schedule an entire day just to soak up everything the spa has to offer.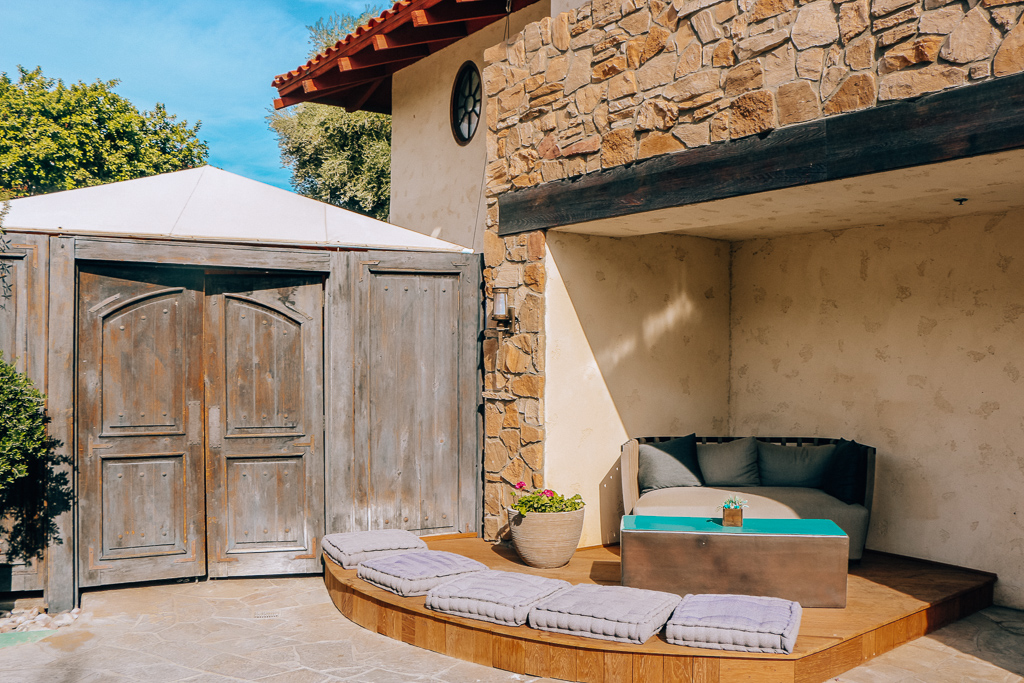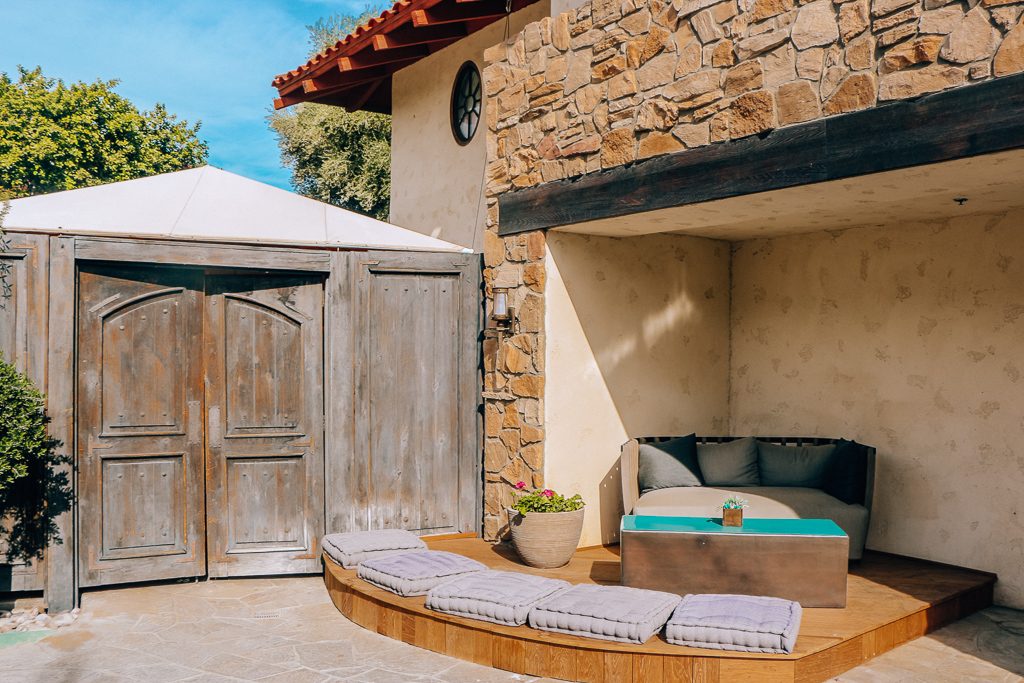 For even more, check out their special events page, or give them a call and ask about what's going on. One of their new offerings is Spa 'rty's – spa + party. If you've got a group of four or more people celebrating something – or nothing – ask and see if a Spa 'rty is the thing for you. Also, I'm going to need three of you to go to Palm Springs with me to check this out. Who wants to go?
Food
Although Palm Springs has a ton of places to eat, you can get great food at Miramonte Indian Wells Resort & Spa without leaving the property. Their signature restaurant, Citrus and Palm, offers fresh, local cuisine that's both healthy and delicious. Using a mix of ingredients grown on-property and sourced from local farmers, Chef Paul Hancock crafts utterly delectable all-day dining options.
Citrus and Palm offers a bar menu with various snacks, a breakfast menu with juices and smoothies, as well as heartier fare, and extensive lunch and dinner menus. They also have brunch and other special occasion menus which you can explore here.
We got to try a sampler dinner menu at Citrus and Palm, and I can recommend the Cauliflower Ceviche Tostada, the Stir Fry Green Beans, and the Herb Crusted Salmon. My friend had a C&P Burger and loved it…the brioche bun looked amazing. For dessert I can recommend the stuffed pineapple or the ice cream sandwiches, although the two desserts on the menu I didn't get to try also looked pretty amazeballs. Let's face it, I haven't met very many desserts I didn't like.
If you want something a little more casual, check out the Tavern Bar. The Tavern Bar is situated off the man lobby and has a beachy, rustic vibe that manages to be elegant without being even a little bit pretentious and snooty. The Tavern Bar offers a bar menu with light bites that can sub for a meal, such as street tacos or a blue fin tuna poke bowl. The also have a yummy selection of hand-crafted cocktails made with fresh ingredients grown on-property…more about the citrus and herb garden in a minute. Look over the Santa Rosa Mountains from the patio or join us every Friday and Saturday night for live music. If you're into local craft beer, they have a nice selection. I didn't get to try any beer on my very quick trip and I'm sort of disappointed I didn't get to sample "Mermaid's Red" or "Poolside Blonde." I guess that means I have to go back.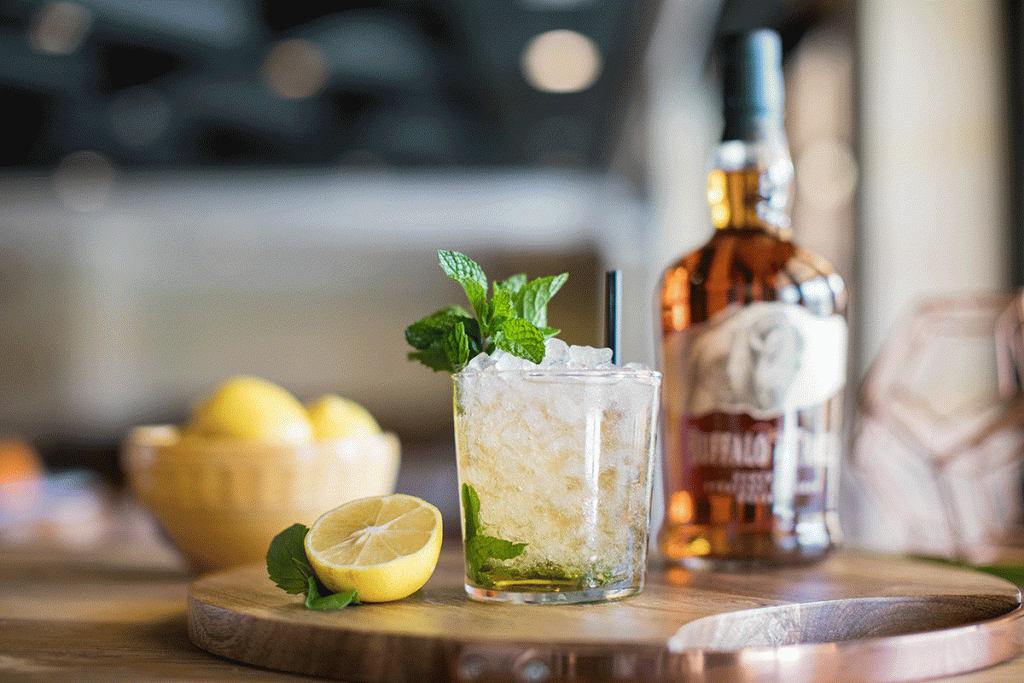 Meetings and Events
Miramonte Indian Wells Resort and Spa have a variety of meeting and event space. I attended this hotel as part of the A Girls Guide to Cars Drive 2 Learn Conference and we were very well taken care of. There's a variety of spaces of different sizes for meetings and events…even weddings. Who wouldn't like the gorgeous Santa Rosa Mountains as a backdrop for their wedding? They even have a wedding specialist on staff to help you plan and can handle a wide variety of weddings.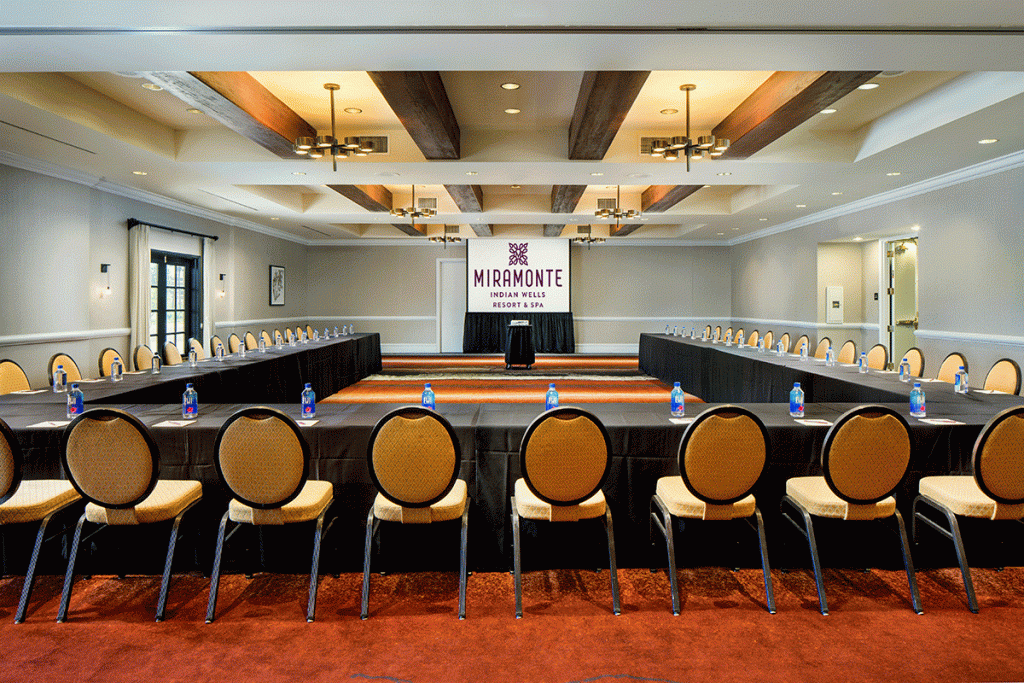 This is an awesome place…you can book it for a conference, or a holiday party, a meeting with breakouts, and any type of wedding-related businesses.
Family friendly, couple's retreat, or girlfriend getaway?
Yes, yes, and yes. My experience at Miramonte Indian Wells Resort and Spa was a combination of business and girlfriend getaway but it had a distinct romantic vibe. As I explored the property, I could see myself there with my husband, sipping a glass of wine by the fire pit in the cool of the evening, lounging in a poolside cabana, indulging in a spa day, or having a romantic dinner at Citrus and Palm.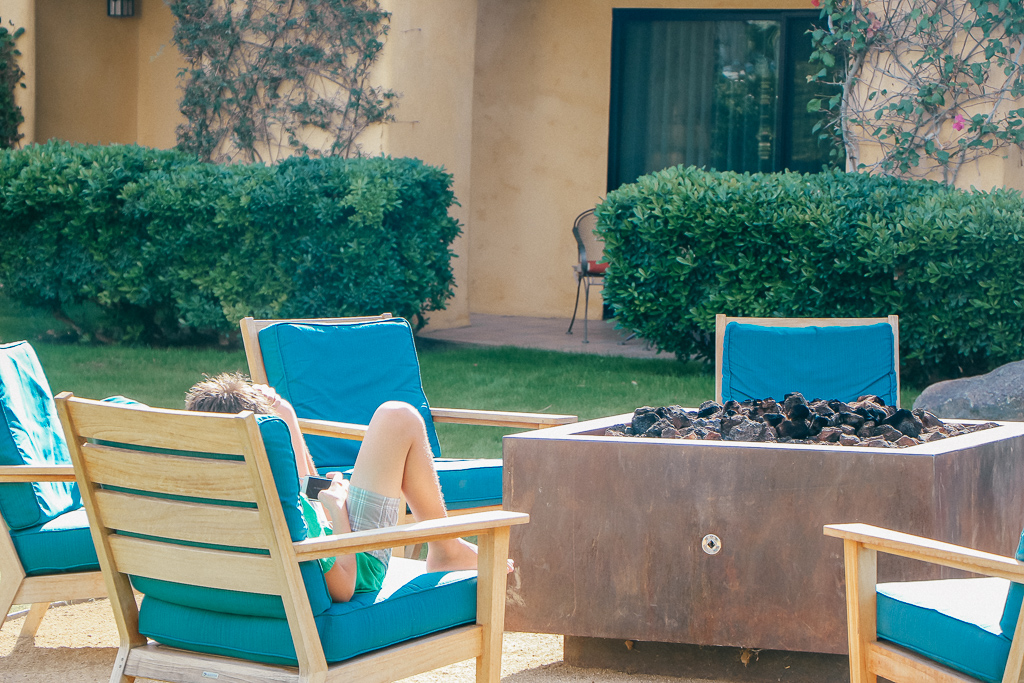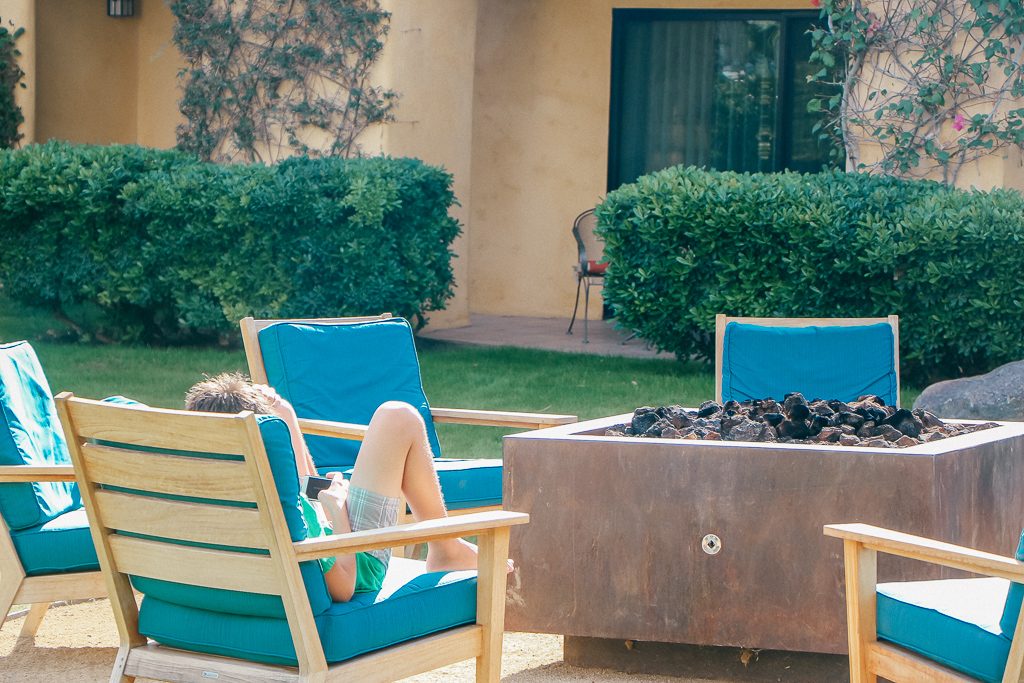 If you're considering taking your kids to Palm Springs, though, there is plenty to do and the resort offers some fun specials. Get some ideas here and when you have your desired dates, contact Miramonte Indian Wells to see what other awesome suggestions they have.
Whether you're looking to do a Spa 'rty with your besties, a romantic weekend with your lovebug or a full-on family vacation, this property can take great care of you.
The grounds are gorgeous
This property likes to use the phrase "pathways versus hallways" and that is very evident in the architecture of the Miramonte Indian Wells Resort and Spa. Although this is technically an outside corridor hotel, it doesn't feel like one, and the open air environment adds to the general resort-y vibe.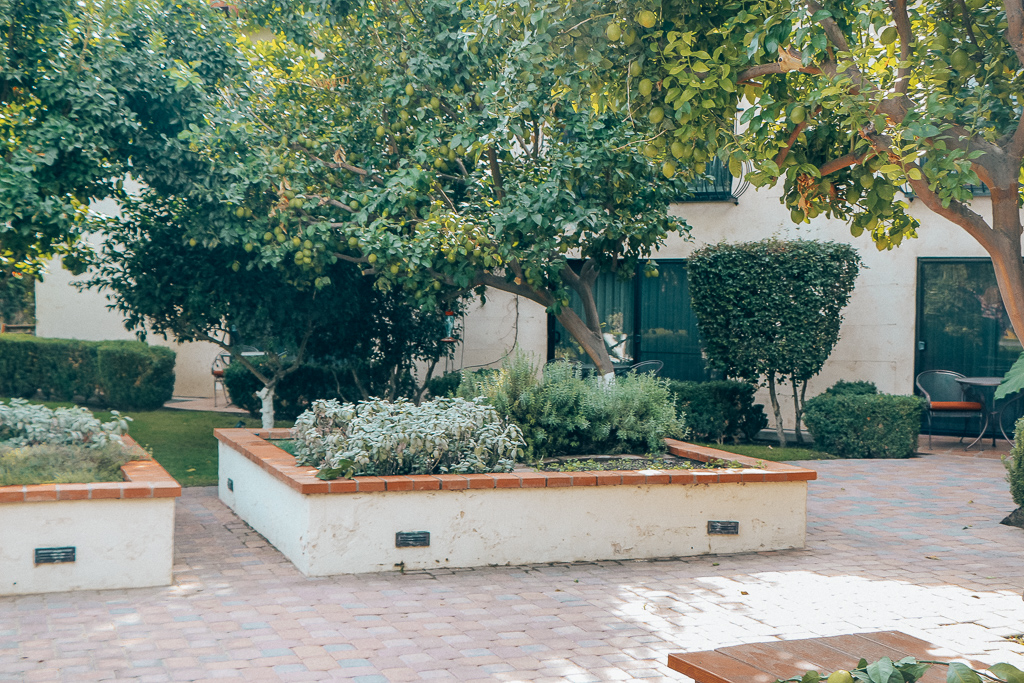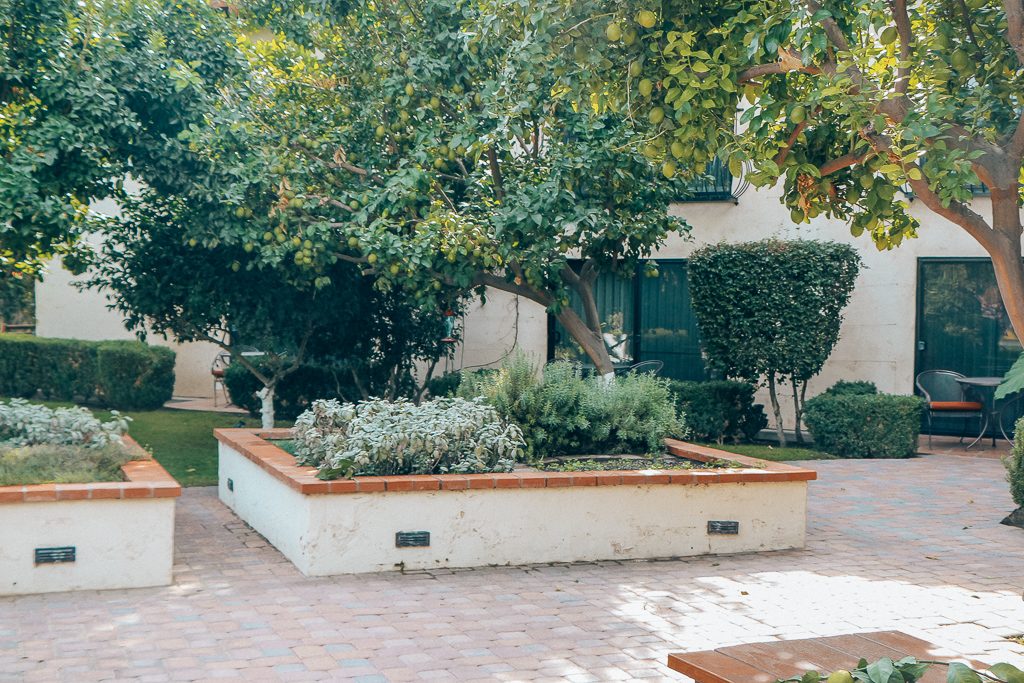 You can also explore the on-site Citrus and Herb garden, which has several beds of different herbs as well as lemon, lime, and avocado trees. I didn't really know avocados grew on trees, isn't that funny? I love avocados hard but I never really thought about how they got to the market…I guess I'm too busy thinking about how they're going to get into my belly, but nope…they grow on trees. Everyone else probably knew that, right?
I love how this property has such a commitment to sustainability…the fresh herbs and produce are used in craft cocktails and in various dishes prepared at the onsite restaurants. Plus, this area (and really all of the grounds) is such a peaceful little space that's fun to walk through and check out. It also smells amazing.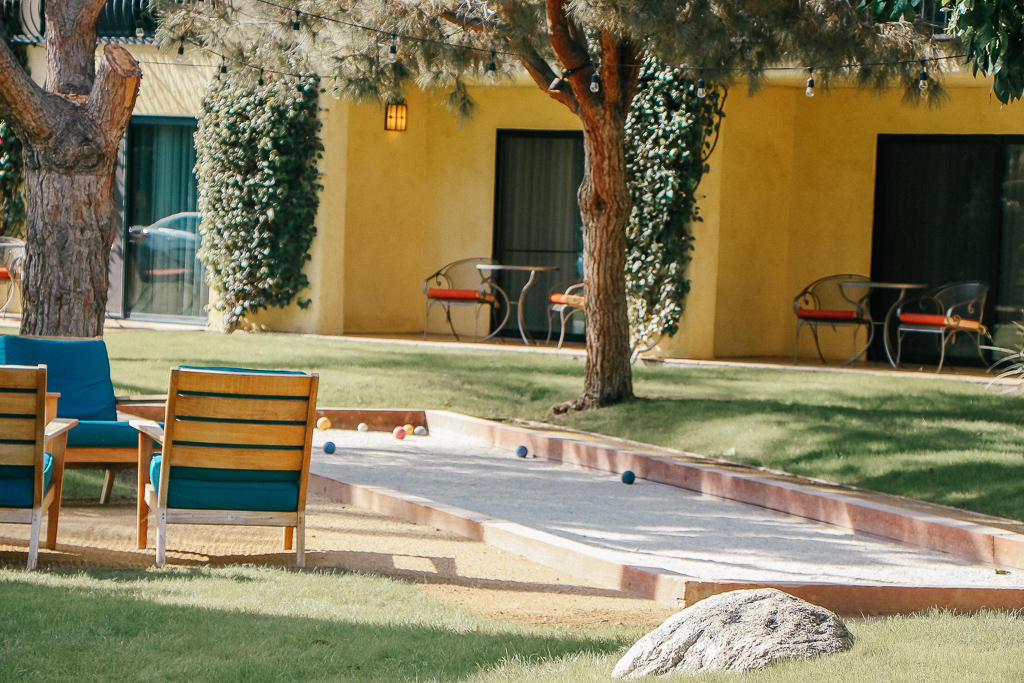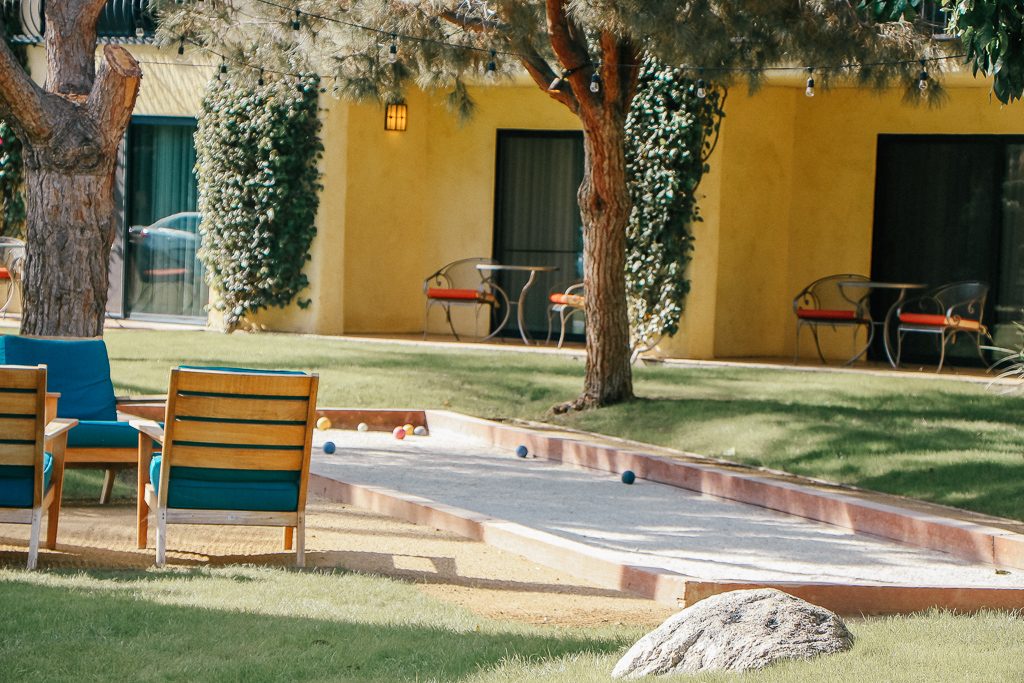 If your travel plans take you to Palm Springs, this is THE place to stay. No matter what is taking you to this beautiful part of California, the Mirmaonte Indian Wells Resort and Spa have what you want and need for a great stay.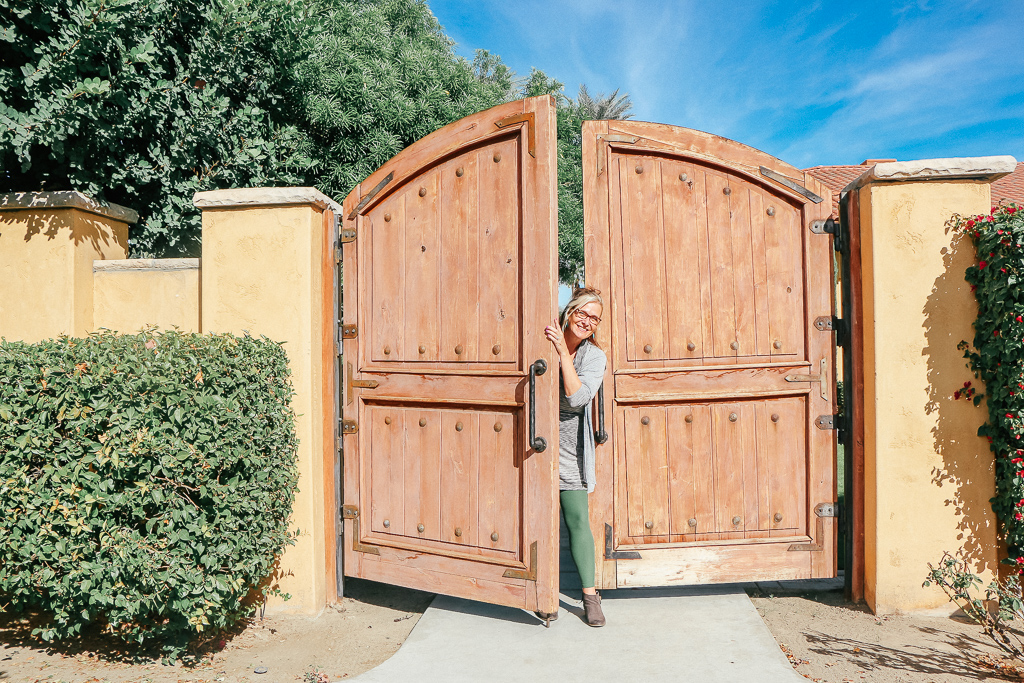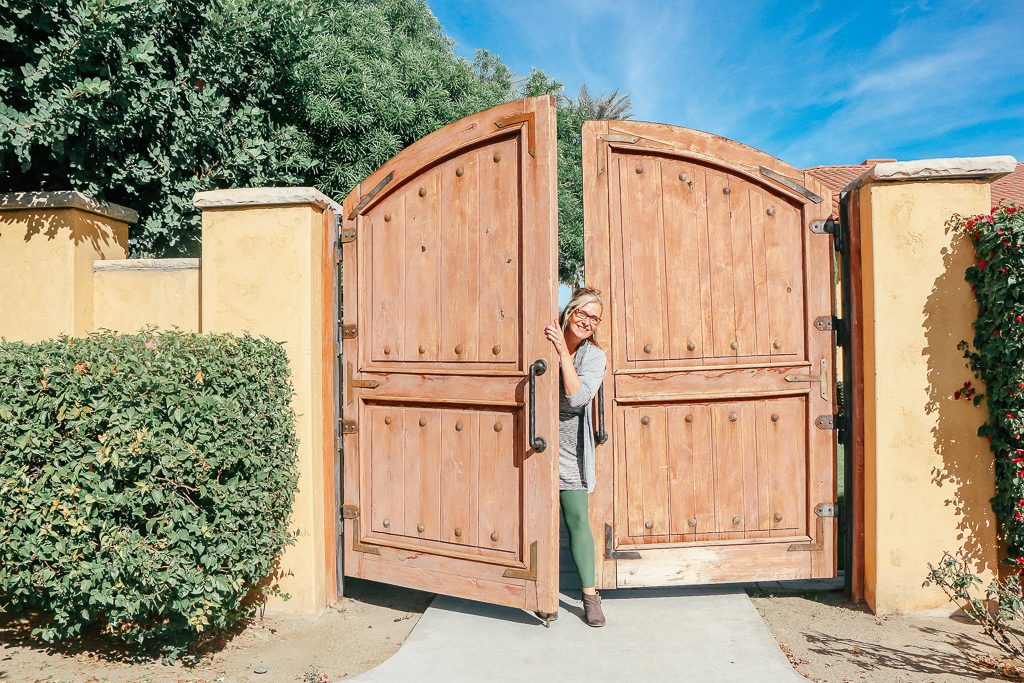 Does this sound great to you? You can stay here, too!
We are giving away a drive experience at the BMW Performance Center in Thermal, California plus a free night's stay at the fabulous Miramonte Indian Wells Resort and Spa. Trust me, you WANT to win this.
Contest rules: Entries must be completed by 11:59PM Pacific December 31st, 2018. No purchase necessary; contest open only to US residents 18 years old or older and subject to the laws of the state of California. Winner will be chosen by random drawing from qualified entires and verified by A Girls Guide to Cars; winner will be notified by email no later than January 7th, 2019. Prize will be delivered by USPS to a valid US address; prizes cannot be shipped to a P.O. box. Winners may be asked to provide identification to receive their prize. Prize valued at $1,200, not exchangeable for cash or other items. Prize is limited to one (1) night accommodations at Miramonte Resort, Indian Wells, CA with date of accommodation subject to approval by Miramonte management; one (1) breakfast for two at Miramonte Resort; one (1) half day driving instruction and hot lap package for one person at BMW Performance Center West, Thermal, CA. Travel and additional accommodations are the responsibility of the winner. Contest is administered by and prizes awarded by A Girls Guide to Cars, which assumes no liability for the administration of this contest. Miramonte Indian Wells Resort, BMW Performance Center, Visit Greater Palm Springs Area, and all other event partners assume no responsibility or liability for the administration of this contest. A total of 1 grand prize will be awarded.