Traveling to Camp No Limits Missouri
(This post may contain affiliate links. Read my full disclosure.)
My family and I just completed our longest trip by car ever. The four of us drove from San Antonio to Potosi Missouri, in the Mark Twain National Forest to take my son Zack to Camp No Limits Missouri. The trip is about 860 miles each way and Google Maps calculated it has about a 14 hour drive, each way. We decided to break it in to two driving days, each way. We are travel people and we are road trip people but we are not long driving day people. We're sharing some details about our trip: what we liked, how we got there, and where we stopped along the way.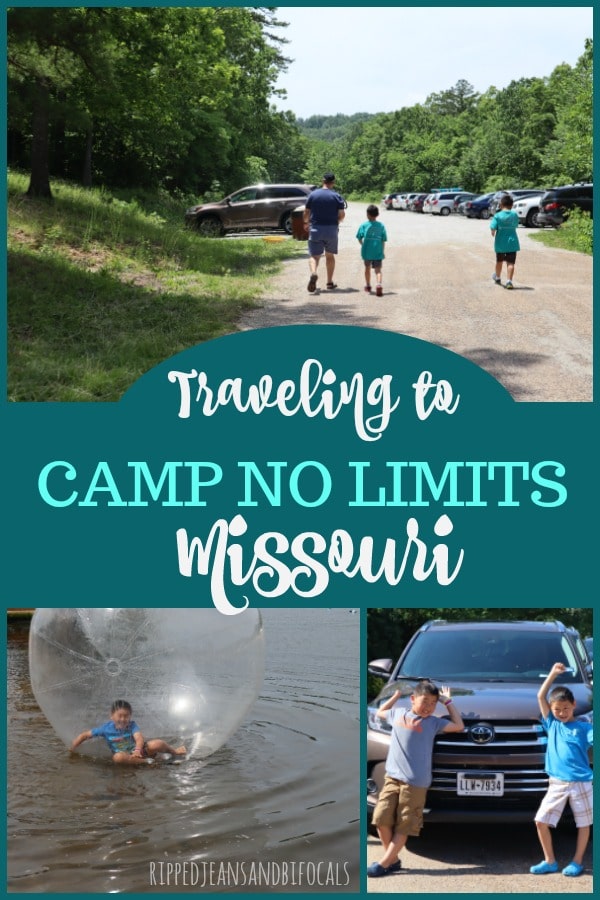 Traveling to Camp No Limits Missouri in the Toyota Highlander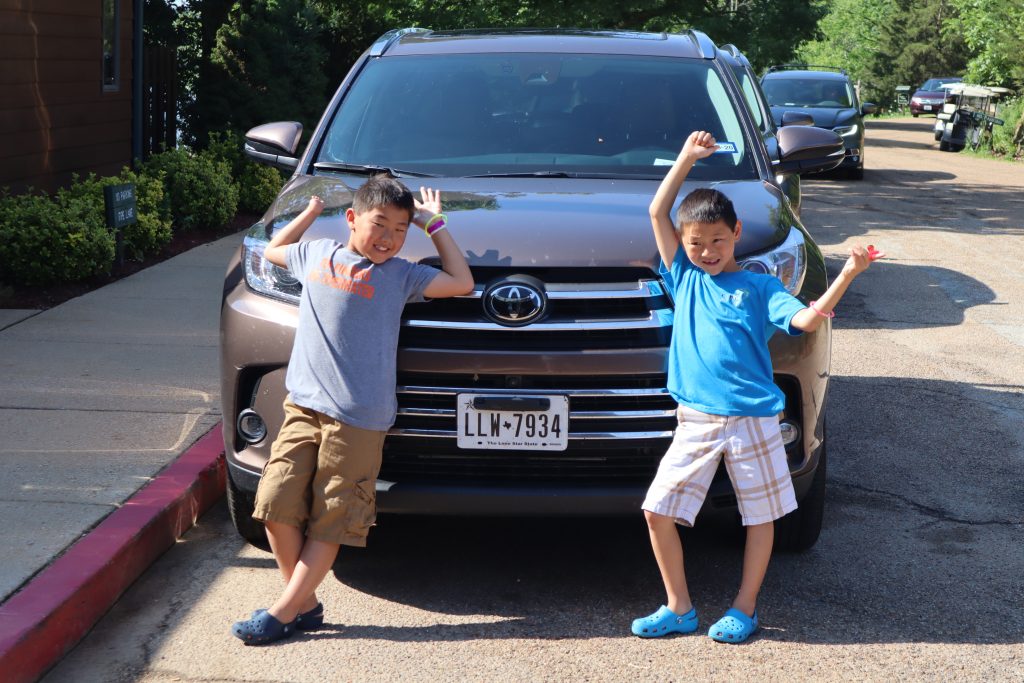 A big thank you to Toyota for the loan of the 2019 Highlander. We are convinced it's the holy grail of travel cars and it gave our trip that extra level of awesome.
What is Camp No Limits?
Camp No Limits is a camp for kids with limb loss or limb differences. It's not a static camp but a traveling camp where the core staff move their program to various camp sites around the United States. This eases travel time and costs for families across the country who want to send their kids to camp. My son Zack has attended Camp No Limits for three years – two at their Texas location and once at the Missouri location. We loved Camp No Limits Missouri and I like it a lot better than the Texas camp…even though we had to drive a longer way to get here.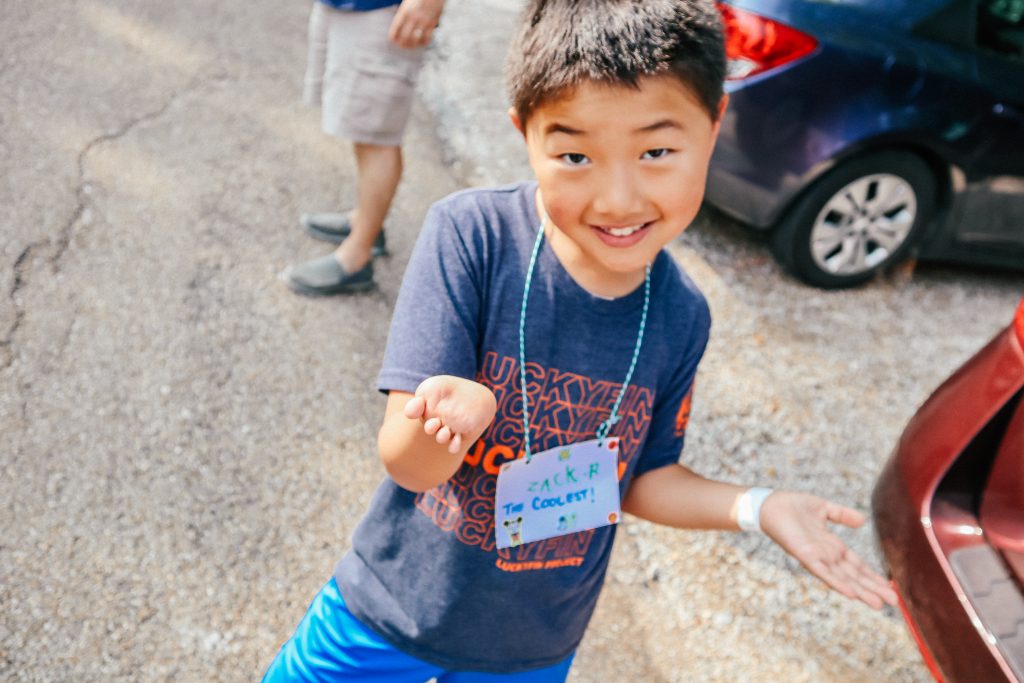 The Texas location is about a three-hour drive from our house and obviously much more convenient than driving all the way to Missouri but we had a conflict with the Texas date this year. My son gets a tremendous benefit from attending camp with other limb different kids and we decided to find another location that worked versus skipping entirely.
You might also like: My review of Camp No Limits Texas
Camp No Limits is a family camp, meaning that you don't just drop your kid off. Although the program is centered around the challenges kids with limb differences face, it's got all the stuff a regular camp would have. S'mores, singing, swimming, arts and crafts, canoeing…that sort of stuff.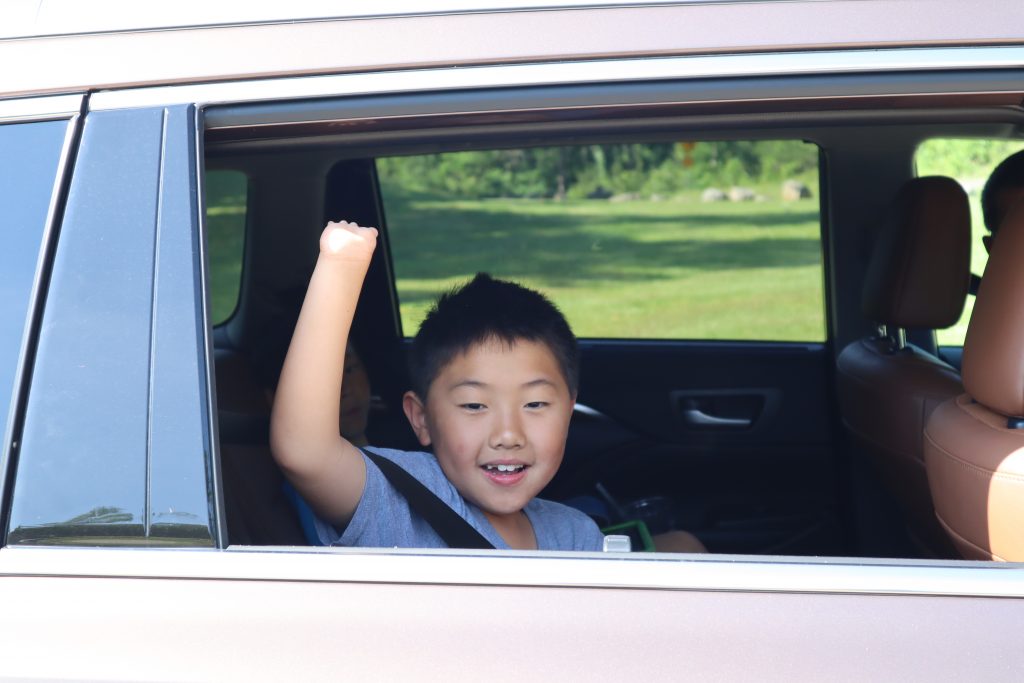 Zack is an incredible kid and he doesn't let his limb difference stand in the way of the things he wants to do. He plays soccer and football. He's a red belt in martial arts. He's a fantastic dancer, a great artist and he's an all-around kind person who makes me want to be a better mom and a better person. Sometimes, it's difficult to be the kid who stands out and that's why camp is so important to him. Zack stands out because he's a great dancer or a cute kid but not because of his limb difference and if we can give him that experience for a few days a year, well…it was worth the drive to Missouri.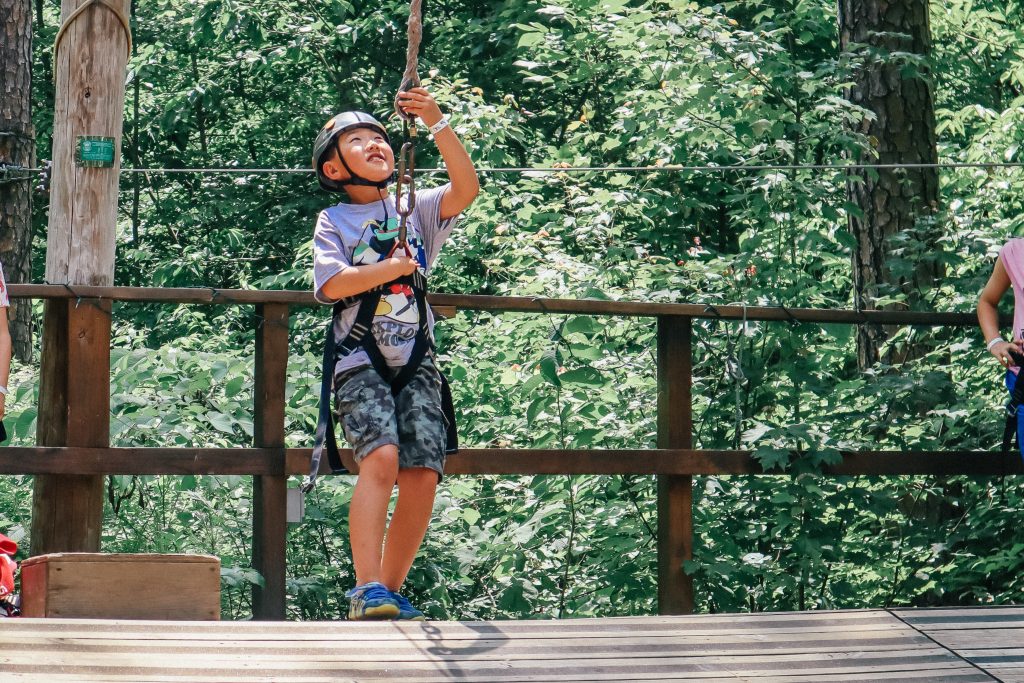 Our driving route
We drove up I-35 until we hit I-44 after crossing the border in to Oklahoma. We took local Missouri highways once we passed the St James/Rolla area. You can see our general driving route here. We do have a Texas Toll Pass. Oklahoma does have a reciprocal agreement that honors our Texas Toll Pass so we can use the faster lanes going through the toll booth. We are big fans of using toll roads and find them to be overall much faster, even if the total mileage looks like it will be greater. If you have a toll pass for your state and you're driving through other states, check online to see what reciprocal agreements are out there. Also, if you're driving a car you don't usually drive, as we did with the Toyota Highlander, don't forget to make that adjustment in your profile online so you can zip through those toll lanes quickly.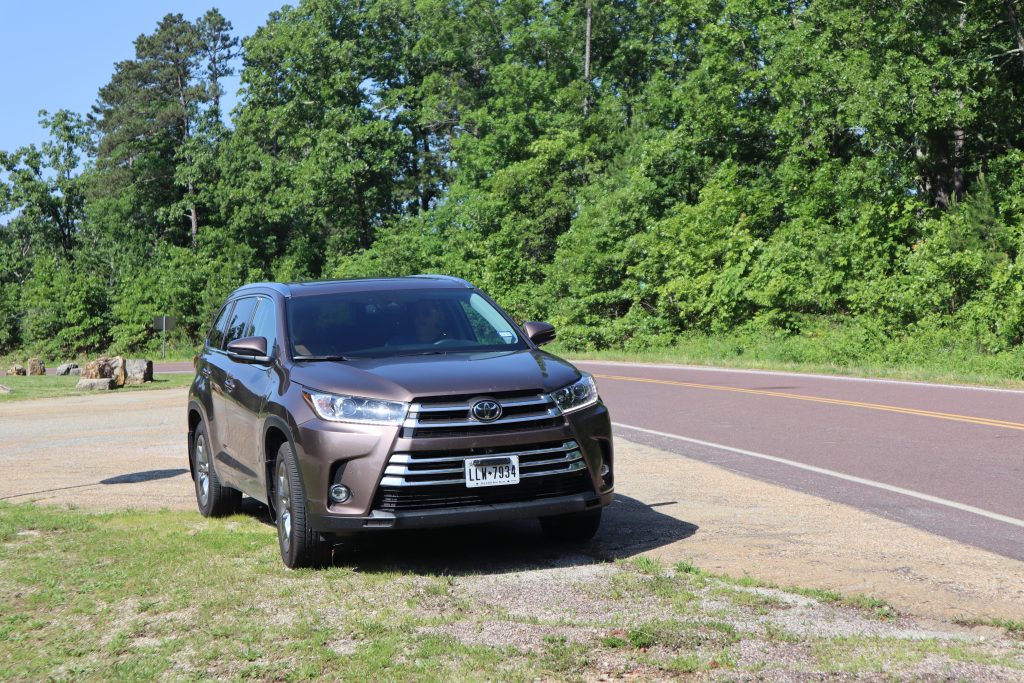 About the Toyota Highlander
The 2019 Toyota Highlander Limited Platinum, which you see in the photos here, is a mid-size SUV with a third row that folds down. It's a rather small third row that's probably most comfortable for a child but I love having that extra seating as an option. For our trip to Missouri, we did not use the third row seating because we had our gear in the back. It is on the larger size for a mid-size SUV but it didn't feel bulky or uncomfortably large when I drove it and I didn't feel that "learning curve" like I do when I get behind the wheel of a large truck or full-size SUV, like a Tahoe or an Escalade. The price on the model you see here is $48,000 although the base price of the Toyota Highlander is around $31,000. This one is fully loaded, which I love.
The Highlander proved itself as a great travel car – I give it an A++ – but I could absolutely see us using this as our everyday runaround car. And, while it makes a great family car, it's a great car for anyone who wants a great looking mid-sized SUV with a lot of room. If you regularly camp, hike or go on adventures, this is a great vehicle to consider. It's just rugged enough to where you feel good driving it in rougher terrain but slick enough for in town driving. I could wear a dress and heels in this car and not feel weird.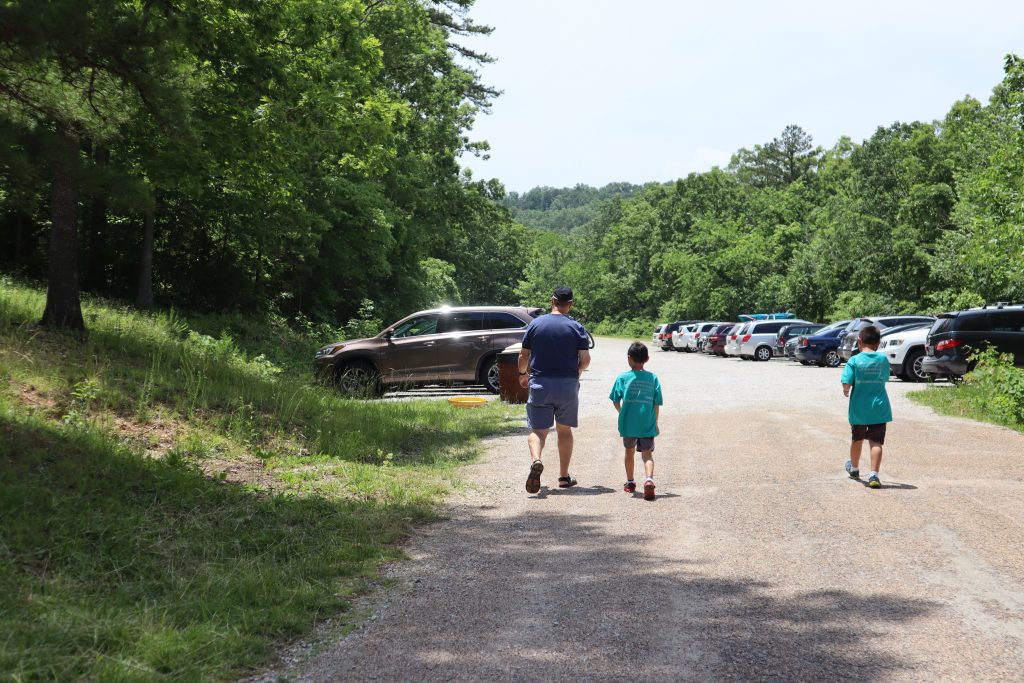 I like the Toyota Highlander because of the space, particularly the space in the second row of seating, where my kids sit. The second row of seating is bucket seat style which gives them a tone of room and keeps them a little further apart. And, let's be real…they need that extra level of separation on a road trip. They can keep their backpacks in the backseat with them without feeling crowded, and we all know road trip survival with kids is all about snacks and electronic entertainment.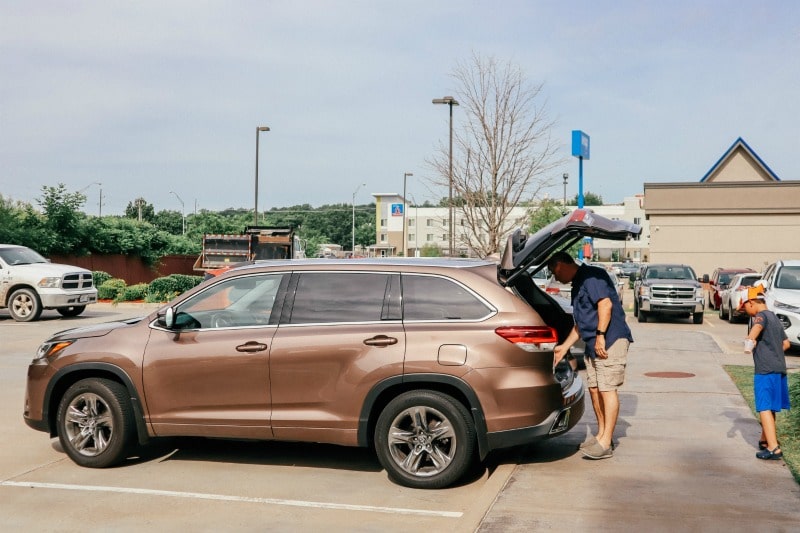 According to Toyota, the Highlander gets an average of 22 MPG, 26 highway and 20 in town. We did a lot of highway driving during the two-week period we had this car. We found we consistently got about 26 MPG, so their facts are spot on. It's a comfortable and flexible vehicle that looks good and feels good. I think it's a great family car and now I want one. The Highlander comes in a fun red color called "Ooh La La Rouge Mica" which I'm sort of obsessed with because it's fun to say. There's just something about Toyota paint colors that makes me get a little geeky. If the Highlander came in Voodoo Blue, I'd probably have kept driving north and not come back. Just kidding, Toyota. But seriously…if you're in the market for a sturdy (yet still a little bit sexy) SUV for your family's everyday runnings around, check out the 2019 Toyota Highlander.
Where we stopped
I mentioned earlier not being a "long driving day" person. My kids and I did a very ambitious road trip last summer – you can read more about where we went HERE – but our longest leg of driving was around five hours and it was only five hours because I got a little bit lost. OK…really lost but that's another story for another day.
We decided to stop for the night in Muskogee Oklahoma (if you're singing anything about being an Okie from Muskogee Oklahoma U.S.A. right now, you're totally not alone) because that was the halfway point and we found a place we wanted to stay that was close to the highway. It took us about eight hours to reach Muskogee. We stopped a couple of times to use the bathroom and once to fill up the tank so I don't think that was at all bad, considering we had an eight-year-old and a nine-year-old in the back seat.
On the way back from Camp No Limits, we stopped and spent an hour in Uranus. I'll pause while you laugh. Talking about Uranus (and saying it as many times in a sentence as possible) does not get old. If you want to know more about Uranus, check out this post to learn everything I know about Uranus.
We drove to Durant, Oklahoma to spend the night, although my husband and I both wish we'd have gone a little bit further.We could have gone a little longer and stopped in McKinney, Texas but we'd already booked a room in Durant so that is where we stayed. We had a pretty short drive to get home the next day. The big thing I have to foot stomp about this driving route is to take the toll roads. I have a friend who does a lot of driving within Texas that consistently refuses to take the tolls because it's a greater distance but the toll roads will save you so much time. I love 131 that goes around Austin. It's a great road and almost no one takes it. You can zip along at 80 mph and get to where you're going way faster. Besides, Austin traffic is a nightmare and if you're not stopping there, don't go through there.
A little bit about the YMCA Trout Lodge and Camp Lakewood
Although this facility was home to Camp No Limits, anyone can come and stay here. You don't even have to be members of the Y, which is a pretty cool deal. Located in rural Missouri in the Mark Twain National Forest, this camp is a place for all kinds of campers to relax, have fun, and connect. If you want to camp as a family but aren't sure how to plan the activities (or don't want to sleep in a tent, let's be real) this is a place you'll want to check out. This area is beautiful in the summer and the temperate climate was a welcome change from June in Texas.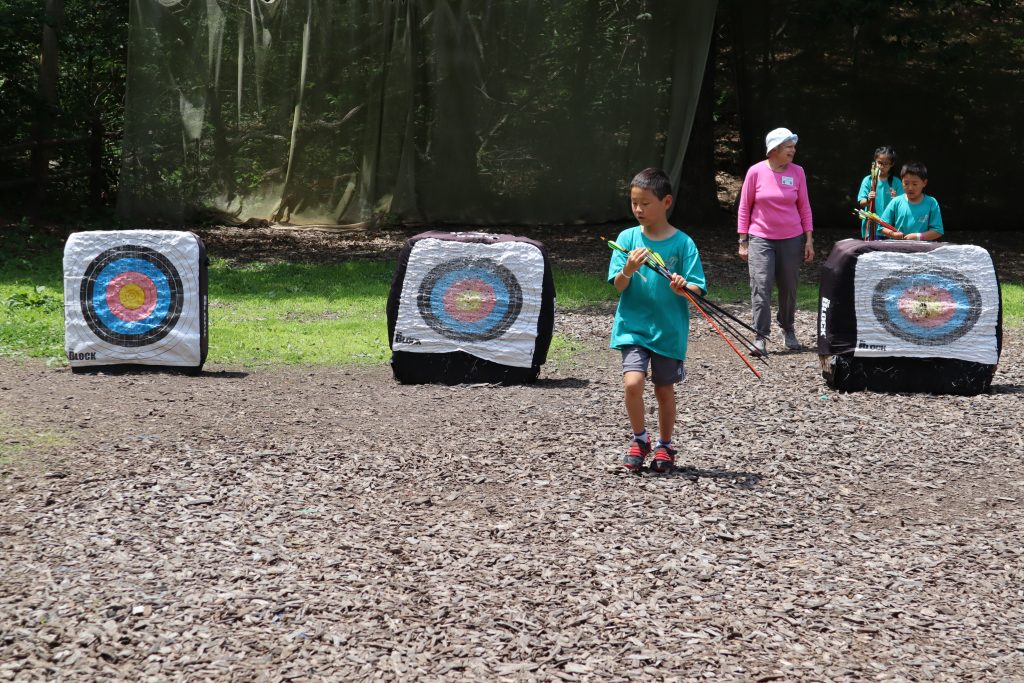 I'm absolutely in love with the outdoor swimming area and the lifeguards are great. I'm not always a fan of swimming in a lake but this one was great. There isn't a pool on the property – the lake is it, so if you like to swim and the lack of pool bothers you, this might not be the place for you.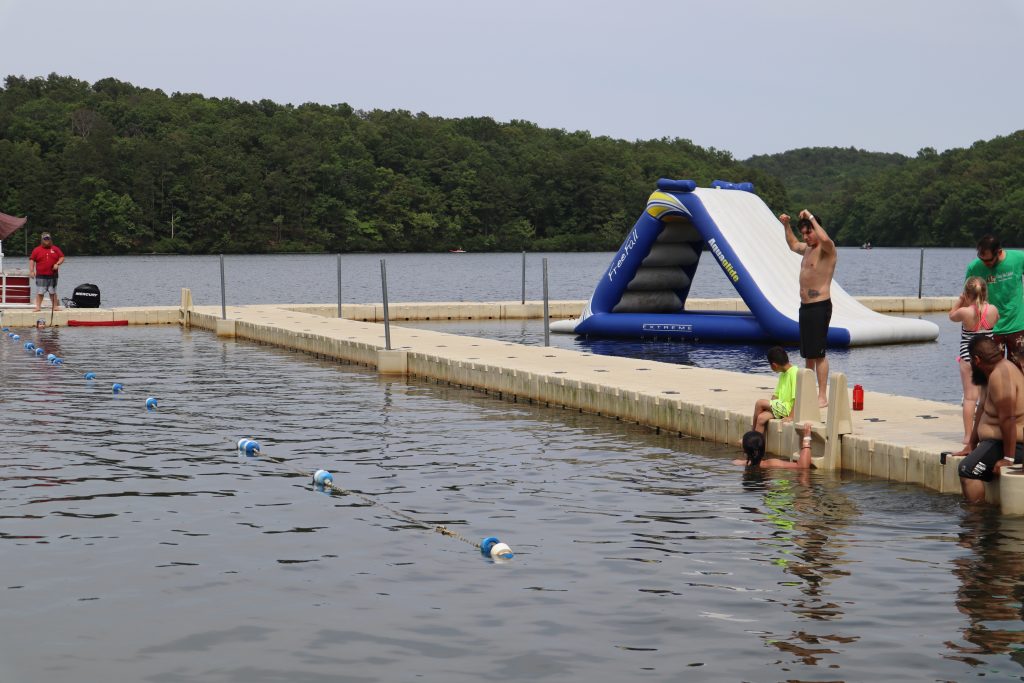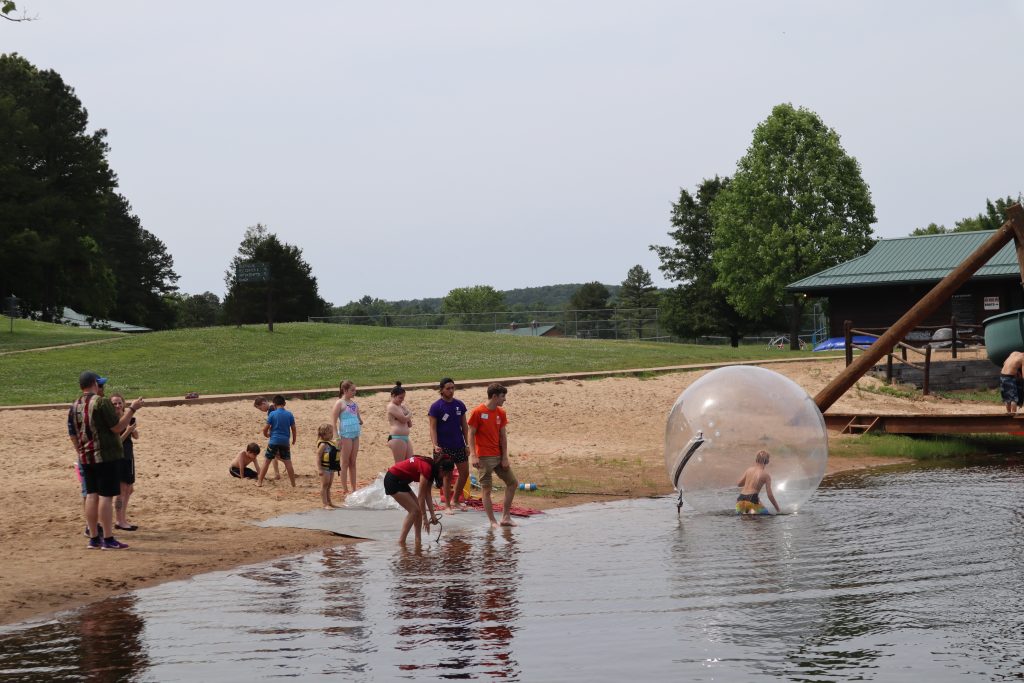 There are cabins available and also rooms in the main lodge, which are similar to hotel rooms. We stayed in a room at the lodge which was about the same size as a standard hotel room. It had two double beds and a private bathroom as well as a lovely balcony overlooking the lake. What it didn't have was a television (it's camping, duh) but the entire camp had great WiFi.
I didn't take any pictures of our room but here's a sweet one of the balcony: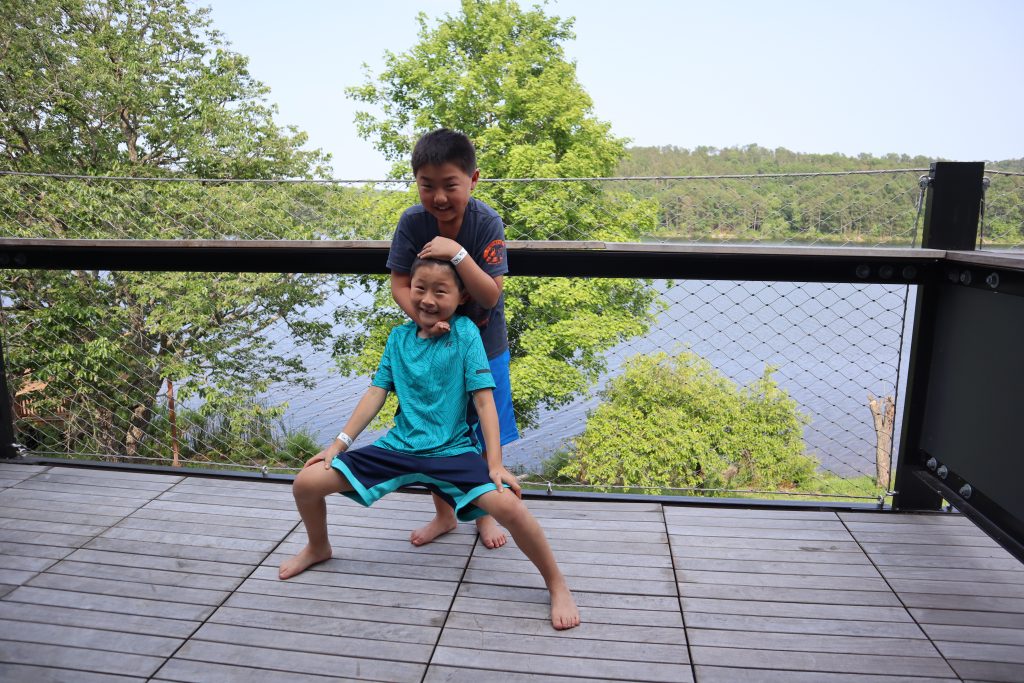 If you want more info about the camp, visit their website. Unfortunately, I don't have any information on their rates because their website doesn't include it but if you're interested, give them a call. Most activities and three buffet meals a day are included and the food is pretty good.
We had a great trip and I'd do Camp No Limits Missouri again next summer in a heartbeat, if the timing works out. It sure is a lot easier to get to the Texas camp but I was in love with this lake space and the beautiful summer weather in Missouri. Thank you again to our friends at Toyota for letting us take the 2019 Highlander along on our trip. If you want more info about the 2019 Toyota Highlander visit their website to check out your options.