FootGolf at Disney World – What you need to know
(This post may contain affiliate links. Read my full disclosure.)
Before I go any further with this story, I need you to know that me + any sport that involves a ball is usually not my idea of a good time. Footgolf (yep, it's a real sport and yep, all one word) is one of the few exceptions. So what is footgolf, exactly? I'm here to answer all your questions and tell you everything you need to know about playing footgolf at Disney World.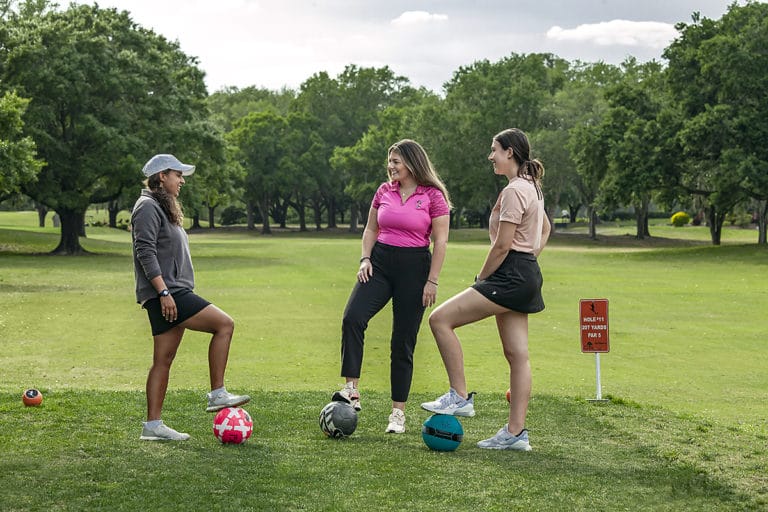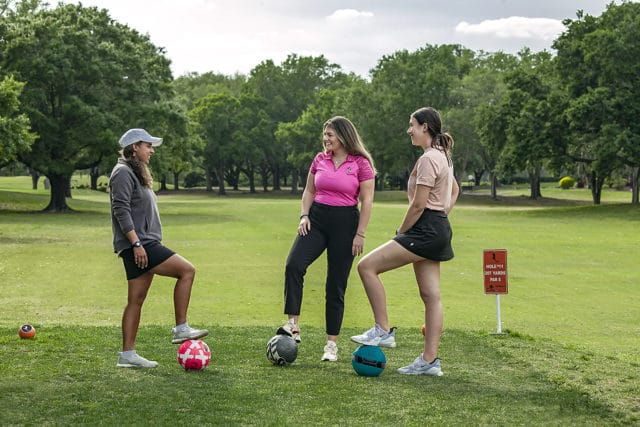 Everything you need to know about Footgolf at Disney World
The best way to explain footgolf is to think of it as a cross between soccer and golf. Footgolf is played on a regular golf course using a soccer ball instead of a golf ball. No clubs, either! Your feet take the place of golf clubs.
The object is still to get the ball into the hole in as few shots as possible. The hole you'll be kicking your ball into is 21 inches diameter and deep and enough to hold four soccer balls. Think of it like a giant bucket.
The distance between the tee and the hole is shorter than regular golf. Otherwise, footgolf follows the same rules as regular golf.
Footgolf at Walt Disney World
Walt Disney World Golf has been around as long as Walt Disney World has and is celebrating its 50th birthday this year, too.
Footgolf at Walt Disney World is played on the Oak Trail Course, which is a walking course – no golf carts allowed. Nine holes of footgolf will take you about an hour and a half to play through. During cooler months, there may be an 18 hole footgolf option.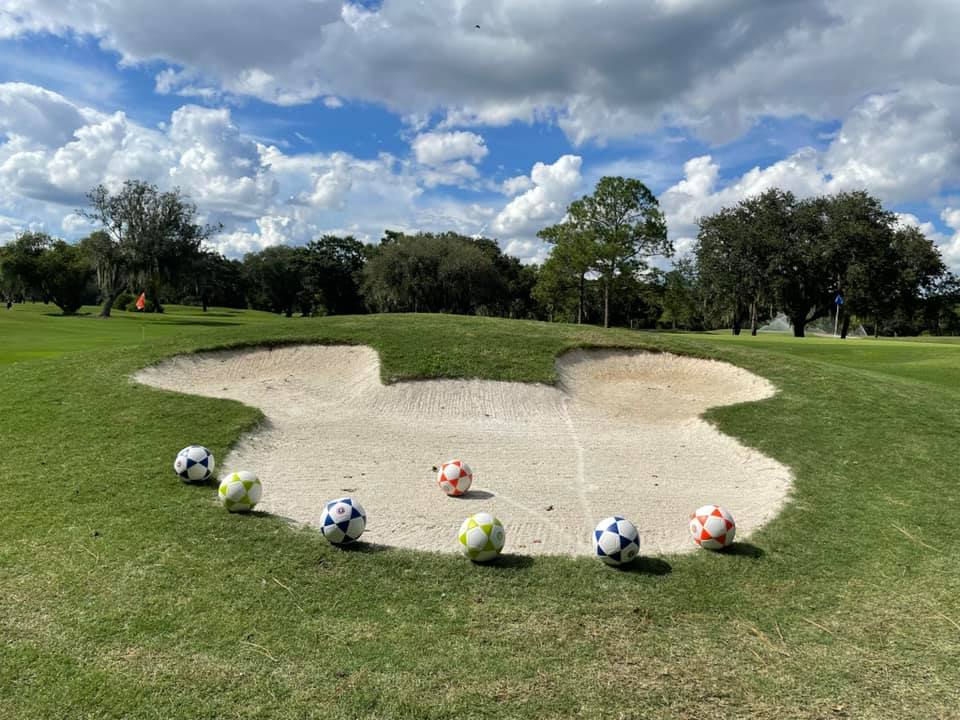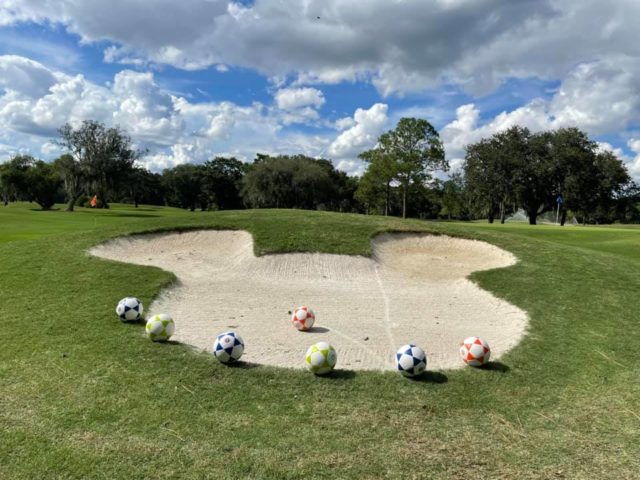 Who can play footgolf at Disney World?
Just about anyone can play footgolf at Disney World, or anywhere else for that matter! If you can walk a mile and a half and kick a ball with your foot, you can play footgolf. No experience is required, although you'll get a brief tutorial at the start of your experience. There is also a practice hole so you can get a feel for how things work before you approach the first hole.
Guests of all ages can enjoy footgolf. This is a great multigenerational family activity. I think time spent outdoors is always time well spent.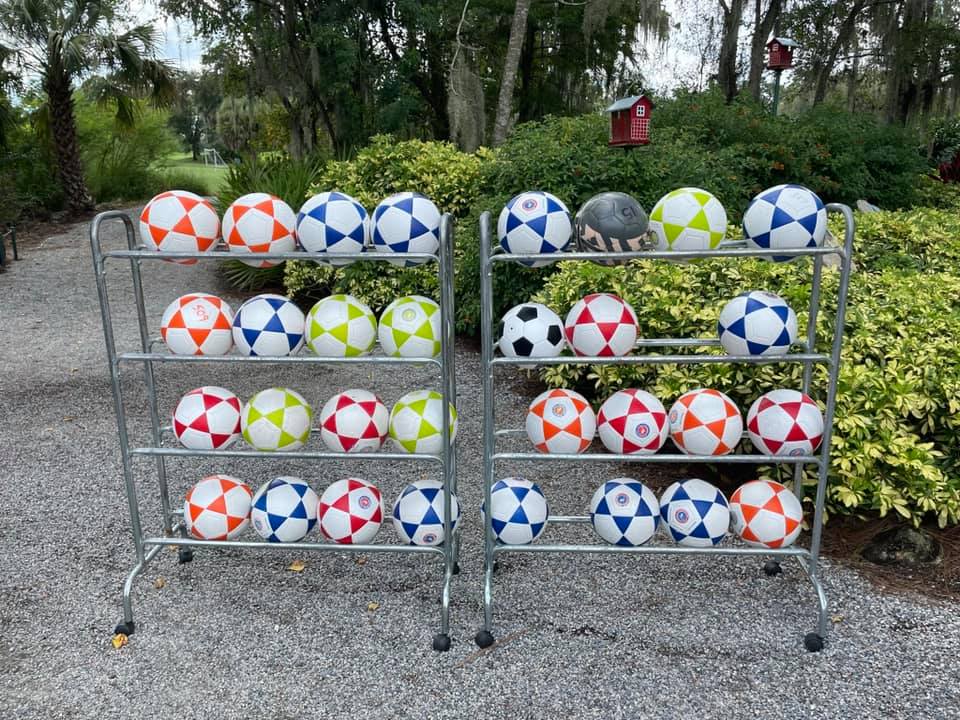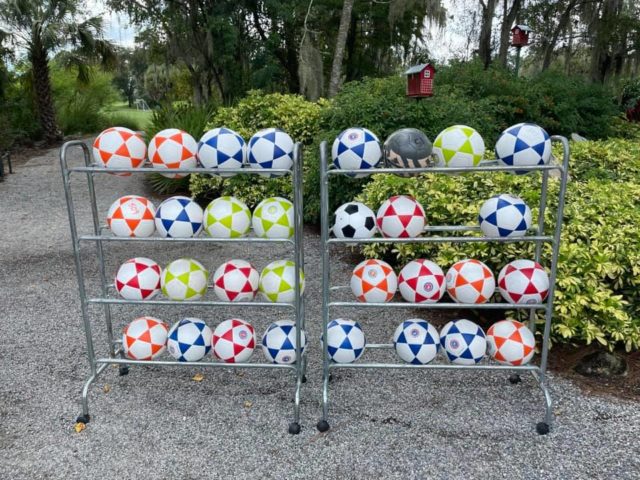 Required equipment and apparel
Balls are provided as part of your footgolf at Disney World experience. You'll need to wear apparel similar to what one would wear to play regular golf. Shorts or pants and a golf or polo shirt. Ladies can wear a golf skirt or a skort. Knee-length argyle socks are encouraged but not required. You will need sturdy, closed toed shoes. I wore athletic shoes and they were fine.
Cleats or denim are not permitted.
You can purchase Disney branded golf apparel at the club house. A line of Disney footgolf apparel featuring a "Kicking Mickey" is coming soon.
Why you should play footgolf at Disney World
Because it's fun! I am not a very athletic person and I had the time of my life playing footgolf with friends. When we approached our ninth hole, I was surprised the time had gone so quickly and I wasn't ready for it to be over. Footgolf at Disney World is definitely going on to our agenda for our next trip to the magic.
I played with friends and had an absolute blast. I can't wait to play with my husband and kids.
Footgolf is the perfect activity for your arrival day or on a day where you don't plan to visit the theme parks. I'm envisioning a lazy morning, a delicious brunch, a round of footgolf and spending the rest of the afternoon by the pool at our resort hotel. Sounds like the "practically perfect in every way" day, doesn't it?
Other details
Footgolf is available at Disney's Oak Trail Golf Course after 2:30 on Tuesday, Wednesday, Saturday, and Sunday. You'll need a tee time, just like you would for any other round of golf so reserve in advance.
A round of footgolf at Disney World will run $20-$29 per adult, depending on the season. Kids receive 40% off, making this one of the least expensive activities on the Walt Disney World property.
Disney Vacation Club members have the option to join a special DVC member's club at Walt Disney World Golf. The membership is $99 and is active for a year from the purchase date. Among other perks, the Disney Vacation Club Golf Member Program includes 8 rounds of foot golf. If you're already a member and like to golf, I recommend checking out this program. It will very quickly pay for itself.
Wildlife at Disney's Oak Trail Golf Course
You may spot deer, turkeys, armadillo, ospreys and hawks while playing footgolf. And, of course, since its Florida, maybe an alligator. We saw a couple of dear and a procession of turkeys.
I loved the park-like atmosphere at Oak Trail. It does live up to its namesake and there are lots of beautiful, mature oak trees that offer some respite from the sun.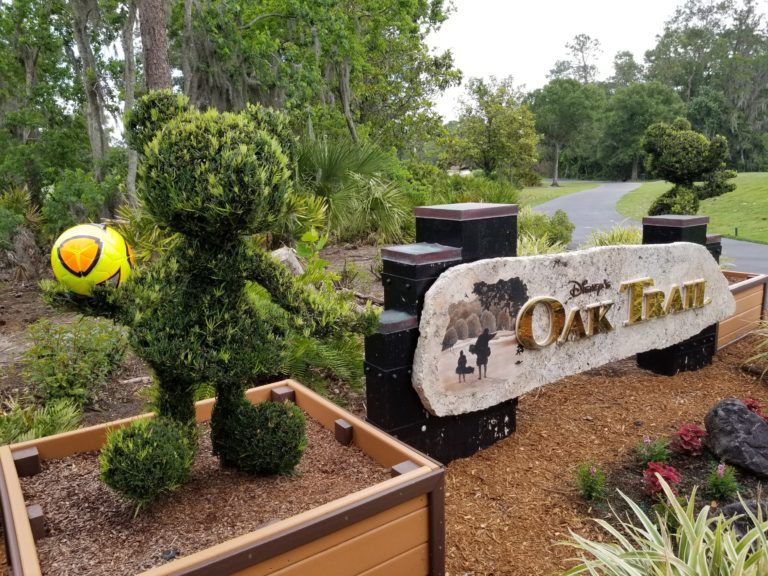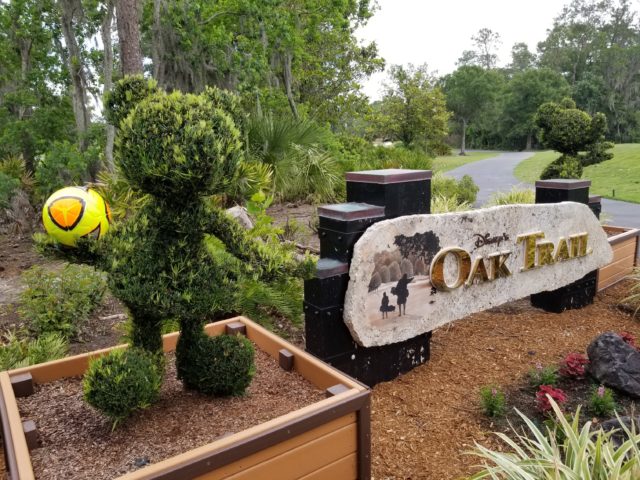 Traditional Golf at Walt Disney World
Oak Trail is one of four courses at Walt Disney World. You can play regular golf at Magnolia, Palm or the Lake Buena Vista courses.
Want to play footgolf or regular golf during your next trip to Walt Disney World? Learn more here.
Read more about playing footgolf at Walt Disney World.
Our group was hosted by Walt Disney World Golf, the Happiest Place on Turf, as part of a partnership with the We Grow Retreat. All opinions are mine.
You might also like: