Icon of the Seas Will Be The World's Best Family Vacation
(This post may contain affiliate links. Read my full disclosure.)
Icon of the Seas, Royal Caribbean's newest ship and the first in the newest Icon class, is still under construction in Finland but will be ready to hit the waters in January 2024 with seven-night Eastern and Western Caribbean sailings out of Miami. I've been following Icon's journey since October when I got my first behind-the-scenes look at this massive and massively cool, cruise ship in Royal Caribbean's Lab. Currently, the ship is about eighty percent completed. I recently got to travel with Royal Caribbean's team to Finland and be one of the first to set foot on what will be the world's largest cruise ship.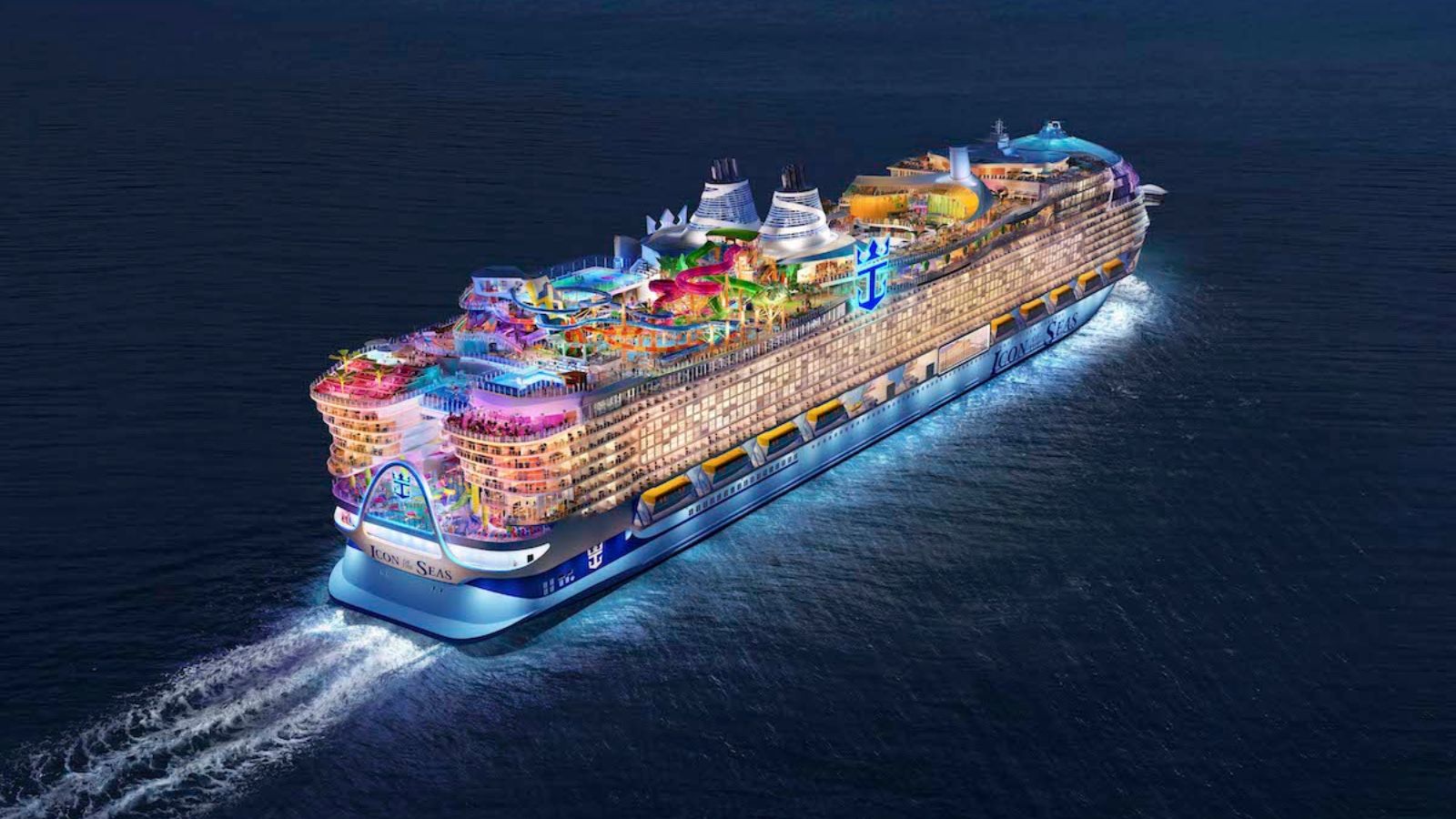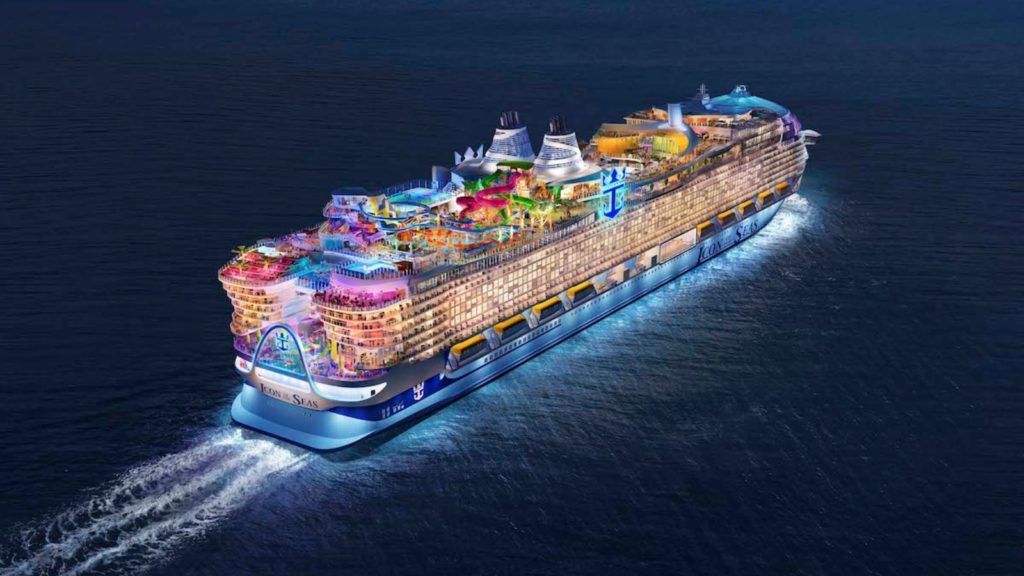 Icon of the Seas Will Be The World's Best Family Vacation
Icon of the Seas is being built with families in mind, with the affirmation that family means different things to different groups of people. Whether you're a large, multigenerational travel group trying to make everyone happy or a friend group taking a trip together, Icon of the Seas has seemingly endless choices for activities you can enjoy with the people you've chosen to go on vacation with.
From the very youngest passengers to great grandparents to honeymooners who want tons of activity options, Icon of the Seas checks all the boxes. Here's what you need to know about Royal Caribbean's newest, biggest, and most fabulous cruise ship.
Where Will Icon Of The Seas Be Sailing?
Beginning in January 2024, Icon of the Seas will be sailing to the Eastern and Western Caribbean from Miami. The ship will visit ports such as Cozumel, St. Maarten, and Honduras. Both the Eastern and Western Caribbean routes include a stop at CocoCay, which is Royal Caribbean's private island in the Bahamas. The Perfect Day at CocoCay is Royal Caribbean's premier spot for fun in the sun.
How Big Will Icon Of The Seas Be?
Icon of the Seas is equipped to carry 7,600 passengers at maximum occupancy, making it the world's largest cruise ship, a designation currently held by Royal Caribbean's Wonder of the Seas. When completed, the new ship will be 20 decks high and measure 1,198 feet long. With the crew on board, Icon of the Seas will carry nearly 10,000 people.
What Will Icon Of The Seas Feature?
Nearly everything under the sun. The focus with Icon is family being together and offering an array of activities to do together. The ship is designed based on ways families can enjoy being on vacation and doing things they have fun doing, whether that's tackling new adventures, relaxing on the deck with a fruity drink, or a little bit of both.
"Now more than ever, families and friends are prioritizing experiences where they can bond and enjoy their own adventures," said Michael Bayley, president, and CEO of Royal Caribbean International. "We set out to create a vacation that makes all that possible in one place for the thrill-seekers, the chill enthusiasts, and everyone in between."
What is Icon Class on Royal Caribbean?
Icon class is Royal Caribbean's newest, largest class of cruise ships. Two other Icon class ships are rolling out over the next two to three years, bringing the total number of cruise ships in this class to three.
Icon of the Seas will have many of the returning favorites passengers love from the Oasis Class and other Royal Caribbean ships, such as Central Park and the beloved Schooner Bar. The overarching theme is more. More space, activities, more dining options, and more fun.
If you prioritize greener travel, you may be happy to learn Icon of the Seas will be Royal Caribbean's most sustainable ship to date. The ship will be powered by liquified natural gas (LNG) and utilize new fuel cell technology. It will also utilize shore power connection and waste heat recovery systems.
The names of the second two Icon class ships have not yet been revealed.
What Will Icon Of The Seas Feature That Wonder Of The Seas Does Not?
In addition to being bigger, Icon of the Seas will feature brand-new neighborhoods, a full waterpark at sea, more adventure activities for adrenaline seekers. unique dining and bars, such as a supper club, a space dedicated to celebrations, dueling piano bars, and a walk-up champagne bar.
Here's the breakdown of what's new and awesome.
More Space For More People
The Wonder of the Seas is equipped to carry 6,988 passengers at maximum occupancy. Icon of the Seas tops that at 7,600 passengers. However, more passengers doesn't mean more staterooms. Icon has 62 fewer staterooms than Wonder.
A Full WaterPark At Sea
Category 6 is Icon of the Seas' waterpark featuring six record-breaking slides, including an open free-fall slide, the tallest drop slide at sea, the first family raft slides at sea, and the cruise industry's first mat-racing duo slides.
I got to step onto the deck where the some of the slides are already installed and I can tell you that this is way more than just a couple of standard cruise ship issue slides. Category 6 is a legit waterpark.
Swim-Up Bar
If you've been missing the resort vibe on cruise ships, Icon of the Seas has designed a swim-up bar with you in mind. Swim & Tonic is Royal Caribbean's first swim-up bar.
Surfside: New Stateroom Class And Neighborhood
The brand-new Surfside neighborhood includes 42 Surfside suites, a new stateroom category catering to young families. Surfside will house children's play areas, including a signature carousel, family pools, and splash pads for toddlers and babies. The spacious, mid-tier Surfside suites will have direct access to the Surfside neighborhood.
This is a space built with millennial families with kids under six in mind. It's a space just for young families with "free agents" AKA kids under six-years-old who may not plan vacations around the school year. Although there is so much to see on the ship, families staying and playing in Surfside have just about everything they need without leaving their neighborhood, including access to Adventure Ocean, Royal Caribbean's kid's club.
There Are Four More Brand New Neighborhoods
Royal Caribbean terms their themed fun zones as "neighborhoods" and you'll find five new spaces to play in that don't yet exist on any other cruise ship. I've described Surfside above. Here's what else you can look forward to.
Thrill Island
Thrill Island contains the Category 6 water park described above as well as Crown's Edge, the ultimate activity for adrenaline junkies. Part skywalk, part ropes course, and part thrill ride, it culminates in a surprising and shocking moment that will see travelers swing 154 feet above the ocean.
Chill Island
If you don't want the thrills, you can chill. Chill Island is a three-deck slice of paradise featuring the largest pool at sea, an adults-only area, and a bar dedicated to frozen cocktails.
AquaDome
The AquaDome is a transformational space that will feature tranquil waterfalls and ocean views by day and serve as an entertainment space by night. The AquaTheater, which features Royal Caribbean's marquee aqua shows featuring a transforming pool, four robotic arms, and state-of-the-art projection, will be located here.
The Hideaway
This tucked-away space 135 feet above the ocean combines beach club vibes with uninterrupted ocean views. The first suspended infinity pool at sea is located here. I will also be located here when Icon of the Seas sets sail!