A Tale of Two Kias – Meet the new Kia Carnival MPV
(This post may contain affiliate links. Read my full disclosure.)
I test drove the 2022 Kia Carnival SX and the 2022 Kia Carnival SX Prestige. I was part of Kia's media drive to launch their latest addition to the Kia lineup of vehicles.
A Tale of Two Kias – Meet the new Kia Carnival MPV
I'm excited to bring you my review of the new Kia Carnival but first – my minivan story.
Before my husband and I adopted our two boys, I had a long list of "mom things" I would never do. Things like "I'll never let my kids eat fruit rollups" and "My kids will never play with LEGGO because they'd mess with the aesthetic of my living room." As you can probably guess, "Never drive a minivan" was part of this list.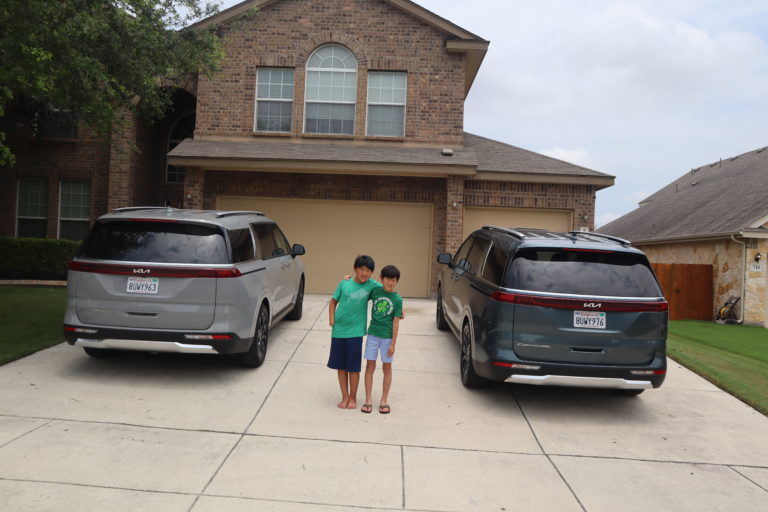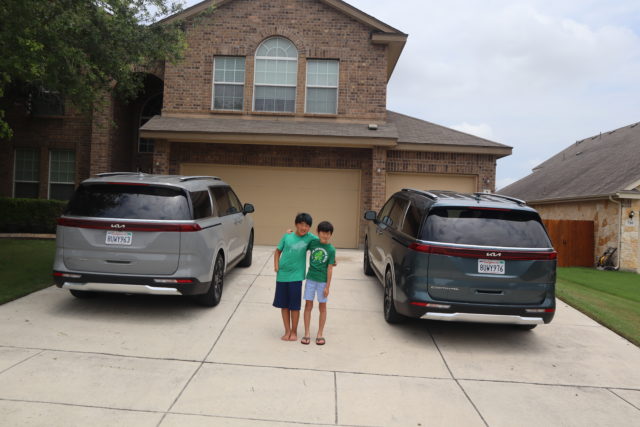 We got our first minivan in 2014. I remember walking out to my driveway the morning after we'd brought our minivan home and feeling a sad sort of "I guess this is my life now" acceptance. But, I quickly learned to appreciate how a minivan made life with two four year olds so much easier and I forgot about mourning my lack of coolness.
Our boys are 11 now and we still have our minivan, although a trade in is definitely on the horizon. My husband and I talk often about what we'll get instead of a minivan. We also have a midsize crossover and we talk about downsizing to a smaller crossover as well we getting a full size SUV or even a truck.
Everything but a minivan.
I drove the Kia Carnival SX and the Kia Carnival SX Prestige for three days and I did something I've never done with a car review before. I called my husband out of his office and showed him the features in this minivan and I told him I wanted it.
I've reviewed a lot of cars and I've said varying degrees of "I want this" or "I don't wanna give this one back" but I've never had this level of conversation with my husband about a car purchase.
And this is a minivan. Kind of. Let's start there.
Yes, the 2022 Kia Carnival MPV really is a minivan (even if Kia says it isn't)
When I first walked out to my driveway to inspect the Carnivals after they'd been delivered, I was a little confused. "I thought this was a minivan." I said to myself.
The Kia Carnival is a minivan although it manages not to look like a minivan. It looks like a long-bodied crossover and until I opened the sliding doors (which will forever be one of my favorite minivan features) I thought I'd read the event email from Kia wrong.
I'll point out that Kia isn't calling the Kia Carnival a minivan but rather an MPV – Multi Purpose Vehicle. Their rationale is that they're redefining what a utility vehicle is and can be and that the design packaging and execution makes it stand out as something different and distinct.
You might also like: Introducing the Kia Seltos
Time does change what we call things and language usage evolves over time so maybe Kia is onto something with the MPV versus minivan. It sure caused me to double take when I first saw it and if you look at it parked next to a minivan, you will definitely see the difference in body style. But. As far as functionality and what it does, it is a minivan.
I think it could catch on, though. "We can all hop in my MPV and go to the farmer's market" sounds way cooler than "minivan."
A little more about the Kia Carnival
The 2022 Kia Carnival replaces the Kia Sedona. It's the first Kia to display the new logo.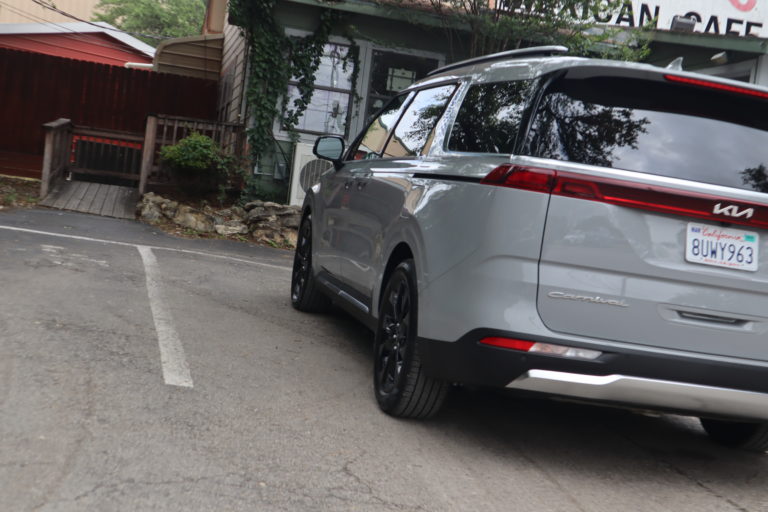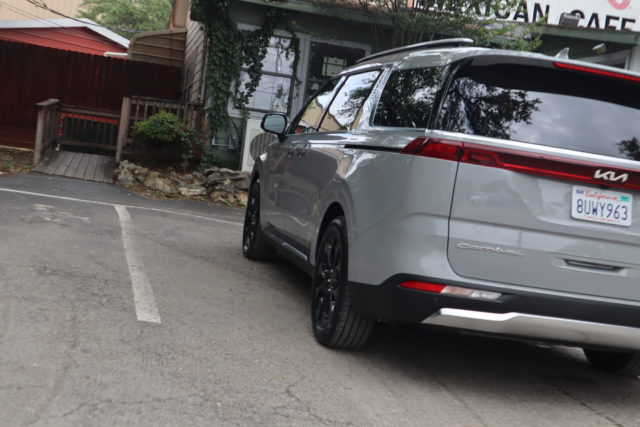 There are four trim levels available. Depending on what you choose, the Kia Carnival can seat 7 or 8 passengers.
The starting MSRP for the LX, the base model, is $32,100. A top tier, loaded Kia Carnival SX Prestige, which you see here, will run you $46,100.
Who is the Kia Carnival For?
The Kia Carnival is the multipurpose vehicle for millennial parents who are tech savvy and expect their ride to have all the bells and whistles. Or, anyone else who needs or wants to drive a minivan.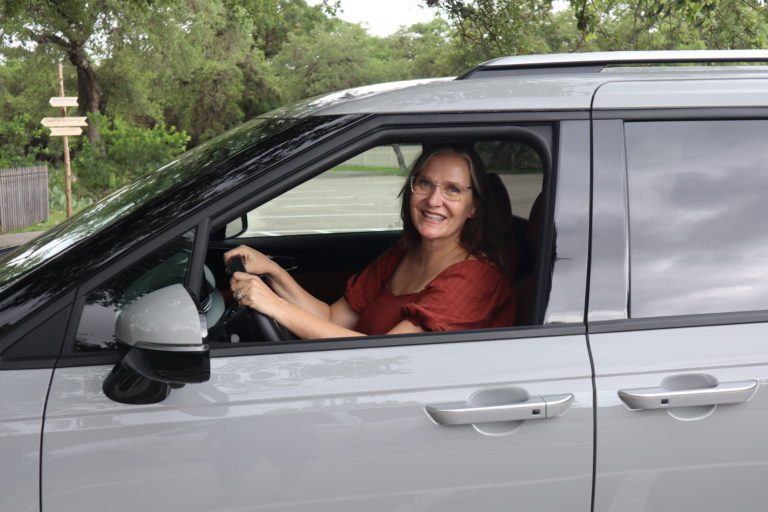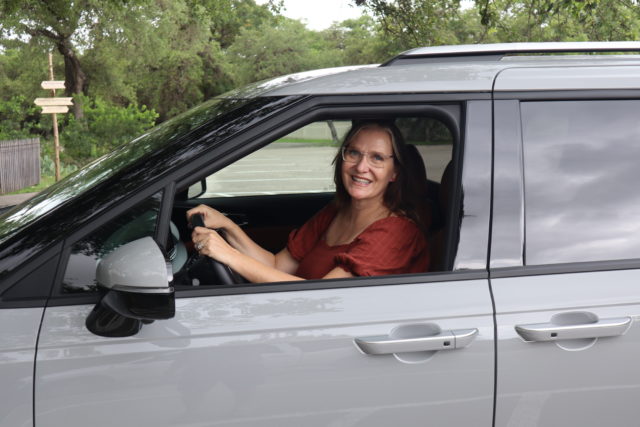 You might have this image of a millennial in your mind as being someone who talks about brunch and uses phrases like "So basic" and "Spill the tea" but the truth of it is, millennials are anywhere from 25 to 40 and a large number of them are parents who go to Costco and haul their kids to soccer practice.
The one of the first things that caught my notice about the Kia Carnival is the clean, almost minimal design. This minivan that doesn't look like a minivan has all the bells and whistles you want with a very clean aesthetic.
The Kia Carnival can also be useful for business owners who need flexibility in how they configure cargo and people and anyone who likes to adventure. If you need a vehicle that can transport your inventory or your camping gear, this is one to check out. I can absolutely see our family in this on a road trip.
Kia Carnival SX
This paint color is called Ceramic Silver. It's available on the EX, SX, and SX Prestige Models.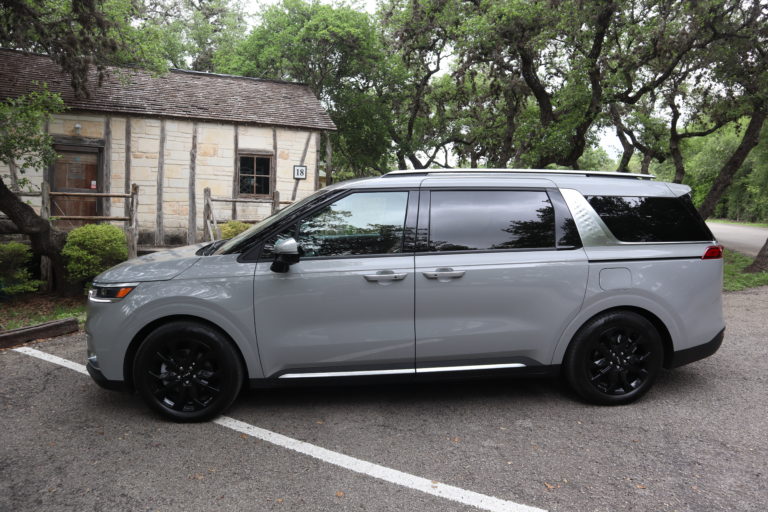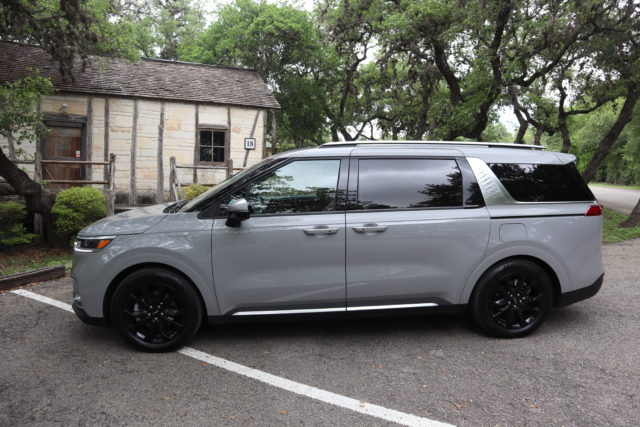 The SX has three seats in the second row, which makes it an 8 seater.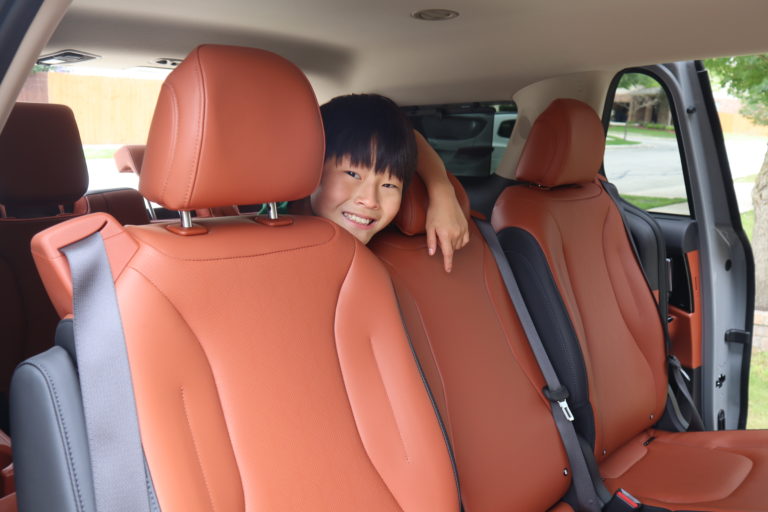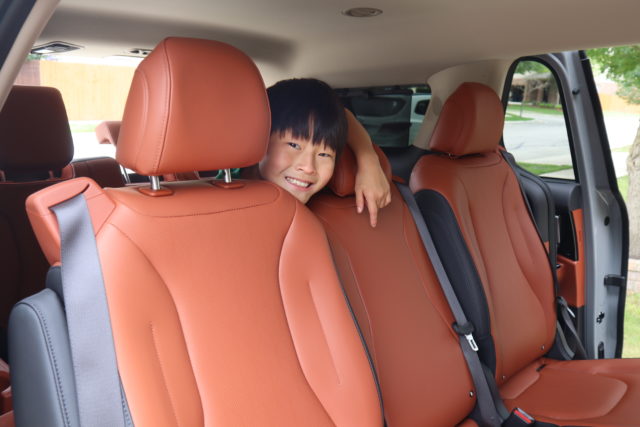 The Kia Carnival SX would hold our regular grocery haul with the second and third row seating intact.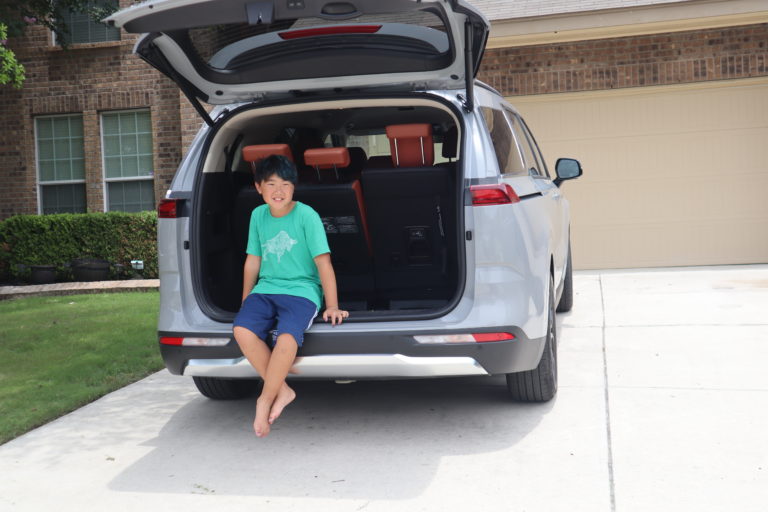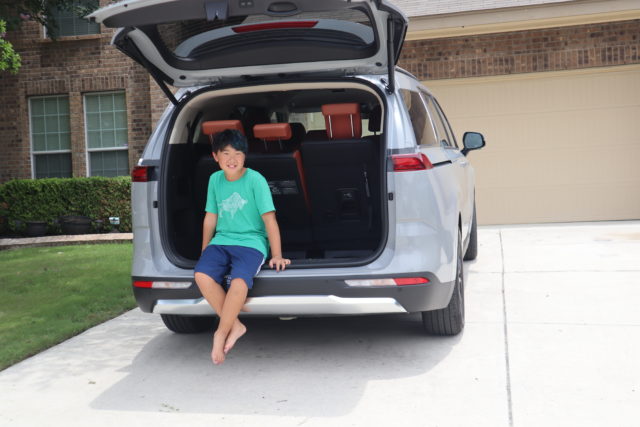 With the third row down and the second row all the way forward. Lots of room back here.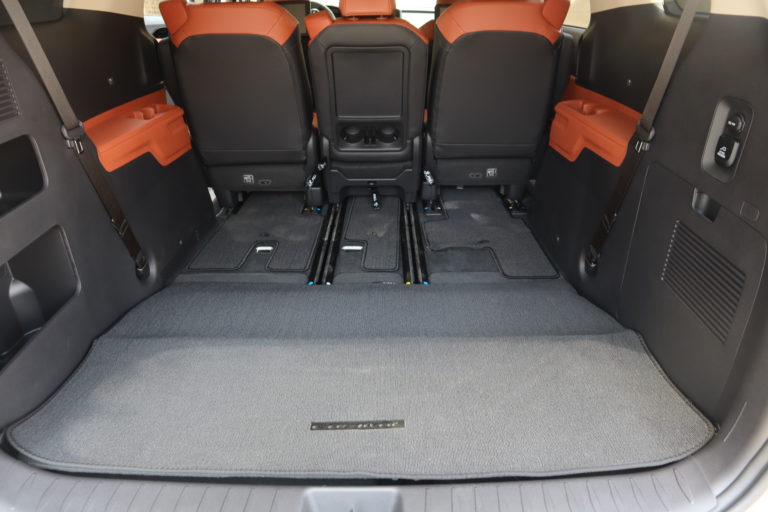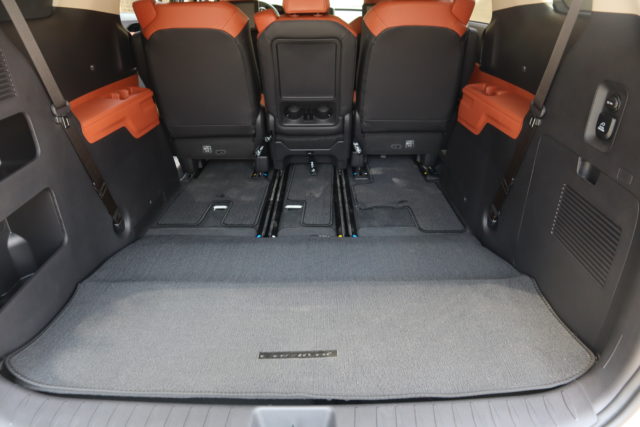 Kia Carnival SX Prestige
This paint color is called "Astra Blue" and it is also available on the SX and EX models.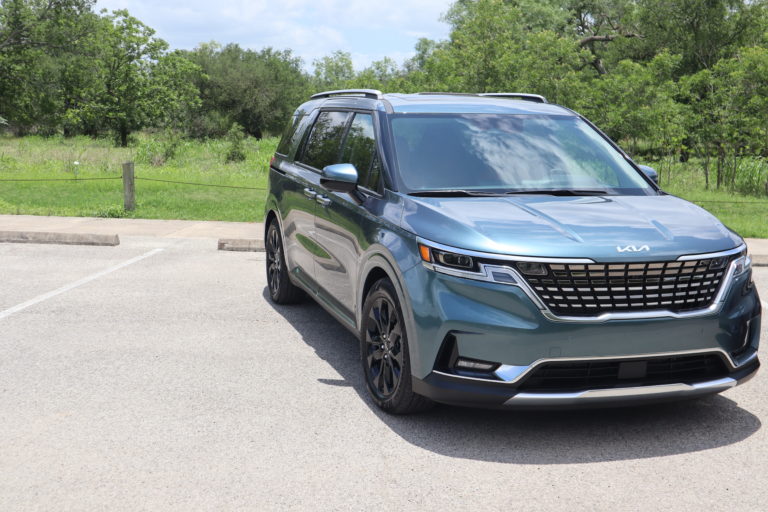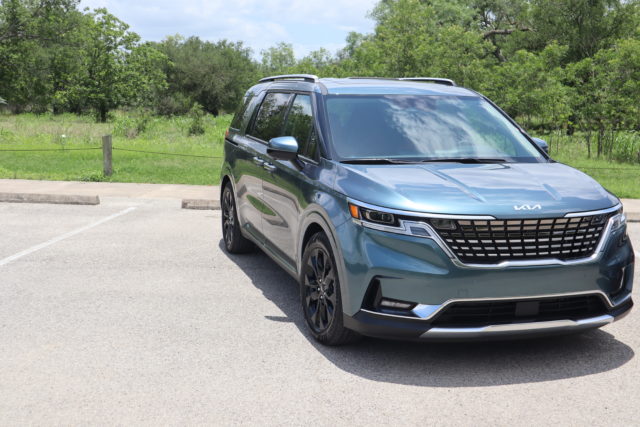 One of the standout features on the SX Prestige was this chrome molding on the interior.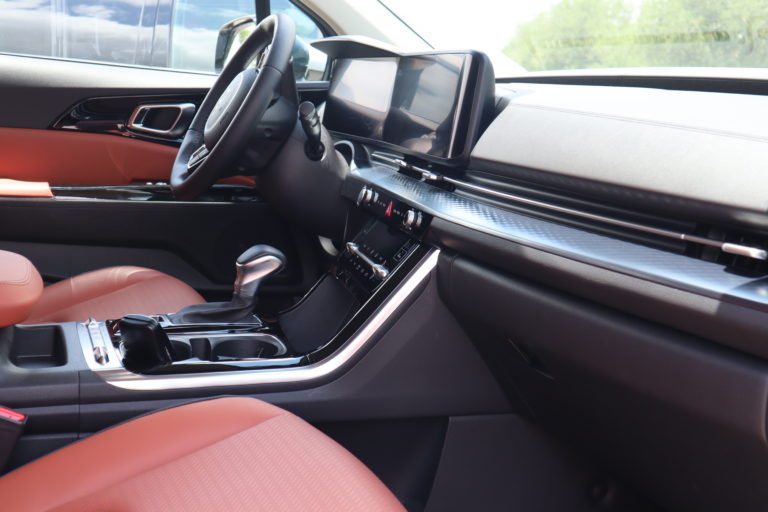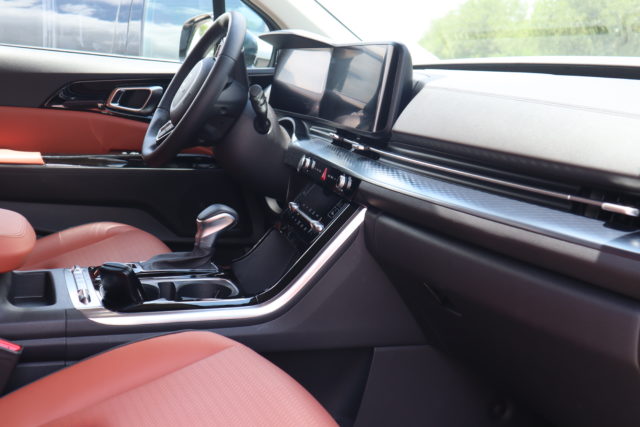 Here's a closer look. I thought this was clever and innovative. This trim is present on the exterior as well and the exterior of the SX model.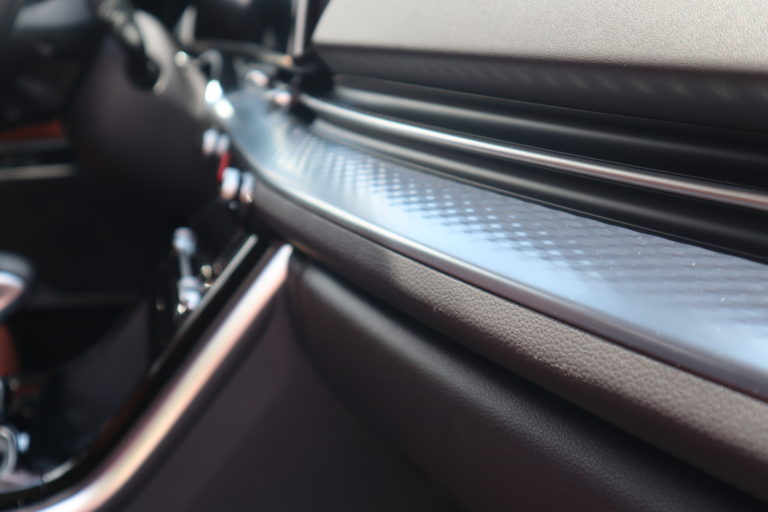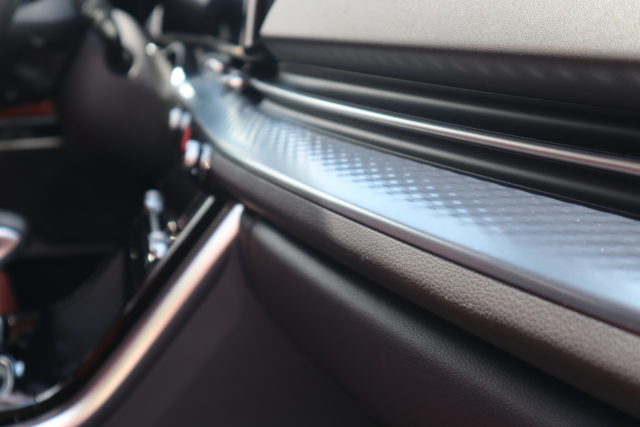 The feature I loved the most on the SX Prestige was the second row seats. If ever there was a "nap in your car" car, this one wins.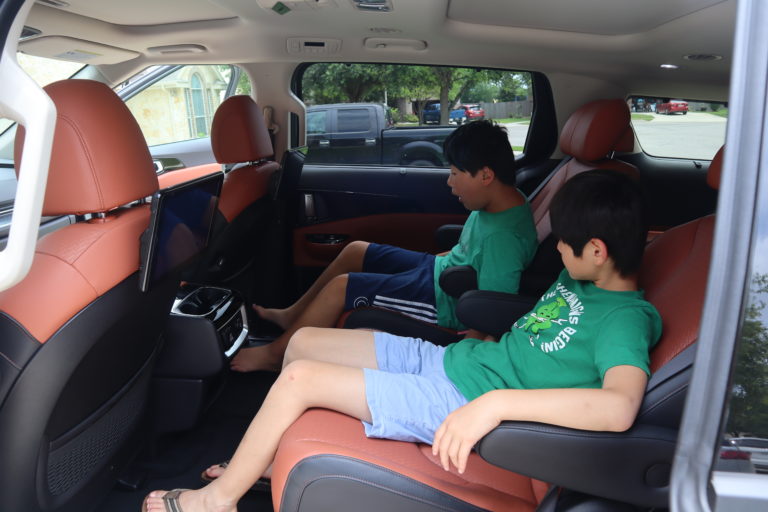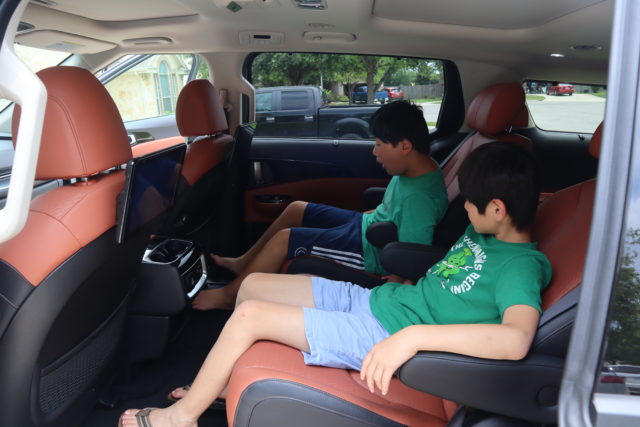 Since Kia refers to the Kia Carnival as a multipurpose vehicle versus a minivan, here's a look at the functionality of the rear space.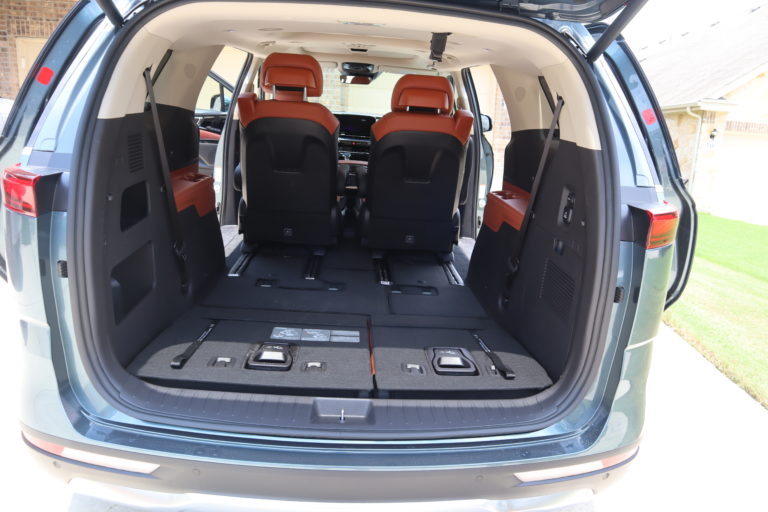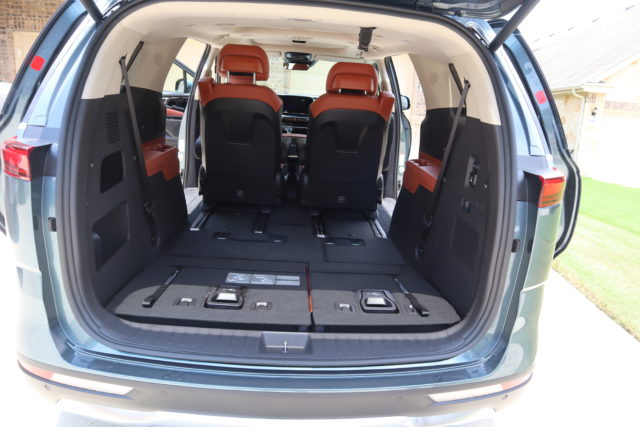 The "tiger nose" grille gives width to the front end and gives this a much sportier appearance than your average minivan.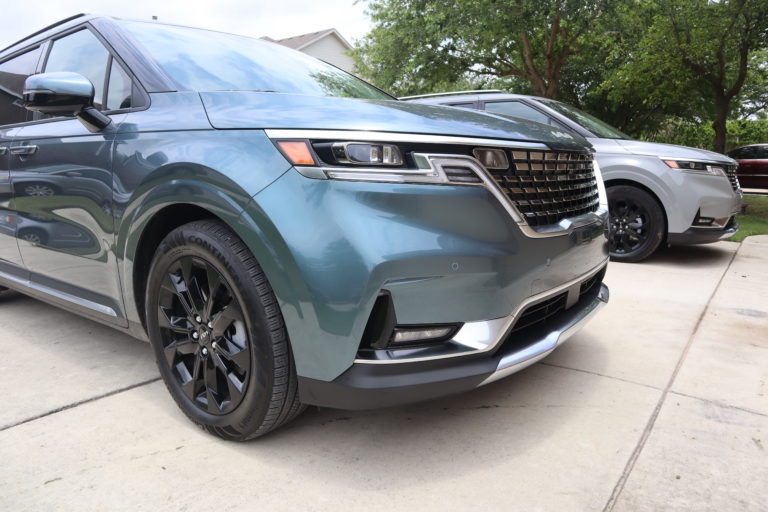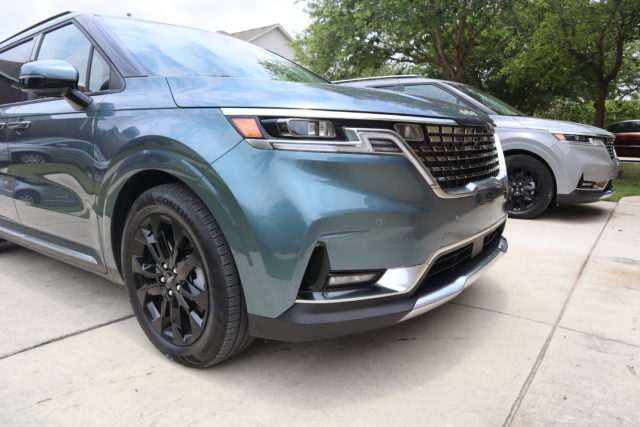 SX or SX Prestige?
Both of these vehicles handle the same. I like the larger steering wheel and the large infotainment screen and the ease of getting people and stuff in and out. If I had to choose one over the other, I would choose the Kia Carnival SX Prestige. I could tell you I'm a "Go big or go home" kind of car buyer but the truth of it is, there were two features on the SX Prestige model that sold me: being able to move the second row captains seats from side to side and the foot rests on these seats.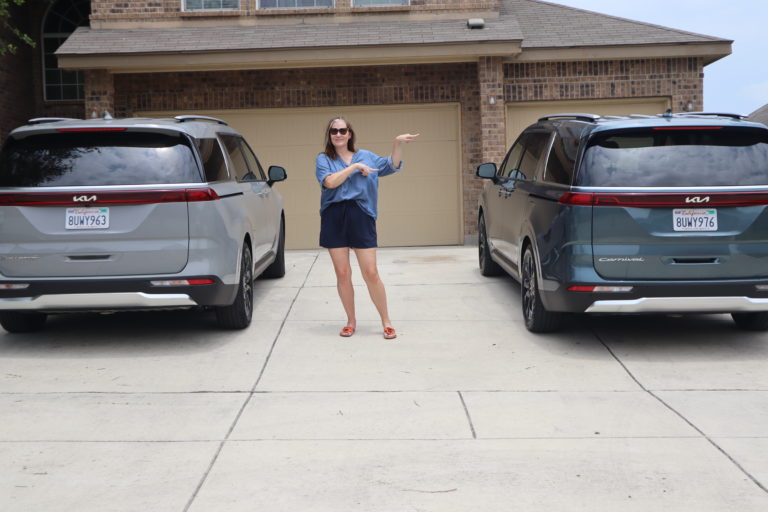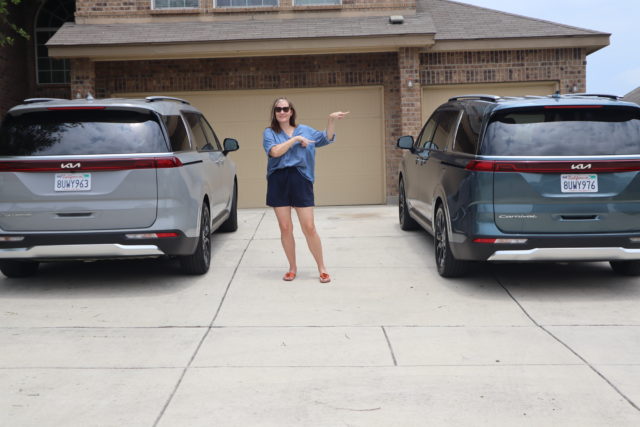 These seats are like business class airline seats and would completely change the landscape of our road trips. My husband and I hardly ever do long haul tag team drives to get where we're going because I've always had trouble sleeping in the car. I know I could sleep in these seats while my husband took a shift at driving. This was the feature that prompted me to pull him out of his office to look at what this minivan can do.
I think every car buyer hones in on that feature that leads to "This is the one" and these seats were it for me.
I'll point out that the SX seats 8 and the SX Prestige seats 7 so if you have a larger family, the SX might work better for you. The captains seats in the second row still recline but they don't have the foot rest and they don't have the side to side feature because of the extra seat. In all other aspects, the comfort level was the same.
More features I love
All of these features make the Kia Carnival stand above their competitors (Chrysler Pacifica, Honda Odyssey, Toyota Sienna).
In the three days I drove this vehicle, I appreciated all of these features – the large screen was a great upgrade I noticed off the bat – but things like the dual screen rear-seat entertainment system with streaming and the generous amount of USB ports would make this a road trippers dream car.
Surround View Monitor utilizes four cameras to provide a 360-degree perspective, enhancing driver confidence in tight parking situations.
Blind-Spot View Monitor projects live video view of adjacent lanes in the instrument cluster and activated via the turn signal
12.3-in. touchscreen display with navigation and modem
Dual-screen rear-seat entertainment system with streaming media and device mirroring
9 USB ports (7 standard); 2 power outlets (12V); 2 inverters (115V); and wireless phone charger
Passenger View (in-cabin camera) and Passenger Talk (cabin intercom)
Hands-free power sliding doors, hands-free power tailgate with auto closing, and one-button (key fob) all-door open/close function