Ideas for Spirit Week You Can Do At Home
(This post may contain affiliate links. Read my full disclosure.)
You know what spirit week is, right parents? It's that note your kid shows you on a Sunday night that details the special things your child needs to do/bring/wear to school the following week. Oftentimes this list requires your kids to wear or bring things you don't have in your home or for parents to do a mini DIY so their kids can participate. Our family is kind of "meh" on Spirit Week. It makes me clench because OMG don't schools realize we have other things to do? However, this is a strange time we're living in and recreating spirit week for my kids while we learn at home has helped boost their spirits and has helped retain a sense of normalcy. So, we developed this list of ideas for spirit week you can do at home. You might be a home school family or a temporary distance learner. Whatever your learning situation, try some of these for spirit week at home.
We are a participant in the Amazon Services LLC Associates Program, an affiliate advertising program designed to provide a means for us to earn fees by linking to Amazon.com and affiliated sites.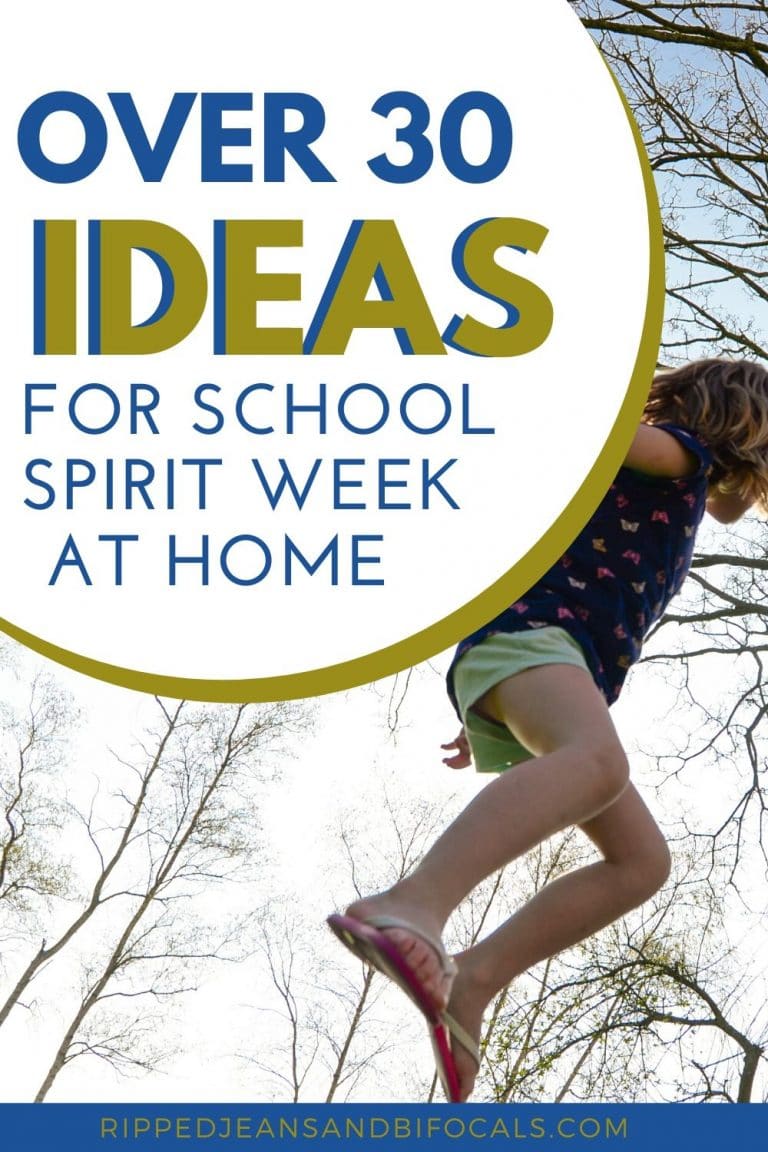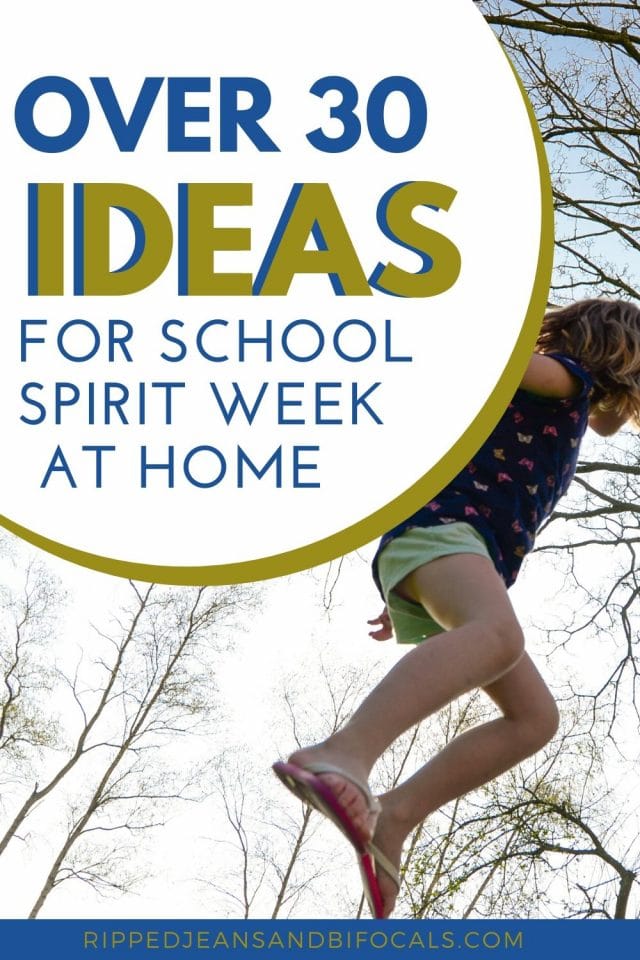 Ideas for Spirit Week You Can Do At Home
1. Crazy Hat Day
This is one of our favorite ideas for spirit week, in regular school or in the home learning environment. One, because it is easy and two, because we have a LOT of hats.
2. Disney Tee Shirt Day
I like this one because it's easy (are you seeing a theme here? YES. You are.) Besides, as a Disney family, we have a lot of Disney tee shirts. If you're looking for Disney Tee Shirts, the BEST place to get them is on Etsy. You can also get them on Amazon or at Target but Etsy has the cutest ones and I like supporting makers.
3. Dress Up Day
This can be dress in your Sunday best, or formal wear if you have it, or dress up in some type of costume. We did this one at home and both my kids put on nice pants and a collared shirt. You could do this or have your kids wear an old Halloween costume.
My son has this Woody pajama costume onesie and he just about lives in it these days. It can hit so many spirit week requirements. I kinda of want one.
4. Pajama Day
Probably one of my favorites because easy. When you're doing spirit week at home, you can obviously wear any old thing but if you're looking for ideas for spirit week in school, you probably want to make sure you have at least one nicer pair of pajamas. We have these snug fitting jammies from Carter's that work well for "pajamas in public." They can also double as long johns in the winter.
5. Wacky Day
I let my kids do whatever they want with wacky day. It usually involves wearing their shirts inside out and backwards or wearing clothes that don't match. So…basically a normal day.
6. Crazy Sock Day
This one is a pretty easy one to do but every time it rolls around, I make a note of how boring our socks are and vow to buy some crazier ones. Then I forget and buy another multipack of plain white. You can also accomplish this by wearing socks that don't match. Also basically a normal day for us.
Etsy is a great place for cool, clever socks for everyone in your family. They've even got some that are mismatched on purpose, which is great for crazy sock day.
7. Superhero Day
Wear a superhero tee shirt or try doing a full or partial costume of your favorite superhero. This could be as simple as slicking your hair back a la Clark Kent or as complicated as full-on green body paint to dress up as Gamora.
8. Sports Team Day
This is an easy one – wear a tee shirt, jersey, baseball cap or other apparel to support your favorite sports team. You can also dress up as a mascot or wear your team's colors.
9. Color (and color combo) Day
You can get endless possibilities out of this one. Red day, blue day, pink day…you get the idea. You could also do "Orange and White Day" or "Green and Pink Day" and hundreds of other combinations. You can attach meaning to the colors, such as red for valentines day or National Heart month, or you could just select colors at random.
10. Tie Dye Day
If you don't own something tie dye, you could make this an art project. We love our Mickey Mouse tie dye shirts we made at Disney's Wilderness Lodge.
You might also like: Keep Kids Busy With These Fun Hands-On Story Activities
11. Crazy Hair Day
If you have longer hair, you can come up with all kinds of crazy things to do with your hair. While things are more challenging with shorter hair, it isn't impossible with various styling tools to make your hair stick up or stick out. You can also use colored mousse or paste…just be careful about getting it on pillows or clothes.
12. Hawaiian Day
Anything Hawaiian print or tropical print would work here. This is also the time to break out those plastic leis or fashion a grass skirt.
13. Pirate Day
Arrrgh! You can go as complex or as simple as you want on pirate costumes. You can purchase complete pirate costumes or bits and pieces of pirate gear on Amazon or you can fashion your own eye patches or dress your look up with bandanas and striped shirts. If you've got old clothes you can cut up, you can go for that scruffy pirate look.
14. School Spirit Day
If you have a school spirit tee shirt or sweat shirt, School Spirit Day is low-hanging fruit. You can also dress in your school's colors or use face paint.
15. Stuffed Animal Day
If you're looking for ideas for spirit week, this is easy peasy – just take your favorite stuffed animal with your to "school." If you want to take it a step further, you could dress up as a stuffed animal. You could DIY it or just wear one of those fuzzy jumpsuits everyone seems to love.
16. Western Day
Cowboy boots, cowboy hats, bandanas, plaid shirts. Western Day is pretty easy for us but might present more of a challenge if you don't have boots or a hat. I'm convinced a little creativity and a few craft supplies can accomplish anything.
17. Villain Day
Dress up as your favorite bad guy or gal. Thanos, Cruella DeVil (my favorite), The Joker, The Wicked Witch of the West…the list goes on and on. If your kids are older and appreciate the darker side of things, you could do Hannibal Lecter or Michael Myers.
18. Ugly Sweater Day
Although this is probably best suited to Christmas time or during colder weather, housebound students can rock a sweater for at least part of the day during any season. I always have a sweater over my clothes (AKA my pajamas) that's sort of like an upscale bathrobe…at least that is what I tell myself.
Most ugly sweaters for kids are more cute than ugly but I managed to find one that's pretty bad. See it here.
19. Camo Day
Most households will have some type of camo print your kids can fashion outfits out of. Bonus if your closets contain any military uniforms.
We like these boy's pocket tees from OshKosh. They have lots of other patterns beside camo, too. They're nice and soft and a wardrobe staple for us.
20. Work Out Wear Day
Sweatpants, athletic shorts, technical tees, warm-up jackets. Think "things my kids would wear to soccer practice."
You might also like: How to stay positive in times of stress
21. Flip Flop Day
If you're looking for ultra low effort, this one is for you.
22. Zombie Day
Disney's Zombies and Zombies 2 has made the undead popular with younger kids. There are many zombie makeup tutorials on YouTube if you want to get fancy…this one from Pins & Things is my favorite. Although it is not complicated, it definitely is a process. You might want to stick to ripped clothes or crazy, uncombed hair for school activities.
23. Dress Like Your Favorite Book Character Day
My boys love Diary of a Wimpy Kid and Dog Man and these both make fairly easy DIY costumes. Check online for printable masks – fun and easy. You could actually get a lot of mileage out of book characters. Even though we all have our favorite, most of us probably have a top 10 list and you could keep that going for awhile.
If you're looking for elaborate storybook or princess costume, Etsy is a great place to browse. You can get everything from full costumes to accessories to Elsa tutus for your puppy.
24. Dr. Seuss Day
Who doesn't have a favorite Dr. Seuss character? You could dress up as your favorite character or wear a Seuss-inspired shirt or a tee with your favorite Dr. Seuss quote on it. There are so many good ones!
Want to make Dr. Seuss Day really easy? Order these Thing 1 and Thing 2 iron on's. If you have more than two things, don't worry. You can get Thing Three and Thing Four, etc., too.
25. Plaid Day
Another super-easy one.
26. Polka Dot Day
Yep. We're running through all the patterns in your closet. You can also try stripes day or paisley day.
27. Career Day
They say dress for the job you want versus the job you have, right?
28. Favorite Movie Day
This could be as simple as wearing a Star Wars tee shirt to class or concocting a more complicated costume. This is also an opportunity to get punny if you're really clever with words.
29. Beach Party Day
Break out the bathing suits and the sunglasses!
And, if you really want to amp up beach party day or make a dedicated "sunglasses day" check out this pack of whimsical sunglasses for kids on Amazon. There are some really fun ones.
30. Christmas in April
Or Christmas in May or Halloween in April…you get the idea.
I hope you've enjoyed these ideas for spirit week and that they spark tons more creative ideas for ways you can have fun, wherever and whenever you're going to school.
You might also like: Random Acts of Kindness Ideas for Teachers