If you missed my first two Stich Fix reviews or if you're wondering why an ordinary woman who has very little fashion sense is putting fashion posts on her mostly parenting blog, you can visit my Stitch Fix landing page HERE.
My stylist's note reminded me that this was my fourteenth fix – wow. I've had some good boxes and some duds (see what I did there?) but I've noticed things have definitely improved when I put forth a little bit of effort to communicate with my stylist and let her know why I do or do like something and make suggestions for what I'd like to see. Or in this case, my stylists. I keep saying I'm not super thrilled with the revolving door stylists (this is my third fix in a row where I've had different stylists) but they've all done pretty well. Consistency would be nice, though.
I'd asked my stylist(s) for some specific items – a pair of jeans that was cut like the red short in THIS fix and some specific tops that were on one of my previous style cards. I'd also explained I was going to a conference at Universal Studios and that I might like some short or an easy, casual dress to wear to that.
By the looks of this fix, I don't think Camille really grasped the concept of the Family Forward conference/retreat, but that's okay. I could have explained it better and I loved the easy, casual dress I got in the box but the idea of wearing an adorable burgundy sweater dress to a theme park in Florida in September made me laugh.
So here's my rundown of fix number 14 which is really fix number three as far as what I've documented on this blog. Are you totally confused now?
The bag!
Interestingly, Camille's note to me didn't mention a bag but if you look at my "My Style Ideas" Pinterest board, you can see that I've pinned a lot of similar bags. It thrills me that they're paying attention to my tastes and looking at my Pinterest boards.
I love this bag. I love the camel color and the fact that it's big enough to carry my laptop and assorted mom paraphernalia. It could also work as an overnight bag or a diaper bag, although I'm happy to be out of the diaper bag stage. It's a nice neutral and I'm crazy about the color. I also love the way it smells. Does anyone else smell their leather stuff?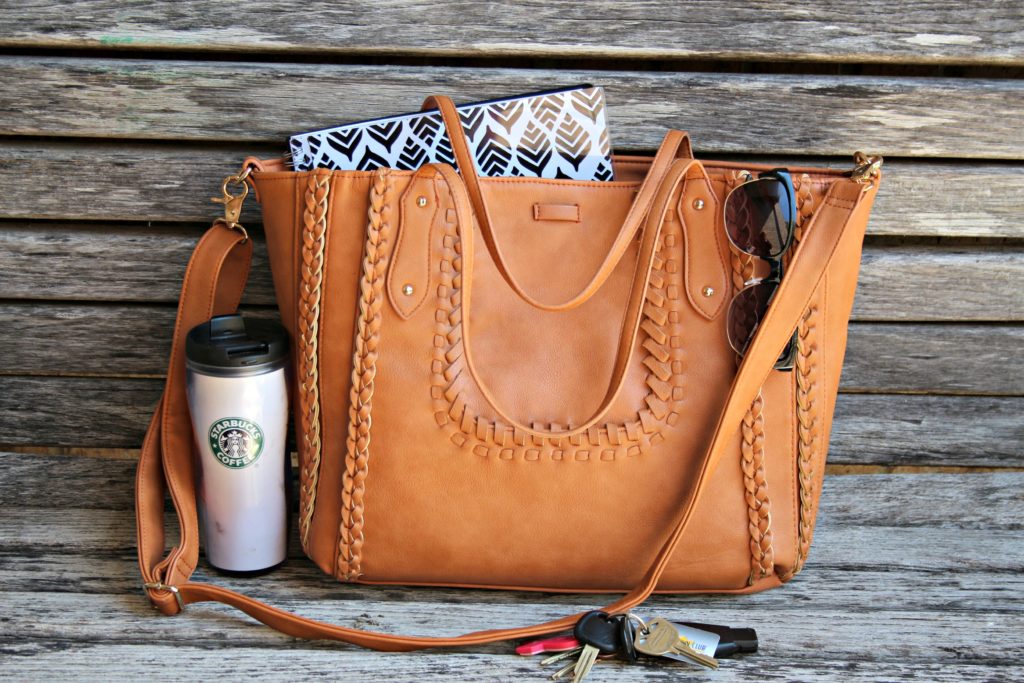 I tell ya, Stich Fix has knocked it out of the park when it comes to bags. This is the third bag they've sent me and I've loved them all. Great quality, unique details and at really good price points. I'm not a designer bag kind of girl…I hate carrying a bag with someone's logo on it (sorry, Michael Kors) but I also like nice leather, fun details and good quality.
Keeper. Obviously.
Kut from the Kloth Boyfriend Jeans
I specifically asked for these. I got some Kut from the Kloth Boyfriend shorts in a previous fix and I loved the fit. I could not be happier with these jeans. They've got some stretch to them and they'll probably give as I wear them. I thought about exchanging them for the next size down but I think they'd be too snug in the waist. I'm tall and they're a great length uncuffed but I like the cuffed look until it gets really cold. Or, at least what passes for "really cold" where I live.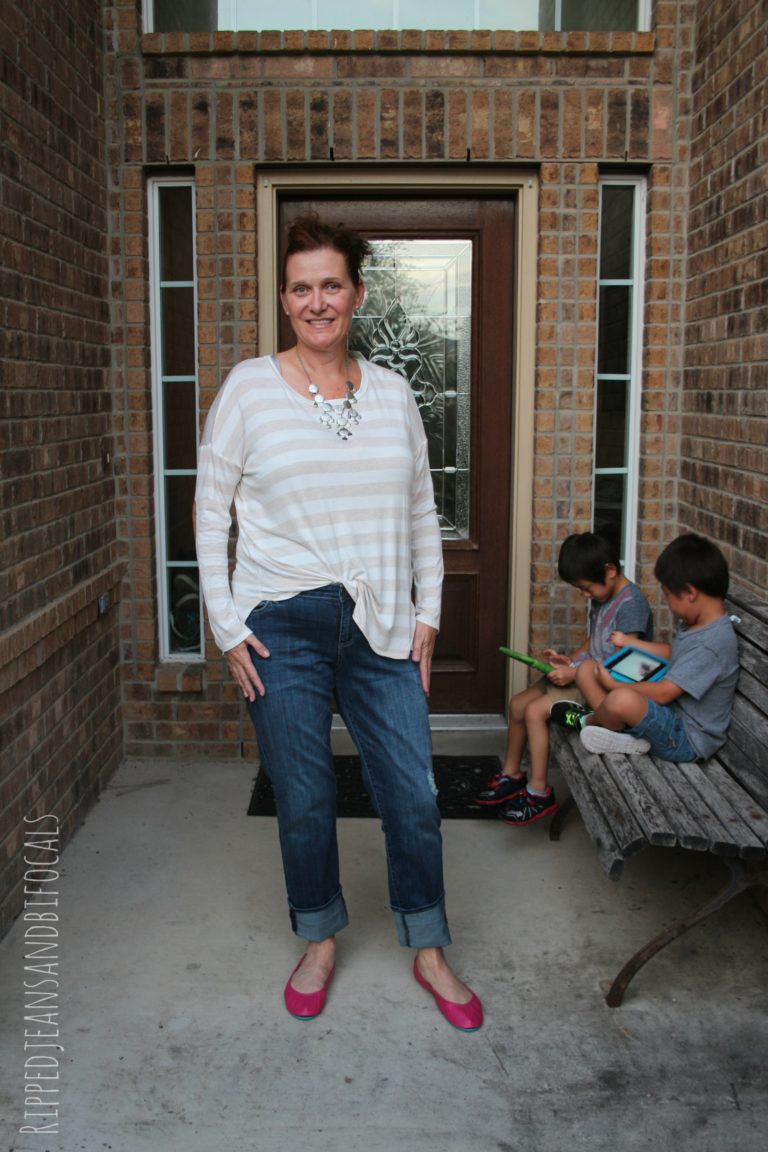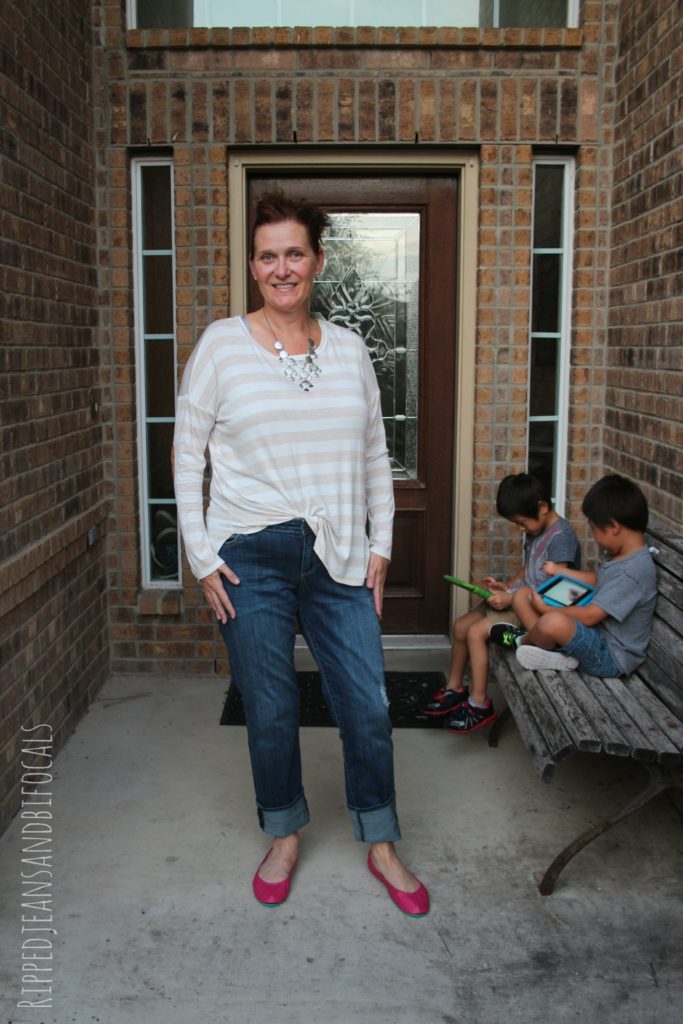 Keeper.
Crochet Dress
This dress is what made me realize that Camille didn't have a good read on my upcoming conference. I would NEVER wear this dress to Universal Studios and I doubt anyone else would, either.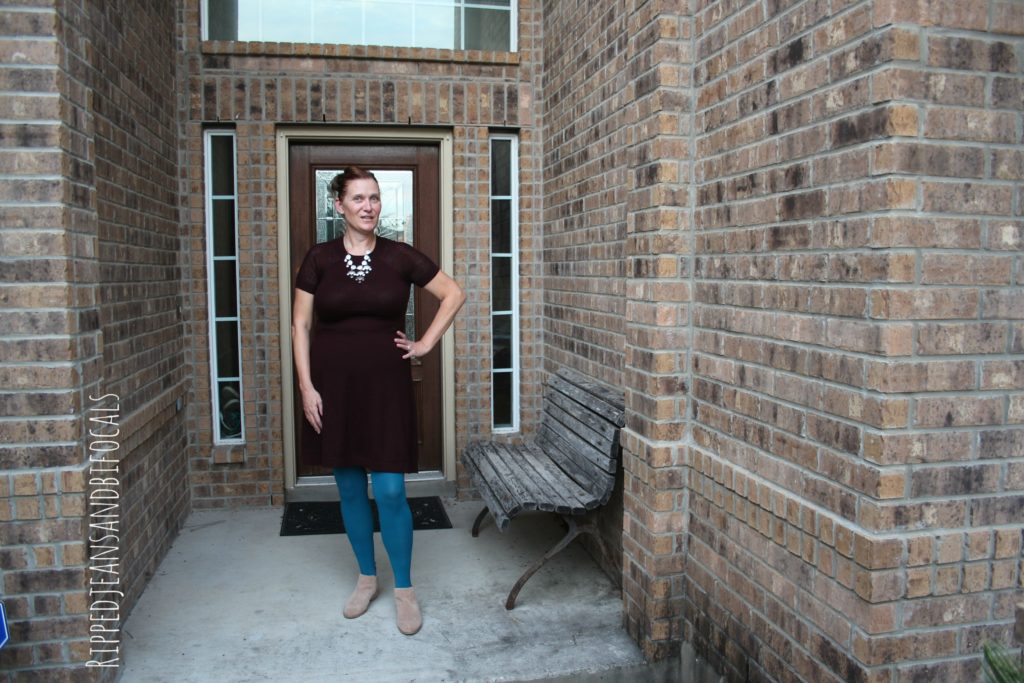 I'd given Stitch Fix the okay to send me some of their premium brands, which means more expensive labels but this dress is waaaaaaaaaaaaay over budget for me. I absolutely love the way it looks and fits but I don't love the way it feels. It's a polyester-merino wool blend and I need an undershirt to be even semi-comfortable in this one and it looked really weird and bulky with an undershirt. I love the maroon color. It's dark and slimming but it's a little jazzier than basic black.
It was really hard to send this back. It was uncomfortable and expensive and even though I loved the style and fit, I'm afraid the itchy-ness would cause it to stay in the closet. If I'm going to spend that much money on a dress, I need to know I'll wear it a lot.
Green cardigan
I'd expressed a want for a cardi in a fun color, so it makes me happy that Camille was trying to honor that. I don't love this color, though. I like Kelly green and I like teal but this one falls somewhere in between and I just don't love it. I thought it looked a little bit "old lady-ish" and, while I usually push the sleeves of my cardis up, I don't like the elbow length of this one.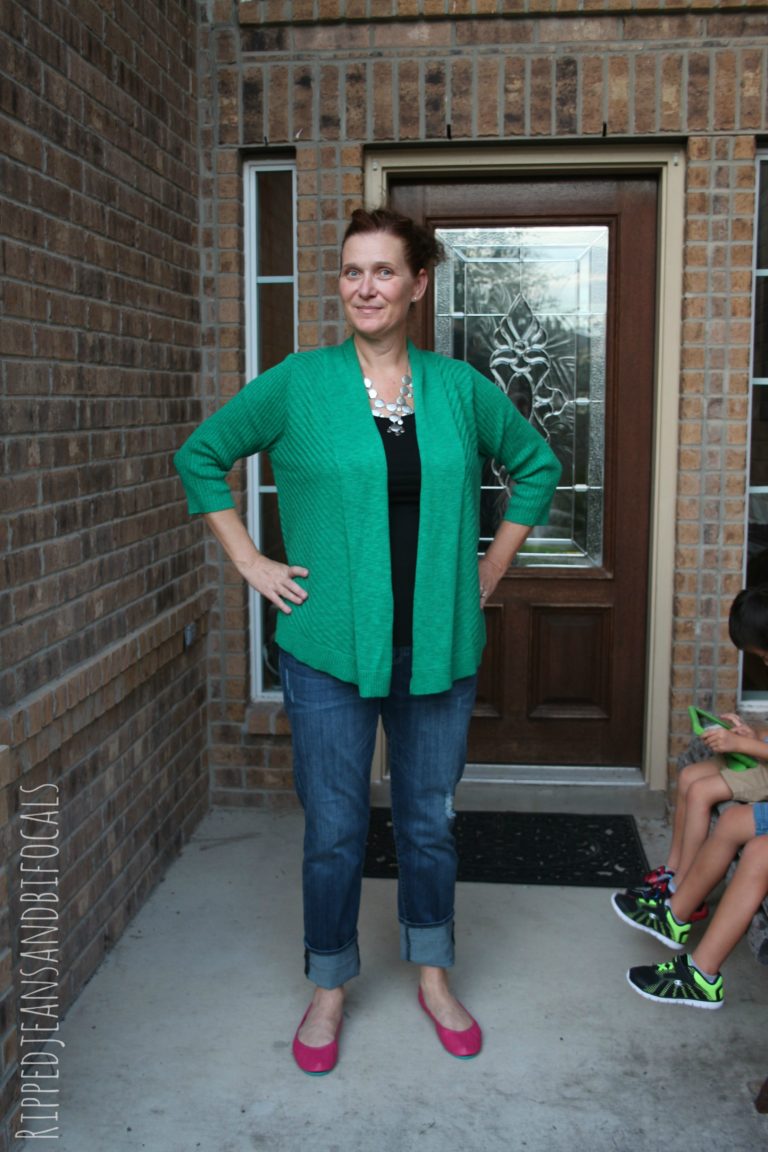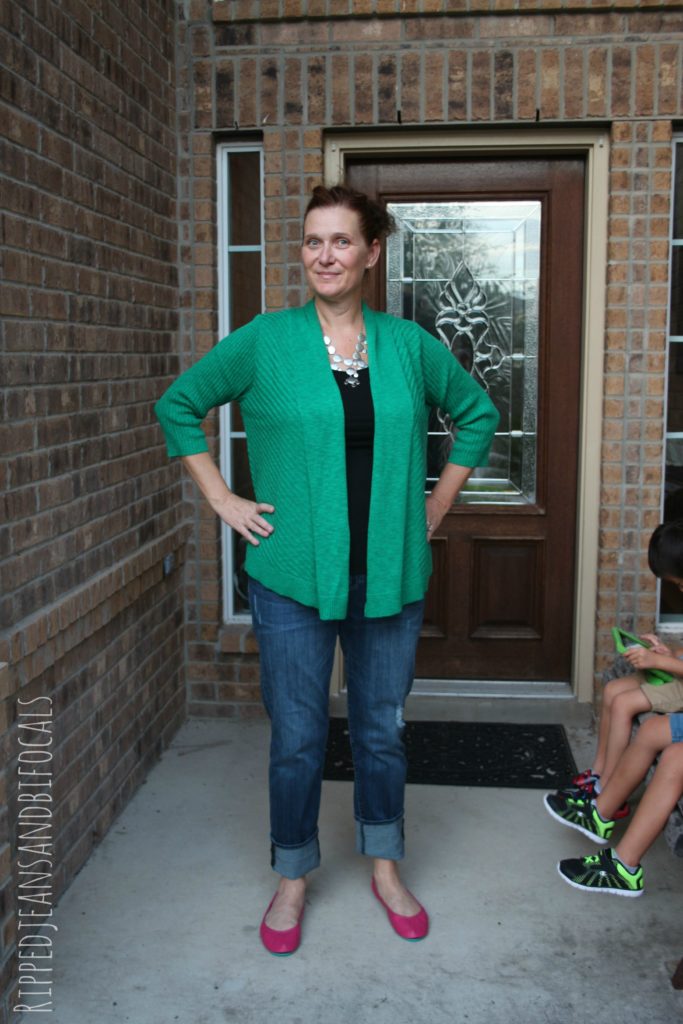 Easy decision. Sent back, but I'd still like my stylist to keep trying to find a cardi in a statement color. Maybe a violet or a burnt orange? Yes?
Striped tee shirt
I love this shirt. It's soft and delicious and the elbow pads are a super yummy suede like material. It's the perfect weight for a fall top for Texas because it's not too heavy. However, (cue sad trombone) it's too big for me. I like the fit and the length but it was too big in the arms. Like the dress, it was expensive enough to where I felt I had to send it back for not being perfect.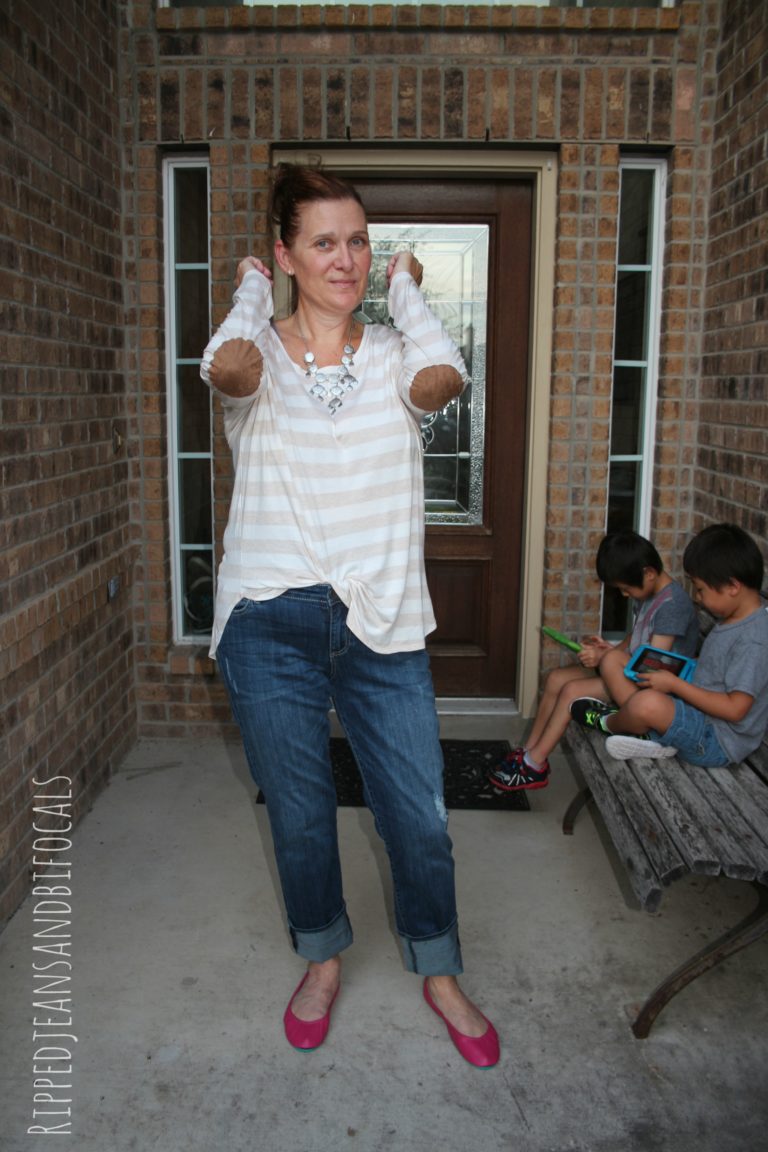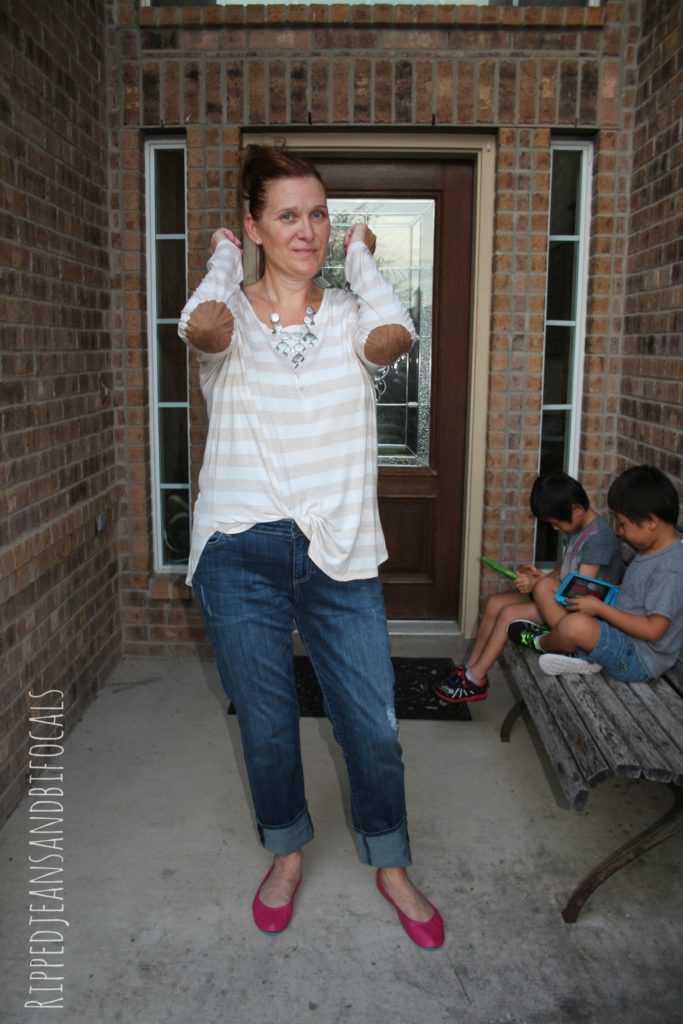 So, I kept the jeans and the bag and I'm happy with that. With the exception of the sweater, I loved everything and it was very much to my taste.
I'm looking forward to getting my next fix. If you're interested in trying Stitch Fix, please feel free to use my code. I'll get a $25 credit when your first box ships and you'll have my undying love and gratitude. Who wouldn't like that? If you have a style ideas board on Pinterest, you can use the image below!
My next review is supposed to have all dresses so I'm looking forward to seeing what I get. And yeah…I need to do something to improve the aesthetics of my front porch, huh?


Thank you for reading!

A vote on Top Mommy Blogs helps my site a ton. It's super easy & one click helps me to be able to continue to bring you great content. Totally non-spammy…I promise!