How to Make a Diaper Bag Essentials Gift Basket
(This post may contain affiliate links. Read my full disclosure.)
This shop has been compensated by Collective Bias, Inc. and its advertiser. All opinions are mine alone. #SuperAbsorbent #CollectiveBias
I can say "been there, done that" to just about everything having to do with parenting. I can tell you everything from diaper bag essentials to how to find the best baby products to how important it is for a mom to take time for herself. One of the things I like most about being a mom is that motherhood is kind of a sisterhood where we help each other out and try to pay things forward. The free snuggles aren't bad, either.
There's just something so fun about helping another mom welcome a new baby, right? It's such an exciting thing and who doesn't like showers and presents and celebrations and diaper cakes? Not to mention, the totally addictive smell of new baby head. Delicious.
I've prepared a list of diaper bag essentials for the new mama. If you find yourself needing a shower gift idea or want to do something nice for someone in your circle that's expecting a baby – or adopting – here's the scoop on what she really needs in her diaper bag and a fun way to put it all together to make a fabulous welcome baby gift.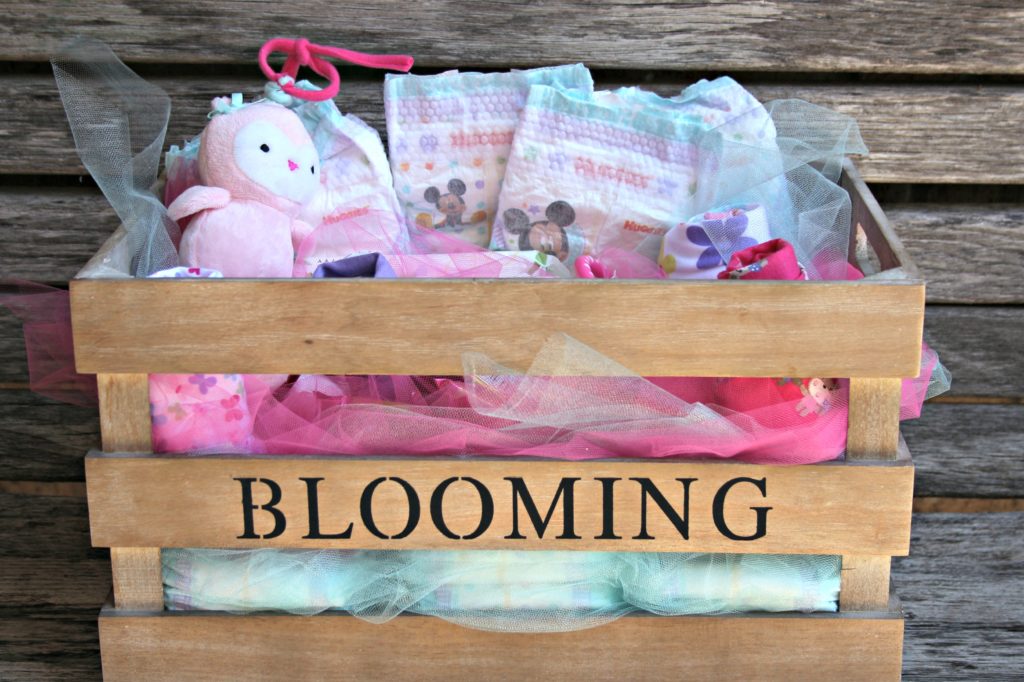 Diapers (duh.)
I am past the diaper bag stage (thankfully) but with two six-year-olds, I still don't leave the house with a tiny clutch purse because that would just be silly. I recommend having a couple of different go bags that you can choose from, depending on how long you're going to be out. If you're going to be out for just a couple of hours, you're not going to need as much stuff as you will for a full day out, so you can get away with a smaller bag. But still, diapers. You almost never can have enough diapers because babies and toddlers are unpredictable. And messy.
Wipes
My boys are six and I still carry wipes. I like the little purse/pocket sized packets, which make a great addition to a gift basket for any new mom. She will use them.
A change of clothes for the baby
Even if you're just making a quick run to the grocery store, you never know. Babies are like ticking time bombs. You never know when the next diaper blowout or projectile spit up will happen…and trust me, it will happen. It's not if but when. Pack your extra clothes in Ziplock bags which are great for containing soiled clothes until you get home.
[Tweet "How to make a diaper bag essentials gift basket #SuperAbsorbent #ad @Costco"]
A change of clothes you
Kids are messy and they're not shy about sharing the love. Even if it's just a clean tee shirt, pack some emergency clothes for yourself.
A couple of toys or games
You'll want to rotate these to make sure you've got something that's relatively new to your child. If you have to wait longer than anticipated to see the pediatrician you're going to want something in your arsenal for when the charm of the waiting room toys wears off.
Extra phone chargers/charging packs
Like it or not, our electronics are now essentials. We use our phones to store boarding passes or arrange for car services, to take pictures and share them and sometimes, even to pay for stuff. And let's not forget entertain ourselves and sometimes, our small humans. Not everyone would agree with me and that's okay but there's a lot to be said for averting an meltdown with Angry Birds or whatever app will get your kid's attention. Sometimes, outings with little ones are just about getting through. However you look at it, you don't want to run out of juice because you forgot to plug your phone in before you left home or if you were out longer than expected.
Sustenance
If you're exclusively nursing, you don't need to bring anything except yourself but if you're bottle feeding, you'll need formula and extra bottles…even if you think you're going to be home before the next feeding. I always used the powdered formula for when we were out and about. It didn't weigh a lot and it was easy to mix up as needed. Older kids will need some kind of portable snack, one that preferably doesn't make a huge mess in the car. Unless you're me. I'm pretty sure my family could live for a week on the smushed goldfish crackers and stray pretzels living on the floor of my minivan. A diaper bag snack should be something that doesn't require refrigeration or utensils. Individually wrapped granola bars, fruit snacks or mini muffins are easy to throw in the mom bag. Don't forget to pack something you like, too. Momming is no fun when you're hangry.
A great bag
Since your diaper bag will basically become your purse for about three years, get something you like. Maybe even consider getting something your husband isn't completely embarrassed to carry. Gone are the days when moms have to carry a pastel tote with duck appliques. Any roomy, easy to carry will work.
This is my everyday mom bag: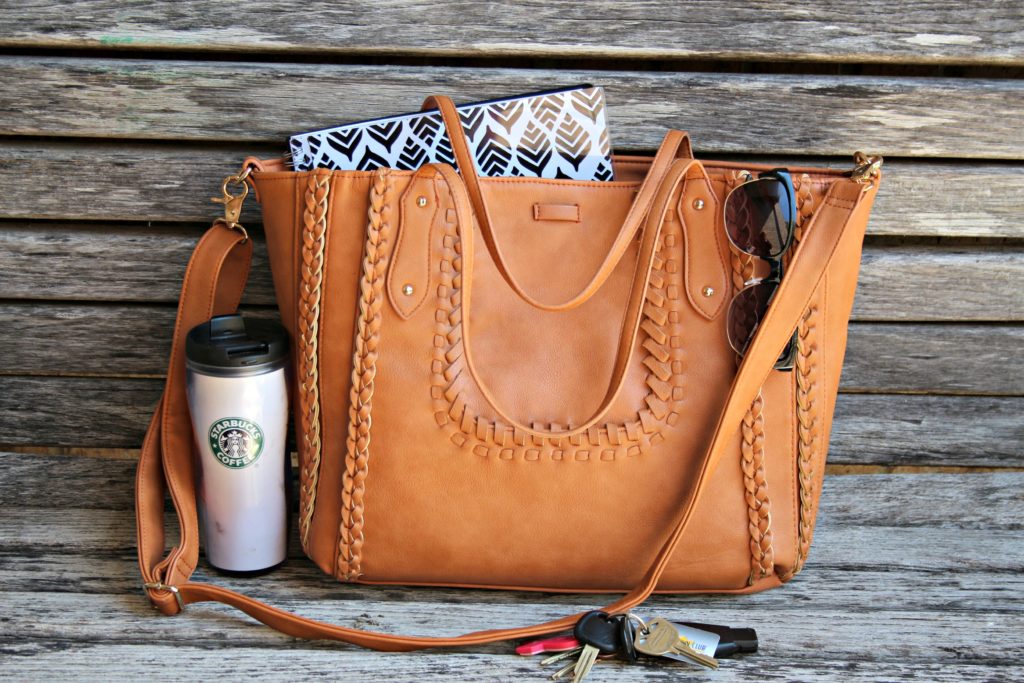 Although I don't need to carry diapers, this could easily be a diaper bag. When I'm out for more than a couple of hours, I bring a baggie with a change of clothes for my kids and pop it inside.
One upside to a "real" diaper bag is that they usually come with a changing pad that's covered with some sort of wipe-clean vinyl but I used a towel or baby blanket, both of which can come in handy for a multitude of reasons.
I put together this fun gift basket for one of my expectant mom friends: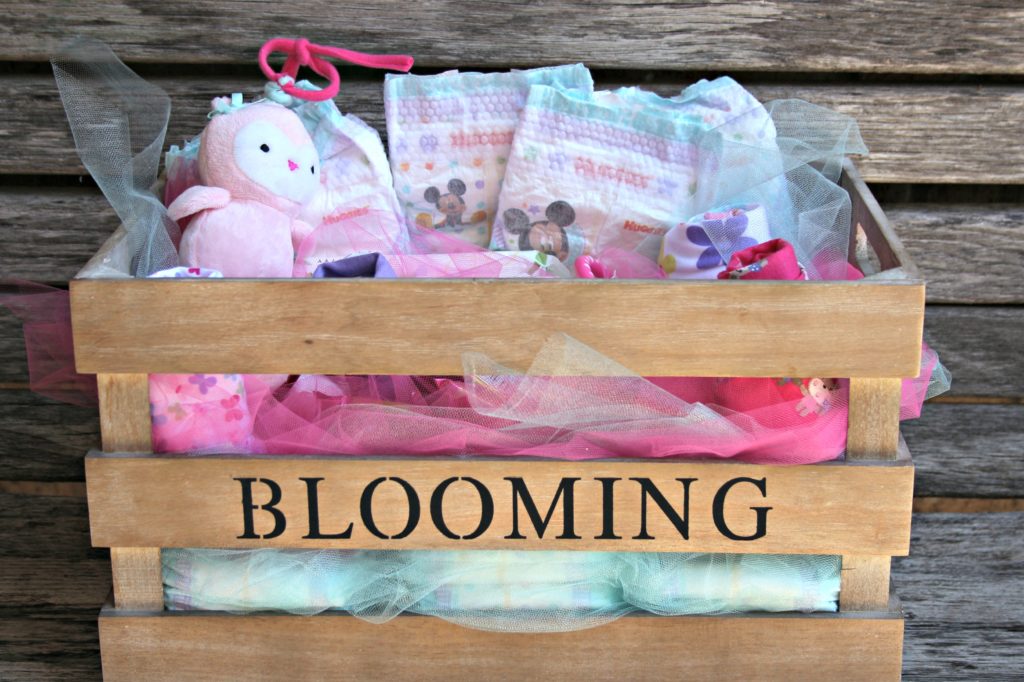 When I do a gift basket, I like to use a container that has some sort of purpose beyond being a gift basket. I love wooden crates which can be found just about anywhere. I was lucky enough to find this one with "Blooming" stenciled on (perfect for a new mama) but you could do all kinds of fun things with stencils, paints and cutouts. This can be used as a planter or for storage or probably a bazillion other things.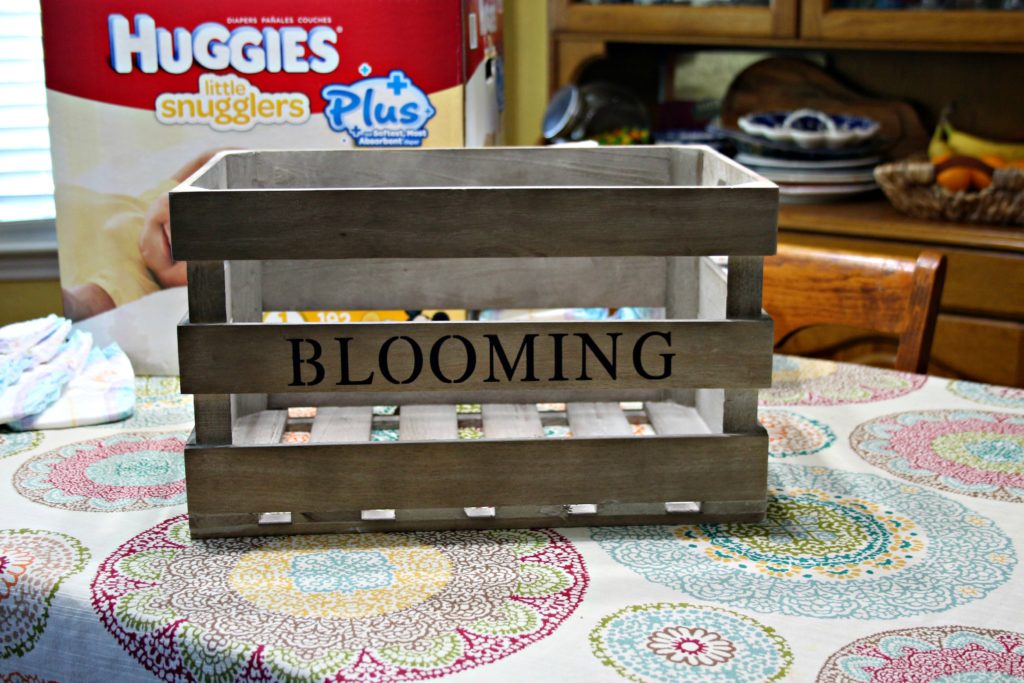 I did this box for Halloween last year. Wooden crates are super versatile.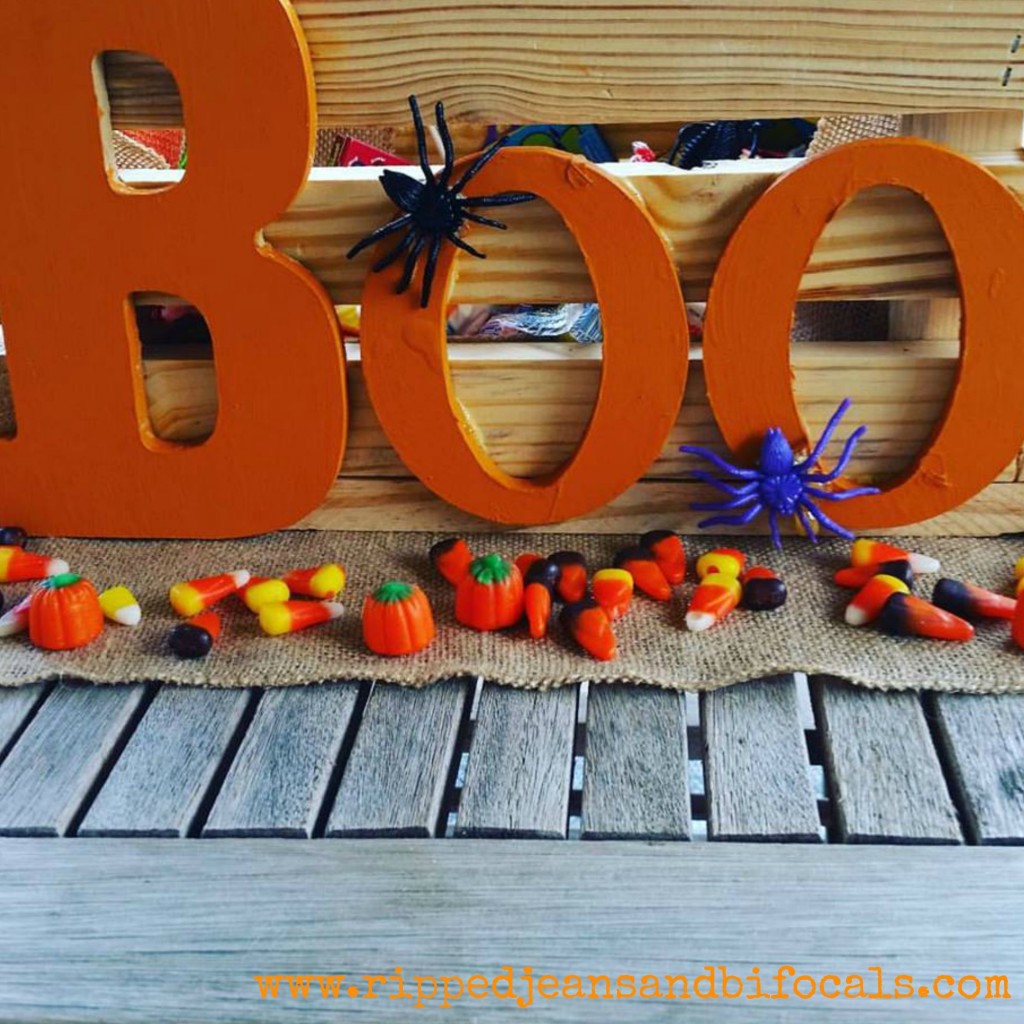 You could easily personalize a shower gift with the baby's name or a word like "love" or "joy" in the child's nursery colors. There are so many ways you could do this.
I put the diapers in the bottom and then padded the crate with tulle and arranged the smaller items on the top.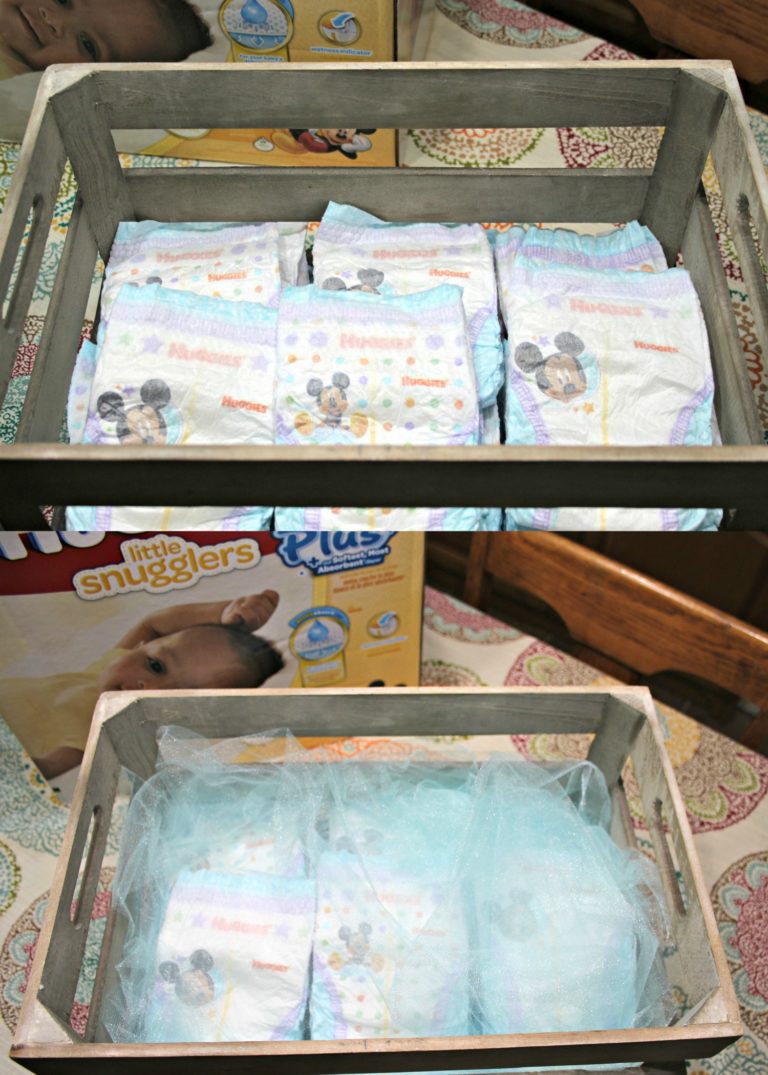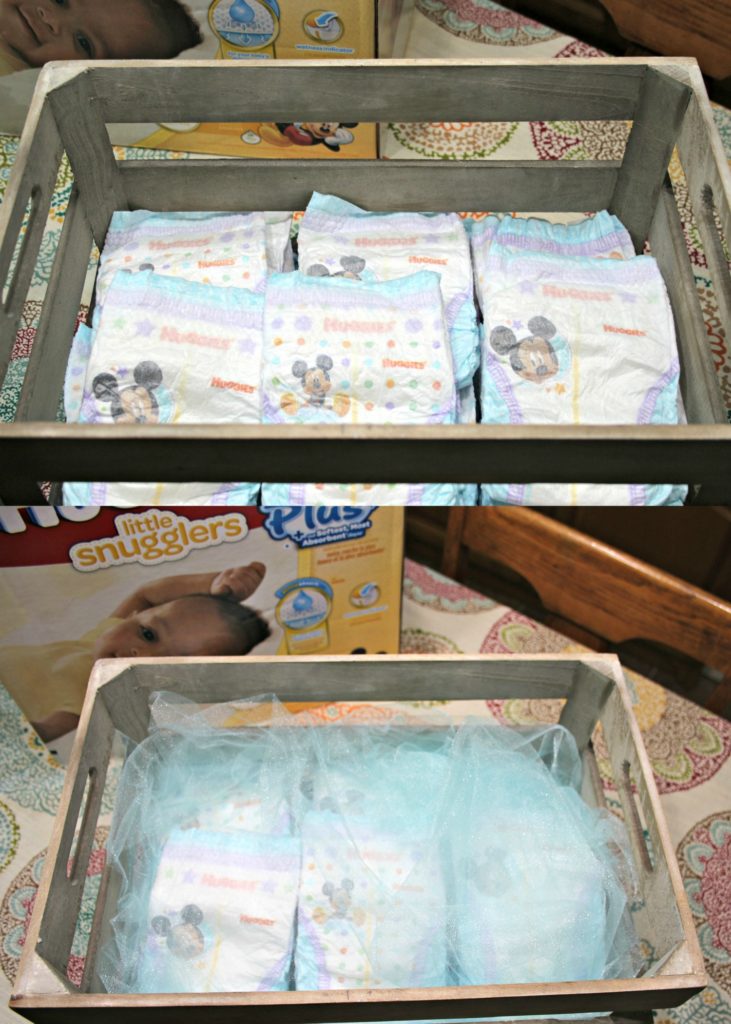 I chose Huggies Little Snugglers Plus which are exclusive to Costco. They come in size Newborn, 1 and 2 with a design that keeps baby's skin clean and healthy. They're called Little Snugglers Plus because they're the softest, most absorbent Huggies diapers. Who doesn't like to go to Costco, but if you want to shop from your couch, you can! And, because it's Costco, you know you're getting a killer deal:
Little Snugglers Plus (Sizes 1 & 2) – $37.49, $31.49 after $6 discount and Free shipping (this offer valid 9/1 to 9/25)
Little Movers Plus (Size 3, 4, 5, & 6) – $42.99, $36.99 after $6 discount and Free shipping (this offer valid 9/1 –to 9/25)
Starting in August Little Snugglers Plus will also be available in size Newborn starting – $29.99 available in select warehouses and online at Costco.com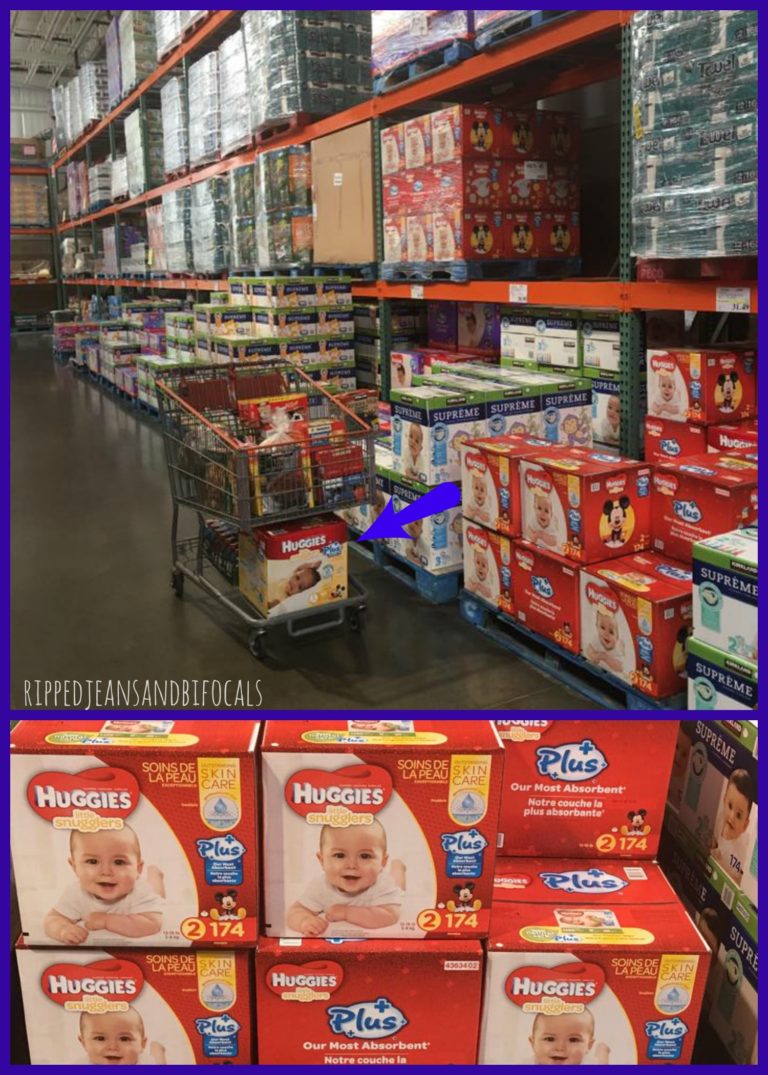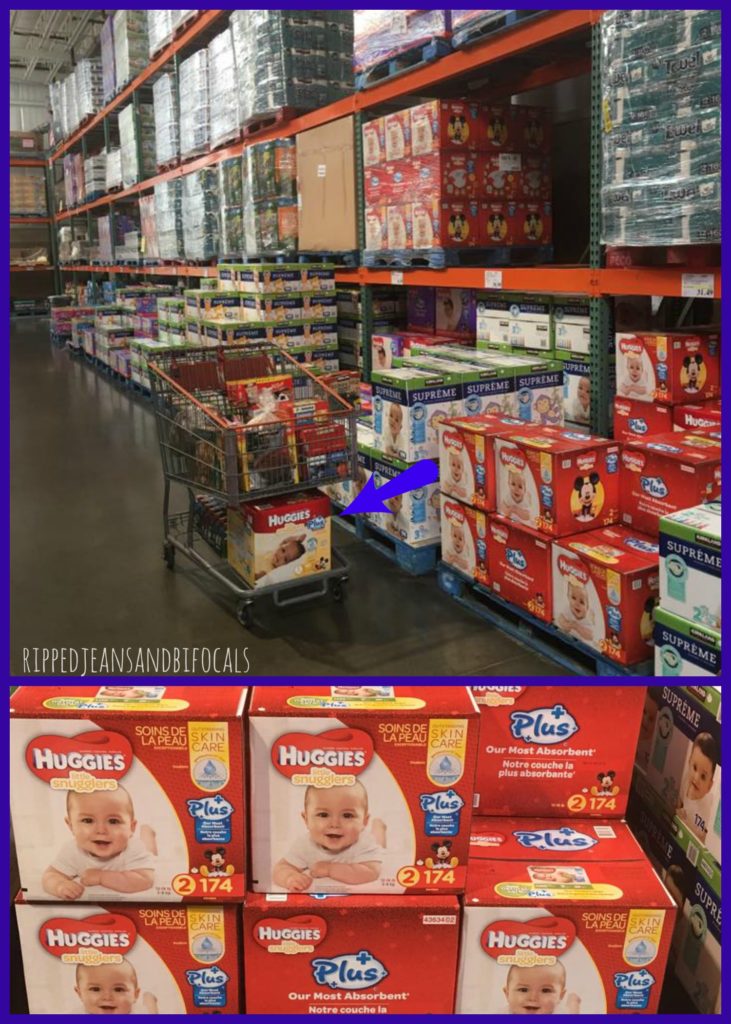 For this, I used four yards of tulle – two of pink and one of aqua. I cut each of the pieces of fabric into one yard strips and layered the colors. Tulle is easy to find and inexpensive.
I added some six-t0-nine month size onesies. I never give newborn-sized clothes as a baby gift. The new mom probably gets a ton of frilly newborn clothes and the baby is likely to outgrow them before she'll ever wear them. Simple tee-shirts or onesies are ideal for quick changes when you're out and about. I arranged the onesies along with these other diaper bag essentials: a couple of baby toys, mini packs of wipes and some treats for mom. Voila: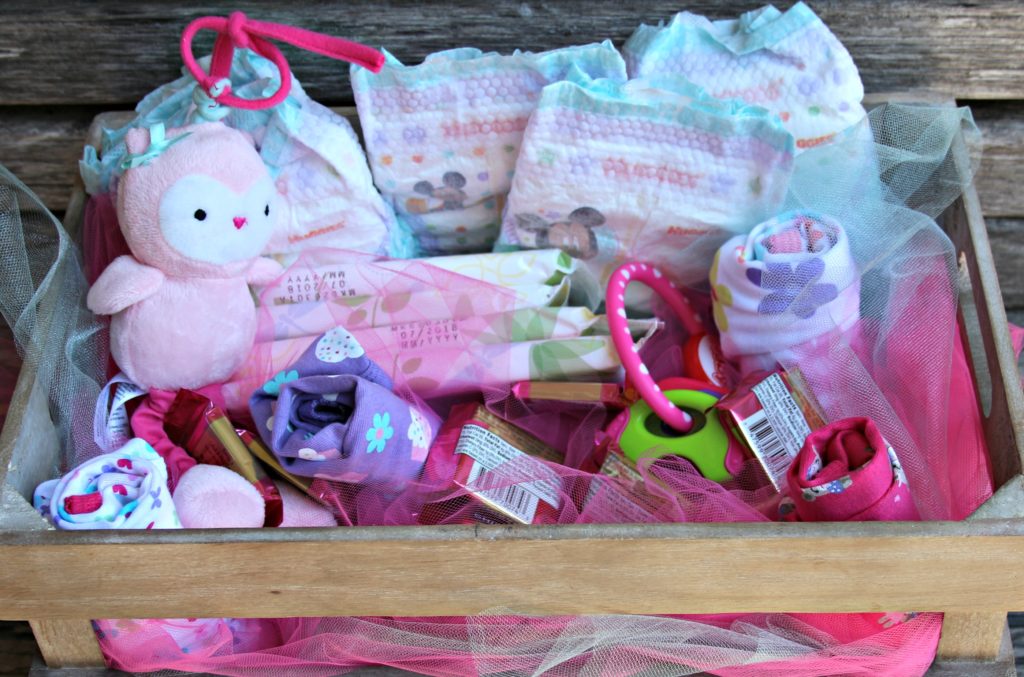 My friend is a been-there-done-that mama herself and would probably be just as delighted if I'd put a bow on this jumbo box of Huggies Little Snugglers Plus but this is her first girl and I wanted to do something frilly and girly…yet still practical.
This is a fun shower gift from one been-there-done-that mama to another. There are so many fun things you can buy as baby gifts but I like to err on the side of practical and give a new mom a nice stock of basics I know she will use.
This diaper bag essentials gift basket was really fun and easy to put together and it gives me a lot of satisfaction to know that all of these goodies will be used with love. When you're putting together a gift basket for a baby shower or a new mom, don't forget to check out Costco for the best prices on diapers and other baby essentials. Find a store near you HERE.
Pin the image below to your "baby shower ideas" or "easy projects" Pinterest board:


Thank you for reading!

A vote on Top Mommy Blogs helps my site a ton. It's super easy & one click helps me to be able to continue to bring you great content. Totally non-spammy…I promise!