I Mooned the People of Liverpool
When it comes to modesty I fall somewhere between a go-go dancer and one of the Duggar girls.  Are go-go dancers even a thing anymore?  If not, we should really bring them back.  After all, how cool are these boots?
How I mooned the people of Liverpool
Or maybe this. This is pretty much me in a nutshell. But, I digress.
Disclaimer: We are a participant in the Amazon Services LLC Associates Program, an affiliate advertising program designed to provide a means for us to earn fees by linking to Amazon.com and affiliated sites. This post may also contain affiliate links to other sites where I will be paid a commission by the seller if you make a purchase.
Anyhoo…I'm pretty middle of the road when it comes to keeping covered up.  I don't let it all hang out but I don't flip out if I show a little cleavage or leg here and there.  Flashing my bare butt to a crowd of people in downtown Liverpool (that's right, the home of the Fab Four) is a little out of the scope of normal but that's what happened.
Before you get the wrong idea, it was broad daylight and there was no alcohol involved. Honest.
I was running in the Rock and Roll Liverpool Half Marathon, which is 13.1 miles.  Yes, the .1 is important.  I had just passed the five-mile marker and decided I needed to pee bad enough to stand in line for the port-o-potty.  Mile five was cool because I still had a smile on my face and was having a good time, unlike the space between miles nine and ten where I wanted to lie down in the street and cry.
I didn't actually lie down in the street and cry but I sure wanted to.
If you're not familiar with this type of sporting event, the race course is heavily supported by the host city and involves closing down of some of the streets.  There is usually decent crowd support although why someone wants to hang out on the corner on Sunday morning cheering for strangers in running clothes seems weird to me.
Weird in a good way, because I like the clappers.  Yes, I'm motivated by applause from people I don't know.
Because my adoring public comes out to cheer me on (shut up, they do!) I have to make sure I look as cute as possible when I'm running: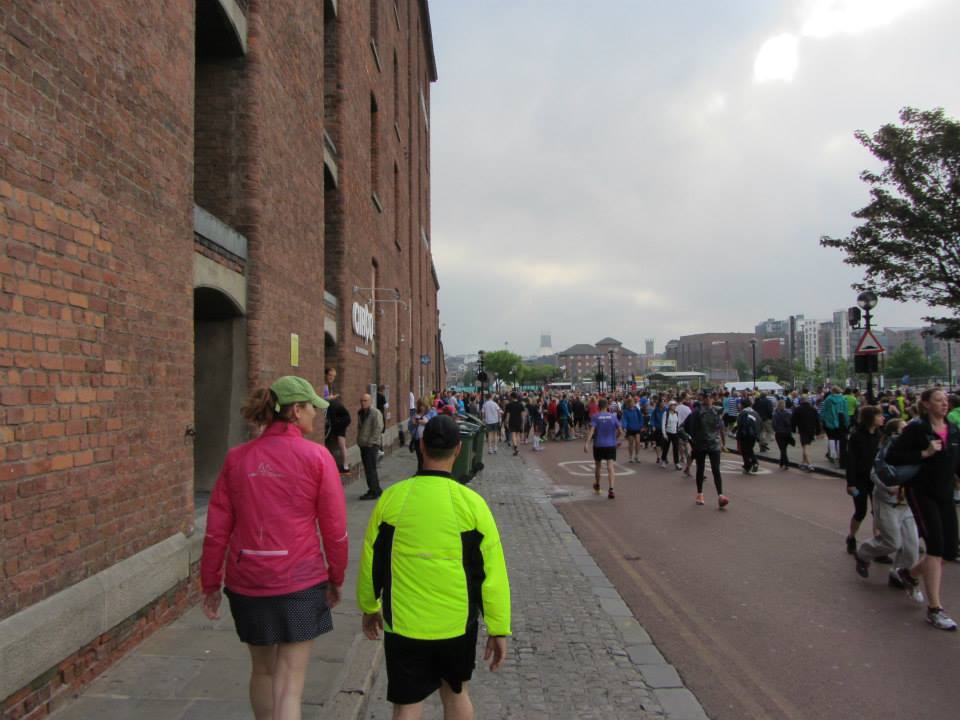 This running skirt has little built-in compression shorts and awesome pockets for my lipstick and other necessities.  I'm not even kidding.  Lipstick is a running necessity.  Because of the shorts and the way fit, I don't usually wear underwear.  You might be thinking TMI…just wait for it.
Anyhoo, on this day, I decided to wear underwear under my running skirt.  I don't know why I chose this day to deviate from the norm.  No idea.
I got in and out of the port-o-potty, doing my business quickly.  I was dreaming about a brag-worthy finisher's time so I wanted to keep on running. I was feeling pretty good, considering my training had been kind of…well, nonexistent.
As I started gaining momentum, I noticed something didn't feel quite right with my clothing.  I made a couple of swipes at my skirt to make I'd pulled it up correctly.  I didn't feel a breeze, so I knew my buns were covered but things felt…weird.
I "pulled over" on to the sidewalk and realized what had gone wrong:  I had pulled up my skirt-shorts combo but my underwear were hanging out at mid-thigh.  I was sweaty and they were just sort of…stuck. I don't remember why I'd chosen to wear underwear that day. Probably because I was getting dressed to run in the middle of the night.
I looked over my shoulder to the port-o-potty line which had grown exponentially in the past two minutes.  I would waste valuable time standing in line so I could adjust myself in private.
I had two options:  stand in line for ten minutes with my bloomers down or to make a quick wardrobe adjustment that would involve risk of full exposure on a busy city street.  I chose the second option.  There were no bushes I could duck in to so I stood as close as possible to a row of garbage cans (I know, ew, right?) and made the easy decision that I'd rather flash my backside than my lady bits, whisked my skirt down and yanked my drawers up.
I got a few "oh no she didn't" looks from the nice people in the surrounding area, but I held my head high and ran off at a clip just a little bit faster than my usual pace.
People, this gives an entirely new meeting to the phrase "cover your ass."
Do you have an embarrassing moment?
You might also like:
"I run for Chocolate" tank top
"Somewhere between Proverbs 31 and Tupac" printable