10 Random Things About Me – Adoption Talk 2017
I can't believe Adoption Talk is entering its third year. It seems like it was just a couple of months ago that I got an email from Erin Bohn asking me if I was interested in co-hosting an adoption blog linkup. I considered myself pretty hot stuff because I actually knew what a blog linkup was and then she started talking about code and I got a little scared.
But, I still said yes. And I said yes again when she approached me last year and asked if I wanted to sign on for a second year. I still think code is scary, by the way.
I got a chance to meet Erin in person in the summer of 2015 in New York City. She was standing in front of me in line for the toilets in a very fancy ladies room and heard me talking. She turned around and said "Jill?"
We laughed and hugged and I made a really awkward comment about my Spanx that had nothing to do with anything. It's so cool how adoption creates friendships, right?
Today, I'm introducing you (or re-introducing you) to Adoption Talk AND telling you a little bit about me. My blog and social media following grew a lot in 2016 and I'm honestly not sure how some of you came to follow me. Maybe you're also parents through adoption. Maybe a friend recommended my site or my Facebook page. Maybe you think I'm funny because I compare my parenting skills to Miss Hannigan from Annie or because I post mildly inappropriate funny stuff I find on the internet each night at 11ish Central…you'll have to check that out if you didn't know.
This year, Adoption Talk happens on the second Thursday of the month. Or maybe it's the first on every month except January. I'm not great at the details.  This is a change from last year when Adoption Talk was on the first and third Thursdays.
That's awesome, Jill, but what the hell are you talking about?
Adoption Talk is a monthly blog linkup where we…wait for it…talk about adoption.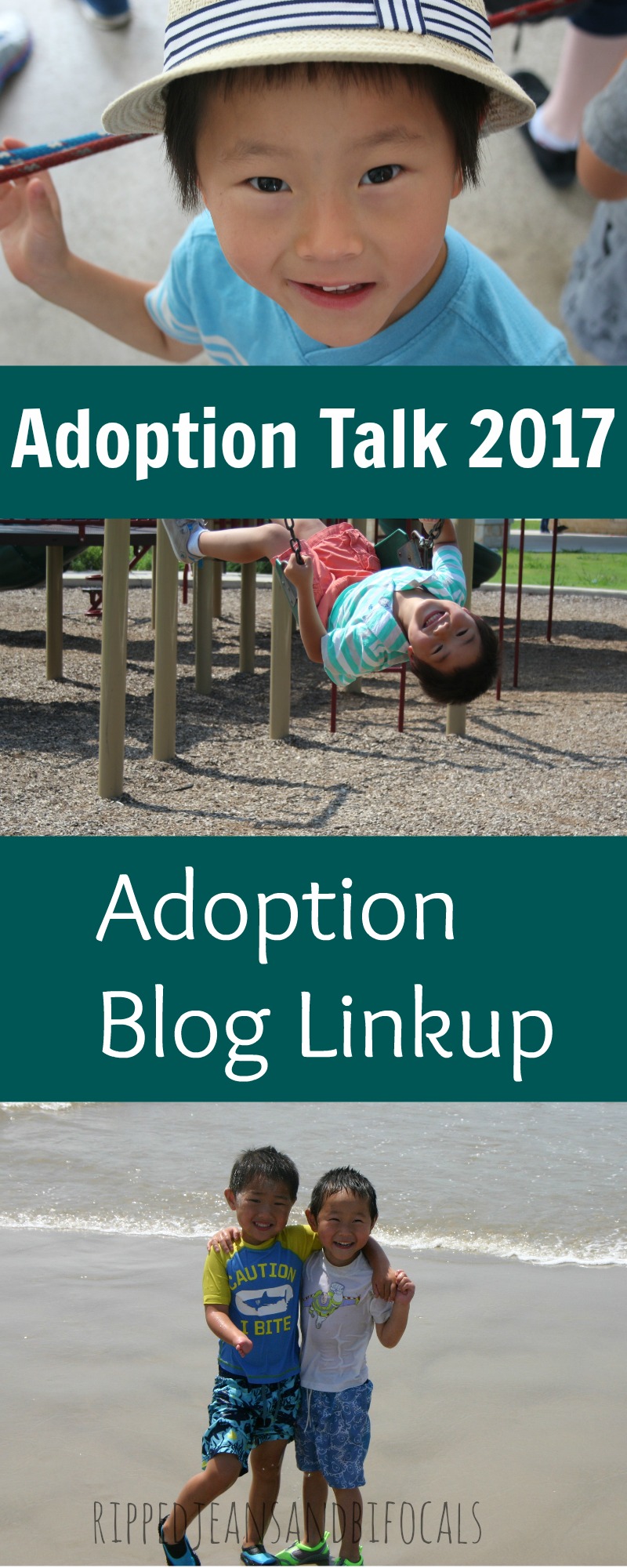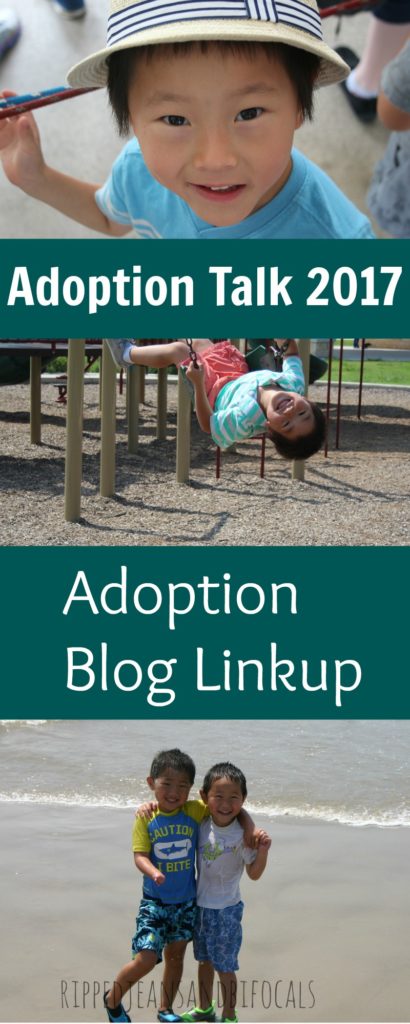 I won't go into the technical mumbo jumbo about what exactly a linkup (mostly because it's confusing) but on the designated Thursday, I'll have a post on this blog about adoption. At the bottom of my post, there will be a collection of links to other people's posts about adoption that are (give or take) on the same topic. If you're a blogger, you can add yours to the collection by following some simple instructions. If you're not a blogger, you can just show up with your coffee and read. Easy peasy.
There are five hosts, so that means five blogs you can visit and see the same stories that you can see linked to my blog. Besides me, there's Erin, Jenni, Ashley and Jules. In addition to the five hosts, we have anywhere between six and 20 other people linking up each week. It's an awesome community and I always learn something, nod my head in solidarity or laugh because parenting is often ridiculous, no matter how you arrive at it.
What's awesome about the linkup is that we're not just a bunch of "adoption mommy bloggers" talking about how #blessed we are and what a miracle adoption is. We're women from all walks of life who have been touched by adoption in different ways. I'm sure there's a ton of things we don't agree on but we all coexist in this linkup and respect each other's experiences and perspectives. We're all badasses in our own way and I hope you'll enjoy our monthly linkup. We'll be providing topic suggestions as for each linkup for those of you who will be joining us with blog posts. The penalties for not following the topic are pretty severe. I think someone mentioned floggings. Just kidding. We're pretty loosey goosey and would welcome anything you want to link up. Mostly. I'm really tired of reading about vagina necklaces and anything to do with politics, so maybe not those things.
Today's prompt is introductions, so in that spirit, I'm going to give you some random facts about me. In order not to make this all about me, you're welcome to leave me some random facts about YOU in the comments, either on the blog or on social media. If you want to read more of my adoption story, you can check out this post or go to the "Adoption Archives" at the top of my homepage.
1.  Red is not my God-given hair color
I won't say red isn't my real hair color because my hair is real. I have several redheads in my family but I'm a blonde. I've been coloring my hair since I was 19. There have been a few times here and there that I've gone back to blonde but it feels weird and looks weird.
2. I went to Disney World on my honeymoon
It's seriously is the happiest place on earth. My husband and I are taking our two boys to Disney next month for the first time and I am counting the days.
3. My favorite Disney character is Cruella DeVil
I also like Ursula from the Little Mermaid and Maleficant. I'm sure that says something about my personality but what can I say? I always root for the bad girls.
4. I'm an insomniac
I have the WORST time getting to sleep and staying asleep. Almost nothing helps. My husband keeps the kids quiet on Saturday morning if we're not going somewhere so I can try to get a little extra in my snooze bank.
5. I am not funny in real life
Not even remotely. I have terminal RBF and if I can come up with something funny in a social situation, my timing is never right. I'm also the girl who thinks of a snappy comeback after you've already walked away. I am probably one of the most awkward people you'll ever meet. I've recently come to accept this about myself and I'll often let new people I meet know I'm awkward right away. Like it's not obvious. Or awkward.
6. I have run nine half marathons…
…and I'm about to run my tenth in a couple of months. I'm not particularly fast but you don't have to go fast, you just have to go. I've really slacked on my training this time, though. My husband and I ran the Rock n' Roll Dublin in 2014 and I slacked on my training that time, too. I wanted to sit down in the street after mile nine and cry. I did not do this but I really considered it.
7. I'm a nail biter
Gross, right? I try to keep them painted so I'm not tempted to chew on them but it's a total nervous habit and I always cave. I do not bite my toenails, though, so there's that. I always have nice toes and I love really loud toenail polish, like purple or lime green.
8. I believe nurture wins over nature
I've seen it with my own eyes. One of my kids grabbed a Land's End catalog with egg shells stuck to it and demanded to know "why I was throwing away perfectly good stuff." For a minute there, I thought my husband had learned to throw his voice, but nope.
9. I'm a lousy athlete
Aside from running, I am not even marginally good at any sport. I'm the girl who was always picked last and I'm insanely afraid of the ball. And flying frisbees.
10. I'm team cat
I've almost always had a feline or two in my life. I am not a dog person at all. Our high-strung Irish Setter, Cesar, bit me in the face when I was five. I pounced on him from behind because I didn't know any better and he did what dogs do. He "went to live in the country" after that. We have two cats, Kitty Bug and Hilmy. They hate each other and we have to keep them separated. Joy.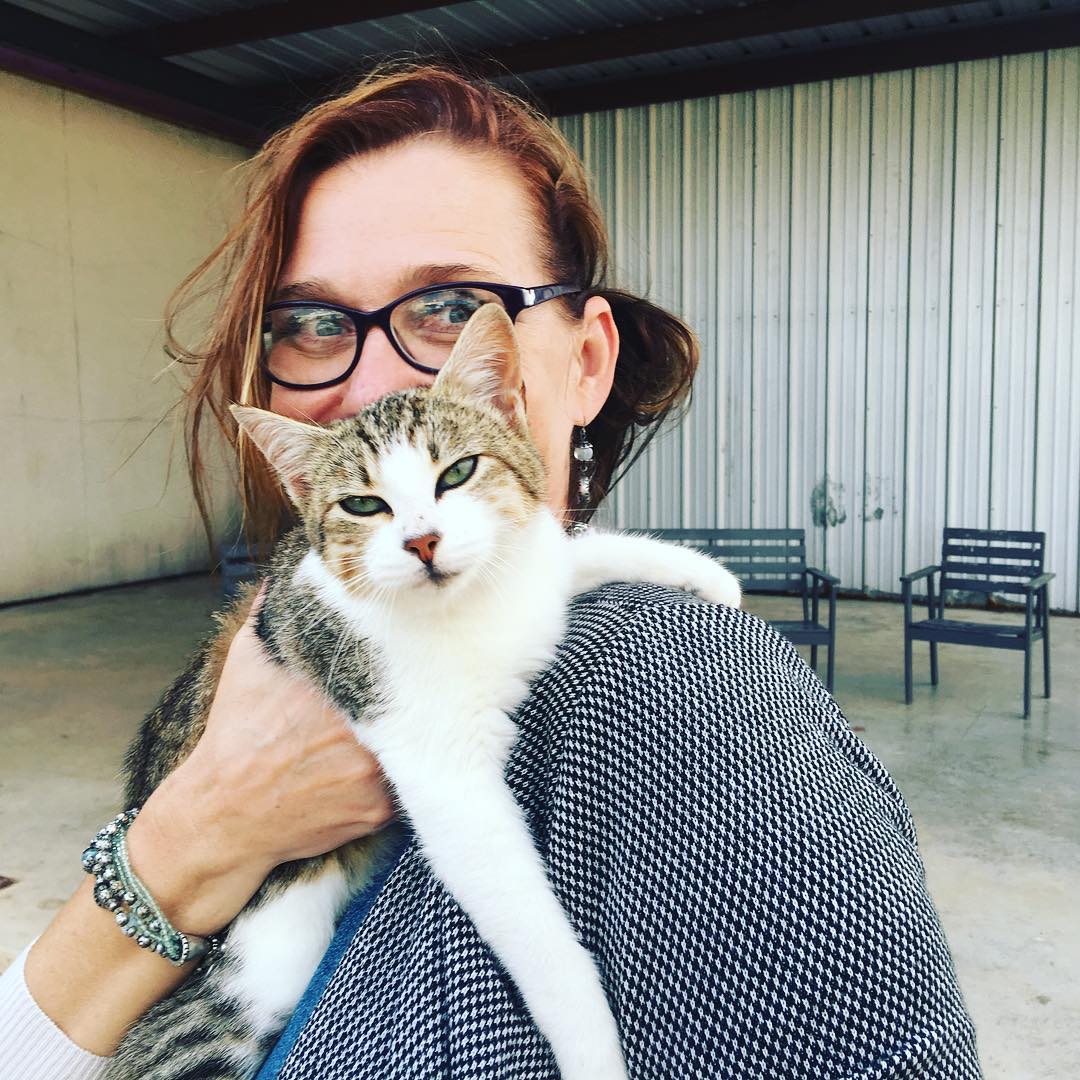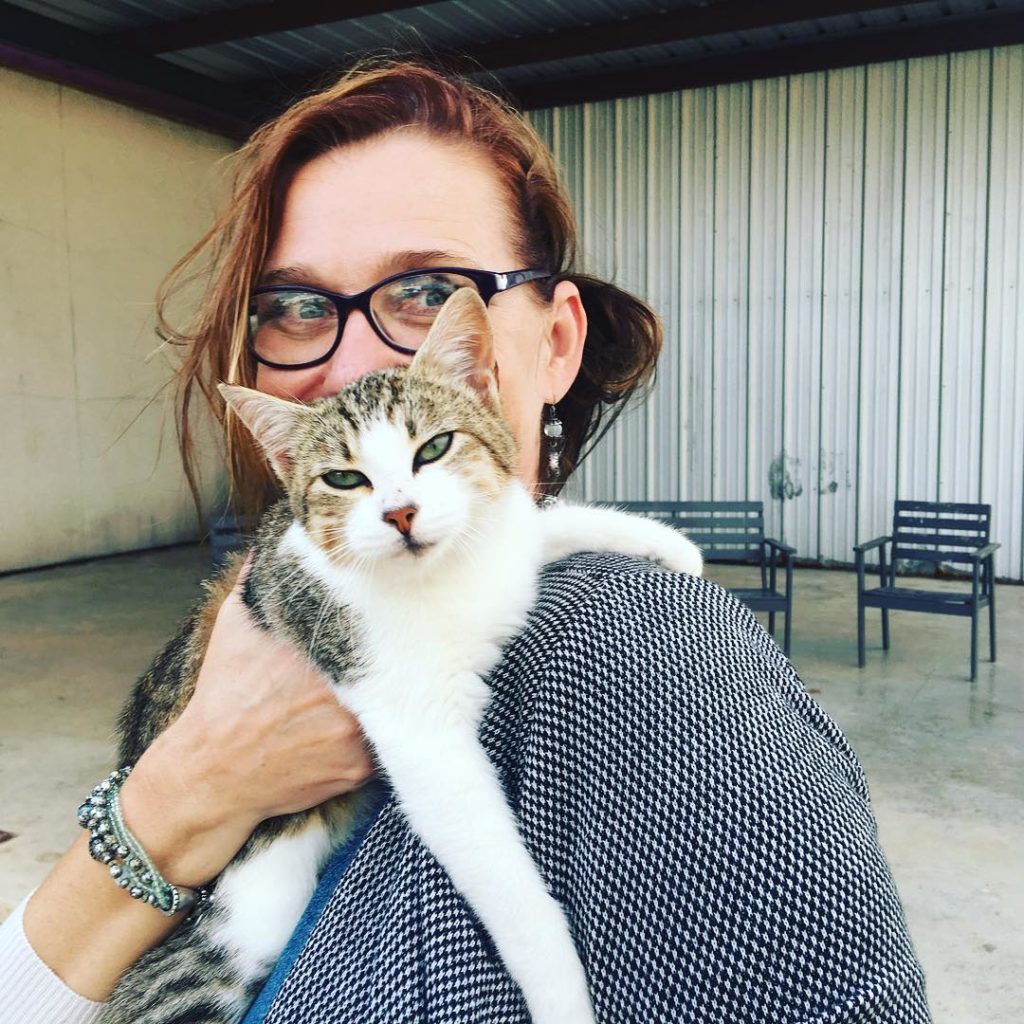 I hope you'll come back and visit on the first Thursday of every month. Or the second. Something like that. Just come back and visit. I post new content – not always adoption-related – on the blog a couple times a week. I talk about imperfect parenting, the messiness of life and random topics that pique my interest. I also throw the occasional bit of useful info in there.
Now on to the Adoption Talk Linkup!
Today's topic is Introductions. Grab a button for your post and join Ashley, Erin, Jamie, Jenni, and me!
New to linking up? We'd love to have you join us, here's how.

Follow Ripped Jeans and Bifocals's board Parenting Survival Tips on Pinterest.
If you enjoyed reading this post, please give me a vote on Top Mommy Blogs my clicking the button below. It's super easy and helps my site A TON.