Welcome to Adoption Talk 2016 and to my blog: messy, beautiful and BS-free
(This post may contain affiliate links. Read my full disclosure.)
For you new linker-uppers: I'm excited you're here. If you've come here to linkup your #AdoptionTalk post, you'll add your link to the very end of this post…reads, comments and shares while you're here are super awesome and I can't wait to visit you, too!  
I am really excited to be going in to our second year with the Adoption Talk blog linkup. I'm excited to see some familiar faces linking up this year as well as some new friends.
A blog linkup is a thingydoo where I put a place on my blog for other blogs to link their post with mine. When you click on my post, you'll see thumbnails for other posts about adoption authored by other people that you can click and read as they interest you. And if you're someone who blogs about adoption or foster care, you can also add your link to the collection. Anyone can read or join the conversation…and yes, thingydoo is a highly technical term.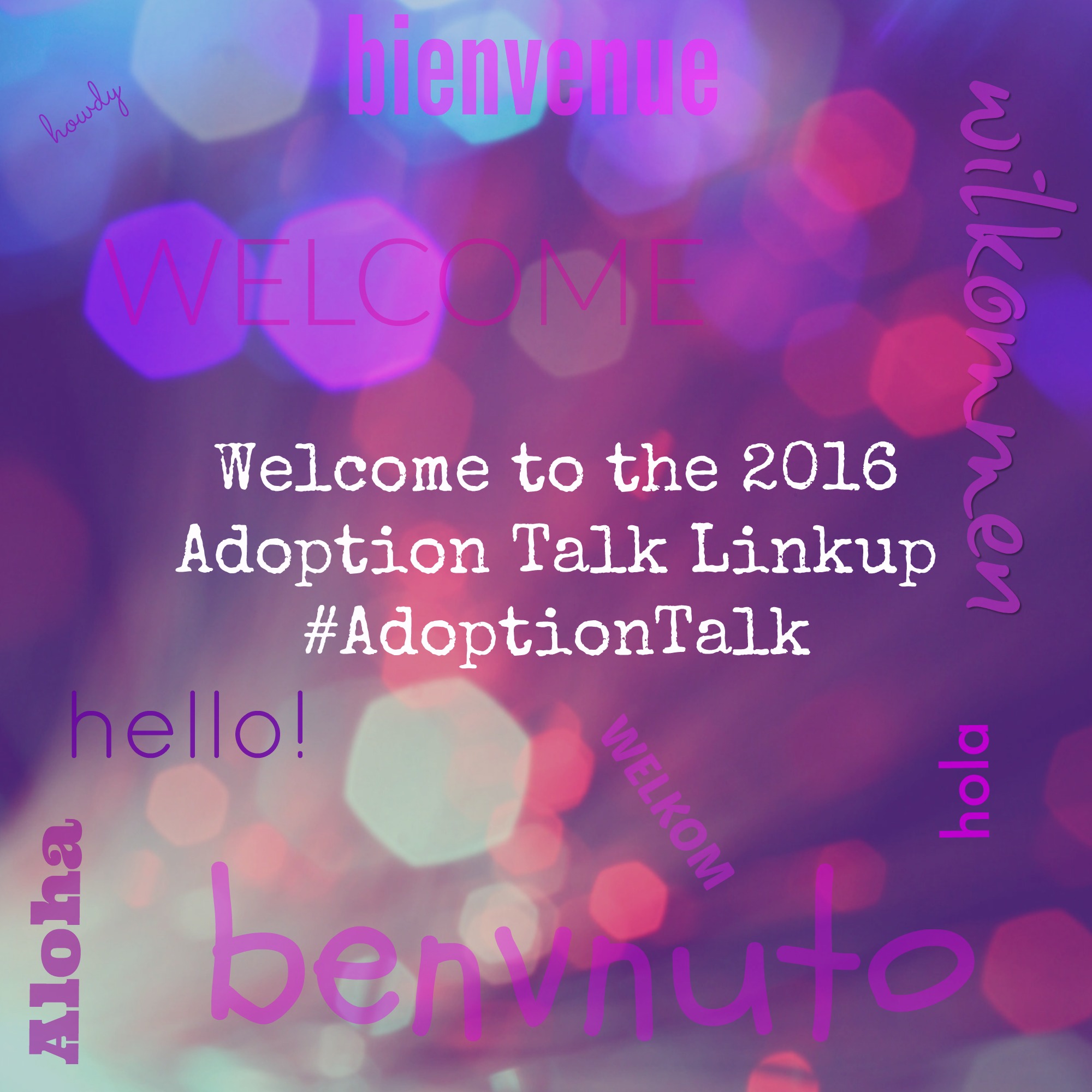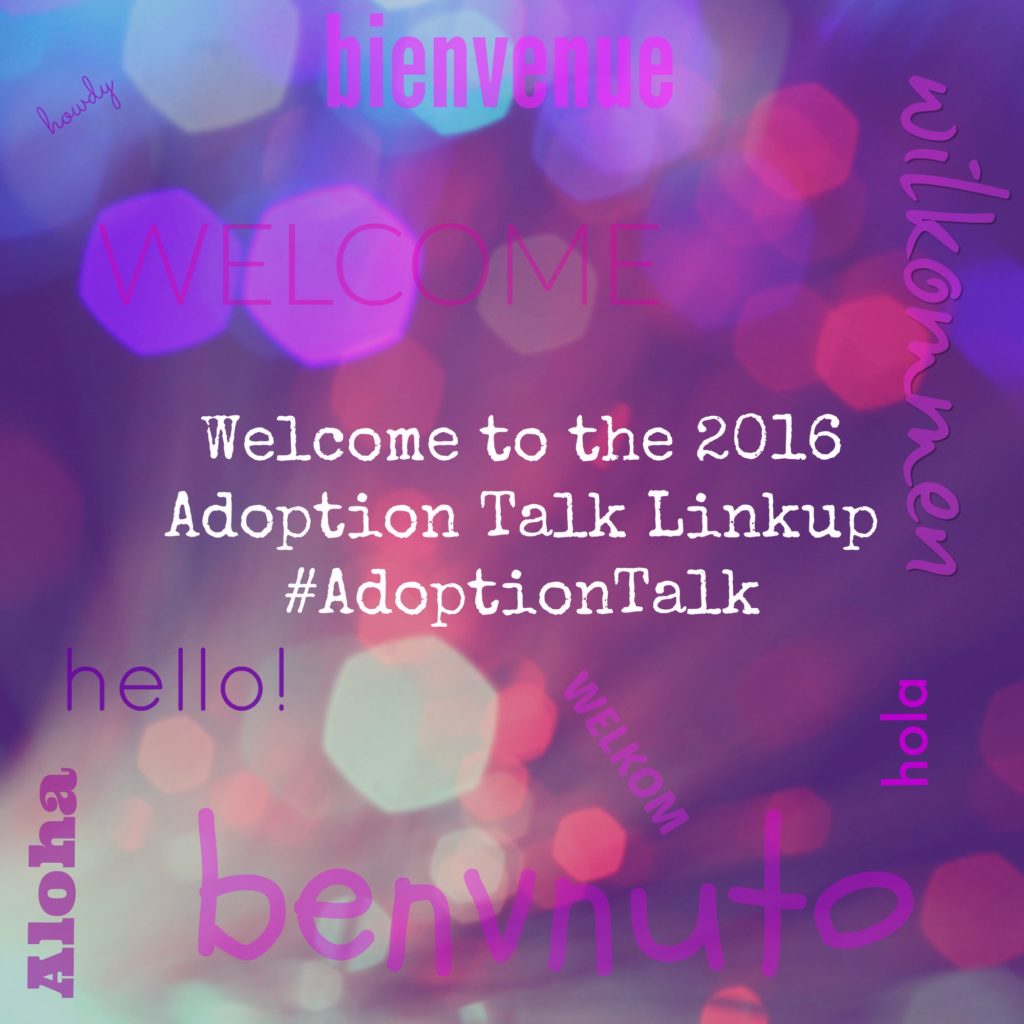 If you're not a blogger, please keep reading. This linkup is really for you: adoptive parents, foster parents, birth mothers, or anyone considering becoming any of those things. Adoptees are welcome, too. The one rule I have for my blog is that you can't be a douchebag if you disagree with someone else's perspective and if you have a stick up your rear, well…you're probably not going to enjoy my perspective on adoption, or pretty much anything.
We have a great, diverse group of hosts and we had a great, diverse group of people link up with us last year and I hope 2016 is bigger and better with more voices and more conversation.
So, if you're new, here's the quick version of my family's story:
My husband and I have been married for almost seven years. I have a 23-year-old daughter and my husband was a confirmed bachelor when I snapped him up in 2009. We adopted our sons in 2012 and 2013 and the boys are four months apart. They will both turn six this year. So yes…I'm very, very tired and I drink a lot of coffee.
Both of my boys are adopted through the China waiting child (AKA special needs) program. We lived in the UK when we adopted and due to logistics and location, international adoption was really our only practical choice. We are an American family and we now live in the great state of Texas. I grew up here and my husband is from Michigan. The fact that there's not really anything close to what he calls winter here and the fact that we eat tamales at Christmas make him scratch his head (although he really seems to dig the tamales.)
Our motivation to adopt was to become parents, plain and simple. We felt the experience of being parents together was something that was missing from our life. We were pretty comfortable and happy as empty nesters living in Europe and traveling every weekend but there was a void. We still have a void in our life though…it's called sleep. HA! I wouldn't trade our life for anything, though.
I started a blog when we were in the process of adopting our first son. I actually didn't know what a blog was until 2011 and right up until early 2014, I was kind of surprised that people blogged about other stuff besides adoption. Funny, right?
My first blog, Adding Branches to Our Family Tree, was pretty much just an online journal that gave updates and information about our process, wait times and about our trips to China. You wouldn't find any negatives, struggles or any perspective that wasn't sunshine and unicorn farts on my blog because it's super important to keep a brave face on social media, right?
I was in private Facebook groups with adoptive families that were revealing their struggles and fears…and these same families were on "regular Facebook" posing as happy, smiling families and over-using "hashtag-blessed."
I decided I wanted to take a more no B.S. approach to adoption writing because, with our second adoption in 2013, I was one of those moms who was struggling . Struggling badly. I was depressed, things hadn't gone as planned with our adoption and our son had needs and issues that we weren't prepared for at all.
Things weren't working out as I thought they should be working out on about a thousand different levels and the façade of making everything seem fine on social media…well, it wasn't me. It didn't sit right with me, that feeling of being disingenuous for portraying an adoption story that didn't represent reality.
The not so #blessed side of things.
So, I decided to lift the curtain, and through writing honestly, I found a little part of myself that had been lost.
Ripped Jeans and Bifocals was established in May 2014, when my writing started taking a little bit of a different turn. I was still writing about adoption, but I was writing about other things, too, and I decided I wanted to really try my hand at "this writing thing."
Ripped Jeans and Bifocals became a Limited Liability Corporation in 2015. I'm the co-author of three books…Mothering through the Darkness is all about my struggle with feelings of depression and anxiety after our second adoption. I'm a regular contributor to Disney's Babble, SheKnows Parenting and my writing – adoption and otherwise – has appeared on The Washington Post, Scary Mommy, Woman's Day and a few other places online and in print. All the books I've appeared in are in the right sidebar of this blog, if you want to check them out.
My kids are thriving and I think we're living in that lull between settling in to what our normal is and when the tough conversations start. Our boys were two and three, respectively when they came to be in our family and they don't really remember much about their lives before they came to us. While we are very open about adoption in our everyday conversation, all of the dots have not connected yet. It doesn't feel right to force a story that they're probably not ready for…we're working the answers in to every day conversation as those little teachable moments happen. More and more, we're finding those moments in the movies and on television, which don't always portray adoption accurately.
I try to walk the line between respecting my kids' privacy and the need to tell my story. Transparency has helped to ground me and the knowledge that the telling of my story as it unfolds has helped another person here and there…well, that's just icing.
If you're new to Ripped Jeans and Bifocals, I'm really glad you're here.  I hope you connect with me on social media and leave your thoughts in the comments.  Below are links to a couple of my favorite adoption posts, although you can see them all by going to the adoption archives on my blog. And, of course, you can always visit my about me page.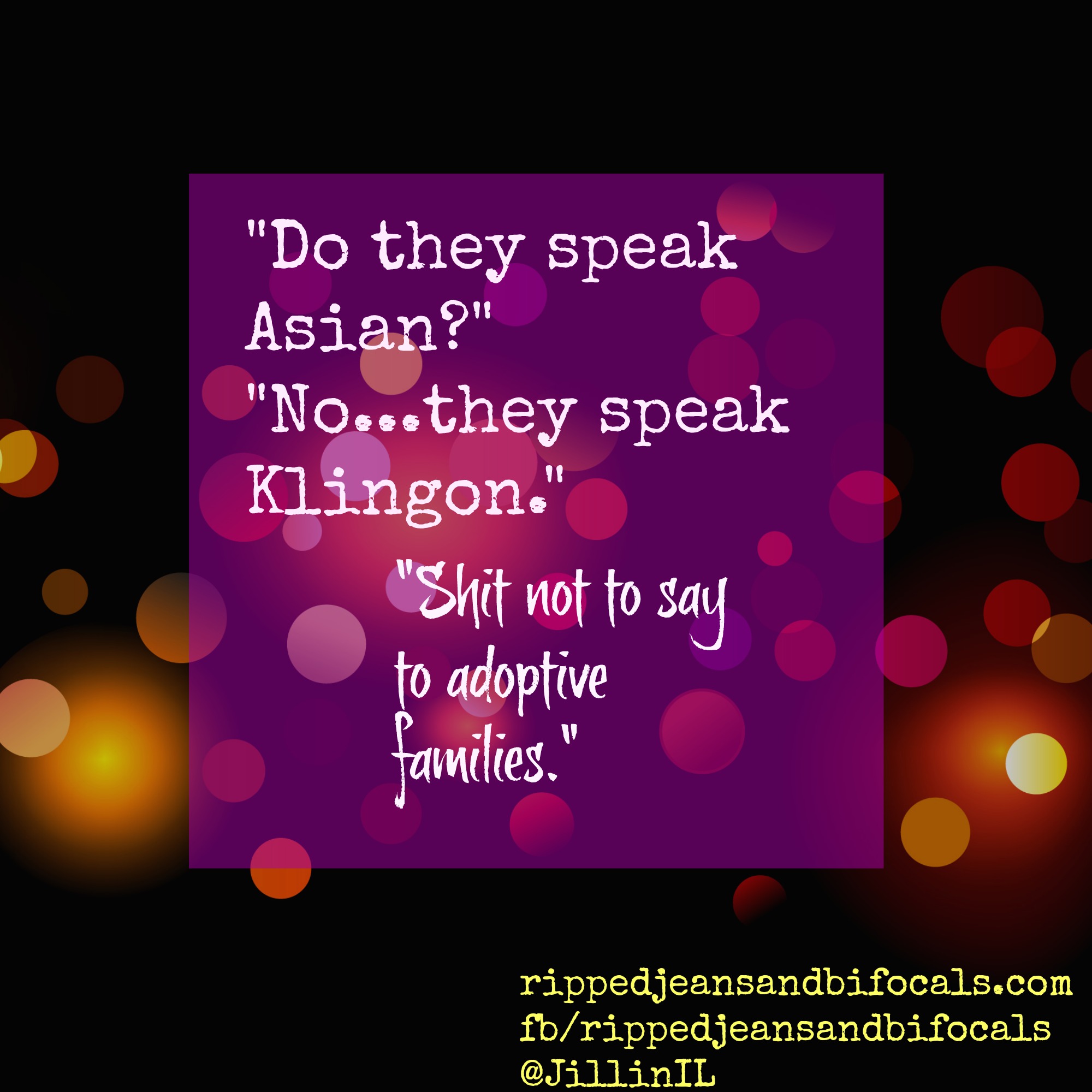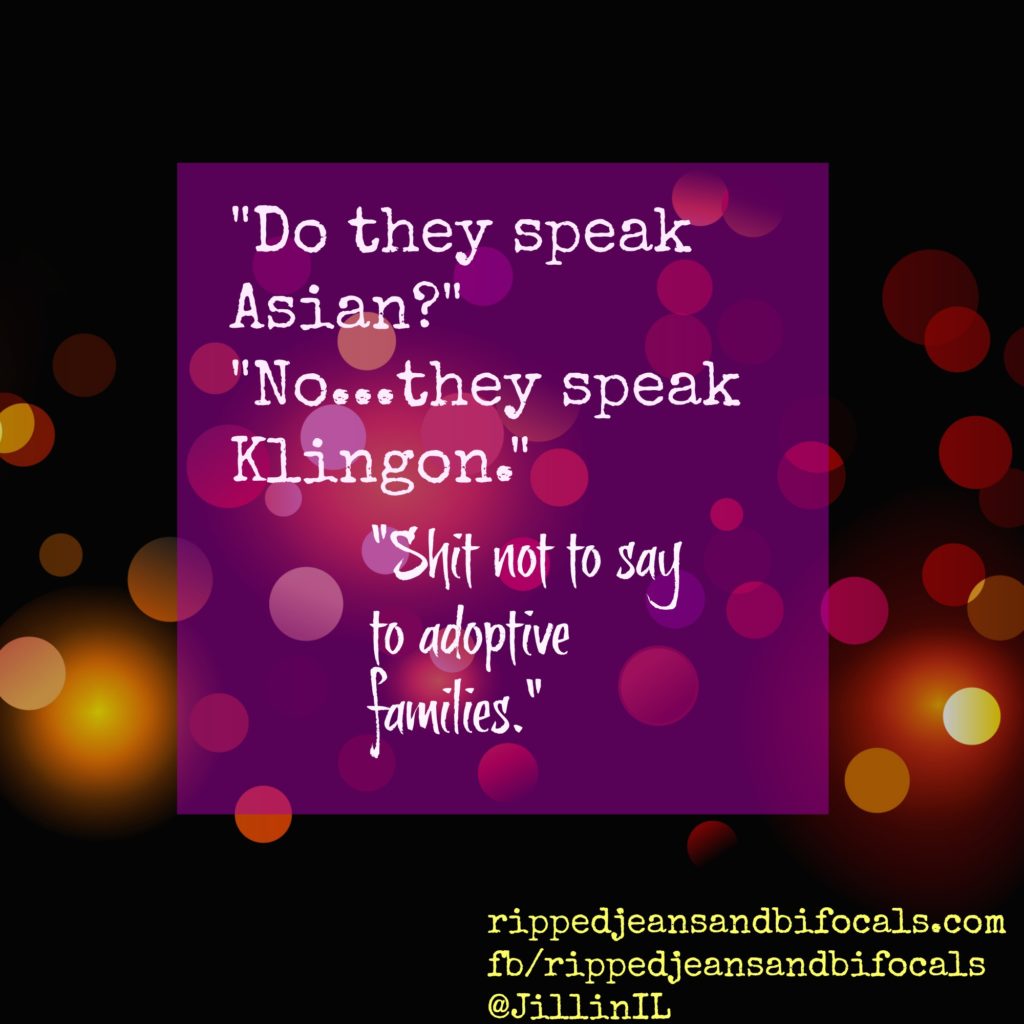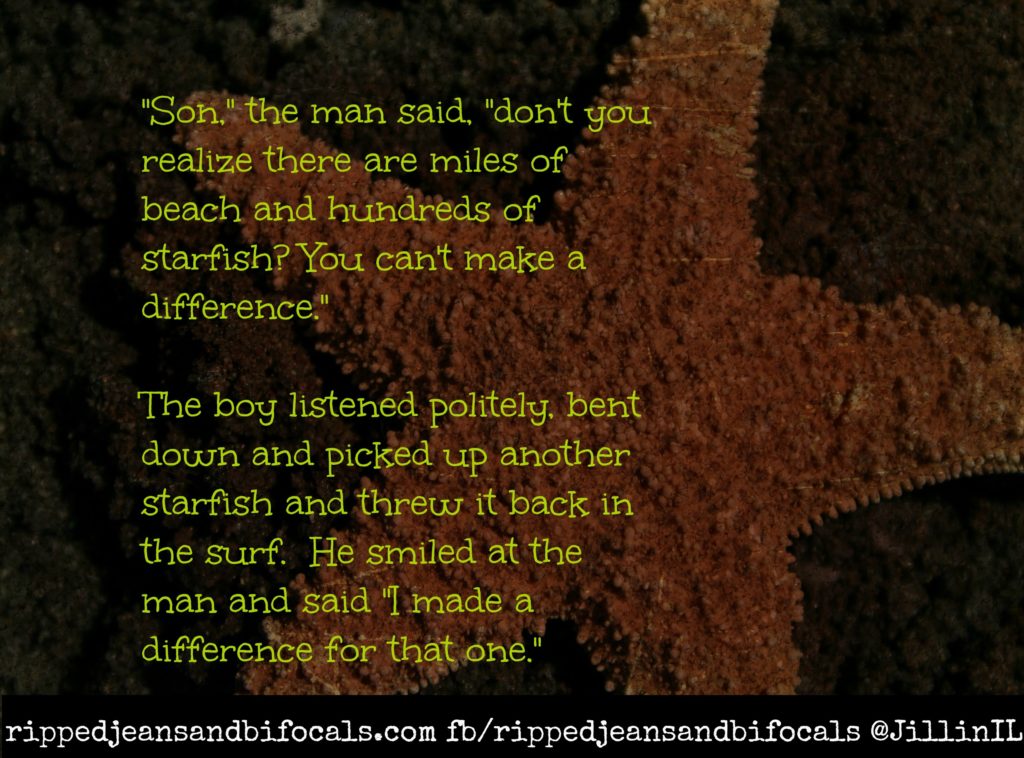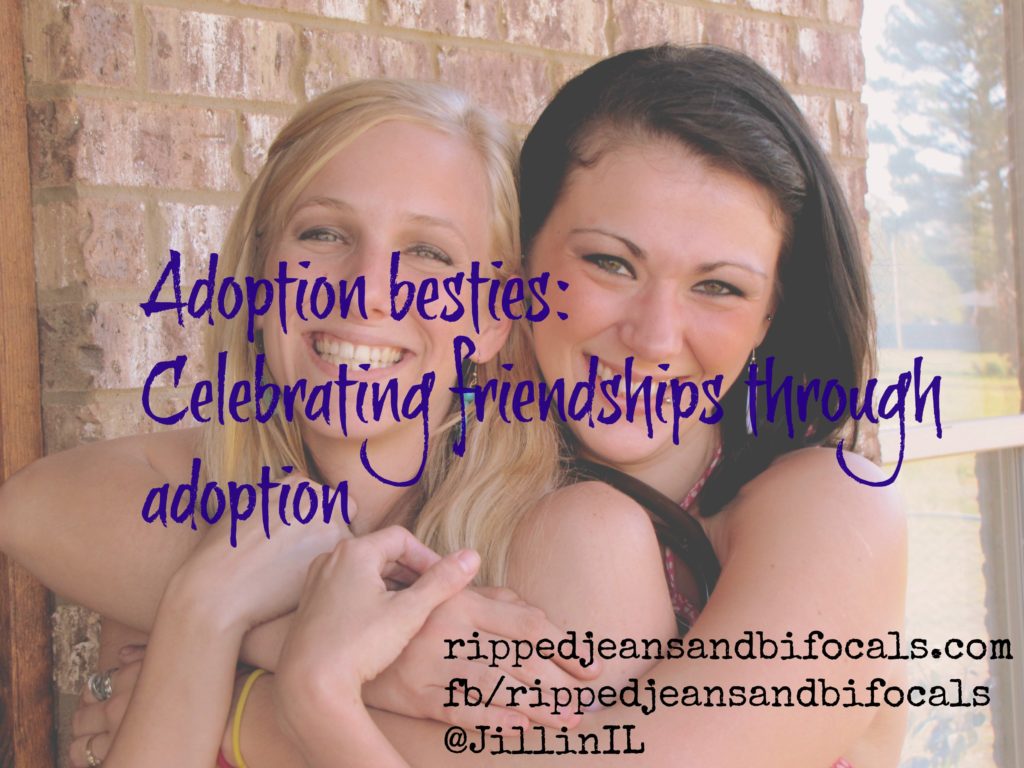 Let's make 2016 a great year, inside and outside of #AdoptionTalk.
Love,
Jill
P.S. I do feel my life is #blessed…just a little messier than I envisioned it would be but I think the beauty is in the mess.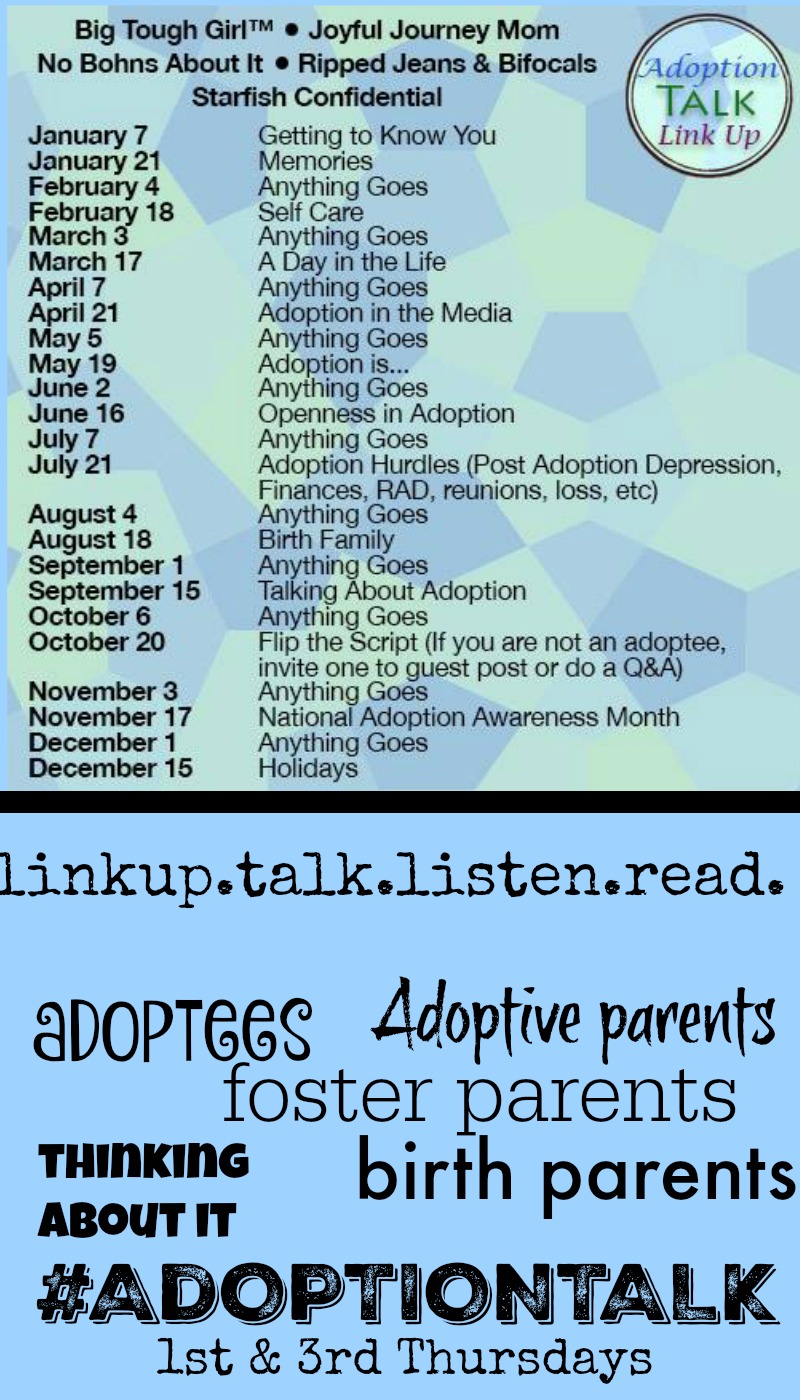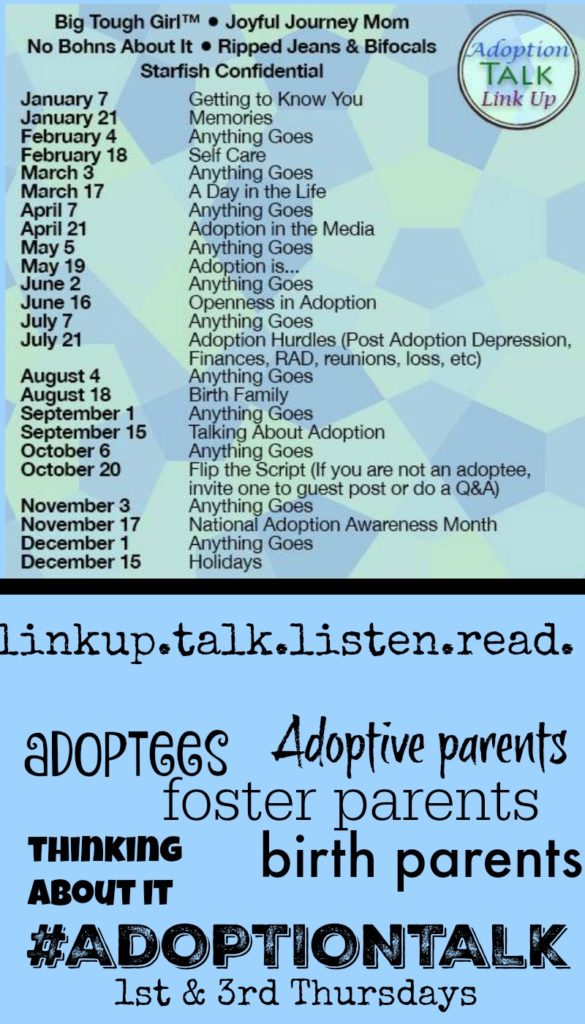 Thank you SO MUCH for reading! You can follow me on Facebook to keep up with my sass and semi-useful info and you can also follow my popular "adoption ideas" Pinterest board.
Follow Ripped Jeans and Bifocals's board Adoption Ideas on Pinterest.
Now on to the Adoption Talk Linkup!
Today's topic is Getting to Know You. Grab a button for your post and join Ashley, Erin, Jamie, Jenni, and me!
New to linking up? We'd love to have you join us, here's how.


© 2016 Microsoft Terms Privacy & cookies Developers English (United States)