2020 Disneyland Closures You Should Know About
(This post may contain affiliate links. Read my full disclosure.)
As one project comes to a close, more significant changes are on the horizon for Disneyland. New attractions are on the way, and more often than not, that means closures. In some cases, the reasons are as direct as a transplanted ride like Flik's Flyers, rebranded as the Emotional Whirlwind. In others, as with the red trolley, it could only be to make room for further construction. Fans have not been the only ones speculating over Tomorrowland's fate after Star Wars: Galaxy's Edge. It seems as though Disney is feeling the pressure to make something new out of this neglected space. Either way, with Disneyland's limited space, you usually have to throw out some old, before you can bring in the new. Here are some expected 2020 Disneyland closures.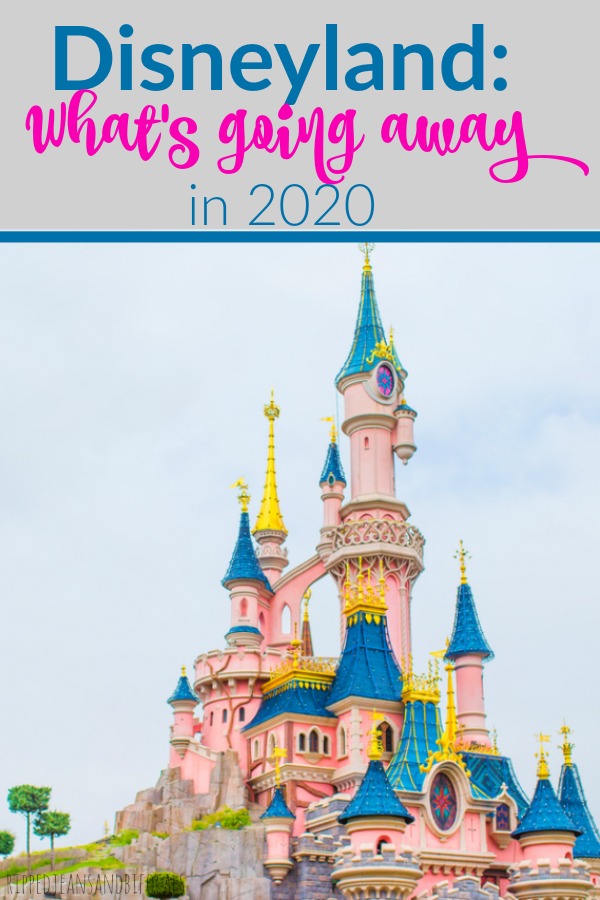 2020 Disneyland Closures You Should Know About
Star Wars: Launch Bay
So far nothing official has come out, but Tomorrowland's future is in question. The troubled land will need to lean less on Star Wars given this year's arrival of Galaxy's Edge. Once again The Carousel theater that currently houses the Star Wars Launch Bay will probably be vacant. If anything has been Imagineered to go in this place, Disney is keeping tight-lipped, but, likely, the Launch Bay will not survive the 2020 Disneyland closures.
More considerable rumors abound regarding the future fate of Tomorrowland. Bob Iger has only hinted at plans, but nothing is leaking out. There is a new queue for Space Mountain in the old Starcade which raises questions about what the previous queue area might become. Other rumors have ranged from Finding Nemo Submarine Voyage closing to complete demolition of the current Tomorrowland.
2020 Disneyland Closures: Star Wars: Path of the Jedi
Another Star Wars attraction serving as a band-aid in Tomorrowland is the show Path of the Jedi. The show amounts to a sizzle reel to recapture the essence of the original trilogy. With Star Wars Galaxy's Edge finally bringing fans in on the Star Wars world, this lackluster film should be on it's way out. The theater will probably return to showing previews for upcoming Disney films so that Great Moments with Mr. Lincoln can finally show again. Although there is no official announcement yet, the same show closed at Walt Disney World late last year to become a seasonal attraction.
Pop up Disney
If you are hoping to snap some Instagram photos at Downtown Disney during your 2020 Disneyland vacation, you will, unfortunately, have just missed the pop-up exhibit. Pop up Disney has been a vibrant and creative walkthrough experience, that allows guests to take unique character-filled photos on elaborately constructed sets. Though Pop up Disney is shutting down toward the end of this year, there is no word yet on a replacement for the space.
Mickey at Goofy's Kitchen
It has been an exciting time at the Disneyland Resort with regards to Mickey's 90th birthday celebration. There have been lots of select menu items to enjoy, and there is plenty of atmosphere. The nighttime projection show is a total blast, but unfortunately, that show will be going out by summer to make way for the return of Disneyland Forever. Other Special events honoring the Mouse will also not last the year, including Mickey's takeover as an honorary guest chef at Goofy's Kitchen. Currently, at the Disneyland Hotel, you can have dinner with Chef Mickey at Goofy's Kitchen. Unfortunately, this temporary arrangement will have to be one of the 2020 Disneyland closures
Although there will be some attractions shutting down temporarily and permanently, There is plenty that is new at the Disneyland Resort as well. Star Wars Galaxy's Edge is just the start of significant changes, including a new Marvel Land and more. What are you looking forward to most, and what would you like to see added to Tomorrowland?
Related Reading:
What went away at Disneyland in 2019
Star Wars Retail: Merchandise at Galaxy's Edge