Marvel Studios' ANT-MAN AND THE WASP now playing in theatres
(This post may contain affiliate links. Read my full disclosure.)
2018 has been an amazing year at the movies so far and there's so much more to come. I posted the schedule of Disney movie releases for the year in January, which seems like just a couple of weeks ago. It's been so fun to anticipate the release of each awesome Disney, Lucas Films and Marvel Studios movie and everything so far has been a winner. I haven't seen Solo: A Star Wars Story yet…summer travel has put us a little bit behind on family movie dates. The Incredibles 2, a Wrinkle in Time, and everything in the Marvel Cinematic Universe Movie Collection have all been wonderful…although I hesitate to use the word "wonderful" to describe Avengers: Infinity War because…well, you know.  It's still a little hard to talk about and I'm really hoping ANT-MAN AND THE WASP offers some answers and some much-needed lightness. This movie has JUST hit theaters today so I can officially say: ANT-MAN AND THE WASP NOW PLAYING! Go see it! I'm right behind you!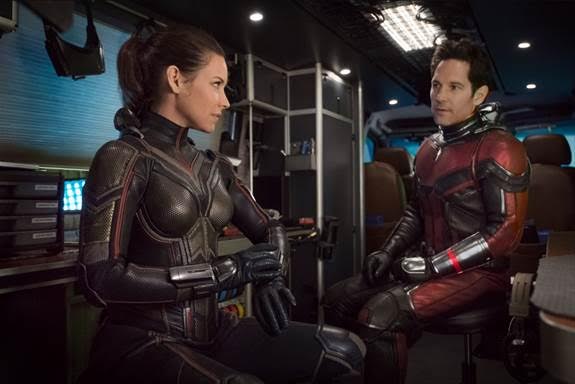 ANT-MAN AND THE WASP Now Playing in Theaters!
[Tweet "#ANTMANANDTHEWASP now playing in theaters! @MarvelStudios"]
I haven't seen the movie yet but I hope to see it opening weekend. I've heard a few things, though, from some reliable sources. First, ANT-MAN AND THE WASP takes place after the events of Captain America: Civil War. I don't yet know if this movie answers the question of why Ant-Man wasn't present in Avengers: Infinity War. Second, the movie is reported to be both funny and family friendly. Some of the Marvel Cinematic Universe Movie Collection have been a little dark for my two eight-year-olds but others have been what I consider awesome family movies. My kids have seen the entire MCU, with the exception of Avengers: Infinity War and they've done okay but we've watched most of the movies at home, so there's ample time to stop and answer questions or pause if something is too intense. Your call on whether you take your younger kids to the theater to see ANT-MAN AND THE WASP but early reviews say yes.
I also happen to know that there's a shocking mid-credits scene and an end-credits scene. Like any good Marvel fan, I know to wait until the very (very, very, very) end because the Easter Eggs in the credits are usually both entertaining and informative. So, go easy on that super-size fountain drink, m'kay? You don't want to miss something amazing and important because you had to run to pee, right?
Check out this new featurette featuring both Paul Rudd (Ant-Man) and Evangeline Lilly (The Wasp) talking about the film:
And more trailers here to get you pumped up to see ANT-MAN AND THE WASP!
MORE INFO ON ANT-MAN AND THE WASP HERE:
From the Marvel Cinematic Universe comes ANT-MAN AND THE WASP, a new chapter featuring heroes with the astonishing ability to shrink. In the aftermath of CAPTAIN AMERICA: CIVIL WAR, Scott Lang grapples with the consequences of his choices as both a Super Hero and a father. As he struggles to rebalance his home life with his responsibilities as Ant-Man, he's confronted by Hope van Dyne and Dr. Hank Pym with an urgent new mission. Scott must once again put on the suit and learn to fight alongside the Wasp as the team works together to uncover secrets from the past.
ANT-MAN AND THE WASP is directed by Peyton Reed and stars Paul Rudd, Evangeline Lilly, Michael Pena, Walton Goggins, Bobby Cannavale, Judy Greer, Tip "T.I." Harris, David Dastmalchian, Hannah John Kamen, Abby Ryder-Fortson, Randall Park, with Michelle Pfeiffer, with Laurence Fishburne and Michael Douglas.
Like ANT-MAN AND THE WASP on Facebook: https://www.facebook.com/marvelstudios  
Follow ANT-MAN AND THE WASP on Twitter: https://twitter.com/AntMan  
Follow Marvel Studios on Instagram: https://www.instagram.com/marvelstudios/