(This post may contain affiliate links. Read my full disclosure.)
If you missed my last Stitch Fix review – along with a description of WHY I'm posting my Stitch Fix reviews online and a picture of a zit inside a wrinkle – go HERE.
I'd asked my stylist to give me some great dresses and a cardigan to wear to BlogHer16 but unfortunately, the box arrived the day after I left. Boo. I also asked her to try and find two shirts that were on the style card from the shorts in my previous fix and I gave her some information about the types of accessories I usually wear with my clothes.
This is the note I got in return, so I'm excited to see that she actually is listening, and although I like the clothes I got in this fix, I'm not sure if I like the fact that I have a different stylist. Both Alicia and Sara Jayne did a great job but I think I'd be happier with some continuity:
Hi Jill, I'm excited to be styling you today! I took a look at your past fixes and great notes (thank you!) and hope to have created a collection that you'll really enjoy. I saw all the fun, flowy dresses (including that stunning printed maxi!) so I started by choosing this gorgeous bohemian print maxi dress by Papermoon for you to try! Pair it with this cozy, lightweight cardigan you requested at your conference or layer on the cargo for a trendy look! I'm also sending along this swing dress you can wear loose or belted at the waist for a more fitted silhouette. Wear it with your yellow Tieks and the cargo vest or cardi. I wasn't able to find the tops you requested in stock today (inventory is hit or miss.) Let me know if you'd like them for next time. Have a great trip, Jill!
Oh, and I'll make a confession. I totally peeked at this fix before I received it. I know I said I wasn't going to look (if you have the Stitch Fix App, you can peek at your clothes once they're shipped) but it's almost impossible not to.  But, if you do peek, keep an open mind until you get your box. You can't always get the best feel for the clothes until you see them in person.
Market & Spruce Jahana Cargo Vest:
I was kind of bummed when I saw this in my shipment. The biggest gripe I've had with my stylists is that they send me seasonally inappropriate clothes. If you've never been to San Antonio, it is pretty much always summer here. Our July/August temperatures are well over 100 degrees and the humidity is brutal. So, the fact that I got a cargo vest in August did not thrill me.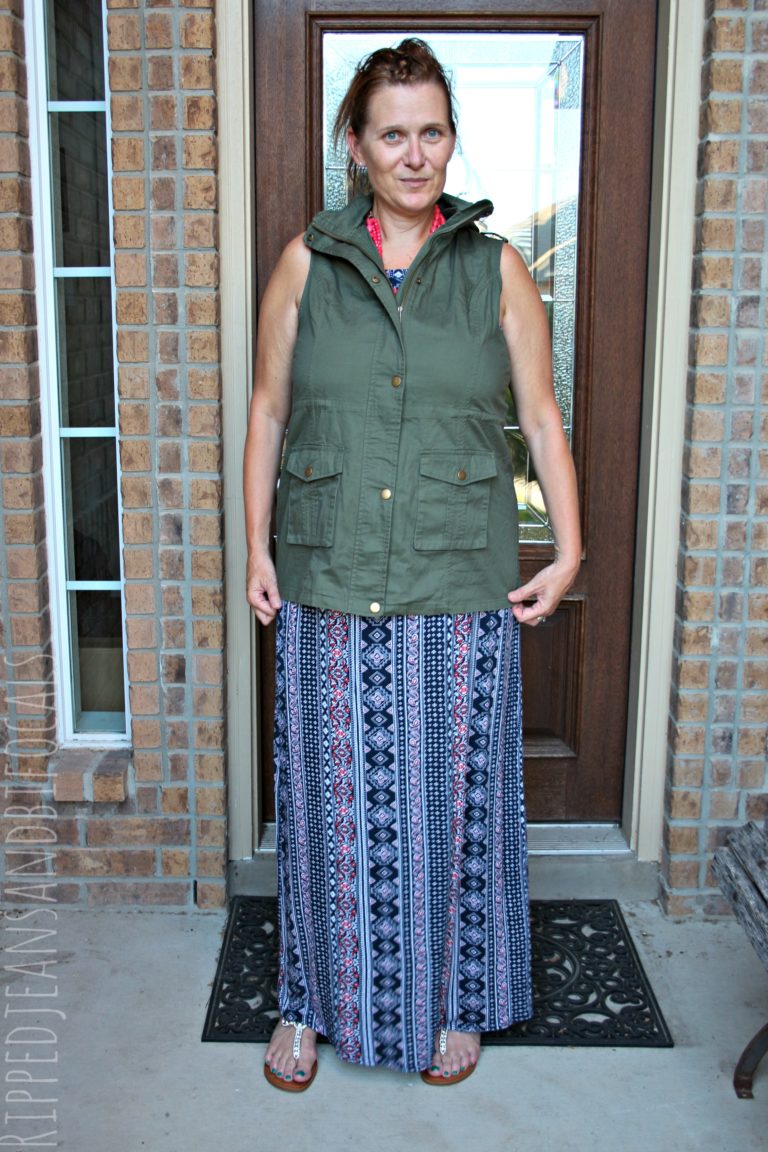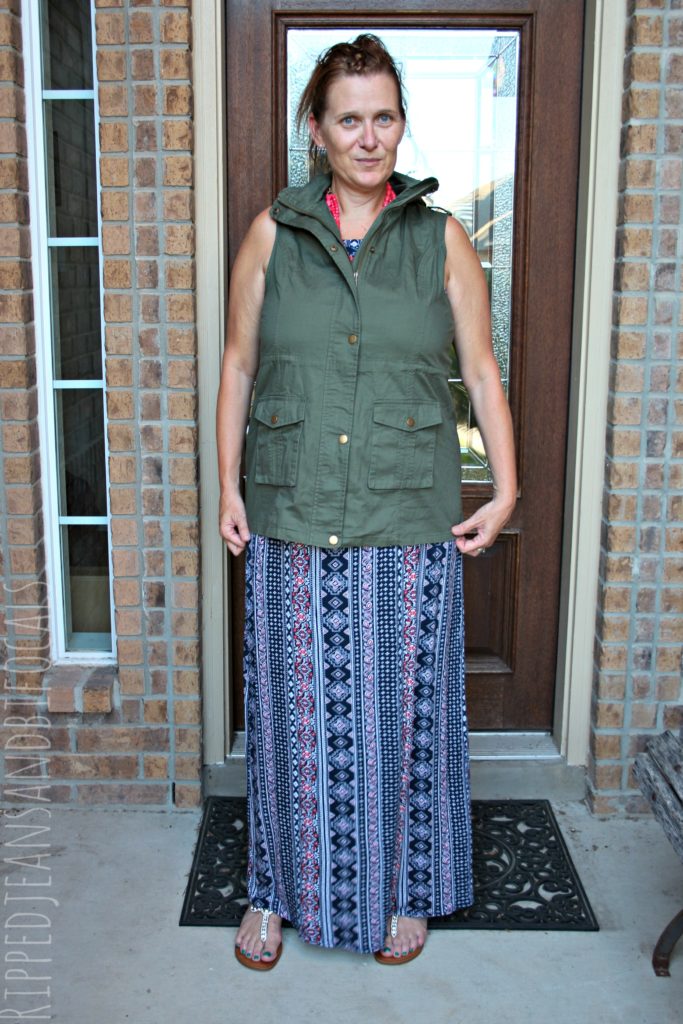 The stylist's suggestion was to wear it over the dresses for a "trendy" look and while I appreciated getting the opportunity to go outside the box, this look wasn't for me. I felt sloppy wearing the vest over a dress and it just didn't look right. My photographer (AKA my very patient and understanding husband) teased me and told me I looked like I was about ready to pull some lures or fishing line out of the pockets. Not exactly the look I was going for.
In all seriousness, I do like the vest and I like the fit but I have a jacket with sleeves that's constructed almost the same way and with the high temps here (and the fact that my internal body temperature tells me it's always summer) I don't think I'd get a ton of wear out of this vest. It would look really cute with some jeans and boots this fall but I don't see myself reaching for it often.
The verdict? Sending back – just not worth the investment.
Papermoon Danyela Knit Maxi Dress:
My stylist hit the mark with this one. BUT. I have a blue print maxi that's pretty similar, although it's in a dressier fabric. This fabric is deliciously soft jersey, the elastic waist is really comfy (and forgiving) and the length is nice and long. I can easily wear wedges with this one and I'm 5'11, so it probably wouldn't be a great fit for someone who is a lot shorter than I am, unless you're willing to have it altered. I have on flats in the picture and the dress skimmed the floor.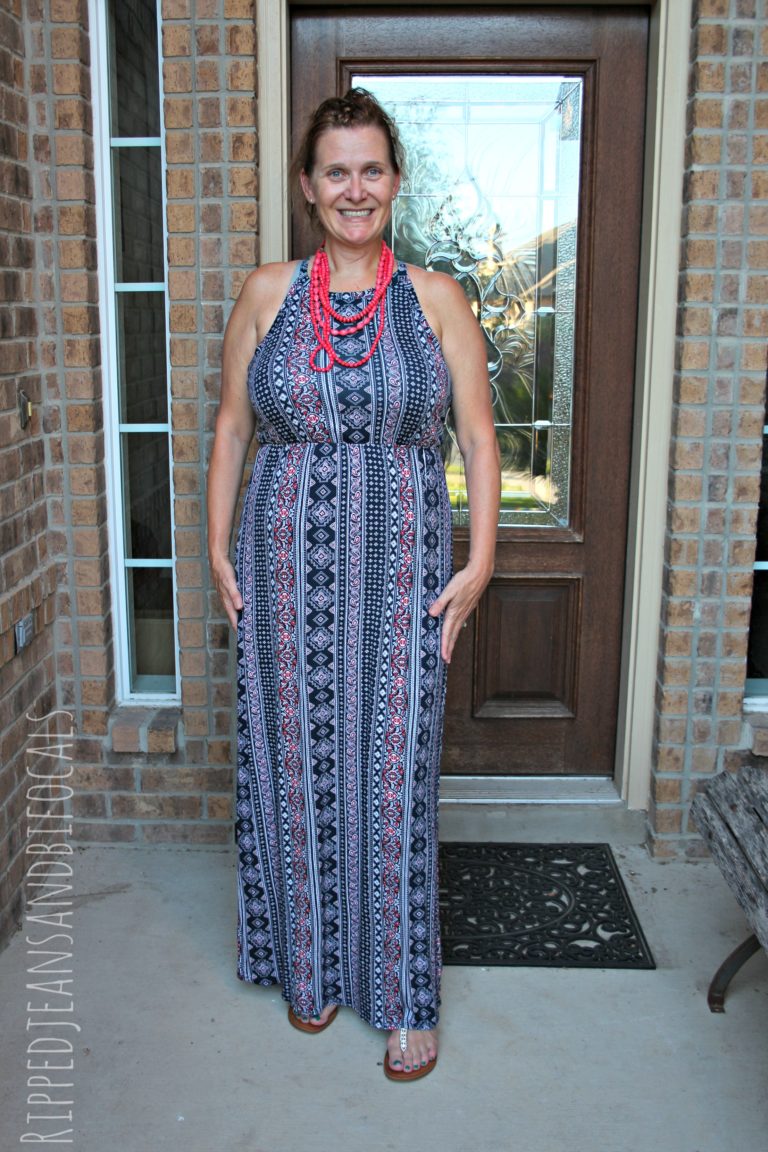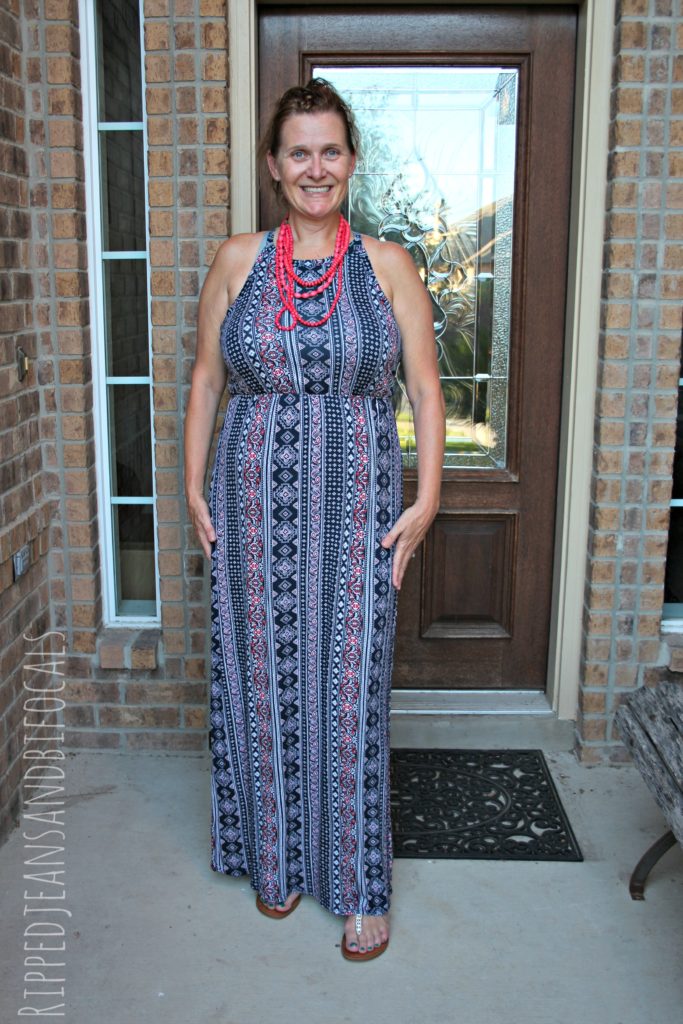 The verdict? Sending back, although it was a hard decision. If I didn't have something similar in my closet, I'd have kept it.
Renee C Porsha Knit Swing Dress:
I saw this in the preview (I know, I'm not supposed to be peeking) and I was kind of "meh" about it. It's black shift dress with white stripes. What's so exciting about that?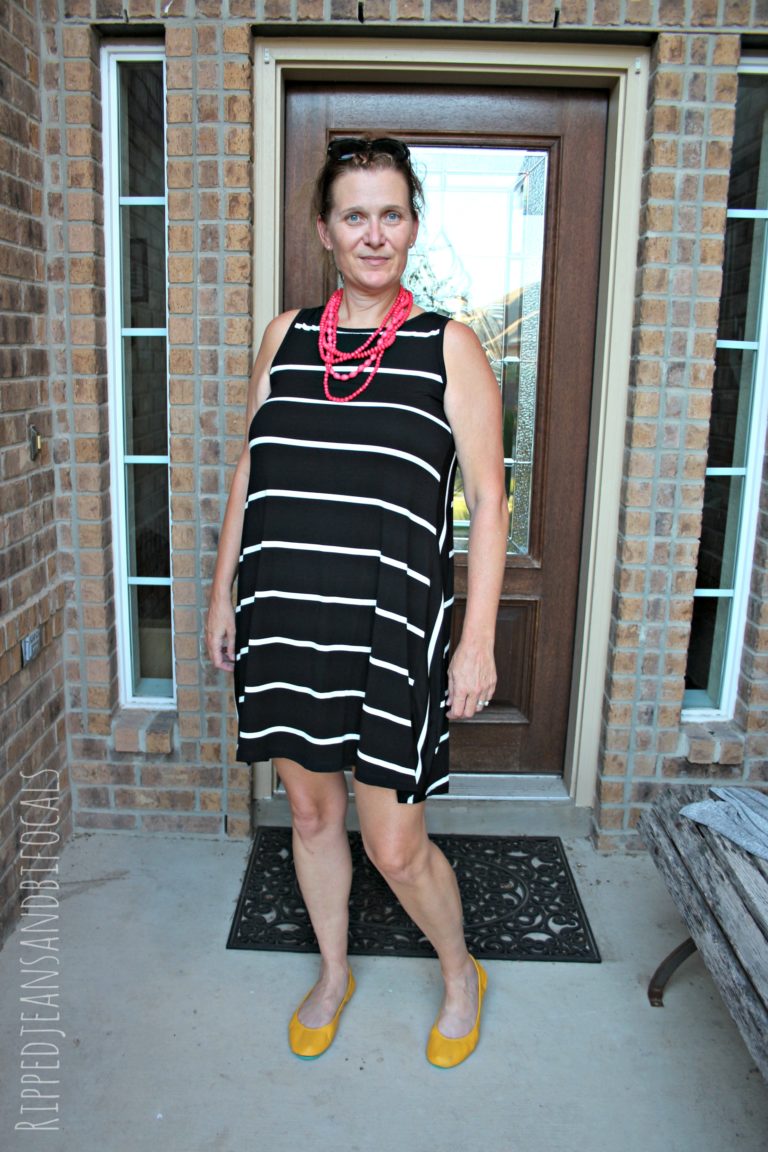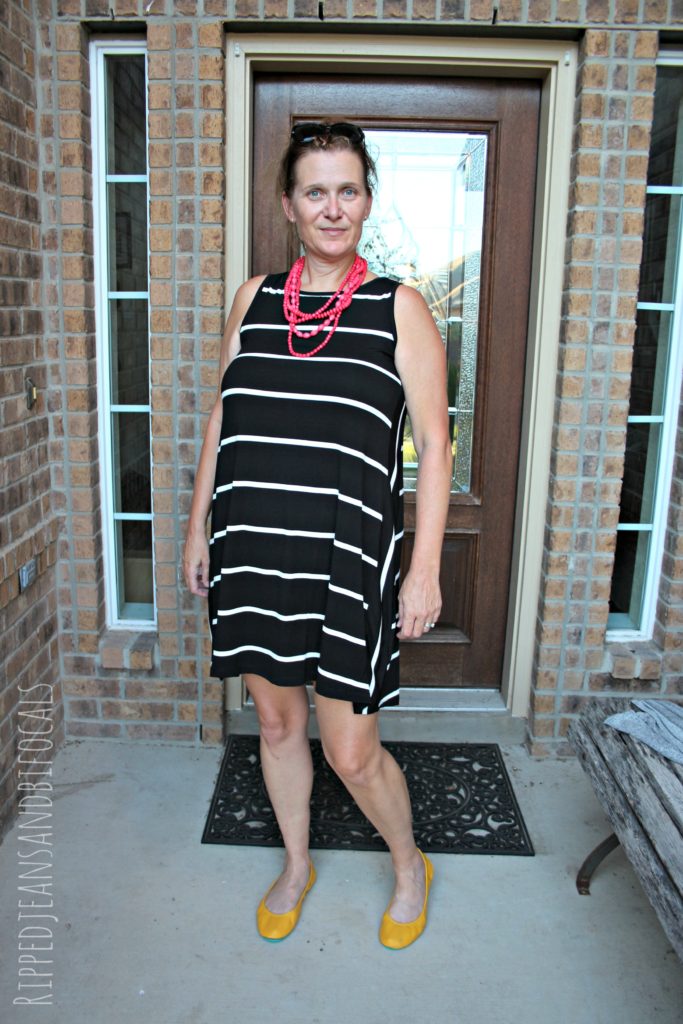 I actually like this one a lot and will get a lot of wear out of it. It's got a really fun detail on the side and flares out at the bottom. It will be easy to dress this one up or down. It's nice and soft and although I usually stay away from horizontal stripes, I find this one to be pretty forgiving.  My stylist suggested I belt it which I'm excited to try.
The verdict? Keeper! I'll be taking this one with me when I go to Family Forward in Orlando next month.
Market & Spruce Bri Knit Cardigan:
I specifically asked for a cardi and I love the softness of this one. It's nice and flowy and doesn't have buttons which I really love, for some reason. Cardigans work great for me because they allow me to take my summer dresses a little further into the fall and because my body temperature is a thing of constant change right now.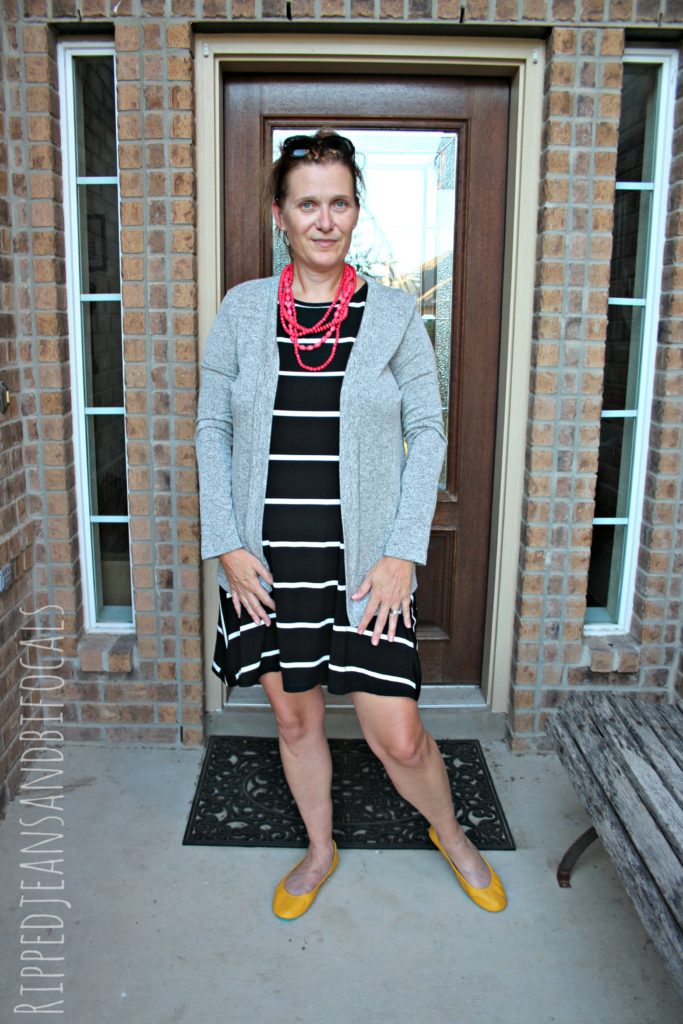 The verdict? Keeper, although part of me wishes it were a more exciting color.
Market & Spruce Hilbert Crochet Tie Waist Tunic
I decided this wasn't my style when I saw it in the preview and seeing it in person affirmed it. However, when I tried it on, I liked the way it looked, even though I've never been a fan of the anything that ties at the waist.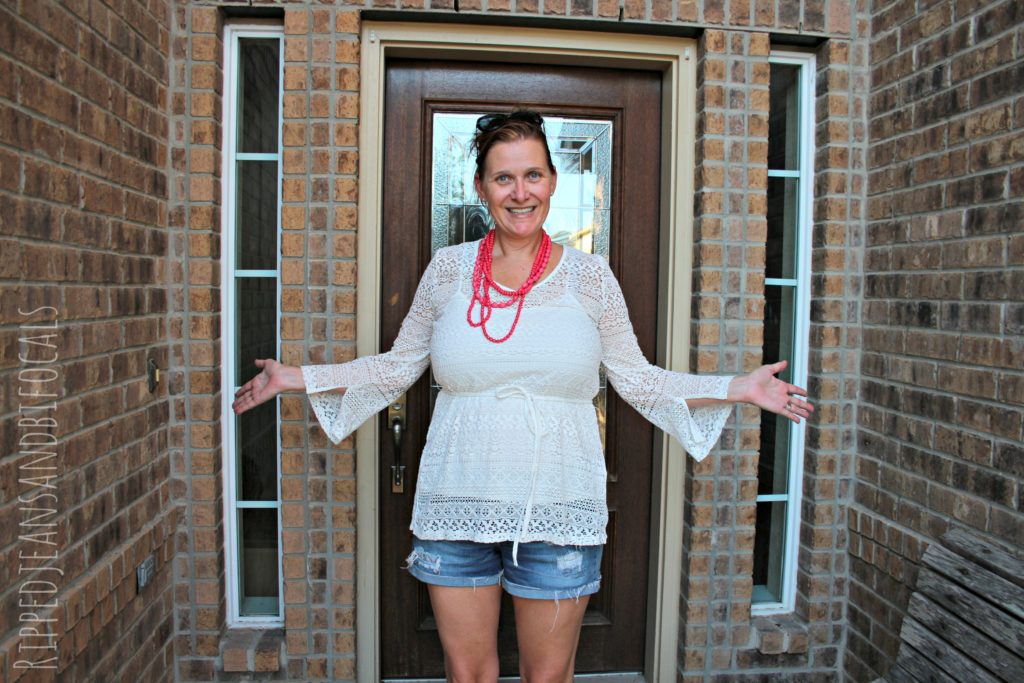 I liked the crocheted fabric but this didn't feel good and seemed cheaply made. I think the attached tank top was a little too tight for me and it was made out of a synthetic material which is almost always a no-no for me, especially if it's something fitted. The attached tank top has snaps (it can be removed) which was totally necessary to put it on without getting tangled up in the straps (or maybe that's just me) but there's just something about an attached tank top that I don't like.
The verdict? Easy decision – send back.
So, even though I only kept two out of the five items in this box, I still call the fix a win. The clothes were the perfect balance between being in keeping with my tastes and lifestyle and letting me try something that I probably would not have picked out for myself.
If you think you'd like to try Stitch Fix you can use this link to sign up and I'll get a few pennies knocked off my next fix. It's pretty easy to discontinue or suspend your fixes if you decide this service isn't for you.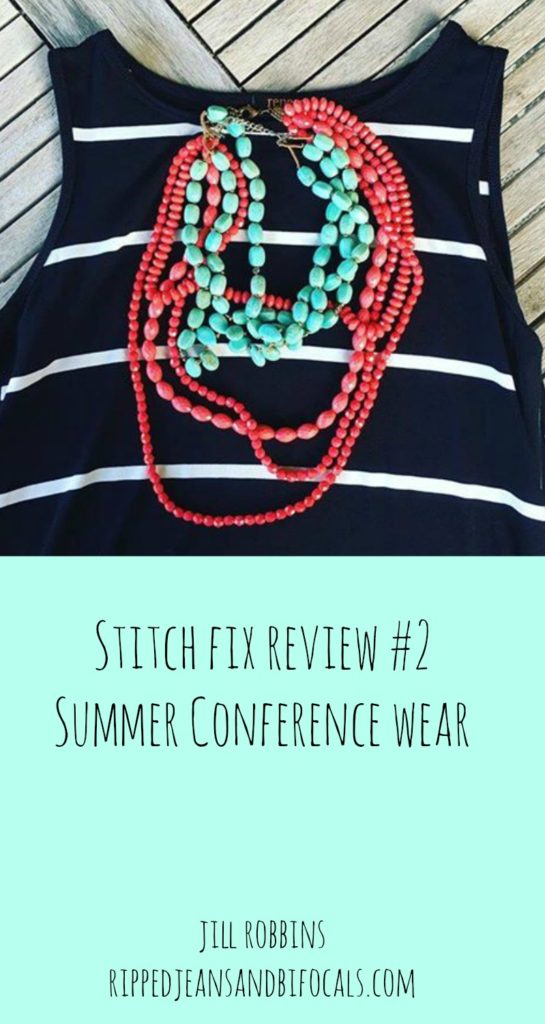 Thanks for reading!

If you're interested in seeing the kinds of clothes I pin so that my stylist can get a better idea of what I like, follow this Pinterest board:
If you enjoyed reading this post, please give me a vote on Top Mommy Blogs my clicking the button below. It's super easy and helps my site A TON.