China adoption, the Olympics and a whole lot of unknowns
(This post may contain affiliate links. Read my full disclosure.)
The first summer Olympics I have memories of are the 1976 games in Montreal. Because Nadia Comaneci. I was ten years old and in awe of her balance beam mojo, her cute ponytail and her fleeting smiles…because I guess Romanian gymnasts were supposed to be super serious but she showed us a little glimmer of her personality. I was six years-old during the Munich games of 1972 – same age my boys are now – but I don't remember watching.
My two six-year-old boys are fairly interested in the Olympics. Actually, they're more interested in Harry Potter right now but they're at that age where they're just starting to participate in sports, so watching people on TV play soccer and swim really fast is a neat glimpse into what you can achieve if you work really hard. And, when you don't cry when your mom tells you to put your cleats on.
My boys have shown a lot of interest in the diving. It makes me a little scared of the shenanigans they'll attempt the next time we go to the pool. They've also really liked watching both the men's and the women's gymnastics competitions and have been using my Bosu ball trainer thingy as a springboard to vault over the back of my couch. Good times.
What's interested my boys most, though, is watching the Chinese Olympians. They're just starting to connect the dots with some of their China adoption and heritage stuff, and although they certainly know they're adopted from China, their everyday existence is pretty much like that of every other kid in our neighborhood. The fact that they look different than my husband and I doesn't really have much importance yet. It will at some point, I suspect. I'll show up at soccer practice and some nine-year-old punk will do a double take and point out the fact that my sons do not look like me.
My kids have some heightened interest when it comes to the Chinese athletes. At six, they pick up on the physical similarities. They've asked more questions this past week about our time in China and about what they were like as "babies." Kyle was three when met him and Zack was two so I don't have any memories of them as babies that don't come from a picture but they like to hear about their early days with us. So, I tell them. We look at pictures and we watch videos. We talk about visiting China one day but for now, the bazillion pictures I took with these very times in mind will have to do.
[Tweet "Adoption, the Olympics and a lot of unknowns #adoption #AdoptionTalk"]
One of the hardest aspects of our adoptions is not having any clue as to who the birth family is. No pictures. No medical information. No family stories to pass on. No history, just holes and questions that will always be unanswered. It's something that parents who adopt from China learn to accept, although there are the few who go in search of the past.
There's no process in China for giving a child up for adoption. When the birth parents make the decision not to parent, the child is usually left in a public place but in a safe enough place where he'll be found. An ad is placed in the newspaper – an odd kind of lost and found – and when no one comes forward, the children become wards of the government. Some are made available for adoption and up until very recently, all children adopted out of China were adopted internationally, largely by Americans although there are a handful of other countries that participate in the China adoption program.
The child's life on paper begins when he's processed by the government. Kyle was found when he was just a few days old. Zack was four months old. We know nothing beyond that and their situations bring a lot of questions. Although I feel only love and gratitude for their birth mothers, the lack of information eats at me. How many people out there share their DNA with my children? Are there grandparents? Aunts, uncles, cousins? Biological siblings? The fact that I will never know doesn't stop me from wondering.
I find myself watching the faces of Chinese gymnasts and divers and yes, even the table tennis players, even though that's totally cliche. I scan the faces of their coaches and their family members in the stands looking for…I don't know what. Similarities? Expecting to "feel a feeling" or have a hunch?
I know my kids' thoughts on this don't run as deep. They're too young now but they might one day ponder things as I do. For now, they're content with turning my living room upside down with their crazy flips and tumbles.
Life is all about crazy flips and tumbles. Adoption adds a few little extra twists and turns, right? Things are humming along and one little thing reminds you how your family is put together just a little bit differently.
Thanks for coming to check out our twice monthly Adoption Talk. Today's prompt was "birth families" which is a hard one for me to get my mind around sometimes. For some more perspective, check out the collection below.

Follow Ripped Jeans and Bifocals's board Adoption Talk Linkup on Pinterest.
 If you have an "adoption" board on Pinterest, just click on the image below to pin: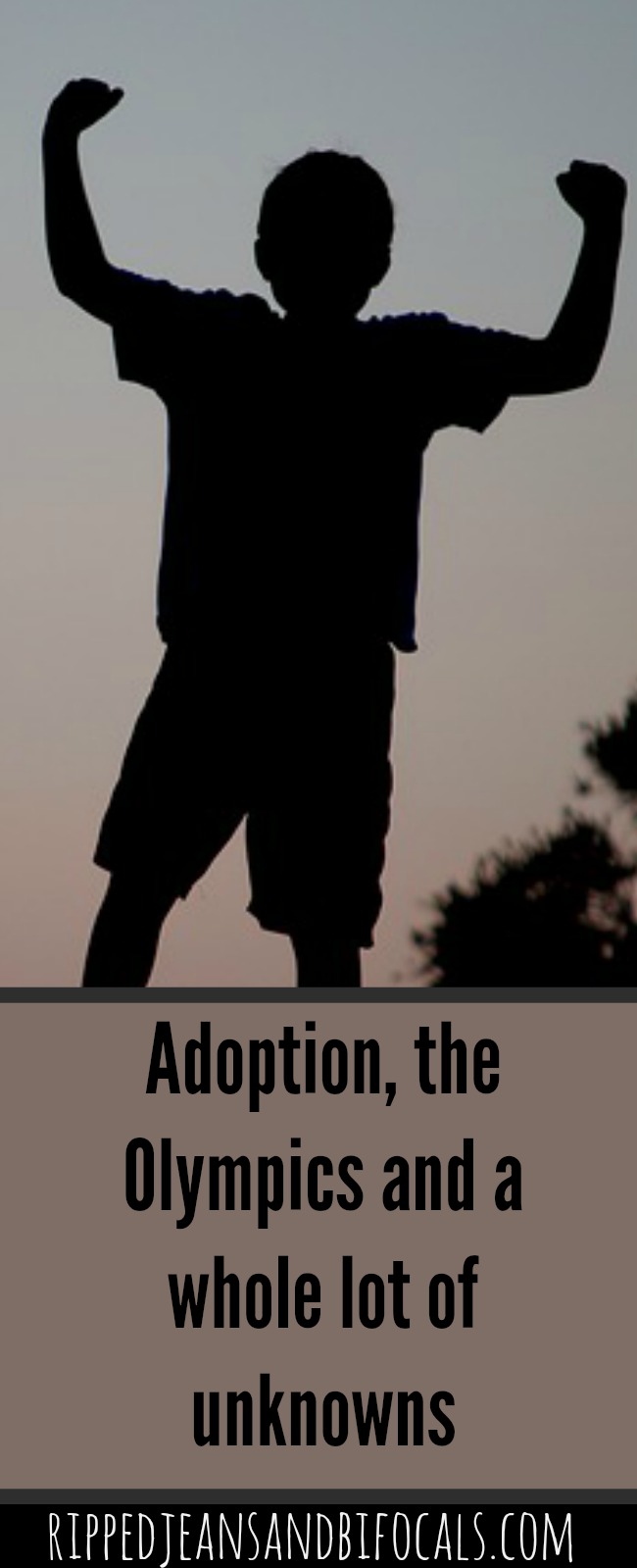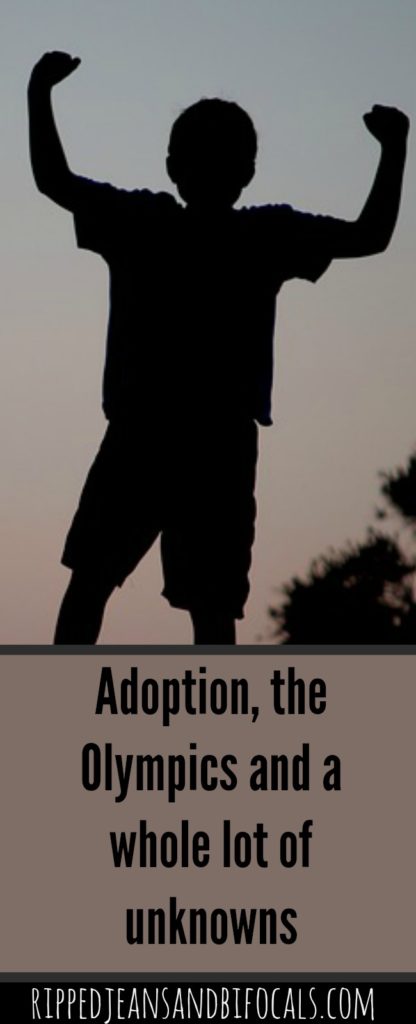 Now on to the Adoption Talk Linkup!
Today's topic is Birth Families. Grab a button for your post and join Ashley, Erin, Jenni, Juliana, and me!
New to linking up? We'd love to have you join us, here's how.