Old-Fashioned Rocky Road Ice Cream Soda
(This post may contain affiliate links. Read my full disclosure.)
This shop has been compensated by Collective Bias, Inc. and its advertiser. All opinions are mine alone. #SoHoppinGood #BlueBunny #CollectiveBias rocky road ice cream soda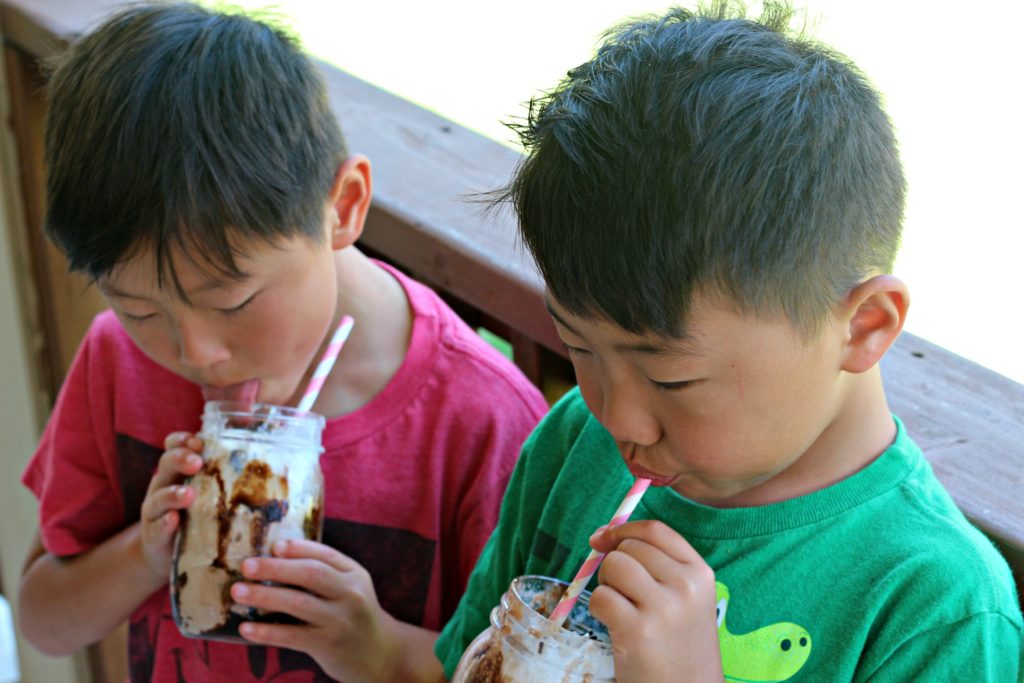 I am all about hanging on to every last drop of summer. It's disheartening that we're up to our elbows in school supplies in July. It seems like we barely have a chance to enjoy summer before our inbox smacks us over the head with back-to-school reminders. Sigh. It is what it is but that doesn't mean I can't treat my kids and celebrate summer and all things fun as we get ready to begin a new year. We've really had a great (and busy!) summer and I'm going to squeeze every bit of fun that I can out of this season. And, all things fun means ice cream, aimright? My kids and I had a blast making these yummy desserts. This old-fashioned rocky road ice cream soda with Blue Bunny® ice cream is a new favorite at our house and the perfect treat to celebrate the end of summer. Or any old time.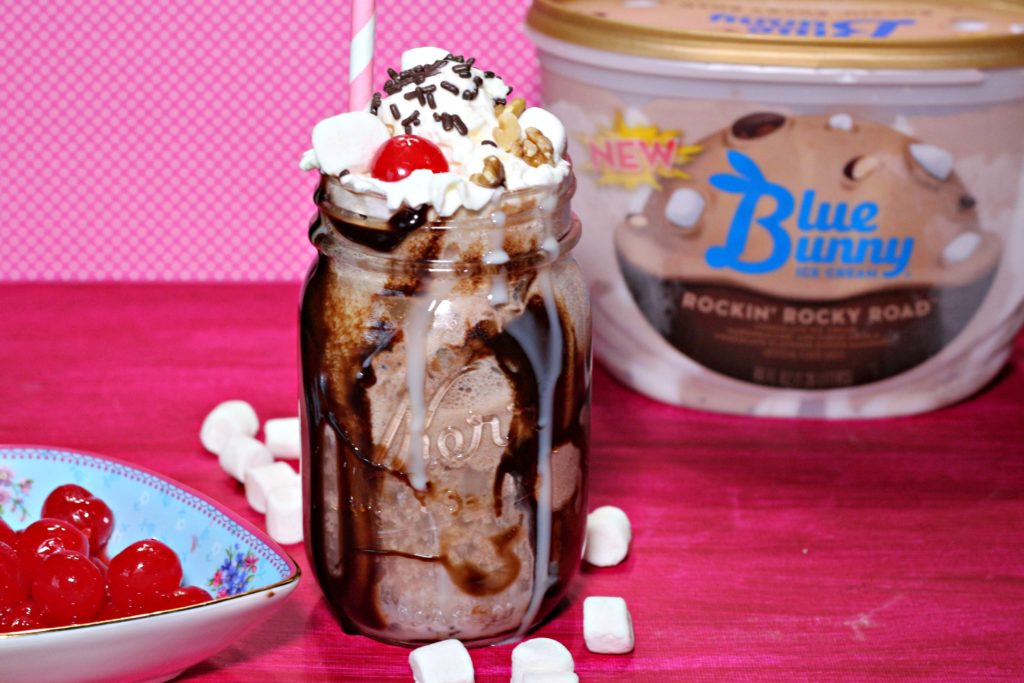 The new Blue Bunny® treats give classic flavors a fun, unique twist and are perfect treats for the entire family! Ice cream is supposed to be fun, right? Right. They also make cakes. "Have your cake, it's ice cream, too." Sounds good to me.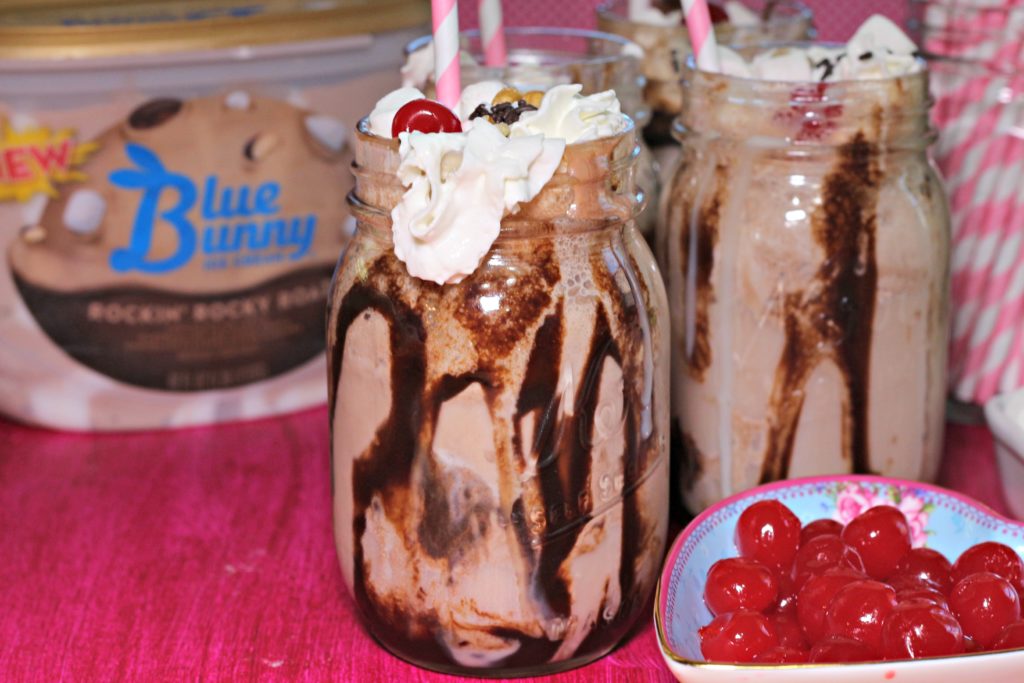 How to make an old-fashioned rocky road ice cream soda
Ingredients:
Blue Bunny® Rockin' Rocky Road™ Ice Cream
Chocolate Syrup
Sweetened Condensed Milk
Club soda or unflavored seltzer water
Whipped cream, chopped walnuts, mini marshmallows and chocolate sprinkles for garnish
Maraschino cherries! You can't have an Old-Fashioned Rocky Road Ice Cream Soda without the cherry on top, can you?
This is easy-peasy to put together.
[Tweet "Make old-fashioned ice cream soda with @Blue_Bunny ice cream @Walmart #AD #SoHoppinGood #BlueBunny"]
I used 8-ounce Mason jars here. They're just so fun!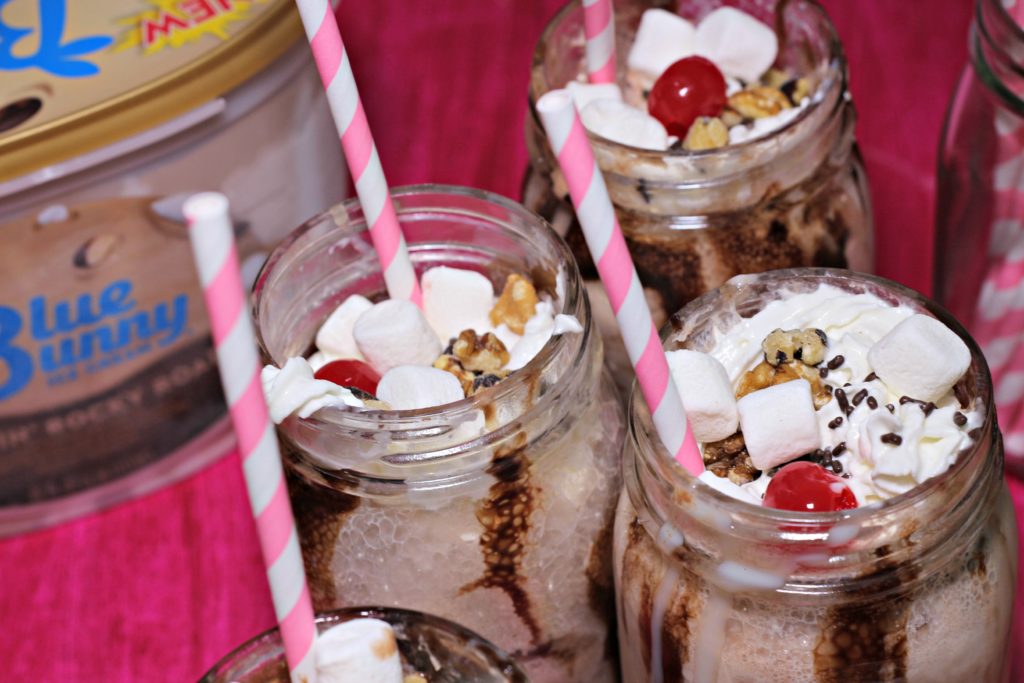 I drizzled chocolate syrup inside the rim of the mason jars, like so: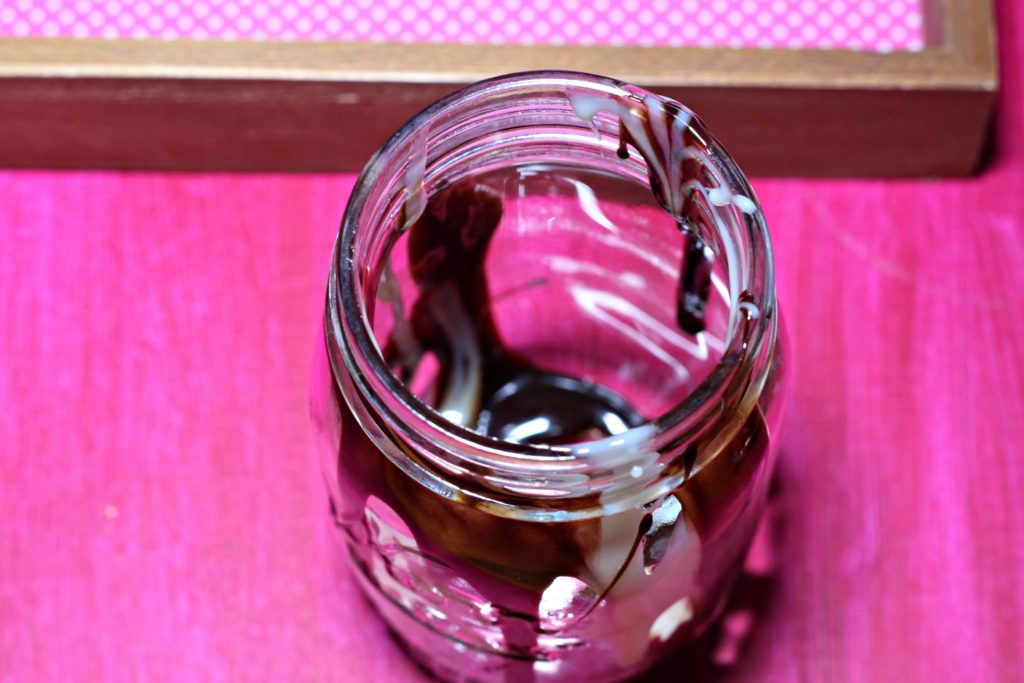 Then I drizzled sweetened condensed milk on top of that…about a teaspoon per jar.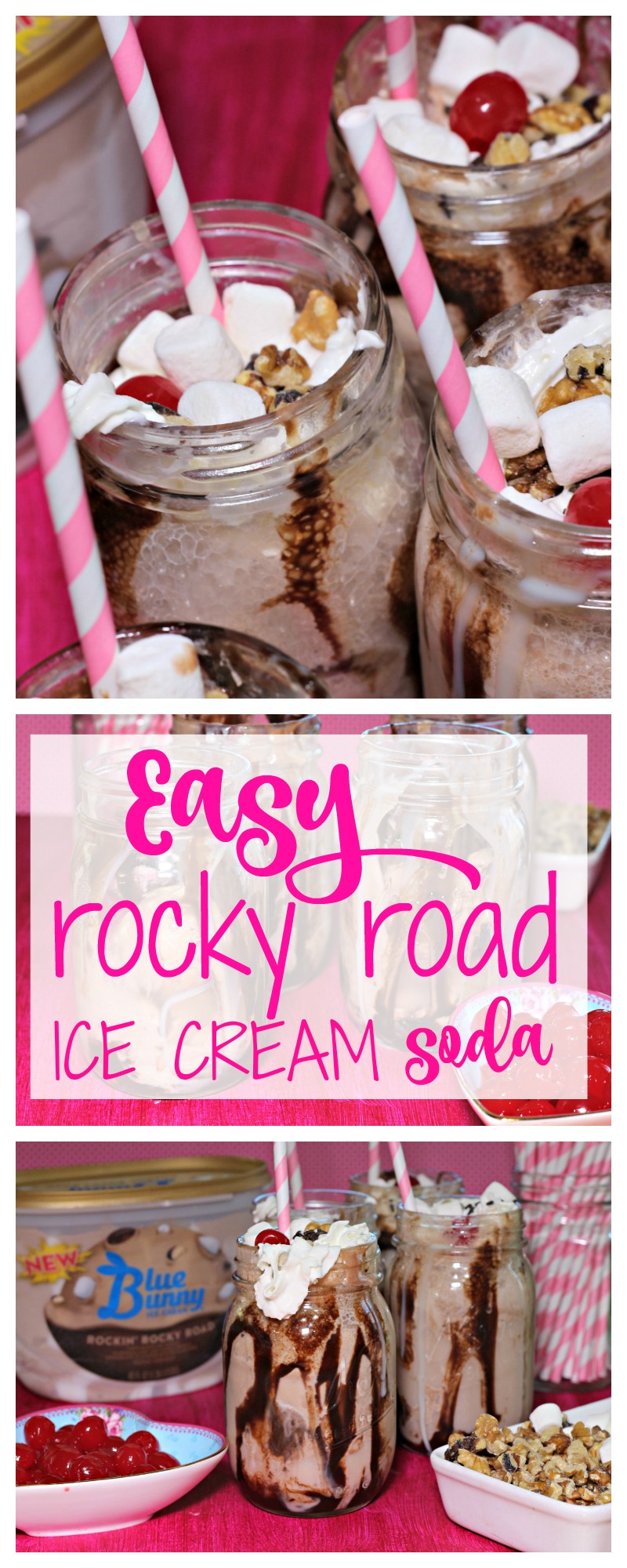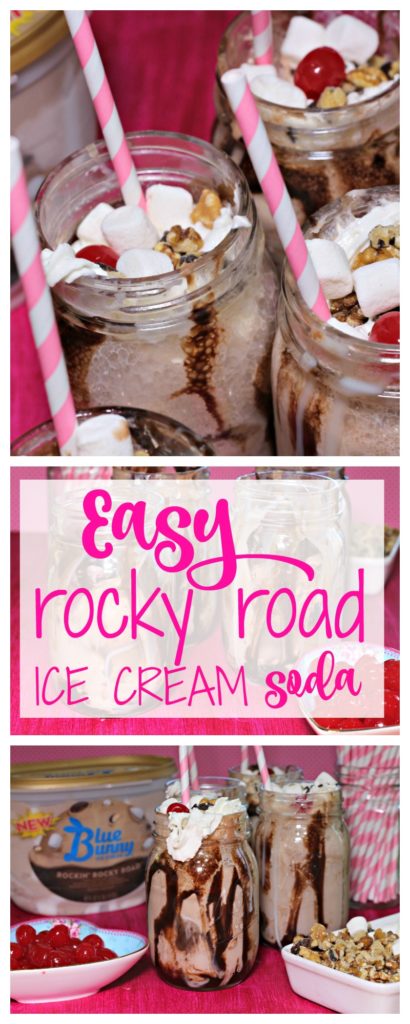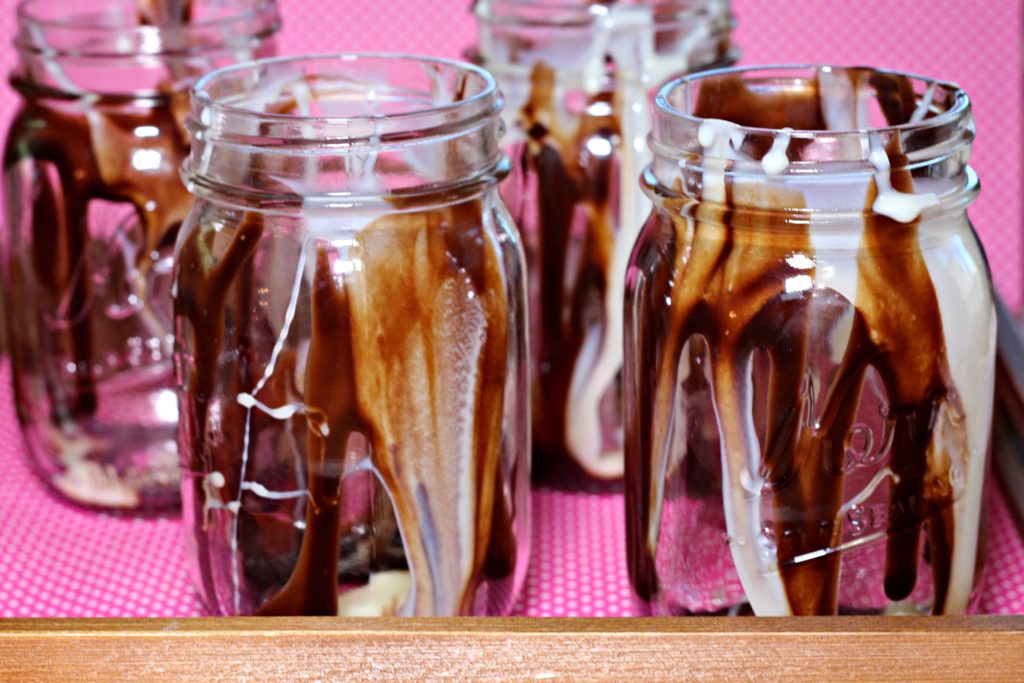 Use two generous scoops or three smaller scoops of Blue Bunny® Rockin' Rocky Road™ Ice Cream. I found using three smaller scoops is easier when using a mason jar.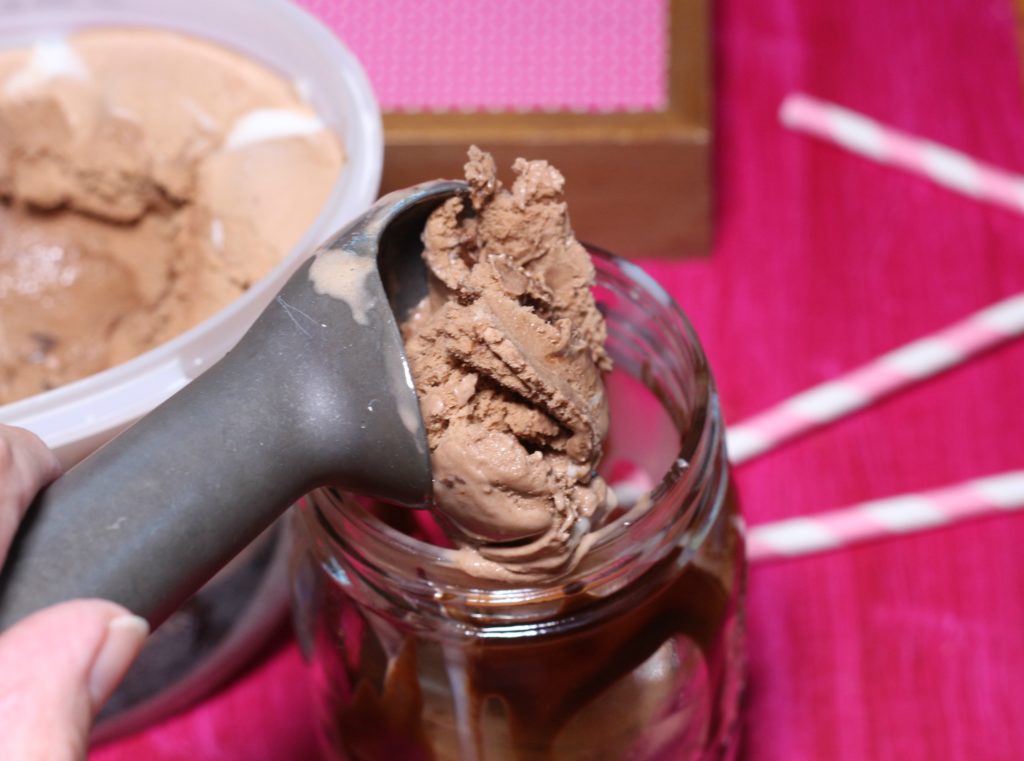 We found all of the ingredients to make these delicious treats at Walmart. Easy peasy. Blue Bunny® products are available at Walmart stores nationwide.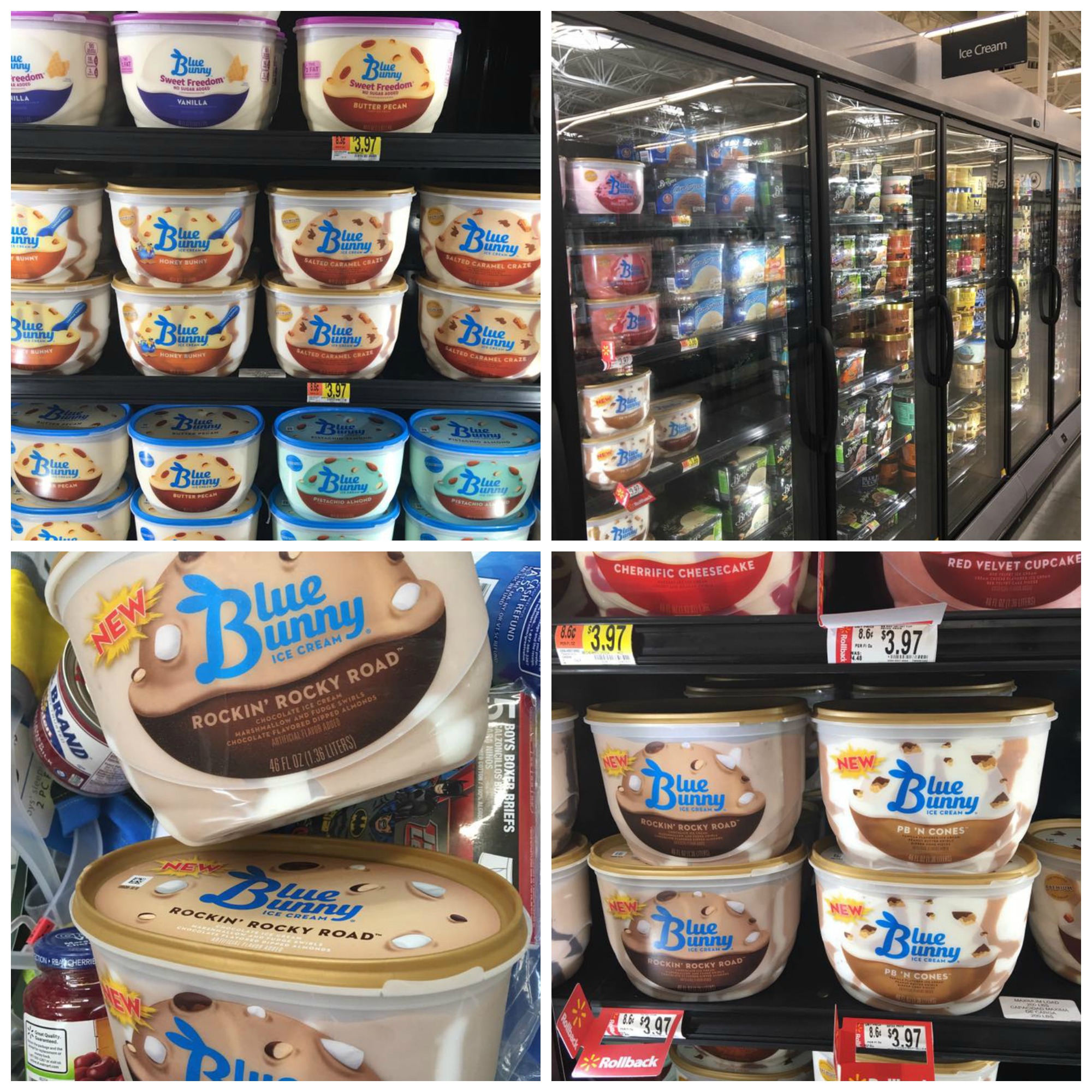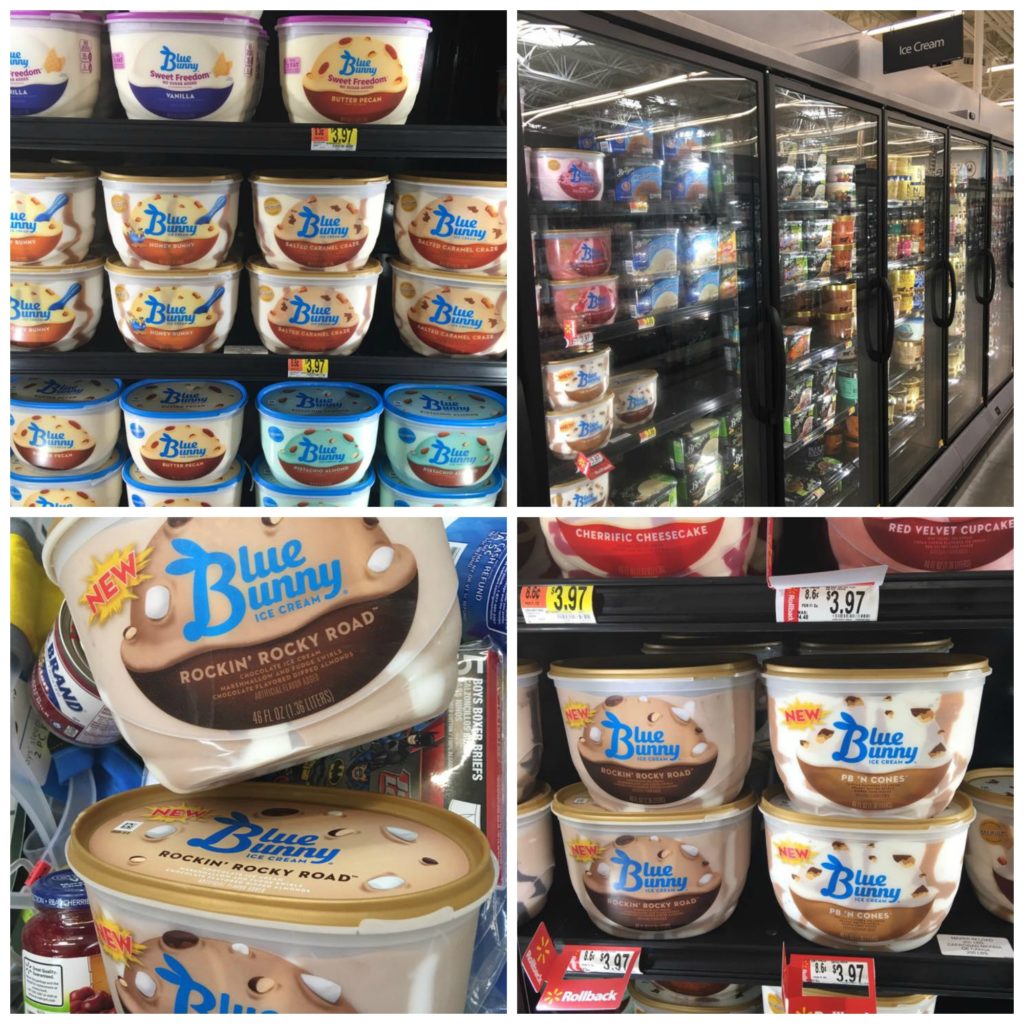 Fill the glass with cold setlzer water. You CAN use flavored soda in a pinch but the other ingredients have so much sweetness, plain club soda or seltzer water works best.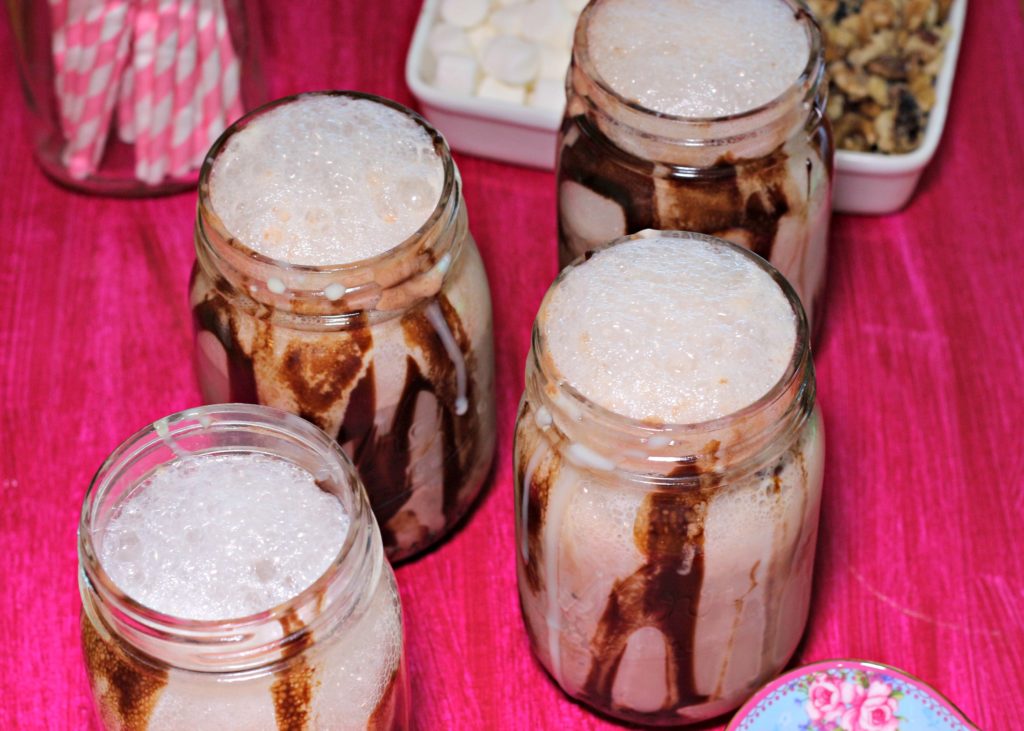 Top with whipped cream, chopped walnuts, mini marshmallows, and of course, a cherry!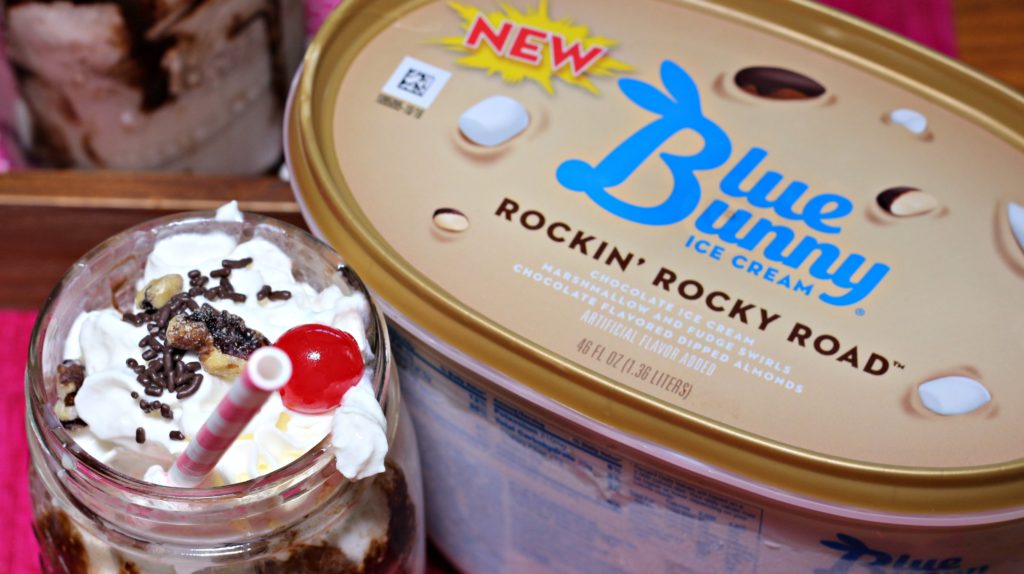 Serve with a straw and a spoon to make sure you get every last drop of deliciousness!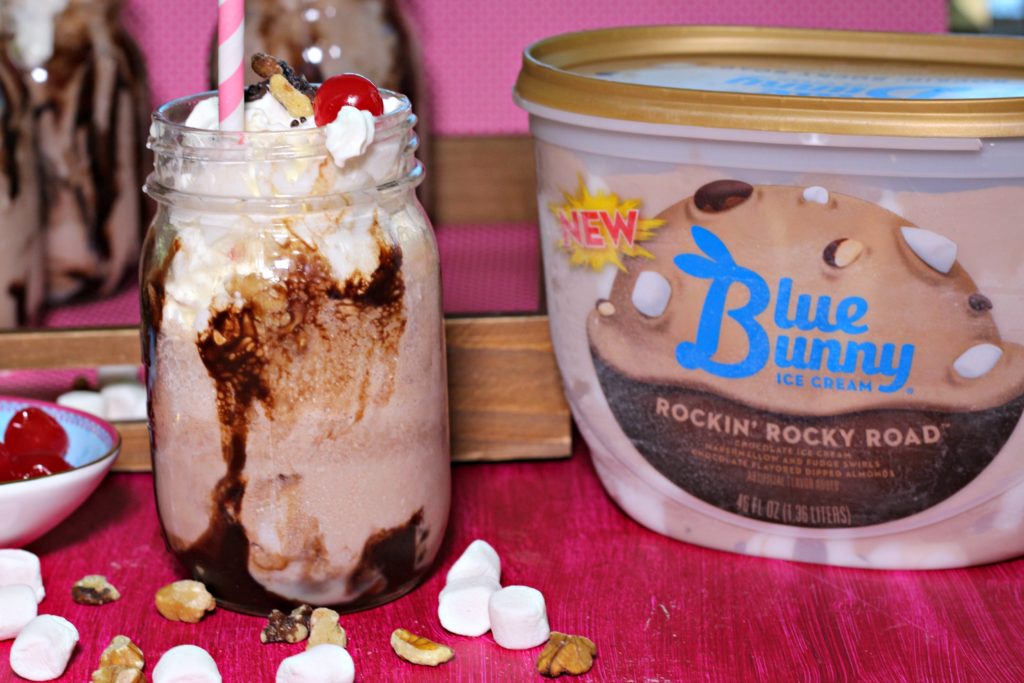 These old-fashioned rocky road ice cream sodas are such pretty treats. I love pretty things but the true joy comes from slurping these babies down, not looking at them.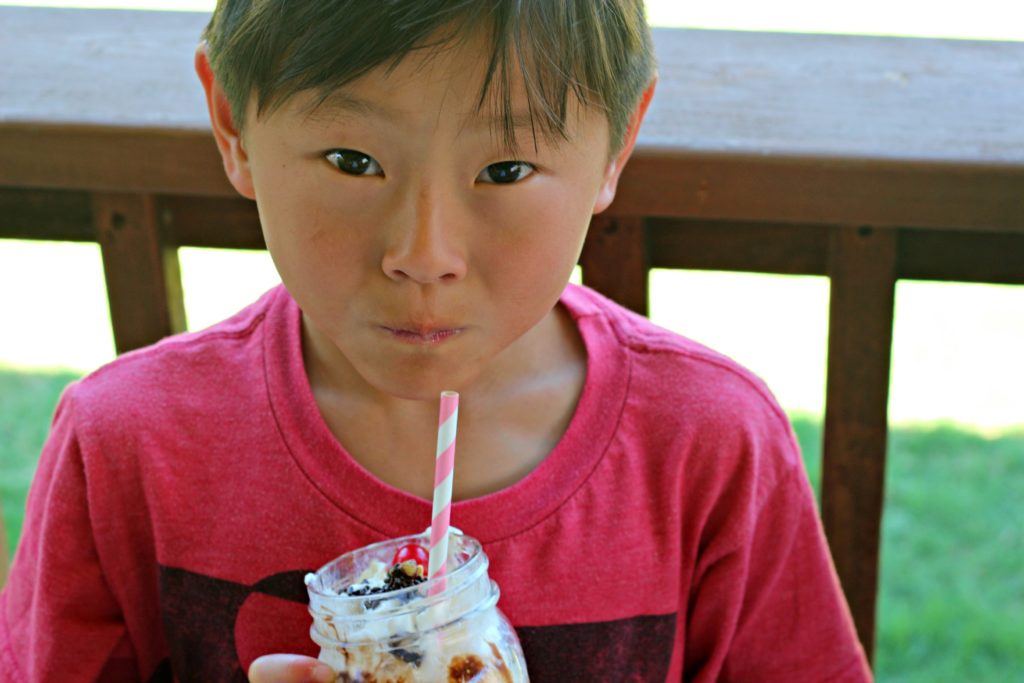 Making these yummy ice cream sodas was half the fun. IIt's a yummy way to cool off, have family time and reflect on our best moments of the summer.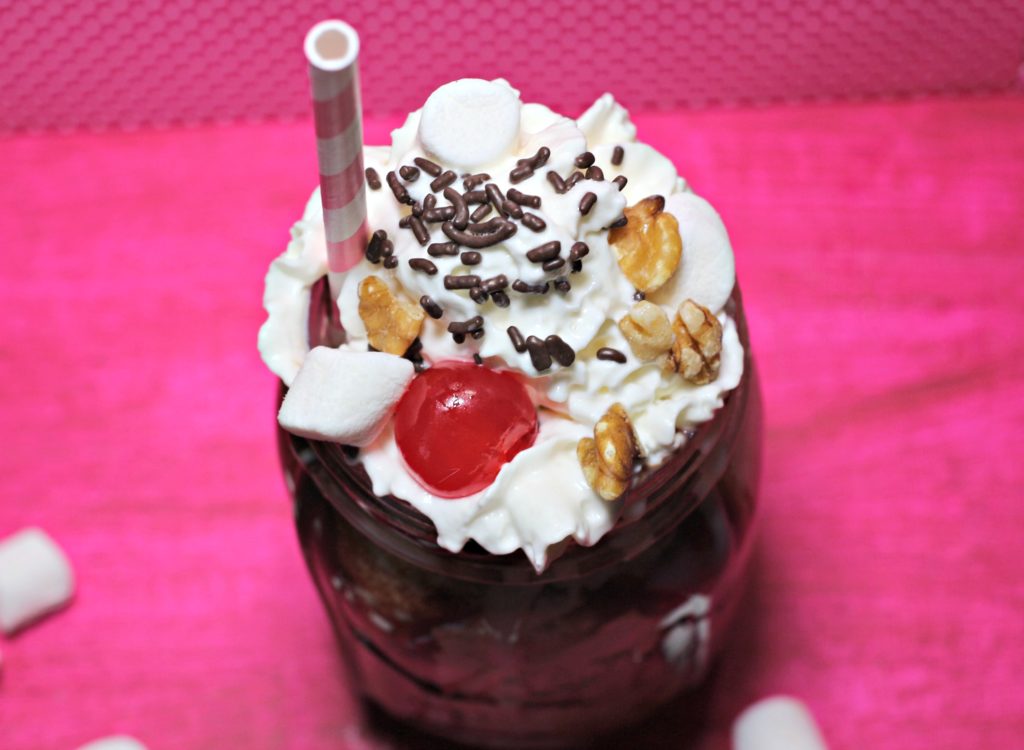 If you're in the mood to change things up, Blue Bunny® has lots of new flavors, like PB 'N Cone™, which has swirls of creamy peanut butter and crunchy chocolate dipped cone pieces throughout delicious vanilla ice cream. It's amazingly good. Besides the Rockin' Rocky Road™ other hnew flavors include: Monster Cookie Mash™, Toffee Brownie Twist™ and Mint Cookie Crunch™. How good does that sound? It would be easy to concoct different ice cream sodas using any one of these fun new flavors of Blue Bunny® ice cream.
This year Blue Bunny® also introduced a totally new treat, Bunny Snacks. Bunny Snacks, are the perfect bite-size treat available in four must-have flavors: Salted Caramel Pretzel, Chocolate Vanilla Twist, Chocolate Chip Cookie and Cookies 'N Cream.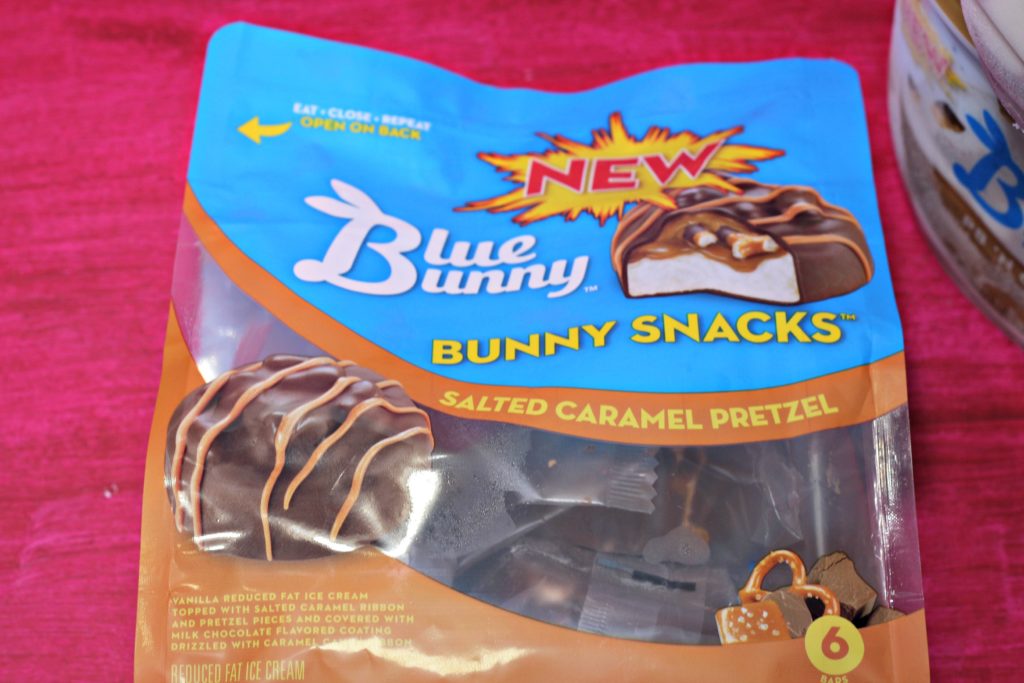 Hello? Does that not sound amazing?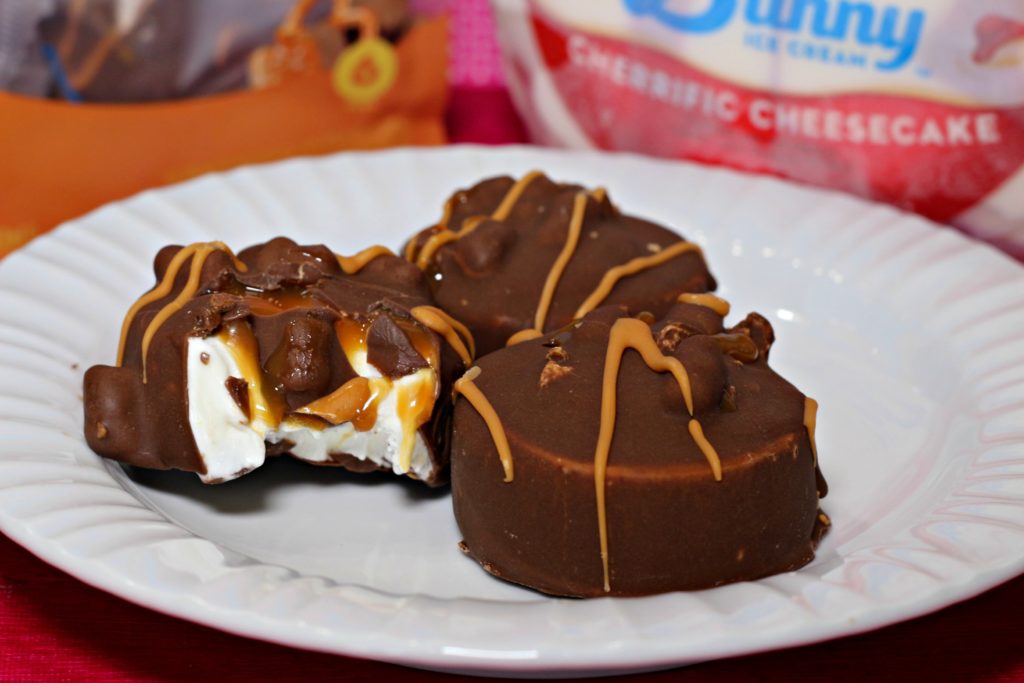 Additionally, Cherrific Cheesecake™, which had been a seasonal flavor, is now available year-round. Yes, please! Seriously, this sounds like something I'd shamelessly eat straight out of the carton while hiding from my kids.
For more ideas on how to make your summer (or any old time) #SoHoppinGood, go HERE. Oh, and the pictures will make you want to eat all the ice cream. You were warned.