Prepare tonight and rock your morning
This shop has been compensated by Collective Bias, Inc. and its advertiser. All opinions are mine alone. #NatureMadeFamily #CollectiveBias
Mornings stink. No two ways about that. I consider myself a morning person and I STILL emit a groan every morning at 6 a.m. when the alarm goes off.
Most people who know me casually think I have my life together. I show up in public with clean hair and actual pants at least twice a week. The truth? I'm a tired mom who is rocking the "Give it your best guess; it's probably good enough" parenting style.
And, it usually is good enough.
Mornings still stink, but they still show up. Every day.
Check out my tips on how to rock your morning, even if you don't love mornings.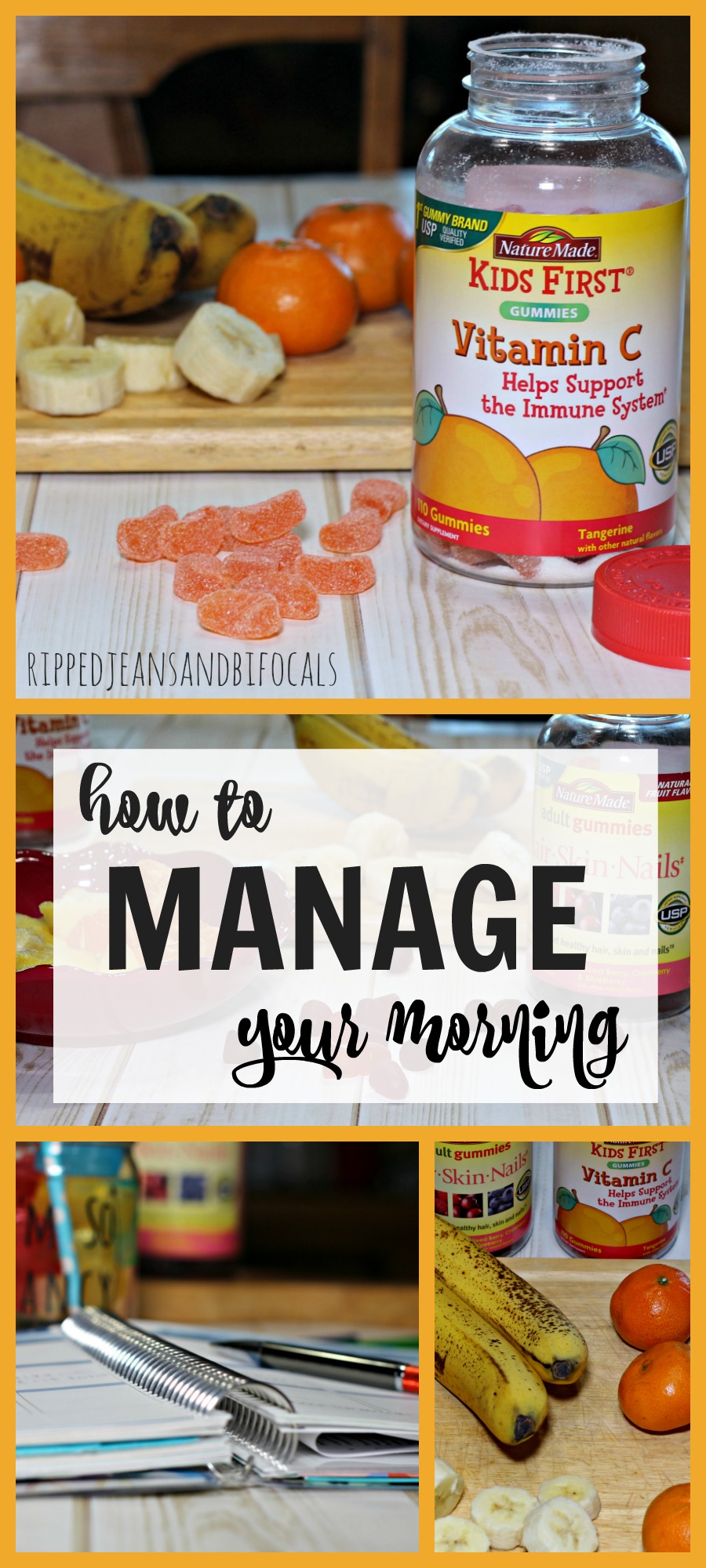 How to prepare tonight to rock your morning tomorrow
1. Look at your planner
I glance at my planner every evening. I use the same planner for work and family stuff and I also have a large, three-month view dry erase calendar in our utility room.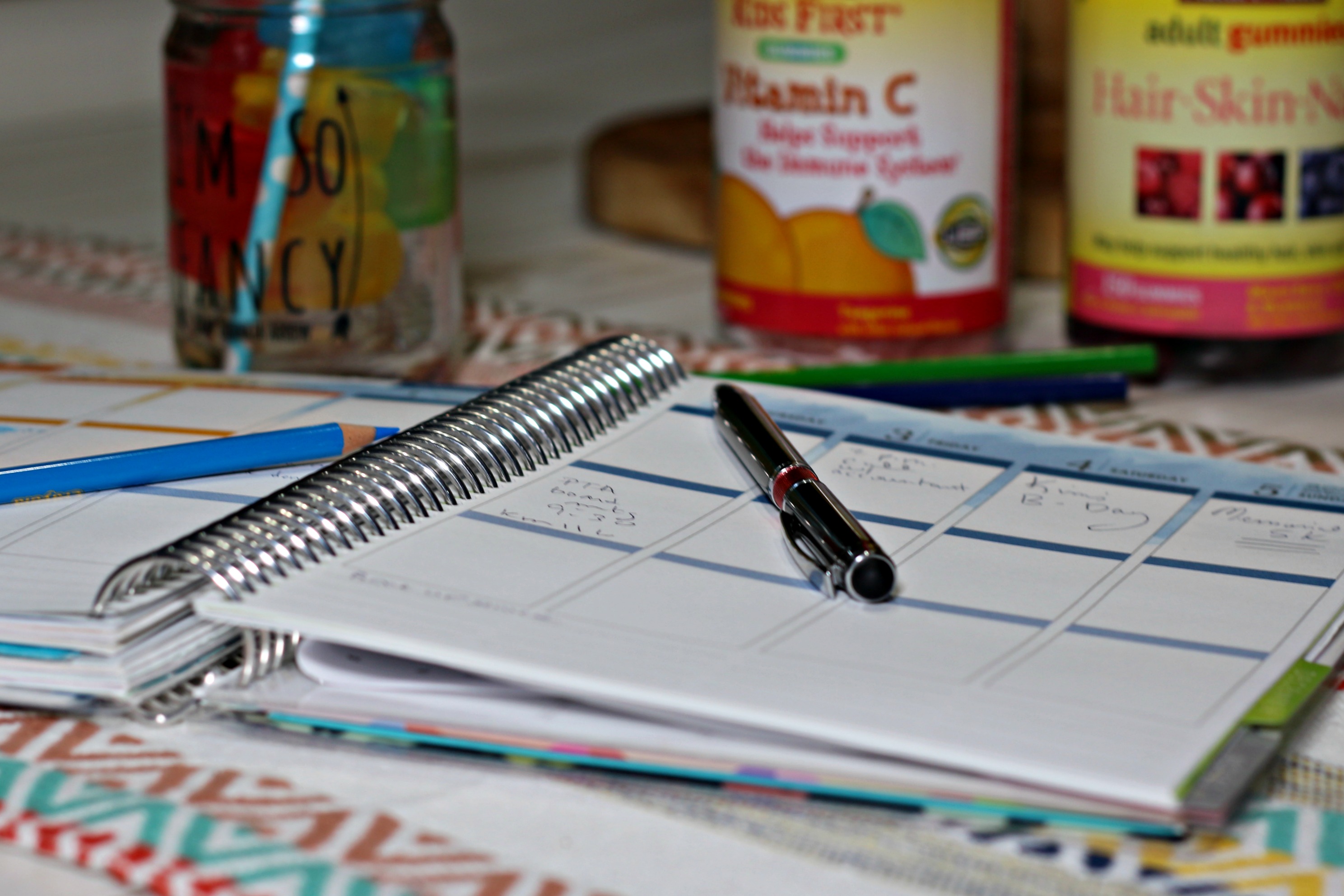 After years of buying planners and using them for a short time, I've finally found one I use consistently. It's small enough to fit in my bag and it goes everywhere with me, so I've found I'm more likely to actually write stuff down in it!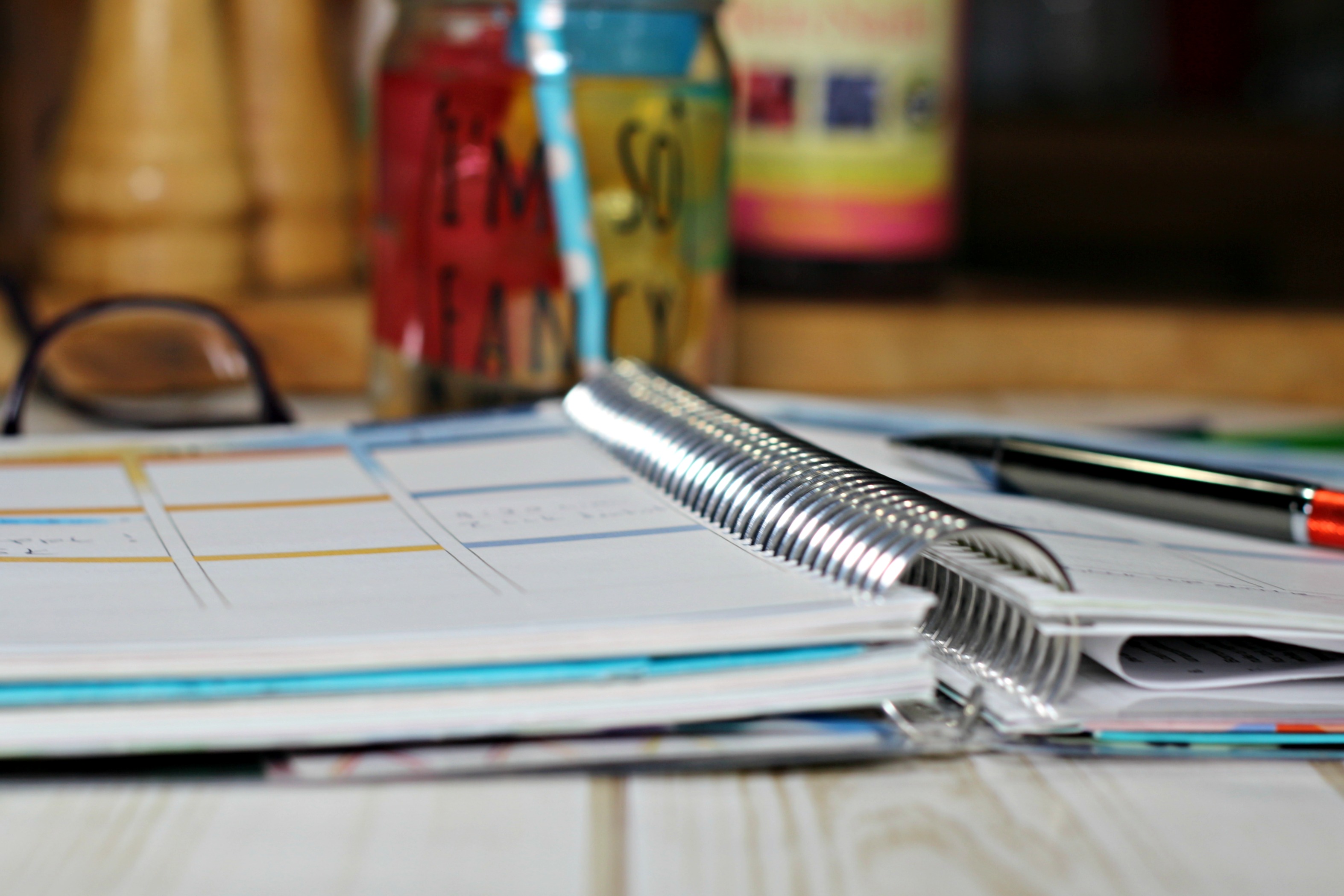 Since I'm always on the go and every day looks different, a nightly planner review helps set me up for success the next day. I hate that discombobulated "Oh, was that thing today" feeling and a quick review of the next day's schedule helps keep that to a minimum.
2. Prep for breakfast after dinner
I am pretty diligent about meal planning. It saves me time and money, not to mention sanity. No one likes staring blankly into the refrigerator at 5 o'clock or having the "I don't know, what do you want to have" tennis match conversation with their husband.
As organized as I am with meal planning, breakfast used to completely unnerve me. Haggling with small humans over toaster waffles versus oatmeal before you've made it through you first cup of coffee? No Bueno.
We decide what the next day's breakfast is going to be the night before. And when I say we, I usually mean me. Sometimes my kids get a choice and sometimes not. Sometimes my kids start their day complaining y because their blueberry muffins have too many blueberries in them but that's a whole other story.
Sometimes, prepping for breakfast involves nothing more than setting the cereal bowls on the table and putting my kids' supplements next to their place setting. True, this only takes a few seconds but that's a few seconds in the morning that I could be getting up close and personal with my coffee.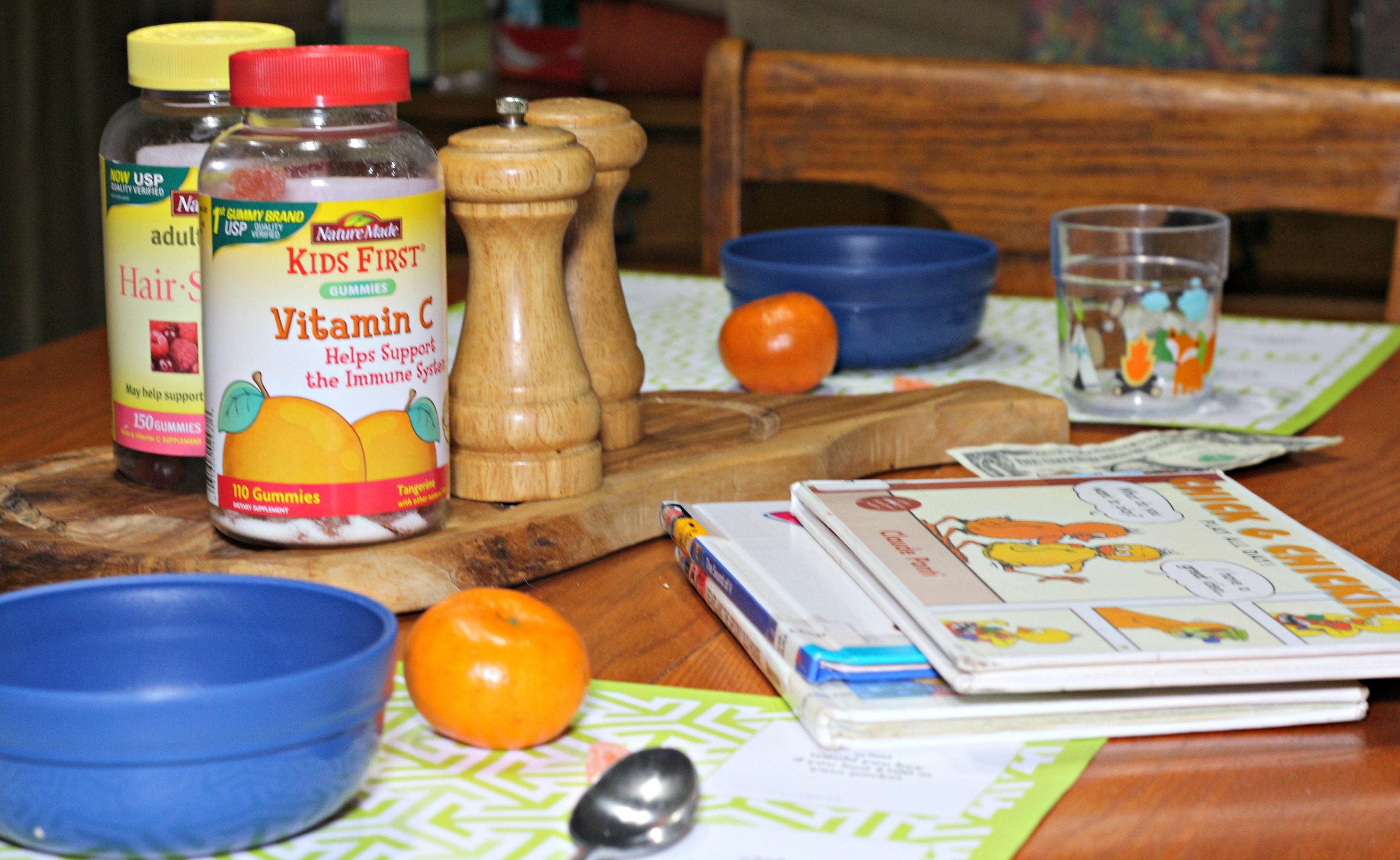 I am passionate about giving supplements to my kids. They are such sporadic eaters. I have one kid who is currently not eating any food that isn't cheese sticks and chicken nuggets. I have one kid that will astound me with the amount of food he can put away one week and not eat enough to sustain a bird the next week.
Supplements ease my mind a bit. My kids' eating habits might not be consistent but I can be consistent in giving them Nature Made® Kids First®.
You can buy Nature Made® Kids First® and Adult Gummies at Target. My kids love how yummy Kids First® Vitamin C Gummies taste  and I love the nutrtional boost they give my kids and how they help us live a healthier life.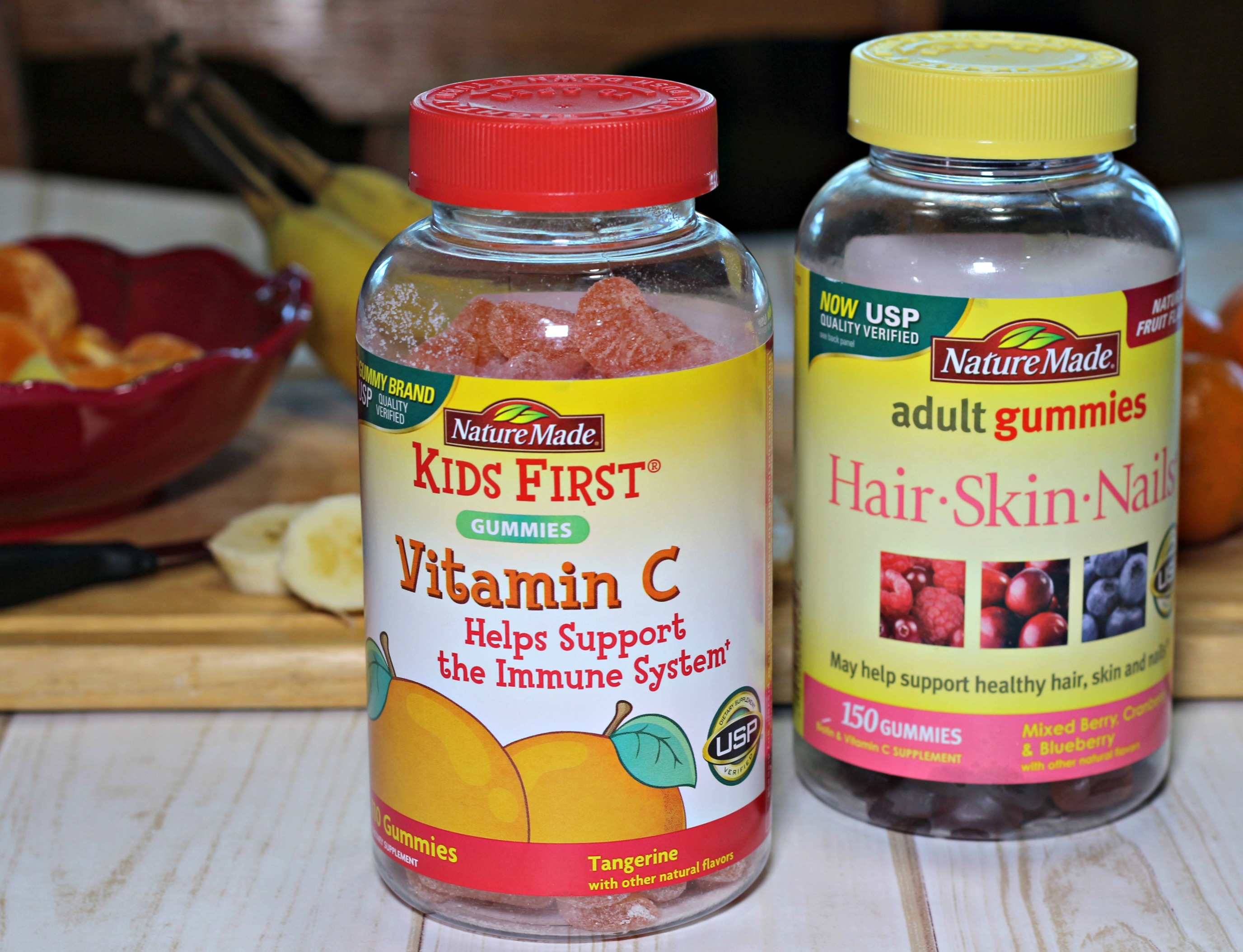 Kids First® Gummies are a great choice for kids four-years-old and up. The 110 count bottle comes at a great price point of $9.99 and that's a win in my book. I am passionate about supplements but I don't always love the price tag. Kids First® Gummies are super affordable. Kids First® Gummies taste delish (ask me how I know!) and they don't have any preservatives or yeast. They're also gluten free.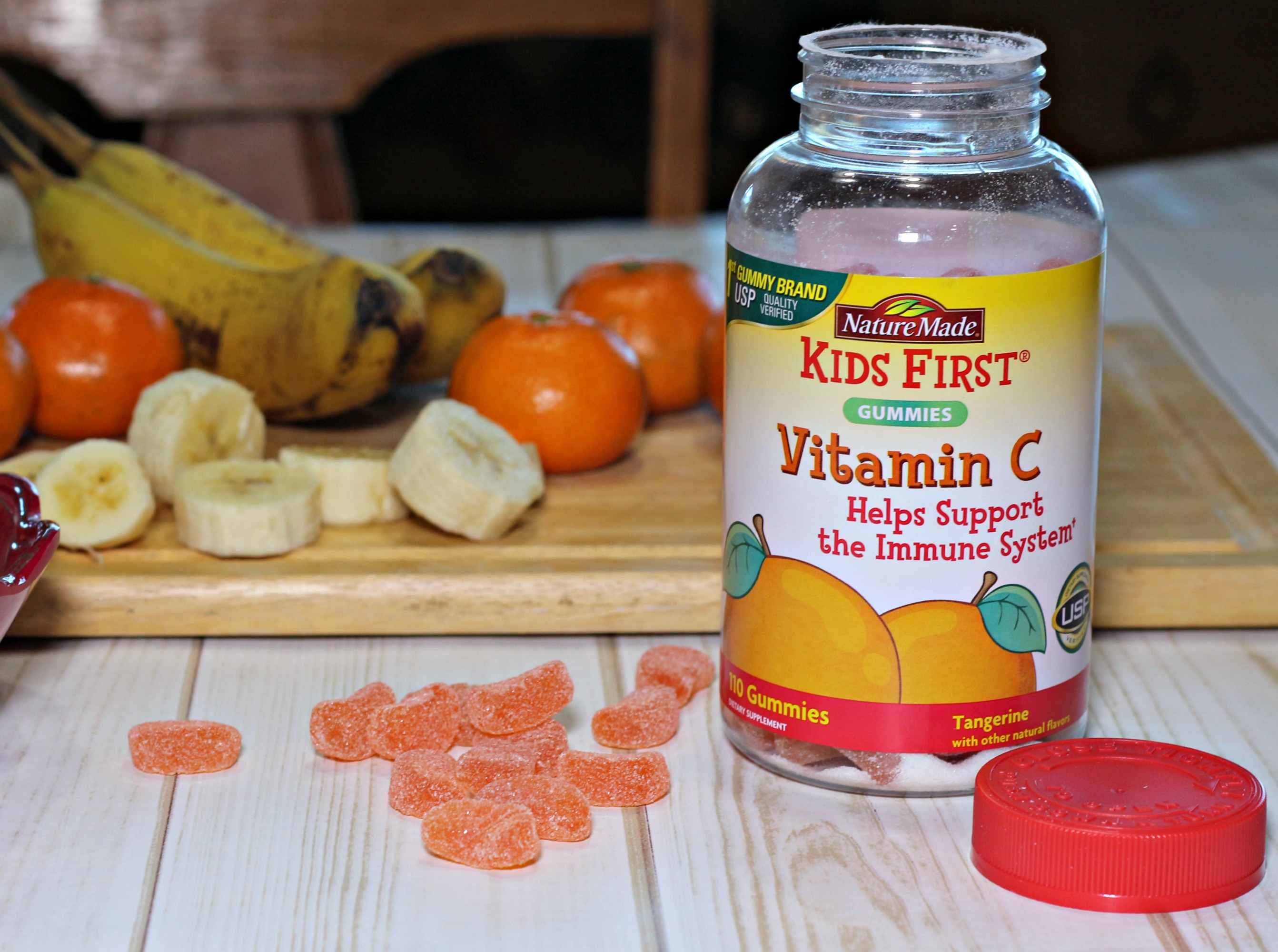 Nature Made also makes adult gummies. I've been using the Hair, Skin, and Nails formula. I love a product that helps support healthy hair, skin and nails for those that are deficient in biotin.†  Nature Made had the 1st gummies verified by USP for purity and potency.*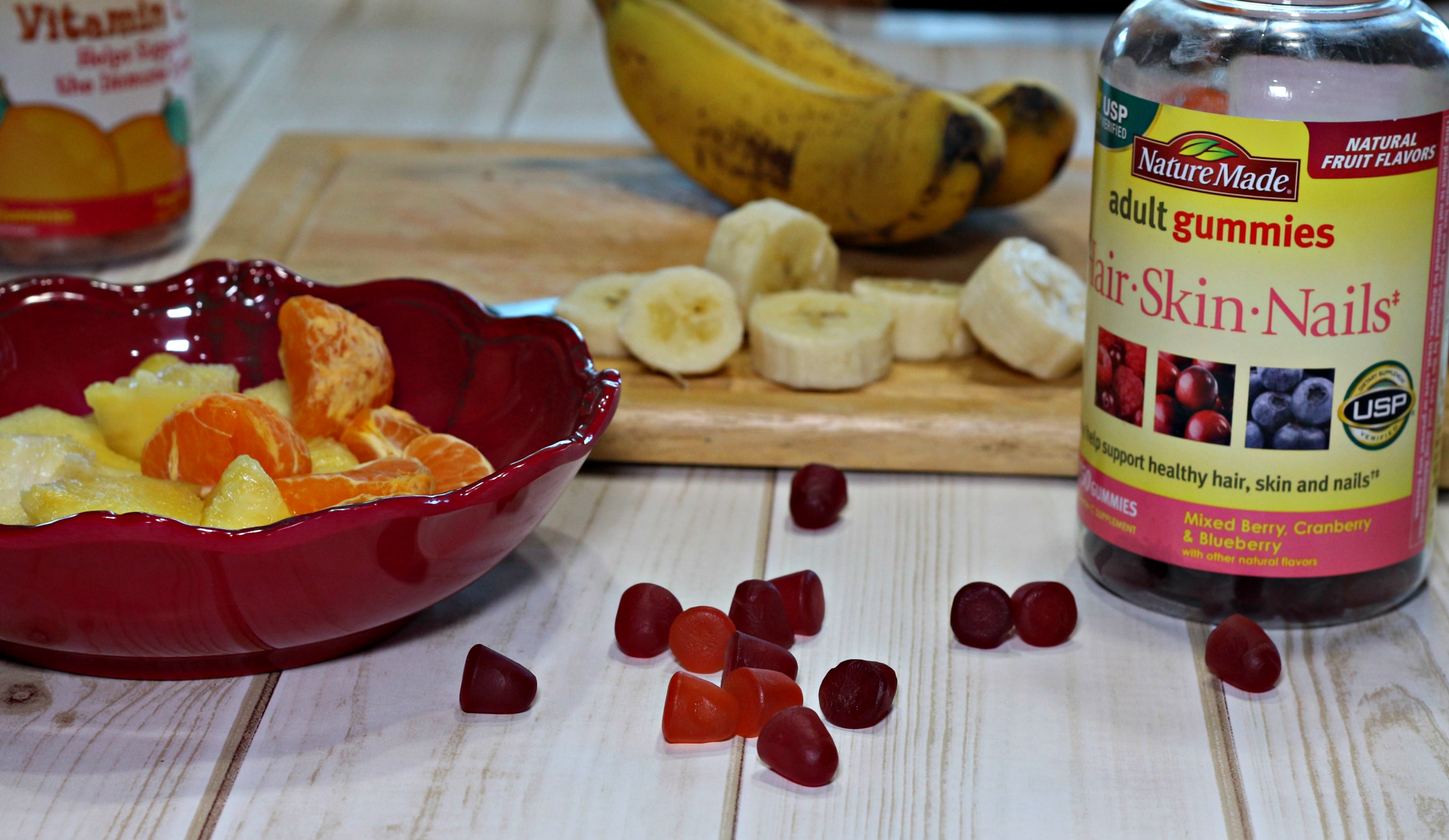 Multi for Her Plus Omega-3 Gummies offer:
Excellent source of vitamins A, C, D3, and E, as well as key B vitamins (folic acid, biotin, niacin, vitamin B6, vitamin B12), and important minerals such as chromium and zinc.
B vitamins support cellular energy production†
Folic acid is particularly important during childbearing years, playing a critical role in the proper development of the baby's nervous system†
Vitamin A is essential for healthy eye function†
Vitamins A, C, and D as well as zinc help support the immune system†
Vitamins C and E provide antioxidant support†
Vitamin D helps support healthy bones and teeth†
You can get 30% off all Nature Made® products with Cartwheel, while supplies last! You can buy these products at Target.
Another small time saver?
I also run down the list of what my kids need for the next morning, such as permission slips, library books or money for the book fair or school fundraisers. The kitchen is the hub at our house so I try to stage everything to make our mornings run as smoothly as possible.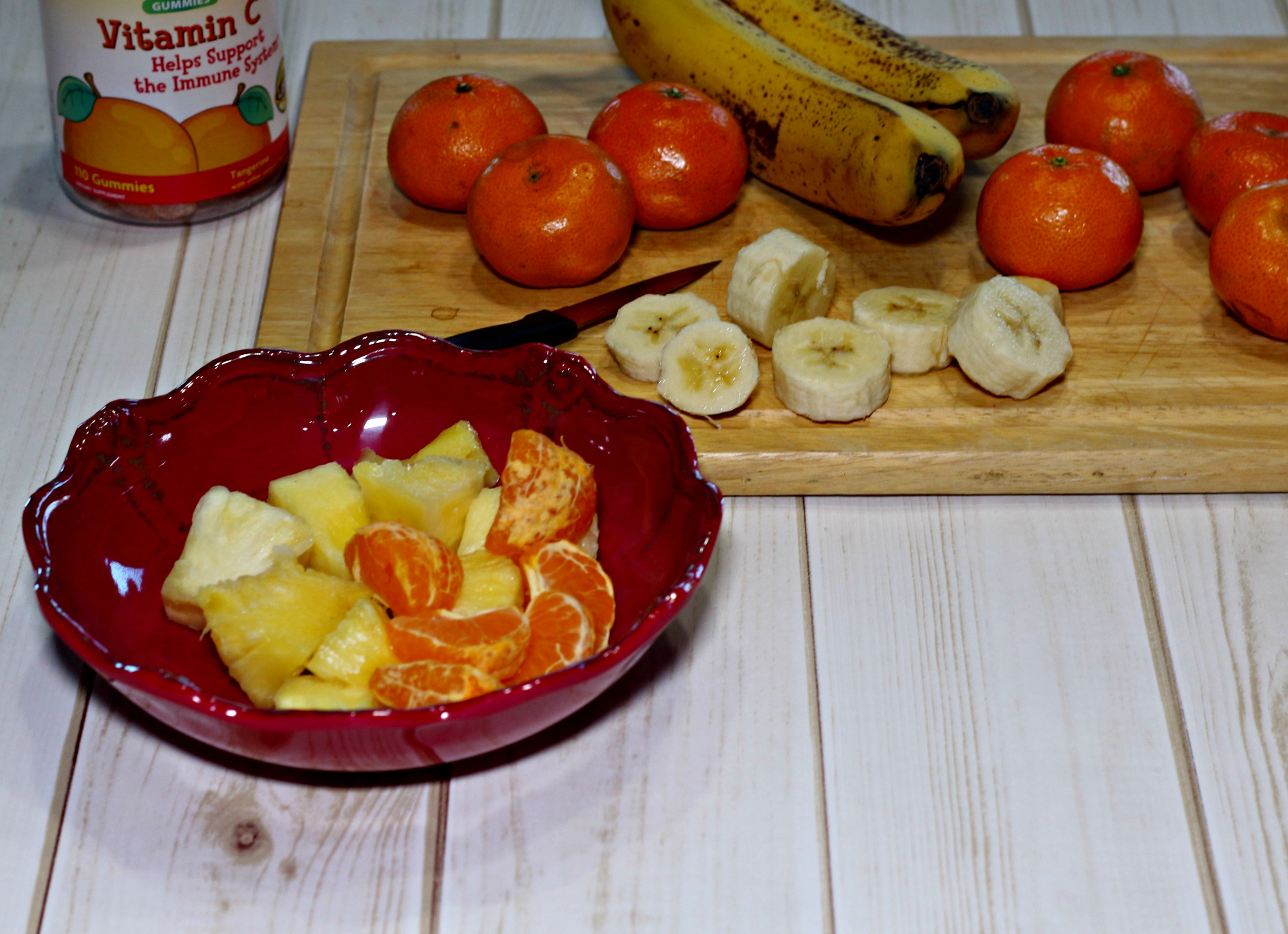 Sometimes our mornings run smoothly, sometimes they don't. Taking a few minutes the night before to prepare is always a good call. And, deep breaths if the morning goes south. We've all been there.
3. Prioritize tomorrow
I work from home and I love it. I'm able to be there for my kids when they get home from school. My schedule allows me the flexibility to volunteer at my kids' school or take care of them when they get sick without having to worry about taking a personal day or making my boss mad. I am thankful every day that I've got this kind of flexibility.
But.
To say time management is not my strong suit is a massive understatement.
Each evening, I identify two things that have to get done the next day, or else. My friend Crystal refers to this as the Single Most Important Thing, AKA SMIT.
It's so easy to get sidetracked. I log onto Facebook to see what's going on in the world and 45 minutes later, I'm still sitting there watching cat videos and taking a quiz to see what Gilmore Girl I'm most like.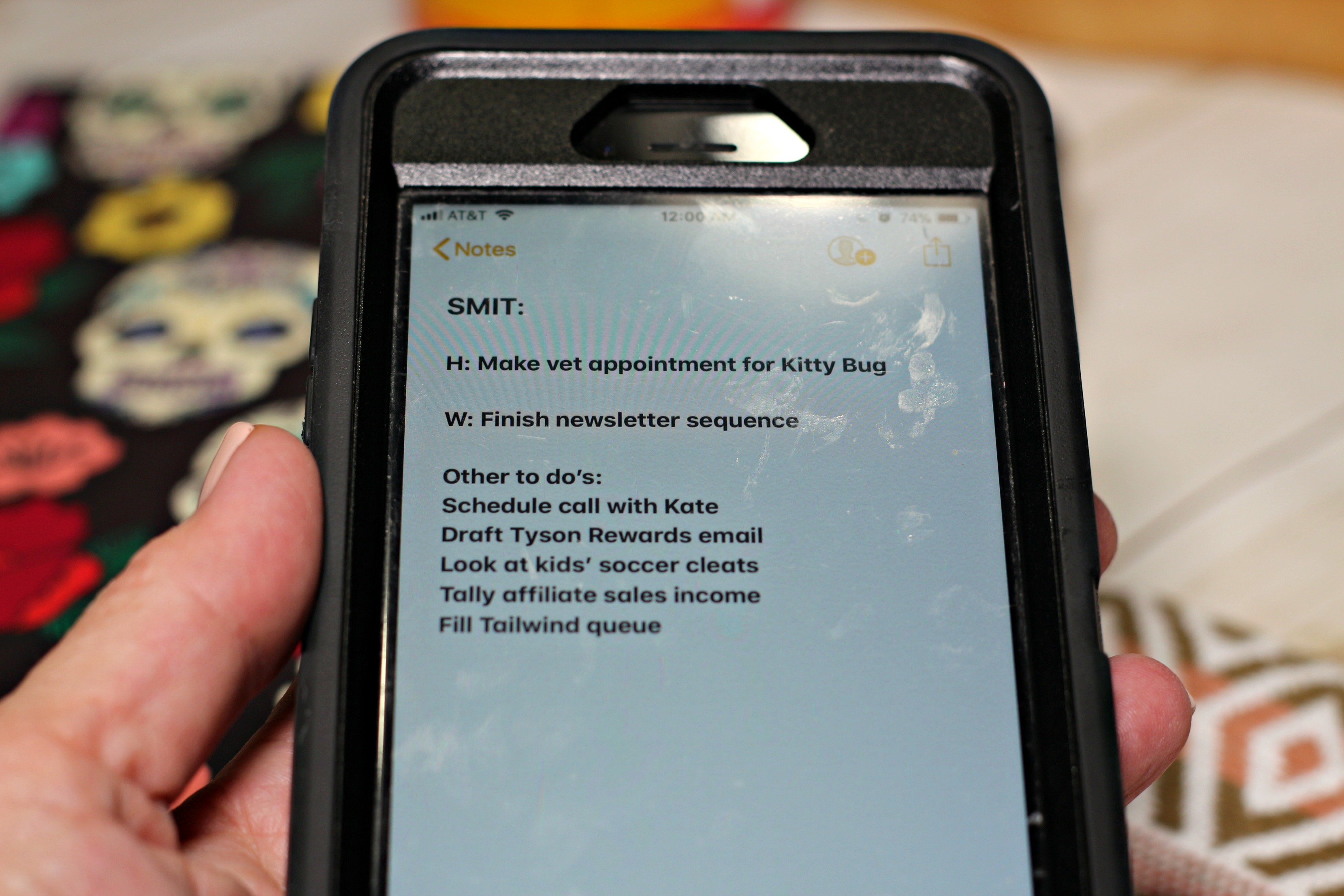 Before I turn in each night, I identify my single most important thing that needs to get done in my work realm and the single most important thing I need to get done in my home life. Those (hopefully) won't be the ONLY things I get done but these are the things I've identified as top of the priority list. I always have a running list of things to do but identifying my SMIT the night before helps me rock my tomorrow.
4. Set your bedtime…
…and stick to it! I'm not always great at this but I keep setting this is a goal because I know prioritizing my rest and my health is important.
If you have a firm idea of "I need to be in bed by this time" then you're more likely to be accountable to yourself. You can always find "just one more thing" you need to do and it's super easy to get distracted and sidetracked. It happens to me all the time.
Giving yourself a bedtime will help you reset good habits and start moving towards the goal of getting the amount of rest you need. And yes, I know if you're a mom, you're never going to get as much rest as you need but if we focus a little more on self-care…well, every little bit helps, right?
And also? Cut yourself some slack. If you set your bedtime at 10:30 and you're still doing stuff at 11:45, don't beat yourself up. Resolve to take better care of yourself tomorrow. Sometimes it works and sometimes not but every little bit of rest helps.
What tips do YOU have on how to manage your morning?
And don't forget, you can get 30% off all Nature Made® products with Cartwheel, while supplies last. This is a good thing you can do for your family's health and everyone likes that level of savings. And, I've just given you a reason to go to Target. You're welcome.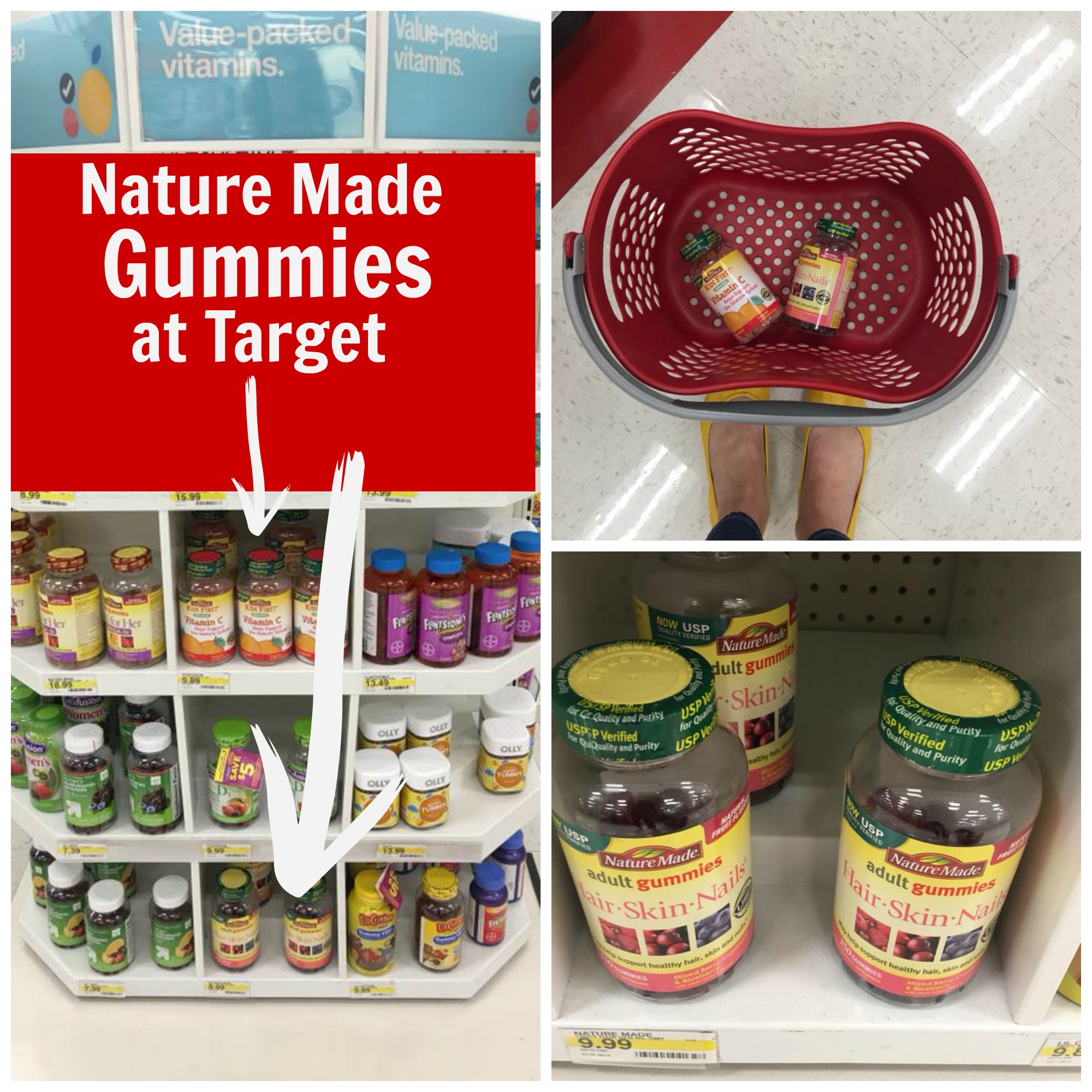 *Find those Nature Made USP verified gummies on NatureMade.com/USP
† These statements have not been evaluated by the Food and Drug Administration. These products are not intended to diagnose, treat, cure or prevent any disease
You might also like:
How to set yourself up for healthy eating success