We stayed in an inside stateroom on the Disney Magic. Here's what it was like.
(This post may contain affiliate links. Read my full disclosure.)
If you are planning a Disney cruise and your goal is "As cheap as possible" then you'll want to consider an inside stateroom. I have been on seven Disney cruises and I've sailed twice on this Disney Magic. I had a travel agent tell me years ago that I simply had to have a balcony and I took that as gospel. Turns out, that's not true. Here's what it's like to stay in an inside stateroom on the Disney Magic.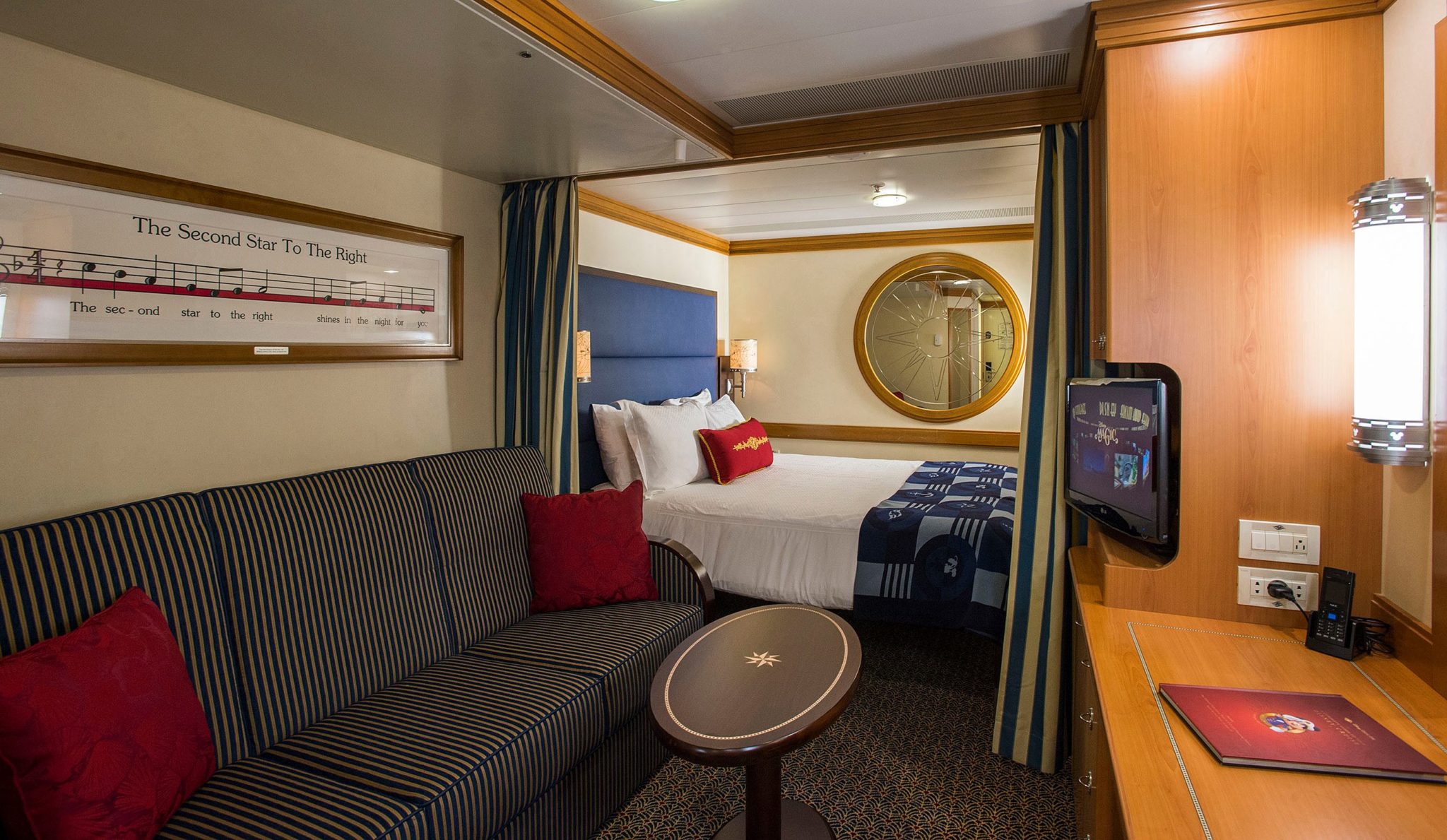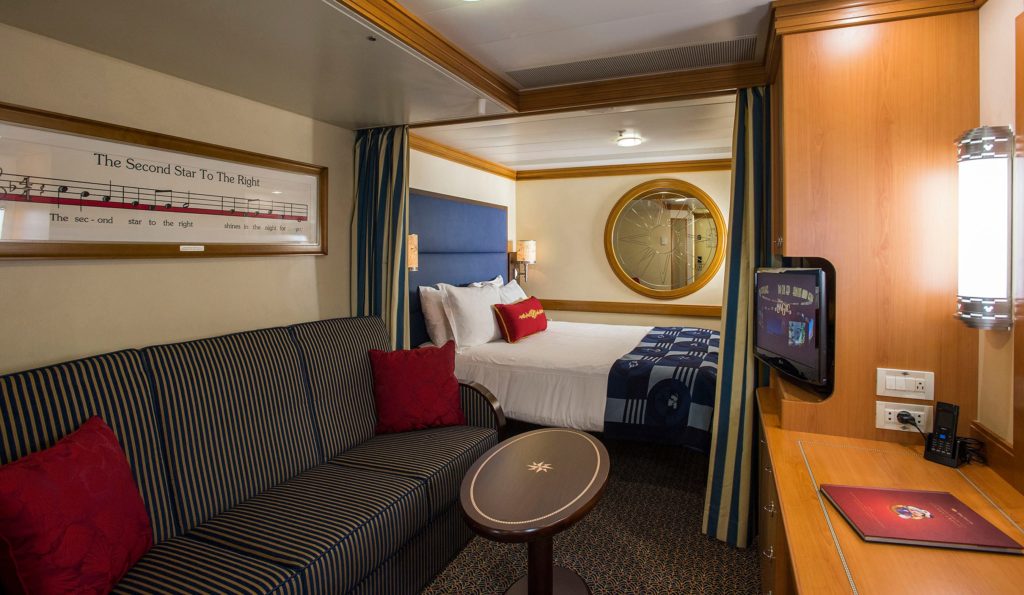 We stayed in an inside stateroom on the Disney Magic. Here's what it was like.
As I mentioned, we've been on seven Disney cruises and cruises eight and nine are booked. We love a Disney cruise for our family vacation. We've been on the Disney Dream, the Disney Wonder, and the Disney Magic. We're currently scheduled to sail on the Disney Fantasy next year and we haven't yet planned a cruise on Disney's newest ship, the Disney Wish.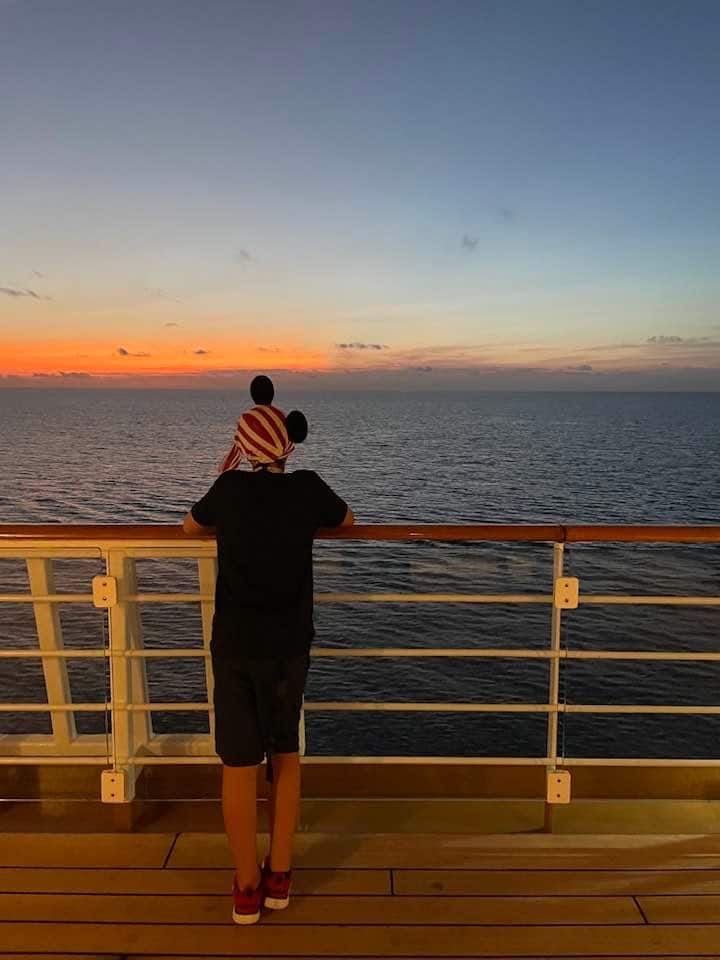 We decided to go ultra-budget on our May 2022 cruise on the Disney Magic. It was our second cruise of the year and planned a little bit last minute. As much as I'd love to say we have a bottomless travel budget, we don't. For the cruise to make sense for us, we had to cut costs wherever we could. We decided to test the theory that we simply had to have a verandah.
For your info, the Disney Magic and the Disney Wonder are nearly identical. There are some differences in dining and theming but the layout of the ships and the staterooms are the same.
Related: How to get the most out of Castaway Cay
Our three-night cruise on the Disney Magic ran us $2,570 for four people
This price included our stateroom, food, and activities on board, and a day at Disney's private island, Castaway Cay. The price did not include transportation to and from the port, alcohol, or gratuities.
One of the reasons we like Disney Cruise Line is because so many things are included in the cost of the cruise. That said, there were plenty of opportunities to part with our money on board: souvenirs, specialty drinks (coffees and smoothies), spa treatments, photographs, adult dining, and more.
we booked the cheapest stateroom on the Disney Magic
Inside staterooms are exactly what they sound like. There's no exterior window or porthole. Our room shared three walls with other staterooms. This was the first time our kids had stayed in a stateroom without a balcony.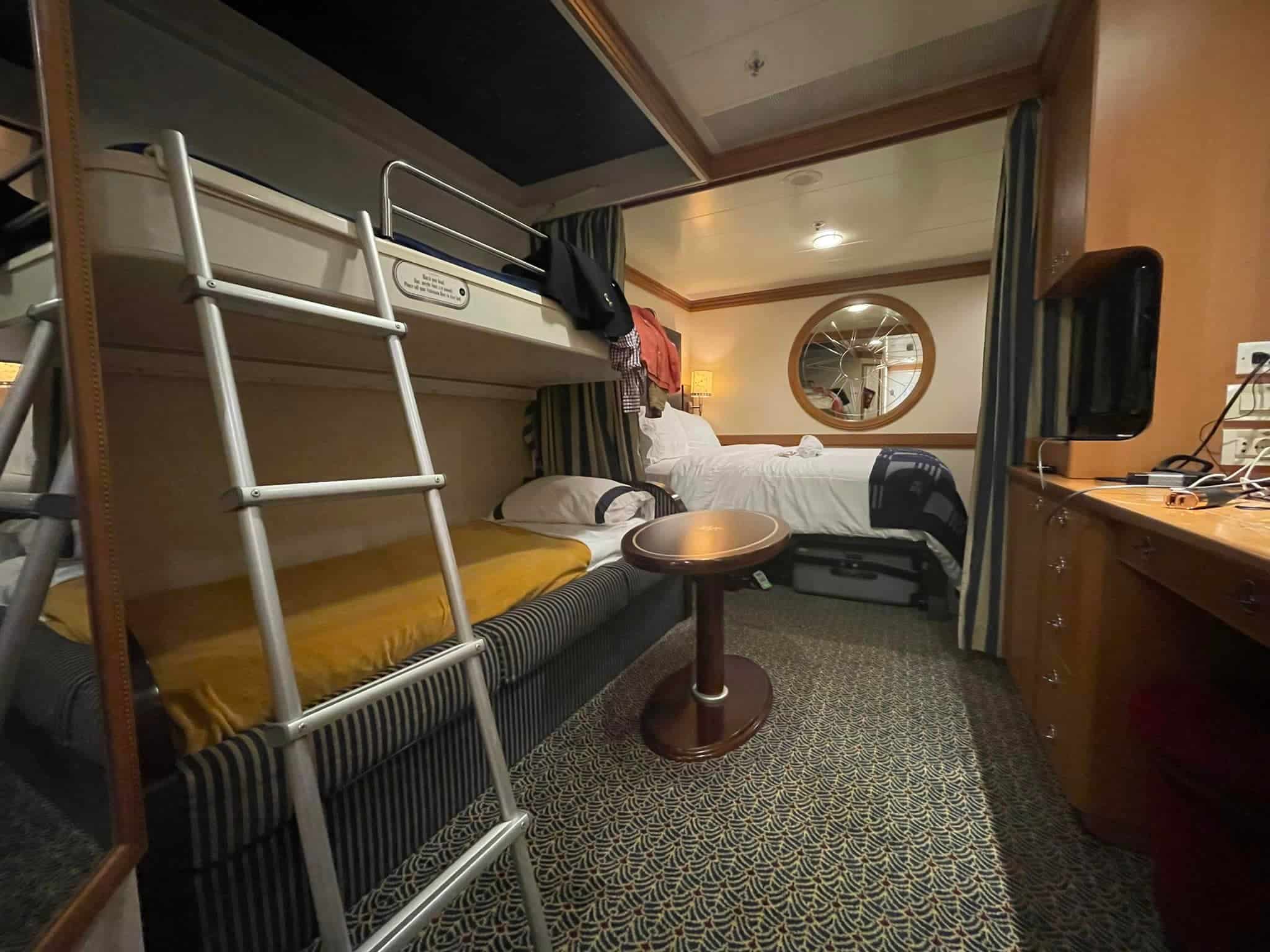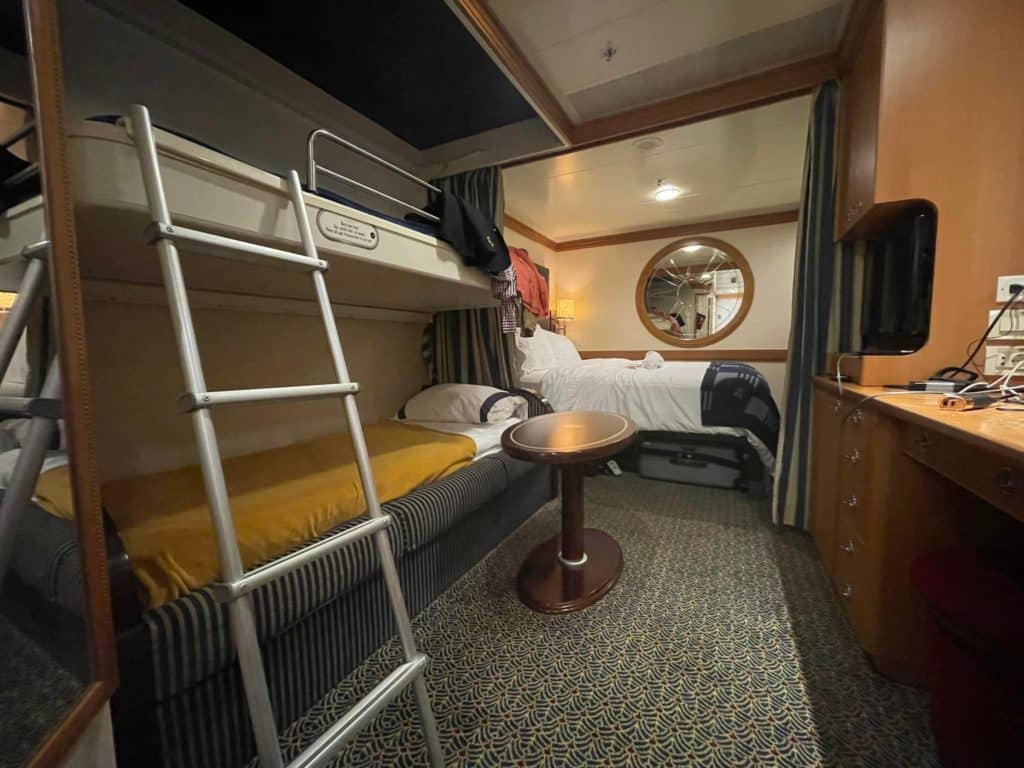 We booked a standard inside stateroom and received an automatic upgrade to a deluxe inside stateroom. The difference in square footage was 30 feet. The price difference would have been $47.
The most notable upgrade was the bathroom. A standard inside stateroom has a single bathroom with a sink, toilet, and tub/shower. A deluxe inside stateroom has a split bathroom with one compartment containing a sink and toilet and the other containing a second sink and a tub/shower. The second area is handy if someone needs to use the toilet while someone else is showering or getting ready.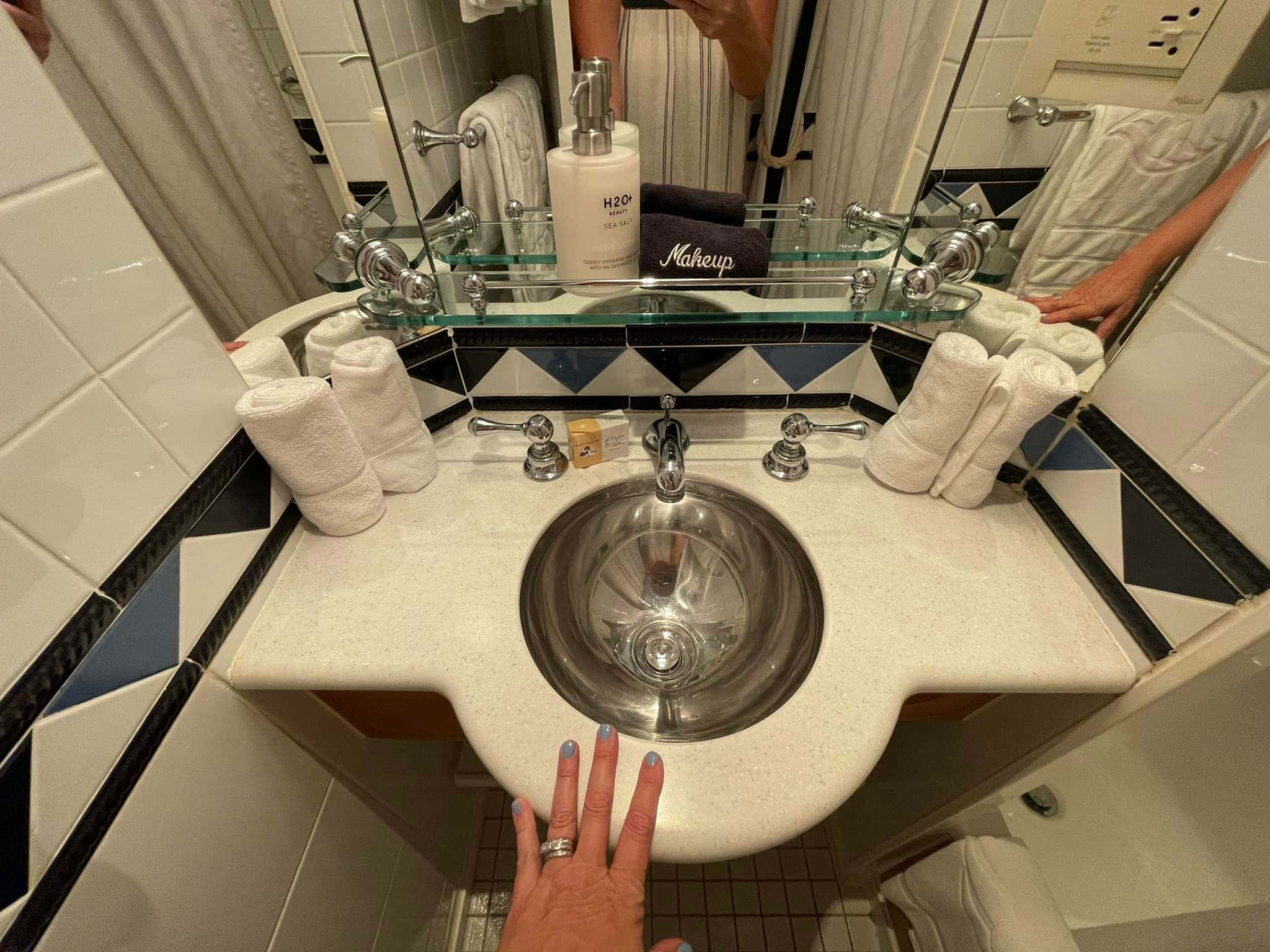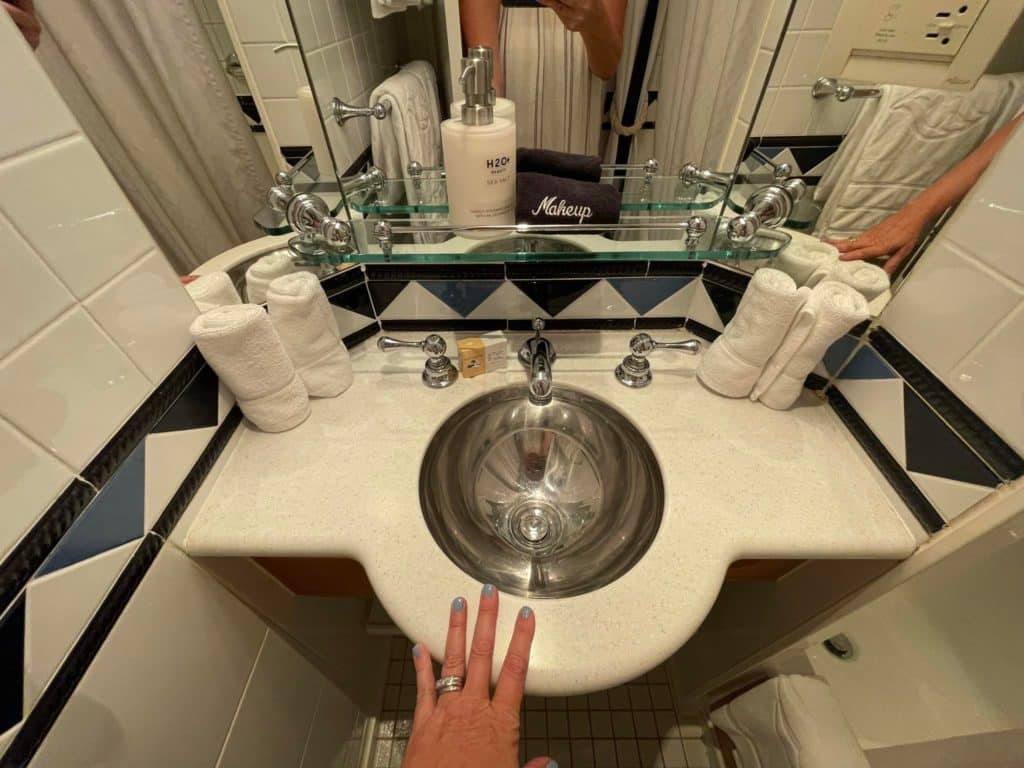 We stayed in 2601 on the Disney Magic, so if you're shopping for cruises, this is what that specific room looks like. There was a broken spring on the couch of this room that made sitting on that cushion uncomfortable. We reported it but don't know if the issue was addressed. We didn't spend time sitting in our room and this didn't impact the comfort of the bed when it was folded out.
Small but sufficient
Cruise ship staterooms are smaller than a typical hotel room so even if you book a more expensive stateroom category, you're not looking at tons of space. This room was smaller than the verandah stateroom we stayed in on the Disney Wonder in January 2020 (204 vs. 268 square feet) but the verandah takes up a lot of that additional square footage. If you don't use the verandah, you're not really taking advantage of the extra space you paid for, although the views and fresh are air nice.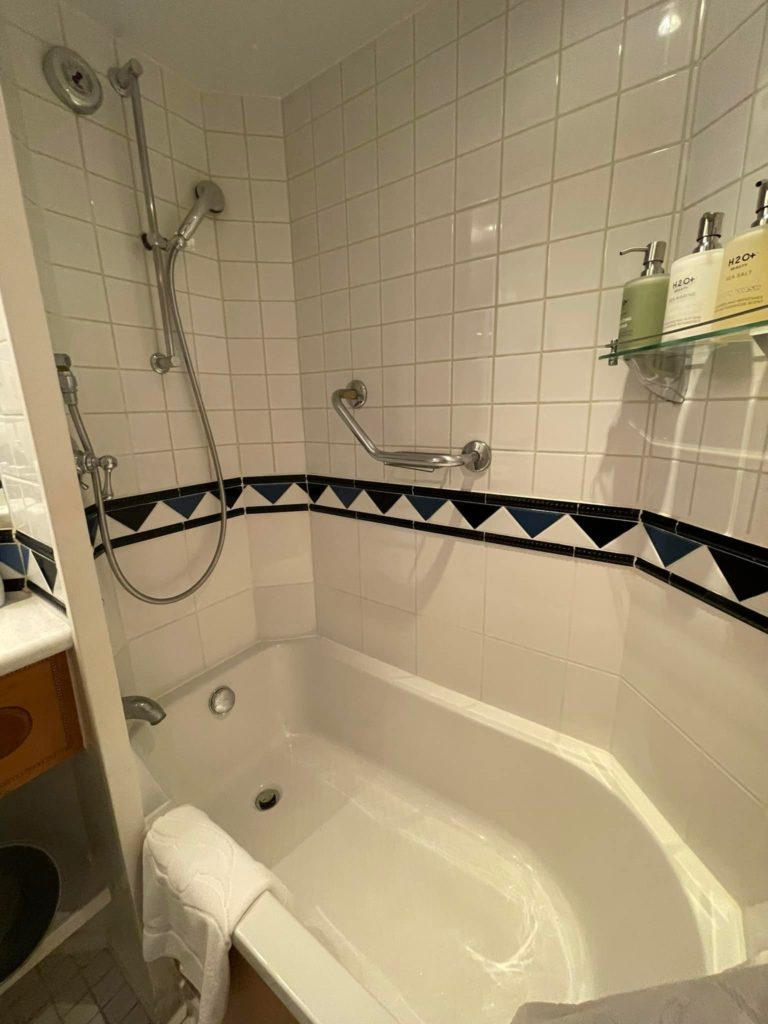 Our inside stateroom on the Disney Magic had a curtain that separates the queen bed from the couch. The couch converts into a bunk bed for sleeping. The curtain doesn't offer that much privacy, but my kids wanted the bathroom light on, so the curtains helped block out some of the light. The stateroom attendant converted our couch to bunk beds each night when she did nightly turndown service. Don't try to adjust the bed yourself.
Other amenities include hand soap, body lotion, shampoo, conditioner, body wash, a 22-inch TV, and a mini fridge, same as ocean view and verandah staterooms.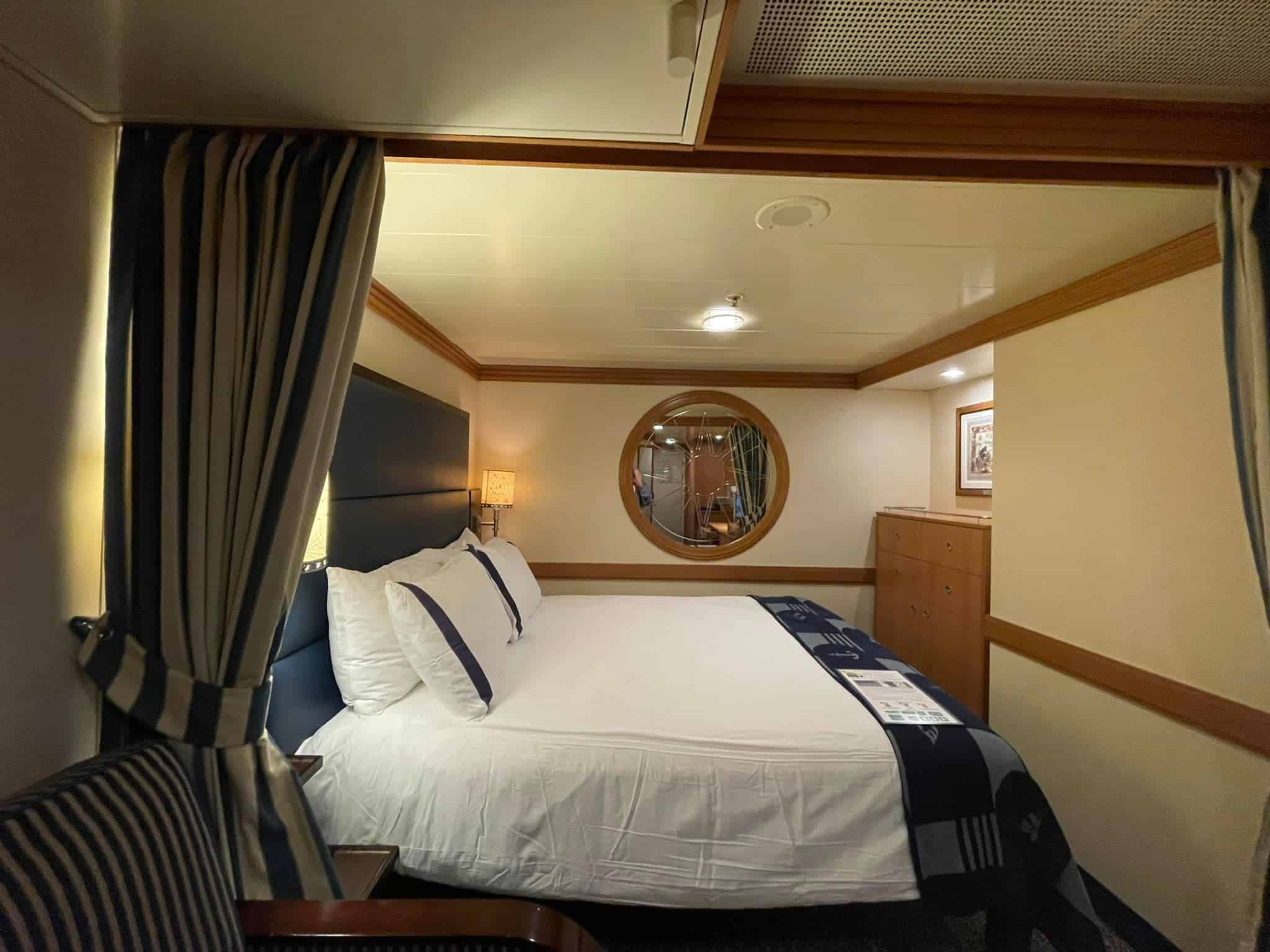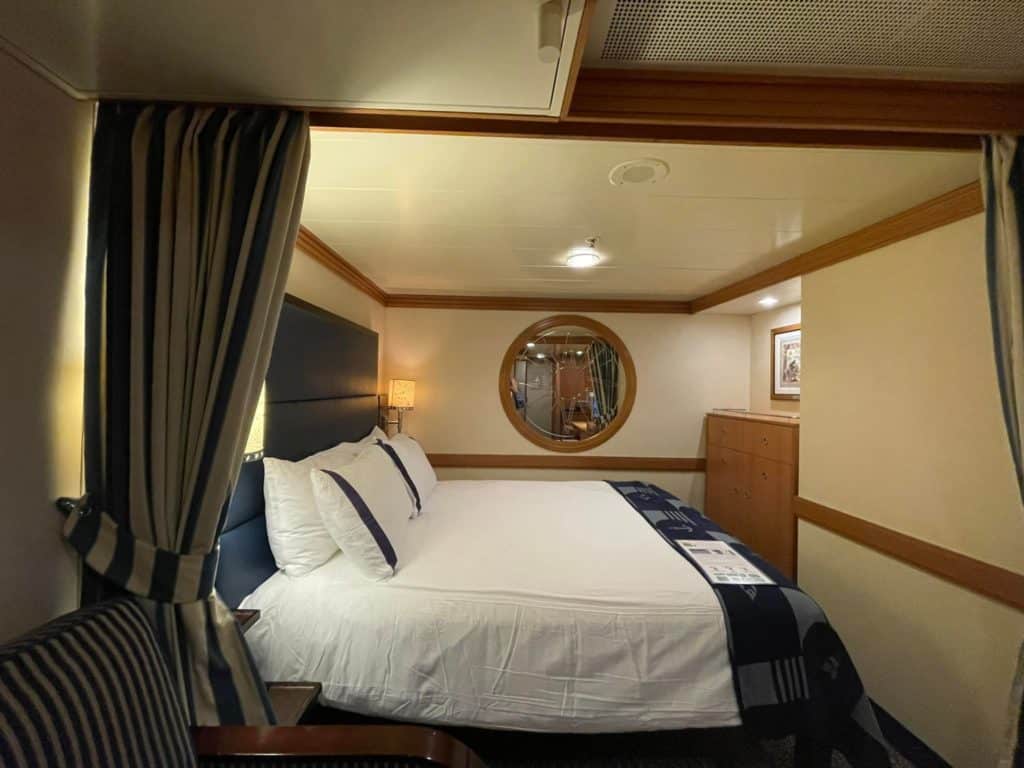 The storage is efficient. We had a closet, a set of drawers, a dresser with cubbies, and a desk with some drawer space. There were also drawers on either side of the bed and storage underneath the bench. There's not a ton of counter space in the bathrooms but it was adequate.
There's enough space under the queen bed to stow your suitcases – we're pretty light packers and had three small bags and one slightly larger bag. If you have more/bigger suitcases, you might find storage space more challenging.
Will I book an inside stateroom again?
Absolutely. We are booked in an inside stateroom on our upcoming cruise on the Disney Fantasy. We've talked about upgrading but probably won't.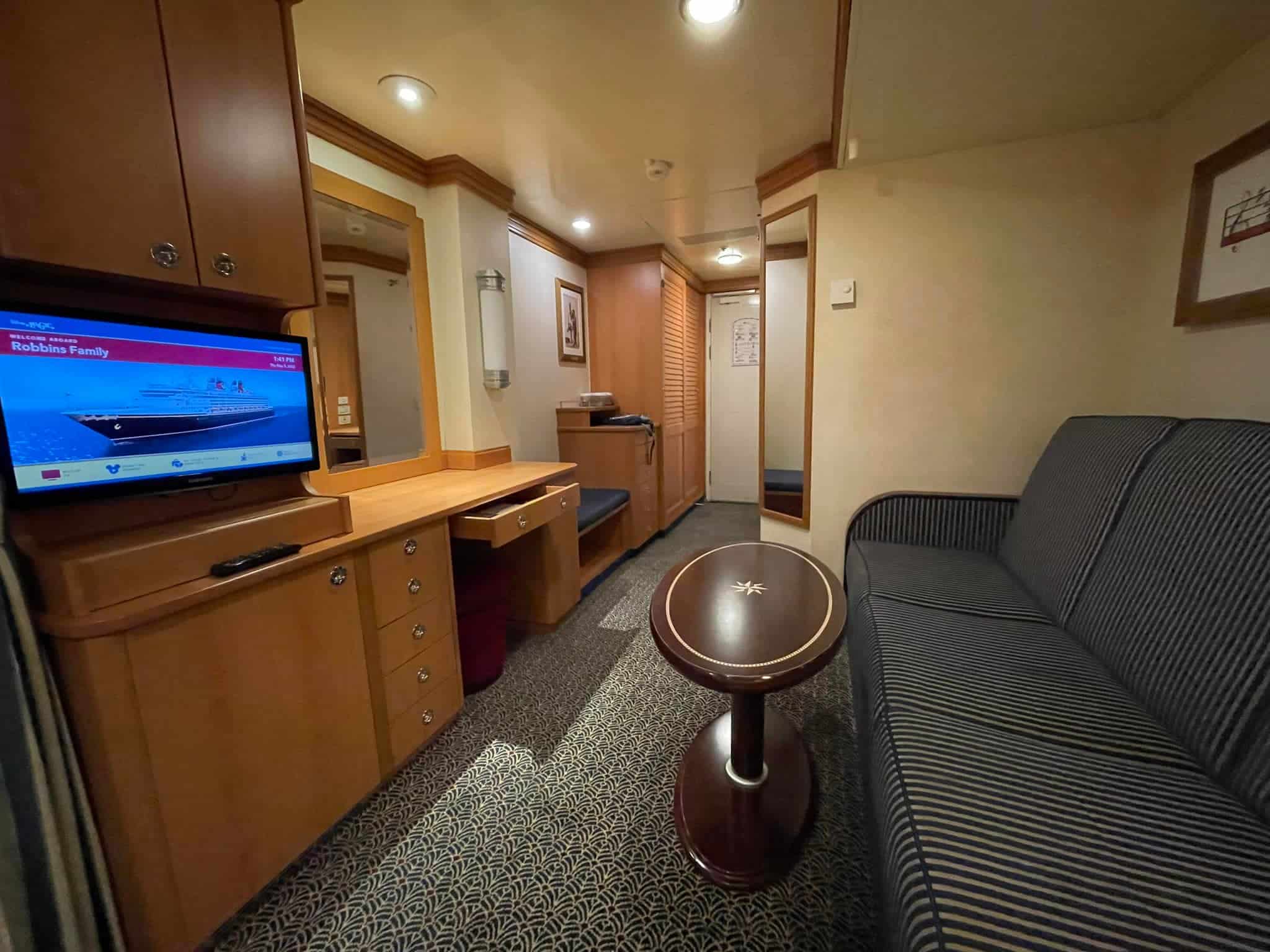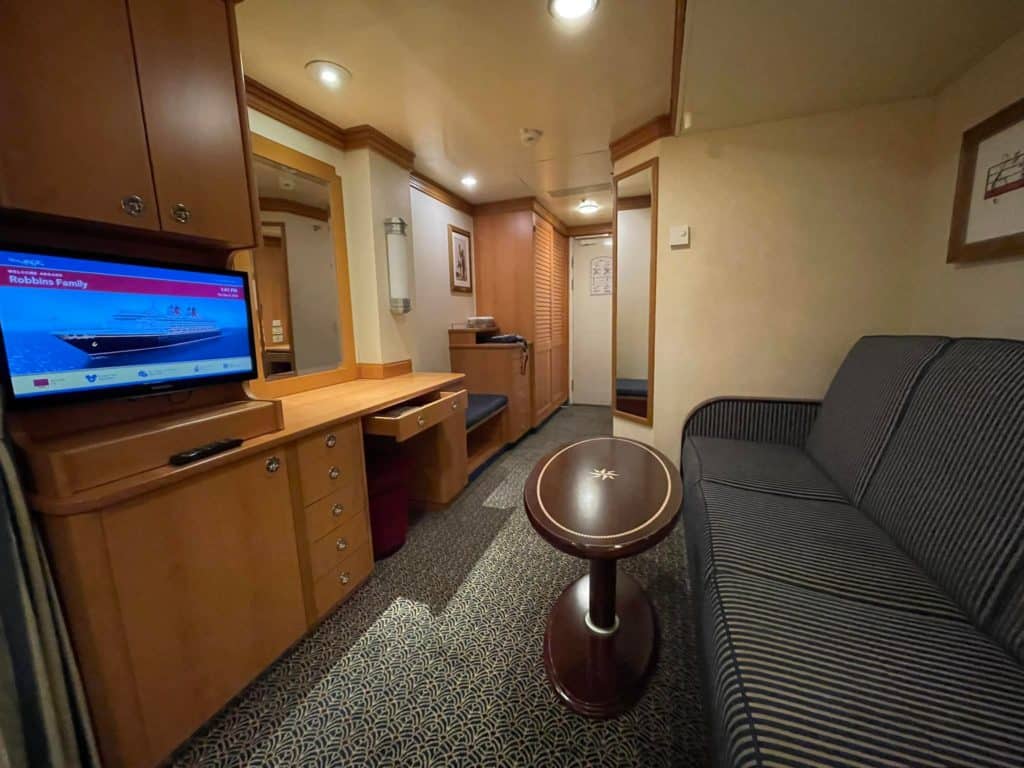 I think it is important to consider how much time you're going to be in your stateroom. On our recent cruise on the Disney Magic, we used the room to sleep and shower. It was a three-day cruise to the Bahamas and the weather was beautiful. Our upcoming cruise is longer and includes several port stops that are new to us. We plan on being off the ship a lot and I'd rather have the extra money to spend on excursions.
I expected to feel cramped and not get the same level of service in the cheapest stateroom available. I expected to miss natural light. None of those things were true. My kids didn't comment once on the lack of a verandah. I liked the darkness of our stateroom – it's great for sleeping.
I'm not saying I'll always book inside staterooms or book a more expensive stateroom but I can easily see booking inside staterooms on future cruises. Our overall experience was just as good, and I enjoyed the savings.