I went to the 2018 Disney Social Media Moms Celebration
(This post may contain affiliate links. Read my full disclosure.)
 I only hope we don't lose sight of one thing – it was all started by a mouse." Walt Disney
I have been home from the 2018 Disney Social Media Moms Celebration for exactly a week. The Disney Social Media Moms Celebration is an invite-only conference for online content creators hosted by Disney. This year's event was a Land and Sea event that included three amazing days at Walt Disney World followed by a three night sail on the beautiful Disney Dream.
I went to the 2018 Disney Social Media Moms Celebration
So.
It's just started to sink in that I'm not at Disney. I have to fix dinner. No one is going to fold my towels in to cute, magical shapes.
Man.
Re-entry is HARD.
[Tweet "I went to the 2018 Disney Social Media Moms Celebration #DisneySMMC"]
Some housekeeping:
This post is loooong and informative. If you'd like to save this post to read later or for reference when you're planning your own magical vacation, just click on one of the vertical images to pin. Easy peasy.
I'm very honored that my family and I were included in the Disney Social Media Moms Celebration this year. We had the opportunity to have fun together, to connect with each other and the world outside our own home space in ways I didn't expect, and to try new things. We made memories and came home tired but happy. And the icing on the cake? I got a conference jam packed full of professional development, encouragement and motivation.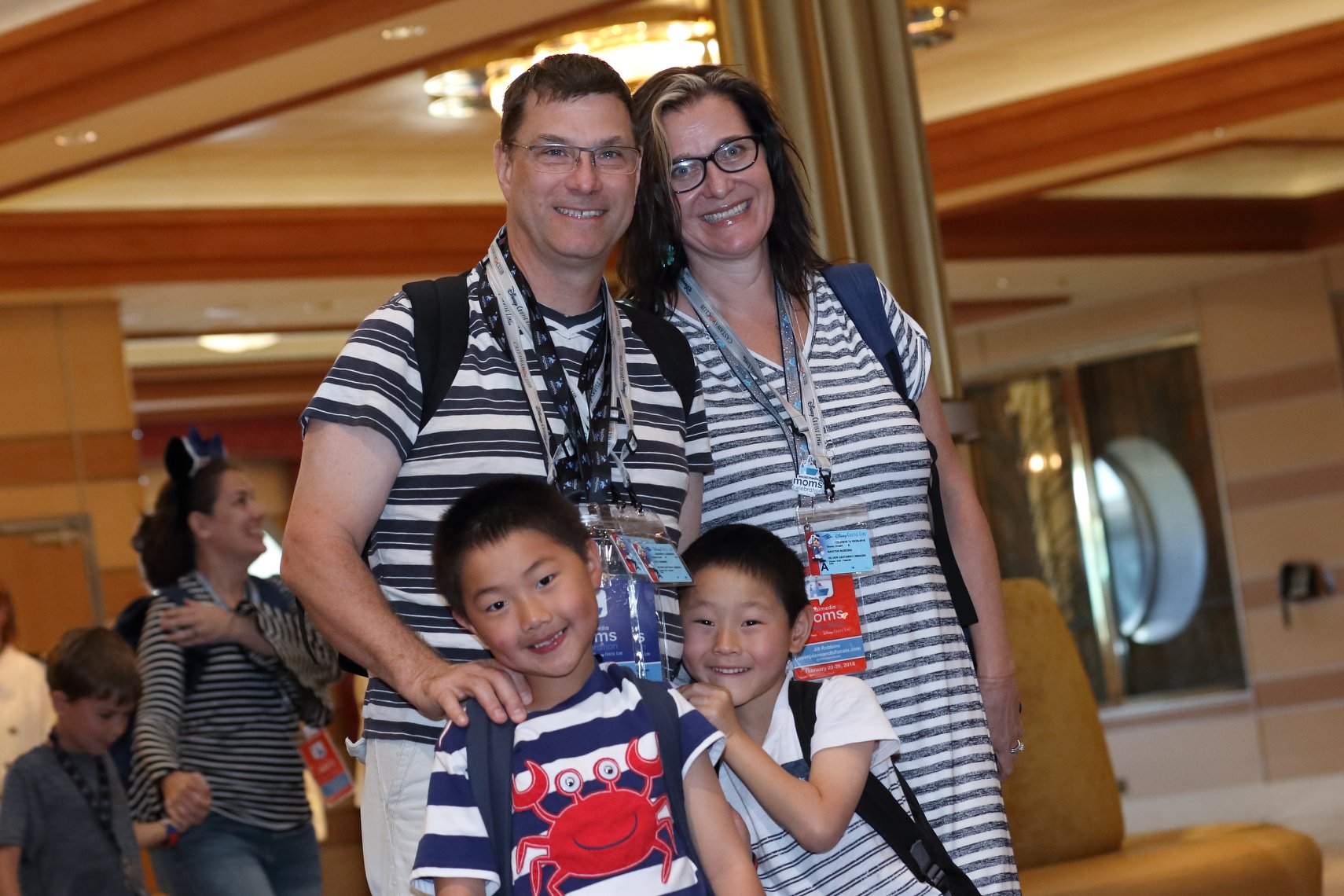 I am home and ready to return to Disney.
I am also home and ready to get to work and rock it and to take Ripped Jeans and Bifocals to the next level.
So, here's a little peek behind the curtain at the 2018 Disney Social Media Moms Celebration.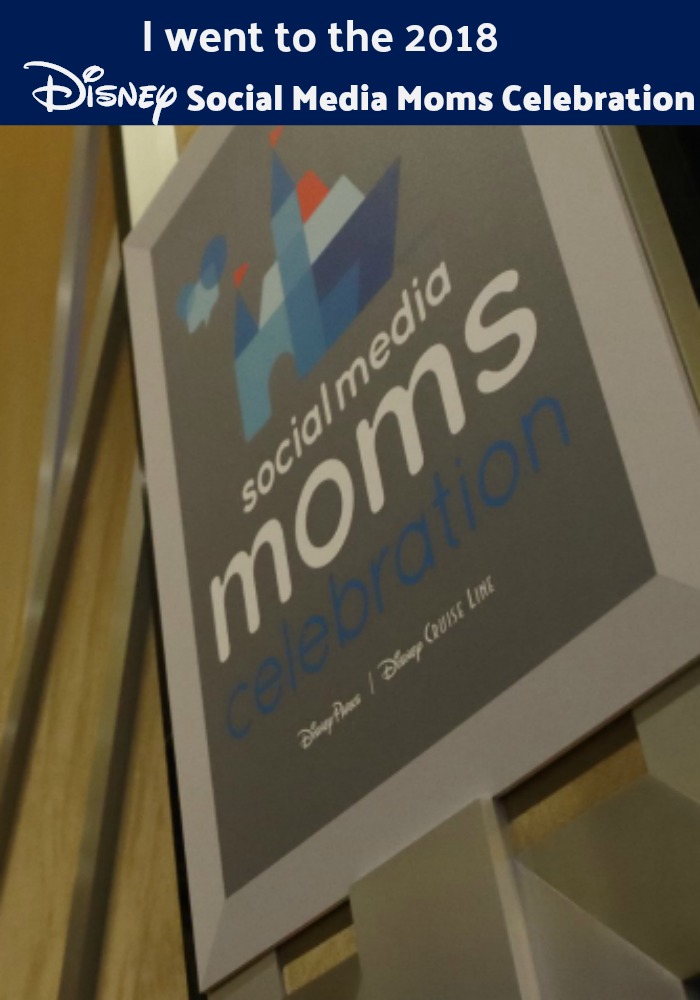 The number one question – How do you get invited?
Honest answer: I don't know. If I knew the thing that got me invited to Disney Social Media Moms Celebration, I'd be doing that thing all the time. I had zero Disney posts on my blog when I received my invite to the 2017 conference. My husband and I had been to Walt Disney World…in fact, we went on our honeymoon in 2009.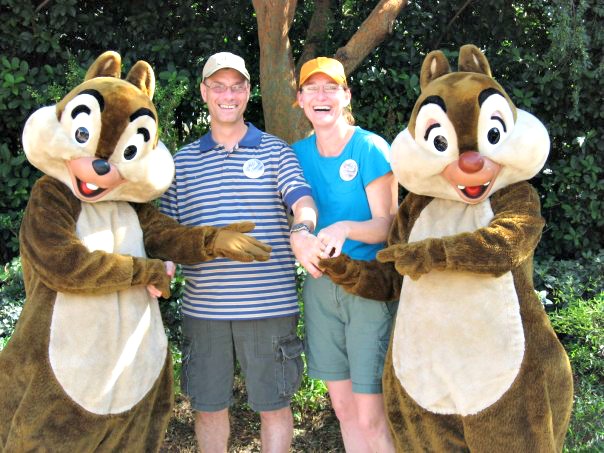 We'd talked about taking our boys to Disney "someday" and our invite to Disney Social Media Moms came at the perfect time.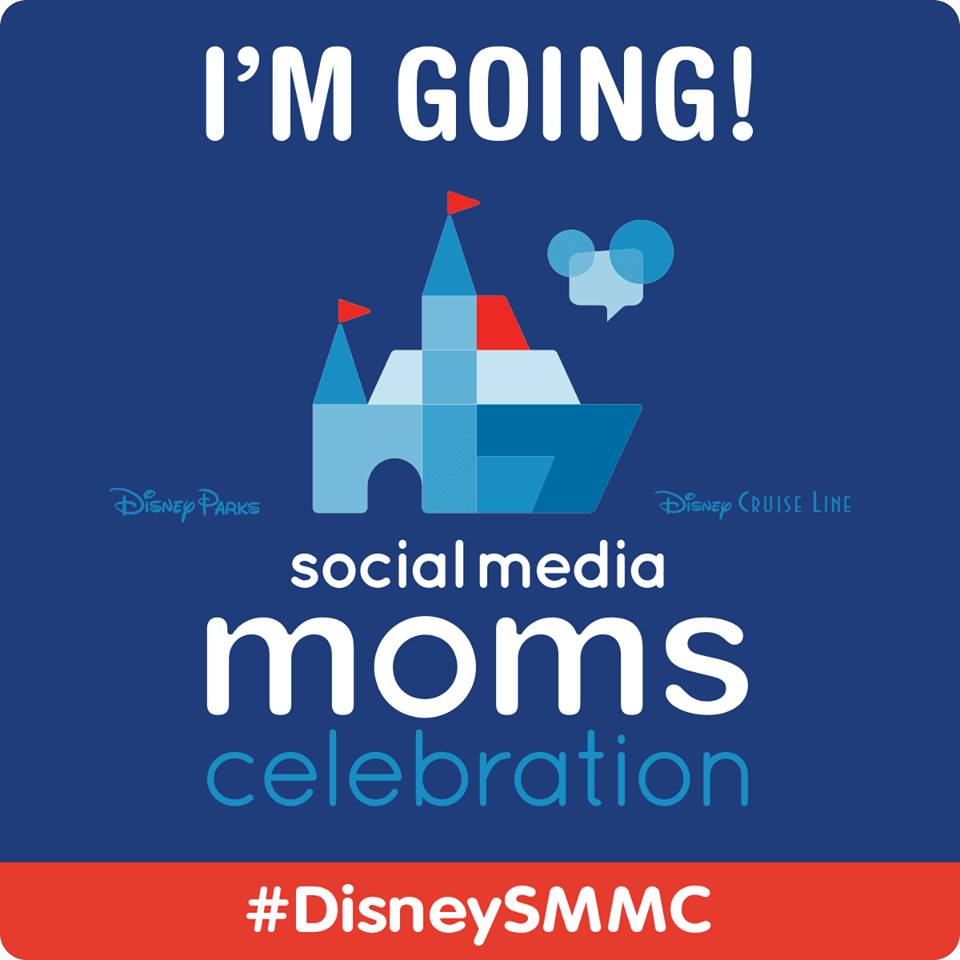 I had engaged with a variety of Disney accounts on social media because I was interested in what was happening at Disney. I posted content related to family fun and family activities in and around San Antonio, which is where we live. My blog was active and established and I had steady following across all of my social platforms. I was far from being a blogging rock star but I wasn't a just-starting-out blogger, either. I wish I knew the secret sauce but honestly, I think the mystery is part of the excitement and magic.
I don't spend a lot of time trying to decipher exactly what I did to get this level of pixie dust…although like everyone else, I'd love to know. I try to focus on the experiences I had, which were magical on so many levels.
I attended the conference and if was life-changing for me. I learned. I connected. I shared my experiences. I fell just a little bit more in love with Disney, if that's even possible. And, I was invited back for the 2018 celebration. I might or might not have screamed when I got the email.
I'm so thrilled that I was chosen to attend and to be able share my experiences with all of you and help you to plan your own amazing Disney experience. I am so grateful to Disney and Disney Social Media Moms for giving my family these amazing experiences and I'm so excited to be able to share them with all of you. I'm more than happy to answer questions about what we've done or answer questions about the conference. Paying the magic forward is one of the best things about this whole experience.
Day 1
We arrived at Coronado Springs at about 3:00 p.m. We'd flown in from Texas the day before and spent the night at another Disney resort. Did we have to schlep our luggage from one resort to another?
Come on.
This is Disney. We contacted Bell Services when we were ready to leave Animal Kingdom Lodge and told them we'd be transferring to Coronado Springs, which was the host resort for the 2018 Disney Social Media Moms Celebration. Disney was kind enough to gift us five-day Park Hopper Passes, so we opted to come a little early and enjoy some time on our own before the conference.
We headed out to breakfast and to enjoy a day at Epcot. When we arrived at Coronado Springs, we simply let Bell Services know that we were there and needed our luggage and Bibbidi Bobbidi Boo. Just like that. If you're ever curious as to how easy switching resorts at Walt Disney World is, it's super easy.
I left my family to relax in our lovely room at Disney's Coronado Springs while I went to a fabulous, pumped up influencer welcome event.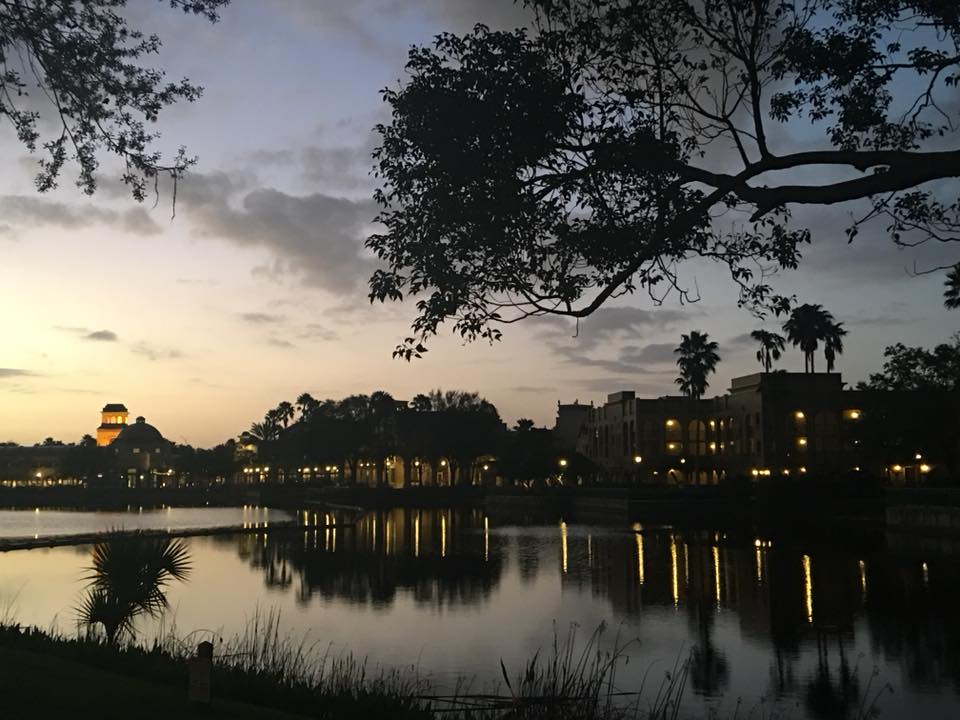 I saw some old friends and met some new friends and got crazy excited for the awesome week that was to come.
We had an amazing time at the Pixar sponsored dinner and we are so grateful to Babybel for making this event possible for us. Did you know Babybel is the official cheese of Walt Disney World, Disneyland, and the Disney Cruise Line? Cheese is life, man, and Babybel is one of my favorites. Yes, I know it's supposed to be for my kids' lunchboxes but I like it too.
We were treated to a delicious buffet, some amazing entertainment and the opportunity to meet some of our favorite Pixar characters.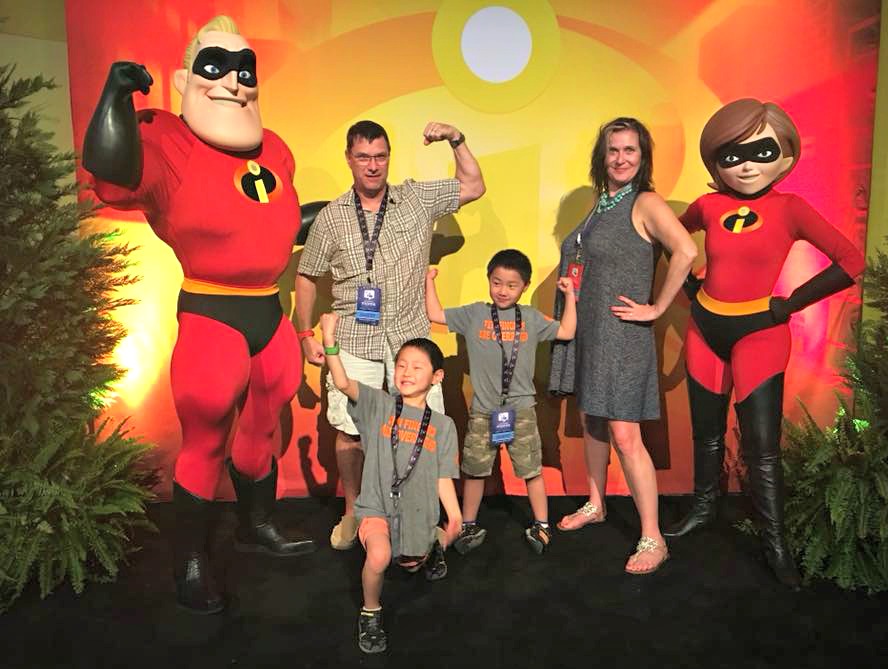 We went to bed tired but happy.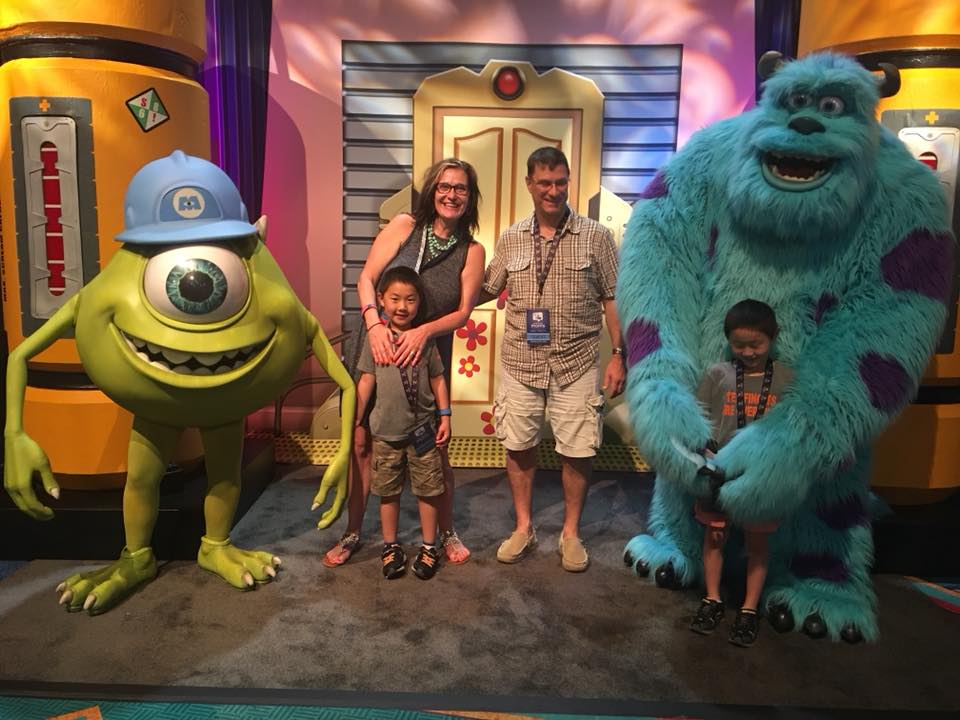 Day 2
We woke up with the chickens and were on a bus headed for Disney's Animal Kingdom before the sun was up…and to be honest, before any of us were fully awake.
Walt Disney World opened up the park early for our group and we were treated to private time in Pandora: The World of Avatar as well as a private sunrise breakfast.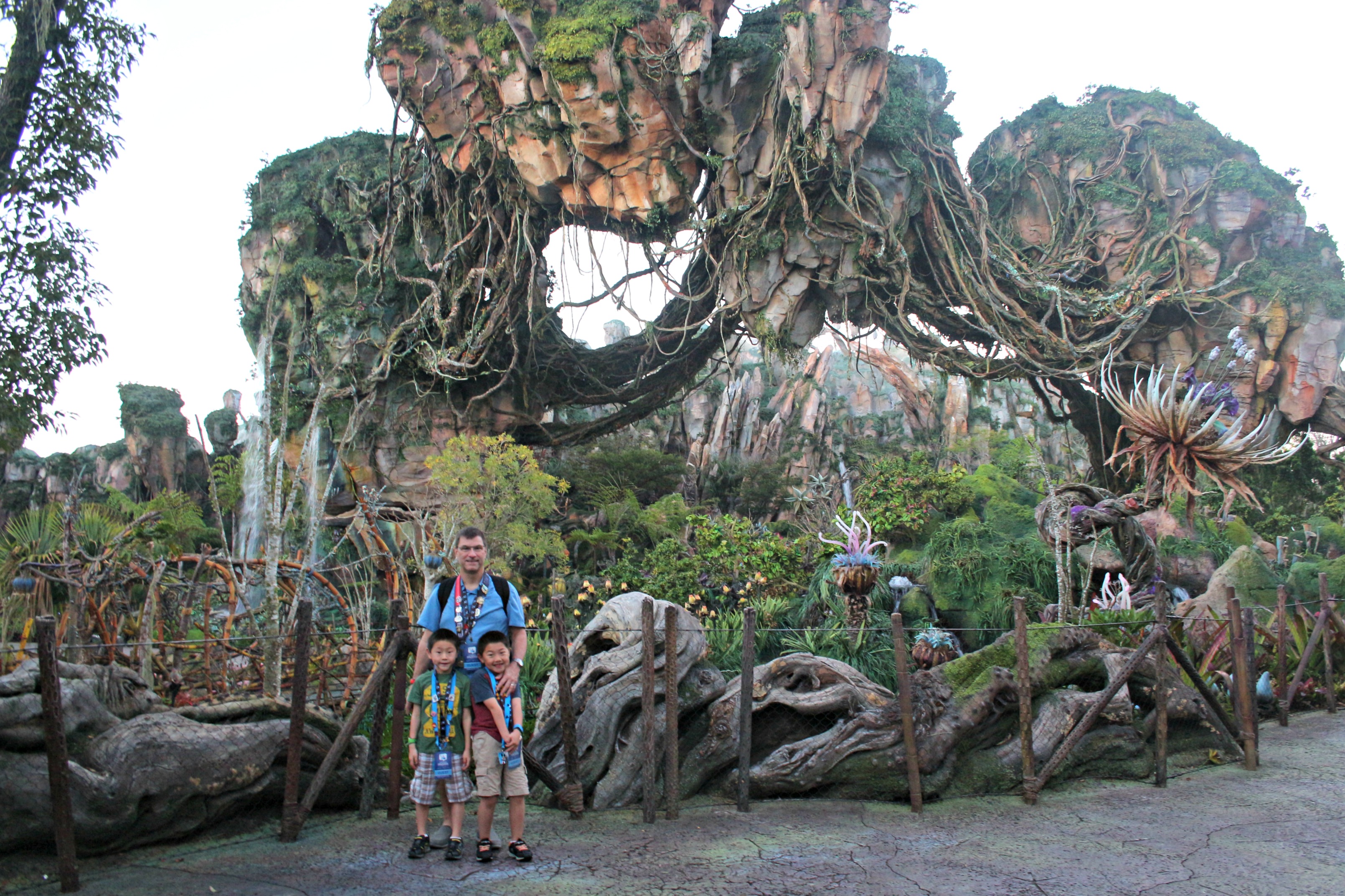 This. Was. Amazing.
This is what we did:
We took unobstructed pics of the Tree of Life. Did you know Disney's Animal Kingdom is my favorite park? It is!
When we got into Pandora, we were given the choice of eating a delicious breakfast or riding the rides.
Pandora is a pretty hot ticket right now. Guests wait up to four hours to ride Flight of Passage, so we headed there first, even though mama was borderline hangry.
I'd ridden Flight of Passage before (seriously the best ride ever) this summer but my family had not, so it was super fun for them to have the opportunity to see this Disney artistry in action.
One of my best moments?
When the ride started and I heard my son gasp and then laugh.
The Flight of Passage is a very immersive ride that allows you to feel like you're soaring on the back of a banshee and my son's vocals? Ya'll. He's such a timid boy and he just loved this. He can't stop talking about it. It is so hard to see them grow up but it is so fun to see them be able to do things like this because they're tall enough.
After the Flight of Passage, we went to eat breakfast and it was so delicious.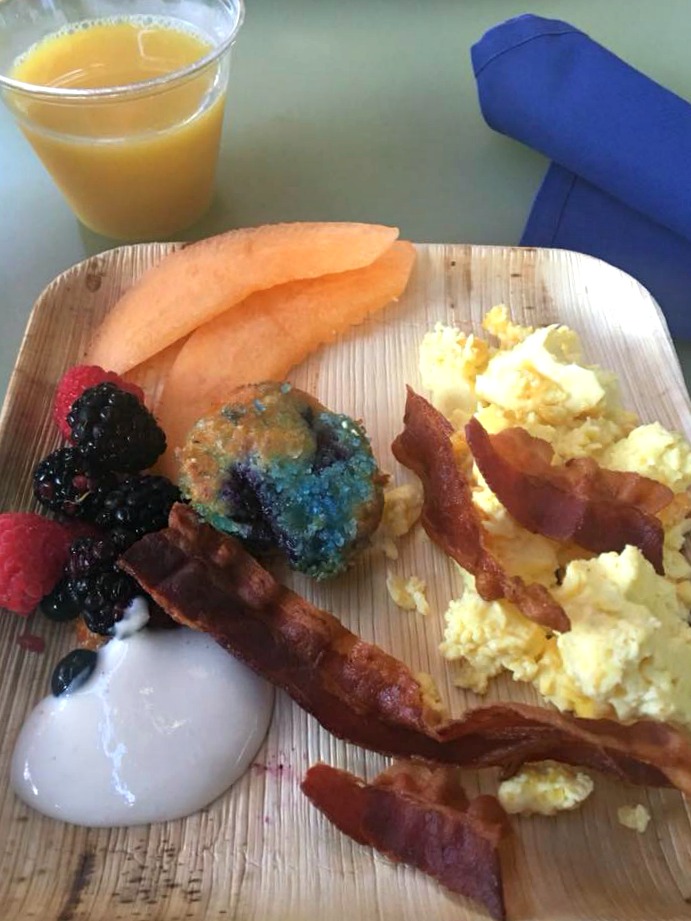 After breakfast (see also after mama was fully caffeinated) we went to ride the Na'vi River Journey. My kids decided they wanted to ride Flight of Passage one more time, and that is just what we did.
After that, we went back to the amazing breakfast buffet for seconds.
We spent the morning in Disney's Animal Kingdom and were able to ride the Kilimanjaro Safari, Expedition Everest, and the Dinosaur Ride before we were all too pooped to continue. We also made time for an ice cream break and to see the Finding Nemo show, which is totally Broadway quality. The puppetry is amazing and after a few minutes of watching, my eyes were completely focused on the puppets rather than on the puppeteers.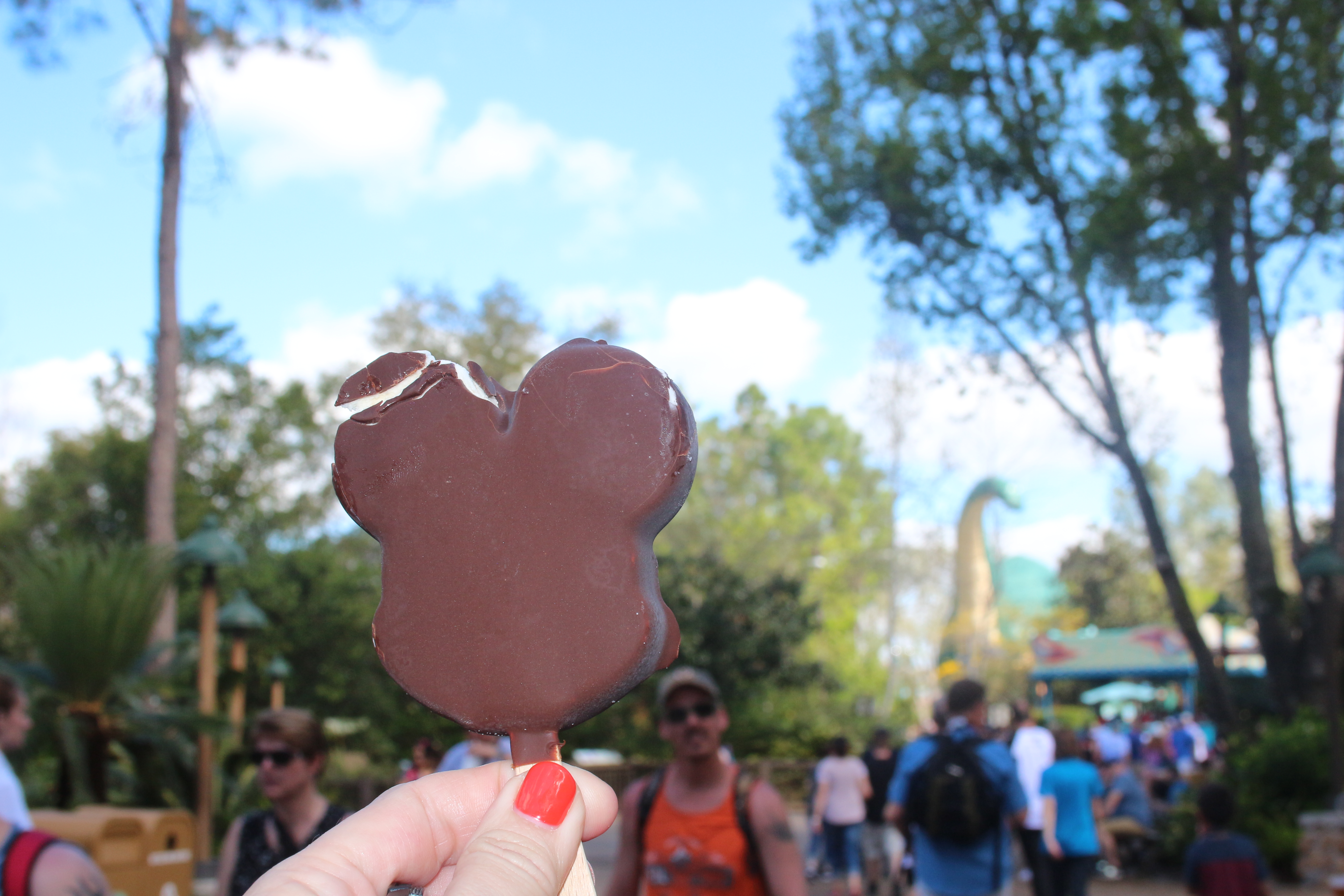 After lunch we were given the opportunity to preview some awesomeness from the soon-to-open Toy Story Land at Disney's Hollywood Studios.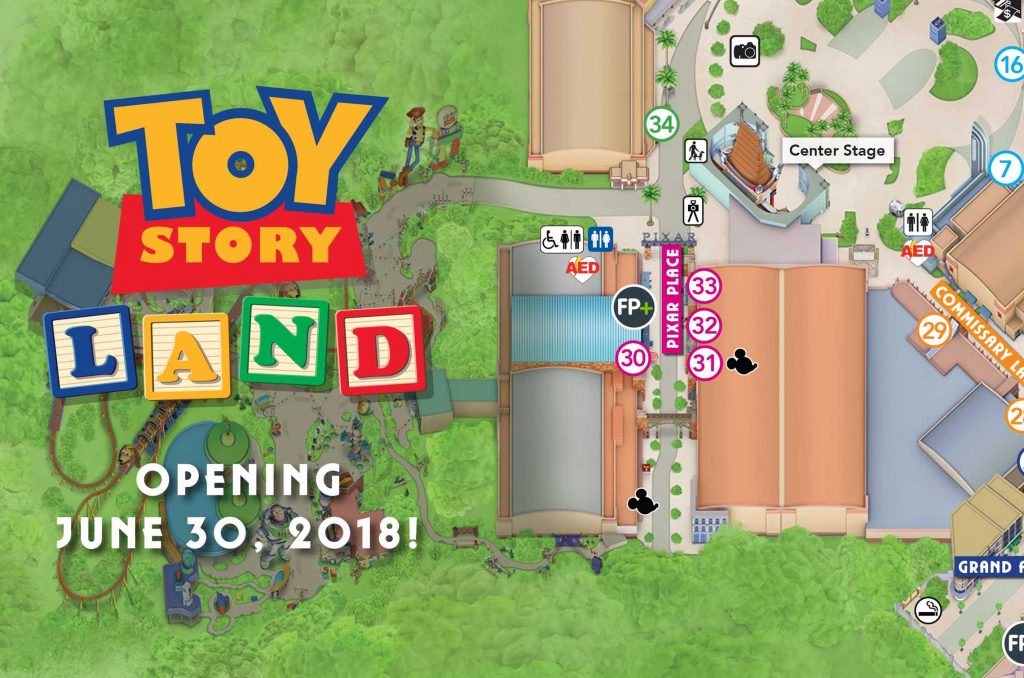 Stay tuned (or subscribe!) for more info on the new Toy Story Land. I have intel! This is going to be so fun!
We were treated to a lovely Italian dinner at PizzeRizzo in Disney's Hollywood Studios. Our meal was sponsored by GoGoSqueeZ and we are so grateful to them for being a part of Disney Social Media Moms Celebration. GoGoSqueeZ is a big favorite at our house and their team was so engaged with us.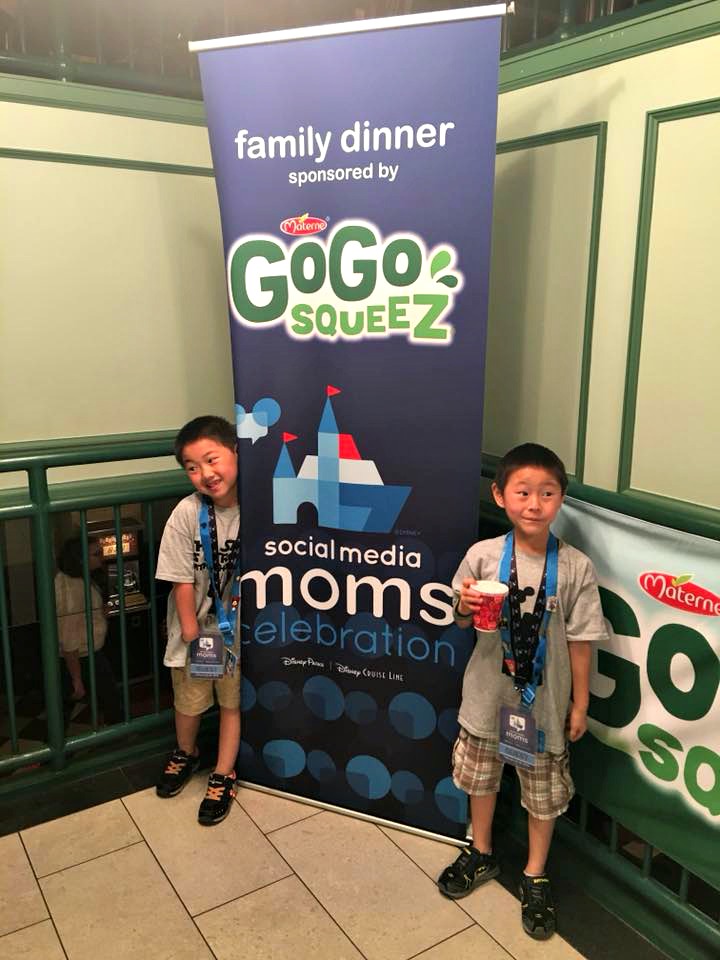 We finished off our day by riding some rides and then went back to Coronado Springs to go to bed.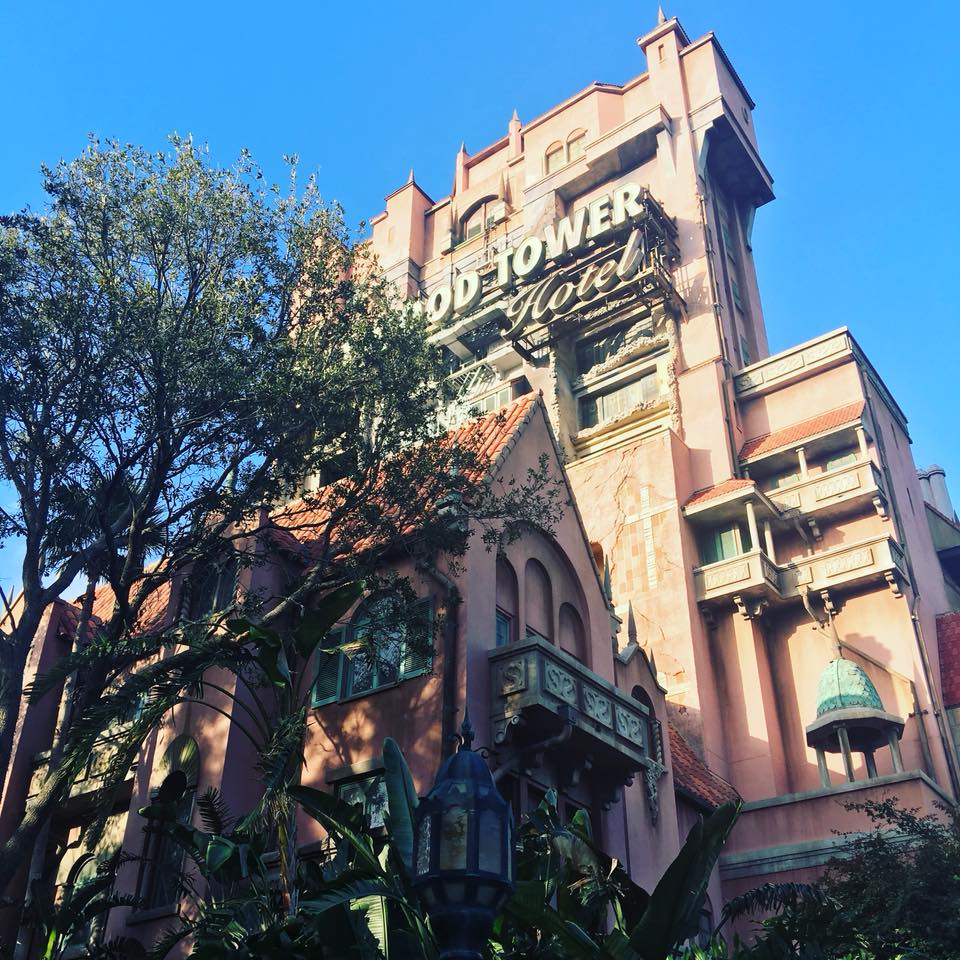 We came back to the awesome surprise that GoGoSqueeZ had left in our room. I love this lunchbox, and, since my kids are currently arguing about who gets to use it, it might just end up being mine. I can use it on the days I go to their school to eat lunch with them. Anything to avoid a sibling battle!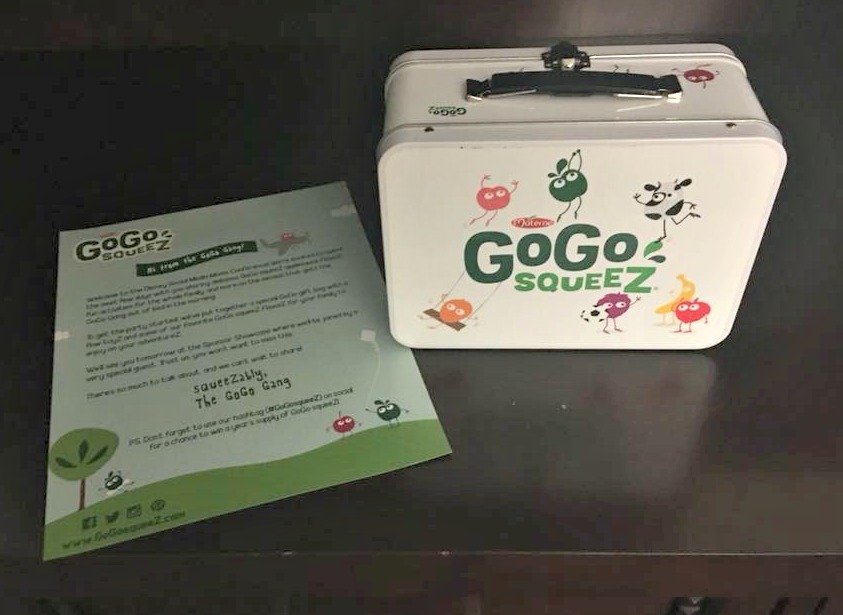 Day 3
Disney really pulls out all of the stops when it comes to influencer professional development. But first, coffee. And breakfast!
Alamo Rent-a-Car sponsored a lovely breakfast complete with some surprise visitors. Try telling a seven-year-old to sit down and eat his breakfast when some of his favorite Disney Junior characters are just a few feet away. Breakfast happened to be a delicious Mickey waffle (because you're not really at Disney if you don't eat at least one Mickey waffle) but we had our priorities in order and of course, visited the characters first.
After breakfast, my husband and kids hit the pool at Coronado Springs while I attended a half-day professional development session.
Honestly, my head is reeling and I'm still going through my notes. We got the inside scoop on the wonderful things that are coming to the Disney Parks this year and next (SO. MUCH. STAR. WARS.) and some serious movie intel. We were among the first to see the expanded trailer for the upcoming release of A Wrinkle in Time and we were THE FIRST audience to see the preview of Christopher Robin, which you will not want to miss. More on all of these initiatives later (so if you're a Disney lover and aren't subscribed to the blog, make sure you subscribe!) I can't wait to share all the magic with you.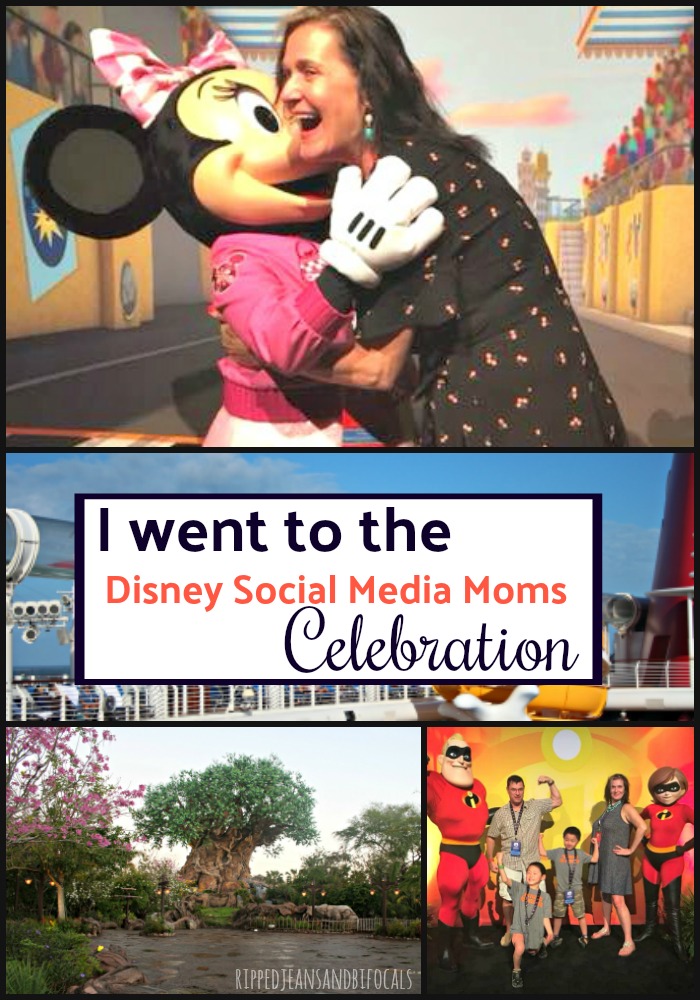 After our general session, we had a lovely expo and lunch where we got to chat with some of the conference sponsors and collect all of the fun gifts they had for us. It was a really magical experience. After the expo, I did a quick change and my family and I hopped in a Minnie Van and headed for the Magic Kingdom. We saved The Magic Kingdom for last, which I won't do next trip. There's just something about turning onto Main Street U.S.A. and seeing that magical castle that lets you know you're at Disney.
Don't get me wrong – the other three parks are amazing and I wouldn't trade my time at any of them. But, there's just something about that iconic view that really solidifies the magic. I think visiting the Magic Kingdom first is a must-do, so next time we're going to make sure we do that.
We rode the Seven Dwarves Mine Train – twice. I rode the Mad Tea Party with my boys since my husband doesn't like spinny rides. We ate an early dinner at the Crystal Palace, which is a great character dining experience if you want to hang out with Winnie the Pooh and friends. We tried to ride Space Mountain but the ride closed just as we got up to the FastPass+ entrance. Space Mountain has been closed or down the last three times I've visited the Magic Kingdom, so I'm on a serious mission to ride it first next time. Maybe that's some of the logic that goes behind my "must visit Magic Kindgom first" plan.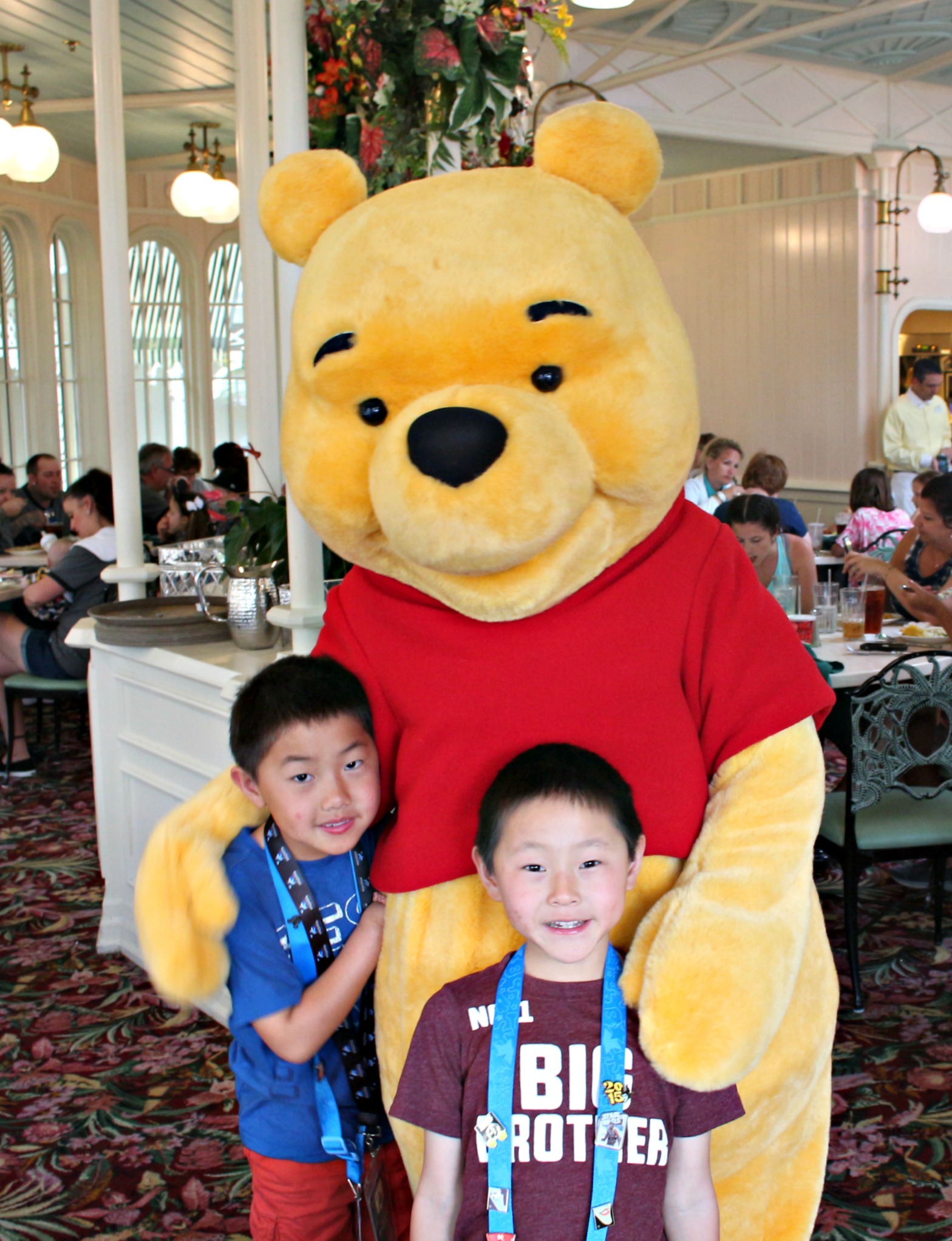 We finished off our night with the new Happily Every After Show in front of the iconic Cinderella Castle. Happily Ever After is staggeringly beautiful and I don't have words to describe how amazing it is. You should go see it. That's all.
Day Four
Friday brought a Star Wars themed breakfast before we boarded the buses to Port Canaveral. We got to meet Kylo Ren and Chewy (although they were at opposite sides of the room so things didn't get awkward or dangerous.)
Port Canaveral is a little more than an hour away from Orlando, so we got a chance to snooze a little bit on our way to the port – after such a whirlwind week, we needed the shut-eye!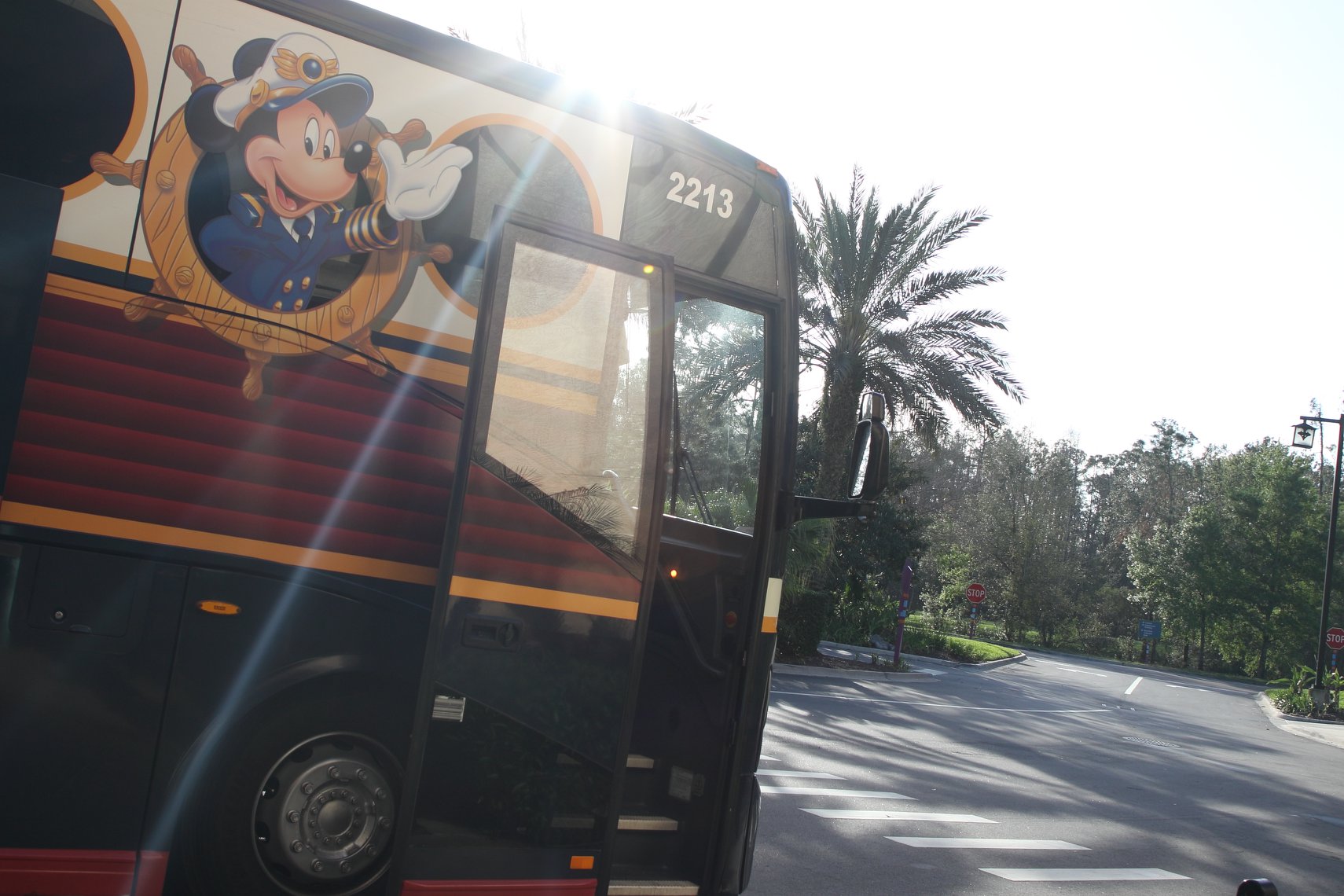 We boarded our cruise, had some lunch at Cabanas, the buffet on the Lido Deck, and then I was off to an influencer-only meet and greet. There was champagne and strawberries and dancing with Mickey. Magical.
My kids swam and watched Frozen…yes, at the same time! After our sail-away party and the mandatory safety drill, we were off to the Oceaneer Club. My kids adore the Oceaneer Club and the Oceaneer Lab and they couldn't wait to get in there and start having fun.
My husband and I saw The Golden Mickeys solo and had a great time. Disney Cruise Line entertainment is epic – Broadway quality. After the show, we went back to pick up the boys, and took them (quite against their will) to dinner at the Enchanted Garden.
Don't worry…our kids still like us…they just like the Oceaneer Club a lot. We had a great meal and after dessert, the kids were picked up by the Oceaneer Club staff and back they went to play some more.
Disney Cruise Line offers something called "Dine and Play." If you're eating at the later seating (8:15)  Oceaneer Club Staff will come to your dining room at 9:00 and collect your kids. Parents can take their time over desert and coffee or even order a second dessert. We headed out after dinner to enjoy some of the ship's nightlife, knowing our kids were happy and well taken care of.
If you're interested in Dine and Play, just tell your server and they'll make sure to have your kid's meals out in time for them to join the Oceaneer Club staff when they come around. One parent has to go up to the front of the dining room to officially check the kids in but it takes just a minute. We loved this feature.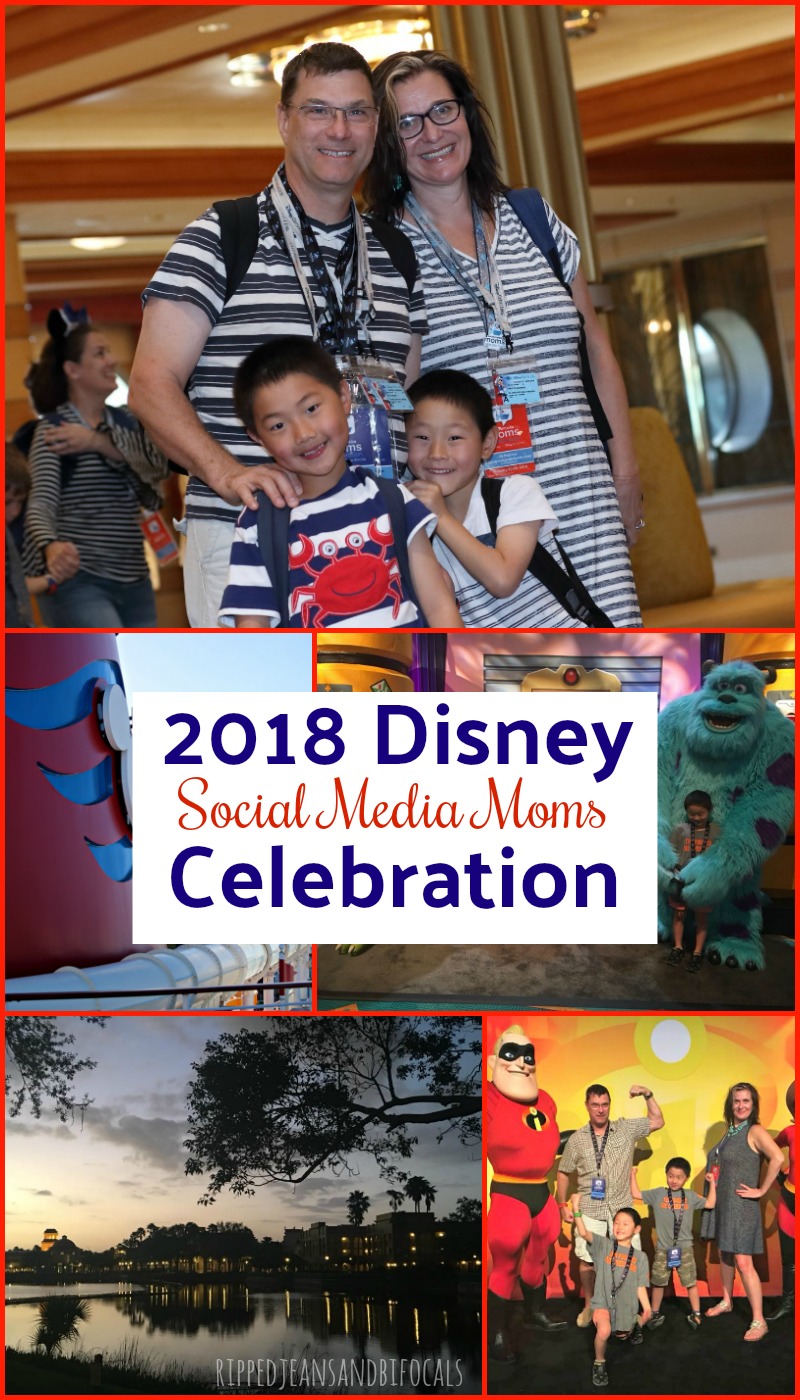 Day Five
Saturday, day two of our Disney Cruise, brought us to beautiful Nassau. The ship was already in port when I woke up. We enjoyed coffee, fruit, and bagels from room service and then I was off to my second influencer general session.
After a jam-packed morning of learning (seriously, my head is just spinning) we were given the opportunity to enjoy other behind-the-scenes looks at the magic. I had some yummy lunch with my husband at Cabanas and then we went ashore for a little while. We walked around the port area for a bit and bought a magnet (we're not big shoppers but we do buy a fridge magnet every place we go.)
We had a ride on the Aqua Duck, walked around the ship and took pictures, and enjoyed a tall frozen drink followed by a nap. Guess where our kids were? That's right, still happily at the Oceaneer Club.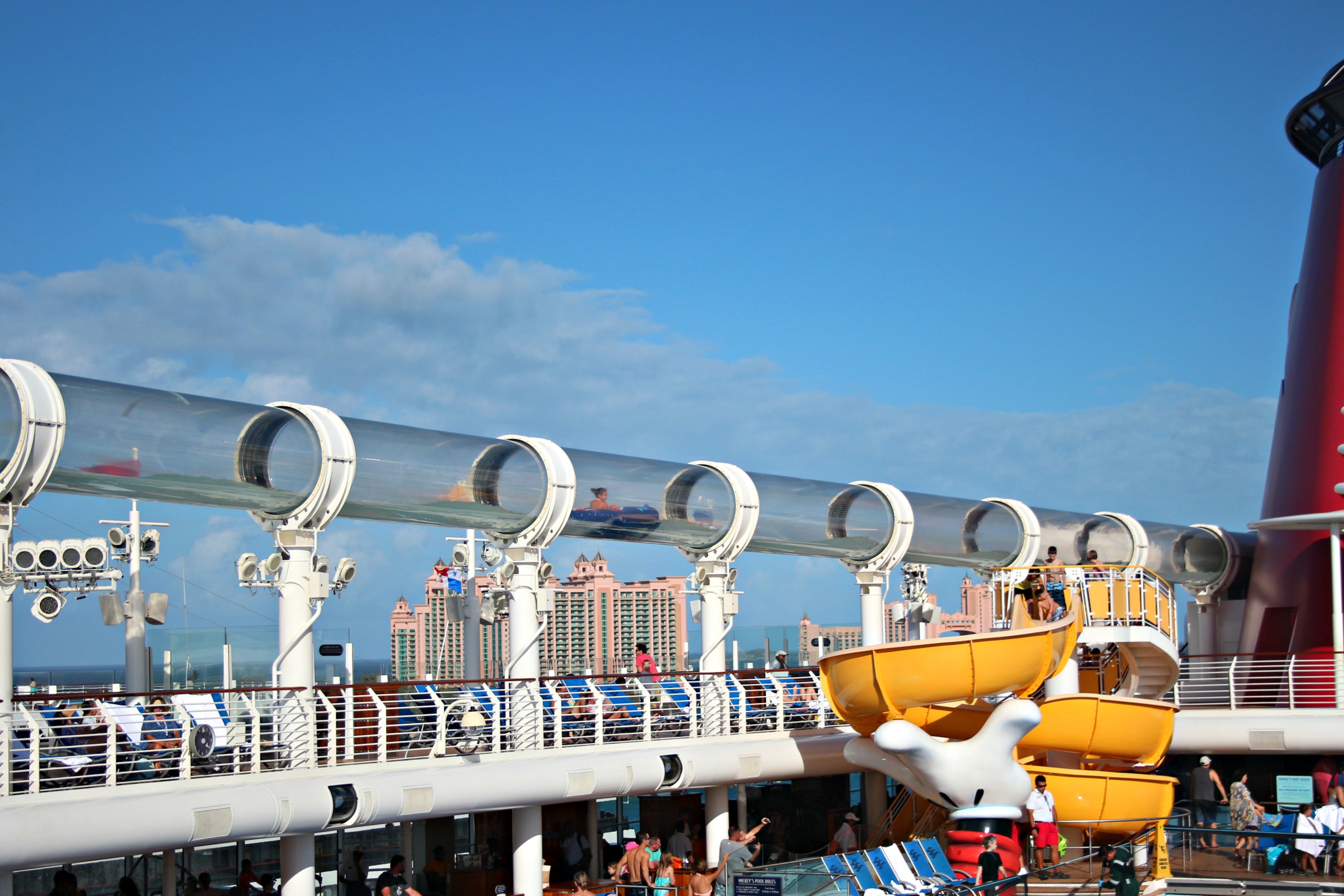 We all went to the Beauty and the Beast Show together and let me tell you – I've never seen anything like this show. To say it's Broadway quality just doesn't do it justice. It's done with beautiful artistry, puppetry, and of course, magical singing and dancing. Beauty and the Beast is a tale as old as time and we know the story quite well but we were all in tears at the end…even my husband although he swears it was allergies. Riiight.
After a delicious dinner at the Royal Palace, we were all in bed early to get ready for our big day on Castaway Cay.
Day Six (and the last full day of our cruise)
Castaway Cay is Disney's private island in the Bahamas and it is truly the happiest place on earth. Only Disney Cruise ships are allowed to go to Castaway Cay and typically, only one Disney vessel at a time is in port. There are only four ships in the Disney fleet, although that is soon to be seven!
Castaway Cay is incredibly beautiful and the atmosphere is so relaxed. The beaches are wonderfully uncrowded and they have some of the coolest water slides ever. Even better? Most of the amenities on the island are free. You don't pay extra for chair or umbrellas or beach towels. Even better than that? The food is free. You'll pay extra for alcohol and a few specialty items but the lunch buffet is amazing.
We slept in a little bit and we off the ship by nine. We dropped the boys of at Scuttle's Cove which is where the Oceaneer Club relocates when the ships are in Castaway Cay. It's pretty much an outdoor kid's paradise.
We took the tram over to Serenity Bay, which is the adults-only beach. We'd scheduled a couple's massage before our cruise, which was pure bliss. We had lunch together on Serenity Bay before going back to Scuttles Cove to check on our boys. I'm just going to say it: Serenity Bay is the kind of place that makes you forget you have kids for a minute.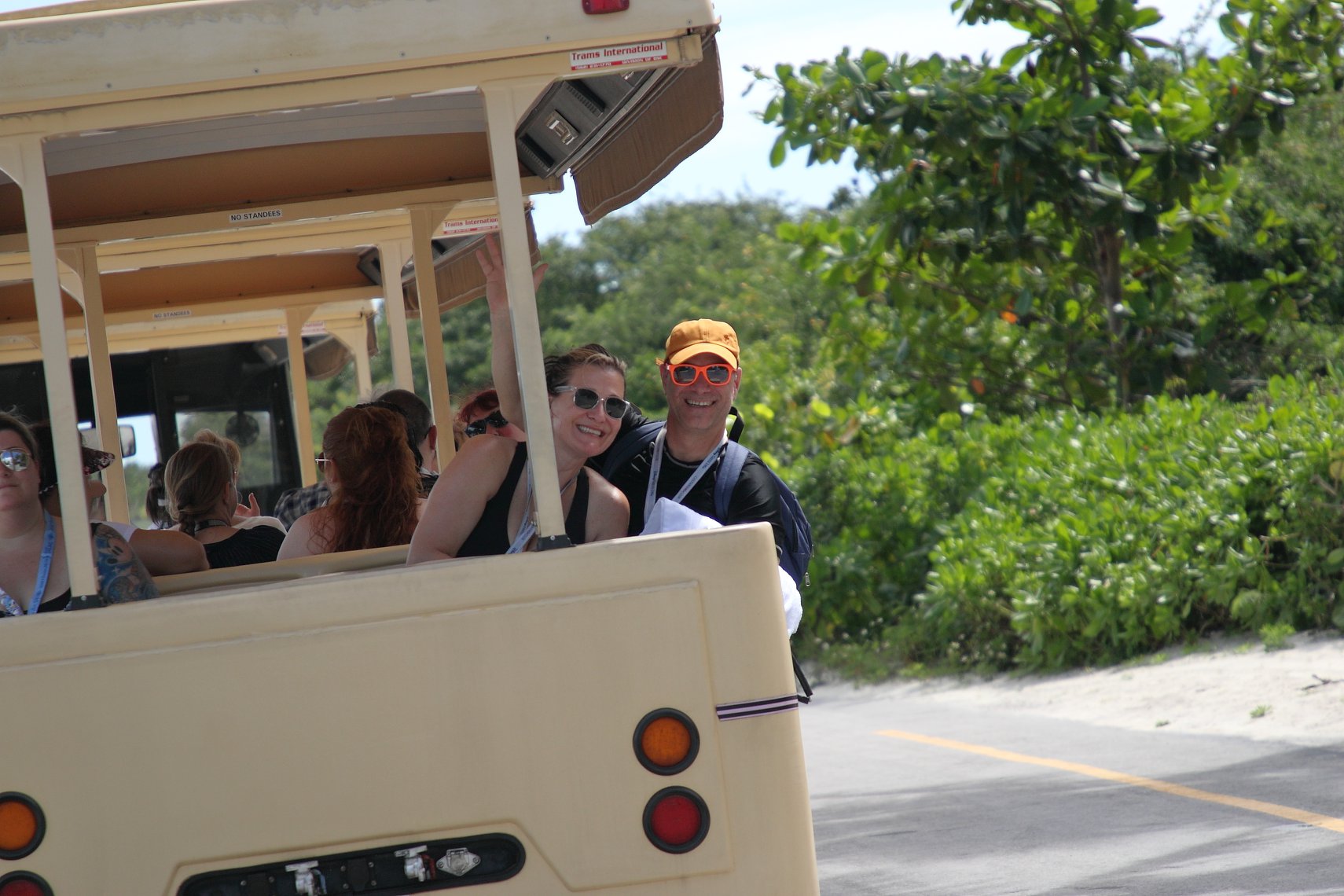 Not to worry, our kids were fine and happy at Scuttles Cove and had already had lunch.
Kyle opted to stay and play and Zack, my husband and I went snorkeling. None of us had ever snorkeled before and we had a great time. If you snorkel on Castaway Cay – and I highly recommend you do – go early in the day when the water isn't as stirred up. We were still able to see quite a bit of fish and some sea turtles.
We were back on the boat by four and my husband and I went to an information session about the Disney Vacation Club. The Disney Vacation Club is essentially Disney's time share program without a lot of the annoying and frustrating things people experience with other time shares.
The Disney Vacation Club operates on a points system: You purchase a set amount of points and you exchange your points for Disney vacations. Buying in to the Disney Vacation Club locks in todays rates, basically. Your points are doled out annually and you can use them at Walt Disney World Resort, Disneyland resort, on Disney Cruises, Adventures by Disney and at Aulani in Hawaii.
We decided to take the plunge and join. It's something we'd been talking about for awhile and being on board a Disney Cruise is the best place to join because there are crazy good discounts when you book on board. You can also book another Disney Cruise while on board at a discount not offered elsewhere and there are lots of options and cast members who are eager to answer your questions and help you choose what's right for your family.
Our final night brought dinner at Animator's Palette, which is one of my favorite Disney Cruise Line restaurants. I was already familiar with the menu, having eaten at Animator's Palette on the Disney Wonder. I had the same dish my husband had ordered on our last Disney Cruise. By the way…if anyone ever offers you wasabi mashed potatoes, trust me, you want them.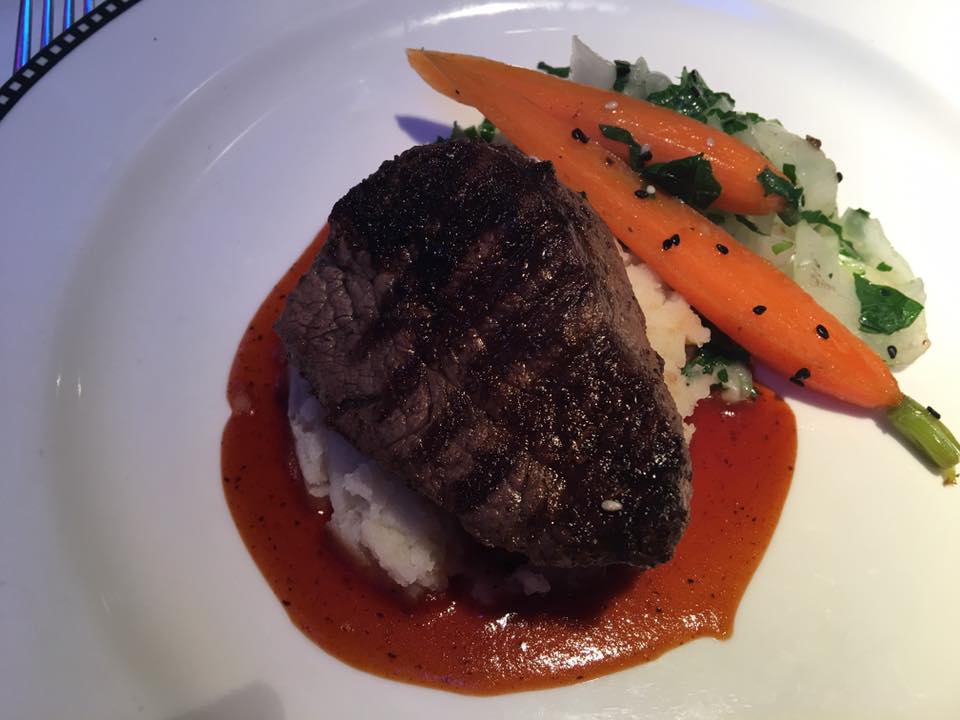 We let the kids go back to the Oceaneer Club one last time and we walked around the ship and visited the gift shop. We returned to our stateroom a little early to attend to the not-so-fun part of the trip of getting our luggage packed and outside the door for the stewards to pick up.
We departed the ship early the next day and were on a plane home just after lunch. One of my kids started crying when we walked back through our door and said "I just want to go back to Disney."
Man, do I know the feeling.
I know it sounds like we had a magical family vacation…and we did. But being a part of the Disney Social Media Moms was so much more. It was an opportunity for professional development and to get information that will take my blog to the next level…whatever I decide that means for me.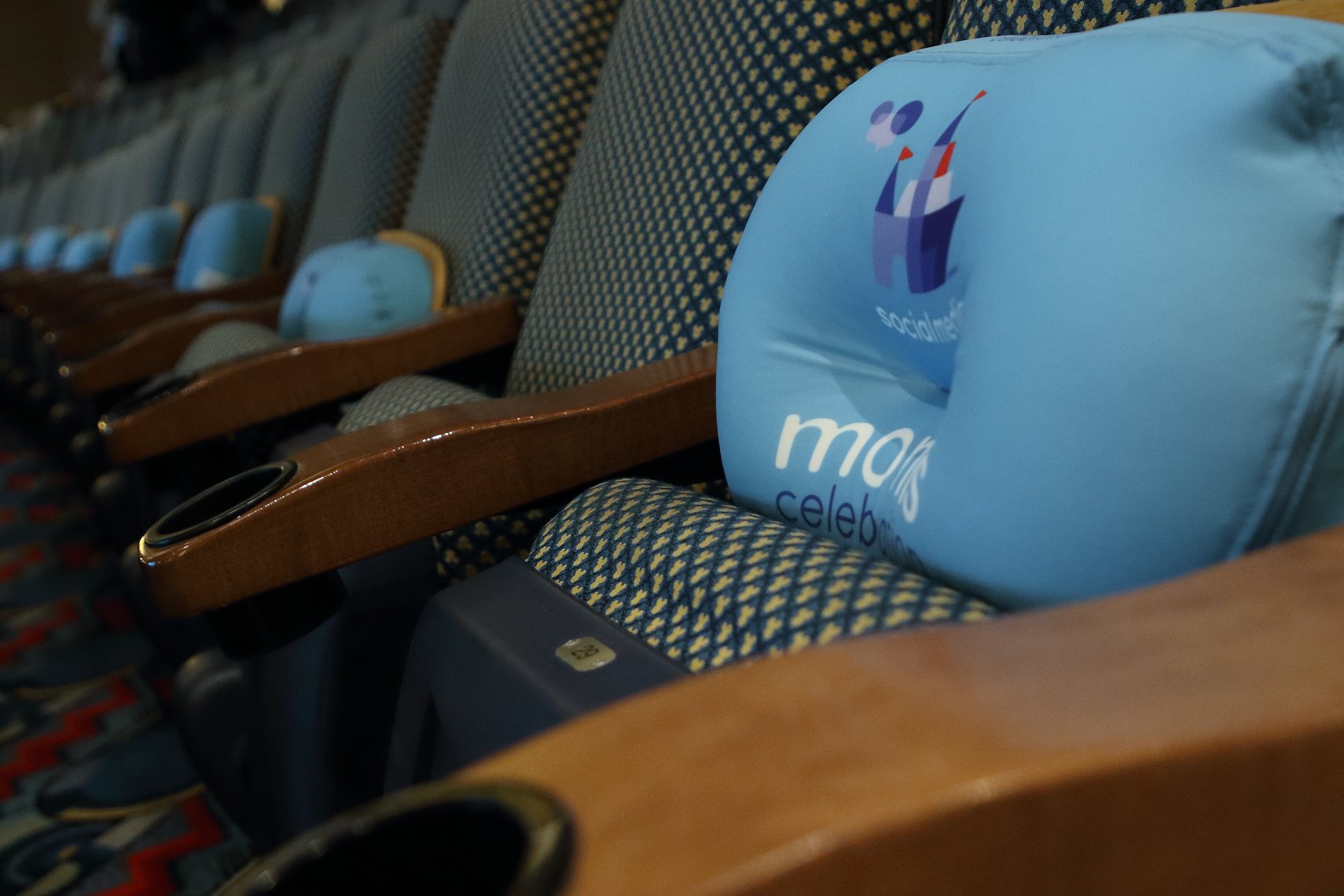 I have pages of notes and over a year of content ideas, thanks to the wonderful experiences and behind-the-scenes awesomeness I got to be a part of. I can't wait to share everything with you over the coming months…and if you have a question, just ask! You can reply in the comments, find me on social or send me an email.
But the best thing? Disney Social Media Moms was super validating for me. It reaffirmed that I'm on the right path and it gave my family an inside look (and a new appreciation) for what I do and why I do it. I am so honored that my family was included in this magical event.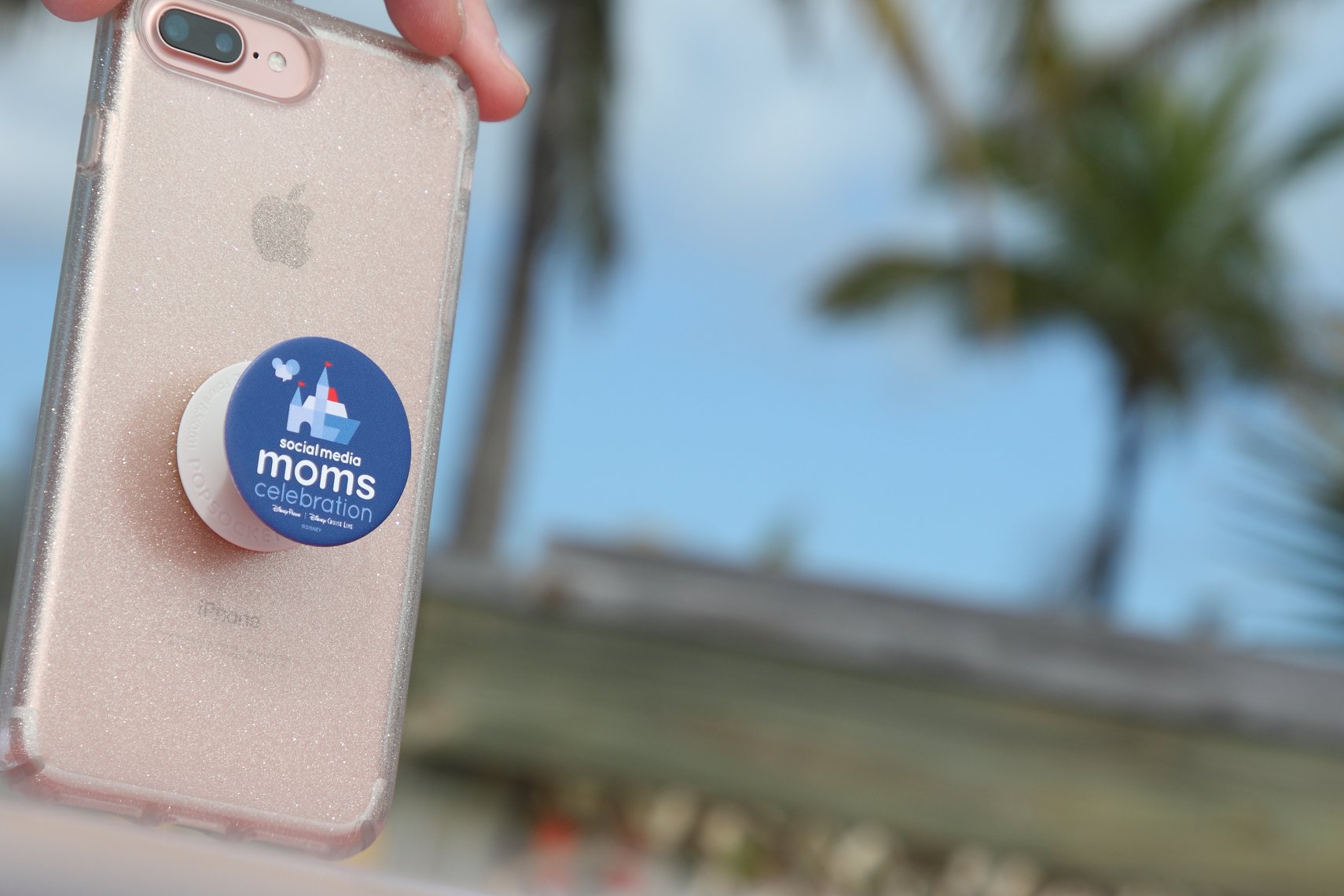 My biggest tipping point of the conference – and maybe in a long time – was when I got to have my picture taken with Minnie at breakfast before my family showed up. I was nine the first time I visited Walt Disney World and met Minnie in person for the first time.
Back then, there was no organized queue for character meets. Minnie was there in the Magic Kingdom, near the teacups and kids were crowding around her to touch her, to hug her and have their moms take a photo with their Kodak instamatic cameras.
I was a little shy and hesitant and the other kids kept pushing ahead of me. Minnie noticed me, held up her finger as if to say "just a moment" and beckoned to me so I could come and have my picture taken with her. I'm going to have to find this picture (because that was way before digital prints and Instagram) and post it one of these days but I can see it in my mind's eye…a shy, awkward girl rocking a sweaty Dorothy Hamill haircut, elated to be standing next to her beloved Minnie.
That nine-year-old girl is still a big part of who I am. She's still in there. It's easy to forget, considering all of the decidedly un-magical parts of being a grownup. Wiping noses and butts. Remembering to do things like buy milk, take the cat to the vet and remove the lint from the lint trap. Thanks, Disney, for the reminder that the wide-eyed little girl taking in the magic for the first time is still in there.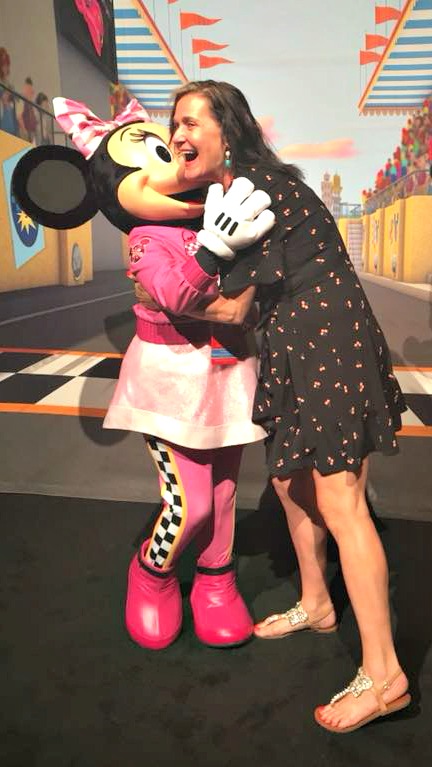 Walt Disney always said to never lose sight of the fact that all this was started by a mouse and those are some wonderful and humble words.
You might also like:
I'm going to the Disney Social Media Moms Celebration!