Fashion Friday – My Stitch Fix Box for Spain
(This post may contain affiliate links. Read my full disclosure.)
I wasn't very excited about my last Stitch Fix box. I've been getting Stitch Fix boxes off and on for over three years and I've had varying degrees of success with the service. My last box was kind of a dud and the first box in a long time where I've kept nothing. I didn't hate all of the clothes but I definitely didn't feel like the stylist was paying much attention to my style profile, beyond a cursory glance before she picked out my clothes. You can read here about the Stitch Fix box I didn't really like.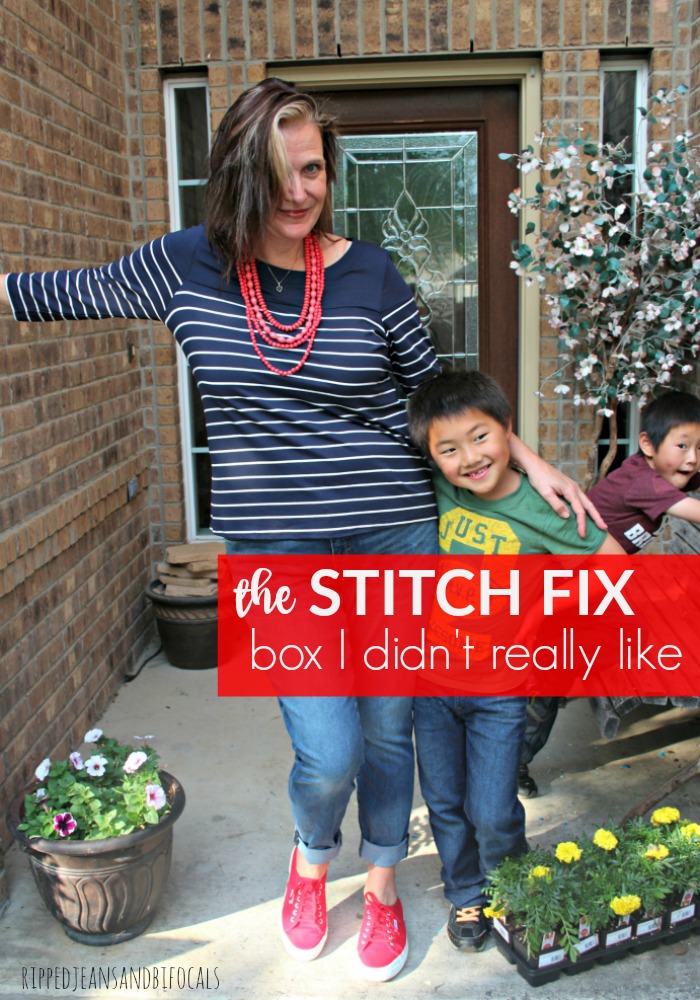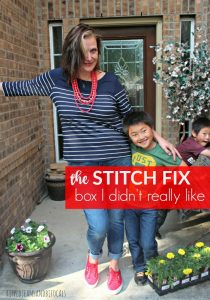 I actually complained to Stitch Fix about my last fix and sent them a copy of the blog post. Sadly, my old stylist Angelique is no longer with Stitch Fix and I got Jenn with two n's this time. I am not sure why, but that extra n has made me highly suspicious of her. Anyone else feel this way?
[Tweet "#FashionFriday – My @StitchFix box for Spain #StitchFixStyle"]
Jenn with two n's did try. While I don't relish the thought of being "that customer," I do believe that the squeaky wheel gets the grease and I think Stitch Fix tried a little harder since I was so detailed in what and why I didn't like the last box and because I shared my blog post. Stitch Fix does ask for feedback…I'm just not convinced they actually pay attention to it, though. (Come back, Angelique.)
I asked for clothes that I could wear on my upcoming trip to Spain. I wanted easy clothes that don't take up a ton of room in my bag since I am planning on going carry-on only this trip. I'm trying to be more streamlined in the way I pack and travel and since I'll have access to a washer-dryer where I'm going, I've decided to be more intentionally minimal.
Jenn with two n's wrote me a nice note indicating she'd read my requests and sent me two shirts, a bag, a pair of jeans and a dress. I believe she made an effort and tried to draw some inspiration from the last fix I was really enthused about (come back Angelique) but she just fell short. I bet it's that extra n. But seriously, this fix was a solid B- in terms of awesomeness. I didn't hate it.
Kaily Woven Detail Knit Top from Ezra
I like the way this shirt looks on the hanger much more than I like the way it looks on me. I like clothing that is flowy without being blousy (which is challenging and hit or miss) and this is more blousy than flowy.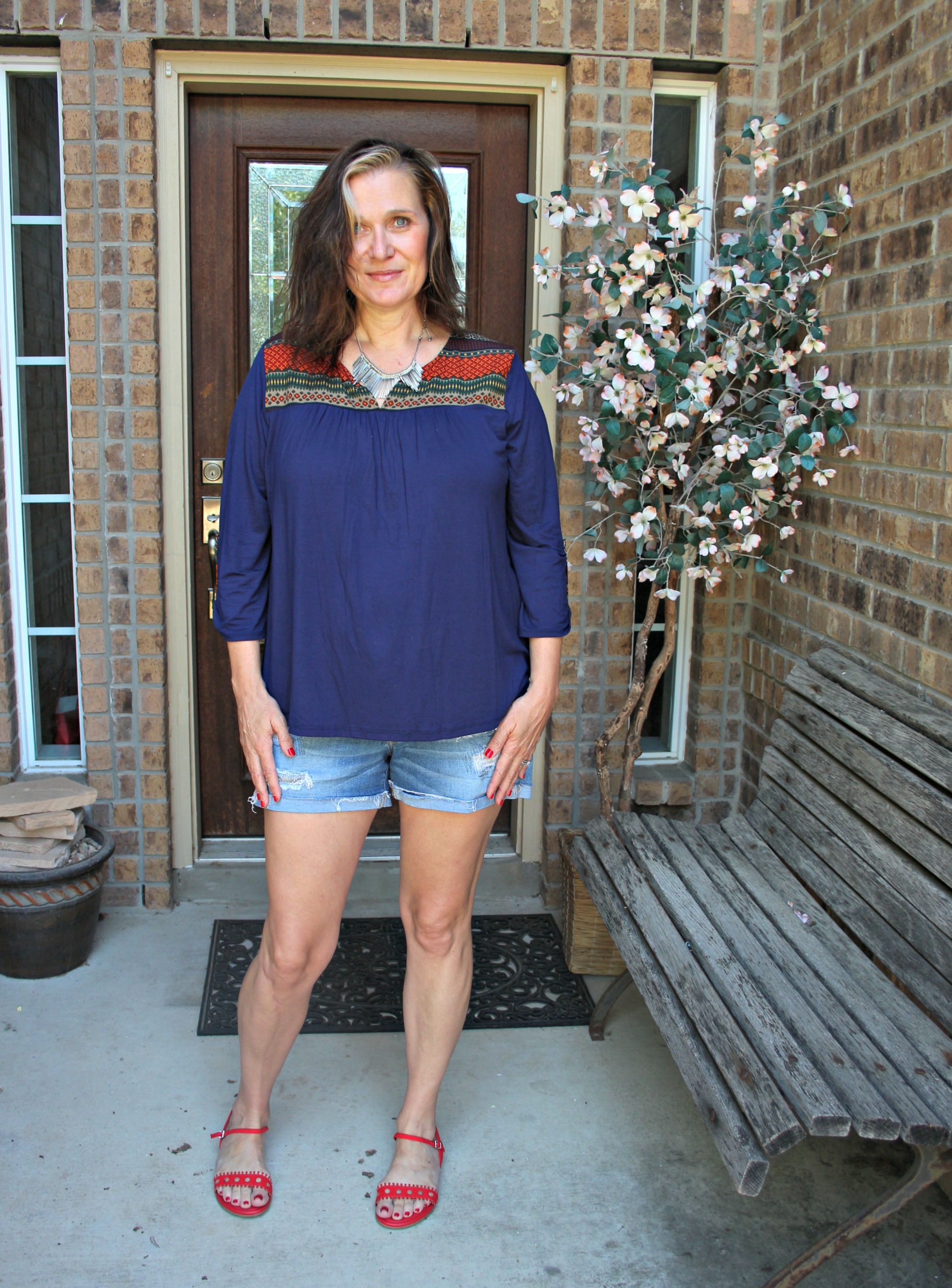 I like this shirt because I feel like I can wear it just about year 'round here in Texas. I also like the detailing on the yoke and sleeves. The navy part of the shirt is like tee shirt material, whereas the print is more of a "fancy" fabric. I guess that makes the top a little more dressy, but I've actually worn this a couple of different times with shorts or jeans.
Truth? I wasn't convinced I wanted to keep this top when my husband took the picture. However, I was in a little bit of a hurry that day and just decided to leave the house wearing what I had on so I ripped the tags off and went with it. It's mine now and I feel like I'll get some wear out of it.
Buchanen Tie Sleeve Knit Top from Papermoon
I hemmed and hawed over whether or not to keep this tee shirt. I like the cold shoulder-ish look with the little ties. I like the color combination of the seafoam green with the navy stripes. I like that the shirt is nice and soft and not so sheer that I need a tank top underneath. Lots to like, so I'm not sure why there was so much hesitation.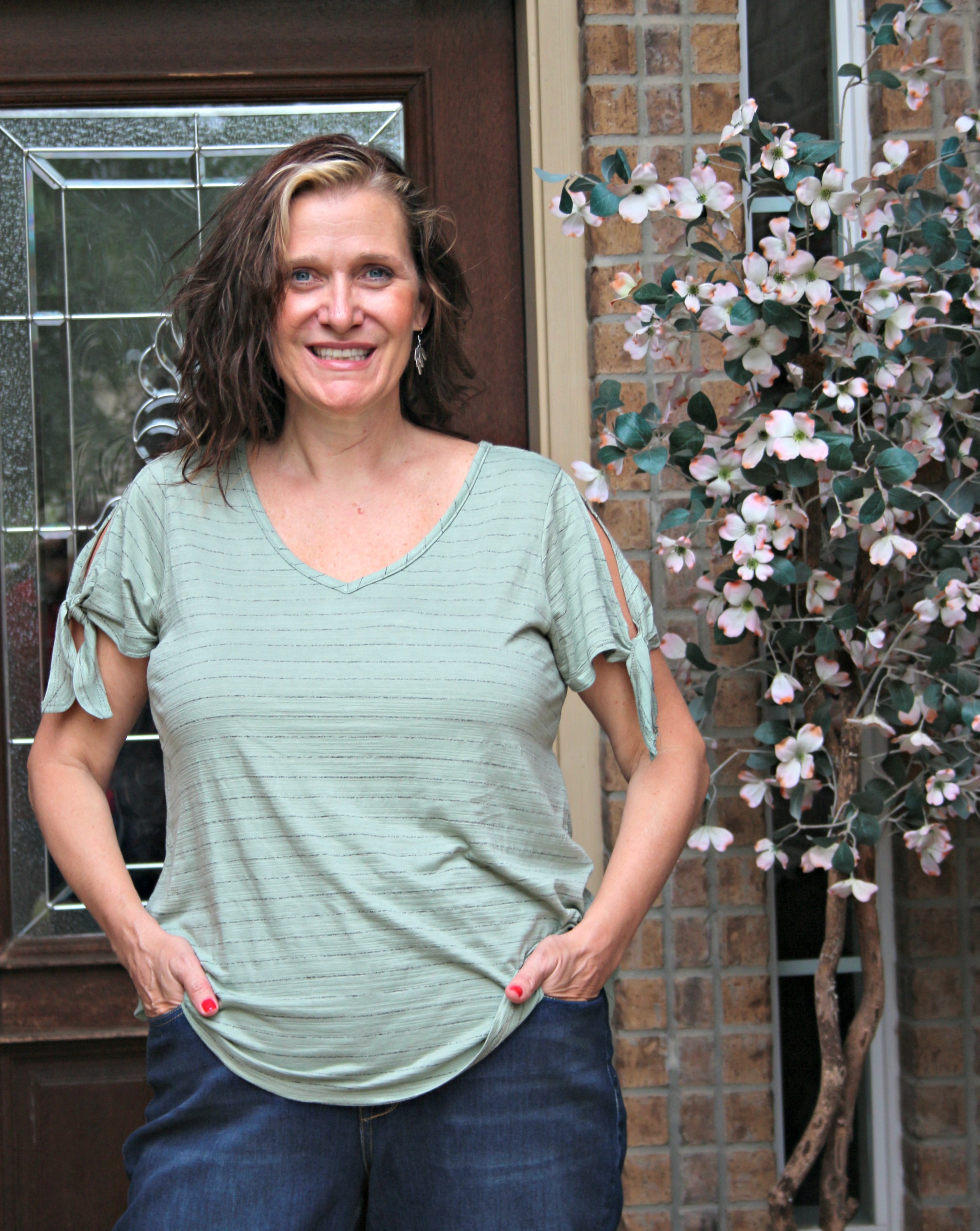 Foreshadowing.
I did end up keeping the shirt and totally regretted it after I wore it the first time. This shirt "gives" as you wear it and turns into something more low cut than I like. I can easily remedy that with a nude tank but one of the reasons I liked it is because I didn't have to wear the tank…and it gets awfully hot here in summer to wear an extra layer. Ugh.
Shirley Knit Dress from Rebel Wilson X Angels
I really wanted to like this dress because I think Jenn was really trying. I'd loved all the dresses Angelique had picked out for me in January and I think she was trying for a similar style.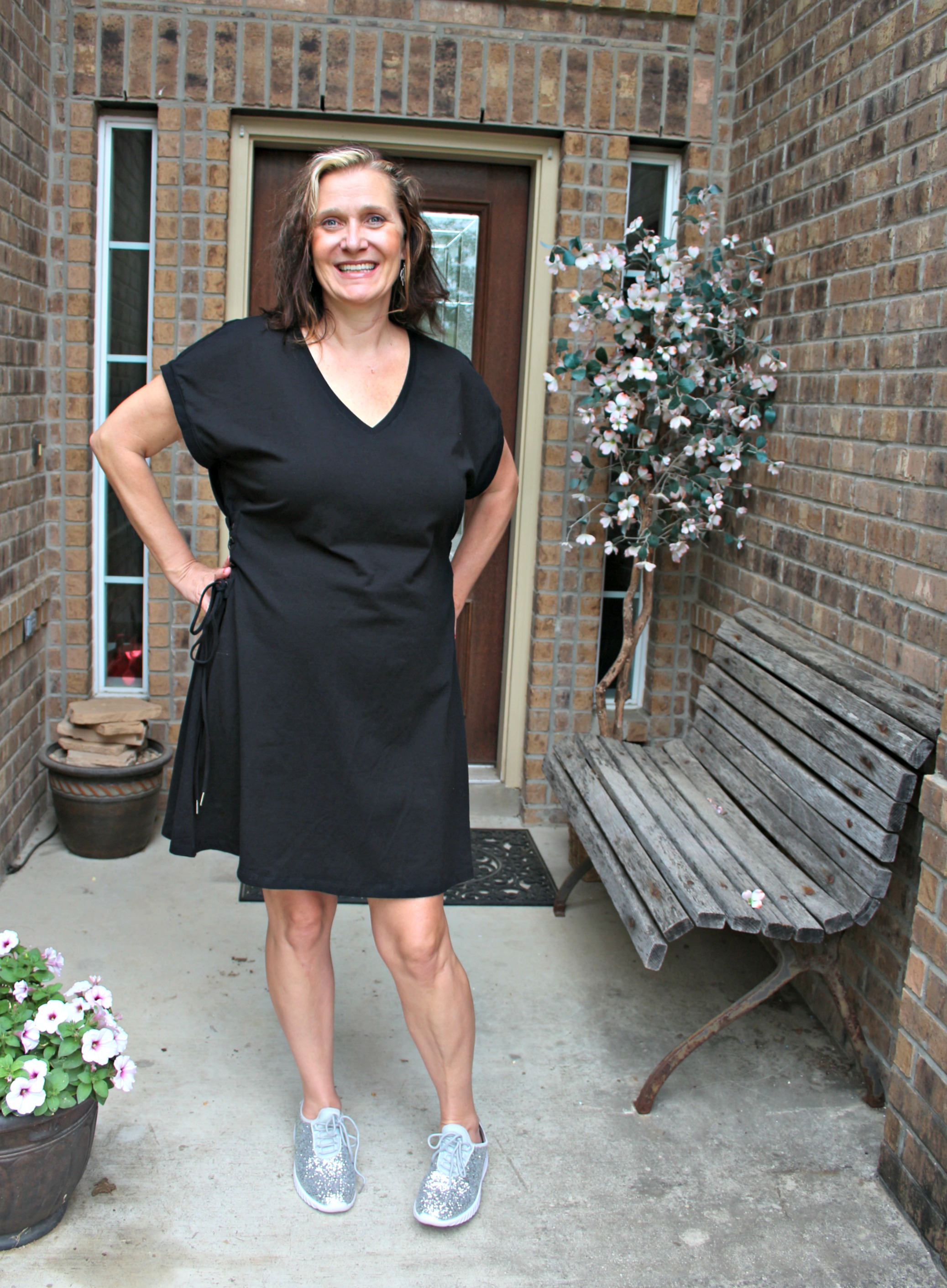 The dress was too big…it might be the cut and it might be the designer. I think I'm between sizes, which is kind of a pain but for whatever reason, it was kind of sack-like. I also really dislike these corset lace-up thingies. To Jenn's credit, I do not have "don't send me stuff with corset lace-up thingies" anywhere in my style profile. I didn't realize the extent of my dislike for corset lace-up thingies until I tried on this dress.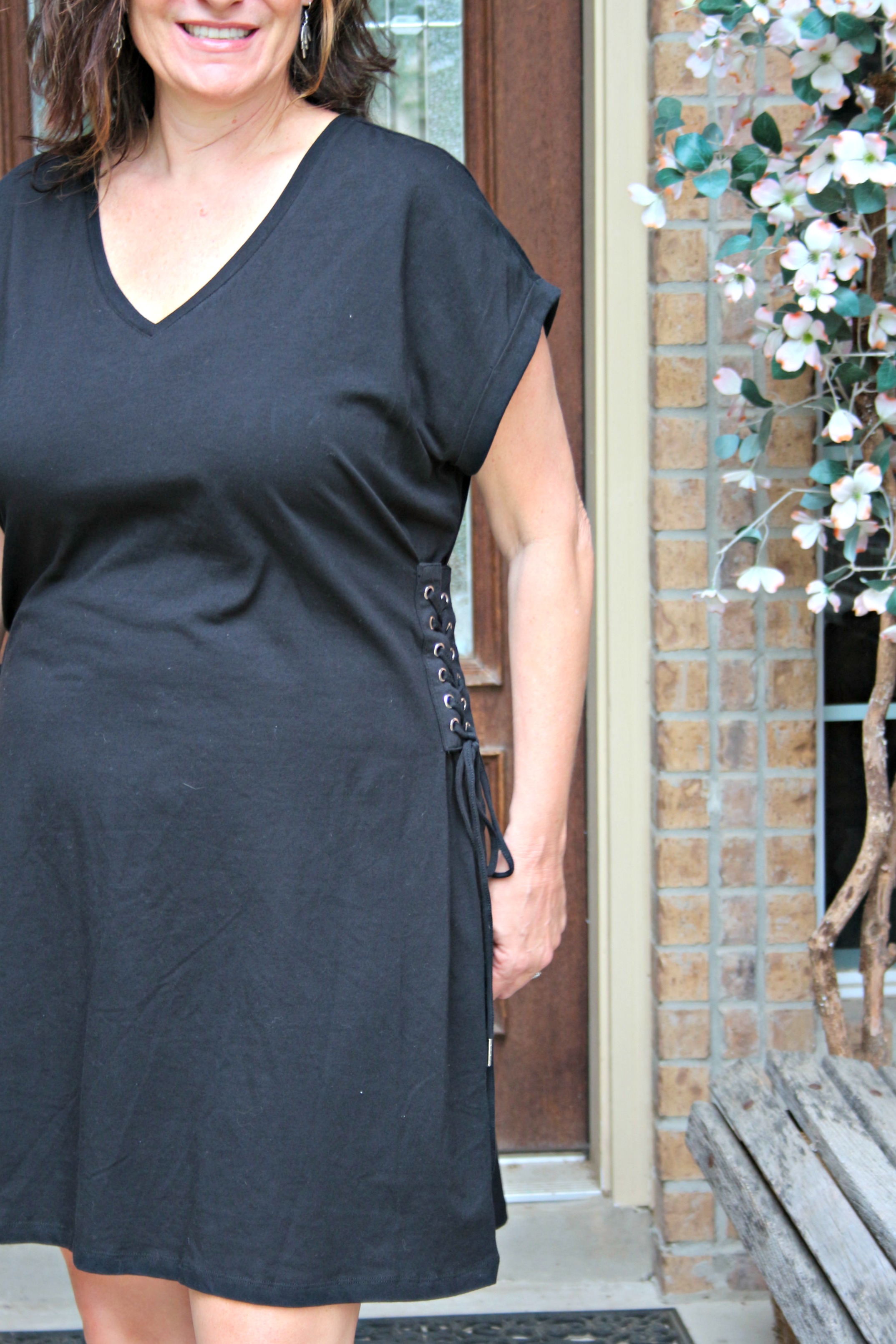 It gave me flashbacks to 2009 when I was wedding dress shopping and gowns with laces up the back were in style. I took an instant dislike to the laces and I guess that dislike has been laying dormant, waiting for this Stitch Fix box. Who knew?
Aurora Striped Tassel Tote from Fantasia Accesories
This bag is the one thing I'd really call a winner. It's big enough to be a weekender bag and small enough to be a purse, without making me feel like one of those women who carries a suitcase for a purse.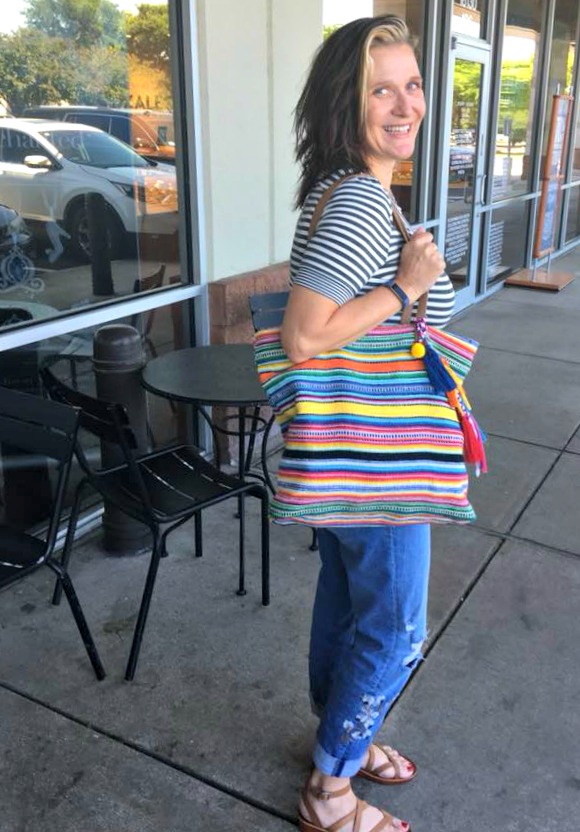 I think I like this because it's something I'd have probably not picked for myself and I feel like I'll get a lot of use out of it this summer. For the price point this is at (less than $35) it seems like a good-quality bag. The only negative I have is that the straps are a bit thin. On my recent weekend trip, I really packed this bag full of stuff and I don't think the straps are up to holding that much weight regularly.
I had the same issue with the bag from this fix, although I really love this bag, too, the straps are thin and don't hold up that well over time.
Destiny Girlfriend Jeans from People's Liberation
New rule, Stitch Fix. You're not allowed to send me jeans unless I ask for jeans and give you specific rules for sending me jeans. I used to have "I like the way Kut from the Kloth boyfriend jeans fit" in my style profile. I have a pair of Kut from the Kloth boyfriend jeans that I wear very regularly and they are, in fact, my go-to jeans. I think these stylists are seeing this comment and not really looking at the rest of my notes and just picking a random pair of jeans and then moving on, so I took that comment off.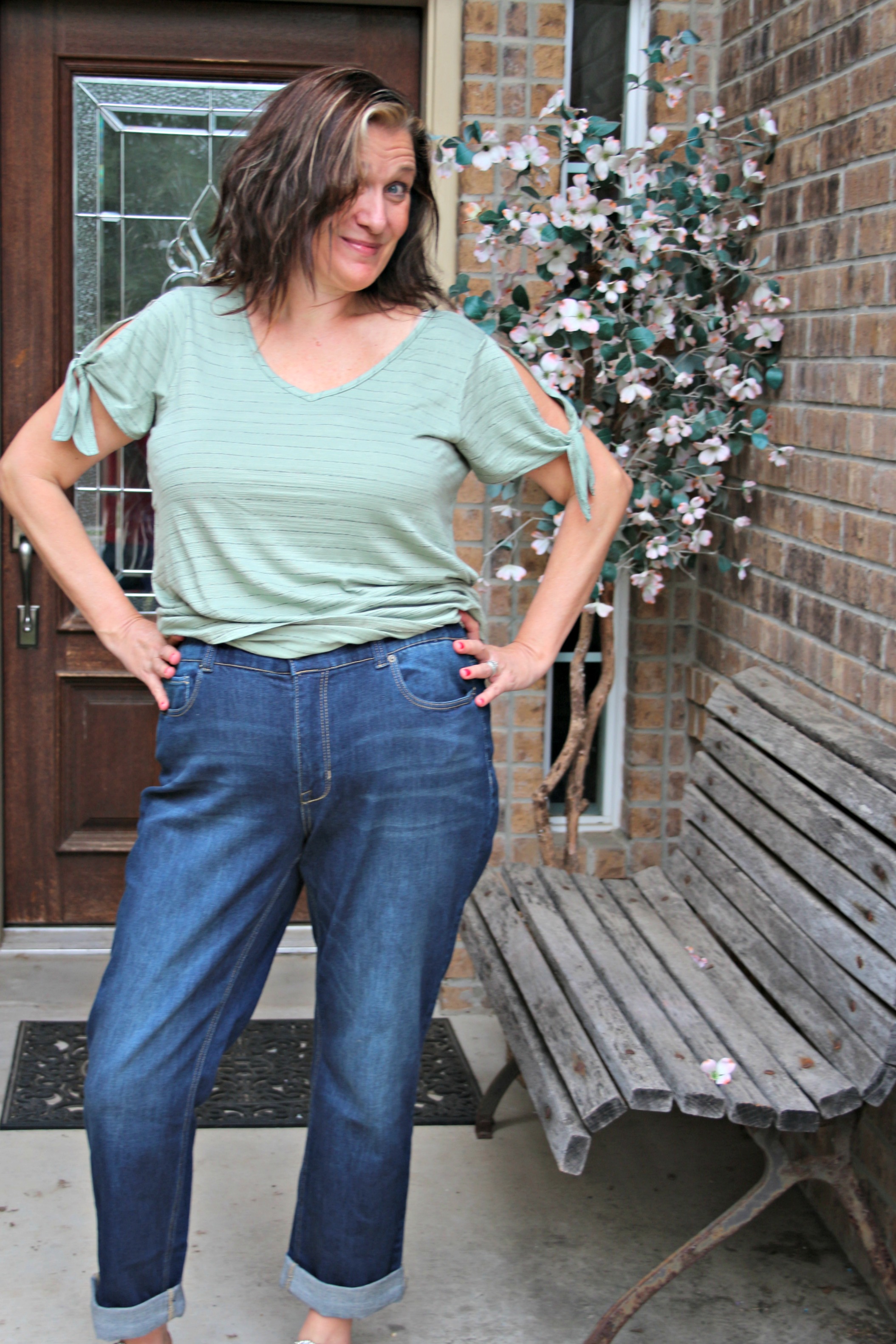 These are called "girlfriend jeans." I'm not sure who's girlfriend wears these but she's clearly also someone's mom. I am not a fan of the super-low rise jeans that expose my butt if I bend down but as far as I'm concerned, mom jeans can just stay in 1998 where they belong. If they are making a comeback again, I want no part of them.
I'm not sure what a girlfriend jean entails. I know boyfriend jeans are a more relaxed, guy's style fit which actually works for my body but girlfriend can keep these jeans. I like the wash (dark with minimal distressing) and the cropped length but they were too baggy in the leg – I like a slimmer leg in a crop – and the waistband is just too high. Dislike very much.
I ended up keeping both the shirts and the bag although I'm considering sending the one shirt back. I've only ever returned one item to Stitch Fix (a pair of jeans that frayed after the first washing) and their service was excellent.
As much as I've not loved Stitch Fix lately (come bacccck Angelique) I do believe in the service. I like trying on clothes in the privacy of my own home, I like not having to fight the crowds and deal with sales people in department stores, and I like getting that gem of an item in the mail that I find I love and wear all the time that I would have NEVER have picked out for myself, for whatever reason.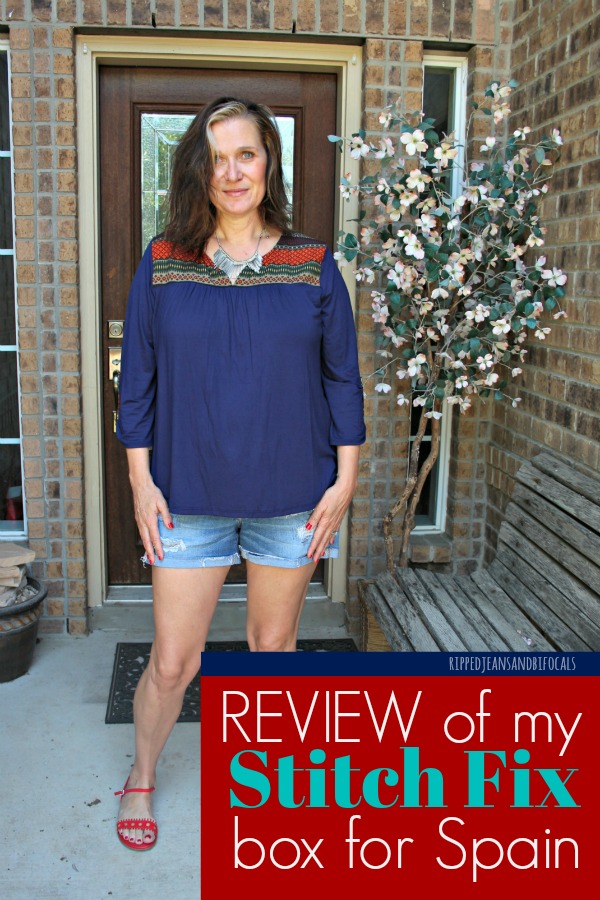 If you'd like to try Stitch Fix for yourself, please order using my affiliate link. I'll get a discount on future Stitch Fix boxes and you'll get the experience of being styled without leaving your house. If you try it, let me know how YOU like it!