The Stitch Fix Review of the box I really didn't like
(This post may contain affiliate links. Read my full disclosure.)
It's been a little while since I did a Stitch Fix Review. I got an AMAZING box before my cruise in early February. Angelique, who has been styling me for a little while now gets me. She can pick out fall and winter clothes for a perpetually hot climate. Her cruise picks were absolutely amazing and I wanted to keep them all. Not this time. Today, I'm sharing the review of my Stitch Fix box that I didn't really like.
Time constraints…AKA the fact that I don't have a hot minute to fix my hair and put on makeup to take halfway decent photographs of me wearing my Stitch Fix items before I get that neat little reminder email to send my fix back before I'll be charged for all the things…have prevented me from doing a review post. Because what's a review post without photos, right?
The Review of my Stitch Fix box that I didn't really like
[Tweet "The review of my Stitch Fix Box that I didn't really like"]
My two most recent Stitch Fix boxes have been a disappointment. Angelique has been unavailable – PLEASE COME BACK ANGELIQUE – so someone else has styled me. I don't like someone else.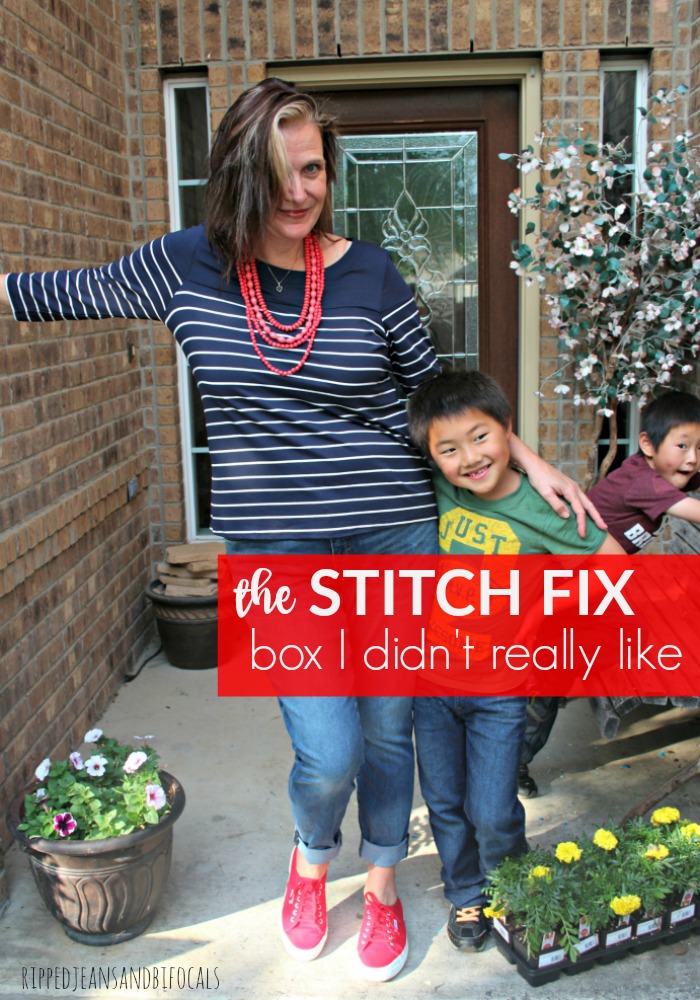 I was annoyed when I saw this month's Stich Fix preview. Stitch Fix doesn't actually give their customers a preview but if you have the app on your iPhone, you can cheat to get a sneak peek at what's in your box, just as soon as it's shipped. Once you get a notification that your Stitch Fix box has shipped, you can select "check out" on the app, and you can preview your pieces.
Stitch Fix's official position on this is that you shouldn't complain about the clothes until you see them in person…ask me how I know this. Ha! I may have had a few dud boxes that I complained about before I actually received them. But overall, I've had more goodies than I've had duds…and it's just too easy to get boxes of clothes delivered to your door, so despite having fallen out of love with the service, I've stayed with them…at least so far.
For this fix, I sent my stylist a note asking for clothes for an upcoming press trip to Branson Missouri. I specifically asked for some comfortable and stylish kicks for my adventure. I did not, however, explain what a press trip to Branson Missouri meant, so I fault myself in not providing enough info. I once asked for some casual but stylish clothes for a blogging conference held at Universal Studios Orlando…and I got a sweater dress. For an August trip. Sigh. The moral of the story is that more info is better and you can't assume the person picking out your clothes is familiar with the places you go and things you do.
My note to Angelique (PLEASE BE ANGELIQUE) for what I'd like to see in my next fix. Let's all cross our fingers!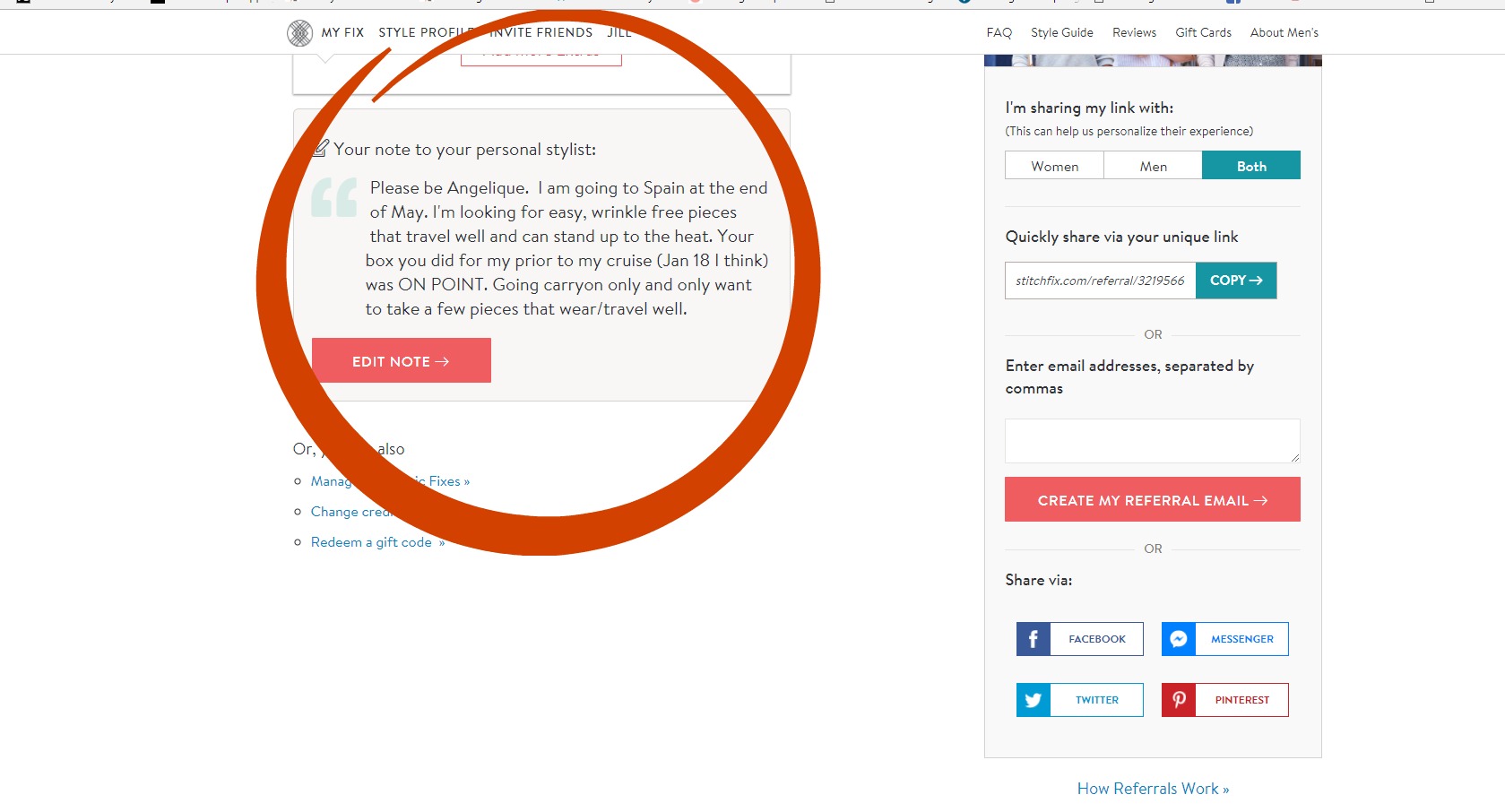 My stylist – who was NOT Angelique – probably didn't understand what a press trip to Branson or maybe what Branson was, period, so I can't be too mad at her…athough Stitch Fix gives us very little space to give instructions on what we want in our box.
I think she tried…I know she read my notes because I got comfortable kicks but I don't think she did more than a cursory scan of my style profile and I doubt very much she went any deeper than that. I've been with Stitch Fix for over three years and I've provided feedback on past fixes as well a notes on likes and dislikes. I've put a lot of effort into making sure my friends at Stitch Fix know what I like. I keep my style profile up-to-date, I send them notes on what I'm doing or what I'm looking for and I share my Pinterest board with them. Doesn't help much if you don't read it, substitute Stitch Fix Girl.
So, here we go…and spoiler alert…I sent it all back. Sad trombone.
White pleat detail button-down top from 41 Hawthorne
Somewhere in my notes to my stylist are instructions never to send me a white blouse ever again. I mean…I don't need someone else to pick out a button down white shirt for me, right? Bo-ring.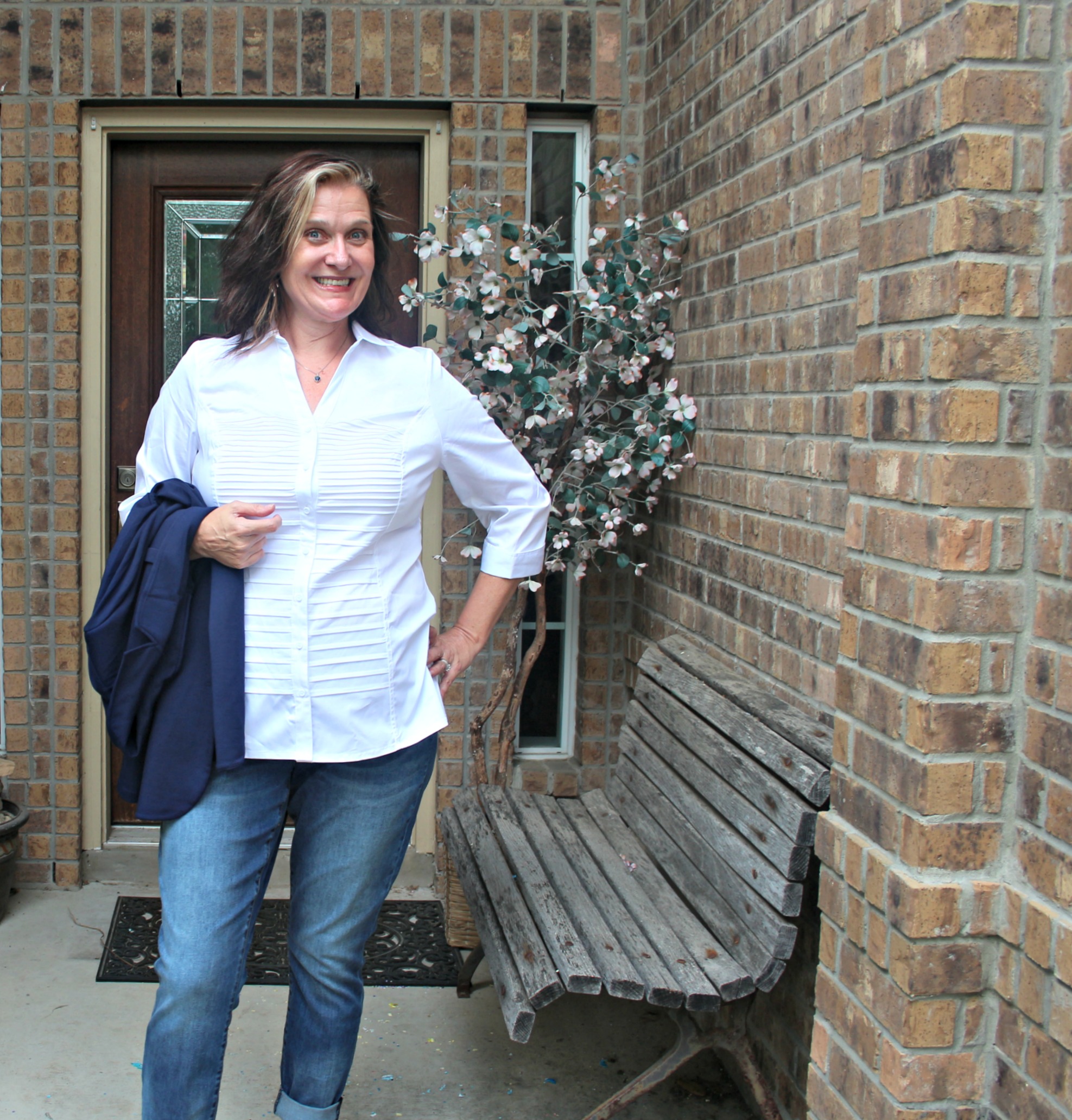 I wanted to hate this shirt…but I don't hate it.
It's nice and long and it's got just enough stretch to it to make it really comfy. It's just not my everyday style. I work at home as writer and blogger and, while I often represent my brand or other brands at events, I like to clean up in my own Boho style. This shirt feels very corporate. But it is comfy. I'd probably spill ketchup on it if I wore it outside my house, though.
I'm a bit of a chesty girl and there was a little bit of a gap on this shirt, which is one of the reasons I usually avoid tailored blouses like this. I tried it on with a couple of different bras and if I'd have really liked this shirt, I'd have been okay with the fit. But this is just not me. The price was $68, which I'd have considered IF I'd been in the market for this type of shirt, just because it was so comfy.
Salma modal blazer from Tart
Not sure who Salma is but she's no good with blazers. I put this on and I want to sing "Thank you for being a friend" and tell people to call me Dorothy.
Seriously.Yes,
I am not sure where in my style profile that any sane person could interpret "Jill really wants a knit blazer with fake pockets." Yes, it was knit like leggings and for some reason, the sleeves were of super thin fabric that felt completely different from the rest of the garment.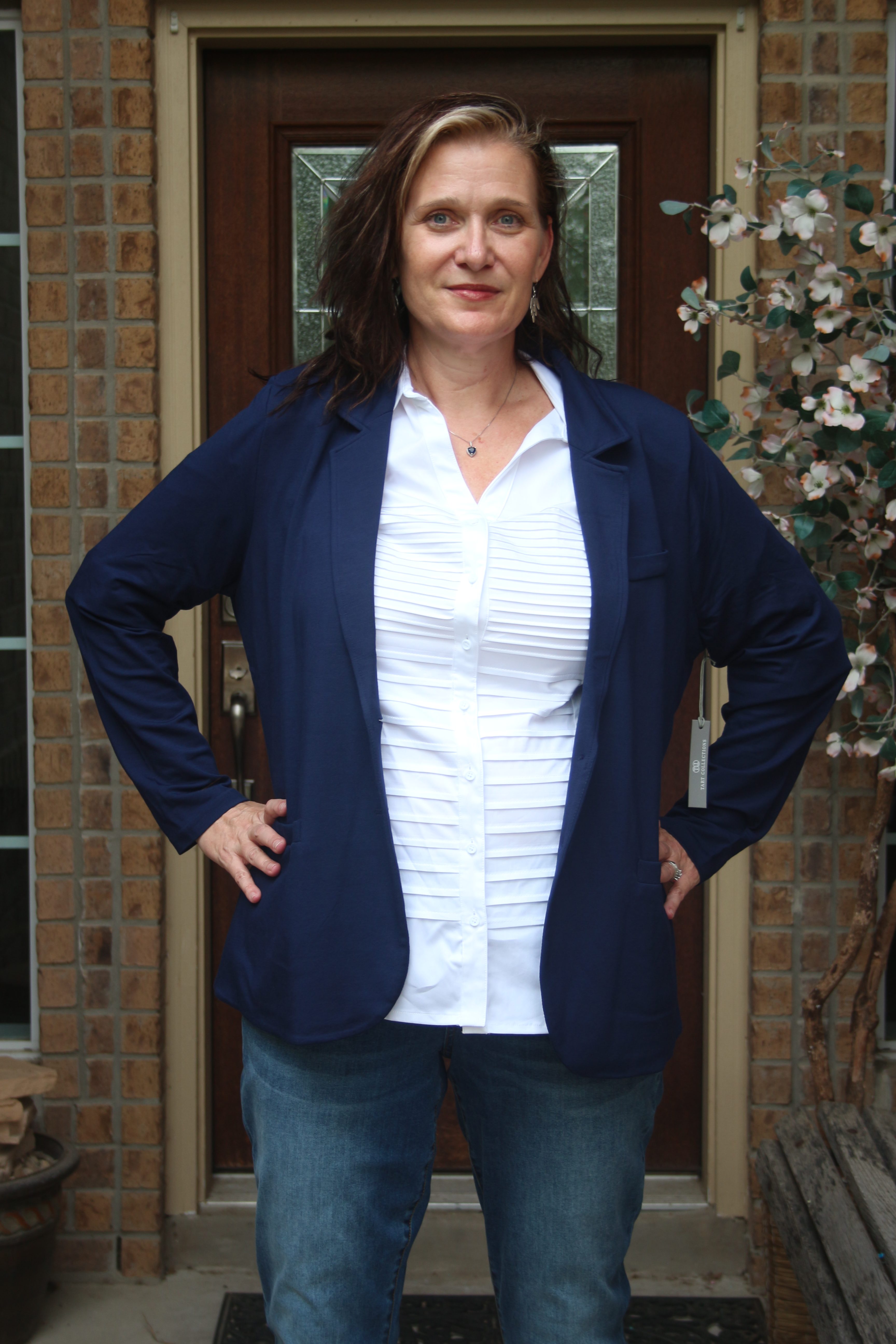 And aren't fake pockets just THE WORST?  This was also super wrinkled and had deodorant marks on it from the last person I assumed didn't want this one. UGH. Get it together Stitch Fix.
Yes, I know this doesn't look horrible but this is so not my style and I'm very dismayed that my stylist WHO IS NOT ANGELIQUE would even send me this. It's a knit blazer. Ew.
It was also a little too big around the waist. I think I'd hate something like this less if it was tailored. And not knit. With pockets. It also has a $148 price tag which I think is crazyness. I don't get it at all.
Taranto button back knit top from Laila Jayde
I didn't hate this shirt, either. It's nice and casual and can be paired well with shorts or jeans, or even a skirt. The thing is, I bought a shirt very similar to this one at Target for less than $20. This was $58 so.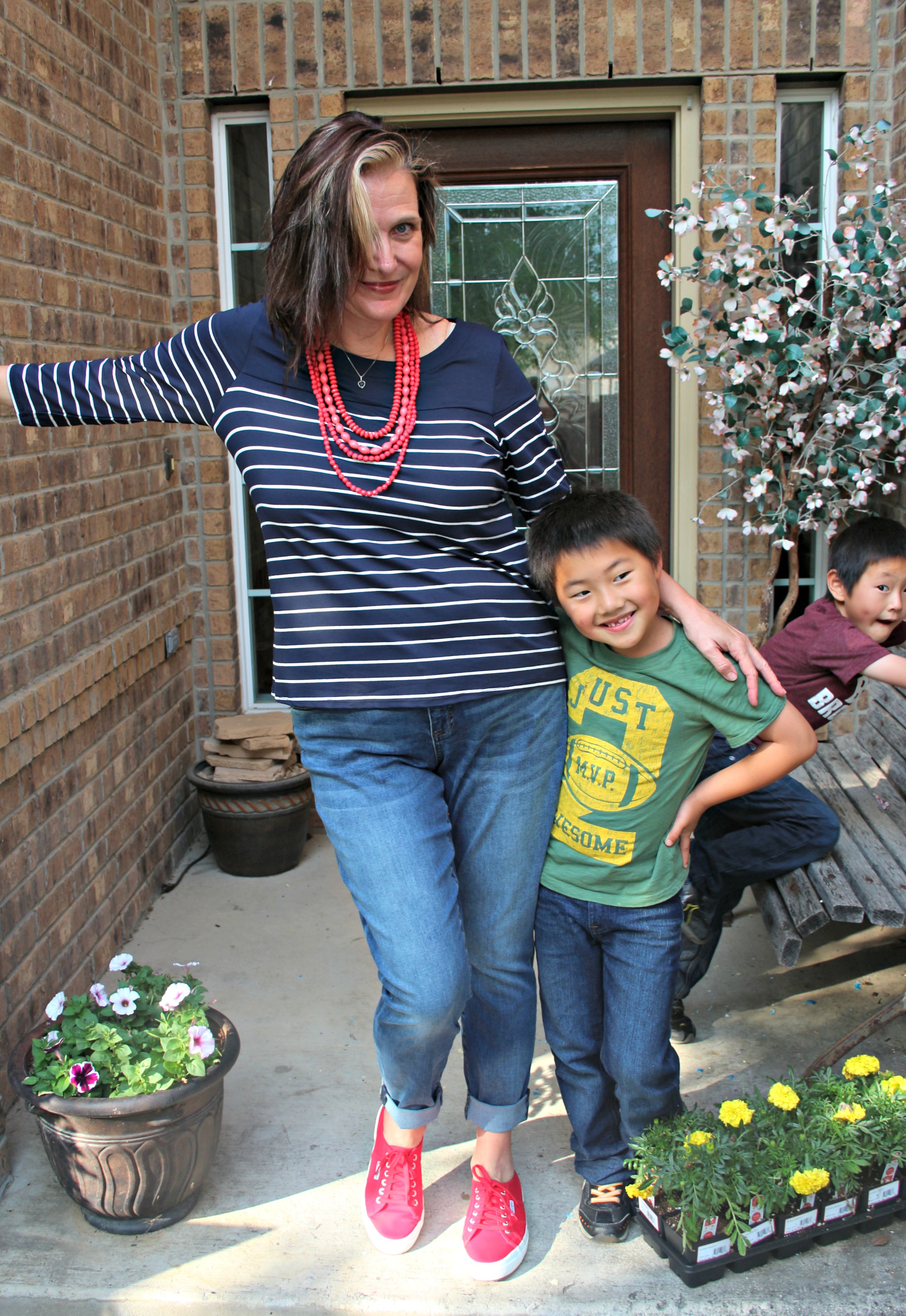 The shirt I have in my closet doesn't have the fun back detailing but at this price point, I can't have duplicates. Nopity nope.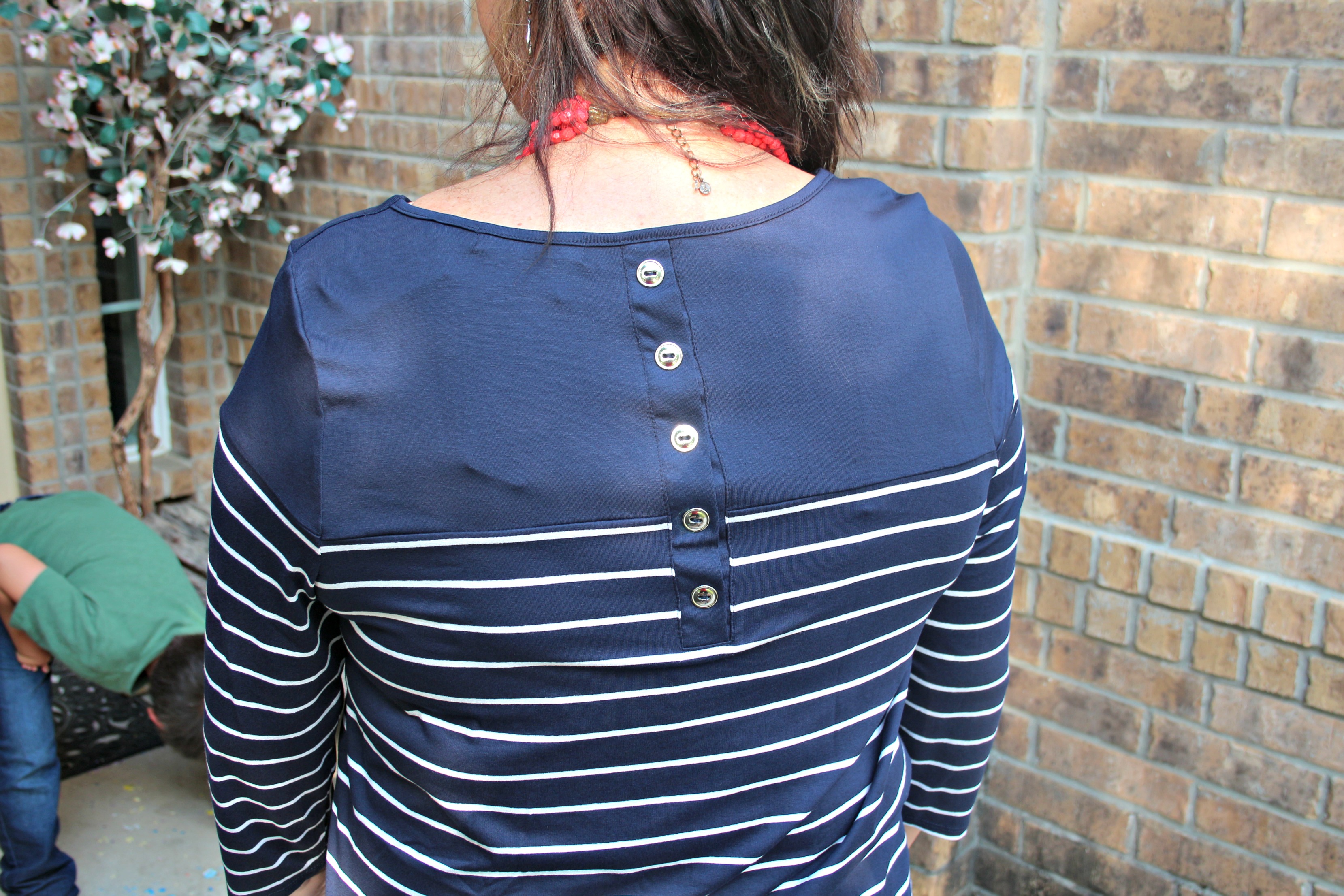 Kate Boyfriend Jean by Kut from the Kloth
I normally love anything from this brand. I like the look of these jeans…they're a good length for spring but they don't fit quite right. I also already have a pair of REALLY similar jeans I got last year from Stitch Fix.
I think I'm between sizes, and, while I like the slightly higher waisted fit and I REALLY like the cuffs…I'm afraid this relaxed fit will not wear well. I wore them for about 15 minutes in my house and they started to get baggy, so Kate's boyfriend will have to hang on to these. The price of $88 is high but I'd pay that for a pair of jeans that I'd love and live in. This just isn't that pair.
I'd love to be able to find a nice pair of jeans for my apple-shaped body. If you know of any, let me know. I need something that is going to fit through the waist but not bag in the rear, which has proved to be somewhat of a challenge with my body. Also, why can't I have a butt? Just a little bit of one.
Cotu classic lace up sneakers by Superga
I really wanted to like these.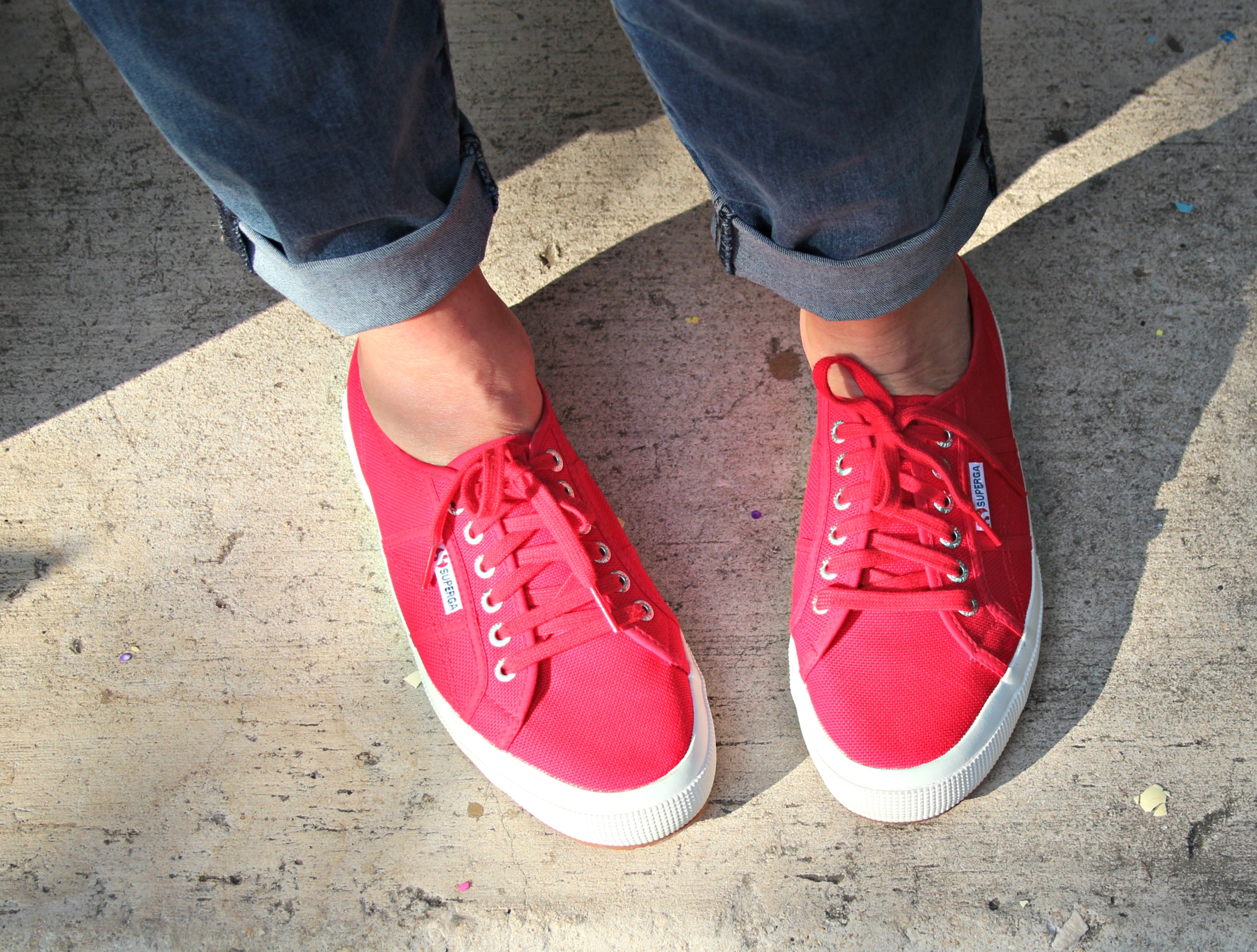 And the truth is, I don't hate them and they're comfortable. But. They're $68 canvas shoes. If these had been leather, I could have justified the price but my inner cheapskate keeps whispering I could get a better deal at Payless.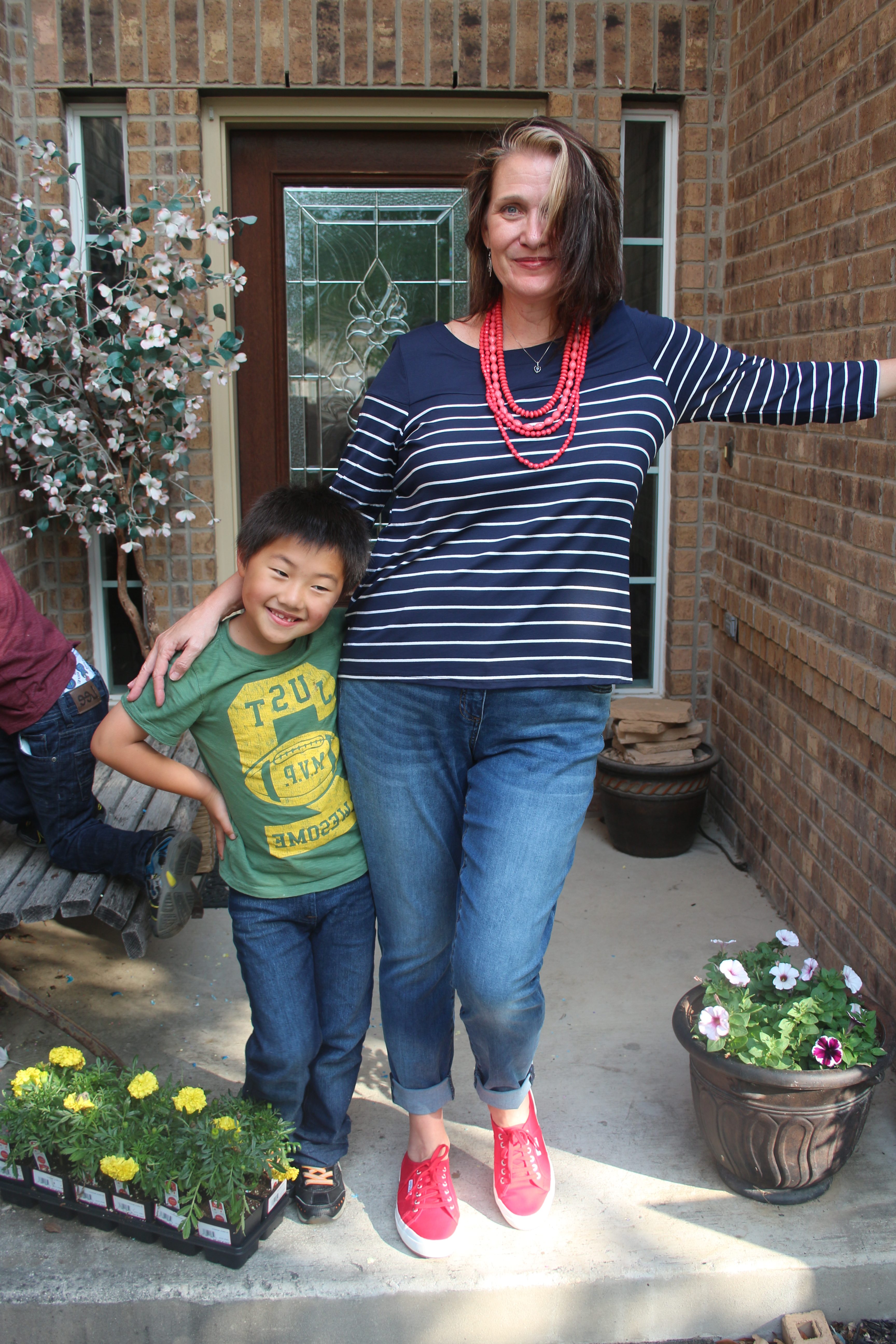 So…this fix is not a keeper. I want none of it. I didn't jump on the $49/year unlimited styling fee so I had to decide between buying an item that I probably wouldn't wear or paying $20 to try on a box of clothes that I really don't like.
First world problems, right?
My experience with Stitch Fix is that you might A., get lucky with a gem of a stylist who picks out amazing things that you love and pays attention to your feedback or B., have to deal with someone who won't take the time to figure out what you do and don't want to wear.
I've used Stitch Fix off and on for about three years so they must be doing something right. I do love the convenience of having someone else pick out my clothes and deliver them to my door without my having to set foot in a store or, heaven forbid, a mall. Sometimes the stylist's pick works and other i'ts more of a "Wow, what was she thinking" but this is the second consecutive box that I've got the feeling the person doing the picking didn't take much time to try and figure out what kind of clothes might fit my life and style.
Then I get something like this: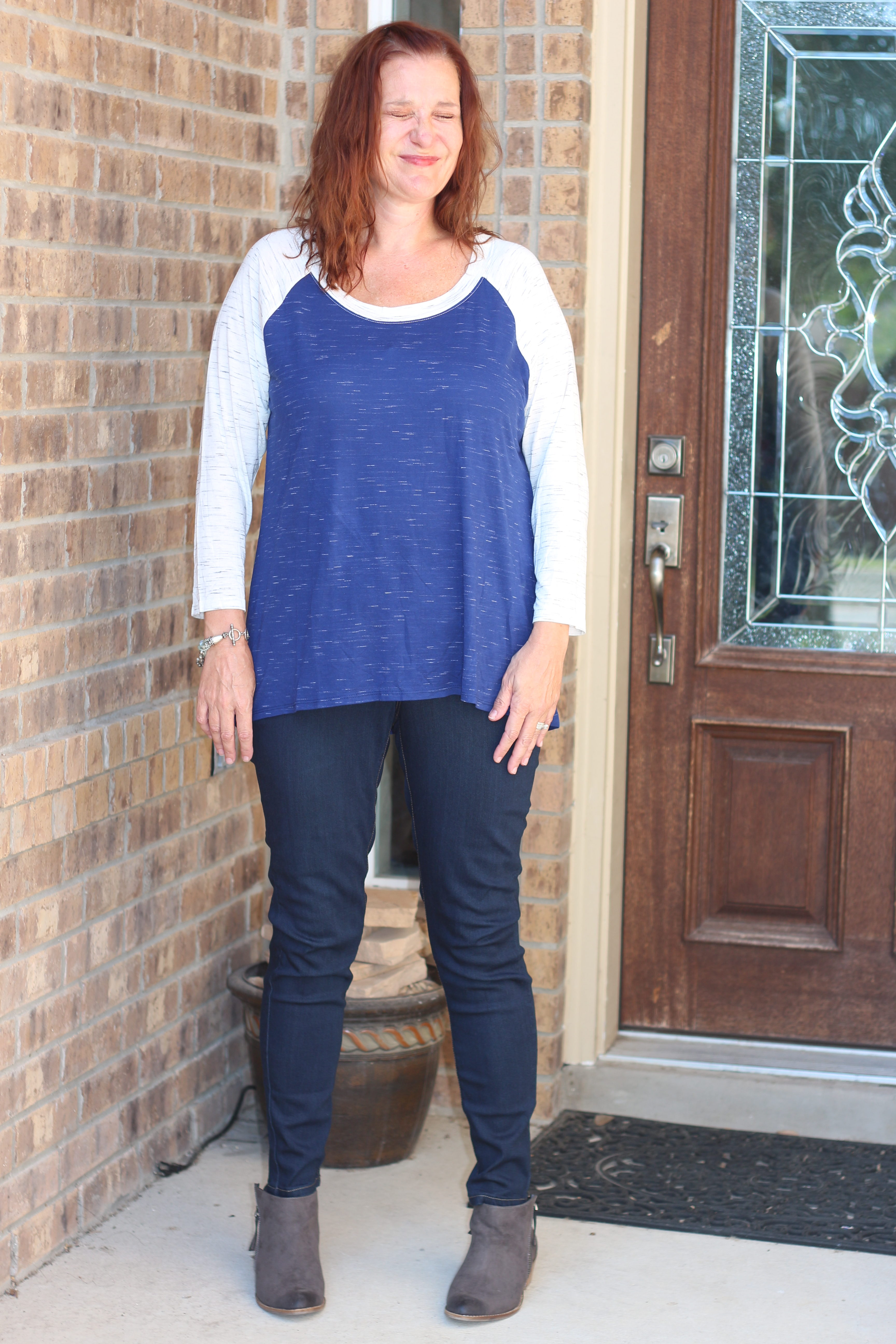 I think some of the disconnect might be my age. I'm pretty sure most of the girls who are styling these boxes are younger…at least I'm going to assume they're younger than me…and they probably have a mental picture of what a 51-year-old woman's (gulp) wardrobe should be like. And, it's a really fine line. I don't want to wear Hello Kitty accessories, crop tops, and glitter but I also am not ready to dress like one of the Golden Girls, however much I love them.
Stitch Fix was a really revolutionary concept when it came on the scene a few years ago but today, there are many competing clothing subscription services. It might not be worth continuing to be loyal to Stitch Fix with boxes like this.
What do YOU think? Do you have a clothing subscription service you recommend? If you're interested in trying Stitch Fix for yourself, use my coupon code HERE. I can't guarantee that this service will be right for you but it is fun to try at least a couple of times. If you order from my link I'll get a discount on my next purchase and you get clothes!
Check out my past Stitch Fix reviews:
Stitch Fix Landing Page – Ripped Jeans and Bifocals