Everything you need to know about Halloween at SeaWorld San Antonio
(This post may contain affiliate links. Read my full disclosure.)
If you're in the San Antonio area (or planning a visit) during the month of October, you'll want to check out SeaWorld. They've got a ton of fun, scary, and non-scary Halloween fun…absolutely something for everyone. Here's everything you need to know about Halloween at SeaWorld San Antonio.
Everything you need to know about Halloween at SeaWorld San Antonio Texas
[Tweet "Everything you need to know about Halloween at @SeaWorldTexas"]
My family was hosted by SeaWorld San Antonio for Halloween Spooktacular and Howl-O-Scream. All opinions are mine.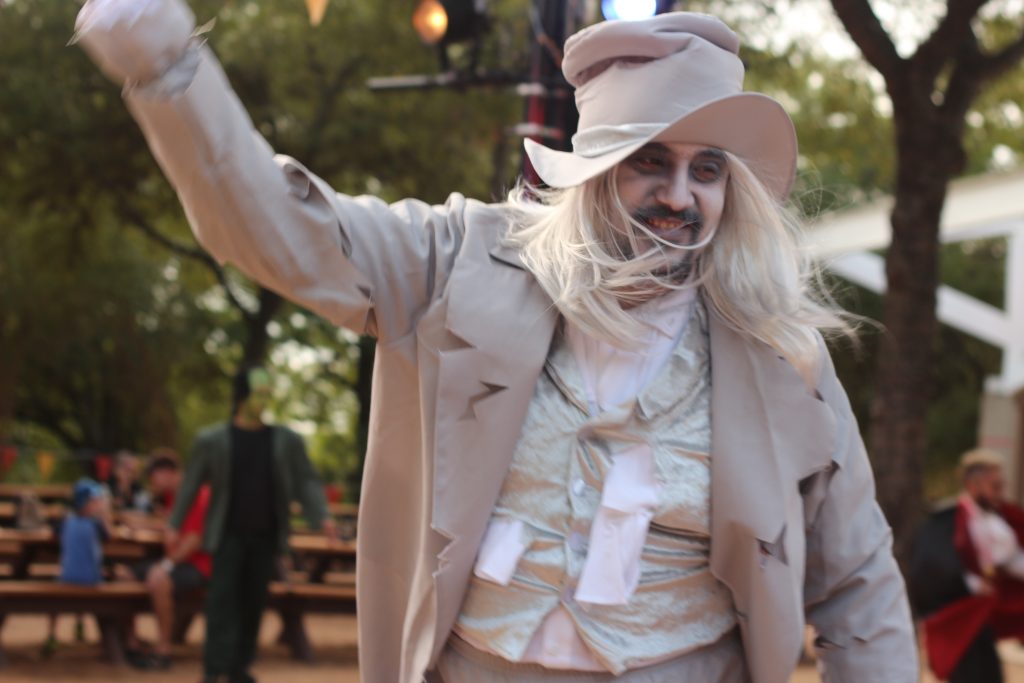 Whether you want to be scared out of your wits or need something tamer for your younger family members (or older ones…no judgement from me), SeaWorld San Antonio has it ALL this Halloween. Between Howl-O-Scream and Halloween Spooktacular, there will be something to help you celebrate Halloween. We might not have crisp fall weather in San Antonio (although we are always hopeful) but we do have tons of fun stuff going on for Halloween.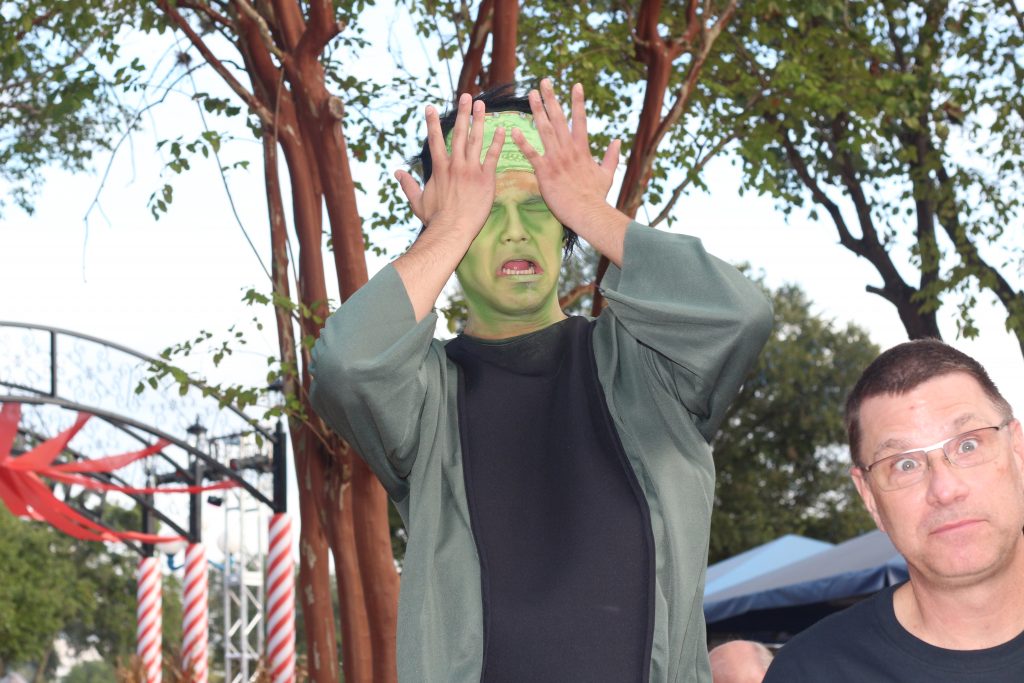 Halloween Spooktacular
Halloween Spooktacular is non-scary daytime fun for younger kids…or anyone who has a lower threshold for scary and creepy. You'll find kid-friendly Halloween shows and activities that are fun for both kids and parents alike! Interact with colorful creatures while you trick-or-treat through the park and work as a team to make your way through the hay maze. Spooktacular also features all the park's popular shows, rides and attractions.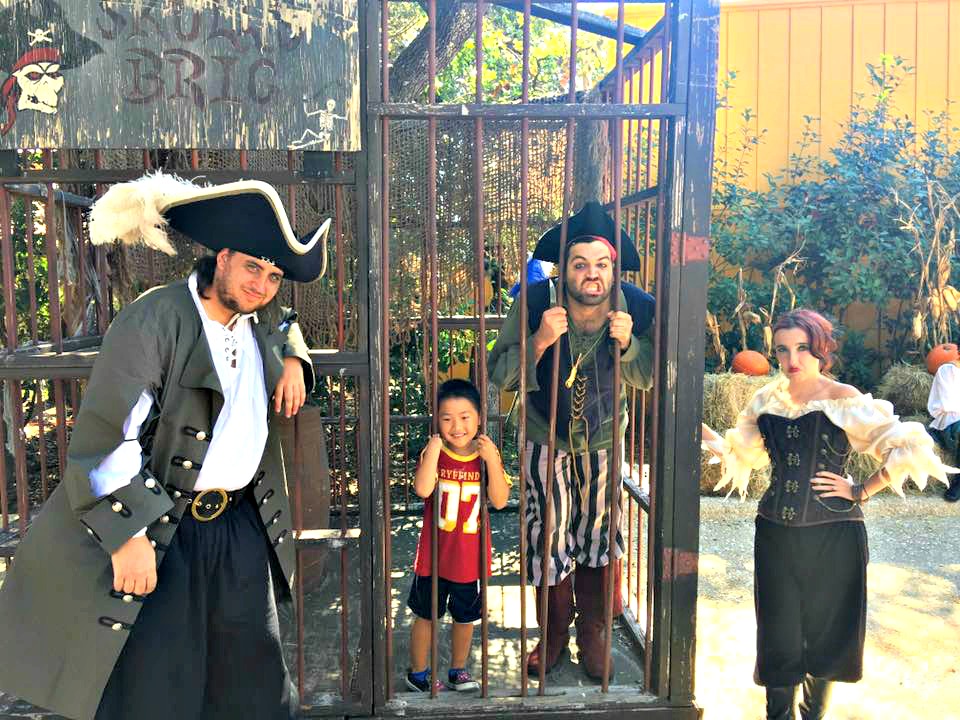 The trick or treat stations are clearly marked…I recommend you bring your own bag or container for candy. If you forget, you can purchase a bag on site.
October temperatures in San Antonio will be pretty balmy so the rides and shows are still a great time. There are tons of great places to take fall pictures – think hay bales, cornstalks and many, many pumpkins. There is ONE area that includes some scarier decorations that my kids don't like walking through, even during broad daylight. Although the scary stuff doesn't happen 'till after dark, the decor is pretty sinister in the area around the arcade where all the midway style games are, just down from where the line forms for the Great White. Nothing will jump out and scare you, but if creepy baby dolls send chills up and down your spine (raises hand) then you might want to avoid this area…or walk very quickly through it.
Howl-O-Scream
Once the sun goes down, Howl-O-Scream transforms the peaceful park you once knew into something sinister. Nightfall awakens hundreds of creatures that roam five scare zones and lurk the halls of four haunted houses – including the all-new Zombie Horde. Replenish your thirst for terror at one of the signature Halloween bars, test your limits by riding roller coasters in the dark and enjoy thrilling live shows.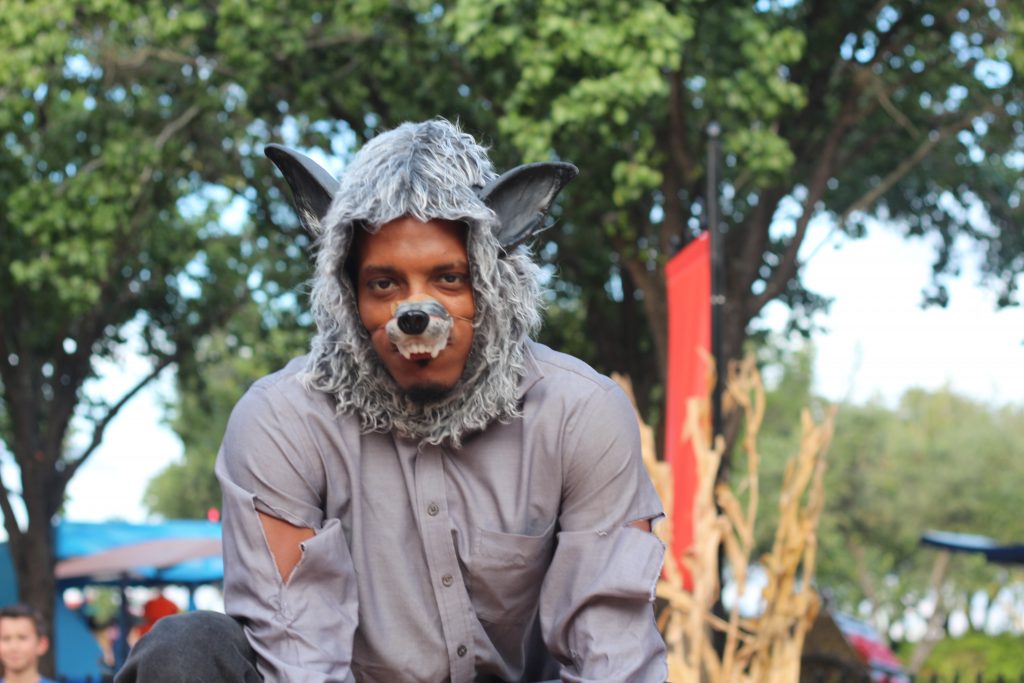 SeaWorld's recommendation for Howl-O-Scream is that parents use caution when keeping their kids inside the park past 7 p.m. There are definite "terror-tories" and then there are areas of the park where zombies, gravediggers, and werewolves won't jump out at you but Howl-O-Scream isn't something I'd recommend for younger kids. I did see quite a few younger kids at Howl-O-Scream going through the haunted houses and while some of them looked like they were handling it okay, I know my kids wouldn't have. If your kids are more likely to enjoy happy scarecrows and friendly pirates, Halloween Spooktacular is probably where you want to be.
The scary people on the street and inside the haunted houses will get in your personal space but they will not intentionally touch you (so don't touch them.) They will, however, get very interactive with you and it's a lot of fun. Everyone we encountered was super in character and willing to pose for pictures.
I think Howl-O-Scream makes a great date night, which is exactly what we did. We enjoyed the scary fun without having to cover our kids' eyes and enjoyed a couple of yummy adult cocktails at one of the fun outdoor bars.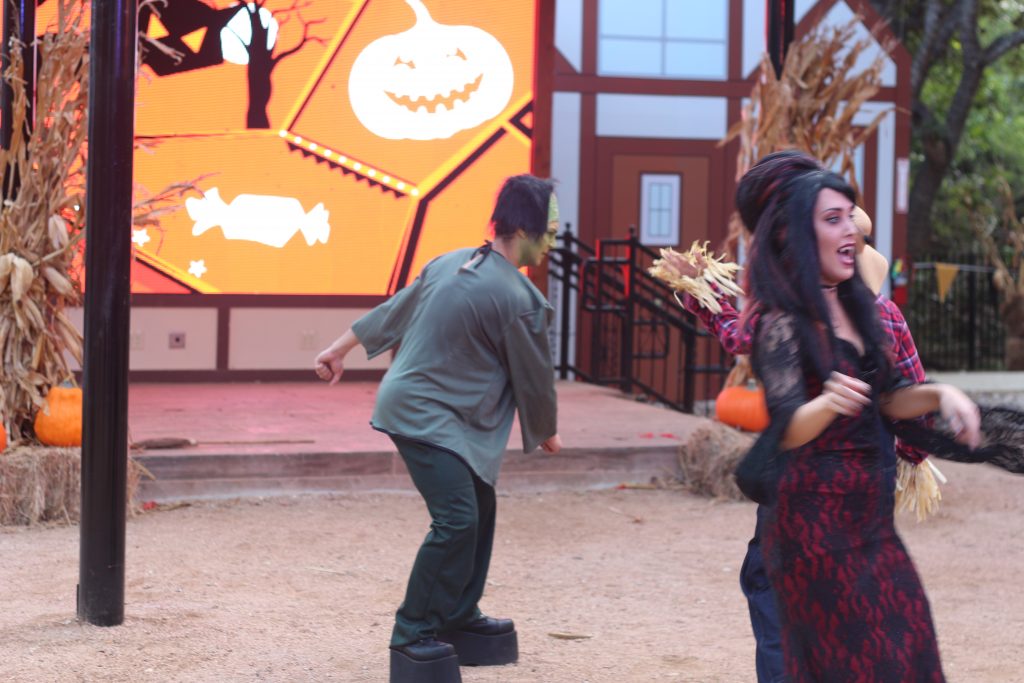 Add-On's and What's New
Halloween Spooktacular and Howl-O-Scream are both included in your SeaWorld admission price but there are a few things you can add on to take your visit up a notch.
Camp Spooktacular is new this year at SeaWorld San Antonio. If you're loving the idea of Howl-O-Scream but know your kids aren't ready for it…or if you just want a night of Halloween fun without your kids…Camp Spooktacular is for you. All-new this year at SeaWorld, Camp Spooktacular allows kids to have fun in a safe, non-scary environment while their parents hobnob with the zombies, creepy clowns and vampires.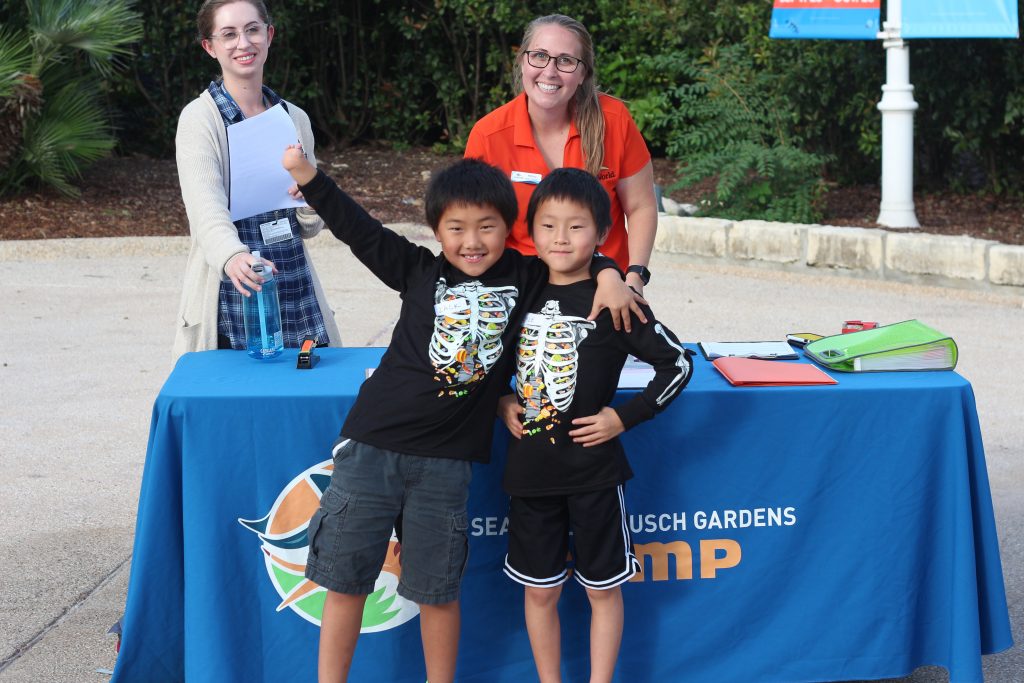 Check-in is right inside the security entrance, before you get to the admissions. You sign your kids in and turn them over to Camp Spooktacular Counselors and then make your way to the scary. Kids get a pizza dinner, snacks, planned activities like games as well as visit the sharks, dolphins and stingrays and learn more about these amazing creatures. Check in starts at 5:00 p.m. and pickup is not later than 10:30 p.m. The park closes at 10, so parents have time to get to the front to collect their kids.
My kids attended Camp Spooktacular this past weekend and LOVED it. The price is $25 per child, which is way cheaper than five hours of babysitting. Feeding two kids at a theme park isn't generally super cheap, so when you factor in the dinner and the snacks…totally winning with this one. There are some forms to fill out (release of liability, medical info, etc) that you can do online or at home before you leave. If you submit your forms online, they'll stay in the database for a year, should your kids decide to go to one of the other camps SeaWorld offers.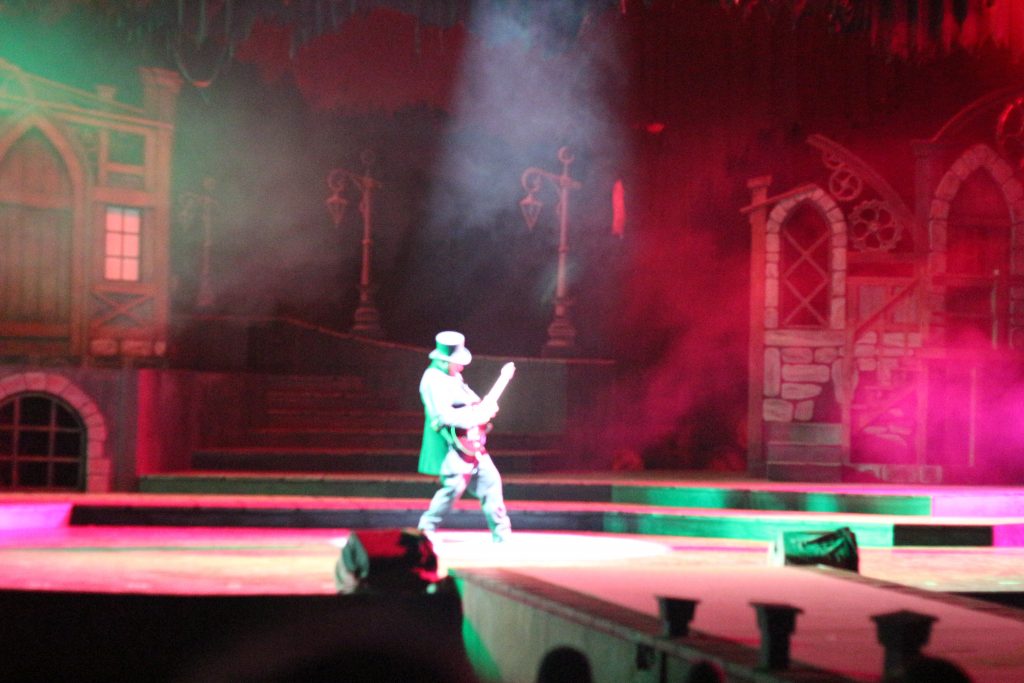 The Pumpkin Patch Picnic is an add-on meal/activity you can do with your family during Halloween Spooktacular. You'll enjoy a delicious buffet lunch prepared by SeaWorld chefs in a private, outdoor seating area. There are several fun, non-scary friends that will join you for lunch and pumpkin painting…all the supplies you need are included.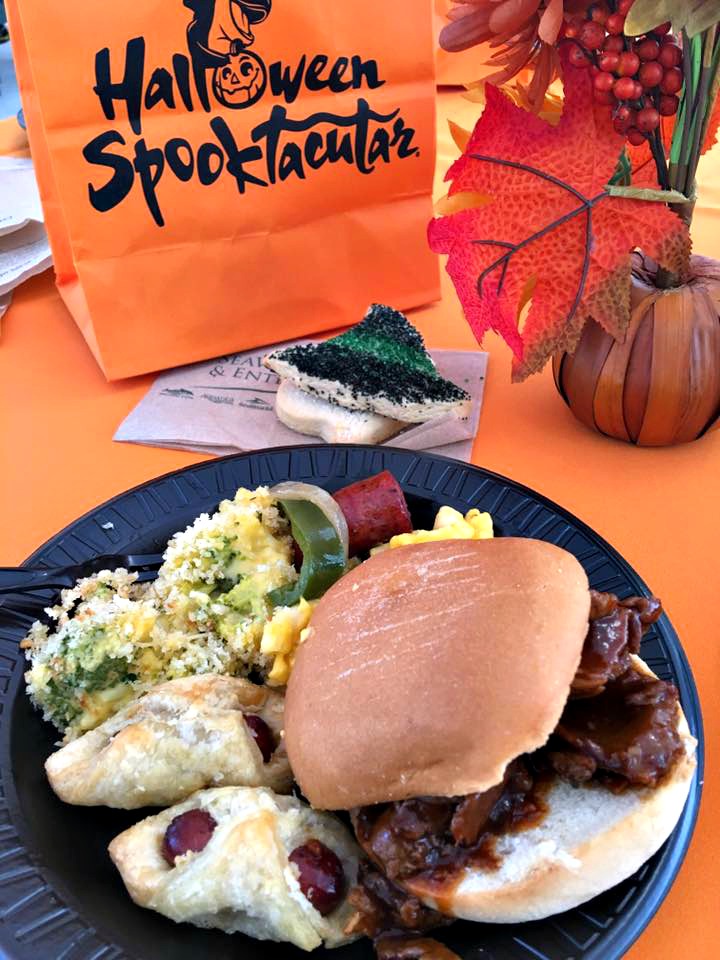 Don't want to carry your pumpkin around the park with you for the rest of the day? Not a problem. You can leave it and pick it up on your way out the door. The Pumpkin Patch Picnic venue is right next to the Steel Eel.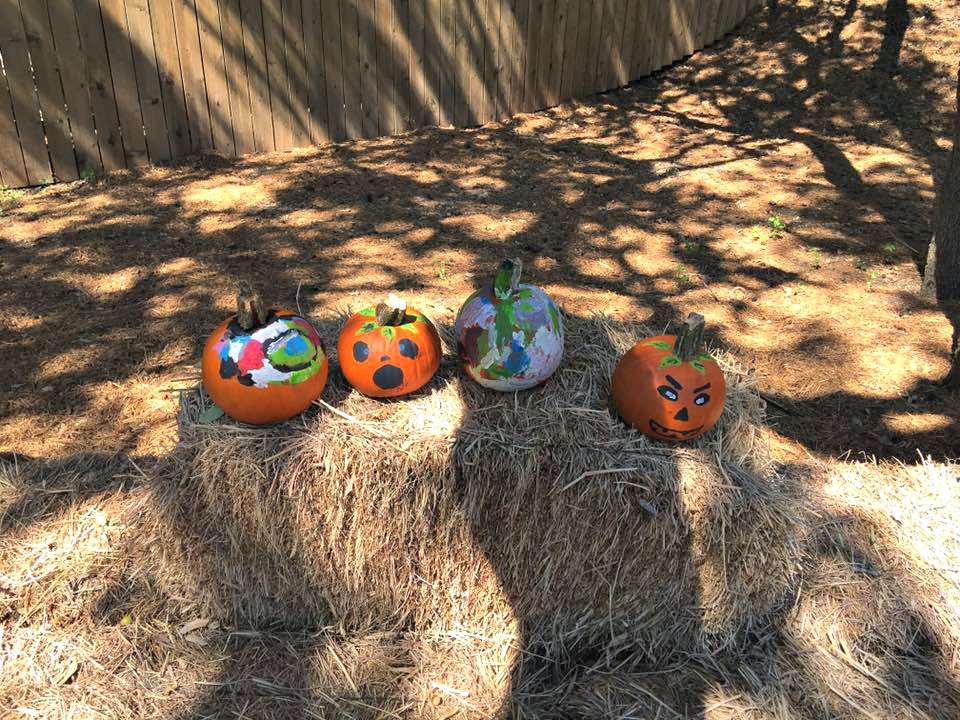 Fright Feast is a brand-new add-on meal and entertainment and I cannot recommend it enough. Despite the name, it is not at all scary and totally kid appropriate. Fright Feast is located in the area between the Nautilus Theater and Shamu Stadium. Check in begins at 5:30 and dinner and the show begins at 6:00. Like the Pumpkin Patch Picnic, it's a delicious buffet with reserved outdoor seating, but instead of painting pumpkins, you're treated to hilarious antics, music and dancing with some monster friends.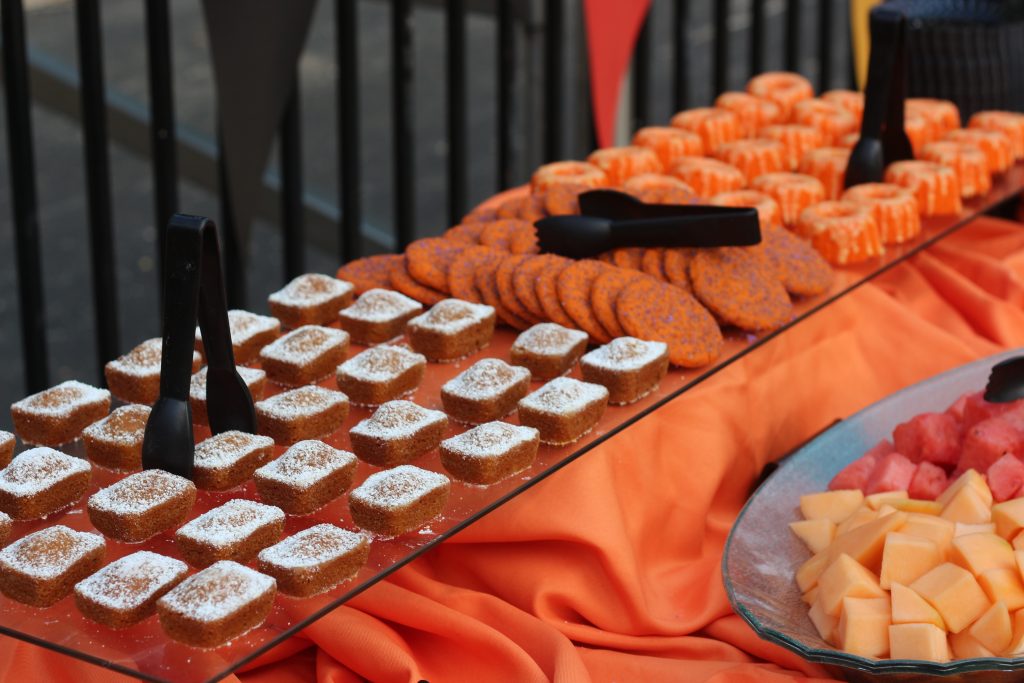 Despite the fact that it was described to me as a "terrifyingly delicious dining experience" hosted by two vampires, it wasn't terrifying the least. While two vampires are indeed the hosts, they are slapstick and funny versus frightening. Fright Feast comes with priority seating for the brand-new show, Monster Stomp, meaning you'll get to enter the venue before anyone else to grab the best seats.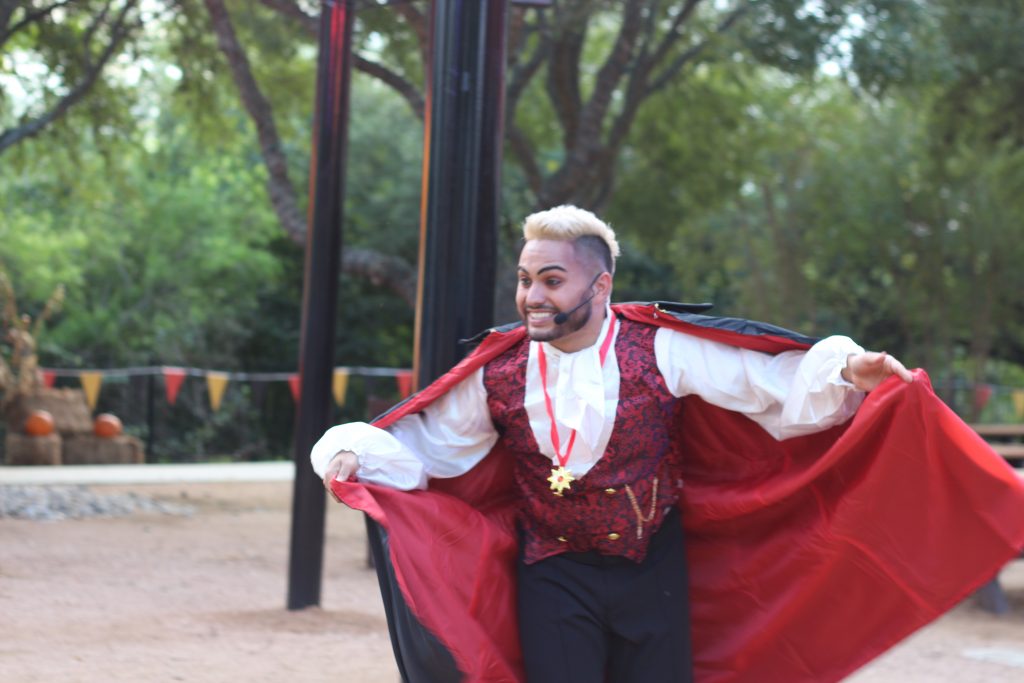 Monster Stomp is touted as a "returning favorite" show. I'm not sure when Monster Stomp last appeared at SeaWorld San Antonio but it was new to us. Monster Stomp is a definite don't miss. It lasts about 30 minutes and is Broadway quality. I'd call this show kid appropriate, although it ends after 7:00 p.m. and the exit is smack in the middle of one of the "terror-torries" so if you have younger kids, you'll have to hustle them past the "Jack the Ripper" scaries.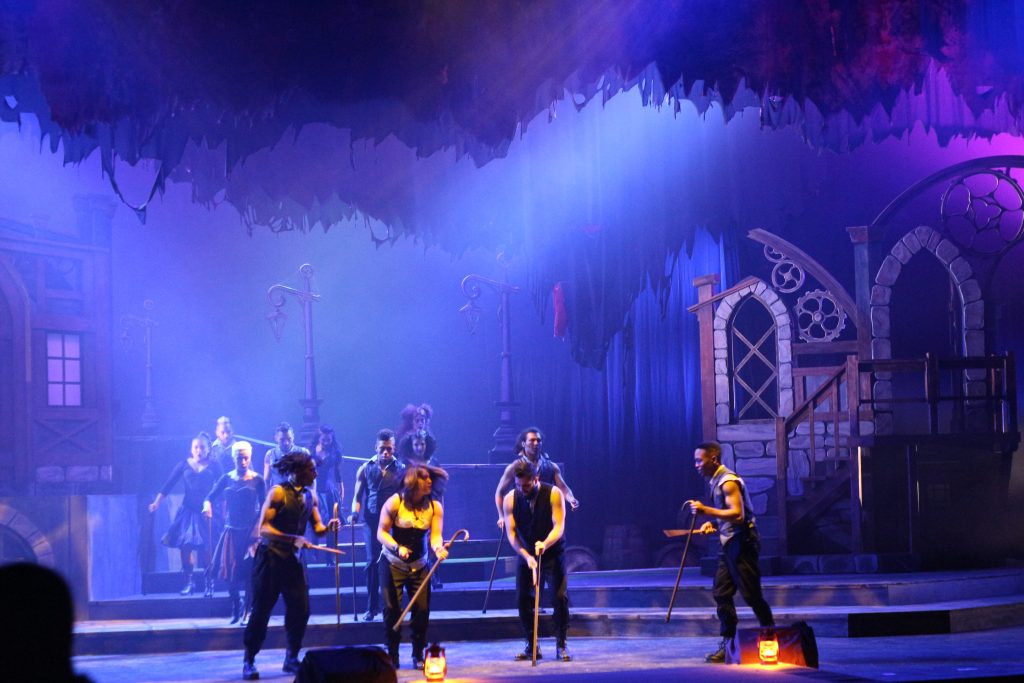 Fear Passes can be purchased as add-on's to your park ticket. You can purchase skip-the-line passes, drink package passes or VIP tour packages. We went to Howl-O-Scream on the first night of the season and we waited in line for the haunted houses for an average of 15 minutes. The Monster Stomp show lets out around 8 p.m and the park closes at 10 p.m. so if you're trying to experience all of Howl-O-Scream and the lines are long, you might not be able to get to everything. The Fear Pass Ultimate offers jump the line access, priority seating at shows, priority access to rides plus some other perks. If an extra $50.00 to upgrade your ticket is in your budget, the Fear Pass Ultimate is a great deal…as is the Ultimate Spirits package. If you're going to enjoy a cocktail during Howl-O-Scream, I recommend buying this one.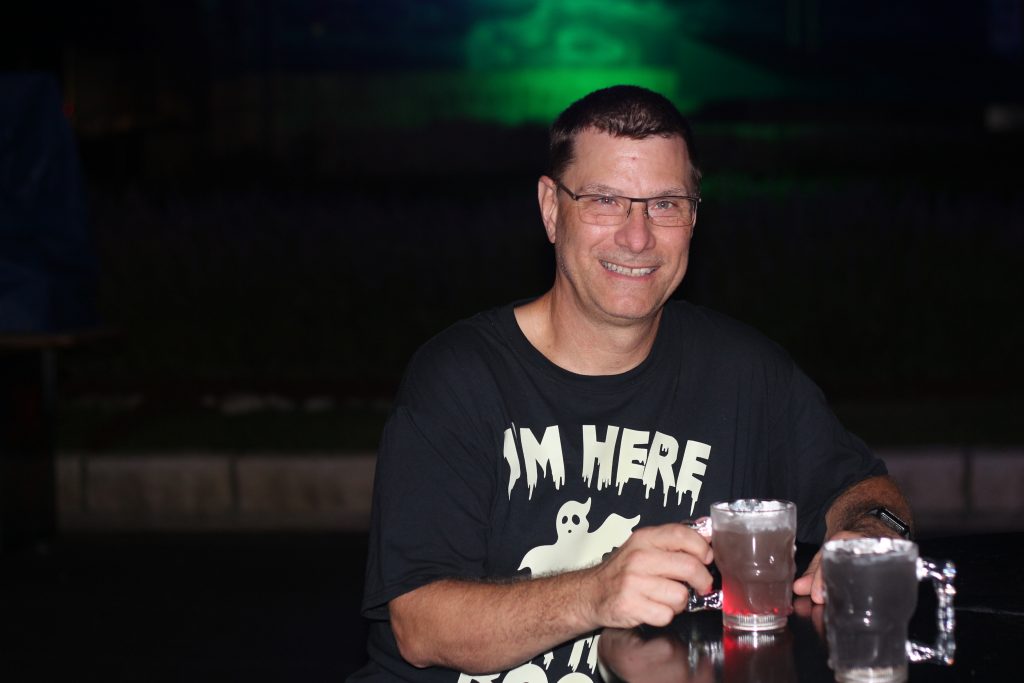 More Details
Halloween Spooktacular and Howl-O-Scream take place every Friday, Saturday and Sunday through October 28th and also on Monday October 8th.
Children under 10 may wear their Halloween costumes.
If you don't purchase add-on's when you get your park tickets, they can be purchased while you are in your park…if you don't see the pay stations to buy a Fear Pass after you're in the park, just ask any friendly SeaWorld team member and they'll get you where you need to be.
For tickets and other park information, go HERE.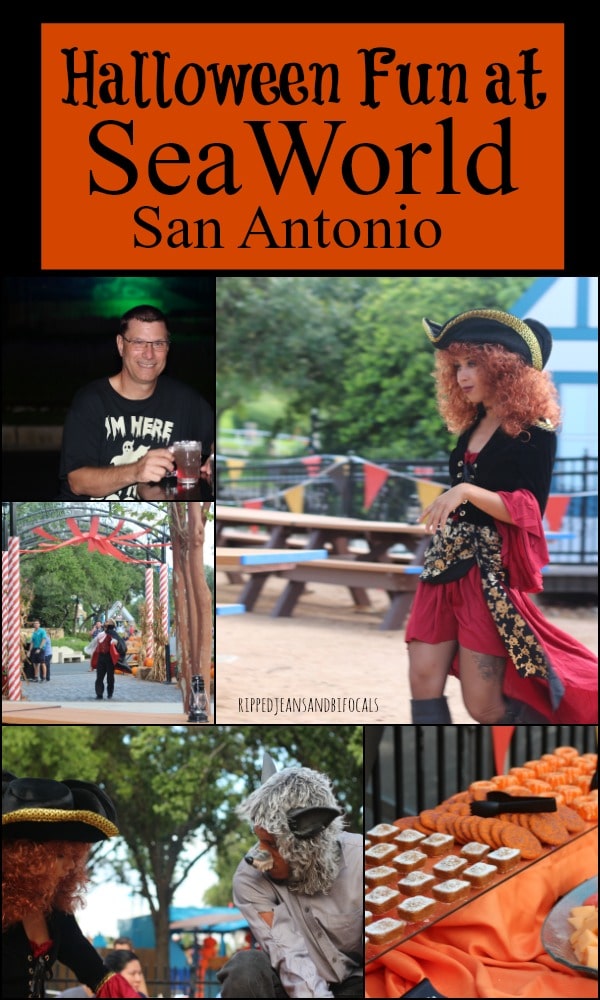 Follow along on social:
https://www.facebook.com/seaworldtexas/
Check out @SeaWorldTexas on Instagram
#SpooktacularTX
You might also like: