If you are looking for an easy, low-threat Christmas craft you can do with your kids, I'm your girl. And yes, the emphasis is on easy. These easy popsicle stick Christmas Tree ornaments are simple enough for most kids to make with minimal help (although an adult needs to be in charge of the hot glue) and they are made with inexpensive supplies.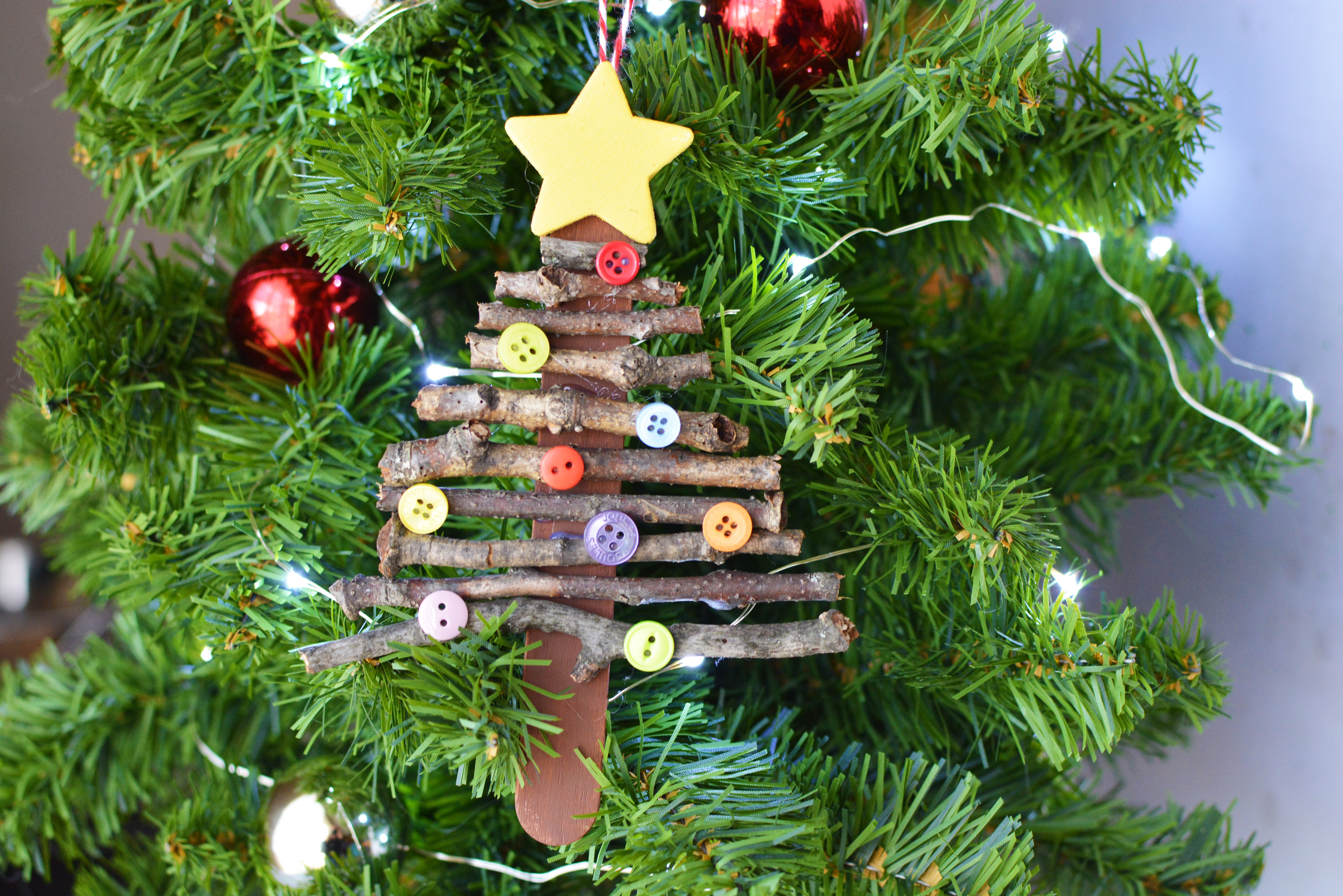 Everything you need to make these easy popsicle stick Christmas tree ornaments can be found at your local craft or hobby store, or, Amazon, if you don't want to put on pants and shoes to go shopping.
Disclaimer: We are a participant in the Amazon Services LLC Associates Program, an affiliate advertising program designed to provide a means for us to earn fees by linking to Amazon.com and affiliated sites. This post may also contain affiliate links to other sites where I will be paid a commission by the seller if you make a purchase.
Easy Popsicle Stick Christmas Tree Ornaments
These popsicle stick Christmas Tree ornaments turn out really cute. It's a great way to keep the kids busy during winter break and they also make fun package decorations.
Supplies Needed:
several twigs
Make sure you use dry twigs – they are easier to work with than green twigs.
Directions:
Lay a piece of wax paper onto a flat surface to protect it.
Paint a large craft stick brown with acrylic paint. Let set to dry completely. Paint a wood star yellow and let set to dry completely.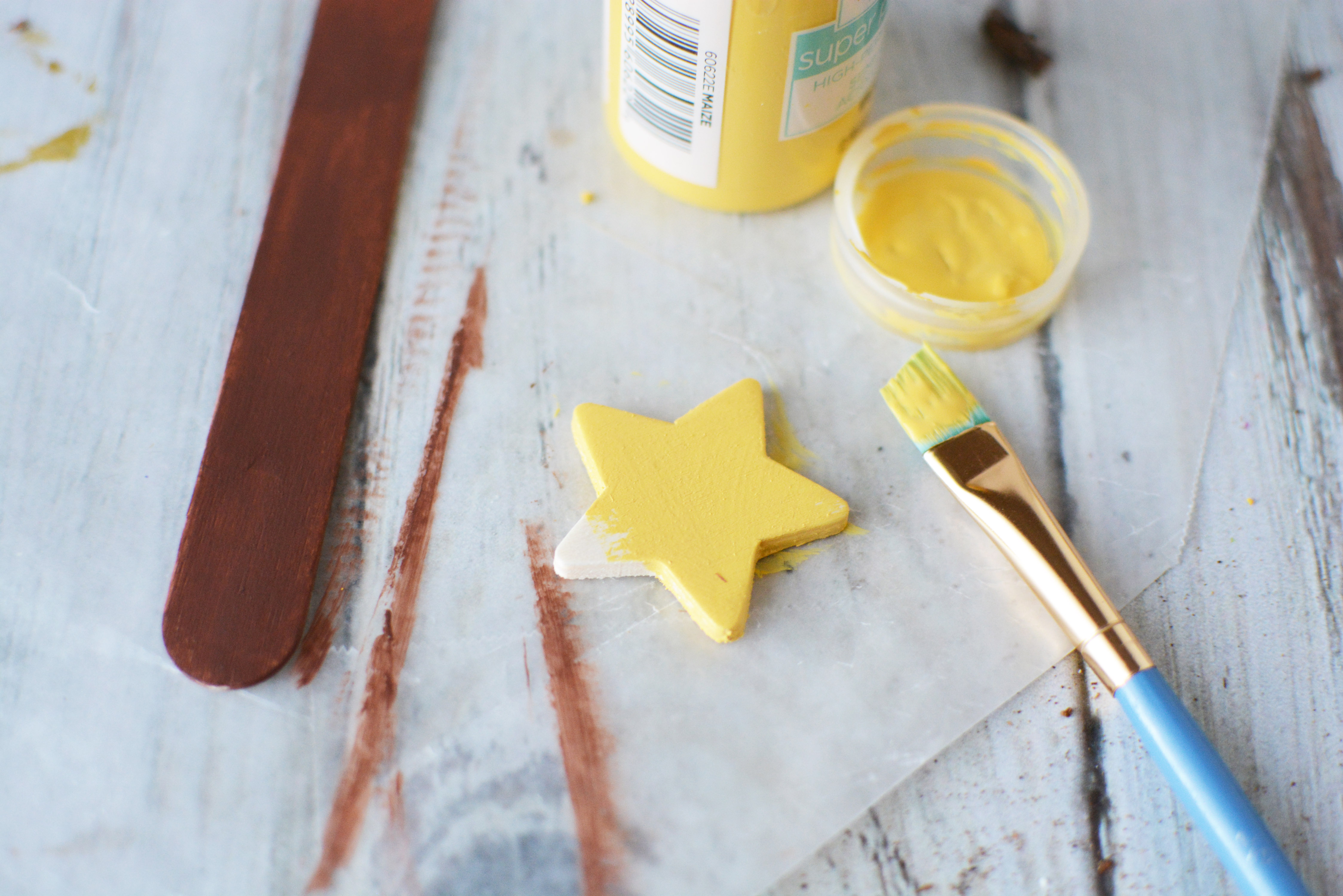 We usually do our painting the night before or in the morning and come back to the project later. If you're doing these as a classroom or scout troop activity, you can always pre-paint the popsicle sticks and stars.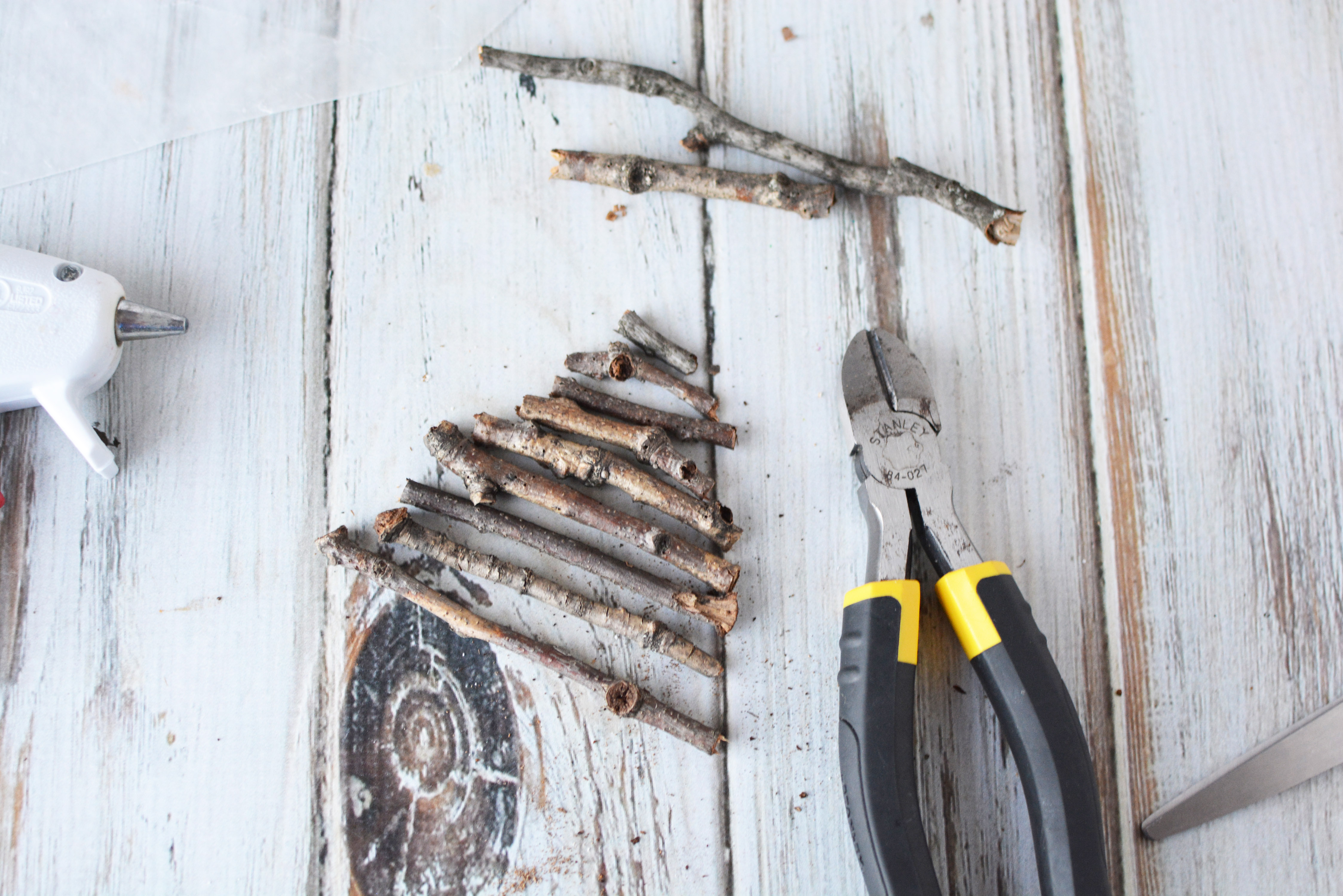 Use diagonal cutters to cut twigs into different lengths and line them up to make a triangle tree.
Set the twigs onto the popsicle stick to see how the tree looks. Make sure you set the star onto the tree as well. Attach twigs and star with hot glue.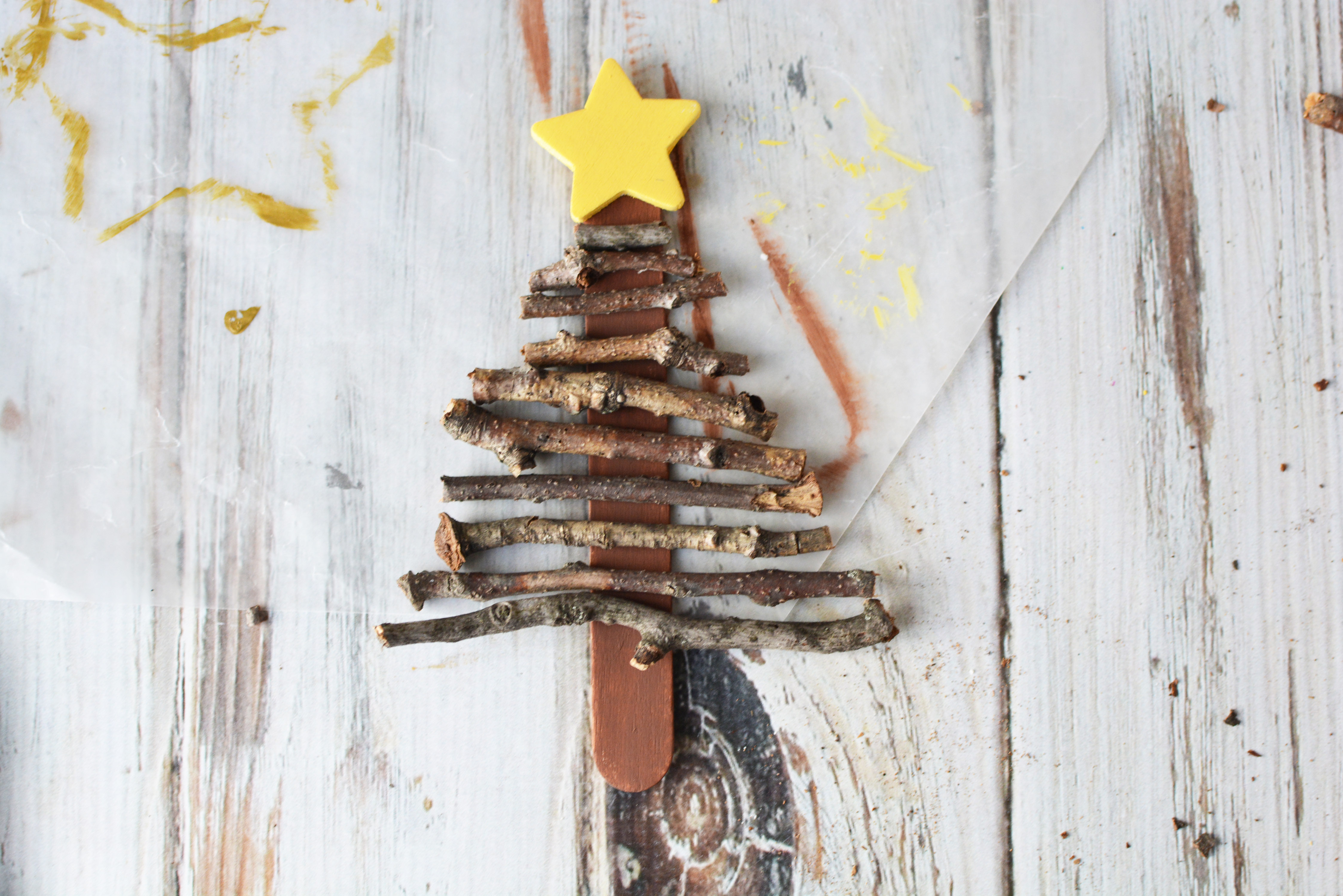 Place small buttons onto the twigs for ornaments and attach with hot glue. You can buy a bag of assorted buttons or use old buttons from your scrap bag. I always buy the bag of buttons. I swear, I have a bazillion stray buttons lying around this house but I can never find them when I need them.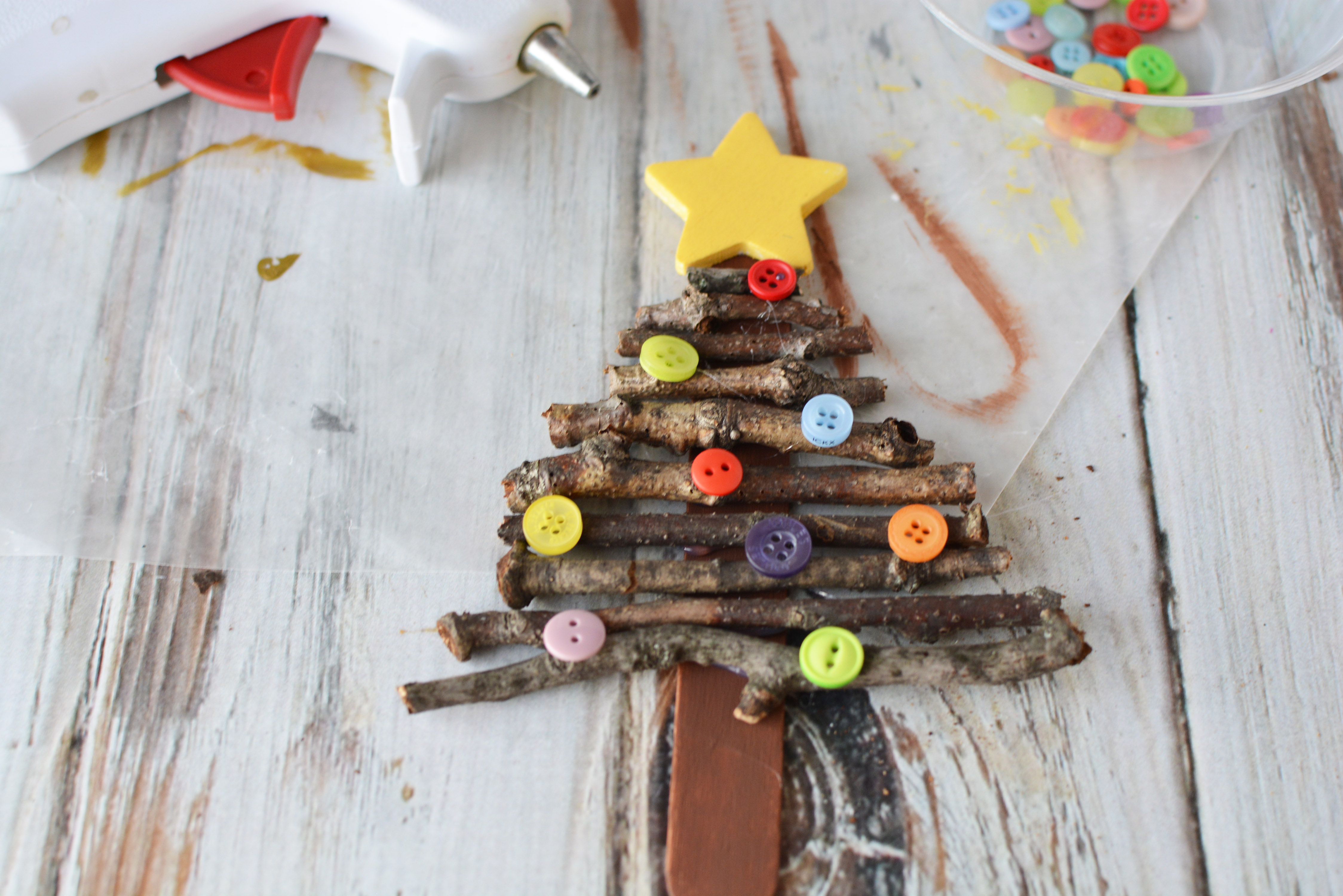 Cut a 5″ piece of baker's twine, yarn or ribbon and knot at the end. Attach to the back of the star, with hot glue, to allow the ornament to hang.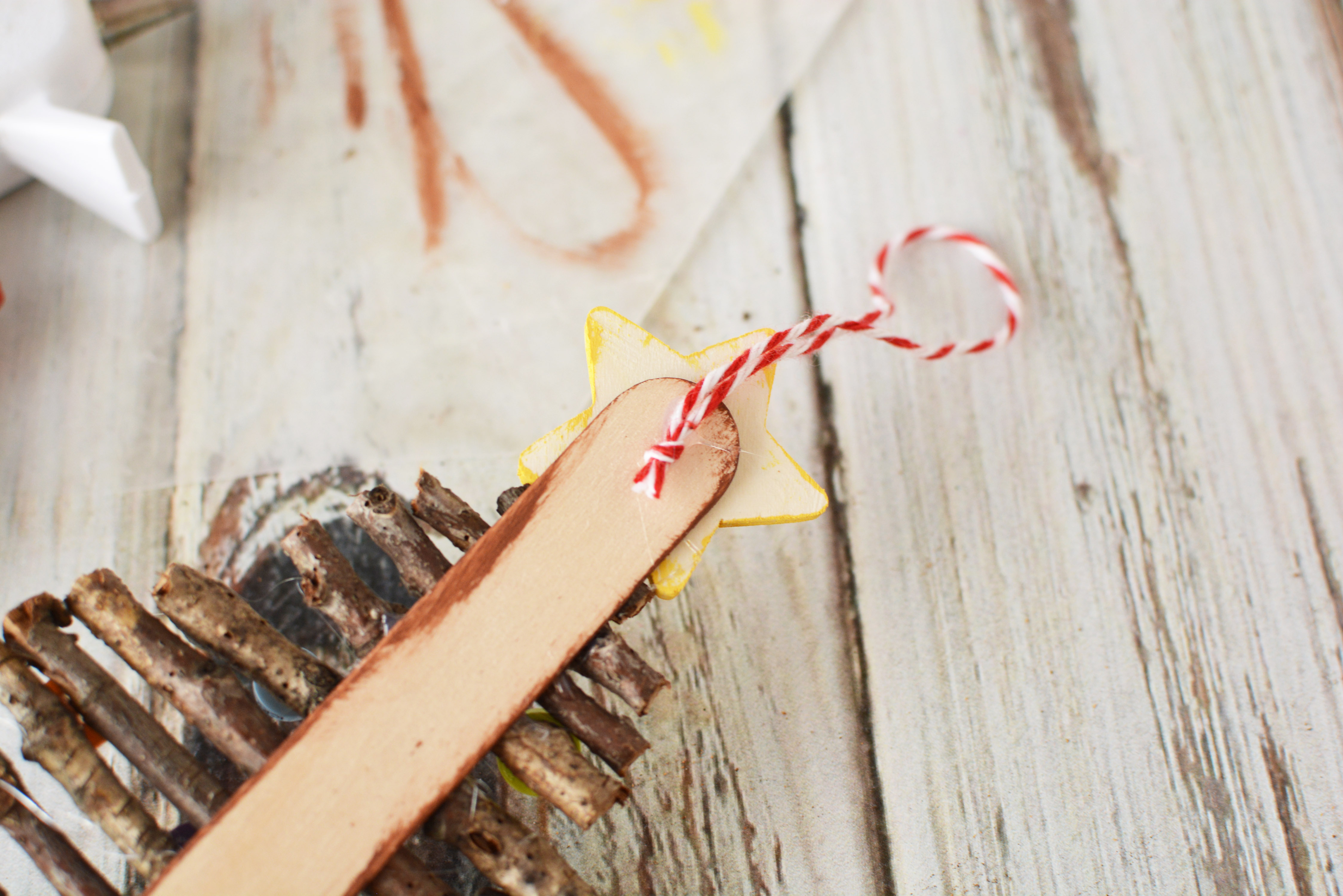 Voila!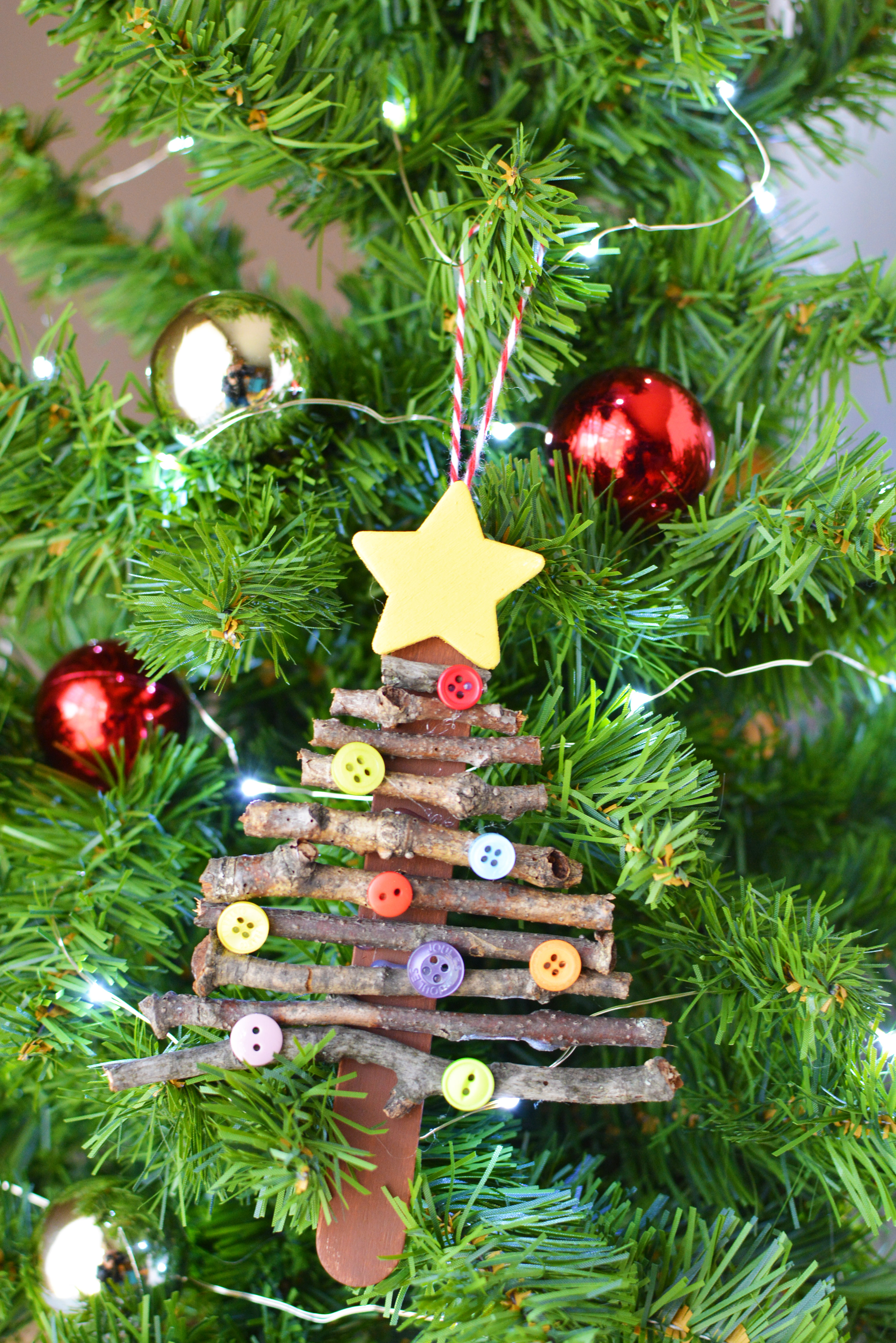 <
There is definitely room to get creative. You can use paints or glitter to give your trees a different sort of look and if you want a blinged out tree, you can use sequins or plastic jewels instead of the buttons. But, I like the rustic look of these.
This is a tear-free kid's craft and by that I mean one that won't make me cry. It comes out looking like it's supposed to look and it doesn't take super long to put together once the paint is dry. If you have younger kids, this will hold their attention from start to finish. Enjoy!
You might also like:
The ultimate list of non-toy gift ideas for school-aged kids