A behind the scenes look into the Internet – Ralph Breaks the Internet
(This post may contain affiliate links. Read my full disclosure.)
Disney is magic…but we all knew that, right? This summer, I had a very cool opportunity to get a peek behind the curtain. I got to spend a day at Disney Animation Studios and talk to the awesomely creative people behind the upcoming movie, Ralph Breaks the Internet. Even though I got to see a little bit more than the average person gets to see about how the magic comes to the screen, it's still…well, just as magical. Getting to learn a little bit about the how and why didn't diminish the magic for me one bit and I can't WAIT for this movie to come out. I'm excited I get to share with you a behind the scenes look into the Internet as imagined and created by the talented Disney imagineers that worked on this film.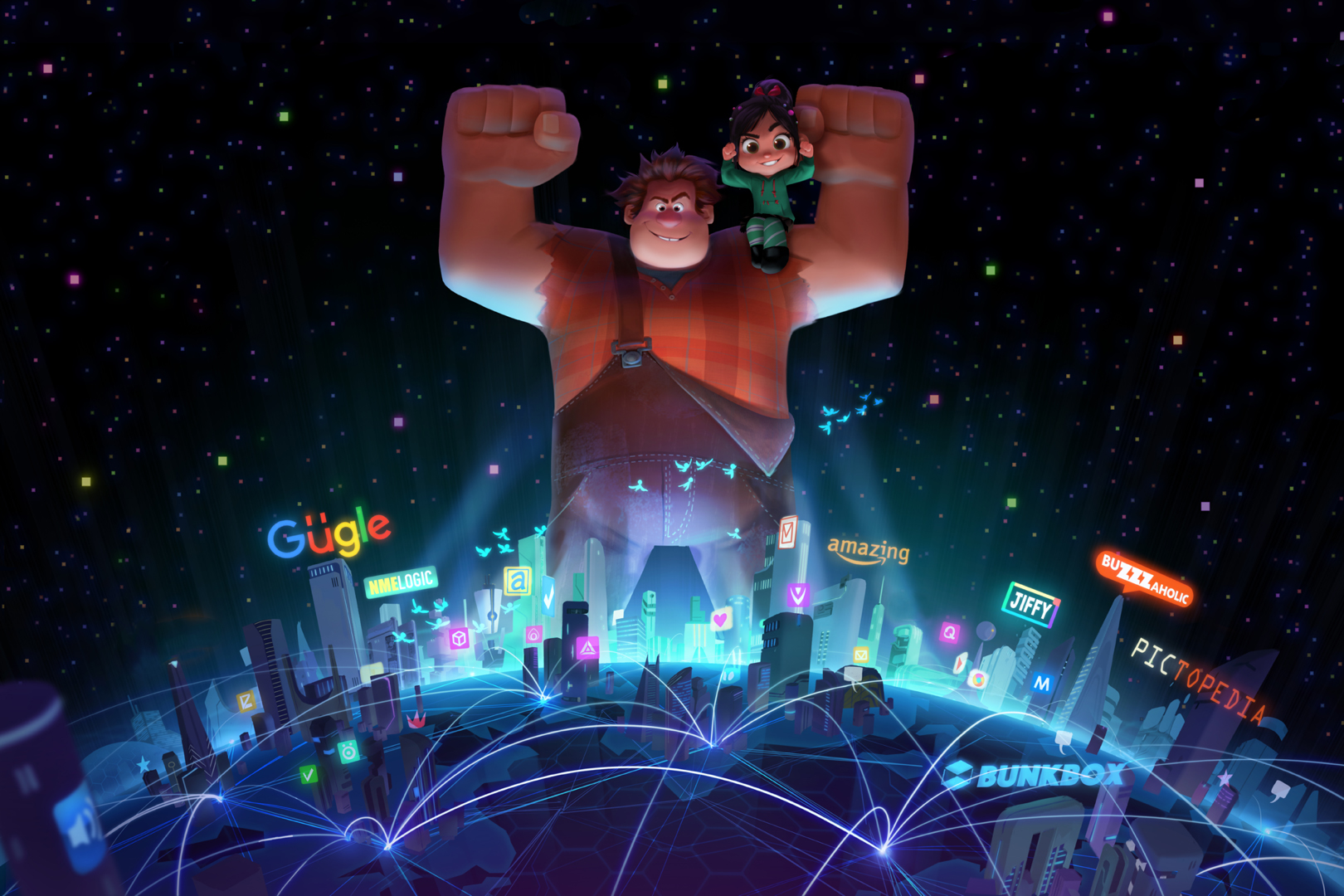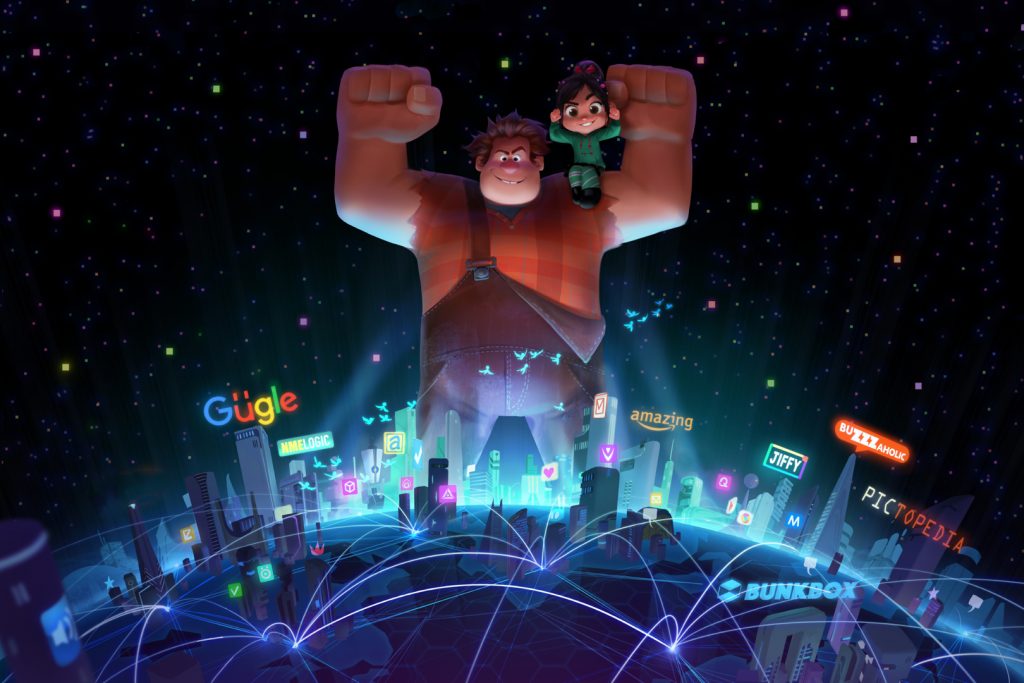 A behind the scenes look into the Internet – Ralph Breaks the Internet
https://www.facebook.com/WreckItRalph/videos/1886644828097226/
I was invited to Los Angeles as a guest of Disney and Marvel Studios for the premiere of Disney's Christopher Robin. As part of this media trip, we had the opportunity to attend an early press day at Disney Animation Studios, where we received behind-the-scenes info on Ralph Breaks the Internet while the movie was still in production. All opinions are my own. For more information about the Christopher Robin press trip, visit THIS PAGE.
We had the opportunity to chat with  Josie Trinidad (Head of Story), Jason Hand (Story Artist) and Natalie Nourigat (Story Artist), who explained the unique roles that the story team played not only in developing a new adventure for Ralph and Vanellope, but also in envisioning the ever-evolving world of the internet. I can't wait for y'all to see this movie because as hard as I try to explain the awesome things I saw and heard inside Disney Animation Studios, I know you're going to have a huge "AHA" moment when you see it for yourself.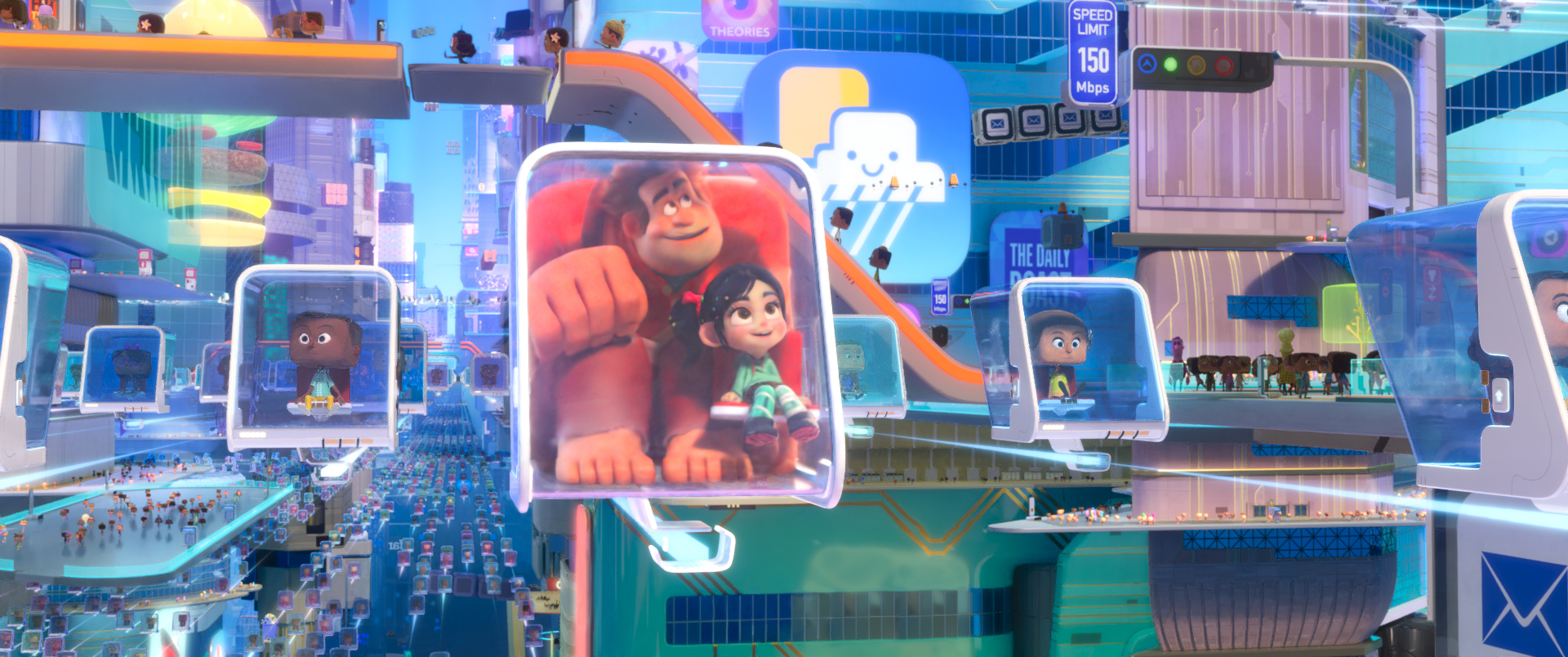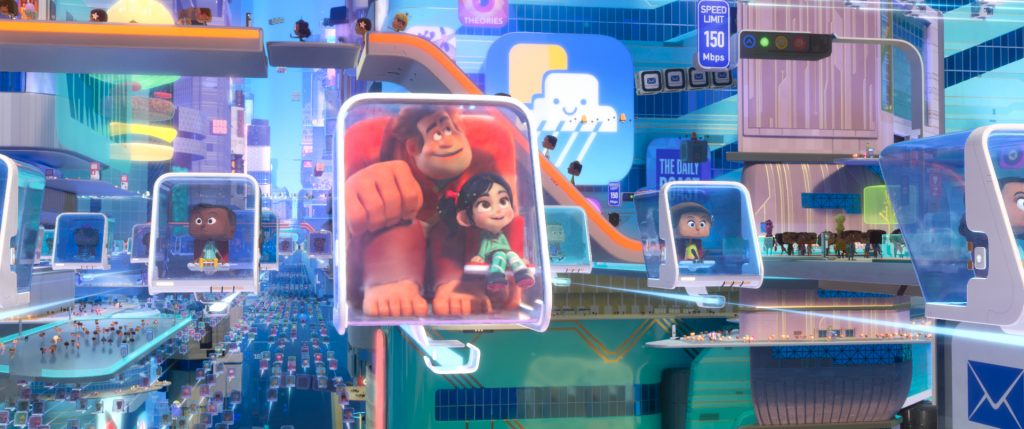 They gave us a little demonstration how the story process works. The idea comes from the directors. Story ideas get thrown around and then the story goes to script writing and then the story team does whiteboard drawings of the story as it exists at that time. We got to see their crazy drawing skills firsthand and I know I keep saying how I'm in awe of this level of talent but I am in awe of this level of talent.
Those first sketches are projected on screen for the directors using voices and dialog. They get feedback from the directors that comes in the form of "hey wouldn't it be cool if we did…" and they make suggestions for revision. Then everything goes to editing and is mocked up with scratch voices. After the editing process, they do a mockup screening (for people who work at Disney studios) and then get more feedback, how to make the movie better, etc.
This process is repeated many times, throwing things out and adding new things until everyone agrees they have the best movie they can possibly make. Josie shared that there were about 10 different screenings of Ralph Breaks the Internet during production and gave us some cool insights into some ideas that were tossed around that didn't make it into the film.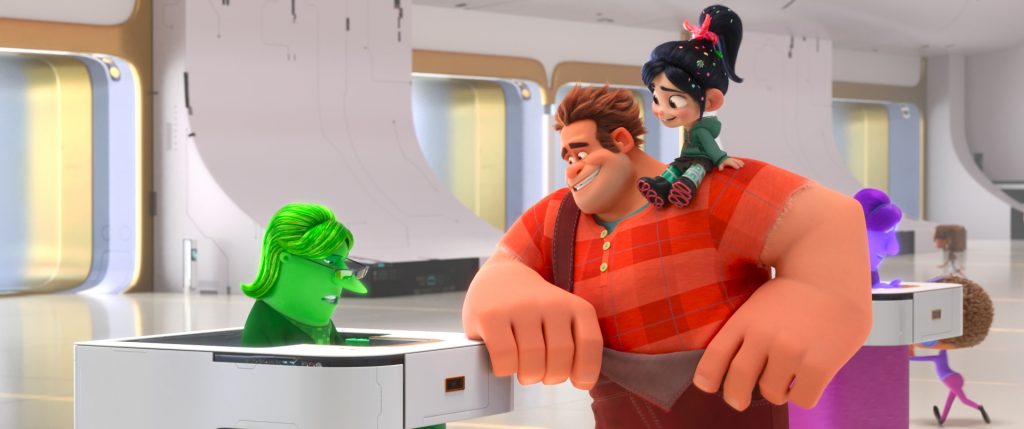 My favorite portion of the day (or one of them anyway) was getting to talk to Cory Loftis (Production Designer), Dave Komorowski (Head of Characters and Technical Animation), Renato dos Anjos (Head of Animation) and Moe El-Ali (Crowds' Supervisor) about populating the internet by explaining process of creating the inhabitants of the internet, from the "Netizens" to the "Net Users."

Netizens are citizens of the internet and Net Users are us, inside the internet. If I'm searching for "kids soccer cleats" online, I become the Net User while inside the internet and the Netizens are the employees of eBay, Sports Authority, Academy or wherever else I land in my search for cleats. I know…it's kind of hard to wrap your head around unless you've seen it but once you do see it, it makes sense and its fascinating. It definitely gives surfing the net a new depth.
Cory described Net Users as "some version of us running around out there, sending emails or looking at websites" and Netizens as "When you like something on Instagram, the Netizen goes and puts a little heart beside it." For those who haven't seen the insider footage like I have, I think this description is probably the best way to understand it. We got to see a clip of the interaction between the Net User and the Netizen as they drive around town, which is meant to show what happens when we look up something on a map. It's funny and brilliant.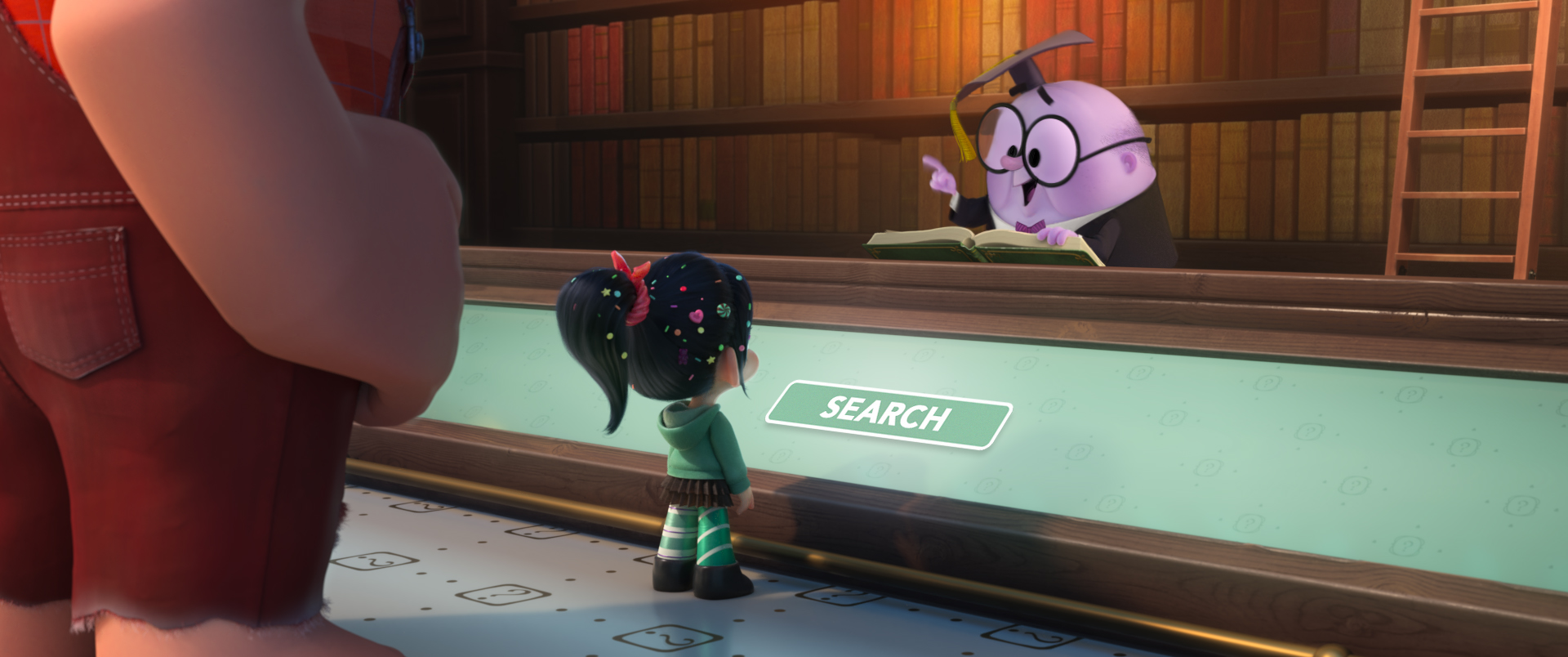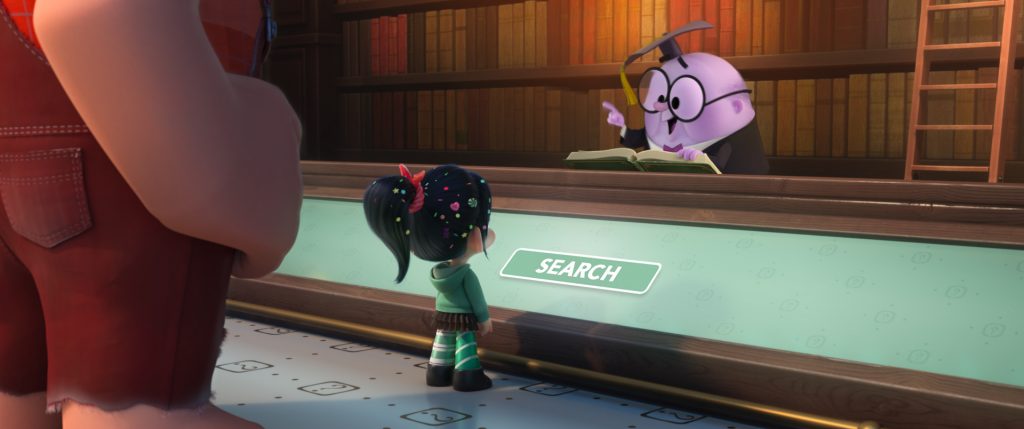 Imagine a city like New York. You'd see foot traffic on the sidewalk but when you're talking about populating the internet, look down and look up and there's traffic there, too. Hard to imagine, isn't it? Cory gave us a great explanation on how the Net Users and the Netizens were created and, as he talked, it was easier and easier to imagine the internet as a bustling metropolis.
There are 434 unique characters in Ralph Breaks the Internet, 223, which were pulled over from Wreck it Ralph. There are over 6 THOUSAND variants, which means changes in clothing, hair, accessories, and so on. To give you a frame of reference, there were 434 variants in the original Wreck it Ralph, so we can see our animators have been busy creating Net Users and Netizens!
The technology in animation has improved so the animators took the opportunity to make tweaks….make them richer, put more details in the textures and colors (i.e. Ralph's skin looks more like skin in the second movie.)
Also, pay special attention to Yesss, who Cory describes as the "curator of cool." She's a new character and important to the overall storyline. You'll want to really pay attention to her outfit, hair and accessories – there are some really cool effects.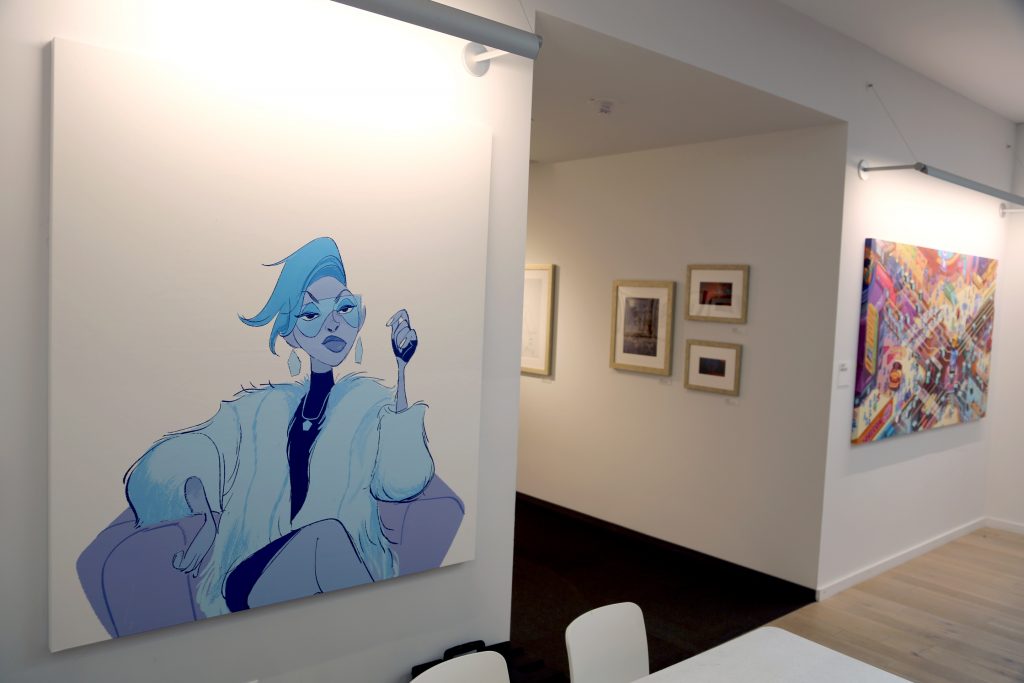 We also spoke to Matthias Lechner (Art Director, environments), Larry Wu (Head of Environments) and Ernie Petti (Technical Supervisor) about the daunting task of turning the abstract concept of the internet into a complex, thriving metropolis. I mean…think about it. Have you ever pictured E-Bay and Amazon as actual physical places? I'm going to go with no. One of the things that impressed me most is how everyone we talked to sung the praises of everyone else. There are so many teams of talented people behind making a movie like this and everyone was quick to tell us that they're only part of the overall pipeline, acknowledging what a small part they have and that it all works together.
I know I keep saying how I am in awe of the talent and the many moving parts that go into making a film like this one but it really is quite something. I didn't think I'd be as "into" the behind the scenes technical aspect of how all this gets put together but it really is quite fascinating. If you ever get a chance to spend time with the creative forces behind animated films, leap at the chance.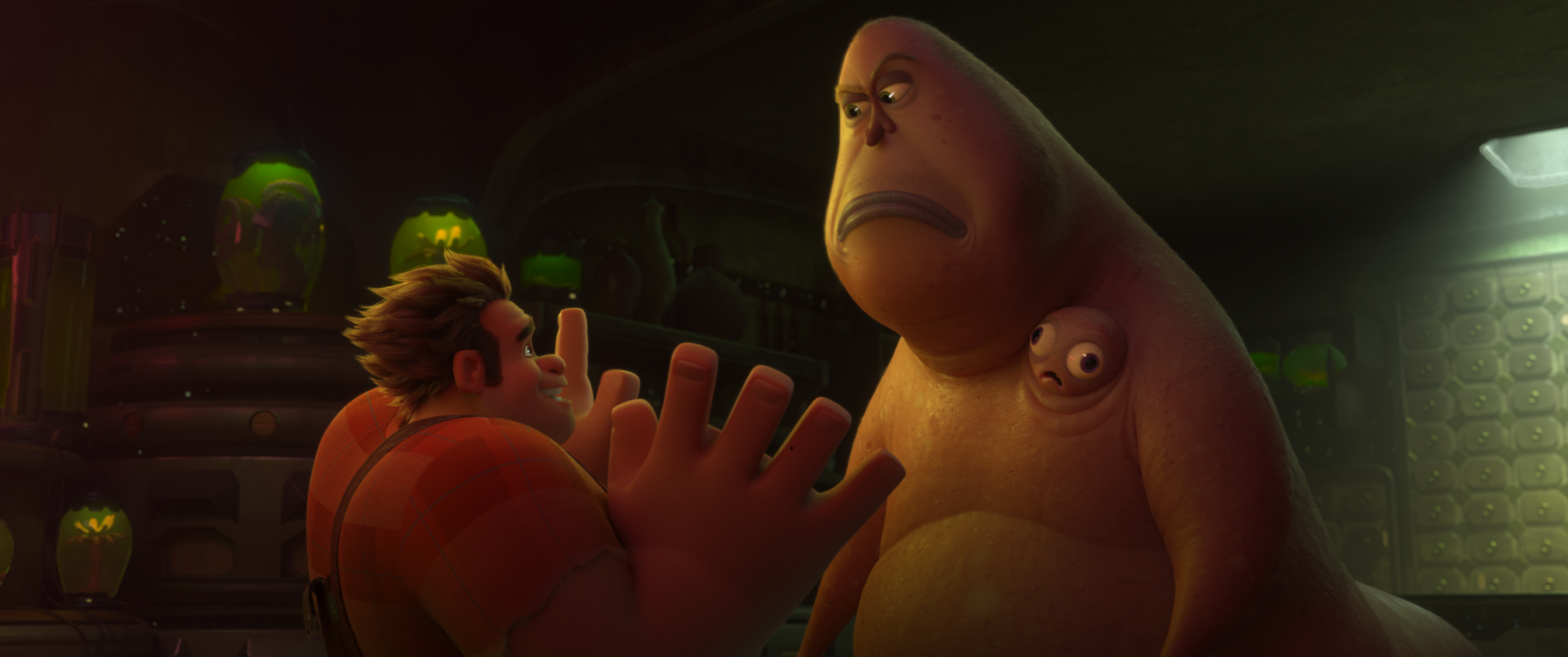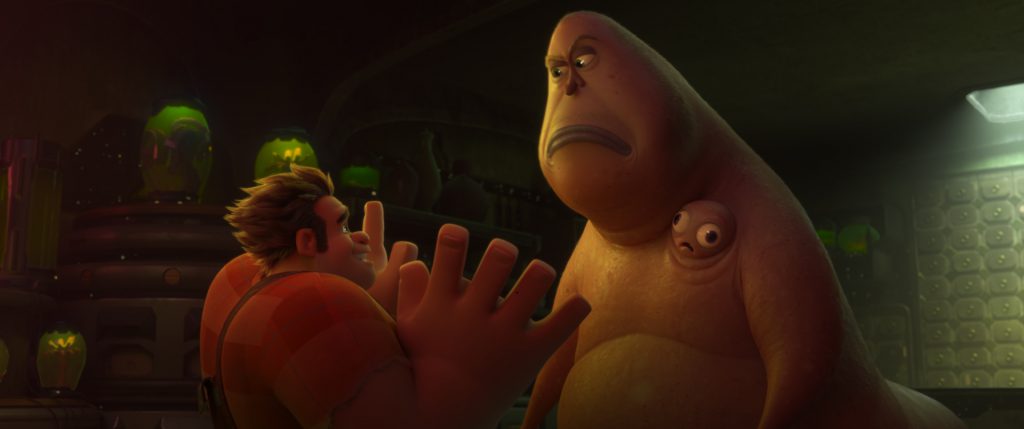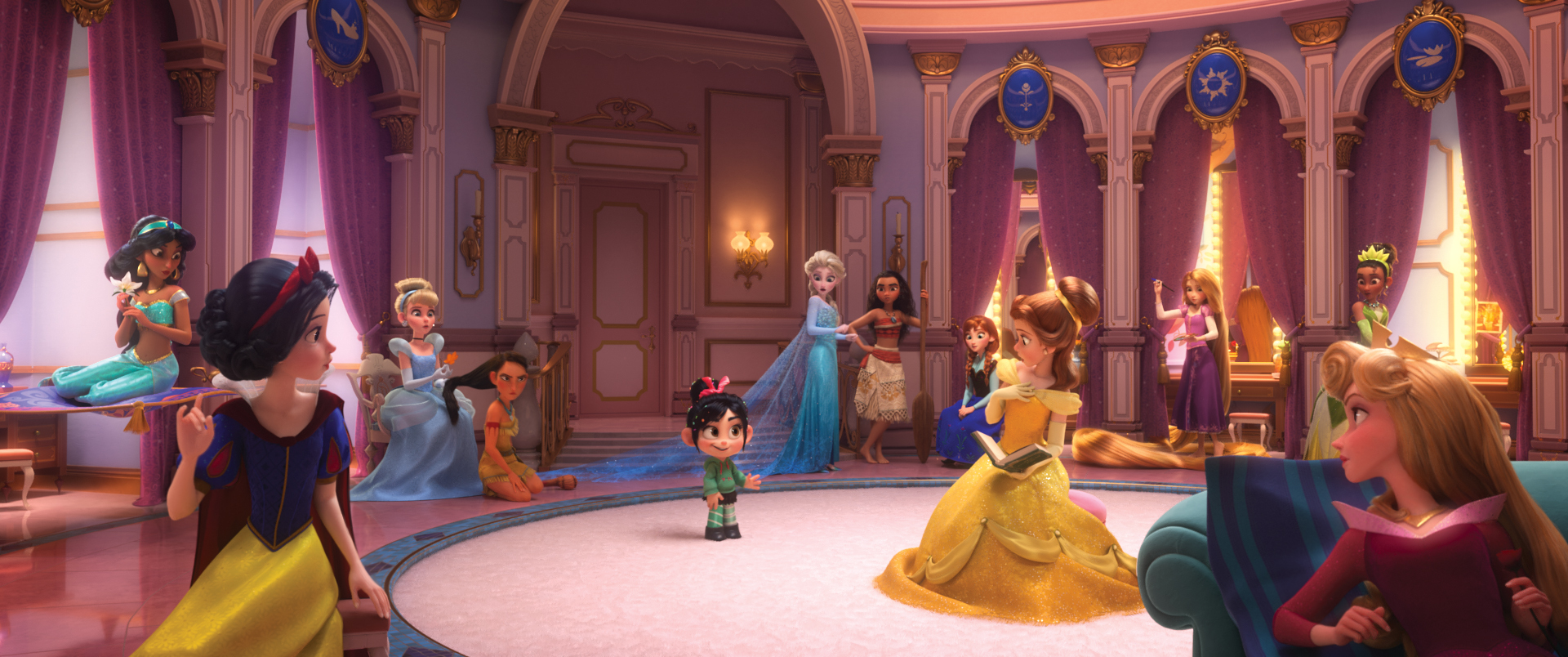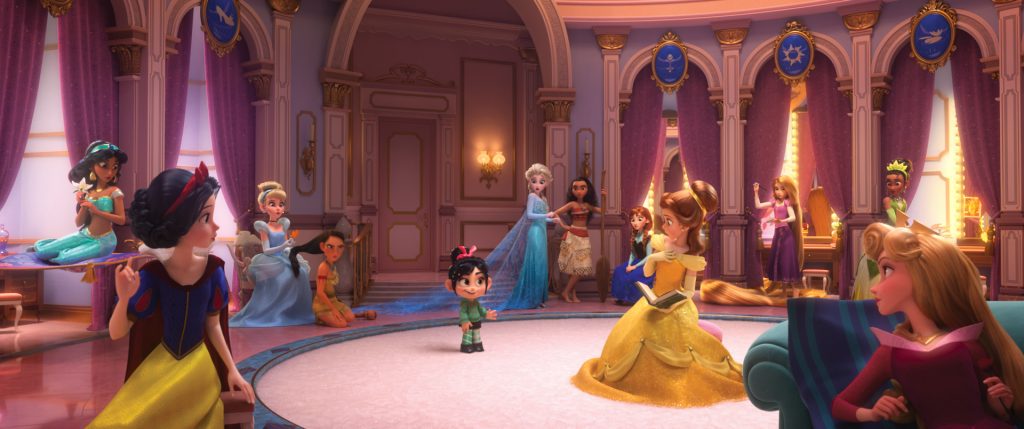 MORE ABOUT RALPH BREAKS THE INTERNET
RALPH BREAKS THE INTERNET leaves Litwak's video arcade behind, venturing into the uncharted, expansive and thrilling world of the internet—which may or may not survive Ralph's wrecking. Video game bad guy Ralph (voice of John C. Reilly) and fellow misfit Vanellope von Schweetz (voice of Sarah Silverman) must risk it all by traveling to the world wide web in search of a replacement part to save Vanellope's video game, Sugar Rush. In way over their heads, Ralph and Vanellope rely on the citizens of the internet—the netizens—to help navigate their way, including a webite entrepreneur named Yesss (voice of Taraji P. Henson), who is the head algorithm and the heart and soul of trend-making site "BuzzzTube."
Like WRECK-IT RALPH on Facebook: https://www.facebook.com/WreckItRalph/
Follow WRECK-IT RALPH on Twitter: https://twitter.com/wreckitralph
Follow WRECK-IT RALPH on Instagram: https://www.instagram.com/wreckitralph/
Visit the official RALPH BREAKS THE INTERNET: WRECK-IT RALPH 2 website here: http://movies.disney.com/ralph-breaks-the-internet-wreck-it-ralph-2
RALPH BREAKS THE INTERNET arrives in theatres everywhere on November 21st!
You might also like:
Ralph Breaks the Internet is Your New Favorite Movie and Here's Why