Cherry Coke Pork and Tropical Slaw Sliders
(This post may contain affiliate links. Read my full disclosure.)
For those of you who may have stumbled on this recipe – OMG you have to try it because it's amazingly good and easy. But, I'm not a regular foodie girl blogger. While recipes on this blog pop up occasionally they aren't the norm – but welcome! For you regular readers who come to this site to read adoption and funny parenting stories (and the occasional snark) I hope you like the little bit of a change up. This Cherry Coke pork and tropical slaw sliders recipe was just too good not to pass on.  Enjoy!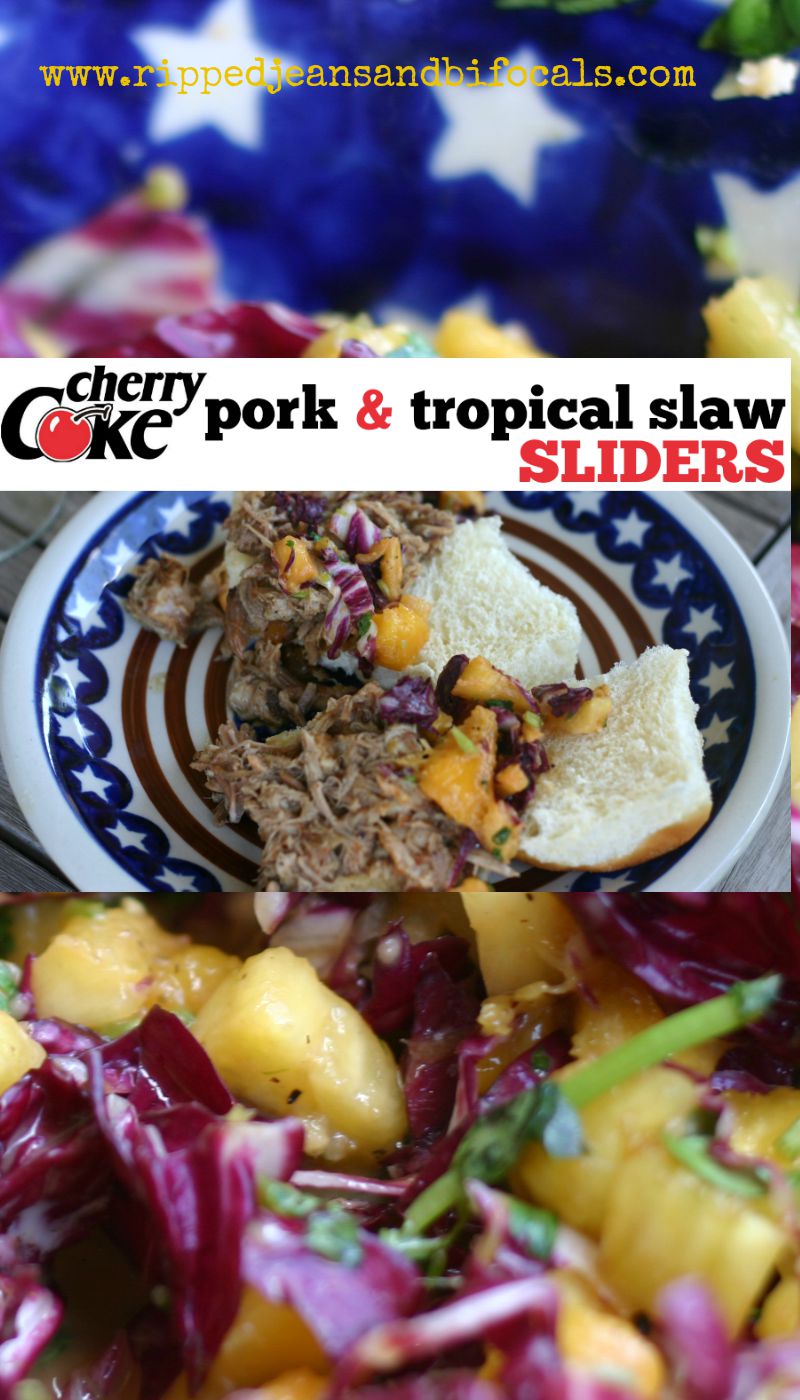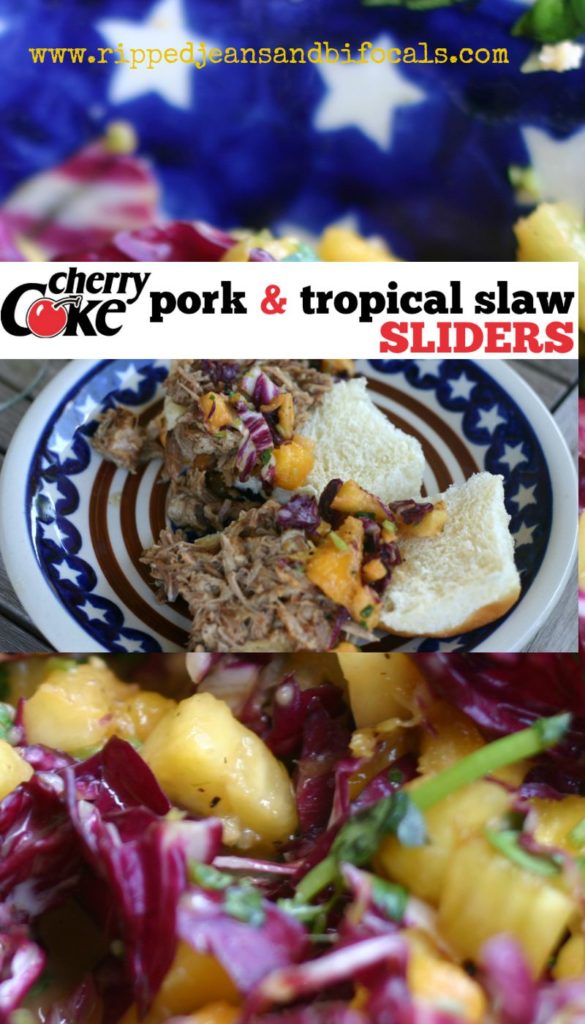 My hubby and I had a date at Sea World without our kids a couple of weeks ago. We went to the Seven Seas Food Festival and had a great time. We didn't ride one ride or see any of the shows. We spent about three hours eating and drinking and enjoying some new friends in the warm Texas sunshine. If Sea World brings back the Seven Seas Food Festival again, you should definitely check it out.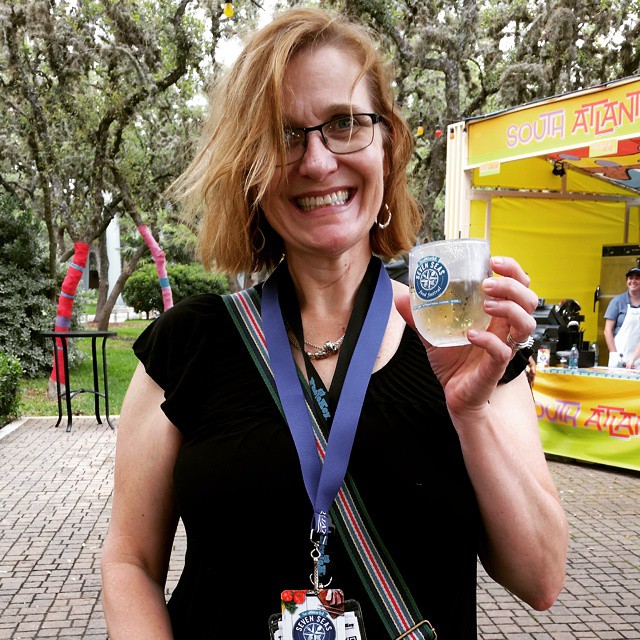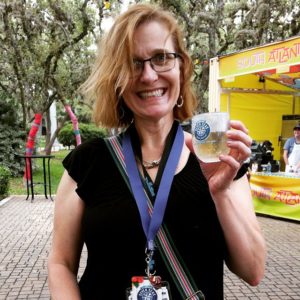 The festival included a cooking demo by Chef Sam Boisjoly, executive sous chef at Omni hotels. I don't know exactly what an executive sous chef does but it sounds super important. Anyhoo, Sam was a lot of fun and I learned to make this new recipe. I'm sharing it with you fine folks because it is really just that good.
Pork:
3 lbs boneless pork butt                      2 tablespoons smoked salt
1 cup chopped celery                          1 cup chopped onion
2 cups Cherry Coke                            2 tablespoons cracked pepper
The smoked salt is a bit expensive, but do yourself a favor and find it. It really makes the recipe…and for the love of Mike, please don't use diet soda.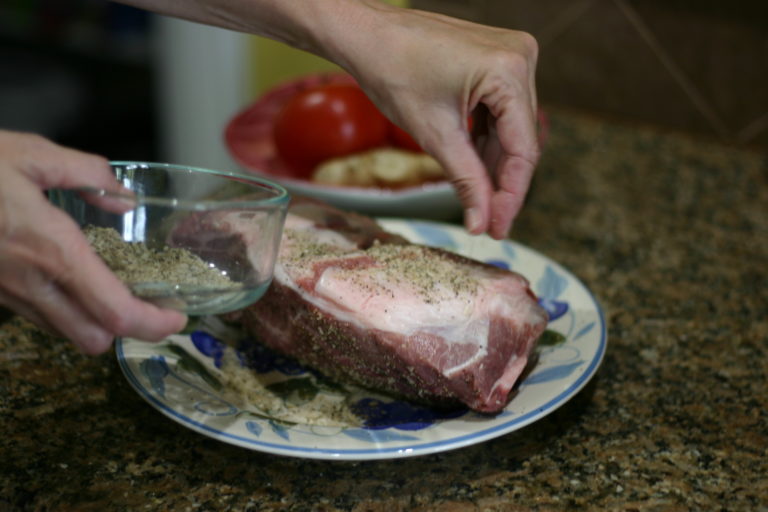 Directions:
Pour Cherry Coke into medium roasting pan and add onion and celery. Season the meat with the salt and pepper, pop the roast in the pan and cover with foil. Bake at 350 for 3-4 hours (meat should be fall apart tender.) Your house will smell amazing, by the way. Super easy.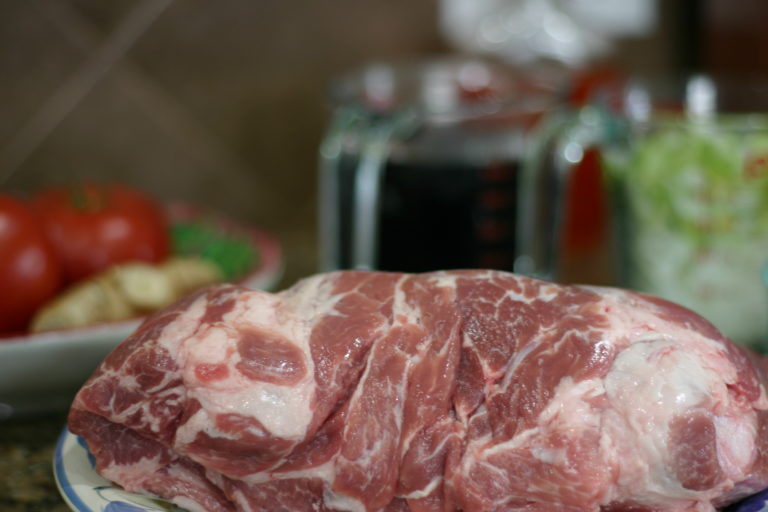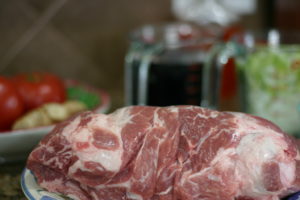 Tropical Slaw
1 cup julienned red cabbage               ½ cup diced pineapple/
½ cup diced mango                             ¼ cup fresh cilantro
1 teaspoon grated ginger                     2 teaspoons soy sauce
1 teaspoon kosher salt                         ½ teaspoon cracked pepper
3 teaspoons mayo                                2 teaspoons orange Fanta reduction*
I listed out the ingredients exactly as Chef Sam gave them to me, but in my slaw, I used a little more pineapple and a little less cabbage and mango, just because I'm not big on cabbage or mango and I had some extra pineapple to use up. Don't shortchange this dish by using dried or jarred ginger. The fresh ginger root really makes this dish pop and it's cheap and easy.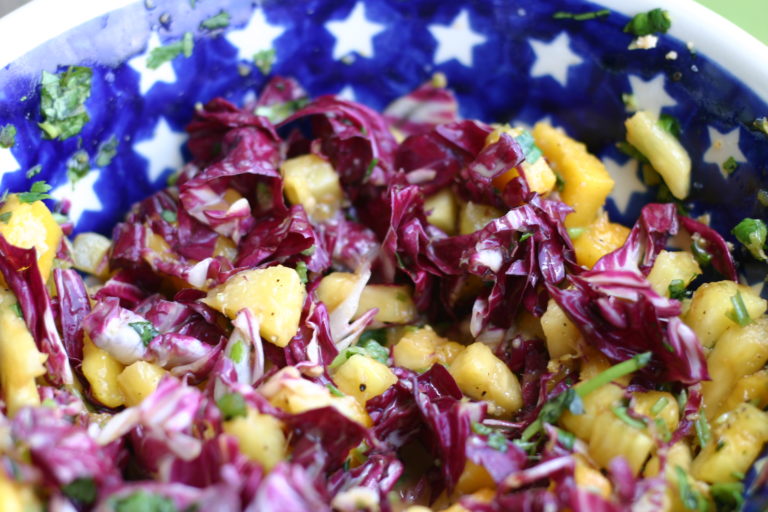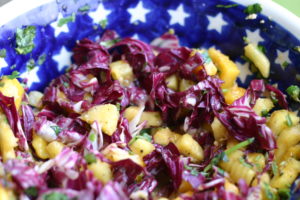 Combine all ingredients in a bowl, mix thoroughly and chill for 15-20 minutes.
Place the warm pork on a Hawaiian role or bun, top with tropical slaw and voila! Instant yum. If you go breadless, this should meet gluten free or paleo requirements.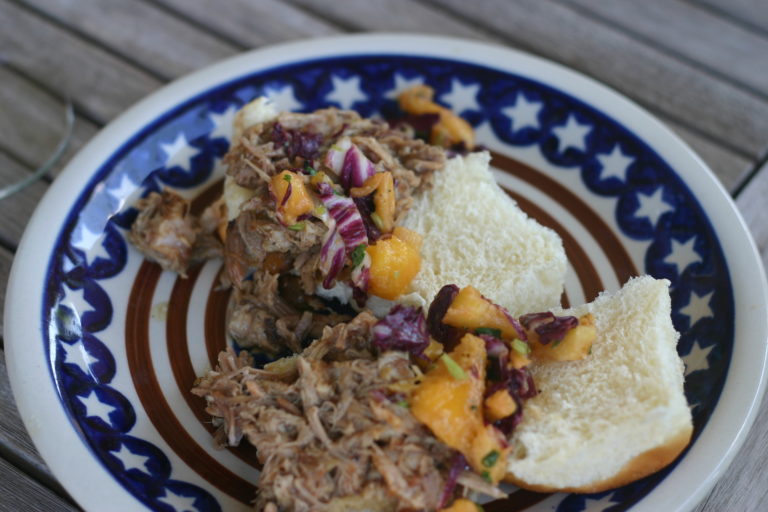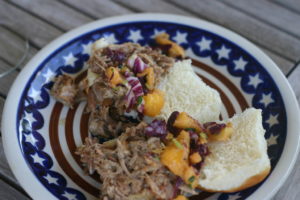 This was really easy to make and the ingredients are pretty common. Any grocery store should be able to fix you up (I found everything at HEB.) The slaw could be a tiny bit time consuming but most grocery stores have pre-chopped, pre-measured produce and that saved me a little bit of time.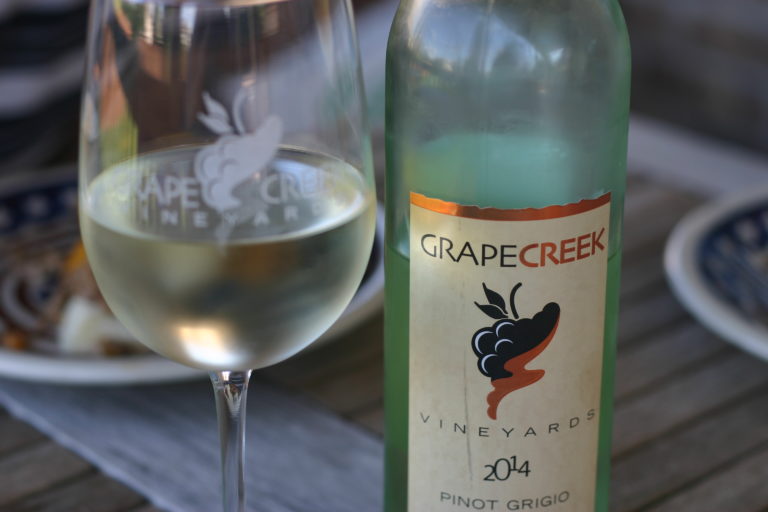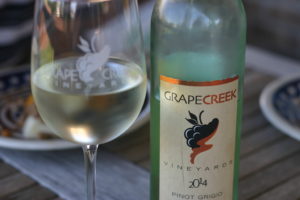 *Orange Fanta reduction syrup: take a two liter bottle of Fanta (or other orange soda) and pour it into a sauce pan. Bring to a rolling boil and simmer until reduced by about a third…I recommend about an hour on low heat. This yields a sweet, orange syrup that can be added to deserts, drinks or marinades.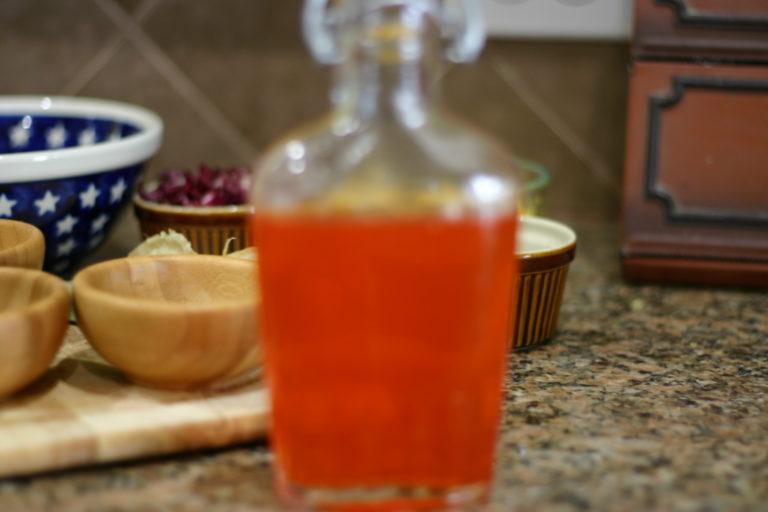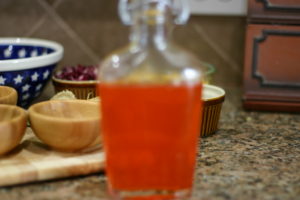 Even the picky one ate it.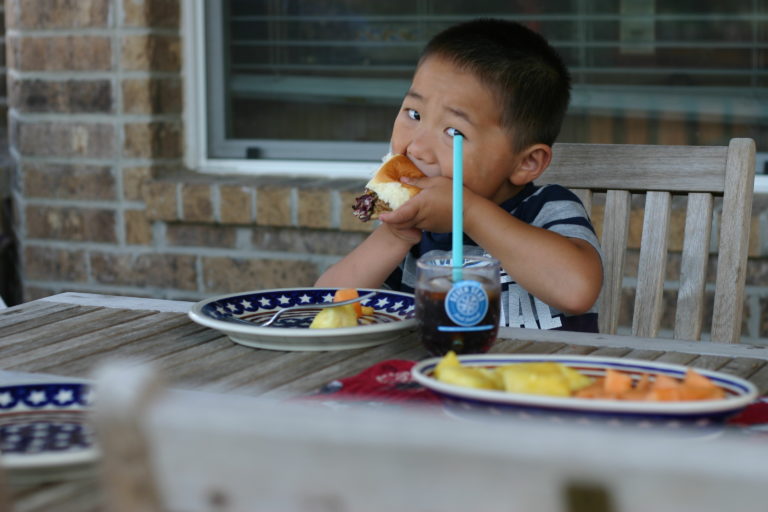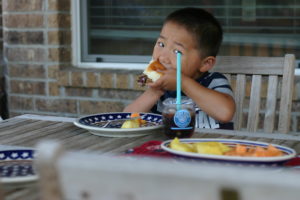 Thank you for reading! If you've enjoyed it, please share on social media and make sure you're following me on Facebook!
Disclaimer: I am part of Sea World of Texas' Wildside blogging team. That means my family and I are provided complimentary passes to Sea World in San Antonio as well as complimentary entry to other events hosted at the park. All opinions are my own.
Click the button below to vote for me once daily!