The Terrible Horrible No-Good Very Bad Morning
Last night's terrible, horrible, no-good very bad night turned into a terrible, horrible, no-good very bad morning.
We had storms here last night beyond the usual late spring thunder showers we're used to. I was lying in bed at 11:45 listening to my husband peacefully snore (jerk) and thinking a cyclone was going to lift our house and drop it on a witch somewhere in Munchkin Land. It was that crazy of a storm. The windows rattled and the bedroom was completely illuminated from the almost constant lightning.
And actually, my husband isn't a jerk but I find his ability to go to sleep at the drop of a hat enviable. We get into bed at the same time. He kisses me good night and then BAM. Snoozeville. How does he do that?
I was waiting for our kids to come running into our room. I was sure each crack of thunder would be the noise that jolted them from sleep, frightening them to the point where they'd be in our bed for the rest of the night.
I eventually drifted off to sleep but woke four hours later with one kid wedged on my right side and the other kid sprawled out across my feet. I had six inches of mattress space, no blankets and a stiff neck.
Our house lost power overnight so there was the re-setting of all the electronic things that added extra sparkle to the morning. The temperatures dipped overnight so I had to scramble to find different school clothes for my boys.
And really, it was just one of those mornings when I couldn't seem to get it together. I was trying to get the dishes from the previous night's dishwasher load put away, make breakfast, trying to remember that load of laundry sitting in my washer and get dinner in the crockpot when my husband came downstairs dressed for work and remarked:
"You're really behind the power curve today, aren't you?"
Um. Maybe he is a jerk.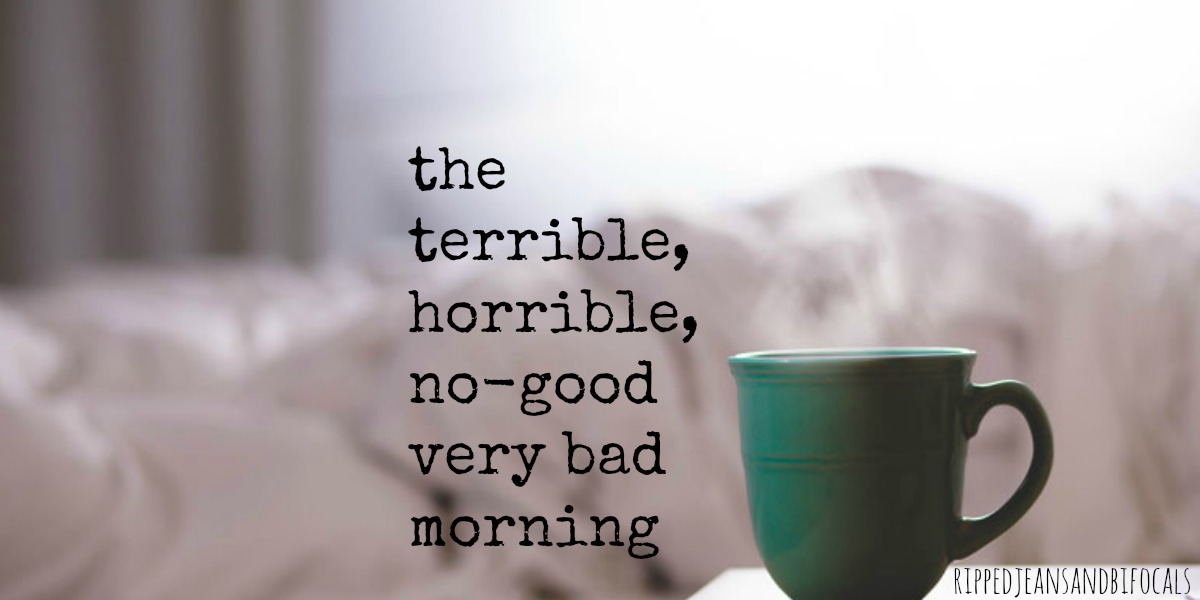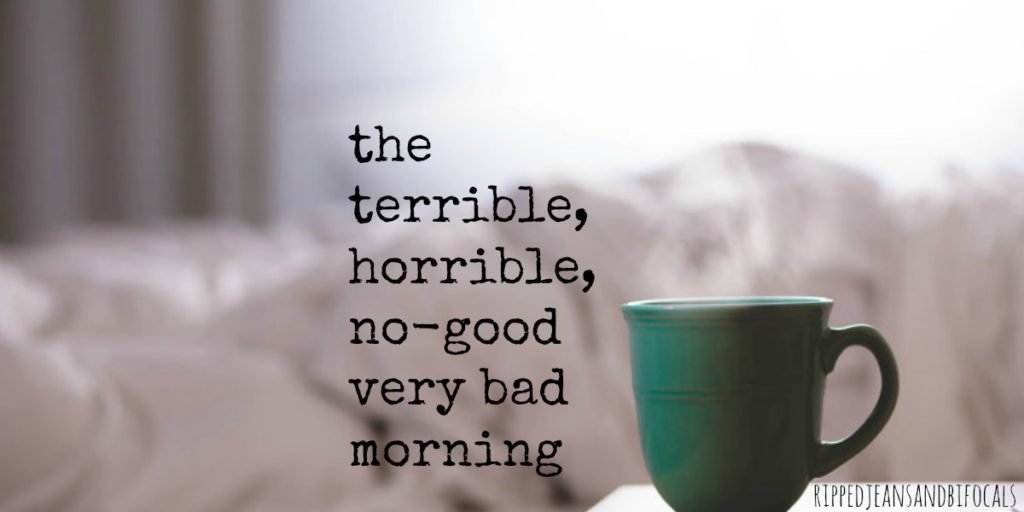 One of my kid decided his smoothie was too chocolatey. The other kid cried because he couldn't find his shoes. I still hadn't showered and my hair was on day five of the super-cute style I like to call "dry shampoo and messy bun."
I yelled. I might have let a swear word slip out. I had ten minutes to get it together and leave the house before we were officially late versus just running behind.
"Mommy, you're so pretty. I love your hair and I love your eyes and I love the food you make."
One of my kids is a pleaser. If he sees my mood downshift, he piles on the compliments and it's really sort of sweet. It made me laugh because this was the same kid who complained about his breakfast and I was definitely rocking some bedhead.
"You're my most favorite mommy I've ever had." the compliments kept coming as he saw the dark clouds in my eyes begin to lift.
I started to laughingly say "I'm the only mommy you've ever had."
This sentence almost flew out of my mouth automatically and then I stopped myself.
Because that's not true. I'm not the only mommy he's ever had.
The earliest picture I have of Zack is when he was four-months old. It's basically a grainy, black and white mug shot of a chubby baby. We don't know where he came from or what his first four months had been like. We assumed he'd been abandoned due to his limb difference which carries a different stigma in Asia than it does in the Western world. But somewhere in his past is a mother that carried him and birthed him. Someone took care of him during his first few months of life.
We don't know exactly what happened from four months to nine months but he was a "ward of the state" of sorts. He may have lived in an orphanage or a foster home. That part of the puzzle is missing but that's another story for another day.
Zack lived with a foster family from nine-months until just after his second birthday. He was 26-months old when he became part of our family. We started the process to adopt him when he was 17-months old, so there was a long nine months of waiting and paperwork and stress eating and seeing him grow through pictures that I paid a service in China to get for me. I was desperate for crumbs of his life and I was rewarded by a few snapshots here of a boy on the other side of the world who had no idea who I was or what I'd one day mean to him.
I sent a "care package" through this same paid service. I sent two stuffed toys, a photo album with pictures of our family and two disposable cameras. I wrote a note to the foster family (to be translated into Chinese) requesting pictures of their family and community. I knew I'd never get to meet them and I wanted this little slice of history for my son. And for me.
Zack came to us with the clothes on his back, a white plastic grocery back and a major two-year-old 'tude. The bag contained two grubby stuffed toys, a dog-eared photo album and two disposable cameras.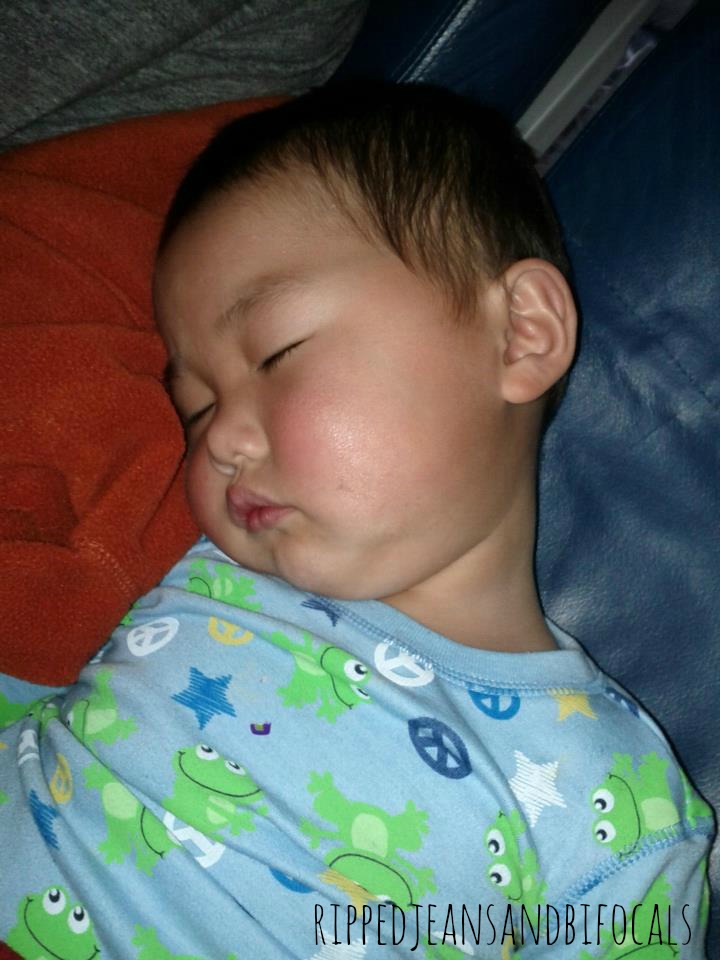 I had the pictures developed and after some hesitation, I shared them with Zack. He pointed to the women in the picture and said "mama" and "nae nae." Nae nae is the Chinese term for grandmother, not to be confused with the "watch me whip whip" variety.
Our discussions about adoptions and birth mothers are evolving. When Zack sees a pregnant woman he talks about the time when he grew in my belly and I explain that he grew in another mommy's belly and that I came along later. He laughs when I say this and right now, doesn't ask many questions. This is a worry and a relief. A worry because I know the hard questions are coming and I don't have very many answers. A relief because I get a respite from the hard questions, although I know they are coming soon.
And I'll try to be ready.
We'll look at the few pictures I'm glad I made the effort to get and I'll share with him all the memories I'm thankful I've written down.
Adoption is complicated.
We made it to school on time today – barely. I washed my hair and I remember to turn on the crock pot – winning. The rain and wind have slowed down and the sun is showing signs of making an appearance.
I think maybe we'll get those pictures out and talk about them. Maybe my son is giving me an opener for an important conversation with his suck-uppy "you're my favorite mommy" remark.
Maybe it's not such a terrible, horrible no-good, very bad morning after all.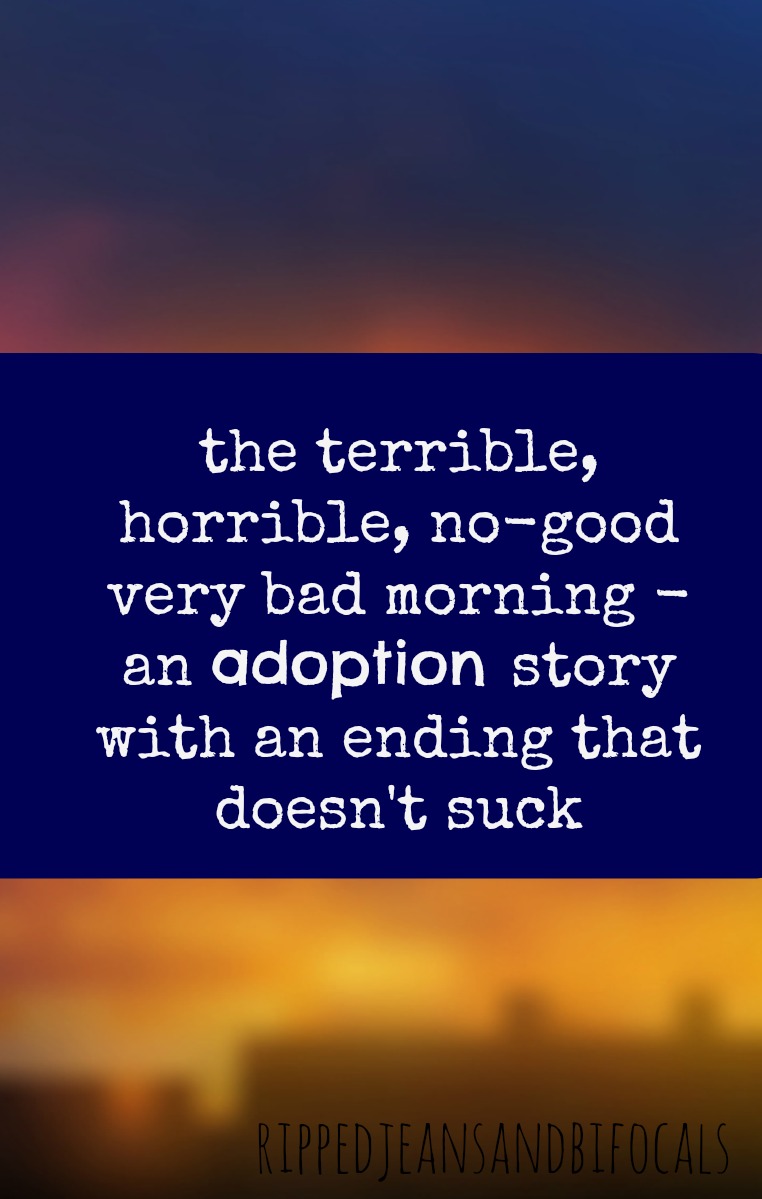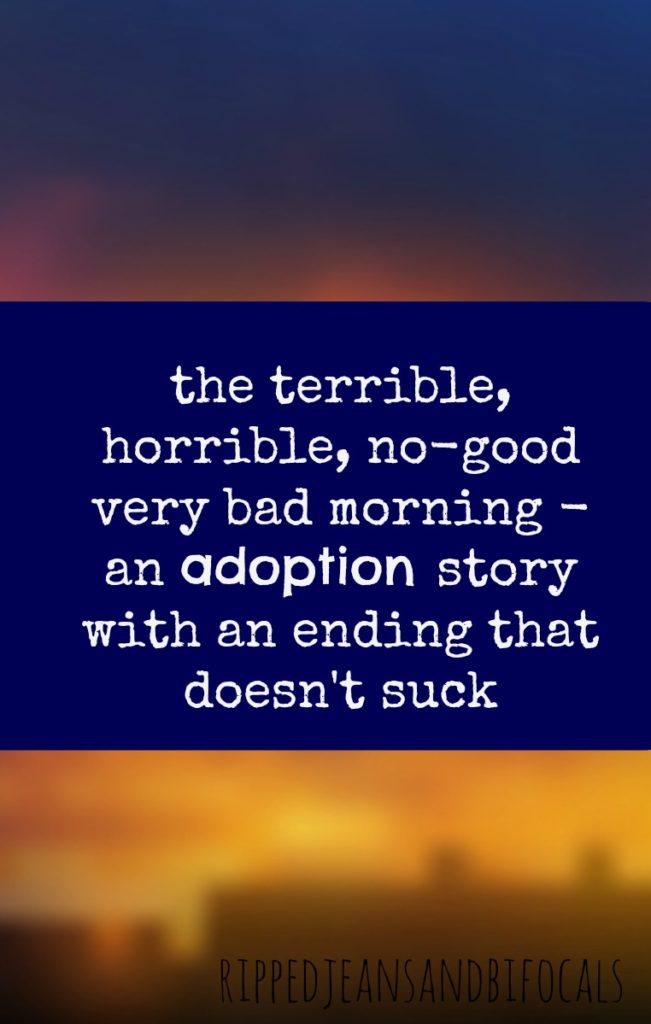 Thank you for reading!

Follow Ripped Jeans and Bifocals's board Adoption Talk Linkup on Pinterest.
Now on to the Adoption Talk Linkup!
Today's topic is Adoption is…>. Grab a button for your post and join Ashley, Erin, Jenni, Juliana, and me!
New to linking up? We'd love to have you join us, here's how.