Six ways to be your best you at any age
(This post may contain affiliate links. Read my full disclosure.)
I will be fifty this year. I go back and forth between "I am rocking this next phase of my life" and "pass the brownies, I'm so stinkin' old."
I remember being 25 and moaning because I was "a quarter of a century old." Yes, I want to slap 25-year-old me upside the head. And then I want to show her a picture of me at almost 50 and say "see here, it's not that bad."
As much as I want to say I'm not trying to cheat time and look younger, I do want to look younger and sometimes, I wish I was younger. I'm parenting young kids at midlife. I'm almost 50 and a lot of my contemporaries have grandchildren. I have two kids in Kindergarten.
I am getting older. I'll spare you the clichés about "older is better" but I am attacking this next season of my life with the determination to be the best "me" I can be.
I am not perfect, not even close. But here are a few things you can do to help you be your best you:
Exercise
I started working out in my mid-twenties. I am not by any means buff or skinny…but I am healthy and I can chase my kids without huffing and puffing. I run, I do Zumba on occasion and I have a few workout DVDs that I enjoy…and by enjoy I mean I cry and complain while I'm doing them and then high five myself when I'm done. And then eat brownies. Life is about balance, right?
I've completed countless 5Ks and eight half marathons and I'm proud to say fitness is part of my life.
I'm not gonna lie: when things get busy or stressful, it's very easy to blow off exercise. I slacked off for a couple of weeks and when I finally got ready to go for that run, I had to hunt for my running shoes. Yes, really.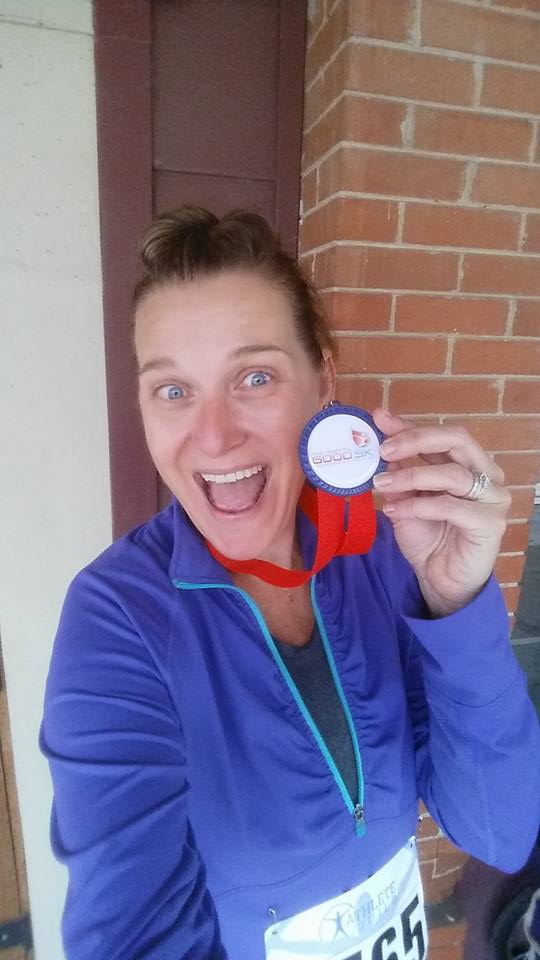 In all seriousness, exercise helps me be my best me on the inside as much as it helps me be my best me on the outside. I like to look trim and tight (which is either a losing battle or a work in progress, depending on my mindset of the day) but the sense of accomplishment and the sense of well-being is more important than what I look like.
Indulge
I love the word indulge. It can mean so many things. It can mean splurging for a massage or a really expensive bottle of perfume. It can also mean taking the biggest piece of cake or the last piece of bacon. It can mean sitting down and enjoying a gossip magazine and telling your kids they'll just have to entertain themselves for half an hour while you catch up on important current events. And yes, whatever Ryan Reynolds is doing is important current events. Shut up. It is.
But seriously, indulging means taking care of you, doing something to spoil yourself a little bit (or a lot) and putting yourself first. Indulging yourself is a form of self-care and very good for the soul.
My most recent indulgence was going to the mall by myself, buying a new pair of shoes and eating an Auntie Anne's pretzel – without thinking about gluten or carb count. I am seriously a smell person and I have a hard time walking past an Auntie Anne's without caving. The shoes were on sale and they're cute and ridiculously comfortable…so I totally deserved a reward. Right? Right!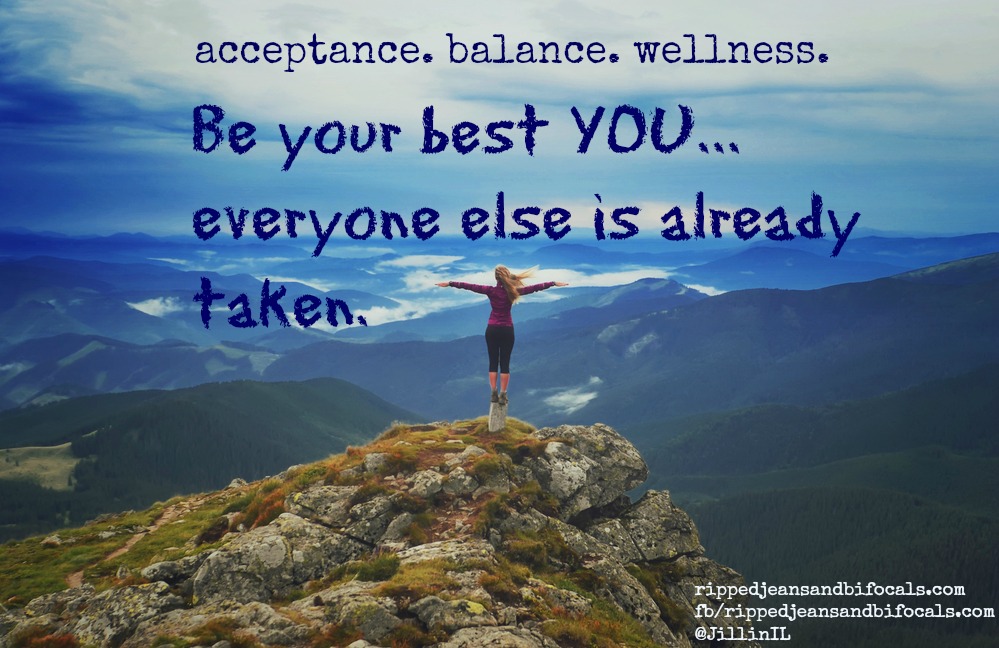 Do what works
By the time your forties roll around, you probably know what works for you. Trends come and go and everything will come back in style again…although not everything should. I'm dreading the day 80's neon and big hair come back in style.
But seriously, wear what looks good and feels good for you. If you're comfortable, you're going to feel good about yourself. If you're wearing uber skinny low-rise jeans and you feel pudgy and over-exposed then that's going to impact that way you carry yourself and interact with others. Or maybe that's just me. I feel pudgy and over-exposed when I wear uber skinny low-rise jeans.
I've been a fan of beige lipstick since high school. I've seen the trends go from neon pinks to shocking reds to frosted candy pink. Whatever the trends are doing, I've always loved the plain, beige lipstick. It makes me feel like me…it works.
But don't be afraid to change up your routine
As I get a little older, I've needed to change things up a little with my skincare routine. I've always been a big advocate of sunscreen and I try to drink enough water and not go to sleep with my makeup on but as I head toward (gulp!) 50, my skin needs a little more than just soap and water and a little moisturizer.
I've started using Skederm products to give the thin skin around my eyes and the delicate skin on my throat a little extra love, attention and moisture.
I've added Skederm Ultimate Eye Cream with Energizing Retinol&Antarcticine® and Skederm Smart Neck Cream with Strength Peptide Complex Skinergium® to my morning and night skincare routine and I'm loving the results!
The eye cream plumps up my under area and smooths and softens those fine lines and wrinkles I like to pretend aren't there. And yeah…I know people call them laugh lines but I don't see anything funny about this. At all.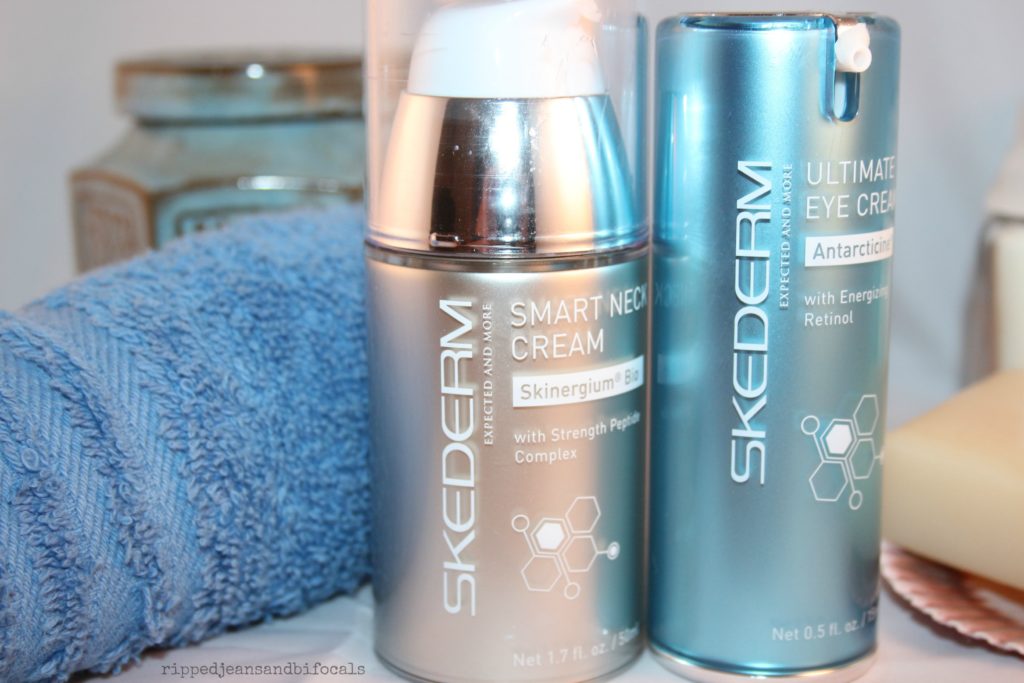 The Skederm Ultimate Eye Cream with Energizing Retinol&Antarcticine® brightens up my skin and even firms up minor inelasticity…and that, my friends is a very good thing. On any given morning, I am usually complaining that I didn't sleep as much as I wanted to. I don't use a concealer…I am in the throes of menopause and I'm always hot, so I don't wear much makeup on my face…so I love the fact that my eyes look a little brighter. Who wouldn't like that?
Skederm contains Retinol, which is a collagen-builder that helps boost thinning skin, smooths out fine lines and prevents wrinkles. Hello?  Sign me up!
I know I'm not going to stop time and I'm trying to come to terms with aging gracefully. Taking good care of the delicate skin on my neck and around my eyes makes me feel like I'm doing something good for myself. Aging is going to happen but being my best me and being good to the skin I have – the only skin I'm going to have makes me feel good about myself and gives me confidence.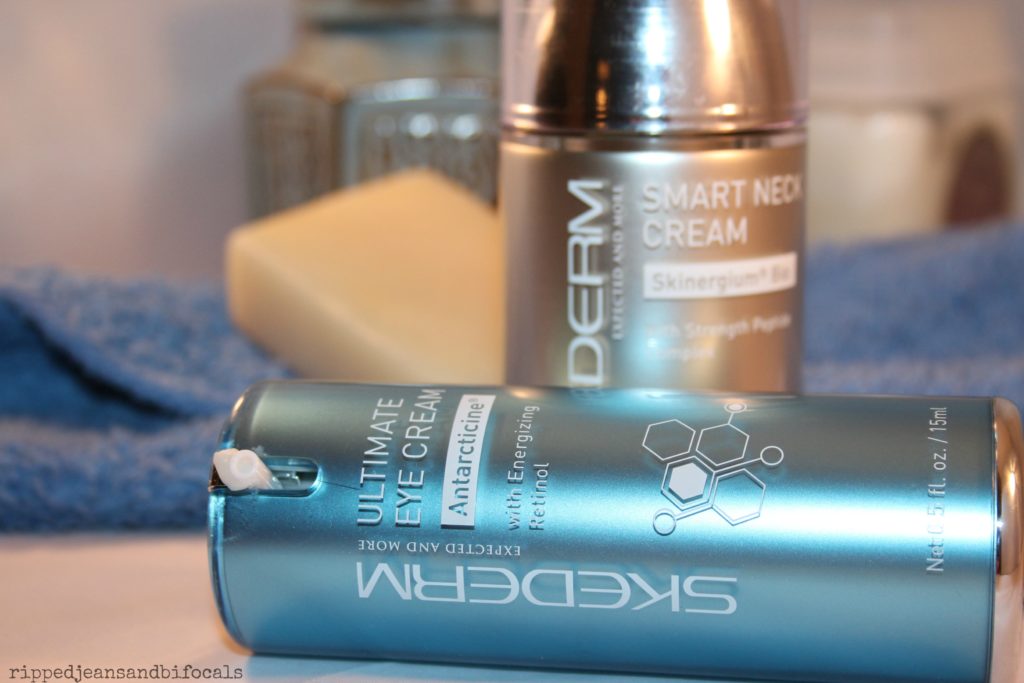 I feel really good about using Skederm products. Their price point is reasonable and affordable, and it's not overly perfumey. It smells good but the scent isn't over-powering and it absorbs quickly so my skin doesn't have that greasy feel to it. Did I mention I'm in the throes of menopause? That equates to sweating A LOT. I love how quickly Skederm absorbs and starts working it's magic without leaving a residue on my skin.
If you're looking for a vitamin C serum, Skederm just released one – you can check it out here.
Take time for yourself without guilt
I've really learned to let go of the guilt when taking care of myself. I indulge. I schedule time for my workouts and to the greatest extent possible, I make my family plan their schedule around my self-care. I'm training for a half marathon and when I say I'm going for a seven-mile training run, I'm going for a seven-mile training run. Are there other things that I could or should be doing? Probably. Are there things that other people want me to be doing? Definitely. Taking unapologetic me time helps me be the best version of me I can be…and I refuse to be guilty about putting myself first sometimes.
Smile at people
This sounds a little bit cliché and it probably is, but smile at people. Smile at strangers. Smile when you don't want to. It will make you feel good. I promise. You can't be your best you if you're a grouch. I'm a firm believer in honesty but I'm also a firm believer in fake it till you make it. A smile and a positive attitude are contagious. They really are.
As a mom, I'm pulled in a zillion different directions and my to-do lists have to-do lists. Life is crazy. But, I've found taking care of myself and putting self-care first help me to be my best me and also help me to be at my best for my family.
What are some of the things you do to be your best you? I'd love to hear from you in the comments section!
This post was sponsored by Skederm but all opinions are mine alone. 
Thank you for reading!
If you want to share this post to Pinterest, just click on the image below. Easy peasy.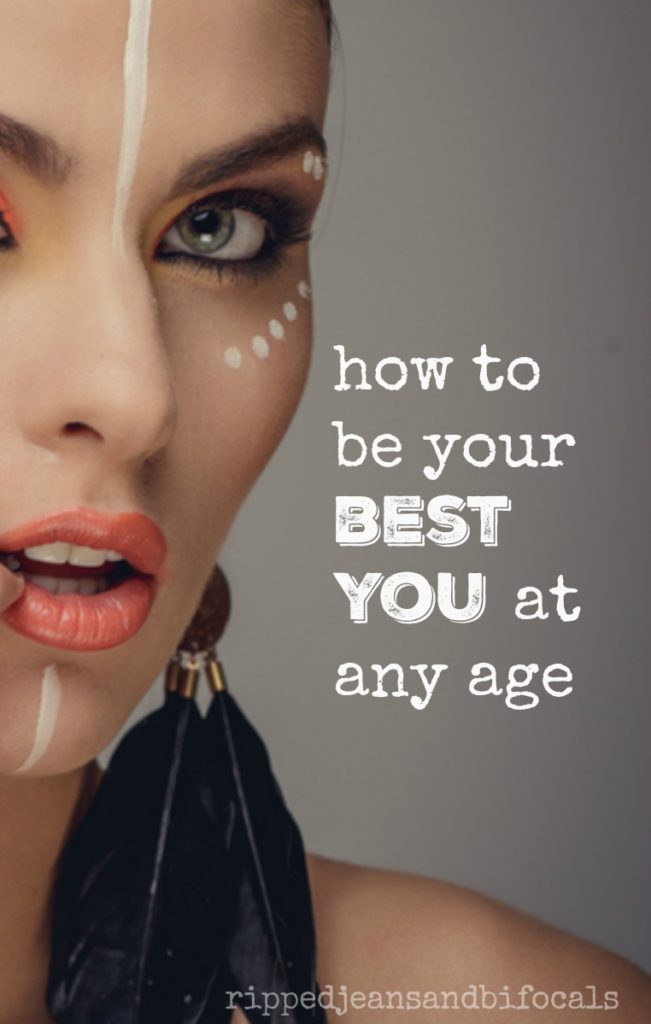 Follow Ripped Jeans and Bifocals's board Parenting Survival Tips on Pinterest.
If you enjoyed reading this post, please give me a vote on Top Mommy Blogs my clicking the button below. It's super easy and helps my site A TON.