Celebrating Chinese New Year with Kids
(This post may contain affiliate links. Read my full disclosure.)
Chinese (also referred to as Lunar) New Year happens this year on January 28th. 2017 is the Year of the Rooster. Most of us are used to ringing in the New Year on January 1st every year but Chinese New Year dates will always vary because of the lunar calendar. Chinese New Year is celebrated for about two weeks, and ends with the first full moon of the year.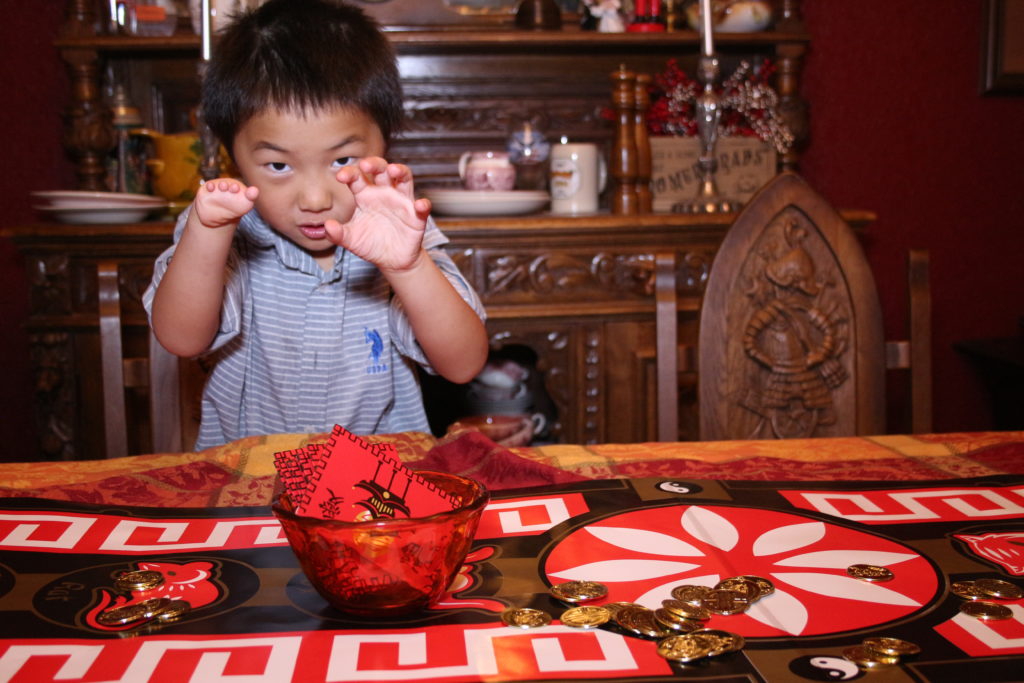 Disclaimer: We are a participant in the Amazon Services LLC Associates Program, an affiliate advertising program designed to provide a means for us to earn fees by linking to Amazon.com and affiliated sites. This post may also contain affiliate links to other sites where I will be paid a commission by the seller if you make a purchase. I also received complimentary items from Oriental Trading for my review. My opinions on their products are entirely my own. If you're decorating for a Chinese New Year celebration – or anything else – they've got a ton of fun decorations and favors. 
Two of my kids are adopted from China, so Chinese New Year is a thing for us. We started celebrating the year before we brought the boys home with friends, wine, Chinese food and late nights. As the boys got older and our social life became wrapped up in parenting (see also, we can't handle the late nights and the wine like we used to) we started to gear things more toward them when we celebrate Chinese New Year.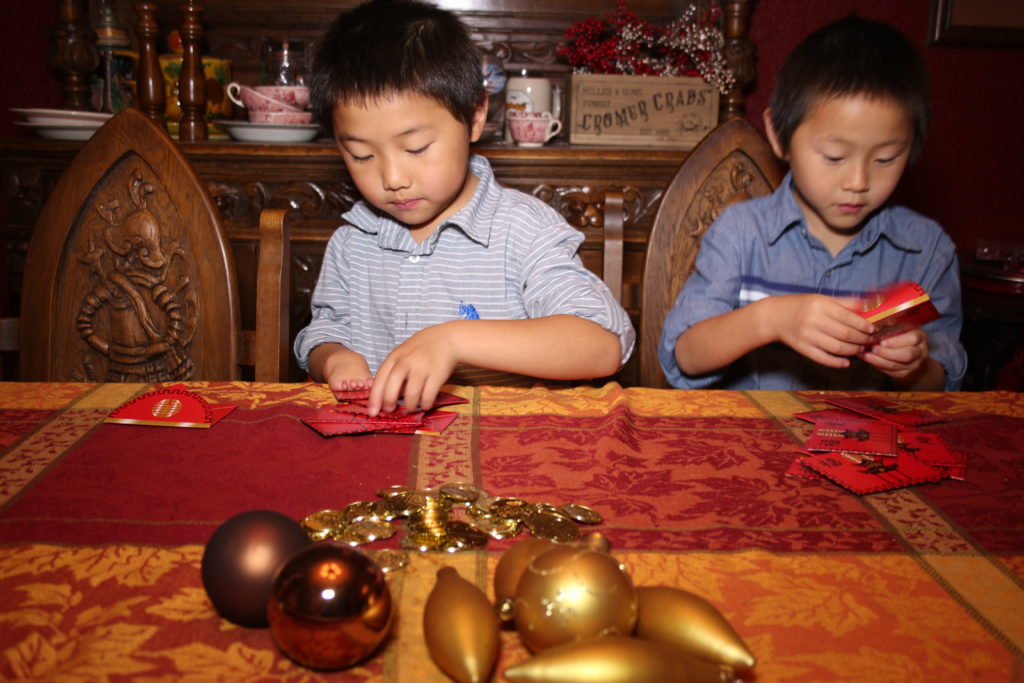 It's kind of cool for my kids since they're the only ones in their school that seem to celebrate Chinese New Year and they're still at the age where standing out doesn't make them self-conscious. It makes me a little sad to think that one day, they might feel awkward or weird celebrating something that their friends don't celebrate but for now, we're having fun with the holiday.
[Tweet "Celebrating Chinese New Year w/kids #YearOfTheDog #CNY"]
Here are a few fun, easy things you can do:
Read about Chinese New Year
Check your local library or bookseller for books on Chinese New Year that are geared toward your child's age level. The website A China Family Adventure has a wealth of information, reading recommendations and facts. If you want to know something about Chinese New Year, it's probably on this website.
Craft & Decorate
There are tons of things you can make with your kids to spruce up your home for Chinese New Year. Check out my Chinese New Year Pinterest Board for some ideas.
I am not a very ambitious crafter and honestly, the holiday kind of snuck up and bit us you know where this year, so we did a pre-made craft we ordered through Oriental Trading. We chose pre-cut foam lanterns that required minimal assembly by me that were ready to decorate with stickers (stickers included.)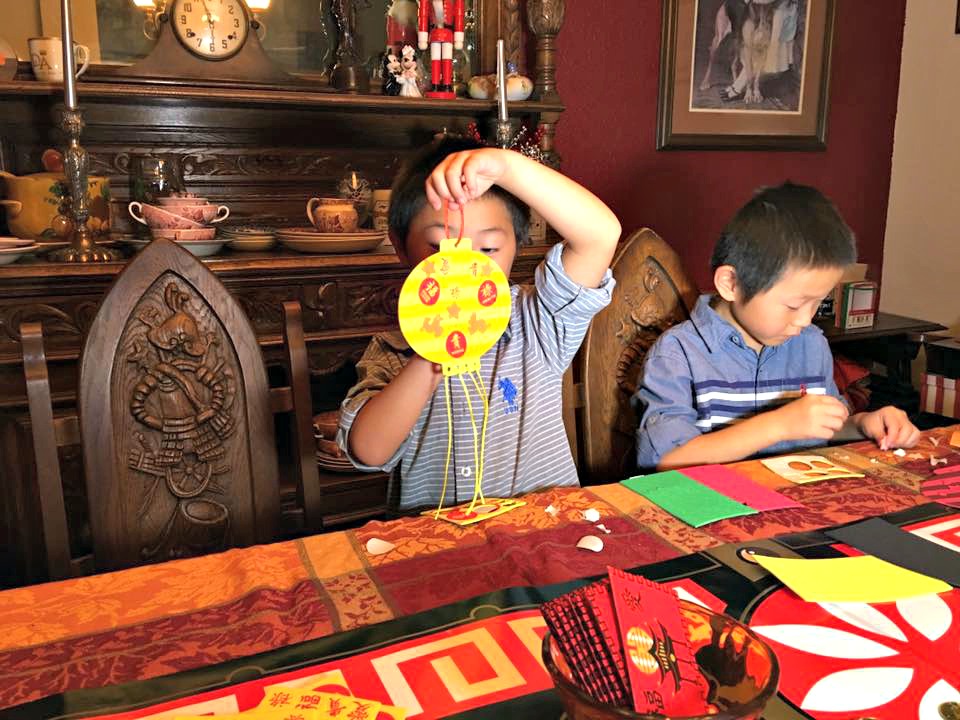 My six-year-olds had a great time with this one. Zack wrote a cute little message for his teacher on the back. Go ahead and say it with me: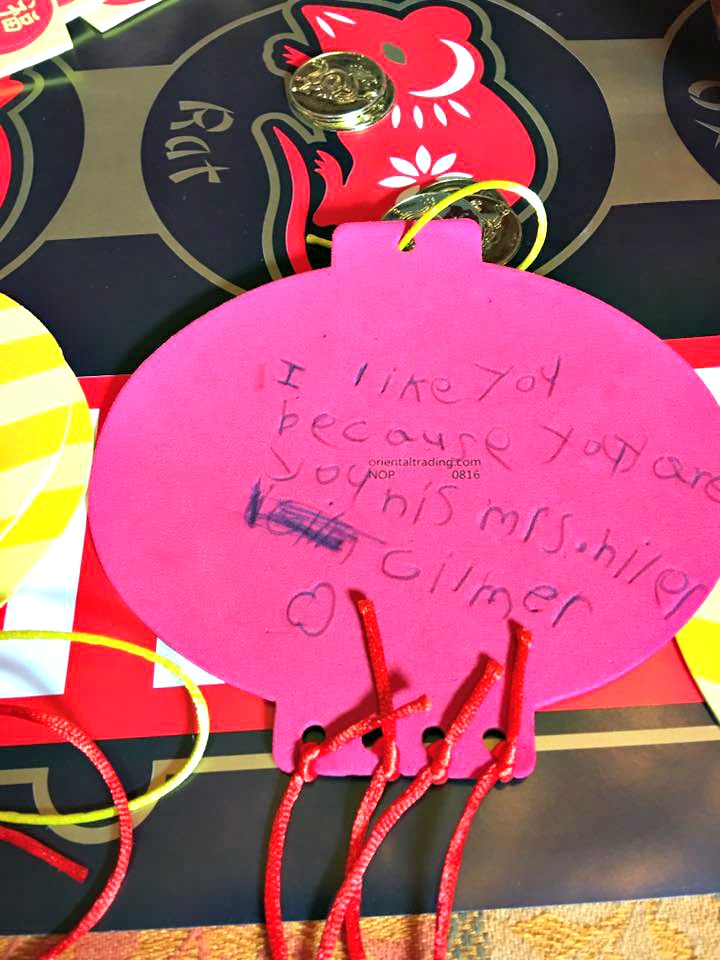 Awwwwwwww.
We have a fake shrub that sits on our front porch and we hung a few of these decorations on the branches. You could string several on twine and make a garland or use these as a package tag for a gift.
Give lucky envelopes
This is my kids' favorite part about Chinese New Year. They've been sharing the tradition of lucky envelopes with their classrooms since they were wee little boys in nursery school. Red symbolizes luck and good fortune in Chinese culture. We got our envelopes from Oriental Trading but you can get them at most Asian markets if you have one in your area.
Amazon also has them: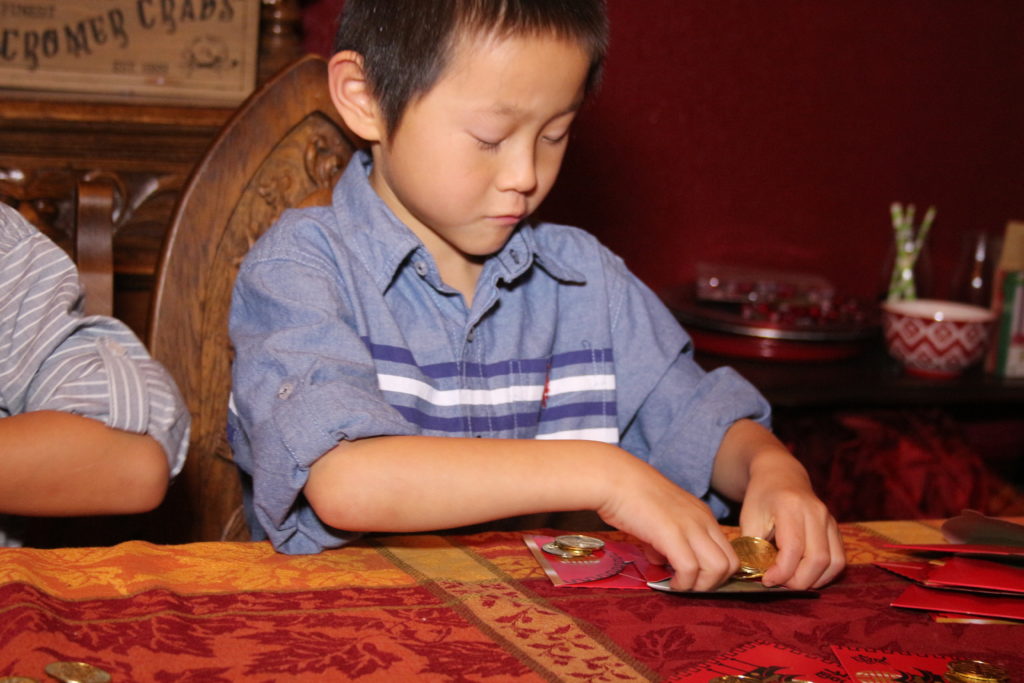 According to tradition, unmarried children are given red envelopes containing money. The envelopes usually come from parents, grandparents and other close relatives. Our kids have usually given their classmates chocolate coins instead of real money but this year, we opted for Amazon: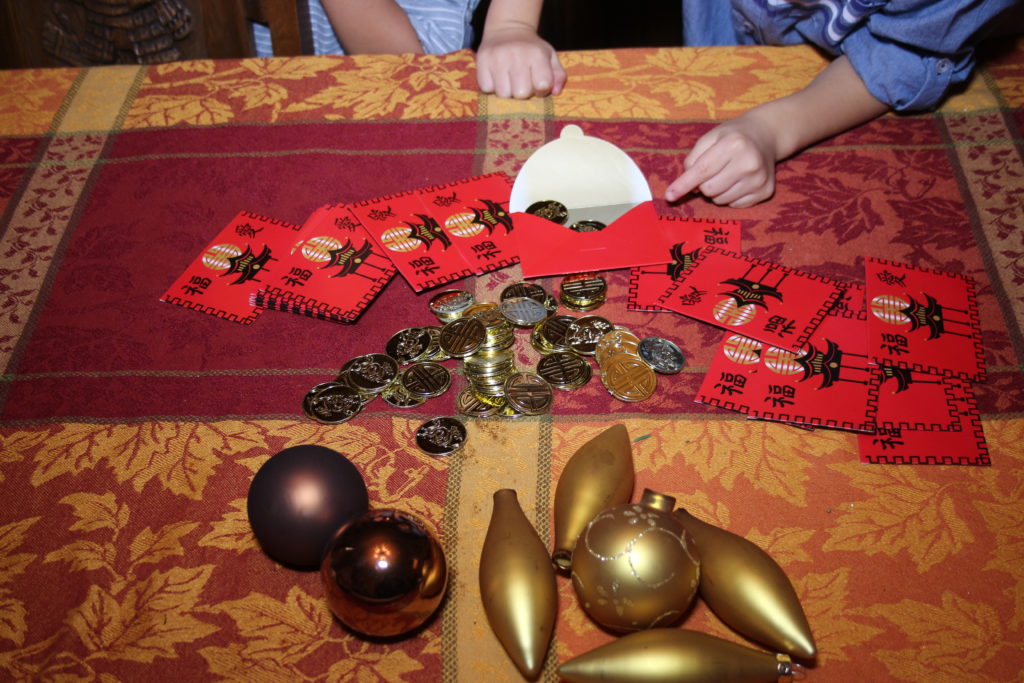 These are less messy and with our envelopes going to two large first grade classes, we don't have to worry about food allergies. You can also buy the gold coins from Amazon.
Share the holiday with others
We got some little trinkets for the boys' friends this year – some really fun necklaces and some pencils. I might have ordered the jumbo box of pencils but they're really cute and have the characters of the Chinese Zodiac on them. We have enough pencils to last 'till the boys go to college. At least.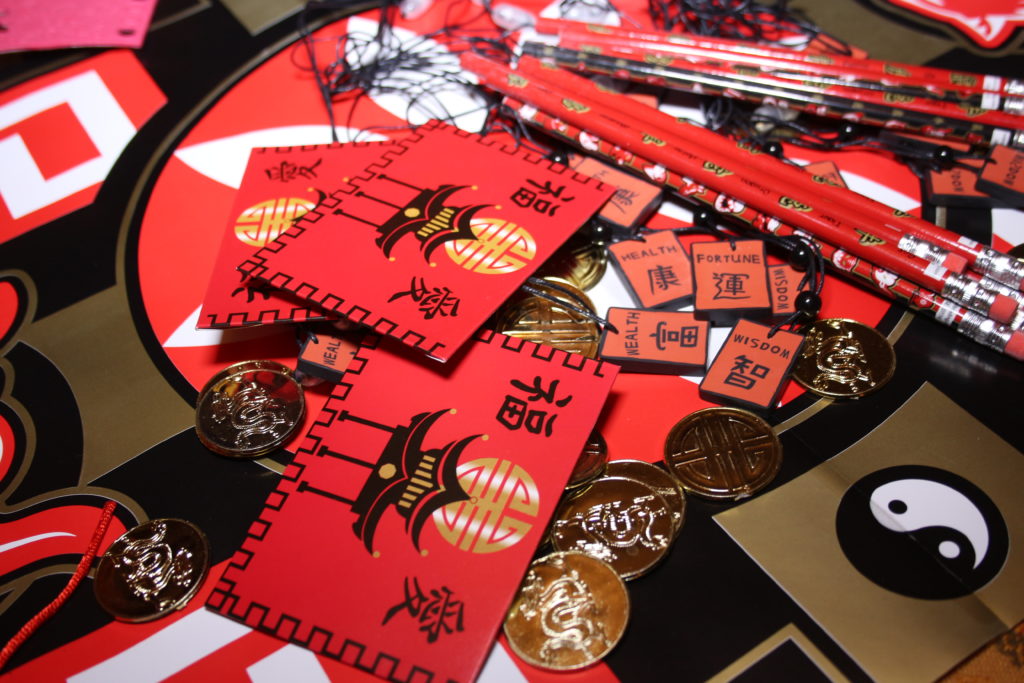 Find a cultural event
If you haven't seen a traditional Lion Dance in action, you're missing out. There's a Chinese Market in our city that has a celebration during Chinese New Year, complete with traditional dances and we always try to go. The Institute of Texan Culture here in San Antonio has an awesome Asian Festival each February that goes way beyond celebrating just Chinese culture. It's a lot of fun. You can do a little Googling and see what's available in your area.
Wish others a happy and prosperous New Year
If you say "Gong Hey Fat Choy" that loosely translates into "Happiness and Prosperity" in Cantonese.
See, you learned something. Chinese New Year is a really fun holiday to celebrate. It's upbeat, vibrant and all about new beginnings, which is what a New Year's celebration should be. Also, the lack of commercialism is nice, after the crazy excess that's become Christmas.
From my family to yours, here's wishing you much luck, happiness and prosperity in the coming year. Happy Year of the Rooster to you!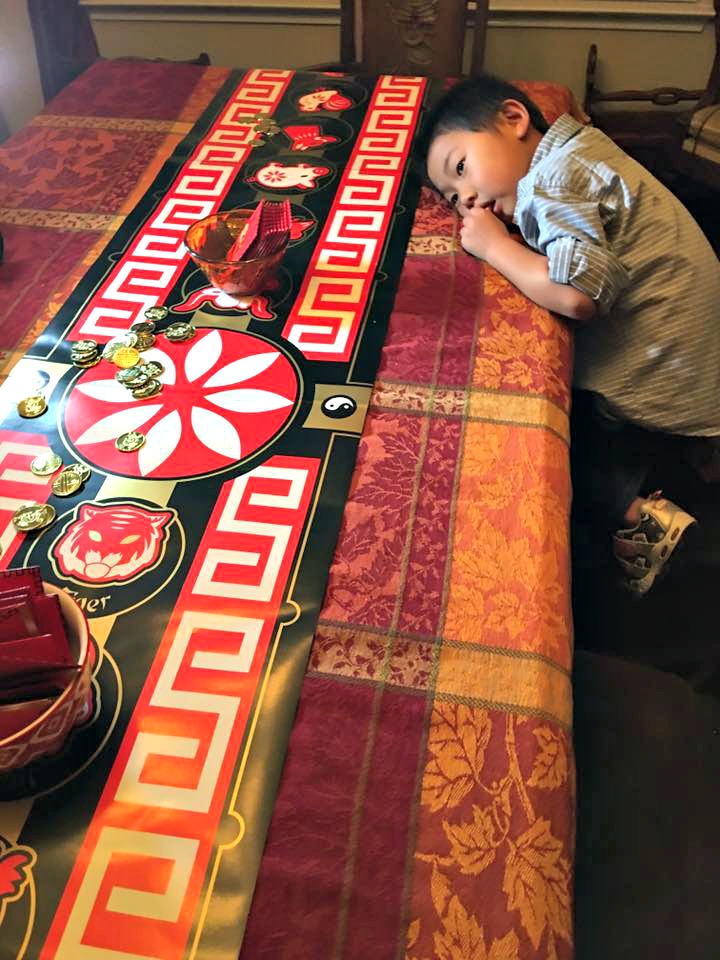 If you're interested in shopping Oriental Trading check HERE for coupons.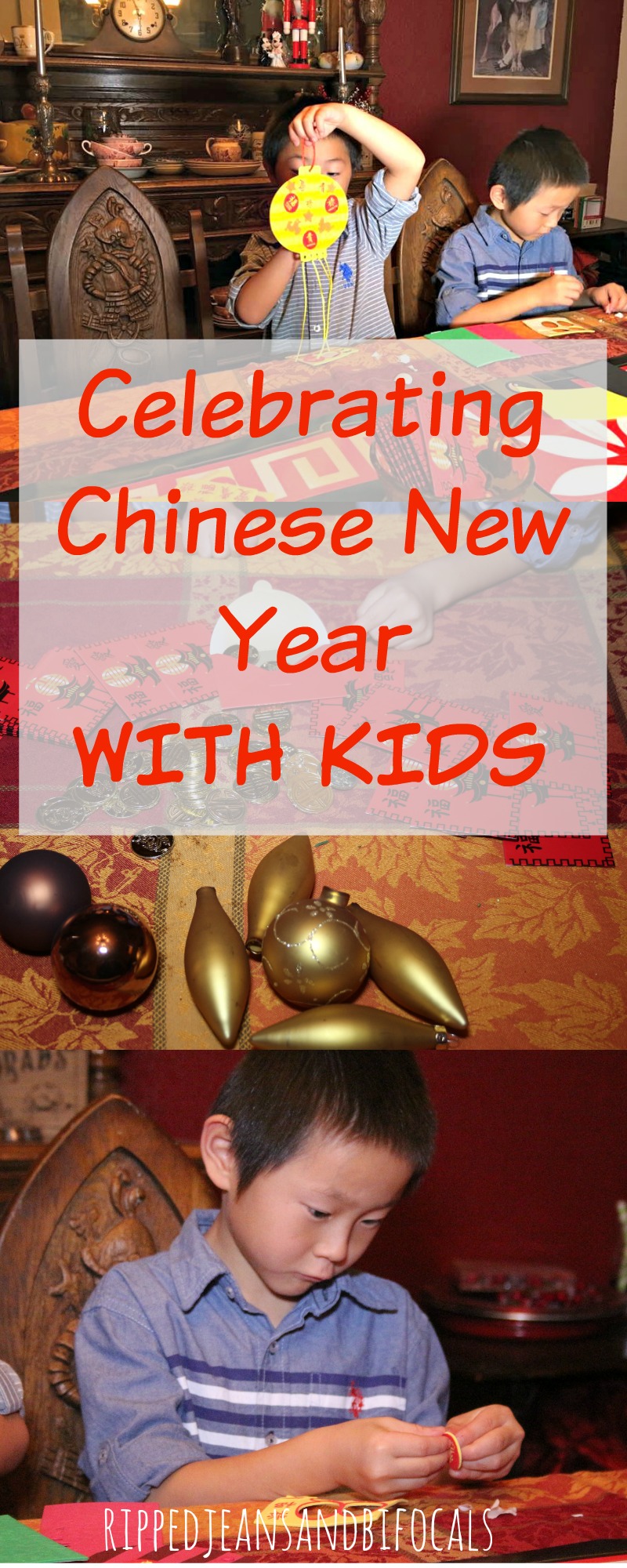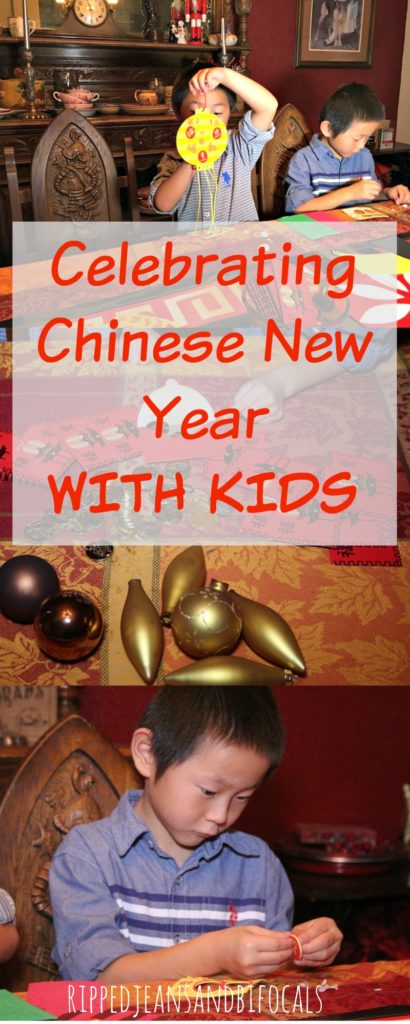 If you enjoyed reading this post, please give me a vote on Top Mommy Blogs my clicking the button below. It's super easy and helps my site A TON.
You might also like:
25 New Year's Eve Activities You Can Do With Kids