13 Best National Parks in Utah to Experience The Wonders of Nature
(This post may contain affiliate links. Read my full disclosure.)
From breathtaking landscapes to unspoiled wilderness, Utah is a popular destination for travelers looking for a fun and memorable family vacation. Utah's national parks provide a remarkable opportunity to connect with nature and disconnect from the stress of everyday life.
For adrenaline junkies, Utah's national parks offer some of the most unforgettable adventures, whether you like challenging hikes or white water rafting.
Summer temperatures can soar above 100 degrees when the parks experience peak season. Fall is the best time to go when the crowds disperse and the temperatures cool.
Here is a list of national parks in Utah that you don't want to miss.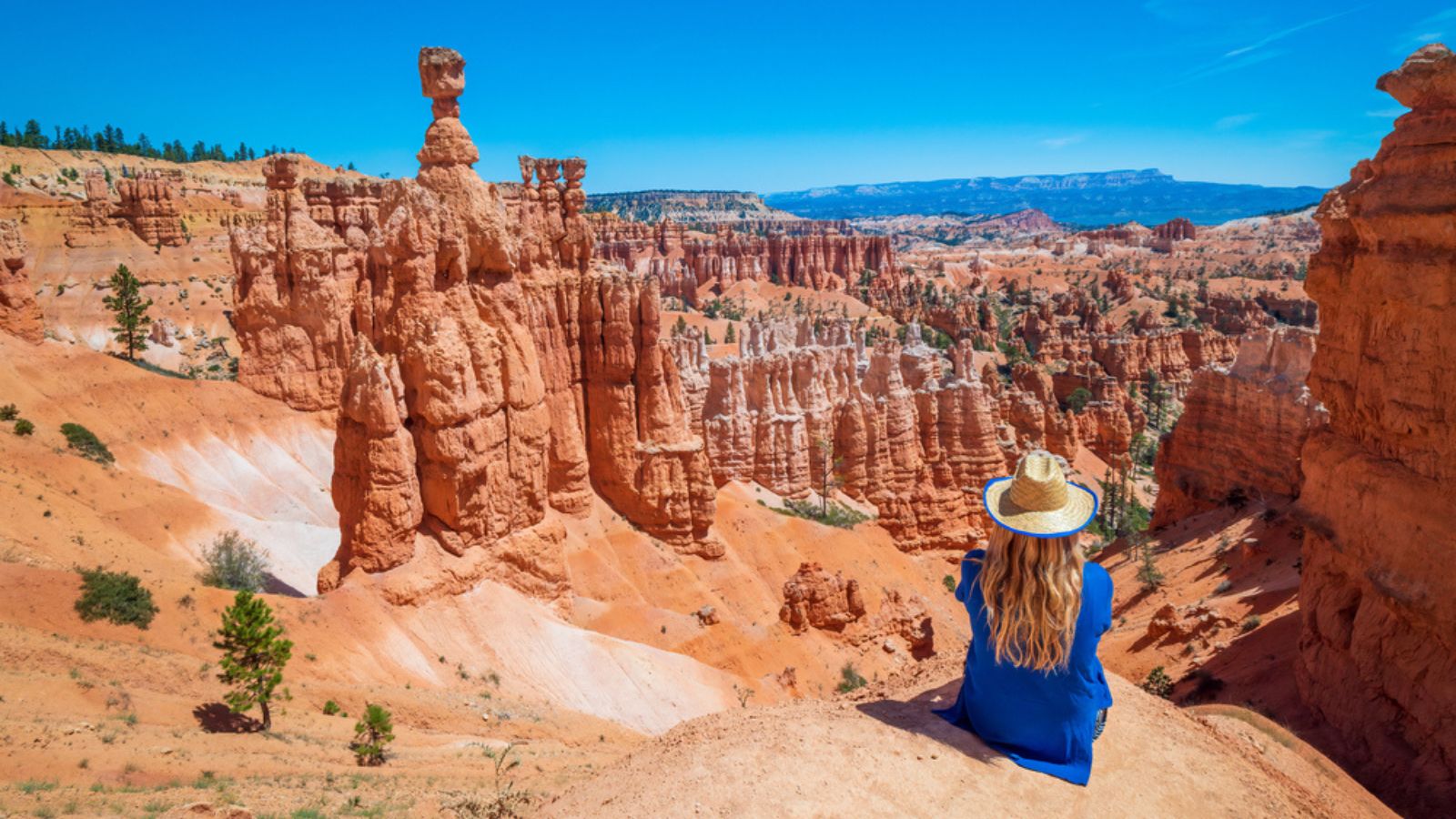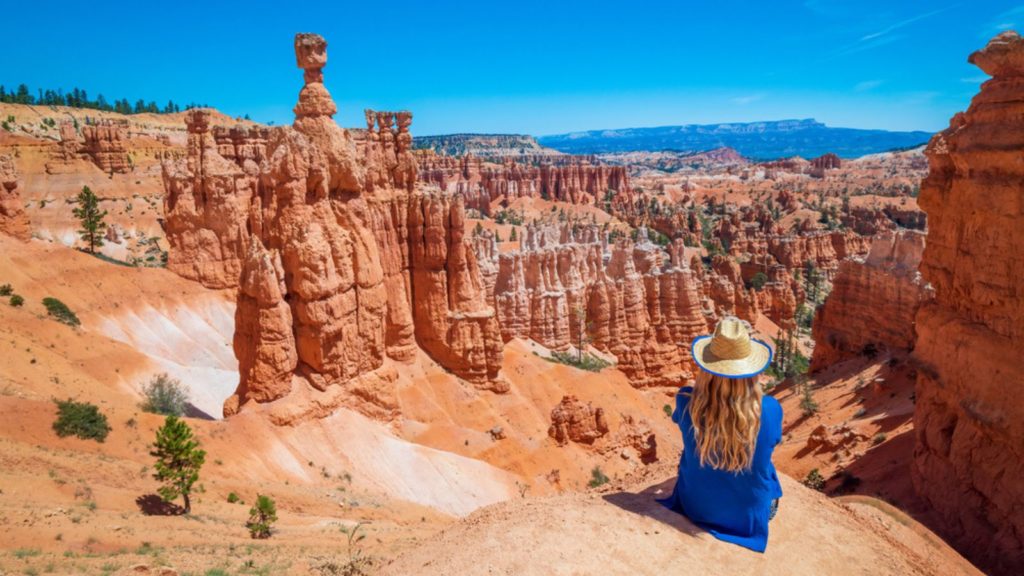 Best National Parks in Utah
Zion National Park
Zion National Park captivates visitors with its towering red and white sandstone cliffs, tranquil Virgin River, and great hiking trails. According to Lonely Planet's California & Southwest USA's National Parks Guide, the Narrows is the most enchanting backcountry route through 16 miles of towering canyons along the Virgin River's north fork. Be prepared to get wet as most of the hike is in the river.
If you need a break from all that hiking, visit the Human History Museum or head to the Grotto for a shady picnic. The park's visitor center provides essential information for planning your visit, including trail recommendations and safety tips.
Bryce Canyon National Park
Bryce Canyon National Park showcases a unique landscape of whimsical hoodoos and vibrant colors. It hugs the eastern edge of an 18-mile plateau, and the high altitude sets it apart from the other national parks in southern Utah.
Don't miss the stunning views from Bryce Point. Walking along the rim of the Bryce Amphitheater gives you breathtaking views of the silent city, full of dense and gigantic hoodoos, which are tall skinny shafts of rock.
Natural Bridge is another popular stop and is a stunning span of eroded red-hued limestone. The scenic drive runs for 17 miles and takes about two hours to experience. You will find plenty of Instagram-worthy stops along the way. Be sure to bring a picnic and wear rubber-soled shoes.
Arches National Park
Arches National Park boasts over 2,500 natural sandstone arches, including the iconic Delicate Arch. It has the highest density of rock arches on Earth. If you want to see all the highlights take the Arches Scenic Drive, a 43-mile route that takes about two to three hours to hike without stopping.
The Windows Section is great if you are short on time and is home to remarkable formations like Landscape Arch and Double Arch. Other trails include Devil's Garden Trail, Balanced Rock Trail, Fiery Furnace, and Park Avenue. You may even catch a glimpse of a long-nosed leopard lizard.
Canyonlands National Park
Canyonlands National Park is Utah's largest national park and presents a stunning canvas of canyons, rivers, and mesas. Divided into four districts, it offers diverse experiences. Visit Island in the Sky to see the view from this 6,000-foot high flat-topped mesa which provides some of the furthest-reaching views in Utah.
The Needles is an entirely different-looking area with orange and white sandstone spires that jut up from the desert floor. This area is not as crowded but still offers fantastic views. With 527 square miles of ancient Earth, there is more than enough to see in this national treasure.
Capitol Reef National Park
Capitol Reef National Park showcases the Waterpocket Fold, a unique 100-mile-long buckle in the Earth's crust. It is known for its enormous domes. Discover the park's hidden treasures along scenic drives or hike through narrow canyons and orchards. The Capitol Reef Scenic Drive follows along the Waterpocket Fold and offers views of arches, hoodoos, and canyon narrows.
Don't miss the Fruita Rural Historic District, where the first Mormon homesteader arrived in 1880. The National Parks Service maintains 2,700 cherry, apricot, peach, pear, and apple trees planted by the early settlers. Be sure to look out for petroglyphs, which are rock carvings believed to be made by the Fremont Indians.
Grand Canyon National Park
While not located in Utah, nearby Grand Canyon National Park is an essential addition to any Utah road trip. Marvel at the grandeur of one of the world's most famous natural wonders.
There's no better way to see the canyon than by hiking it rim to rim. Be sure to walk the Grandview Trail, a steep and rugged hike leading to epic canyon views, or the Hermit Trail, a challenging two-day, 18-mile hike.
If you prefer a little more adventure, raft the Colorado River and see the wilderness in all its glory. One of the best places to stay is the Grand Canyon Lodge, perched at 8,000 feet on the canyon rim.
Grand Staircase-Escalante National Monument
Grand Staircase-Escalante National Monument encompasses vast and rugged terrain, revealing ancient fossils, picturesque slot canyons, and towering cliffs. The Escalante Canyons have active waterfalls, arches, narrow canyons, and sculpted slickrock that you don't want to miss.
The Grand Staircase region is a bit more remote and not visited often, but it is a fantastic site that boasts the most slot canyons in Utah. Don't forget to explore the Escalante River, hike to the stunning Lower Calf Creek Falls, or venture into the remote regions of the monument.
Dinosaur National Monument
Dinosaur National Monument straddles the Utah-Colorado border and preserves many dinosaur fossils and ancient petroglyphs. Visit the Quarry Exhibit Hall to see over 1,500 dinosaur fossils exposed on the cliff face and even touch some of the 150 million-year-old fossils. For your next adventure, take a scenic drive along Harpers Corner Road for panoramic views of the Yampa and Green Rivers.
Natural Bridges National Monument
Natural Bridges National Monument showcases three majestic natural bridges, the largest known in the world. Hike the loop trail to witness the breathtaking view.
If you are interested in archaeology, check out Horse Collar Ruin, a remarkably preserved ancestral Pueblo site. This park was the first to become International Dark Sky Park certified by the International Dark Sky Association. In some spots, you can see up to 15,000 stars throughout the night.
Dead Horse Point State Park
Dead Horse Point State Park offers a mesmerizing panoramic overlook of the Colorado River and Canyonlands National Park. Marvel at the sheer beauty of the canyon walls and capture unforgettable photographs.
The park has terrific campgrounds with gorgeous sunrises and sunsets. Hike the Intrepid Trail or mountain bike along the exhilarating singletrack trails.
Goblin Valley State Park
Goblin Valley State Park transports visitors into an otherworldly landscape filled with peculiar rock formations known as "hoodoos" or "goblins." The soft sandstone eroded to create interesting shapes that resemble goblins. In some areas, the rocks are formed close together, creating natural playgrounds for younger travelers to explore.
Embark on a whimsical adventure through the maze-like formations, hike the Entrada Canyon Trail, or stargaze beneath the dark desert skies.
Snow Canyon State Park
Snow Canyon State Park, located near St. George, showcases red sandstone cliffs, lava flows, and unique geological features. It offers 16 miles of hiking trails, technical rock climbing, and horseback riding. Hike through petrified sand dunes, explore lava tubes, or enjoy scenic drives through the park.
Antelope Island State Park
Antelope Island State Park, situated in the Great Salt Lake, is a paradise for wildlife enthusiasts. Witness bison herds roaming freely, spot pronghorn antelope, and observe various bird species.
The Great Salt Lake has beaches, camping, picnicking, and water sports for the more adventurous. Hike the park's trails, go horseback riding, or relax on the sandy beaches.
Utah's national and state parks are full of natural wonders, each offering unique charm and extraordinary landscapes. From the dramatic cliffs of Zion and the whimsical hoodoos of Bryce Canyon to the iconic arches of Arches National Park and the rugged canyons of Canyonlands, exploring these parks is an adventure you don't want to miss.
Whether you're an avid hiker, a photography enthusiast, or simply seeking tranquility in nature, Utah's best national parks provide an array of experiences that create the perfect spot for families to explore.
This article originally appeared on Wealth of Geeks.
About the author:
Karen Kelly is the food and travel blogger over at Seasonal Cravings. She is a busy wife and mother to three teenagers who loves creating seasonal recipes in her kitchen outside of Washington, D.C. She travels with her family and loves to share her adventures on Seasonal Cravings, MSN and the Associated Press Wire.