Lularoe Debuts Cap-Sleeved Sack and the Lularoe Buy and Sell Groups Have Some Feelings
(This post may contain affiliate links. Read my full disclosure.)
Lularoe debuts a cap-sleeved potato sack and names her Maria…and the Lularoe buy and sell groups have some feelings.
I love Lularoe, y'all. I know…there is some serious cray-cray-crazy going on in the Lularoe buy, sell, trade groups…that's BST for those who might not be fluent in Lula-speak. They may have gotten a bad rap lately for being a not-so-great company to work for and some of their patterns are of the "make your eyeballs bleed" variety but I love me some Lularoe leggings.
Leggings are my friend, especially this time of year, right ladies? My skinny jeans might say "I don't think so, girl. You've been hitting the Chex mix way too hard" but leggings are all "YASS QUEEN."
[Tweet "Lularoe debuts a cap-sleeved potato sack and the internet has some feelings "]
Leggings are kind. They understand that the lure of Christmas treats is just too strong.
But, as most of us know, Lularoe isn't all about leggings. They also have a line of dresses, skirts, tees and sweaters to go with the leggings or to be worn on their own. These garments have cutesy-poo girl names like "Carly" and "Cassie" and "Julia" and are made from soft, stretchy (AKA forgiving) fabric.
Lularoe debuts a cap-sleeved potato sack and the Lularoe buy and sell groups have some feelings:
This week, Lularoe introduced their new girl on the block, Maria. And, if the initial reaction from the Lularoe buy, sell, and trade groups is any indication this dress that's been touted as a "cap-sleeved maxi with a flattering fit" is going to be a big, fat flop.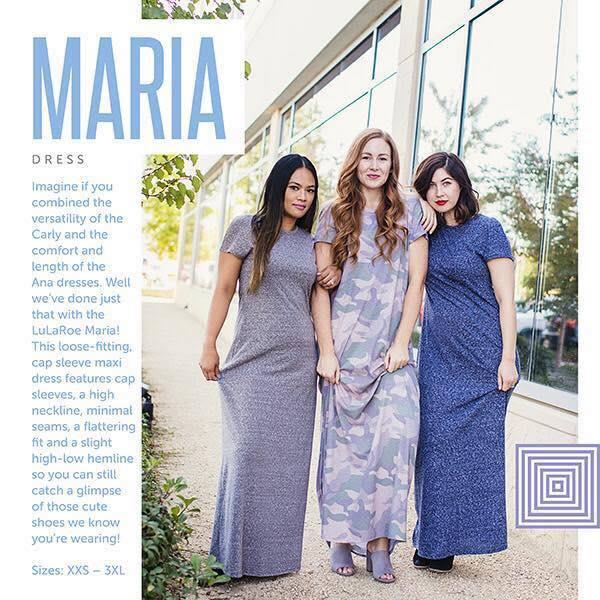 Unless you're a sister wife or are going for that modern-day Laura Ingalls sort of look. Then, you should totally get one. Be right back…I'm going to go grab my sunbonnet and help Pa with the chores.
The caption on the photo Lularoe put out there boasts "a flattering fit and a slight high low hemline so everyone can see those cute shoes we know you're wearing."
Um. Does anyone else notice that all these models girls are holding their hemlines up?
Personally, I love maxi dresses. I can throw one on and slap my hair up in a bun and maybe put on some lip gloss and boom. I can sashay through my local grocery store and give the illusion that I've made an effort, when I really haven't. And, as much as I love everyone to see my cute shoes, I need both of my hands as I go about my day and I can't walk around holding up my dress like I'm some kind of fancy person.
Yeah…they really do look like sister wives, here, don't they?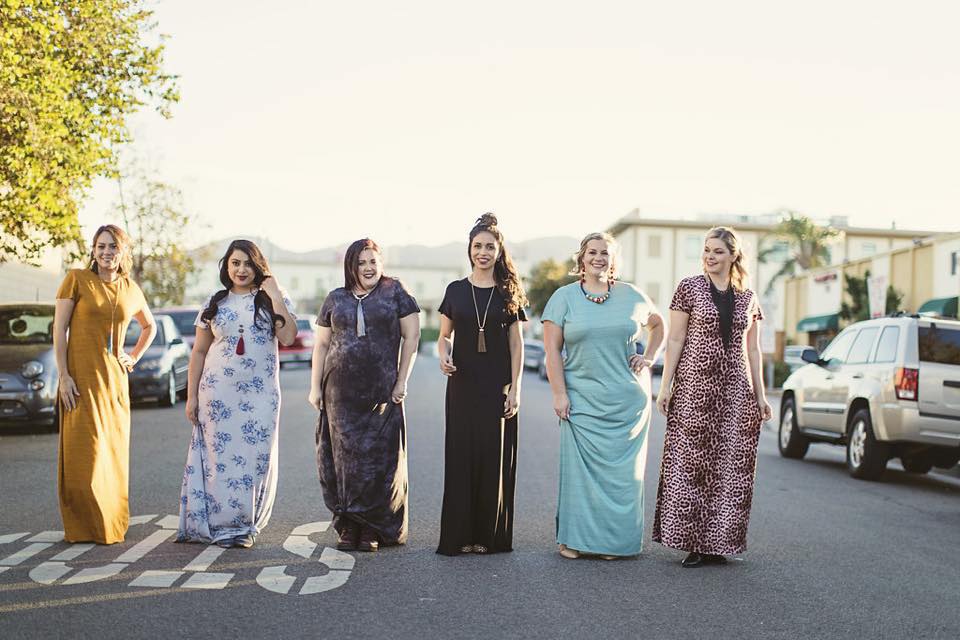 And seriously, why would I want to wear a long, camo print nightie out in public?
For those of you thinking this might be a cute and comfy around the house kind of dress, let me draw your attention to the price tag: 68 bucks. Yikes.
If you're interested in what this cap-sleeved portable sleeping bag looks like "accessorized" get an eyeful of this: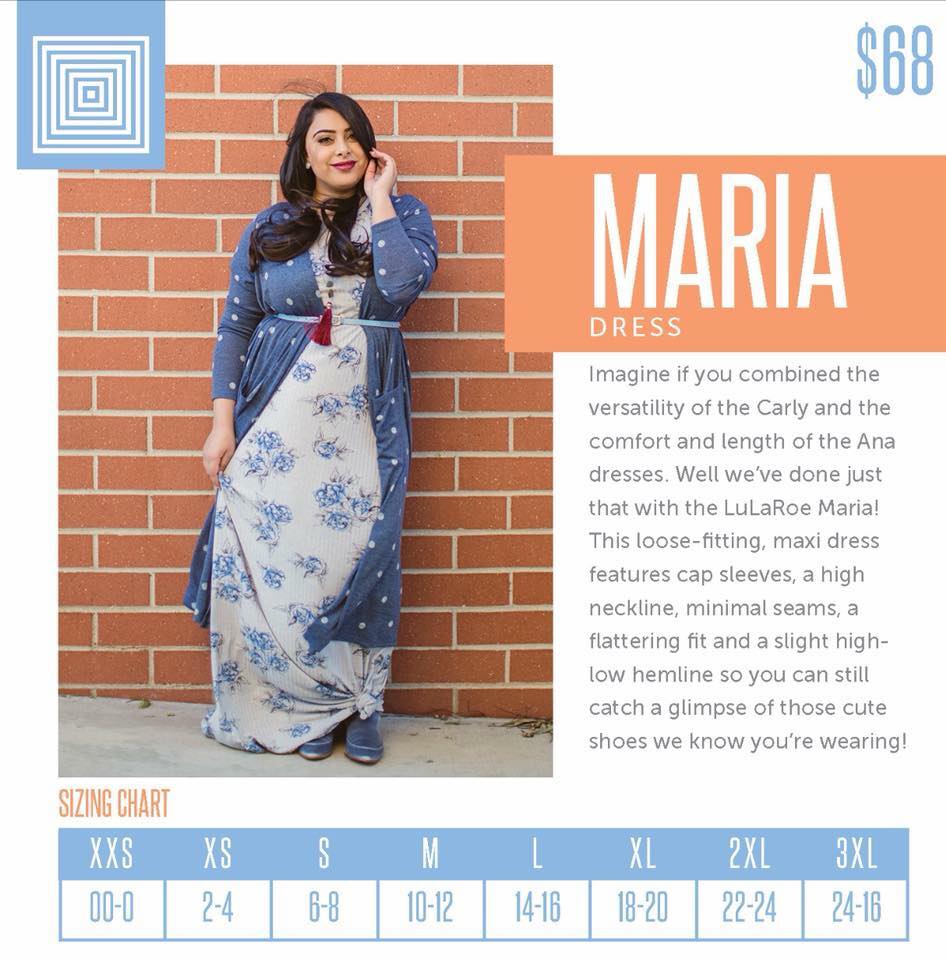 I know. There's so much going on here and girlfriend has it knotted at the bottom but this hemline still looks like a safety hazard to me.
Most of the comments I've seen about the new Maria aren't favorable.
"Cute…if you're a Duggar."
"This looks like the nightgown my mom gave me after I gave birth to my son."
"Wear this if you don't plan on having sex again, ever."
Now there's a thought. "Not tonight, honey. I'm wearing my Maria."
Now, I'm all for comfy clothes. I like loose, forgiving clothes, too…mostly because I like food. But this wouldn't flatter me. This new Lula-creation would flatter…exactly no one, except maybe a tall, skinny girl with perky everything and zero tummy pudge?
Part of me wants to say "Lularoe, you've done lost your mind this time" but then I'd be talking to the people who manufacture clothing for adults festooned with ears of corn, creepy looking sock monkeys and replicas of the Leaning Tower of Pisa that resemble parts of the – ahem – male anatomy if you look at them just right.
No, I wouldn't wear the Maria. I mean…it's kind of tempting to try and find one in crimson and add a white bonnet. I could go as Ofred from the Handmaid's Tale for Halloween. That'd be a hoot. But, for 68 smackeroos, I think I'll stay with the clearance rack at Target and my local thrift store.
But, the Lula lure is strong. Something about prison striped shirts paired with a glittery disco skirt that looks like something my kid made with his Lite Brite (ahem, I think that's what the Lularoe people refer to as "Elegant") can cause sane women to make some really questionable shopping decisions.
So, no judgement from me if you're the first in line to buy the new Maria mu-mu. Rock that oversized tee-shirt, girlfriend (after you hem it of course.)
I'll even loan you my sunbonnet.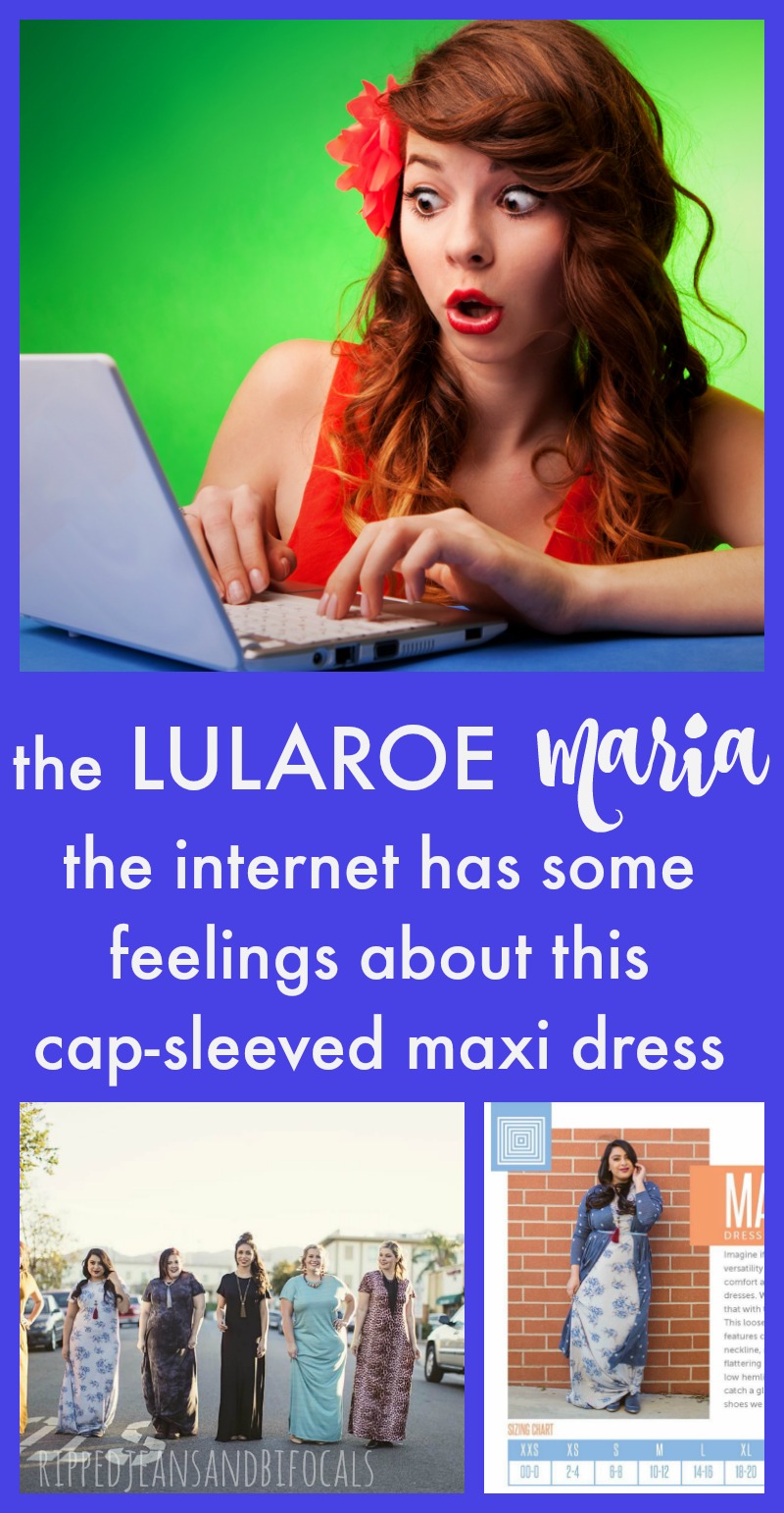 You might also like: