Easy sensory mini sandboxes
This shop has been compensated by Collective Bias, Inc. and its advertiser. All opinions are 0pmine alone. #BringTheTropicsHome #CollectiveBias
Take some time off from the hustle and bustle and make these easy sensory mini sandboxes with your kids. It's a perfectly simple and inexpensive activity your kids can enjoy in the backyard or on the porch while the parents kick back and relax. Yes, I said relax.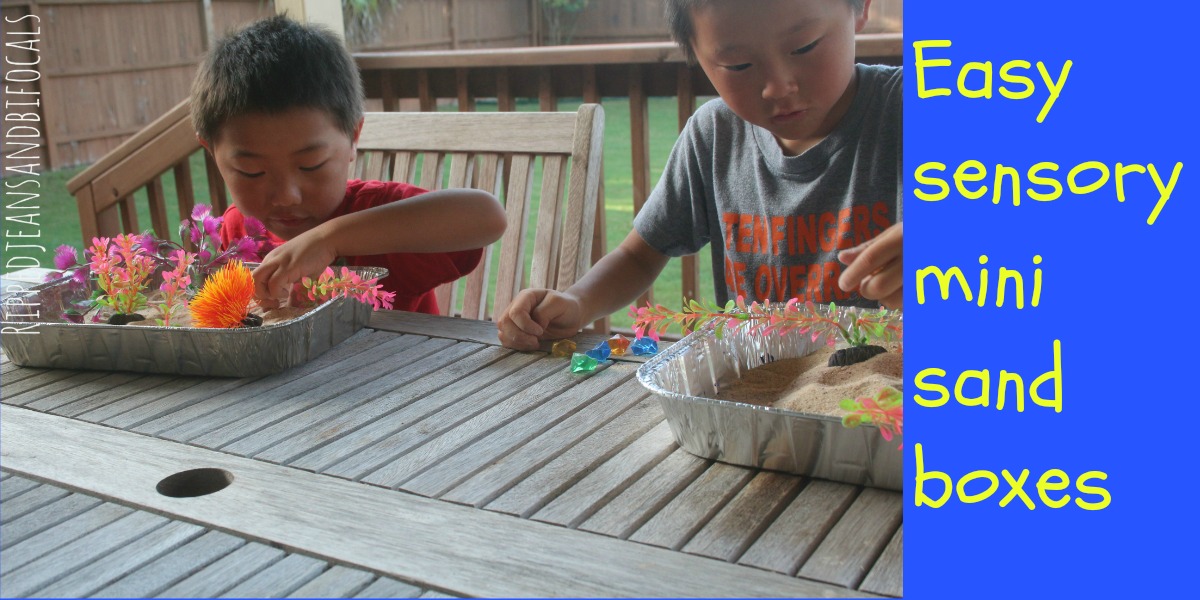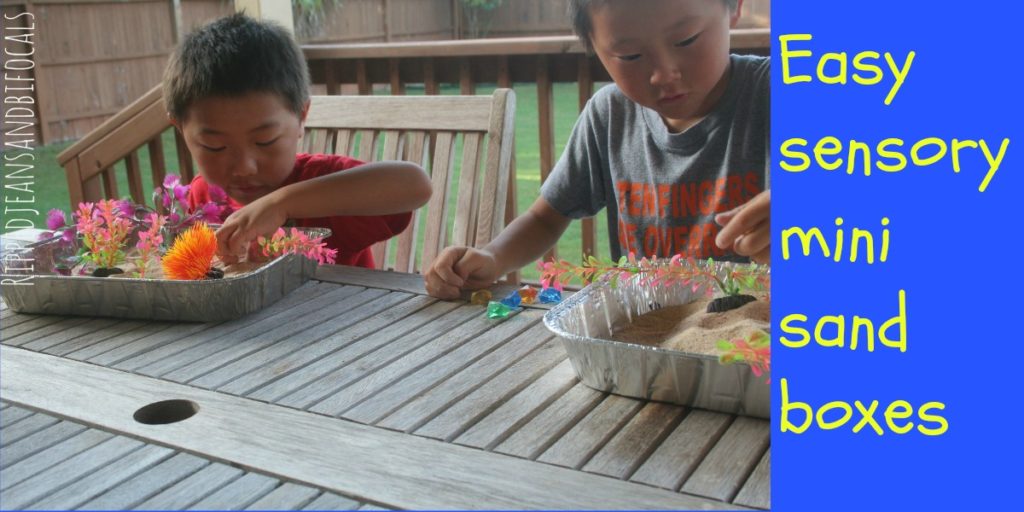 Everyone's familiar with the old saying "stop and smell the roses," right? Even during the summer when we're supposed to be dialing back and relaxing, it seems like we fill our buckets just a little too full and miss out on those enjoyable little moments with our families that make our down time special. Or, maybe we forget to have down time at all.
It always seems like we're rushing to get ready for this or to go and do that. Get in the car, pick that up, don't get dirty, don't touch that, we're late.
Sound familiar?
If you can squeeze some down time in to your summer time, here's a great backyard project for the kids…and I'll be honest, I enjoyed it, too.
Supplies:
Aluminum cake or roasting pan
Blue or turquouise acrylic paint
Clean play sand
Aquarium accessories (tropical flowers and greenery)
Craft jewels – use caution for children under three
Other small toys as desired
Pain the bottom of the pan with blue acrylic paint and let dry. This doesn't have to be a perfect paint job. *If you have old pans or find a good deal at a garage sale or a thrift store, metal pans are a little sturdier.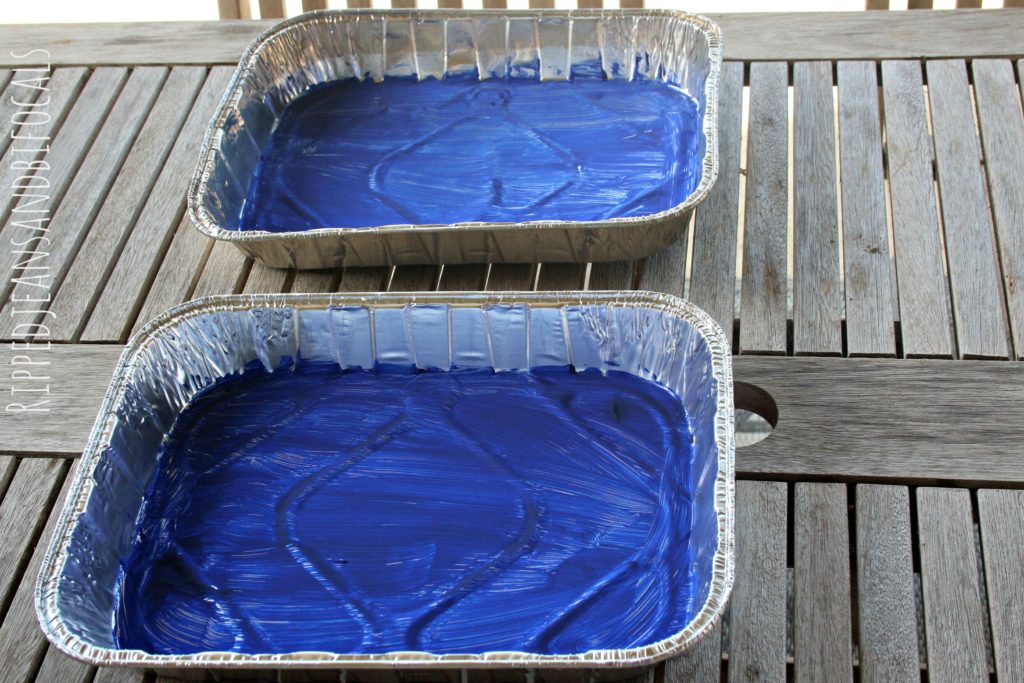 Pour the sand in and let the kids use their imagination.
The blue bottom looks like water and your kids can have fun shaping the sand into pools and beaches. If you really want to let things get messy (and why not!) you can let them use water.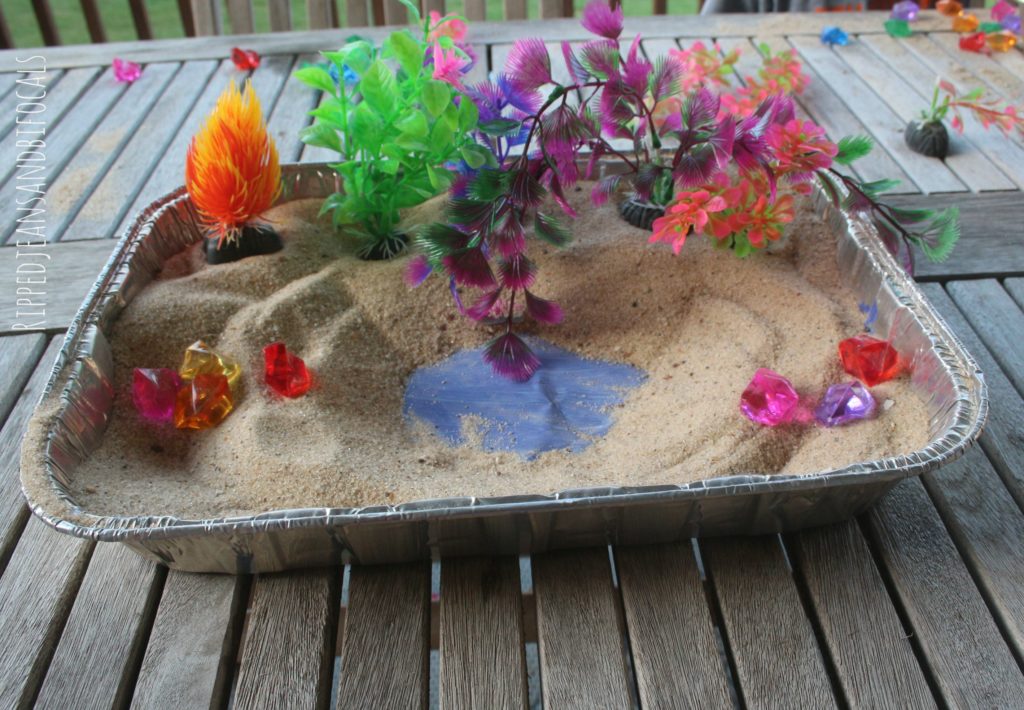 My kids had fun with the large craft jewels. We took turns burying their "treasure" and letting them dig it out. It's a great sensory activity and you can easily introduce counting games or work on colors with younger children.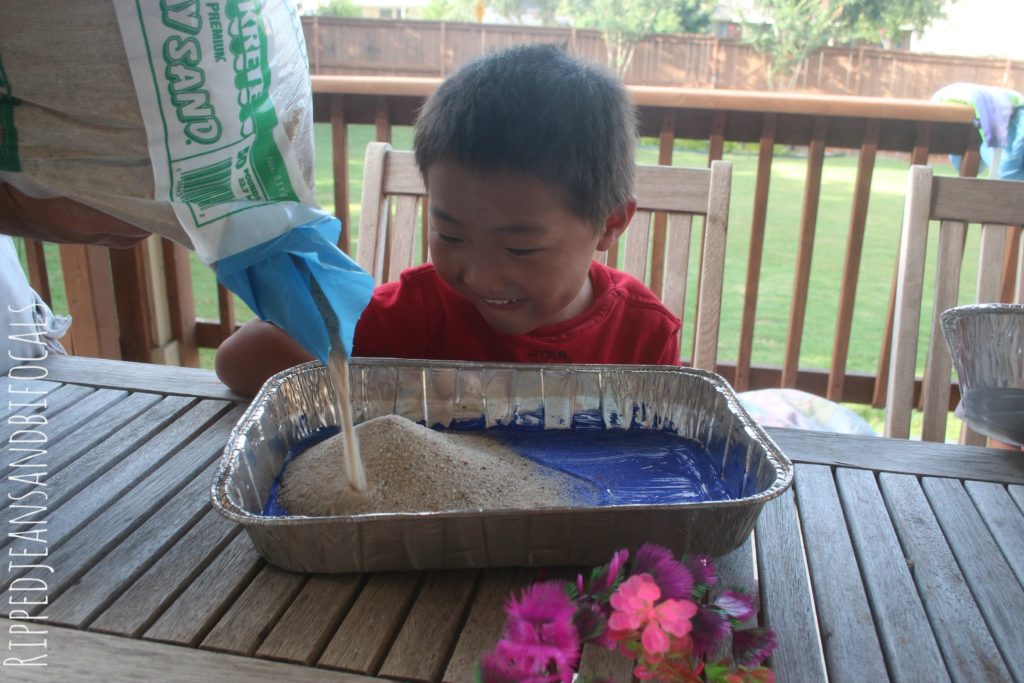 With us, it turned into a "who has more jewels" contest but that's about typical for two six-year-olds.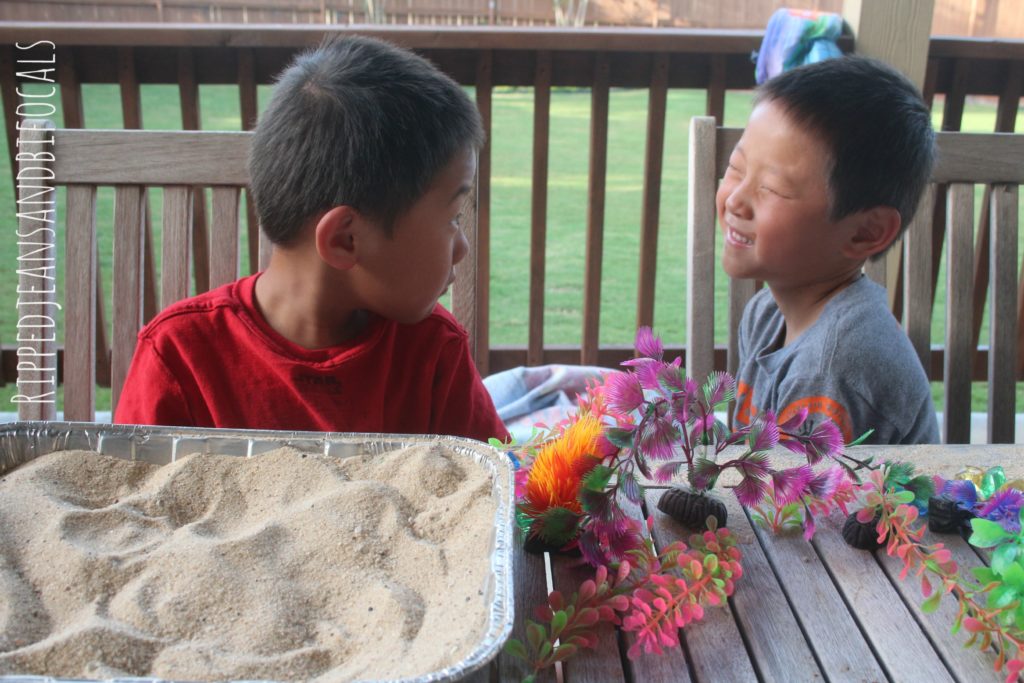 My kids really loved this and I got the inspiration from my new laundry detergent. That makes sense because I sure feel like I spend more time in the laundry room than I do any other room in my house! With two boys and their messes, I am always washing clothes.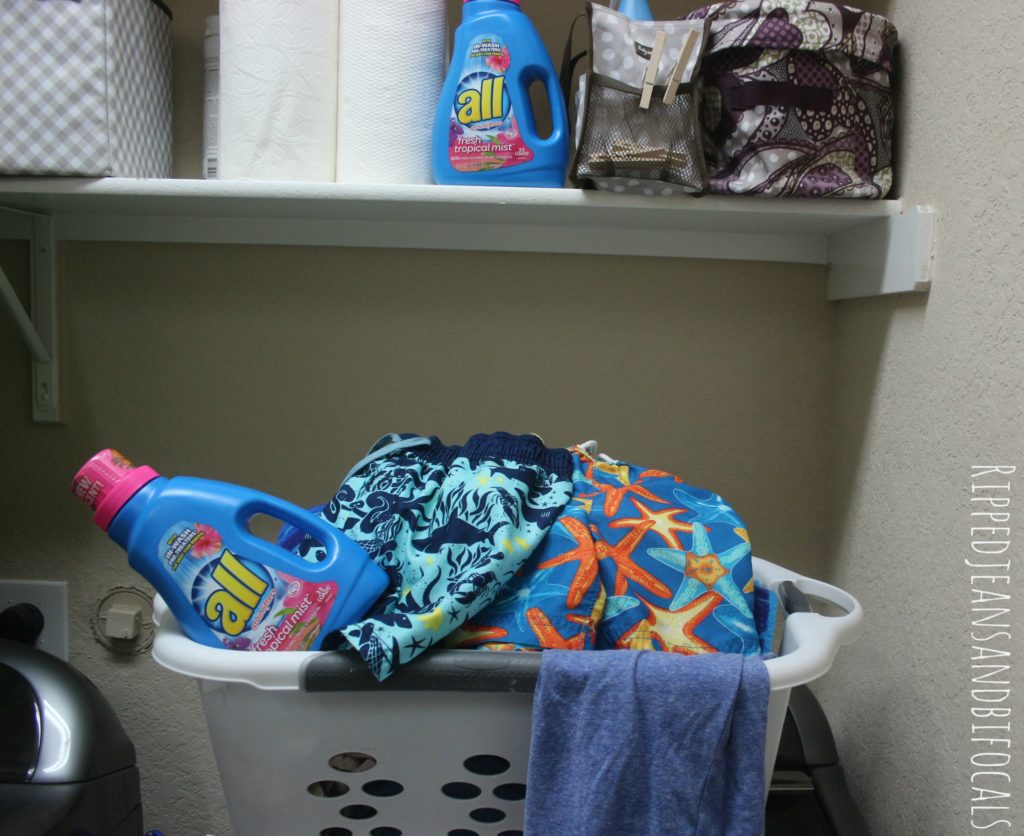 I am a huge smell person and it's important to me that my laundry smell good. That's one of the reasons I love all® Fresh Tropical Mist™.  I love all®'s newest scent – it's flowery without being overly perfumey. It's crisp and fresh and of course, it has the same powerful clean I've come to expect from a brand I trust.
Even better? all® Fresh Tropical Mist™ is 30 percent less than the leading brand which is super important to someone who buys as much laundry detergent as I do!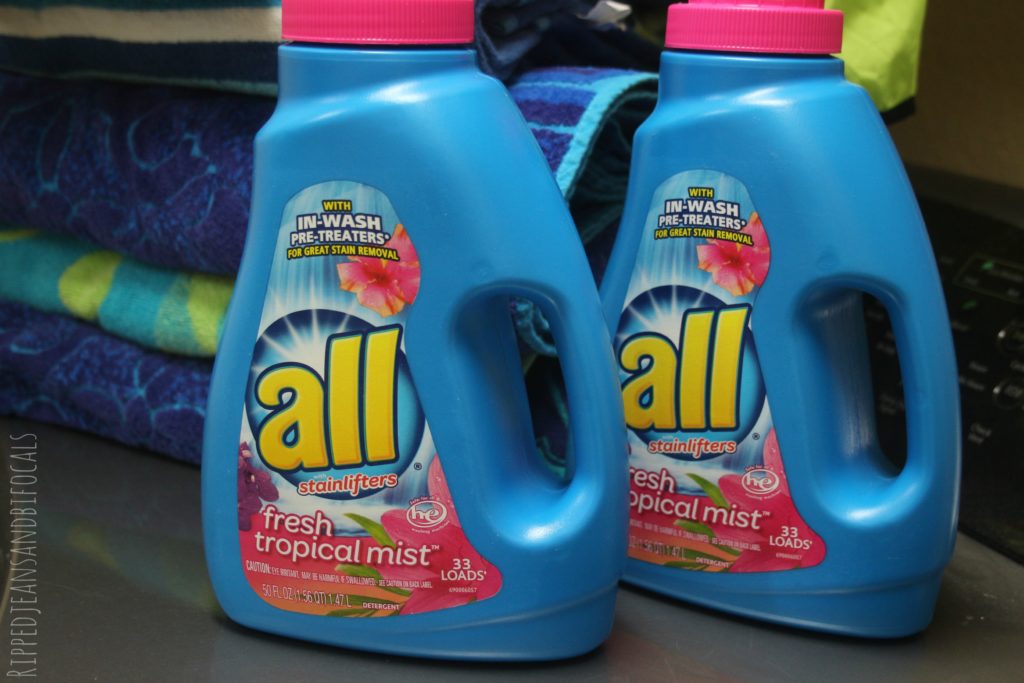 I bought this at Dollar General – it's easy to find and while you're there, you can look for other inexpensive and fun stuff for your mini sensory sandboxes. If you add new things to your sensory sandbox each time your kids play with it, it keeps things interesting…although this is a great activity that encourages kids creativity and it held my boys' interest for quite a long time.
This was a fun way way to bring the beach to our backyard and what better place than the backyard to get a little bit messy and dirty? And getting messy and dirty is totally fine because all® Fresh Tropical Mist™ works like a champ on all kinds of stains. It smells amazing but it also contains in-wash pre-treaters that can handle grass, mud, grape juice and popsicle stains. And I know all about grass, mud grape juice and popsicle stains.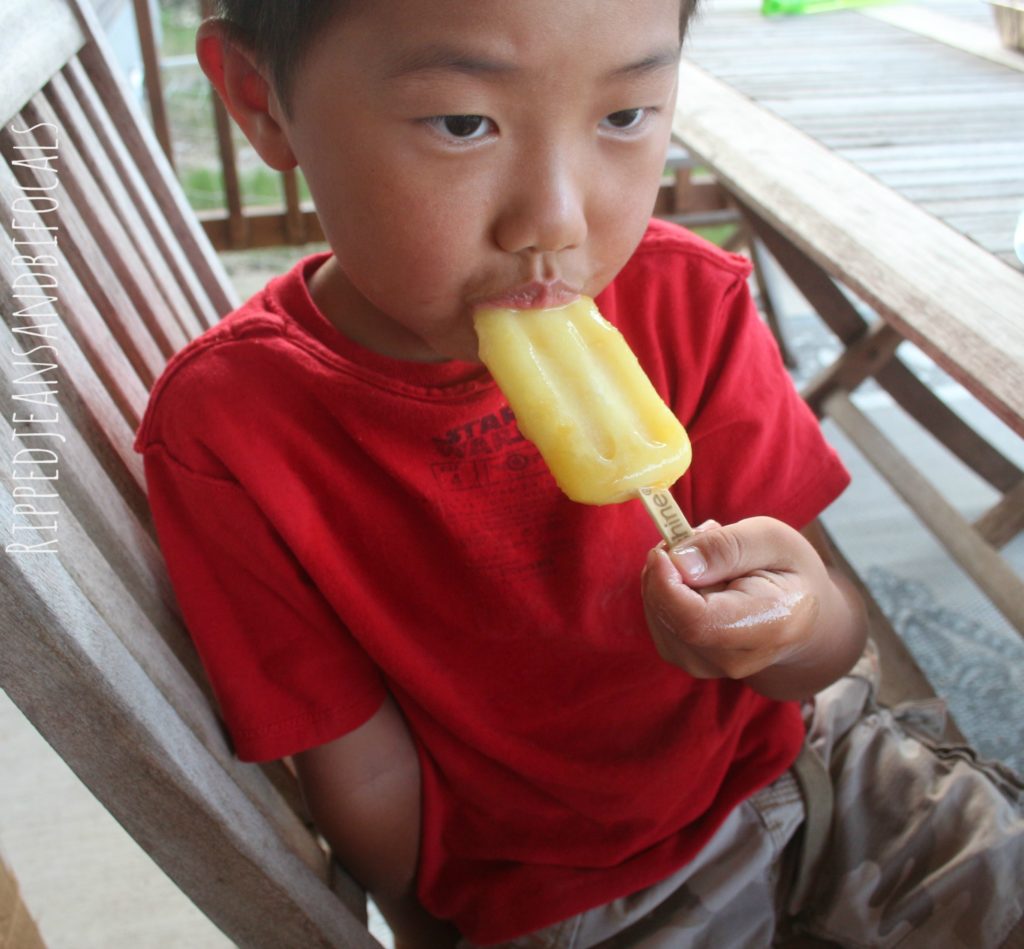 So back to that whole "stop and smell the roses" thing. In my house, it probably should be more like "stop and smell the dirt" but that's okay. Sometimes it's good to be unrushed and unstructured and let your kids get dirty. Be in the moment. Make memories. Make messes.
Down time is important. I could have been doing something way more productive than watching my kids make funny faces while they played in the sand.
Nah.
To find NEW fresh tropical mist in store near you, visit all®'s website and click Where to Buy!" Even better? Do what I did and click HERE to get a coupon! How cool is that?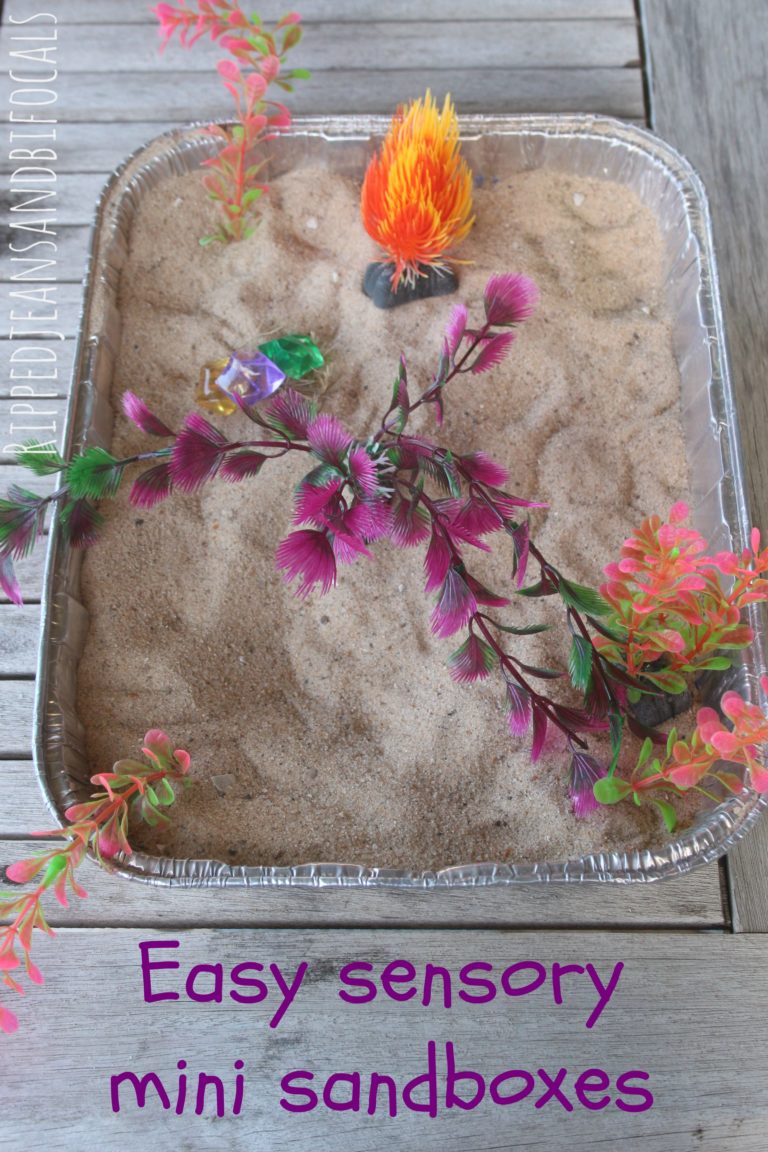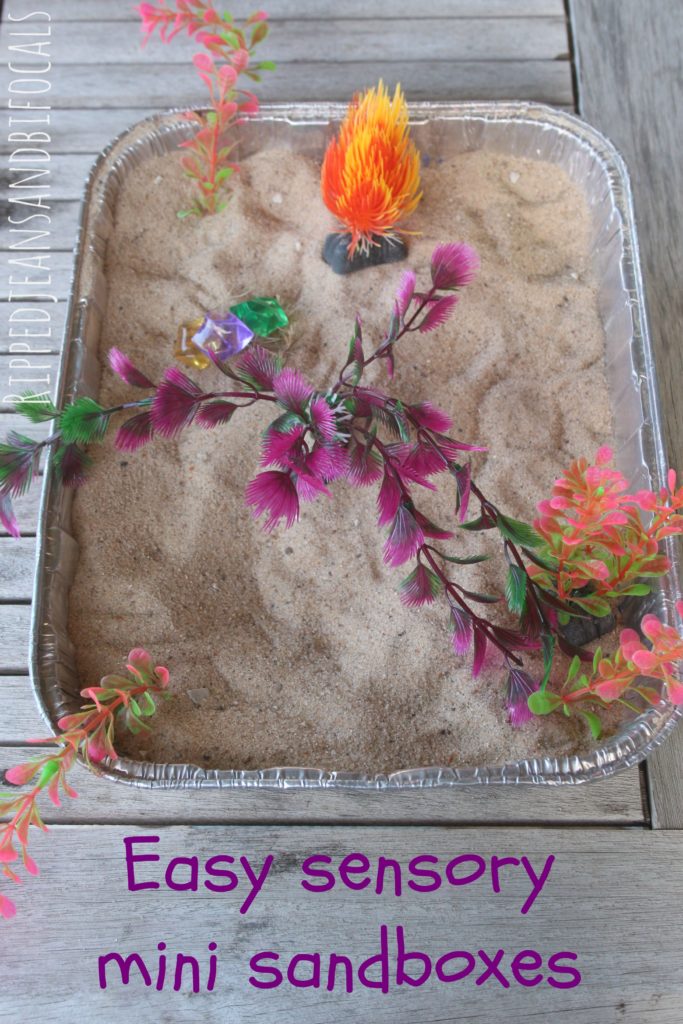 For more inspiration for summer backyard fun, visit all®'s social hub.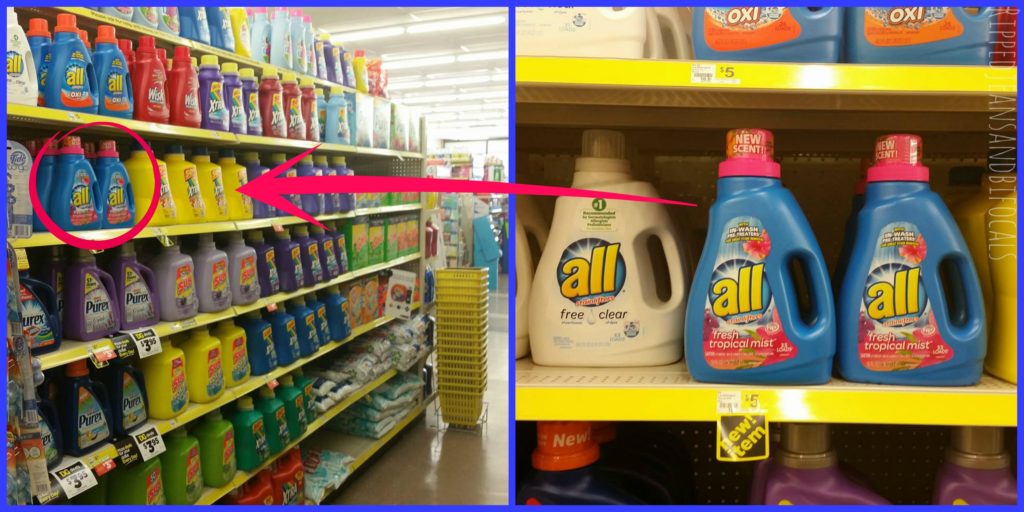 Thank you for reading! Please pin this post to your favorite kid's craft or backyard activities Pinterest board! These would make an awesome kid's party craft and it would be easy and inexpensive to throw together a bunch of them.


Thank you for reading!

Follow Ripped Jeans and Bifocals's board Parenting Survival Tips on Pinterest.
If you enjoyed reading this post, please give me a vote on Top Mommy Blogs my clicking the button below. It's super easy and helps my site A TON.