Cheesy farmhouse breakfast casserole
(This post may contain affiliate links. Read my full disclosure.)
This shop has been compensated by Collective Bias, Inc. and its advertiser. All opinions are mine alone. #NaturallyCheesy #CollectiveBias
It is finally starting to feel like fall around here, people. Fall for us means the temps are out of the 90's but after five plus months of triple digits, the mid-eighties are a welcome break. Fall means yummy fall food, amiright?
So, now that I don't feel like I stepped into a sauna every time I walk outside, I've been running more. I was doing pretty good for a while but scheduling runs in the warmer months here requires some discipline and planning and I'm not very good at either of those things.
The fall months bring the kind of weather I can run in just about any time of day. We'll have some cold days in January or February, but I tell ya…our "cold fronts" are the stuff true northerners poke some serious fun at.
Since I've been running more, I've really been trying to eat better…trying to eat more proteins and less of the carbs. I've really been trying to start my weekend mornings with a run. If I can get up and get it done, I feel like I've started on the right track and I'm more likely to want to eat balanced healthy food…you know, to keep the momentum going instead of sneaking into my hidden stash of leftover Halloween candy. Okay, so I pretty much always want candy, but that's not really the point. Ha!
My husband and I recently ran a 5K race in our community.  I made up this awesomely cheesy breakfast casserole the night before and I popped it in the oven when we got home from our run.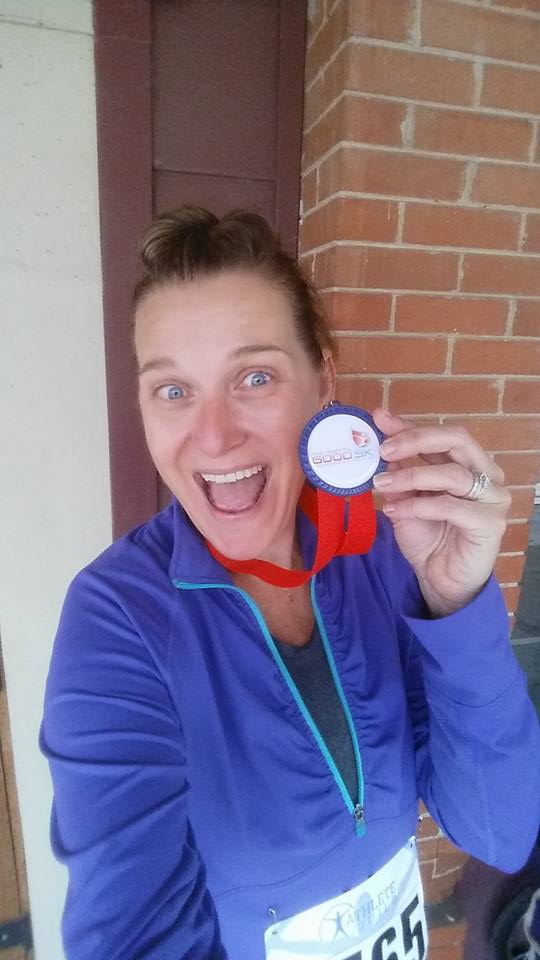 I actually came away with third place in my age group, which was a great reason for a little brunch celebration, right? As part of that celebration, I'm sharing my super-easy super-cheesy breakfast casserole. There's just something comforting about a simple breakfast dish and the peppers and spices really kick things up a notch. Have I mentioned how much I love cheese? I really (really, really, really) love cheese. A lot.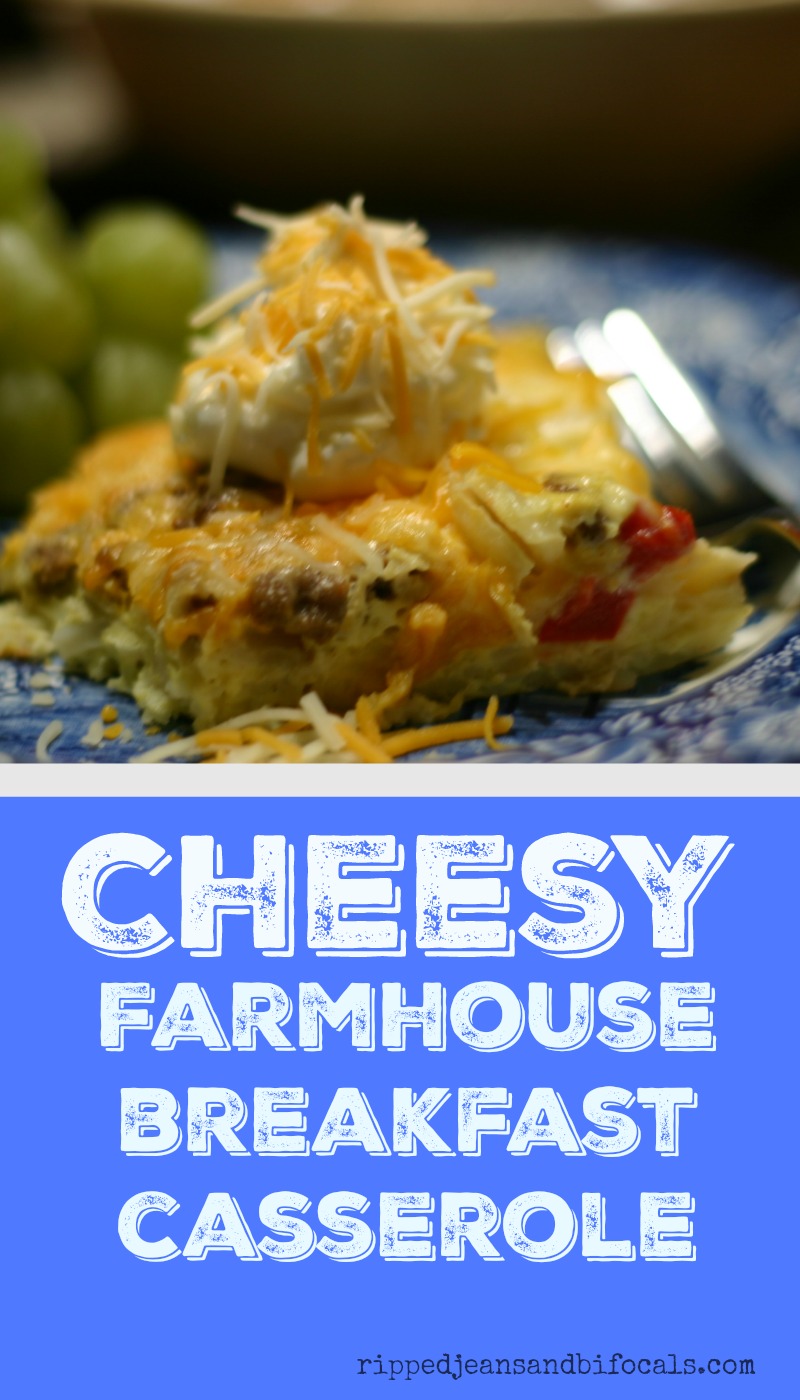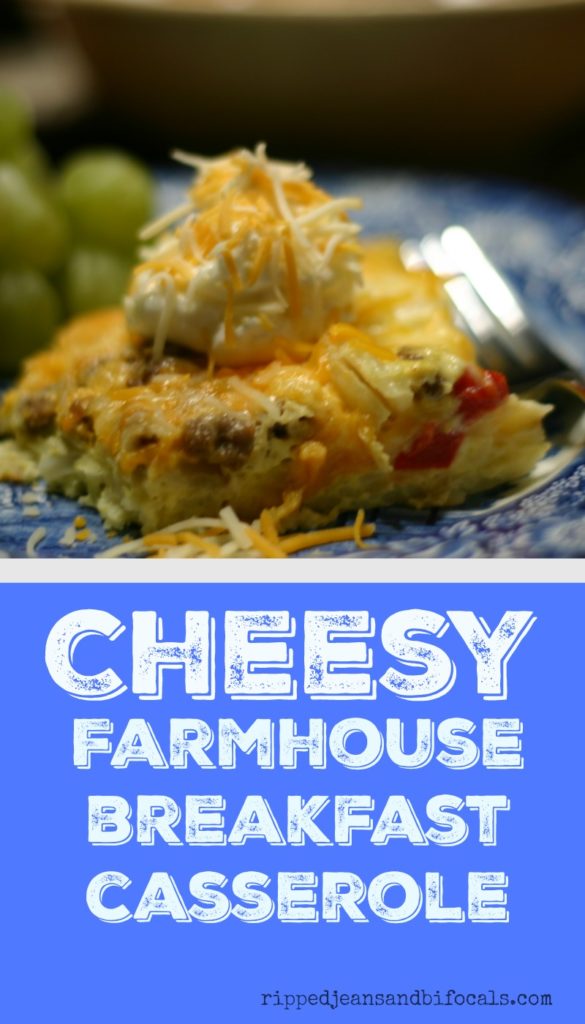 This farmhouse breakfast casserole is a great weekend breakfast…it also makes a great "brinner" and it's perfect to take to a breakfast potluck.
I usually make this up the night before but it's simple to throw together in a hurry in the morning and most of these ingredients are easy to keep on hand.
Ingredients:
10 large eggs
3 cups frozen hash browns
2 cups of bell pepper strips (I use the red, green and yellow pepper strip mix found in the freezer section…it saves a lot of time, but you can use fresh if you want to)
1 cup of cooked sausage crumbles (I usually use turkey sausage or veggie crumbles)
1 tablespoon garlic powder
1/2 tablespoon chili powder
1 tablespoon of baking mix
1 1/2 cups Kraft natural shredded cheddar cheese
Preheat the oven to 375
Grease a 9 x 13" deep dish rectangular baking pan
Layer the hash browns in the bottom of the dish
Top with peppers, then sausage
Beat eggs until frothy (I use an electric mixer) then stir in garlic and chili powders
Pour egg mixture in the pan over the hash browns, peppers and sausage, top with one cup of the Kraft cheese.
Bake for 45 minutes until cheese is browned and bubbly and the eggs are set. Let cool in the pan for 10-15 minutes then cut into squares.
Top with sour cream and salsa, if desired. Use the remaining Kraft cheese to sprinkle over the warm squares.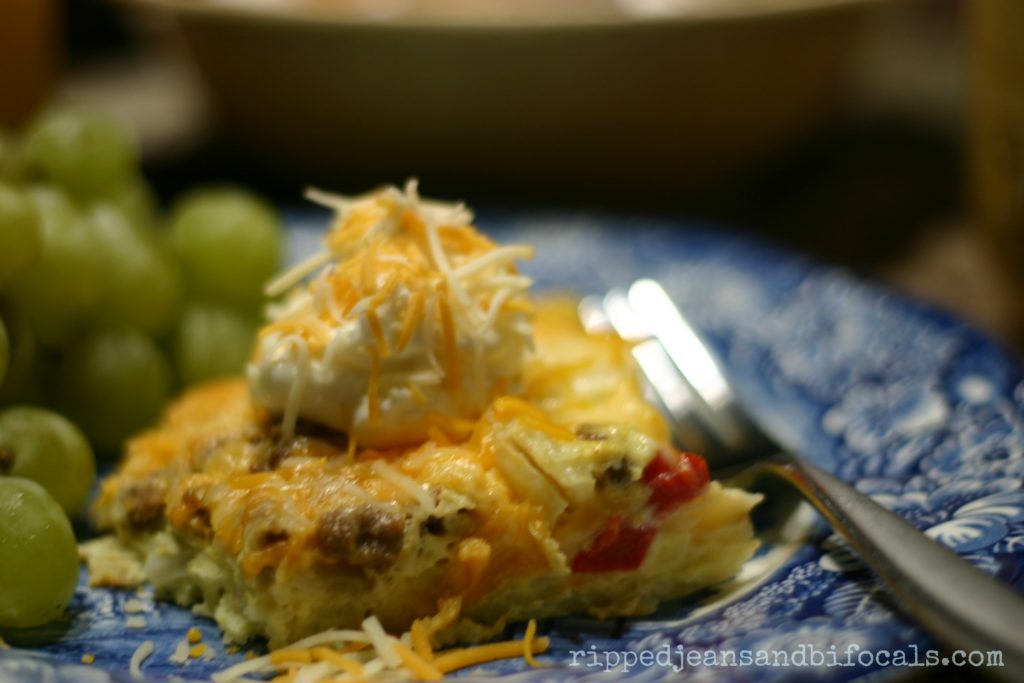 So, get moving. Eat your protein. The cooler temps totally scream for something warm, comforting and cheesy, right?
Happy fall, y'all…what are you doing to celebrate full on fall? Cheese recipe? Got a favorite?  Lay it on me because…hello? Cheese?  Cheese, people.  Getcha some. Check out this link for more great cheese recipes.
Seriously, y'all. This recipe is GOOD STUFF.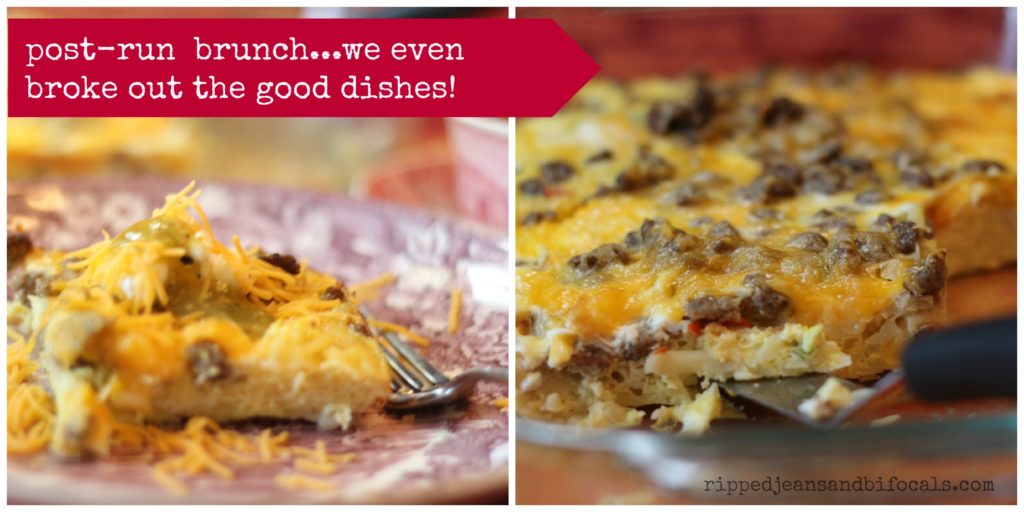 I found everything I needed to make this recipe at Walmart. If you want to go vegetarian, use meatless crumbles (usually found in the frozen foods section) or add a couple of extra eggs.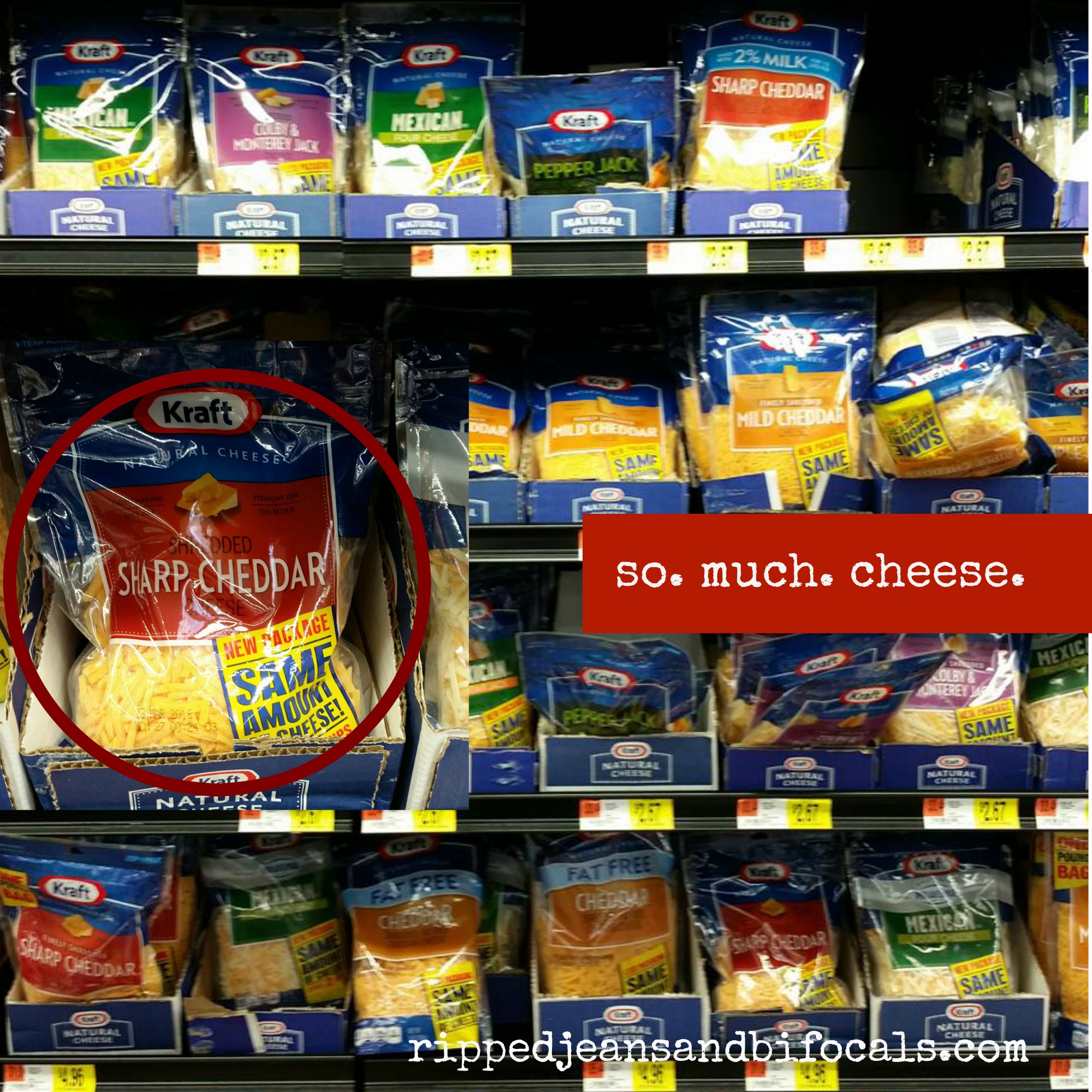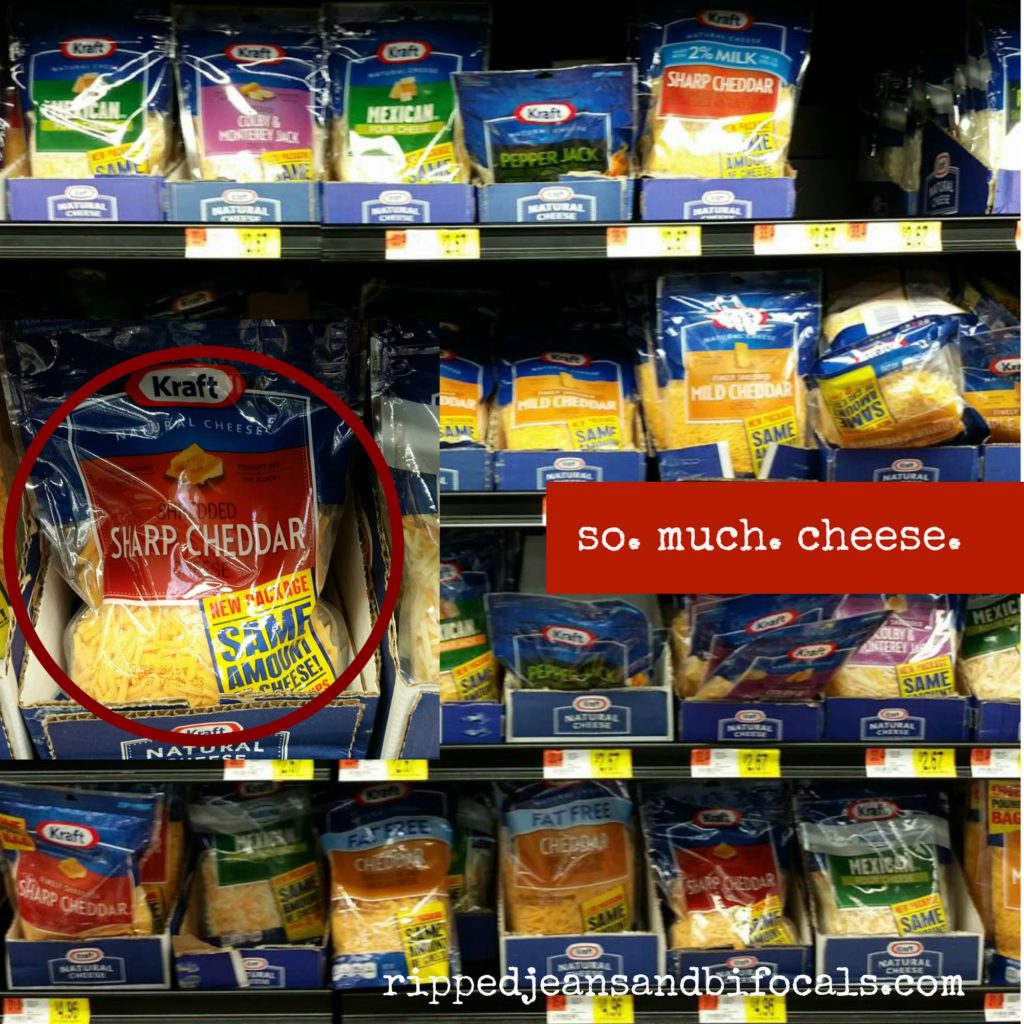 Thanks for reading! Make sure you're following Ripped Jeans and Bifocals on Facebook!

I have an "Jill original recipes" board on Pinterest…check it out!
Follow Ripped Jeans and Bifocals's board My original recipes on Pinterest.