Top 10 Bucket List Tropical Beaches For Your Vacation Inspiration
(This post may contain affiliate links. Read my full disclosure.)
What kind of content fills the pages of your bucket list? Are you an adrenaline junkie searching for the next place to zipline through the jungle or swing through a cave? Or are you a more relaxed individual yearning to spend your days on a beach blessed with tropical weather, miles of white sand, and clearer water than cellophane? If you lean toward the latter, this is the list for you. Below, we've compiled the ten best bucket list tropical beaches.
Top 10 Bucket List Tropical Beaches For Your Vacation Inspiration
These swoon-worthy tropical bucket list beaches will inspire you to plan your dream getaway.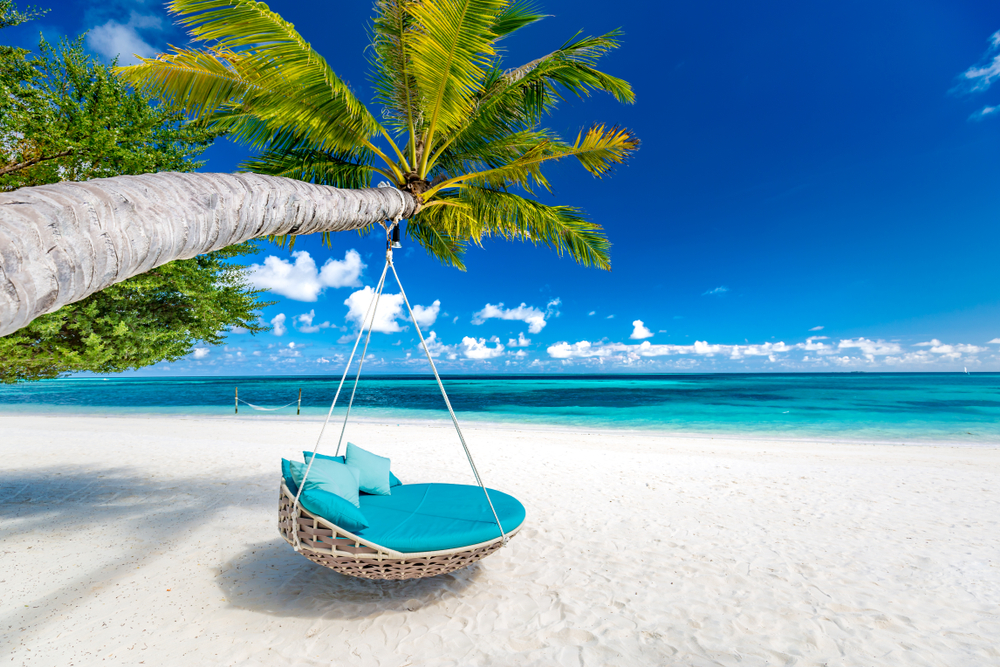 1. Maldives
U.S. residents know The Georgia Aquarium maintains its reputation as the only aquarium in North America with whale sharks in captivity. Did you know that The Maldives harbors several whale shark sightings where visitors watch the majestic creatures in their natural habitat? Baa Atoll and South Ari Atoll are marvelous spots to watch for whale sharks as millions upon millions of plankton pull the sharks to the waters.
2. Bora Bora
Have you ever heard of an underwater scooter? Guests can board an underwater contraption—an underwater scooter or an aqua bike—and descend into blossoming marine life in Bora Bora's Lagoon.
After your lagoon journey, travel to Matira Beach, a snorkeler's haven in Southern Bora Bora with stunning sunset views framing the white sand and blue water. Stingrays, eagle rays, butterflyfish, and angelfish are diverse species you may spot while snorkeling around the reef.
3. Grand Cayman
In my younger years, my family had a Dalmatian named Zoe. Zoe loved trotting through the ocean, hoping to find a starfish to chew on. Something about their five-vertex bodies lured her to eat and chew on them instead of rawhide or rope. Zoe would adore Starfish Point in Grand Cayman. The five-limbed creatures laze on the sand underneath the see-through water. Grab your cameras for the best Instagram photos with these echinoderms, but don't remove them from the water.
Barkers Beach is ecstasy for kite surfers. The uncrowded beach boasts shallow waters and steady winds for kites to latch on to and cruise over. Due to the shallow waters, coral reefs do not occupy the water underneath the surface so you can jump on your kiteboard sans guilt.
4. St. Lucia
Are you a sailor searching for the best tropical destination to set sail? Given St. Lucia's location—rainforests and beaches speckle the Caribbean island— the warm weather and easy breezes allow sailors to navigate the waters with ease and comfort.
Perhaps the most picturesque beach is Sugar Beach, with a landscape of grassy Pitons mountains, vegetation, blue-green water, and plenty of fruit trees standing strong. Look out for falling mango, coconut, and papaya as you lay back and inhale the wafting sea breeze.
5. Mayan Riviera
The Mayan Riviera houses the world's second-longest coral reef, the Belize Barrier Reef, packed with hundreds of species of fish and coral, perfect for snorkelers or swimmers longing to experience the wonder of coexisting with marine life. Participants note the clarity of the water and how they can spot the soft bottoms of the sea as turtles and fish jet past them, living their daily lives unbothered.
Paradise Beach in Tulum resides in a unique location near the Mayan Ruins of Tulum. After a historical exploration through the ancient civilization, relax on the fine sand under the shade of several hundred palm trees.
6. Bahamas
Pink sand beaches attain their color Foraminifera or tiny coral insects with blush shells. The three-mile Pink Sand Beach in Harbour Island is ideal for relaxing and recharging while reclining across these Foraminifera as water sports and parties do not find a home on this Bahamian shore.
Head over to Shroud Cay for a natural whirlpool to satiate your hunger for adrenaline. Locals refer to the whirlpool as the washing machine, and once the water wishes you away, you'll understand the nickname. Clear creeks riddled with mangroves envelop the cay.
7. Fiji
Like most tropical islands, resorts buy out miles of the island and profit off the beaches, making a few sandy shores possible to visit only with a reservation. One example of a resort beach is Musket Cove, which connects to Malolo Lailai Island. The resort island sends out boats to bright coral reefs and sandbars when you grow tired of laying under palm trees cast shadows.
Seasoned surfers favor Castaway Island, but be careful of the waves so you don't end up the title of the island. Aside from surfing, rich coral reefs populate Castaway Island, catering to tourists chasing spots of colorful marine life.
8. Maui
Surfers, snorkelers, and sunbathers alike adore Maui for its extensive collection of diverse beaches. Lava cliffs spot the corners of Big Beach's chilly water and grainy sand. Ka'anapali Beach has a famous 16-foot cliff, encouraging visitors to plunge and descend into cold waters, hoping to spot a green sea turtle swimming through the scene. Guests laud Honokalani Beach for its lava pebbles—or onyx sand— and tucked-away cliff caverns.
9. Tahiti
This French Polynesian island runs across miles of coastline, offering white sand beaches on the island's west side and the unique, beautiful black sand beaches off to the east. Black sand comes from neighboring volcanoes, and when you walk across the black grains, you sink into the silky satin of the shore. Blue-green water laps onto the black beach enshrouded in lush vegetation. Water-sport enthusiasts enjoy paddling through the water during sunset, applauding the lavender and canary-kissed skies at sunset.
10. Seychelles
Seychelles is a blissful archipelago comprised of 115 islands in the Indian Ocean off the East coast of Africa. Travelers enjoy plummeting into sky-blue water and snorkeling with marine life such as Manta Rays, Hammerhead sharks, and Hawkbill turtles. On the shore, large Aldabra tortoises mill about the white sand, entertaining guests, and gorgeous rock formations spring up around the water.
Let's Get Tropical
Warm weather, relaxing breezes, teeming marine life, and tourists occupy tropical beaches yearly. You can be one of those lucky individuals searching for the sun and finding solace in Caribbean air and cool water. Which bucket list tropical beach looks like your next temporary home?
About Gabrielle Reeder
Gabrielle Reeder is a travel enthusiast from St. Petersburg Florida. She boarded her first plane at six months old and blames her love for jet-setting on her mom's background as a travel agent. She's been to 41 states and six countries, hoping to up that number to 50 states and 10 countries by her 26th birthday. During her trips, she loves to find the best vegetarian food, desserts, and music venues.