Serving those who serve us – Military Spouse Appreciation with Johnsonville
(This post may contain affiliate links. Read my full disclosure.)
San Antonio is often referred to as "Military City USA." We have military installations and all branches of the service living and working in our city, so seeing military members and their families out and about in our community is pretty commonplace. We do a lot as a community to recognize our military but last week, I got to attend an event hosted by the USO and Johnsonville that honored a group that doesn't always get the recognition they deserve – military spouses. I'm excited to share my family's experience at the Military Spouse Appreciation event at Fort Sam Houston.
This is a sponsored conversation written by me on behalf of Johnsonville. The opinions and text are all mine.
Military Spouse Appreciation with Johnsonville
My husband and I are both retired military and we both consider ourselves to be military spouses as well. I could talk all day about the challenges of being a dual military couple but all military spouses experience challenges in their everyday family life that civilian families don't experience and might not understand. Whether you've "been there done that" or not, supporting military spouses isn't that difficult. Simple things such as asking them how they're doing when their husband or wife is deployed or telling them you appreciate their family's service and sacrifices mean a lot to military spouses.
The importance of recognizing military families
We recently went to a military spouse appreciation event at Fort Sam Houston sponsored by the USO and Johnsonville and not only did my kids have an absolute blast, it was one of those events that just made you feel good to be there. The folks at Johnsonville really went out of their way to design a free event that military families could enjoy and let's face it: we all want a good dinner where we don't have to cook and a space where our kids can get out from behind their electronic devices and play while we relax and listen to some good music or have some good conversation. The Military Spouse Appreciation with Johnsonville was exactly that.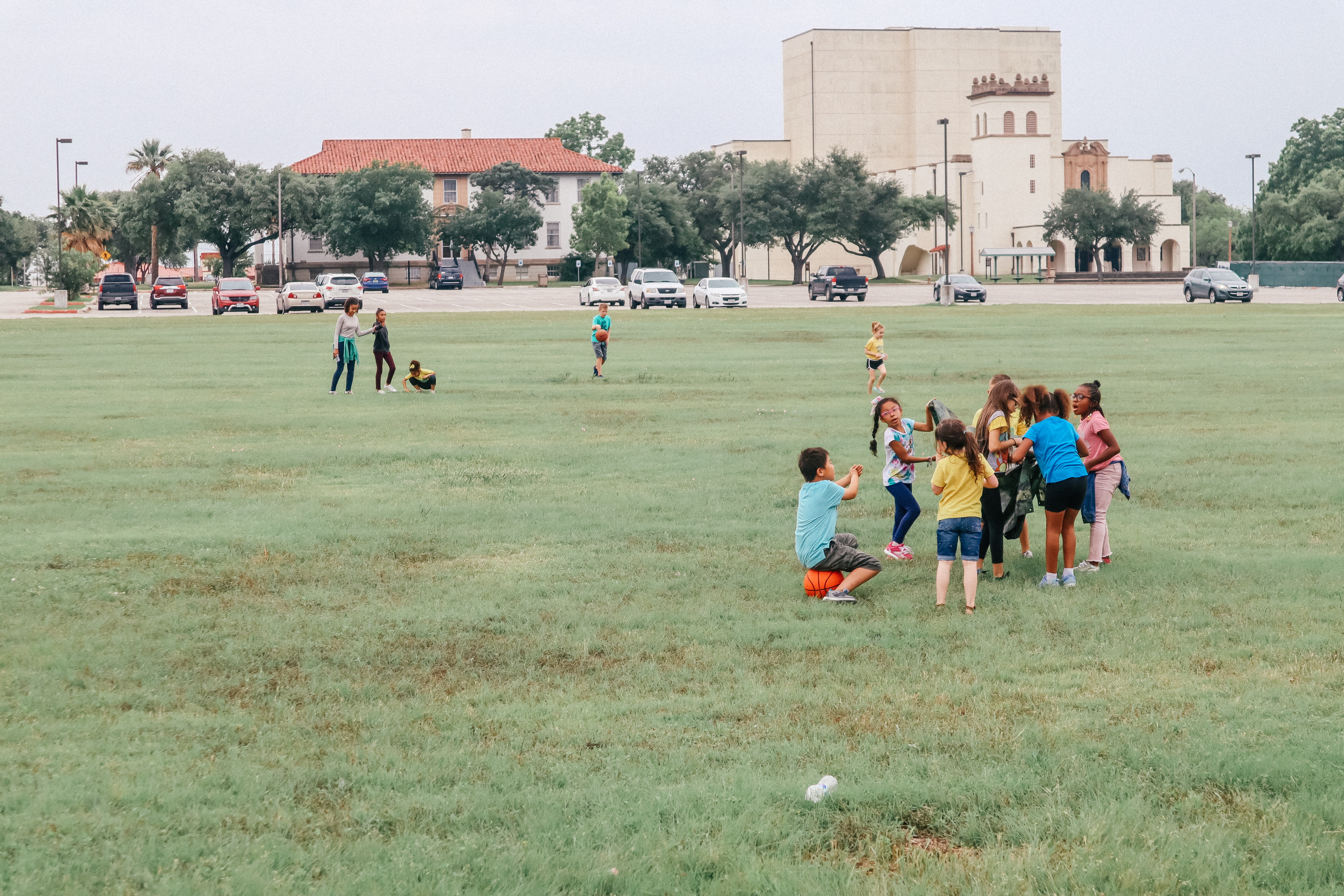 Johnsonville brought their 65-foot Big Taste Grill to San Antonio and let me tell you – this grill is really something to see. If you can imagine a portable barbeque grill that will feed hundreds of hungry people, then you're probably starting to get the idea.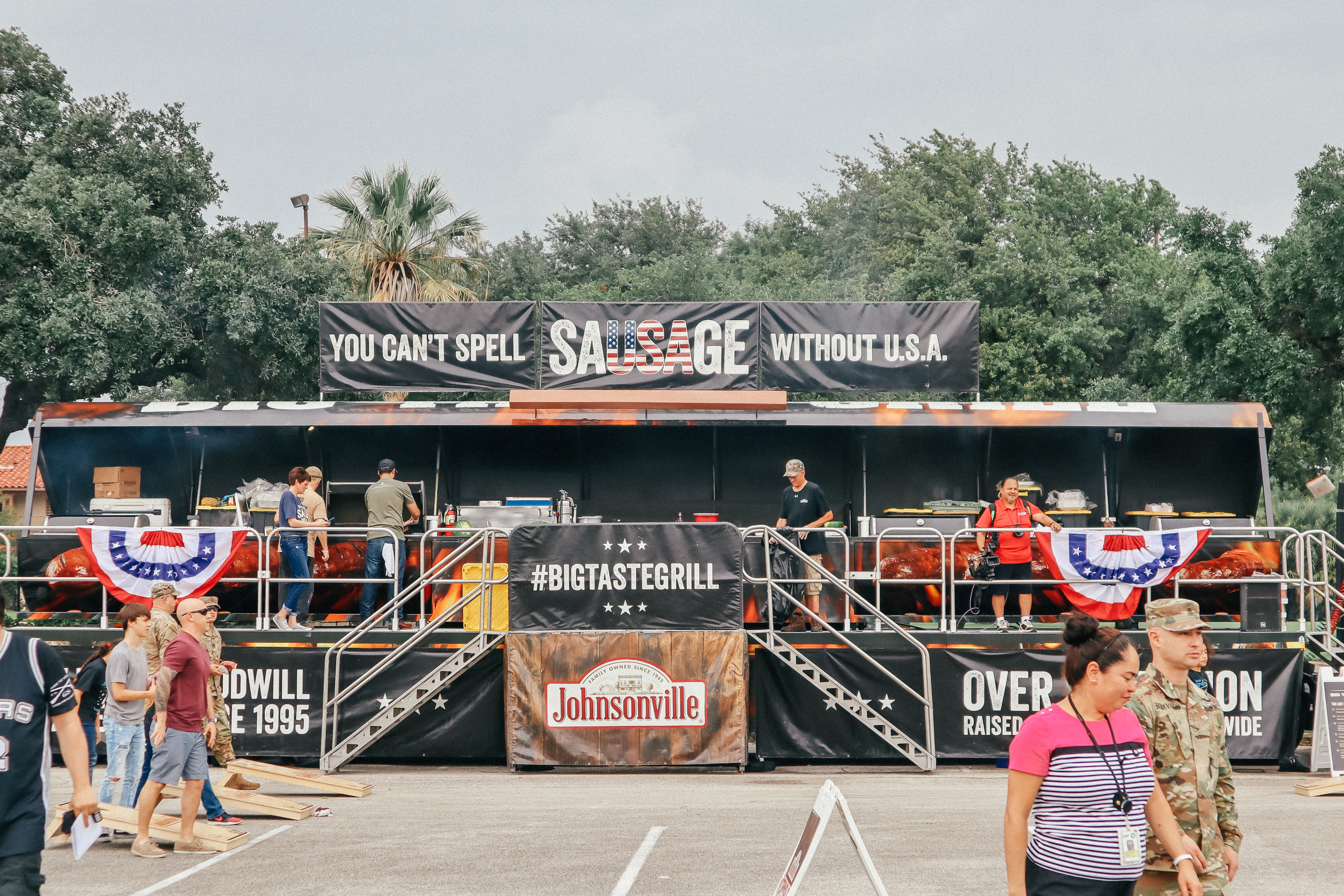 As a mom, a consumer and someone who is affiliated with the armed services, I sit up and pay attention when a brand shows commitment to serving our military and their families.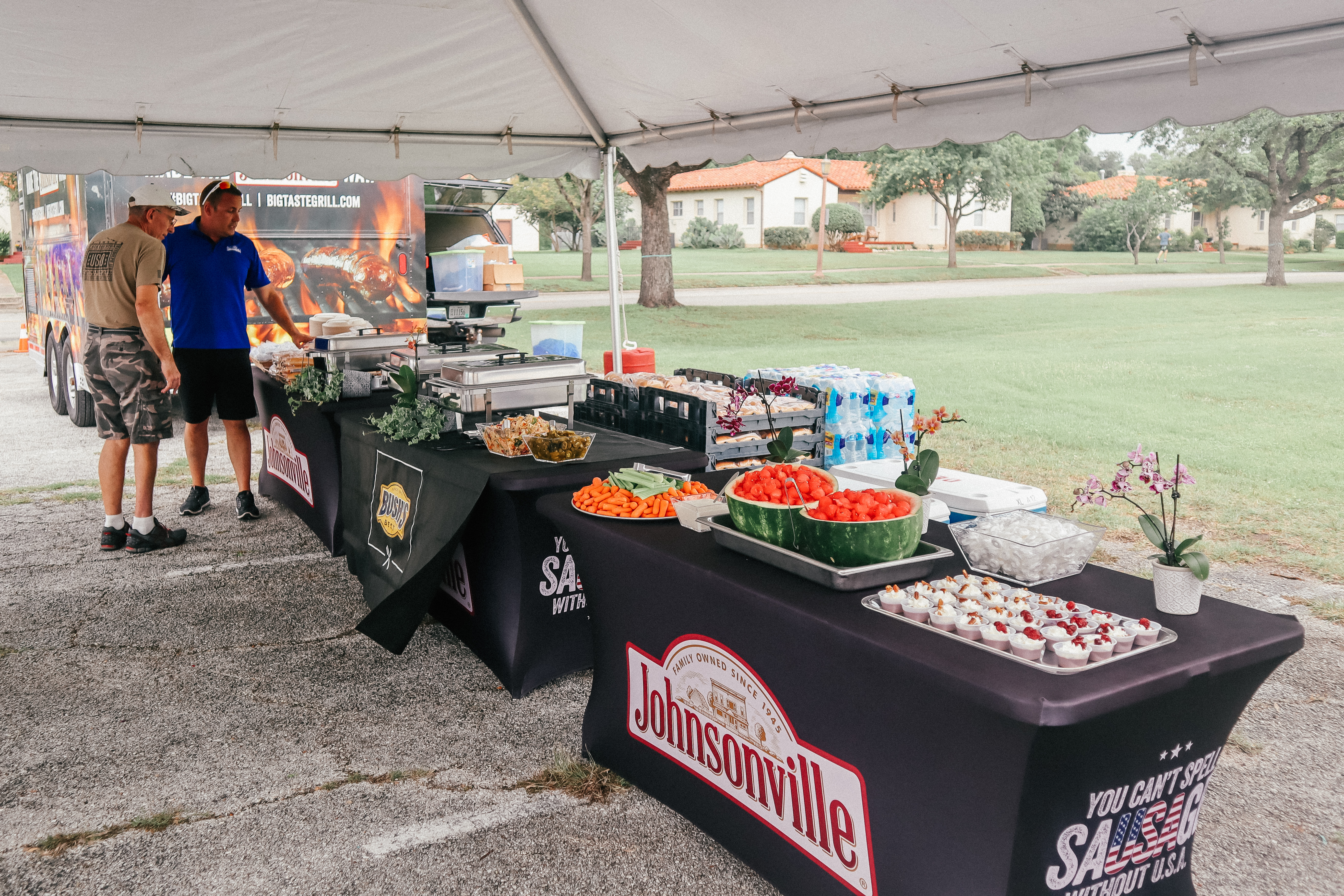 Things like quality, price, and whether my kids like it are definitely factors that come into play when I'm making the decision on what brands to buy but when I can check the box on ALL those things and then learn the brand values and supports families like mine and they show that by throwing a super cool party in our honor? Boom. Color me a loyal customer and I'll go out of my way to buy their product.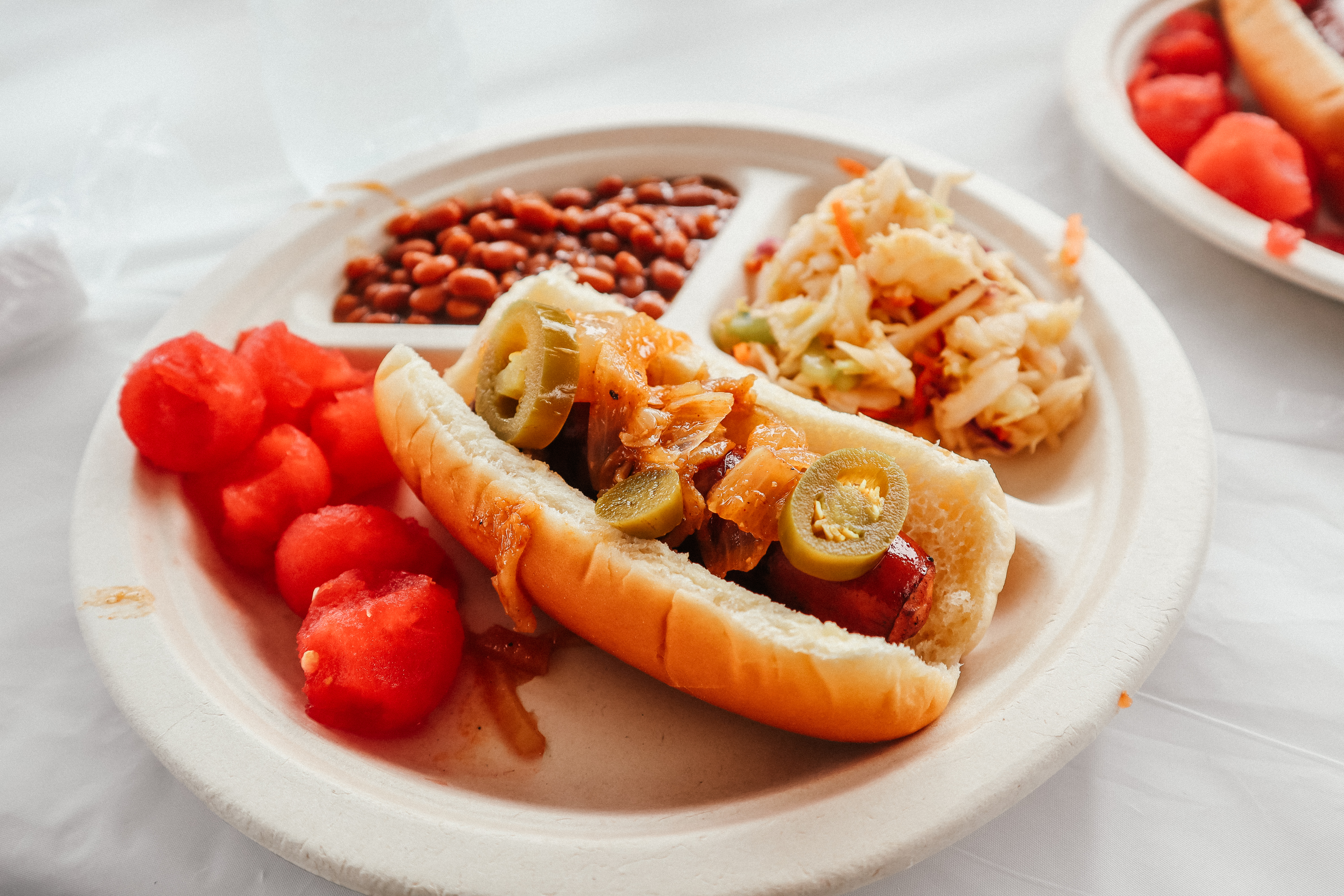 My kids loved the games and entertainment at the Military Spouse Appreciation event hosted by Johnsonville and the USO. My husband and I liked the fact that we didn't have to do the "I don't know what do you feel like doing for dinner" tango and we got to sit and chat and listen to some music while our kids played outside.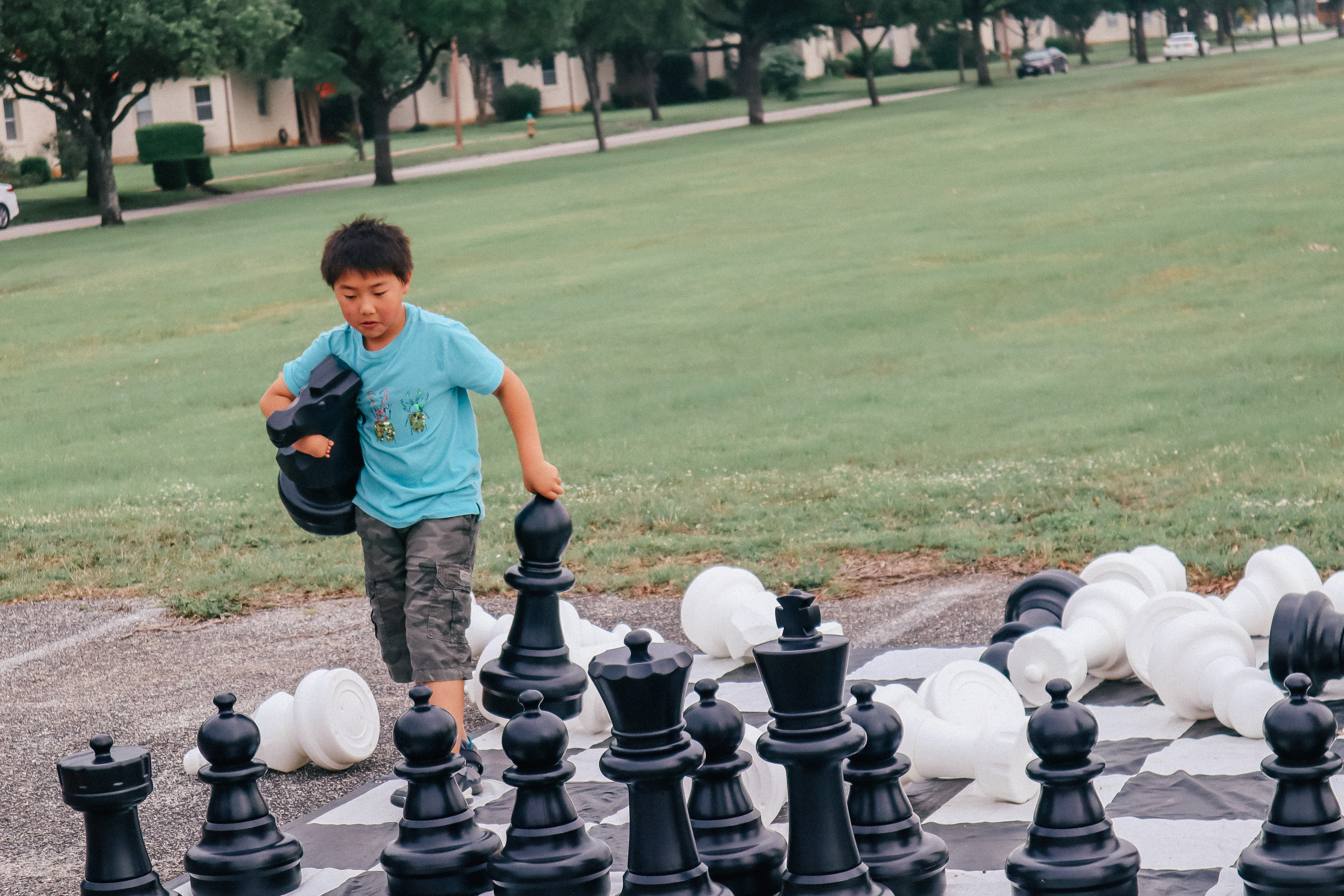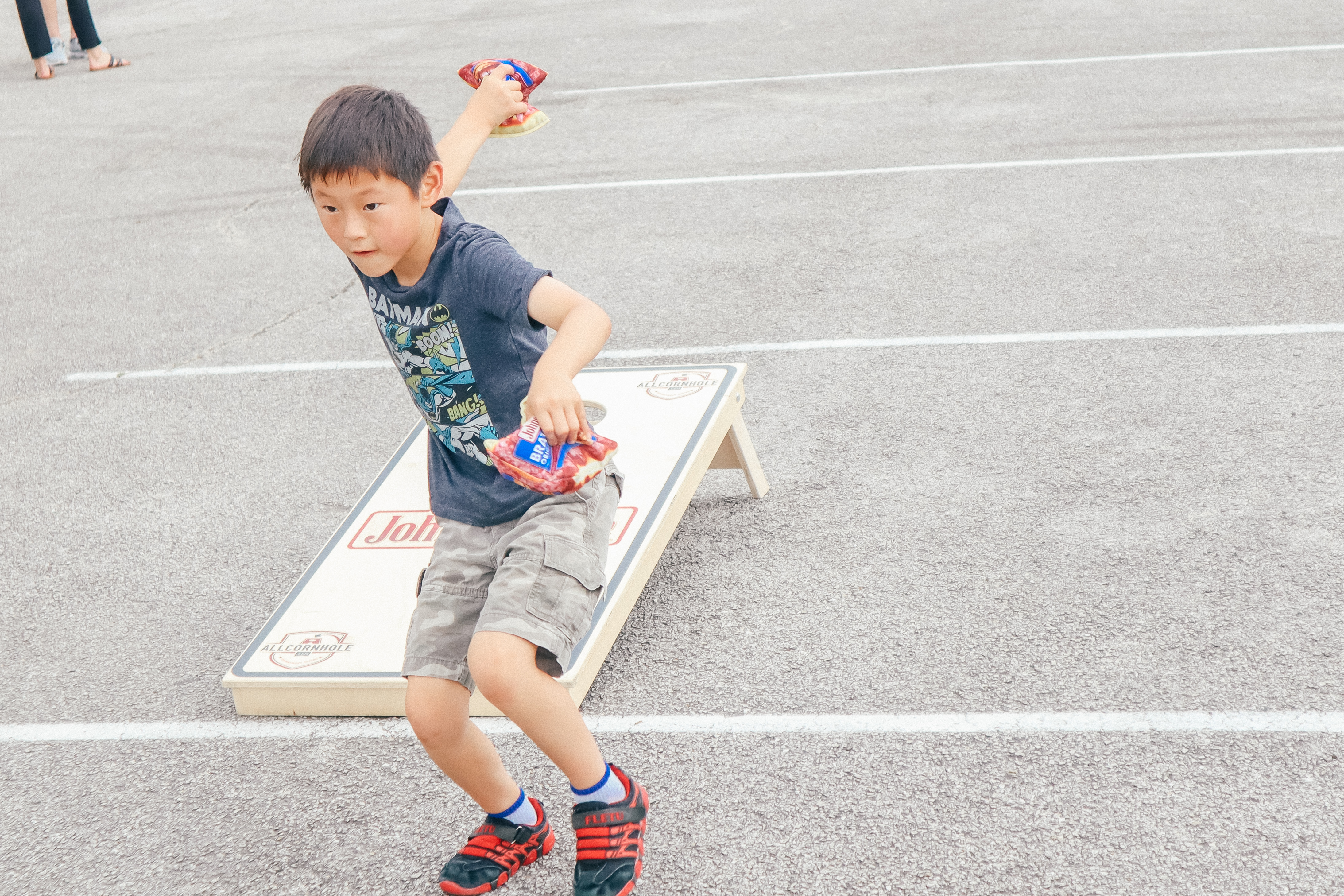 Meeting David Robinson was an incredibly cool experience
All that was awesome but the icing on the cake (or should I say the mustard on the brat) was when we got to meet David Robinson. If you're from around here you know who David Robinson (AKA The Admiral) is…if you don't, you're in danger of getting your San Antonio card pulled.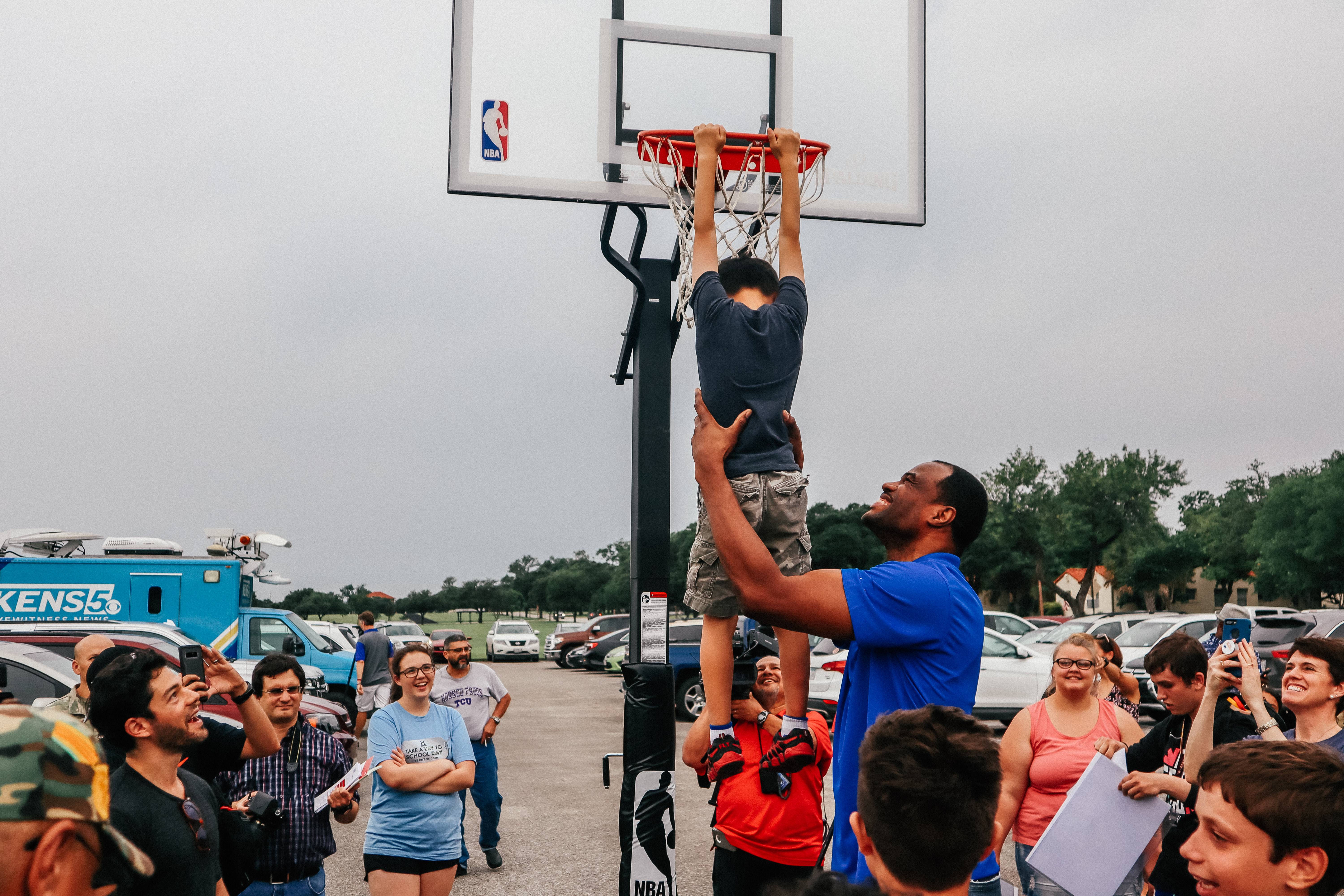 In case you don't know who David Robinson is, he's a veteran of the U.S. Navy who played for the San Antonio Spurs for many years. He's an incredibly nice guy and is so well-loved by the people in San Antonio, basketball fans or not. Although…being a Spurs fan is pretty much required to live here.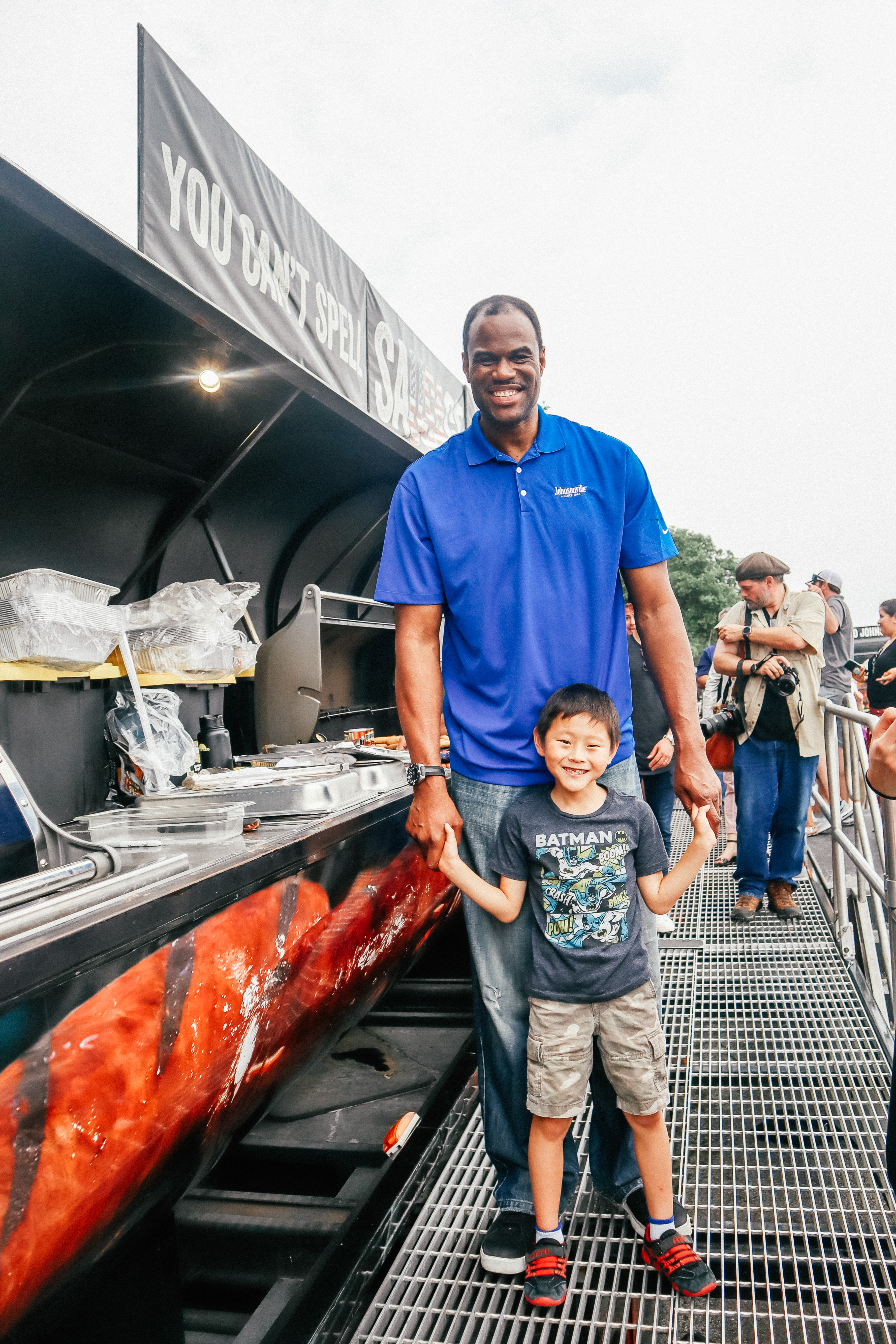 I've met David before (spoiler alert – he didn't remember me) and so has my mom. Anyone who has ever met him or seen him around San Antonio has nothing but nice things to say about him. Meeting David Robinson was the highlight of our night and such a big treat for my kids who played their first season of basketball this year.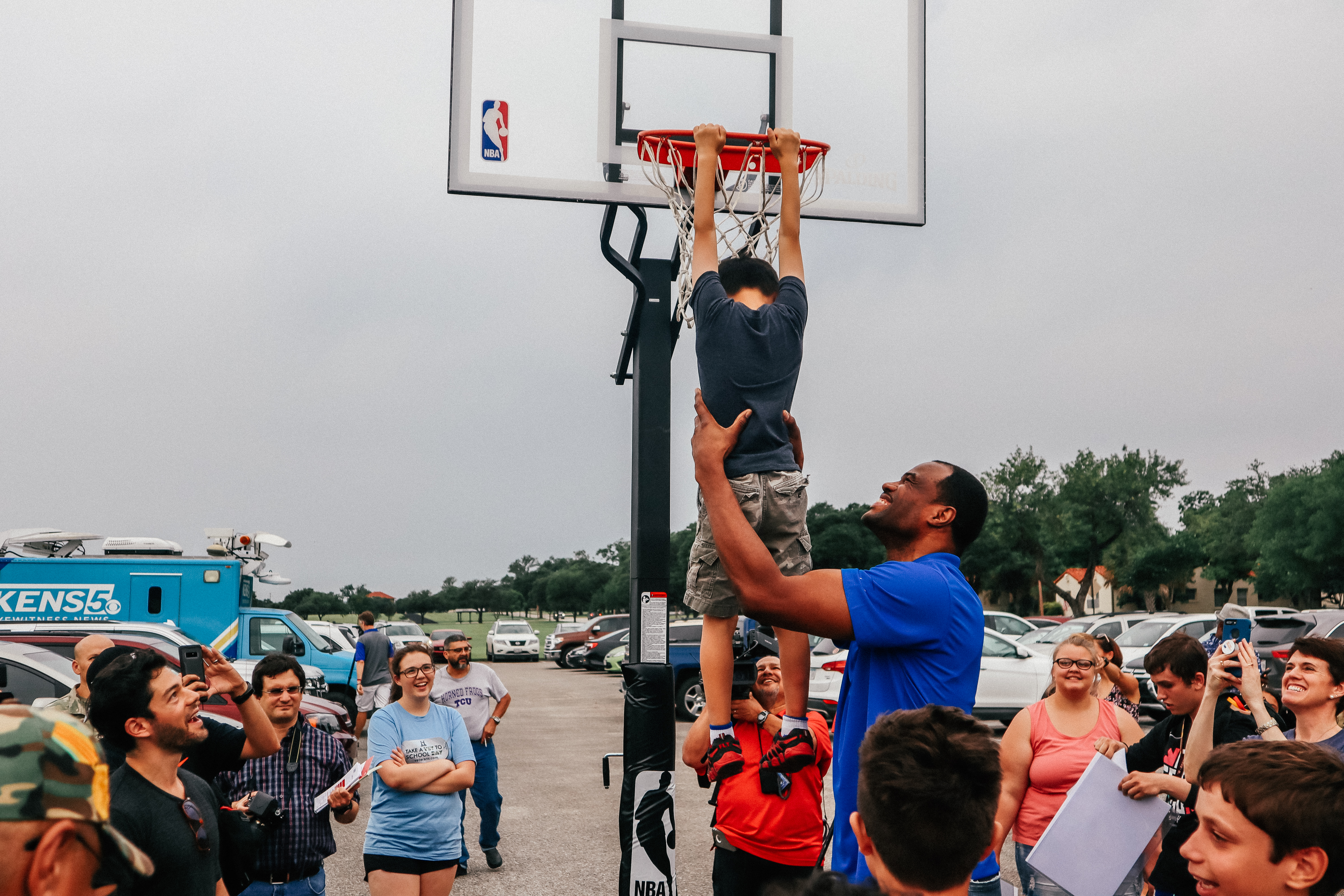 More about Johnsonville
Johnsonville is family owned and operated with strong family values. They're committed to giving back to the community and supporting those who serve. The Big Taste Grill we got to see at Fort Sam Houston tours the country raising money for local charities and non-profit organizations, so even if you're not connected to the military, Johnsonville and the Big Taste Grill very likely support something that is dear to you. And, most importantly, Johnsonville brats taste awesome, my kids love them and they're the perfect addition to any type of family gathering or cookout.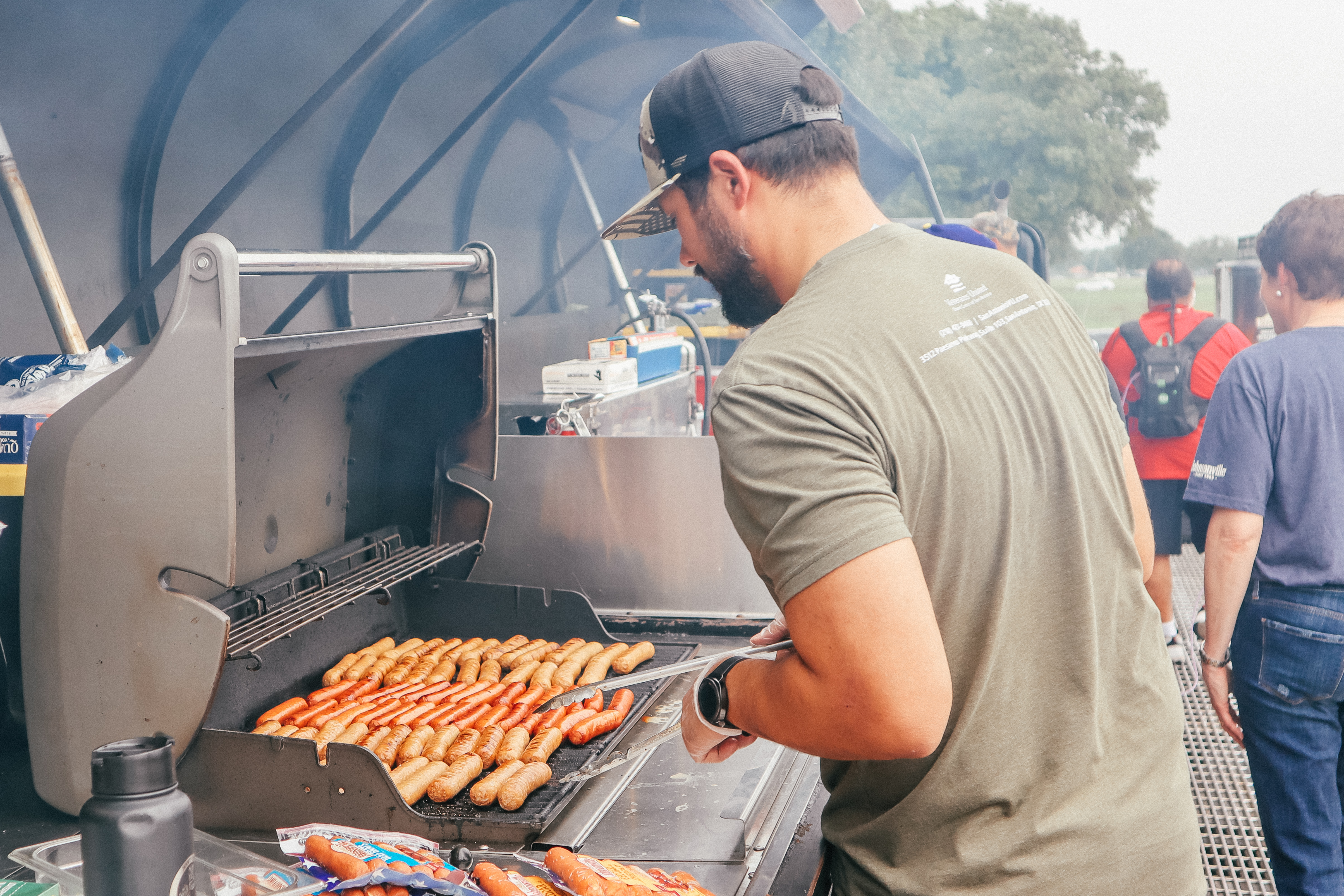 Johnsonville has a whole, mouth-watering line of brats, breakfast sausage, link sausage and more.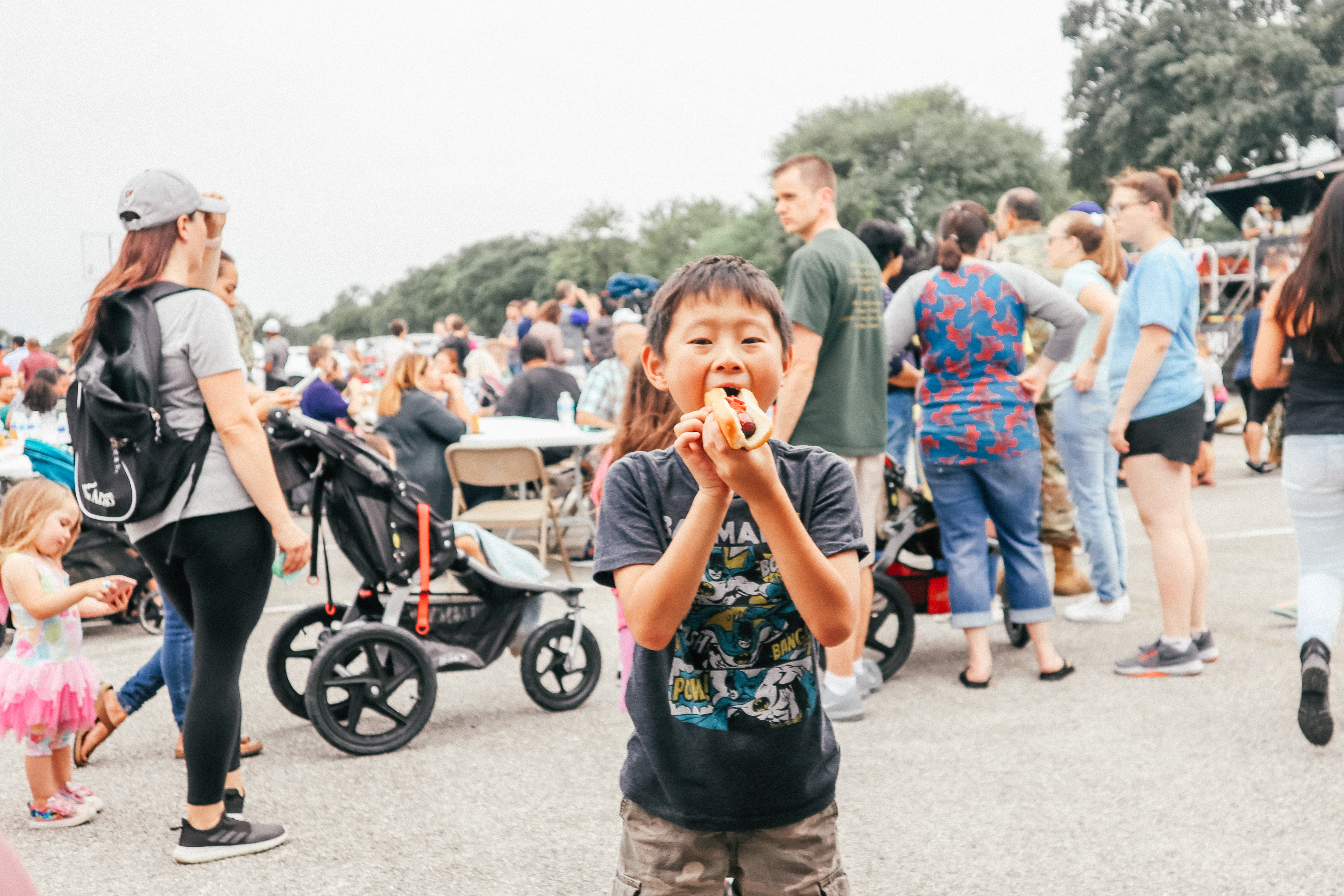 Military Spouse Appreciation Day is celebrated on May 10th but don't wait until then to tell a military spouse you appreciate her (or him!) For more information about Johnsonville products, visit their website.