Why the LG Twin Wash and LG Sidekick are on my appliance wish list
The reviewer has been compensated in the form of a Best Buy Gift Card and/or received the product/service at a reduced price or for free.
"Why is there so much laundry?" LG Twin Wash and LG Sidekick
I ask myself this question at least once a week. My family went from a twosome to a full house of five people in less than a year. My husband (new empty nesters) decided to adopt a little boy. We brought Zack home in August, my daughter moved back in with us in April (because life is crazy and unpredictable) and adopted Kyle the following August. Crazy, right?
The landscape of my laundry room changed completely in the space of 12 months.
Why the LG Twin Wash and LG Sidekick are on my appliance wish list
You can't get around doing laundry. Well…I guess technically you can but you'd either smell bad or spend a lot of money to pay someone else to wash your clothes. I don't like to smell bad and while I've looked into outsourcing our laundry a couple of times, it's just not realistic for us right now.
Y'all. This is my dream setup: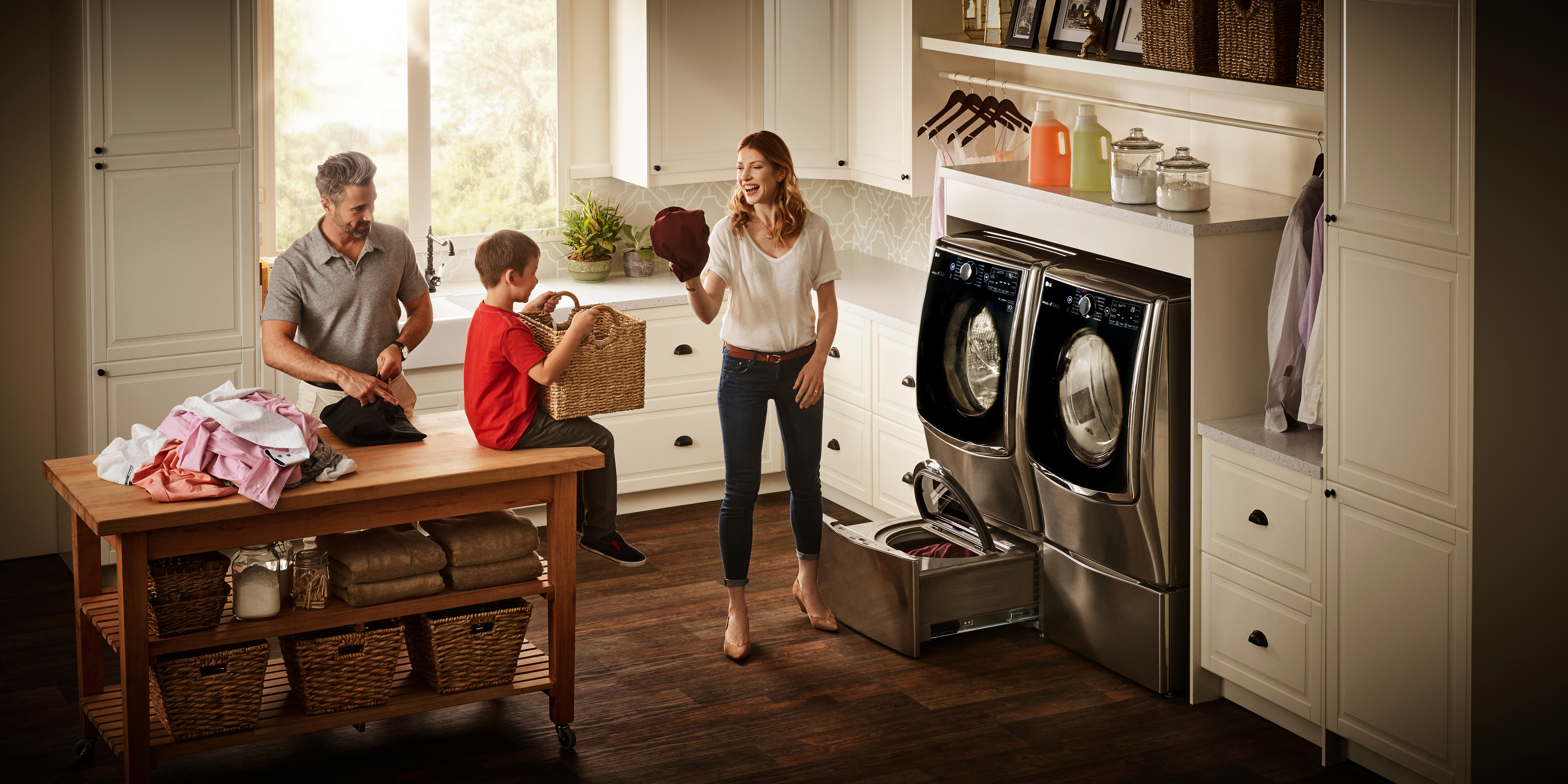 This is the LG Twin Wash and LG Sidekick. This is not what I have right now but I no-kidding have a picture of the washer and dryer on my vision board so I am visualizing me with this washer.
I have seen this beauty in person. Best Buy came to BlogHer in Orlando Florida last year – they have been to BlogHer all three years that I've attended and they are my favorite booth to visit. It's always fun and interactive and the best, newest and most fun stuff for your techy and household needs are always on display.
This fantastic machine does two loads at once and I am so fascinated with it!
With LG's TwinWash system you get the best of both worlds. For small loads that can't wait (The sweatpants after hot yoga, the red shirt in a pile of whites, the dirty school uniform on a Sunday night) there is the LG SideKick pedestal washer. You can even use it simultaneously while you do a bigger load up top on your LG Front load washer.
Not only do these washers have mega capacity to tackle any size load, they are energy efficient while giving you the best cleaning performance. No wonder more households have chosen LG laundry over any other brand!
From 1/11-4/25 receive up to $500 off a LG laundry solution for your home. Go visit the people at your local Best Buy store and ask.
I feel like I'm constantly doing laundry…probably because I am. Things can get challenging during soccer season when I have extra laundry (and more challenging laundry.) If you have an active family this is something that should go on your appliance wish list, too!