Five things you need to know about midlife hair
(This post may contain affiliate links. Read my full disclosure.)
One thing you don't want to hear about your hair at midlife is "at your age." You pretty much don't want to hear "at your age" about anything when you get to be my age. Here are five things you need to know about midlife hair.
You're never too old to try a new style
By the time you hit midlife, you probably have a go-to hairstyle…or maybe a couple of them. You've probably settled into a comfort zone because you know what looks good and feels good. But, age is only a number and you're not too old to shake it up if that's what you want to do.
This can be as simple as trying a new curling iron or flat iron or experimenting with different hair clips and accessories. It can be as drastic as chopping your shoulder-length hair and rocking a pixie cut. Maybe you've always worn your hair long and have a hankering to try something different. And why shouldn't you? Regardless of your age, changing your hairstyle can be a great pick-me-up. Sometimes new hair gives you a new outlook so if you're thinking of going for it, go for it!
Go gray…or go purple
Most women have some gray at their middle years. Maybe you toy with the idea of forgoing the hair color and just letting nature do its thing. There's nothing wrong with that. I imagine letting your hair go gray is pretty liberating but I'll admit that I'm just not ready to do it yet. Maybe I never will be, but it's something I think about every now and then.
My gray is coming in faster than it used to, which means I have to color it more often. That's expensive and time-consuming so I could save myself some money and time if I just resigned myself to gray. I'm just not ready. I think I'm much more likely to experiment with some purple streaks than to go gray, at least for a few more years. And besides, those purple streaks would do a darn good job at hiding that gray, right? My point is, either is fine. And either is reversible. Just like any other hair color, gray doesn't involve a firm commitment. If you don't like it, you can change it up again. And again.
[Tweet "5 things to know about your hair as you age #WomensRogaine"]
Change up your shampoo
Your hair changes as you age. I know…nothing is sacred and it seems like no part of your body is exempt or immune from aging. Probably because it isn't. Some women experience dryer or more brittle hair as they get older. I never used those moisturizing shampoos and conditioners for dry hair when I was in my thirties but as I've gotten further into my forties my hair is way less oily, which is a good thing in a lot of ways.
I've also changed up the frequency of my shampooing. Because my hair has always been on the fine and thin side and I've always been pretty active, I've always been a once daily shampooer. I've started using shampoo and conditioner made for dry hair and washing way less frequently. Shampooing about once every three days is about the sweet spot and actually a huge time saver. If my scalp starts to get a little bit oily between shampoos, I spritz on a little dry shampoo and that saves the day. I think dry shampoo is just about the greatest thing ever invented. Ever.
Many women experience thinning hair as they age
Did you know this? Sad trombone but it's true. I noticed my hair starting to thin about a year ago. Hair loss in women can actually be hereditary. My dad was bald before he was 30 – I don't actually have memories of him without hair. So naturally, I blame him. But, no matter whose fault it is, my thinning hair is a bummer.
I've been using Women's ROGAINE® for three months. It's the #1 dermatologist tested brand for hair regrowth. Women's ROGAINE® 5% Minoxidil Topical Aerosol is the first and only FDA-approved once daily treatment. It's not a cosmetic thickener that just coats your hair, it helps prevent further thinning by regrowing fuller, thicker hair. If you want to read more about my reasons for trying Women's ROGAINE® you can read HERE.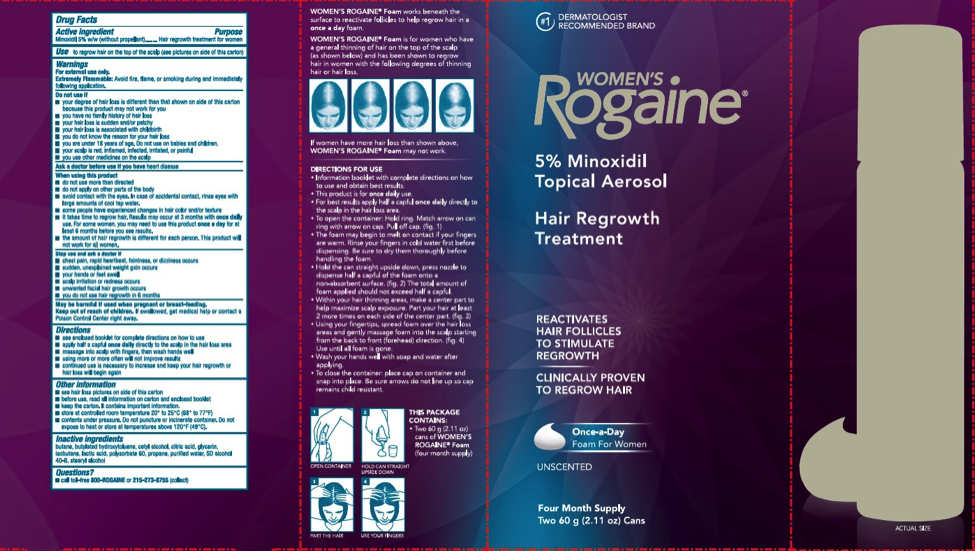 Women's ROGAINE® should be used at the first signs of thinning hair instead of as a last resort so I was in the ideal window to give it a try. It's an easy-to-apply mousse that you use on dry or towel dried hair. It doesn't leave a residue or weigh your hair down. Women's ROGAINE® is safe for color-treated hair as long as you don't use it the same day you color your hair. This has been a seamless fit into my daily routine. If you can use styling mousse, you can use this.
After 12 weeks of use I've noticed regrowth of fuller, thicker hair. I see less thinning at the scalp and I don't have to work so hard to arrange my hair so that my scalp doesn't show when I put it up. Additionally, my hair stylist asked me if I'd been using something on it to make it fuller. I know there are products out there that coat your hair – this isn't one of them – and she thought I'd been using one of those.
Nope! I didn't mention the Women's ROGAINE® to her and I was tickled she noticed! And with the results!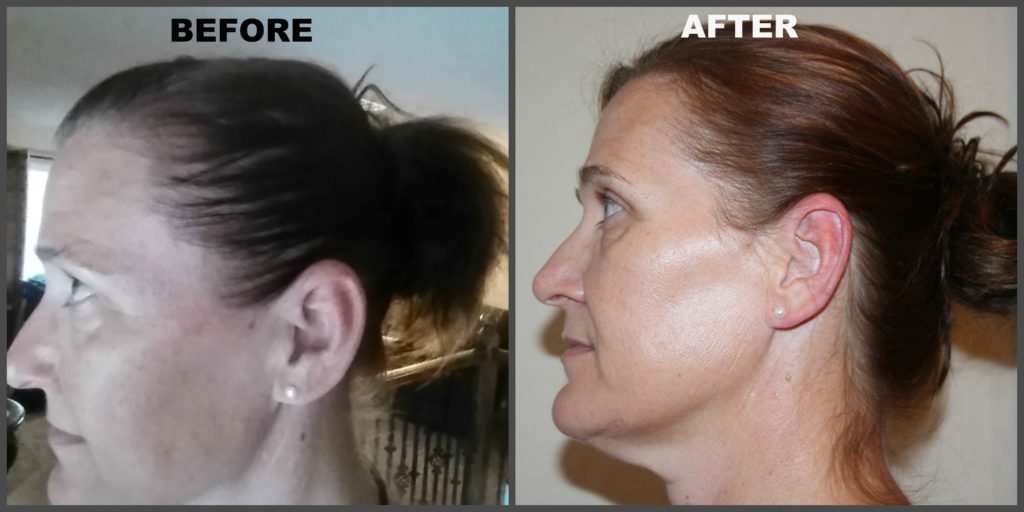 I didn't realize how much of a difference this made until I saw the pictures. I definitely noticed my hair felt thicker and that it didn't look as thing when it was in a ponytail but the side-by-side pictures really show the new thickness and regrowth.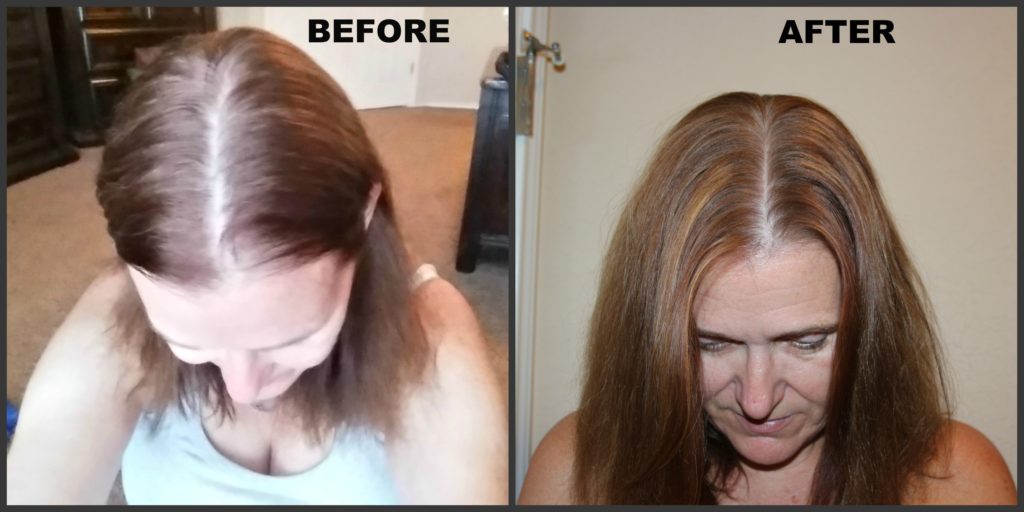 What you eat matters
Actually, this is true at any age but the fact is that dull, lackluster and brittle hair are more likely to be an issue as you get older. There are certain foods that promote hair health – and total body health for that matter. Eight foods to eat more of if you want to have the hair of your dreams are salmon, oysters, yellow peppers, eggs, sunflower seeds, sweet potatoes, avocados and almonds. And everyone's palate is different but most people will find something to like off this list. I didn't really need a reason to eat more avocados but there you go!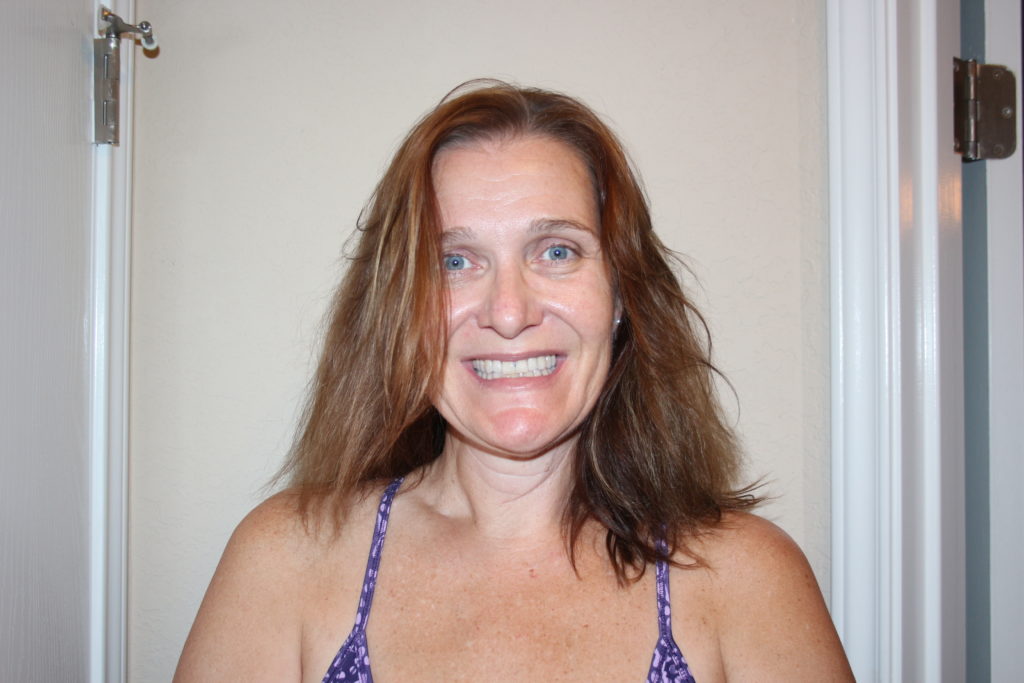 Age changes your hair, as it changes most things whether we like it or not. You can still look good, feel good and rock whatever hair style you want. Three words a woman never wants to hear from her hairstylist (or from pretty much anyone for that matter) are "at your age." I'm here to tell you that "at your age" you can do anything you please with your hair. If you have a midlife beauty or style board, click the image below to pin.