Easter Pregaming & a Visit to Oxburgh Hall
Today, we visited Oxburgh Hall, which is a National Trust property in Norfolk.

You can read about the history of Oxburgh Hall below if you are interested:
This is only about 20 minutes from where we live and we are National Trust members, so we get in free.

We went for the annual "Easter Egg Trail".

As far as I can tell, the Brits don't really do egg hunts.

We paid 2 quid per kid (hey, that rhymes!) for a worksheet that had pictures of 8 different varieties of sheep.

Somewhere on the property, there was a corresponding picture card with each sheep.

Once the card was located, we had to write the name of the sheep down.

There was also a letter on the card that went with an anagram that was part of a puzzle to solve.

Hefty stuff for a three year old and a four year old, right?
We enjoyed a nice walk around the property.

It was an absolutely dazzling day, rare for this part of the planet.

This was Hubs and I's 3rd visit to Oxburgh and Doodlebug's 2nd(although I'm sure he doesn't remember the 1st).

This was Lil Bit's first time and we all had a great time.
The boys had a blast looking for the picture cards, chitter-chattering with their shadows, and going "trip trap trip trap" over the wood bridge Billy Goats Gruff style.

Luckily, we didn't run in to any trolls.

But, we were ready for them.
We found all of the picture cards.

The boys started to run out of steam at the end.

We skipped naps today.

The prize for the completed sheep worksheet was a giant Cadbury chocolate egg.

We'd been tempting the boys for several days with the prospect of a "really big chocolate egg", so they were all hyped up about that.

As we were on our way out of the park, Doodlebug and Lil Bit spotted some folks with ice cream bars and immediately started yammering on about having "ice cream on cone".
We got our big chocolate eggs, which Lil Bit proceeded to try and unwrap on the spot…who could blame him, as we'd been going on about these damn eggs for days.

We ended up getting ice cream from the concessions…life was good.

We ate our ice cream on the tailgate of Hubby's Santa Fe…the three stooges sat three abreast, leaving no room for mom to sit down.

Hubs asked the boys where mommy was going to sit and Lil Bit shrugged and said "no more room."

Love how his English is coming along.

Yes, Hubs made them move.
My highlight of the day was when we went to visit the old church on the property.

We sat down in one of the pews for a minute to rest our feet and look at some of the amazing stained glass.

Doodlebug looked at me and said "sing songs?"…because that is what you do in church.

I smiled and said "of course, honey", expecting Jesus Loves Me.

Not.

My little heathen broke out in to a loud rendition of "heyyyyy, sexy lady" complete with "ooh…ooh…ooh".

I shushed him and said "we don't sing that song in church".

He looked at me – totally perplexed – and said "oh?

Why?"

Lil Bit noted that there was "no TV" at this church – our church has a big screen monitor.

Guess they weren't impressed.
It was a great day.

Here is picture proof!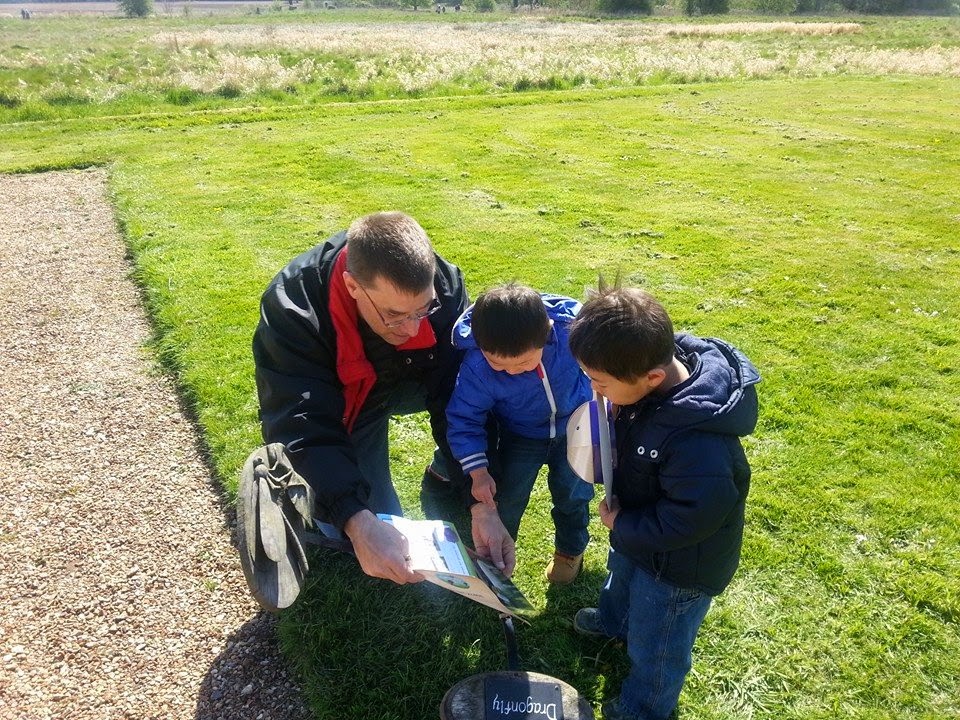 My guys learning about different kinds of British sheep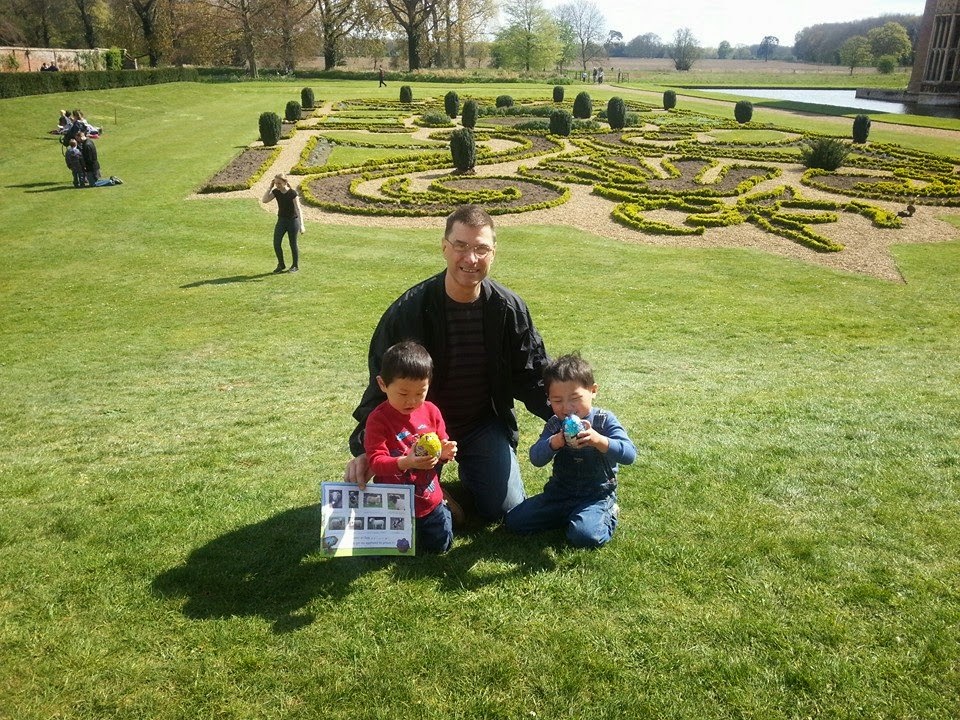 Yay! We now have giant chocolate eggs! What do you mean we can't have them right this second?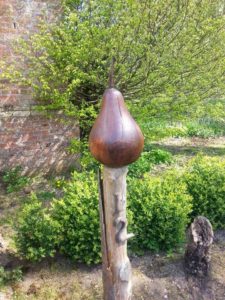 In the files for my "forever house"…a carved wooden pear on a sign post. There was a lovely ladybug on the pear, too! Wink!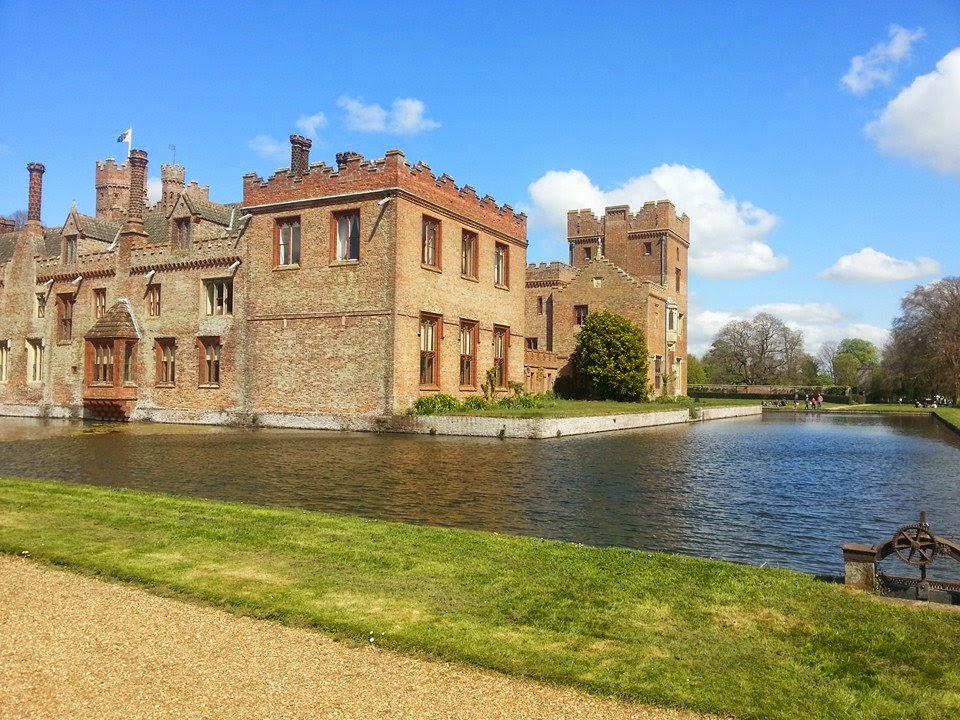 Exterior shot of Oxburgh Hall. I have decided that my forever house should also have a moat, too. I mean…there aren't enough moats anymore. Shouldn't we bring them back?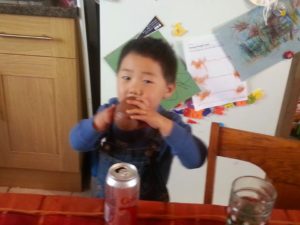 Say cheese? What do you mean, woman? I am totally chowing down on my chocolate egg here.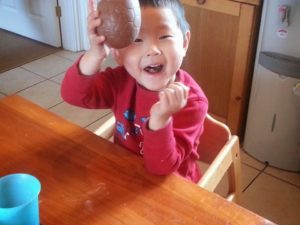 Yes, mommy! I have a chocolate egg! Whoo hoo!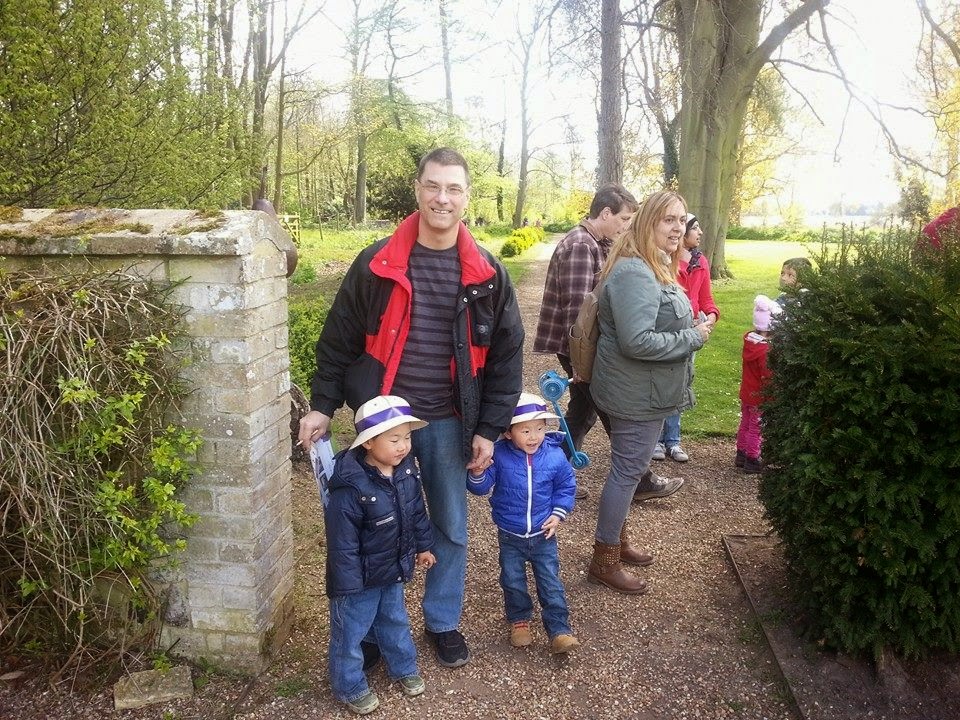 The boys got paper "explorer" helmets at the start of the "eggstravaganza"…they are now in the trash. By the way, other than my 3 guys, I have no freaking idea who the rest of these people are. They were not budging, even though my repeated (and loud) attempt to pose my guys (which means getting them to actually look at the camera) couldn't have been missed.
In a nutshell, Oxburgh Hall is worth a visit. This was my third visit and the first time we'd had really fair weather. If you are in my neck of the woods, you should totally consider adding a trip here to your bucket list.
Off to bed, people. Tomorrow is Easter, which in our house means candy frenzy, getting ready for church and an awesome brunch that I don't have to cook. I am pretty sure that "Gangam Style" isn't going to be on the list of stuff we sing in church tomorrow…but one can only hope!

If you've enjoyed reading my blog, you can also follow on Facebook:
https://www.facebook.com/welcometojillvillepeople