Vacay on a shoestring at one of these budget-friendly tropical destinations
(This post may contain affiliate links. Read my full disclosure.)
Tropical Vacations promise astounding views of white sand beaches, glimpses into clear water, and warm weather, however, the price might ward off some potential visitors. Yes, certain tropical explorations run up the credit card, but these budget-friendly tropical destinations are options that cater to those looking to spend a little less and get a little more.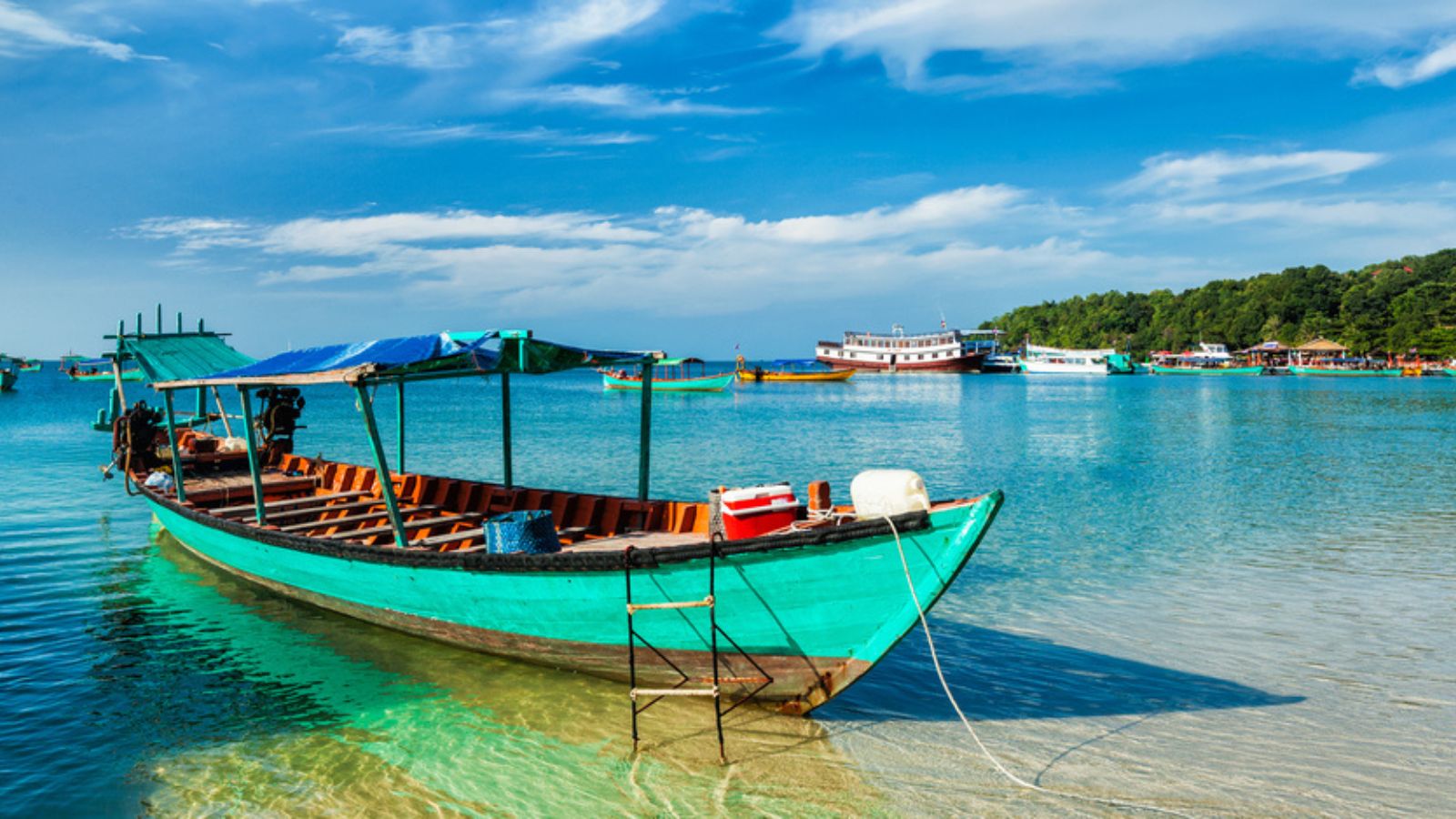 1. Punta Cana, Dominican Republic
The first international trip I journeyed on was to Punta Cana. All-inclusive resorts allow guests to pay one nightly fee and enjoy all they can eat, drink, and do at the hotels. I stayed in an all-inclusive resort and enjoyed endless spaghetti, orange juice, trampoline jumps, and dips in the pool while overlooking the beach.
A traveler who recently visited Punta Cana claims they spend $20 daily for drinks, food, and tips and a few extra dollars for attractions. Another individual brought $400 total for food, drinks, excursions, and shopping, and they had money left over.
2. Cambodia
Cambodia is an inspiring, cheap country to tour and one of the cheapest in Southeast Asia. Lodging costs anywhere from $.50 a night to $15 depending on your budget, and one travel writer did mention free accommodations like Couchsurfing, housesitting, or working at a farm in exchange for room and board. For nicer resorts, you can pay upwards of $60, which is still much less than lodging in the U.S.
Transportation varies between busses, ferries, tuk-tuks, motorbikes, and minivans and costs between $5 and $12 for transportation. As far as food goes, globetrotters can find $1 plates or splurge on $8 meals. If you're traveling for five days, bring $150.
3. Bali, Indonesia
Surfers, snorkelers, and scuba divers love venturing to Bali for a chance to enjoy their favorite water activities for a fraction of the price. Extreme spendthrifts can find food in Bali for $1-$3 dollars, while those looking to spend a tad more on dining dole out $5-$7 on full meals. Transportation costs run between $2 for a bicycle rental and $60 to reserve a private driver for the day. In the middle of those options, pick between a scooter for $5 a day or a premium motorbike for around $20 for the day. Backpackers love Bali as they can find lodging for $10 a night, and budget-watchers adore the tropical location, as they pay between $30 and $60 for a three-star hotel.
4. Nicaragua
Home to numerous lakes and volcanoes, Nicaragua is a bucket list destination for any traveler. The bonus point is that Nicaragua doesn't hurt the wallet as much as other places peppered with lakes and volcanoes. Transportation costs an average of $.75 per day, which is an unbeatable rate, considering a bus ride in Florida costs more than $1. Activities include touring aforementioned volcanos and watching simmering lava roll boil in the crater, cruising through Lake Nicaragua, and seeing sacred spaces for around $6 per day. Food costs total about $5 a day and drinks $4.
5. Curaçao
This traveler raved about their experience saving money in Curaçao. They booked an Airbnb for $60 per night behind a white sand beach booming with coral reefs. Scuba divers will find an ideal vacation in Curaçao with bright orange corals and active marine life milling around the sea. Hikers will strike gold while plowing up Mt. Christoffel, the highest peak in Curaçao (1,200 ft). Guests can blame the more affordable prices in Curaçao on the fact that not a lot of travelers know about it. Without a large influx of tourists, tourist traps and overpriced attractions don't occur as much as other frequented tropical spots.
6. Puerto Vallarta, Mexico
Enjoy street markets and live music while strolling down the colonial streets of Mexico's own Puerto Vallarta. The seaside town offers lodging packages for $50 per night per person, while dorm lodging asks for $15 per bed per night with free breakfast. Other hostels cost as low as $7 a night. Food options range between $10 meals at sit-down establishments and street tacos, each for less than $1. Considering each hostel and Airbnb has a kitchen included in the price, voyagers favor grocery shopping and cooking some of their meals to save funds.
7, Corfu, Greece
I know, I know. You want to live your childhood dream of flying to Greece, getting married, and having a wedding where you invite your potential three dads. Yet, Skopelos, one of the filming locations for Mamma Mia, costs a bit more than we'd like to budget. Corfu is a snapshot of all Greece's best parts for half of what Mykonos and Santorini charge. Corfu resides on Greece's northwest coast, bordered by mountains, see-through water, and white sand, making it a perfect landing place for those chasing their Grecian vacation dreams.
Budget lodging starts around $37, and nicer three-star resorts reach $68 per night. Food costs around $12 per meal, a little less than the U.S., and transportation costs $1 to $8 per trip.
8. Malta
Baroque buildings hug Maltese streets as digital nomads peruse the archipelago known for its architecture and coastline. Several films film on the four-island crux thanks to the dazzling scenery and comfortable climate. If you trek to Malta during the fall, winter, or spring, you can enjoy yourself for $45 per day on the high side and $35 per day on the low side. During the summer, people tend to allot more money as prices rise during peak season. Museums ask for $10 entrance fees, food costs around $8 per meal, and lodging starts at $10 per night.
9. Negril, Jamaica
Browse around Barney's Flower and Hummingbird Garden, plunge into the Blue Hole Mineral Spring, or zipline through Negril's jungles with a zipline tour in Negril, Jamaica. Budget explorers rejoice at the cost of vacationing in Negril. Food averages around $20 a day, with seaside sunsets framing your dinner and street food flavors that linger on your tongue long after you leave the island. Public transportation reaches about $9 per day, much less than transportation in the U.S., and lodging costs between $66 per night and $167, which is on the higher side, but if you find hotels with a kitchen and pool access, you'll maximize the cost.
10. Ecuador
Wild horses and bulls saunter through fields in Ecuador, causing tourists to pull over and gaze at the majestic creatures, and ranches along the tropical country offer horseback riding lessons, which is a perfect way to see more of the country outside of a car. Hostels start out at $4 a night and clock up to $30 for private double rooms with balcony views of the city. The eclectic cuisine—guinea pig, fish soup, and cow stomach soup— costs an average of $3 a day, with many meals ringing in at $.50 or $1 for meals.
Booking on a Budget
Visiting tropical destinations on a budget requires patience and research, but don't fret. Several countries allow explorers without stealing their life savings. From Jamaica's forests to Curaçao's marine life, which of these budget-friendly tropical destinations calls your name?
About Gabrielle Reeder
Gabrielle Reeder is a travel enthusiast from St. Petersburg Florida. She boarded her first plane at six months old and blames her love for jet-setting on her mom's background as a travel agent. She's been to 41 states and six countries, hoping to up that number to 50 states and 10 countries by her 26th birthday. During her trips, she loves to find the best vegetarian food, desserts, and music venues.