This is my favorite time of the year. I love the decorations, the music, the cookies (oh boy, do I LOVE the cookies) and the general warm fuzzy holiday spirit kind of feelings that the Christmas season brings. And, it's not Christmas without Christmas movies.
Disclaimer: We are a participant in the Amazon Services LLC Associates Program, an affiliate advertising program designed to provide a means for us to earn fees by linking to Amazon.com and affiliated sites. This post may also contain affiliate links to other sites where I will be paid a commission by the seller if you make a purchase.
Since I live in Texas, the best I can hope for during December is "maybe cold enough to wear a jacket" but that doesn't stop me from making a nice big mug of hot chocolate and curling up under my Snuggie on the couch (shut up, if you don't have one, you know you're just jealous) and watching Christmas movies.
I've linked to some fun Snuggies on Amazon – they have a TON of them. If Hello Kitty and Wonder Woman don't do it for you, there's Star Wars and a whole bunch of other stuff.
I've put together a list of my favorite Christmas movies. I'm sure you've probably seen at least half of these but I'm hoping this list will give you some new ideas or at the very least, remind you to schedule in the downtime we all need this time of year. Take a break from the Christmas shopping, put your phones and devices away, pop some popcorn and enjoy these favorites:
1. It's a Wonderful Life
Christmas doesn't seem like Christmas unless I watch It's a Wonderful Life. Yes, it's in black and white. No, there are no special effects. Yes, the story is super hokey and yes, George Bailey is whiny and snivelly and if you knew him in real life you'd probably want to slap him…but still. No matter how many times I've seen this movie, I get a little misty-eyed when Clarence gets his wings. Every. Single. Time.
2. Miracle on 34th Street
3. Elf
"We elves try to stick to the four main food groups: candy, candy canes, candy corns and syrup."
Best. Movie. Quote. Ever.
4. Home Alone
Now that I'm older, I'm extremely skeptical of just about how anything in this movie could actually happen.
Why do they live in such a large house? How did that many people oversleep? How did a mother who had to keep track of that many children not have some sort of sound-off system to make sure all were present and accounted for before they left the country?
But still…I love it. You should, too.
5. National Lampoon's Christmas Vacation
This is one of my favorites. It's probably a little naughty for younger kids but this one never fails to make me laugh.
6. A Christmas Story
7. White Christmas
I never get tired of watching this one. The dancing is magical.
8. Holiday Inn
9. How the Grinch Stole Christmas
I'm kind of a purist so of course I prefer the Original Dr. Seuss version but the longer version starring Jim Carrey isn't bad, either.
10. Rudolph the Red Nose Reindeer
11. Santa Claus is Coming to Town
12. A Charlie Brown Christmas
Okay, this is tradition but does Charlie Brown leave anyone else feeling a little bit bummed out? Poor Charlie Brown.
13. Frosty the Snowman
14. The Santa Clause
15. Fred Claus

Out of all of the more "modern day" Christmas movies, I think this one is my favorite, but then again, I really like Vince Vaughn.
16. Four Christmases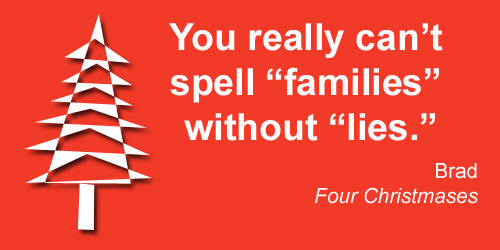 17. The Polar Express

Confession: I haven't watched this all the way through and my husband has never seen it. This one is at the top of our list this Christmas season. Can't wait.
18. Scrooged
I'm definitely putting this one on the list for this year. It's been a while since I've watched this one and I miss it!

19. The Nightmare Before Christmas
Is it a Halloween movie or a Christmas movie? Maybe just an excuse to watch it twice, just to make sure you're covered.

20. The House Without a Christmas Tree
This is a serious blast from the past. It was a TV movie that first aired in 1972 based on a book by Gail Rock. She wrote a series of books about a young girl named Addie Mills and they're all absolutely outstanding. We have this movie on DVD and the video quality is very 1970's but I love it all the same. If you're an older Gen-Xer or a Baby Boomer, you probably remember this one.

And, because I always think this book is better:
BONUS: Check out Netflix and Hulu!
I don't have Hulu but I heard a rumor that there are all kinds of retro holiday shows available right now. If you missed the Happy Days or Saved by the Bell Christmas special, you just might get lucky! Now, how fun would THAT be?
What's YOUR favorite?
Thank you for reading!
You might also like:
Olaf's Frozen Adventure is coming in November
Thor Ragnarok and Black Panther Movies